This post may contain affiliate links. For more information, read my disclosure policy.
Peach Pie is such an easy pie recipe that is classic for summer. Make this easy peach pie with a crumble topping or as a double crust pie or even with a lattice!
Once you have my peach filling recipe, you can make this into any pie you like. Peach lovers will love this pie.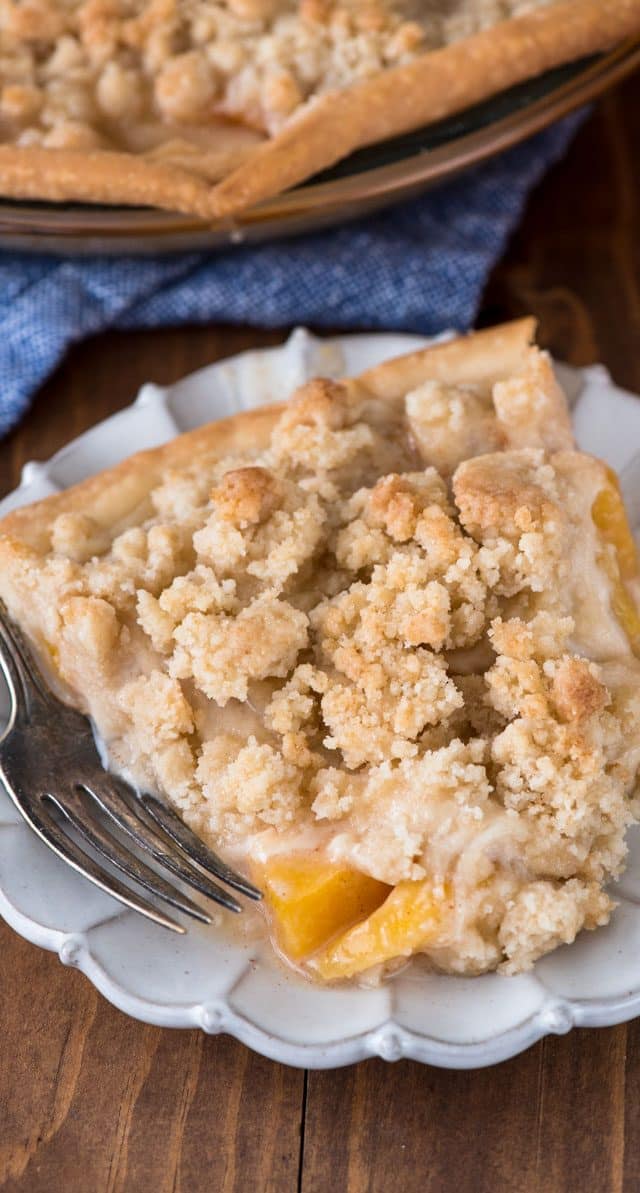 Table of Contents
Peach Pie Recipe
Peach season might be in summer but you can enjoy peach pie all year long! This peach pie recipe is made using frozen peaches, but you can use fresh, frozen, or even canned! Now you can have peach pie for Thanksgiving or any time of year!
Even better, if you can't decide what kind of topping you want on your peach pie, don't worry. This recipe is written as a peach pie with crumble topping OR a peach pie with double crust. You can even make a lattice topping if you'd like.
I think the most important part of this peach pie recipe is the ratio of filling ingredients. I've perfected my fruit pie filling so that it works with almost any fruit: fresh, frozen or otherwise! This is a great recipe to have in your recipe box for whenever you have fruit you need to use up. Just last weekend I made this peach pie with raspberries and it was fantastic!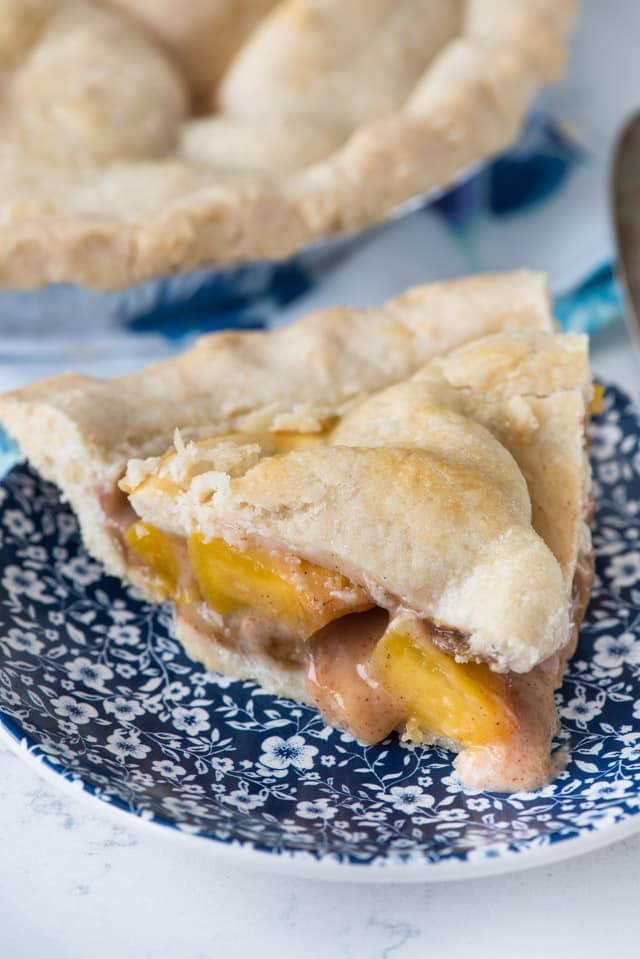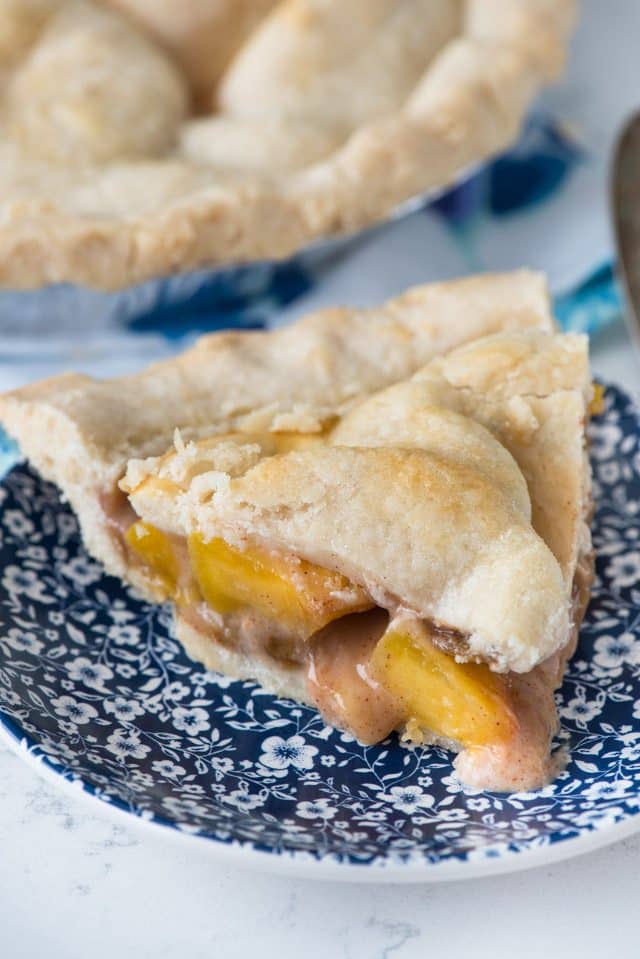 How do you make a peach pie filling?
Have you ever made a fruit pie and it was too wet? Chances are your binder wasn't good enough and/or you used too much sugar.
Sugar makes fruit weep more, drawing out more liquid. Too much sugar in your pie will increase the chances it's wet.
Fruit pies need binding. Flour and cornstarch are the two most popular binders.
Fruit pies can be tricky: you want enough liquid so they're not dry but not enough that they puddle out when you slice them. I've tried a few different methods but I've found that, overall, cornstarch makes a better fruit pie.
Except for apple, you can use this easy recipe for almost any fruit filling.
Ingredients for Peach Pie Recipe
Sugar
Cornstarch
Lemon juice (may substitute lime or orange when desired)
Cinnamon
I know it might seem weird to add cinnamon to a fruit pie, but I love the contrast in flavor it gives.
Then you just have to choose the topping: double crust, crumble, or lattice!
Avoiding a soggy bottom peach pie
One question I always get asked about baking pies is how to make the pie crust not soggy on the bottom. I don't like a crunchy bottom crust but I don't want it soggy. To combat the problem do the following:
Bake the pie at 425°F for 10 minutes.
Then lower the temperature to 350°F and bake until done. Cover the outer edges of the pie crust with a pie crust shield if they start to brown too much before the pie is cooked through.
I love using clear pie plates so I can SEE how baked my crust is!
To brown the edges of your crust (and top if you're using a lattice or double crust), be sure to brush the pie with a bit of egg wash before baking. I make my egg wash with one egg and a tablespoon of water.
How done your pie crust gets also depends on what recipe you're using:
If you're using a refrigerated crust or frozen one from the store, it will cook faster. Homemade crusts, like my all butter pie crust, will take longer to cook.
If you're worried about the bottom and you want a very crunchy crust here is what to do:
Blind Bake the crust for about 10 minutes.
Then fill the pie and bake as directed.
That will help the crust get super crunchy, if you prefer it that way.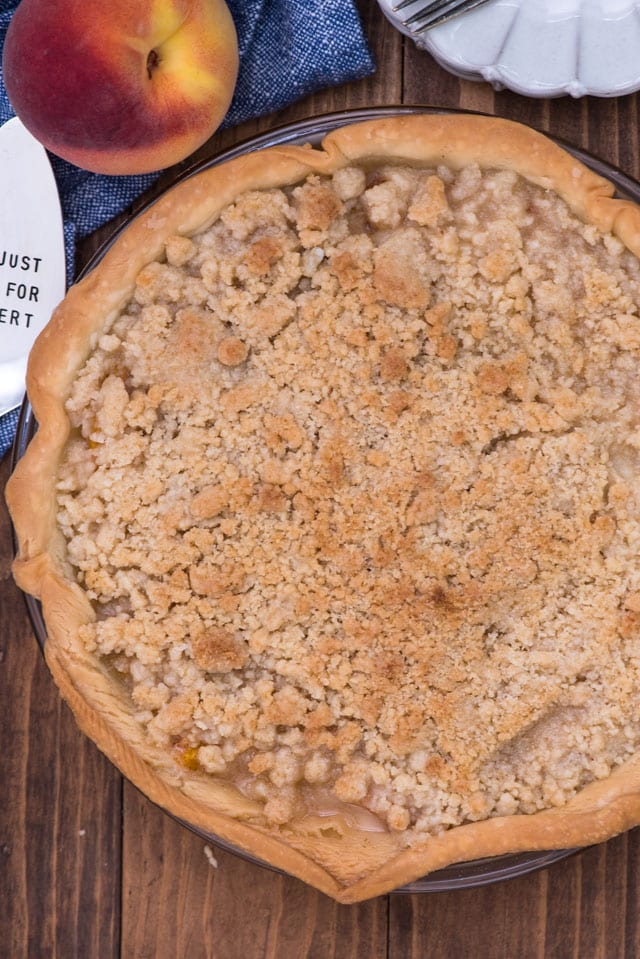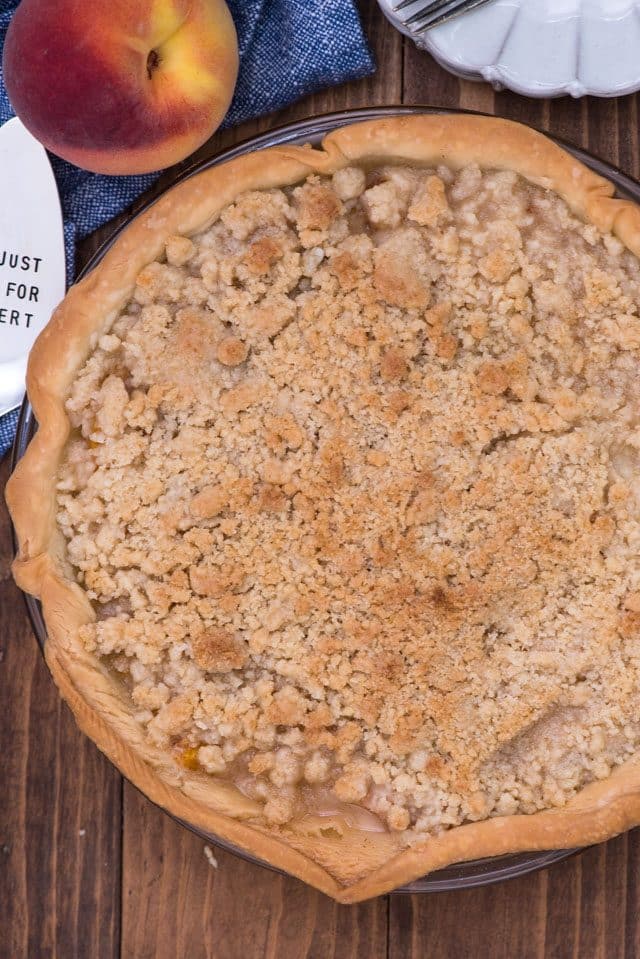 How to top Peach Pie?
There are three ways to top your pie:
FAQ about making THE BEST peach pie recipe
How many cups of fruit do you need for a peach pie?
I find that 5 cups of fruit works best for a regular 9-inch pie.
How do you make a peach pie with fresh peaches?
Simple: just peel and slice your fruit, then make your filling. Tip: to easily peel fresh peaches, score them with an X, drop them in a large pot of boiling water and boil for one minute. Remove to an ice bath (large bowl of water filled with ice) to stop the cooking. Once cool, the peel should peel right off.
Can I use frozen peaches to make peach pie?
Most definitely yes, you can use frozen peaches. I almost always use frozen fruit in my pies! One tip for frozen fruit: THAW IT and drain it well. You do not want any extra water in your filling!
Can you make a peach pie with canned peaches?
Yes you can, just make sure they are very well drained and patted dry before making the filling. Otherwise you'll have the same problem as frozen: too much water.
How do you thicken peach pie filling?
I thicken my peach pie filling with cornstarch. I find that it's the best way to ensure you get a thick filling.
Why is my peach pie runny?
First, if the pie is still hot, it might be runny and it will set as it cools. Once cool, if it's still runny then chances are you used too much sugar or the fruit was too wet.

Too much sugar can cause the fruit to weep more, causing a runny pie. If you are using frozen fruit, it must be thawed and drained well to avoid excess wetness in the pie (and a runny outcome). Also – be sure to only mix the filling immediately before putting it into the pie shell to bake. If it sits for any length of time before baking it will cause a soggy bottom and runny pie.
Other pie recipes you will want to try:
Have you made this recipe?
Tag @crazyforcrust on Instagram or hashtag it #crazyforcrust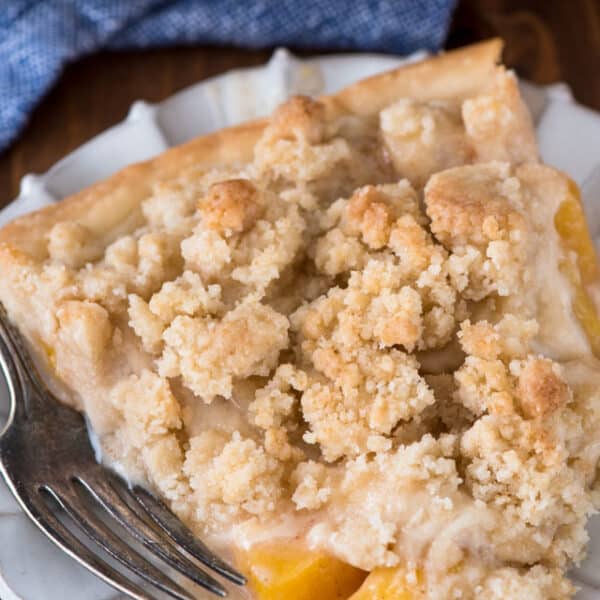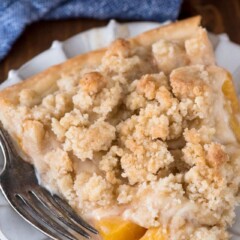 Peach Pie
A peach pie can be made with a double crust, lattice crust, or even a crumble topping. This peach pie recipe is easy and fast and perfect!
Total Time
1
hour
10
minutes
Ingredients
1

recipe

All Butter Pie Crust

5

cups

fresh or thawed frozen peaches

2/3

cup

granulated sugar

1/2

teaspoon

ground cinnamon

1

tablespoon

lemon juice

4

tablespoons

cornstarch
Instructions
Preheat oven to 425°F.

Place one pie crust in the bottom of a 9-inch pie plate and crimp as desired.

Carefully stir together peaches, sugar, lemon juice, cinnamon and cornstarch. Pour into prepared pie plate.
Topping choices:
Top the pie with a crumble topping (as shown).

Top the pie by making a lattice (see note) or a double crust pie. If using a double crust pie, be sure to cut holes in the top to vent during baking. If desired, cut shapes out of the top pie crust using a cookie cutter.

Place a pie shield around the edge of the pie and place the pie on a cookie sheet.

Bake for 10 minutes at 425° then lower the temperature to 350°F and bake for about 30-40 minutes, or until crust is baked through and golden.
Recipe Nutrition
Serving:
1
slice
|
Calories:
230
kcal
|
Carbohydrates:
36
g
|
Protein:
2
g
|
Fat:
8
g
|
Saturated Fat:
2
g
|
Sodium:
136
mg
|
Potassium:
154
mg
|
Fiber:
1
g
|
Sugar:
16
g
|
Vitamin A:
210
IU
|
Vitamin C:
4.7
mg
|
Calcium:
10
mg
|
Iron:
1
mg
Nutritional information not guaranteed to be accurate
**Did you make this recipe? Don't forget to give it a star rating below!**
See all of my pie recipes!
Last Updated on July 12, 2022