An EASY Key Lime Butter Cake is a cake that explodes with lime flavor. The cake is soaked with lime syrup and the whole thing is topped with key lime drizzle – this cake screams key lime dessert! Thanks to my partnership with Challenge Dairy, this cake is an explosion of buttery lime flavor.
If there is one thing I cannot resist, it's a lemon or lime dessert. It took every single ounce of willpower I had to just taste a bite and freeze this cake for Easter. But I still know it's there…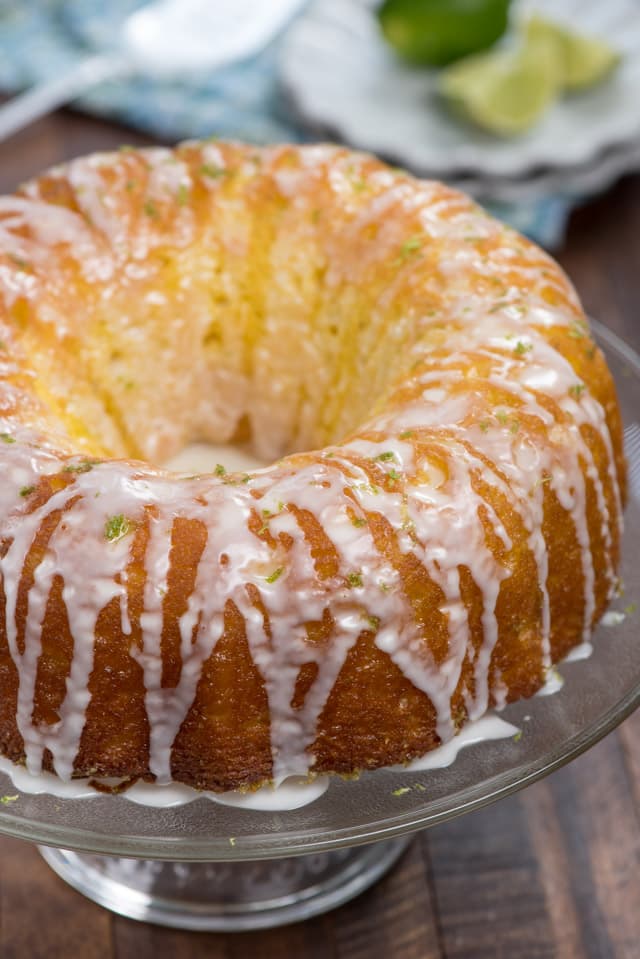 Remember my Lemon Butter Cake? Well, this recipe is that cake with a key lime makeover! I've had nothing but good reviews about that cake, so I decided it was time to soak it in another flavor that's popular right now: KEY LIME. Maybe you're thinking Key Lime in a butter cake? But trust me, this cake is amazingly good and will be a huge hit. If you're looking for a new key lime dessert, this is it!
You may be asking yourself: what's a butter cake? Is a butter cake the same as a gooey butter cake? (Short answer: no.) Basically, in my world, a butter cake is a cake made with butter, baked in a bundt pan, then drizzled with a hot and sweet buttery syrup while the cake is warm. As the cake cools, the syrup infuses every bite of the cake, keeping it super soft and light and drenched in flavor.
This Key Lime Butter Cake version has so much lime flavor in every single bite. There is key lime juice and zest in the cake, the syrup, and in the drizzle on top. There is no searching to find the lime flavor in this cake; it practically bursts in every bite.
I don't think I've told you guys this, but I started working with a trainer. She comes to my house three times a week, not only to give me a workout that leaves me sweaty and sore, but also to help me with nutrition and motivation. She's making me keep a food journal and giving me all sorts of tips about what to eat and supplements that will help my metabolism and cut the sugar cravings. My life is a contrast in terms: me, trying to eat well, working out hard, then baking a cake. Sometimes I just shrug and say, yes, this is really my life.
It's also a bit like an alcoholic working in a bar: once that cake is in my kitchen it's almost impossible to avoid it. I'm trying to build my willpower, and most of the time it doesn't work, but I'm super proud of myself: I managed to only taste this cake before I froze it. (Yes, you can freeze cake.) I'm hosting a brunch for 30 people on Easter, so I know I can serve it to them.
#winningatmydiet #atleastforTuesday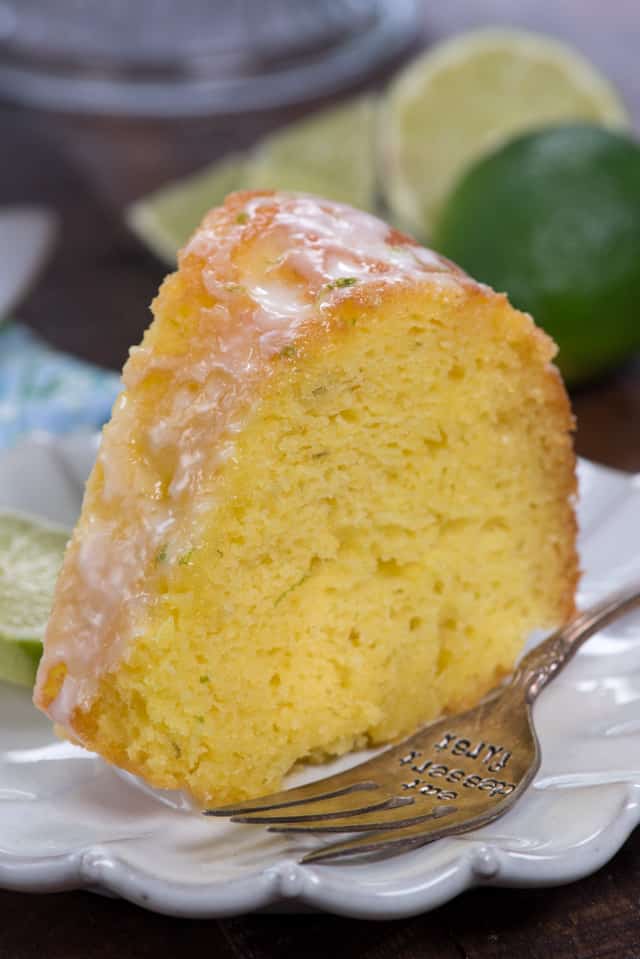 This key lime cake is made without gelatin, which I know a lot of people are looking for. It does start with a cake mix, but the secret is safe because no one will ever know, as long as you bury the box in the trash.
It may seem weird that I started with a lemon cake mix, but this cake doesn't taste like lemon, or even like lemon lime cake. It tastes totally like key lime, because I added so much to the recipe. I used lemon cake mix because key lime cake mix is hard to find, and because I really wanted that citrus flavor. You can start with a yellow or white cake mix too, if you want, but you'll want to adjust the ratio of lime juice to water and lime zest (see my notes in the recipe). If you happen to be able to find a key lime cake mix (a few brands make it as a specialty flavor once in awhile), you can use that too.
The secret to the buttery key lime cake flavor is a few different ingredients that mix to make the best cake you'll ever eat: