Do you love Starbucks Petite Vanilla Scones? Well, you're in luck! This is a Copycat Petite Vanilla Scone, even better than the original!
Copycat Petite Vanilla Scones are just like that scone recipe at Starbucks but they're better because they're made at home. This is the best scone recipe because it's made with pudding mix – the scones are pillowy soft and stay soft for days. The flavor of these scones is amazing!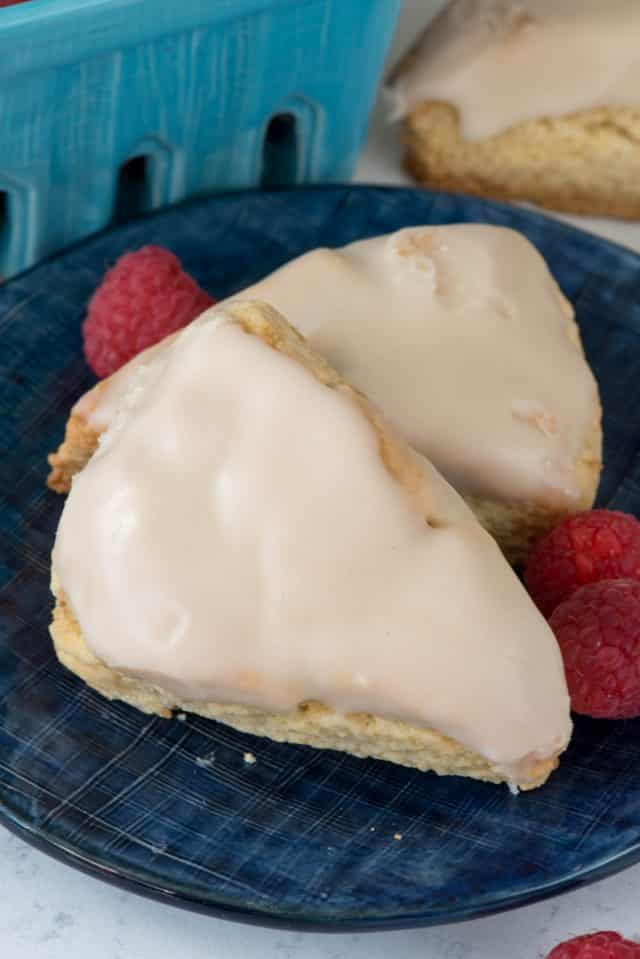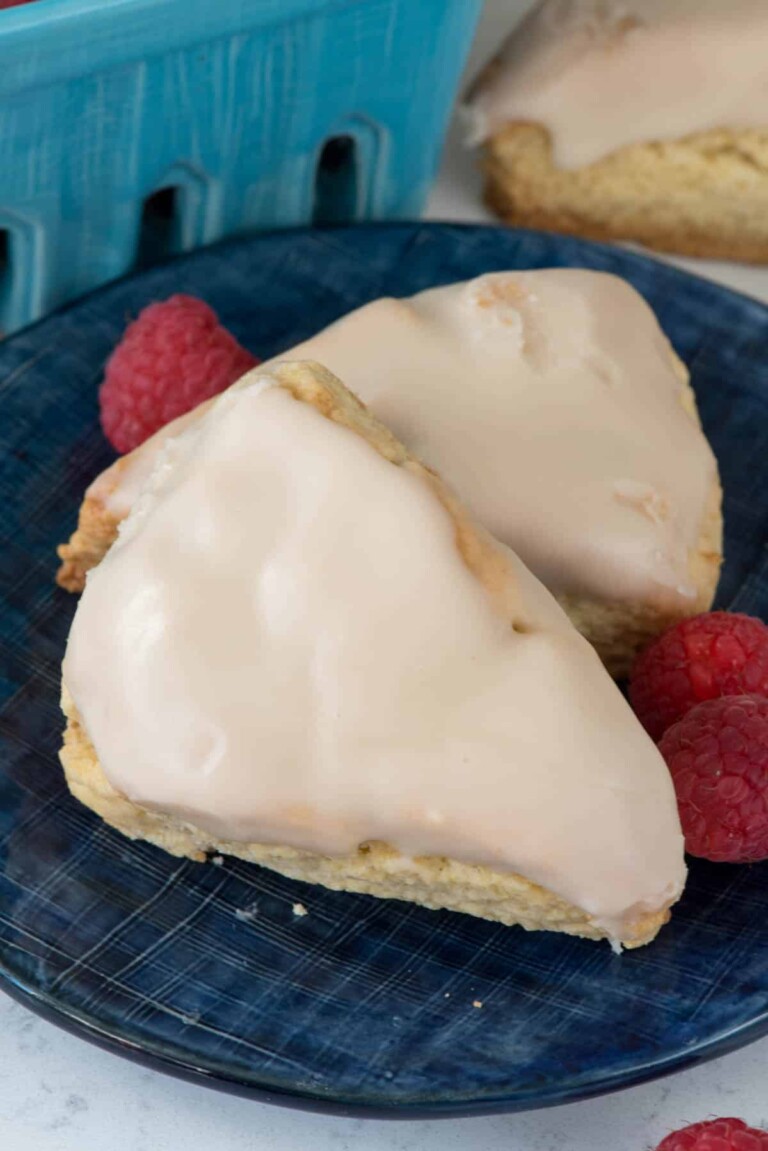 Mel and I have had a ritual almost as long as our relationship: we love to walk to Starbucks on Sunday mornings, have coffee, and read the paper. It still is one of my favorite things to do on the weekend, although it's fewer and far between. Life gets in the way too much!
I'll never forget one walk back in 2001. We were newlyweds, and it was about a mile to the Starbucks. On our way, there was one of those trailers the cops set up to track your speed, you know, to tell you how fast you're going.
It was probably no later than 8am on a Sunday morning, so it was totally dead outside. Mel took off running at a sprint to see if it would clock his speed. I think it said 10 mph or something. To this day, every time  I see one of those road things, I think of that morning.
For several years our walks included Jordan and no newspaper reading because dealing with a toddler is hard enough without trying to read the paper. Then we added Ginger and had fun watching her try to eat the crumbs from our breakfast. Now our Sunday morning ritual usually is just Mel and I and Abby, because Jordan is either sleeping in (she's a teenager now and is rarely up before 9 or 10) or she's at a sleepover and we're alone. It's weird to be at Starbucks and be able to read the newspaper again!
When Jordan was little, we always got her a petite vanilla scone on our Starbucks Sundays, and now that's my indulgence. I love all the petite treats they make, because it makes me feel better to eat one. Plus, when Jordan was 3, it was a perfect size for her. Jordan loves those petite vanilla scones…and so did Ginger. Abby just sees a Starbucks cup and hopes it's her Puppuchino.
I'm a little scone obsessed, ever since I made Lemon Scones and  Funfetti Chip Cake Batter Scones. I'm also obsessed with Starbucks Copycats ever since I made those Blueberry Crumb Muffins. These Petite Vanilla Scones are just another addition to my favorite breakfast recipes. They're perfect for Sunday brunch or any day you want a homemade scone!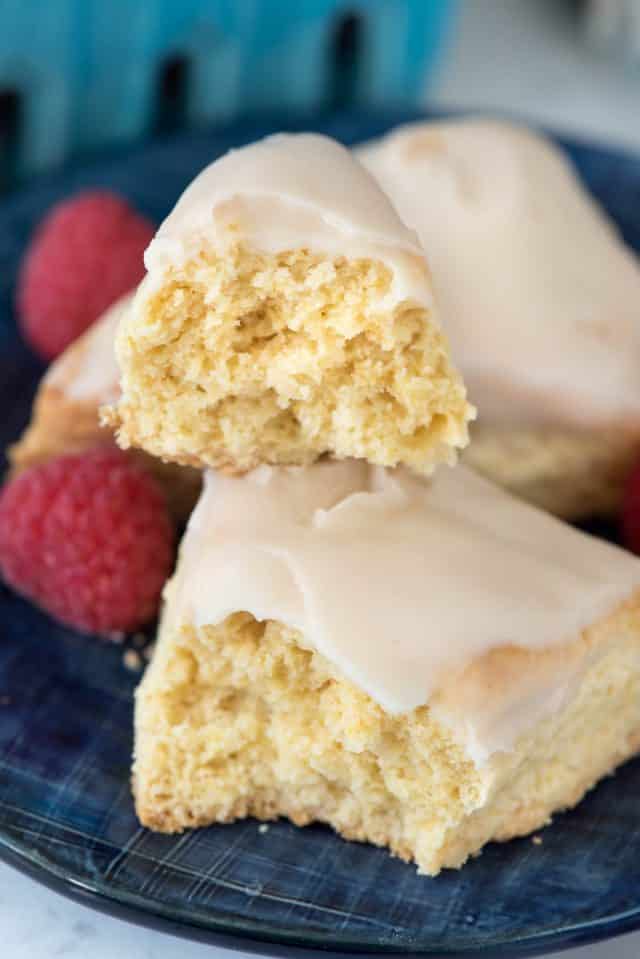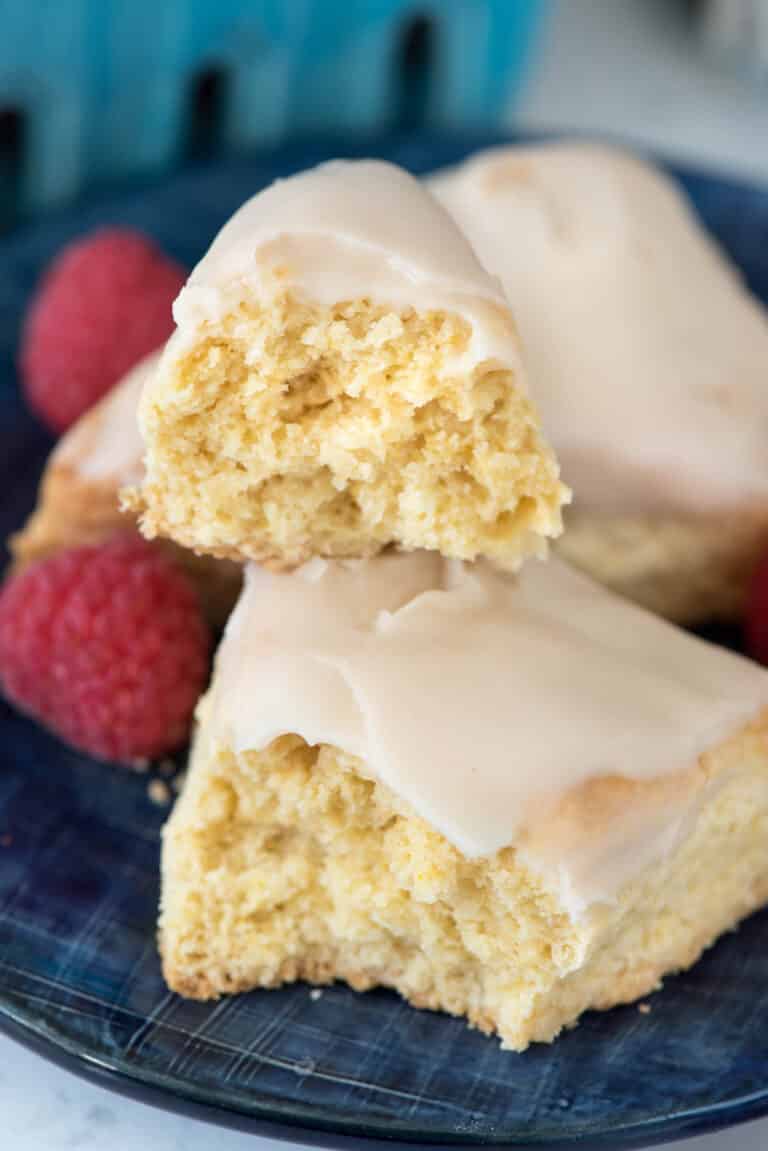 Copycat Petite Vanilla Scones are homemade and stay soft for days. They're better then the recipe from Starbucks!
I wanted to make a scone version from scratch – without the cake mix. But I'm always so worried that a from-scratch scone will be dry. I've had dry scones and they aren't good! So I did what I always do to keep a baked good soft: