Easy Stuffed Zucchini Boats have so much flavor with ground turkey, mushrooms, pasta sauce, and cheese. This is a healthier dinner recipe your whole family will love.
This recipe is a twist on an old family favorite and I hope you love it as much as we did!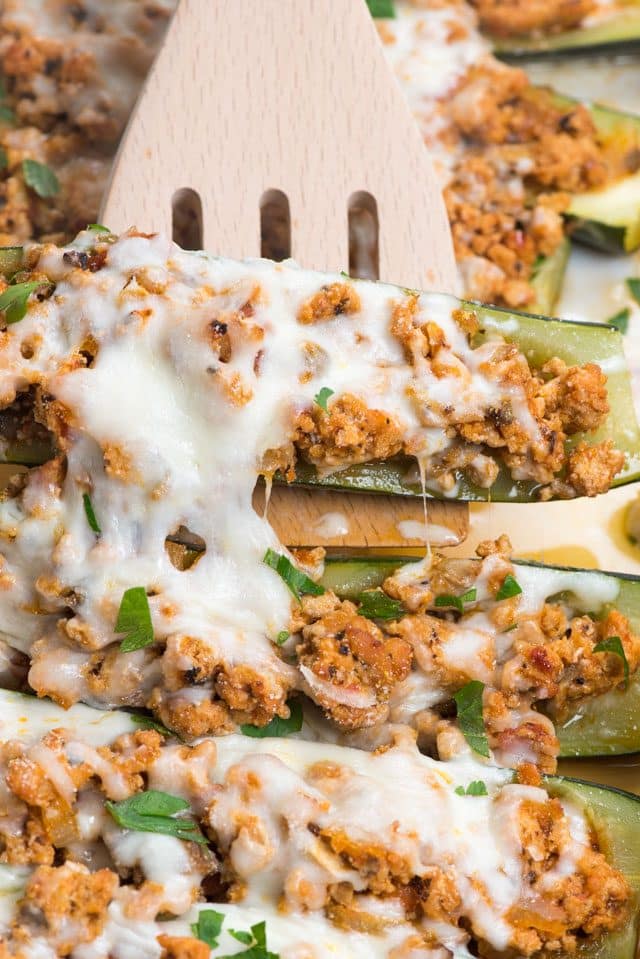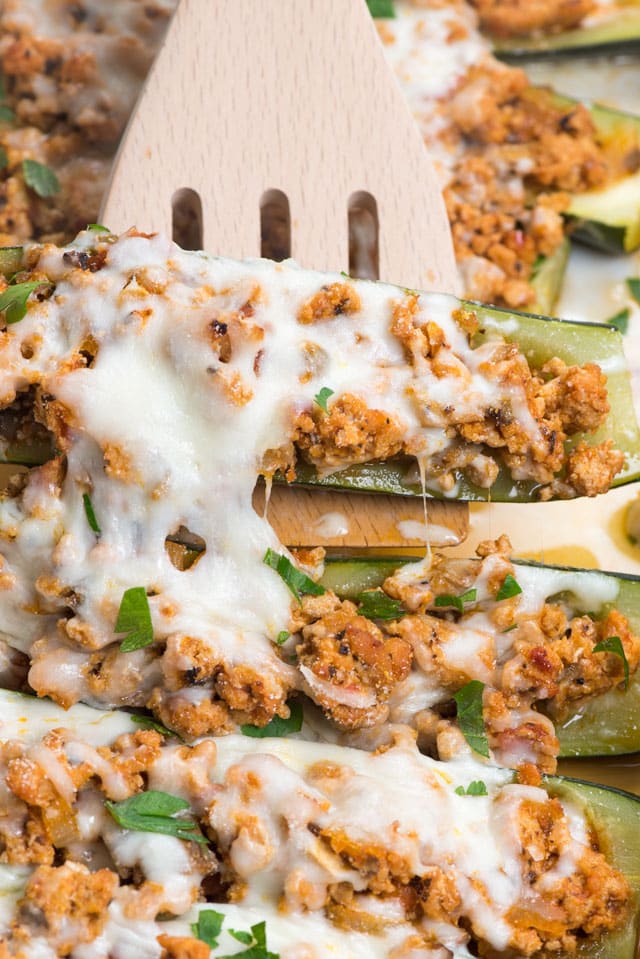 I remember my Nana making a recipe like this when I was young. I remember my mom and dad looking forward to her Zucchini Boats every time she made them, but I never did, probably because I didn't like tomato sauce back then. When I was a kid I liked about three things: rice with cheese, pasta with cheese, and bean burritos.
(Gee, I have no idea why Jordan is a picky eater…)
As an adult I started eating pasta sauce and I started trying out new recipes. As a young married woman, I would watch Rachael Ray incessantly and buy all of her books. I think she, at one point, must have made stuffed zucchini because I remember making it for Mel all the time years ago. Then, for some reason, I stopped (probably because Jordan stopped eating everything but pizza and grilled cheese) and I never got back into the groove of cooking with zucchini. Until now, that is.
(Actually, I think I stopped making zucchini that year we had the 5 million 20-pound zucchinis growing in our garden. LOL)
When I was brainstorming a low-carb way to have some sort of Italian food, I remembered my Nana's zucchini boats and immediately tried to recreate them. We absolutely loved this recipe and I know your family will too!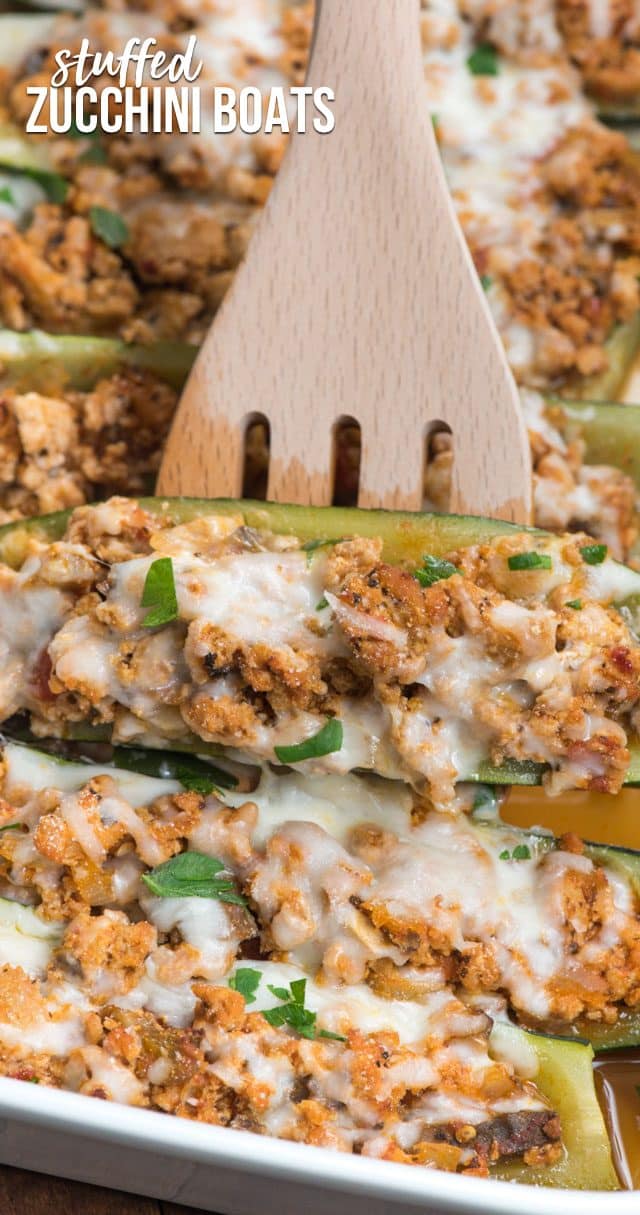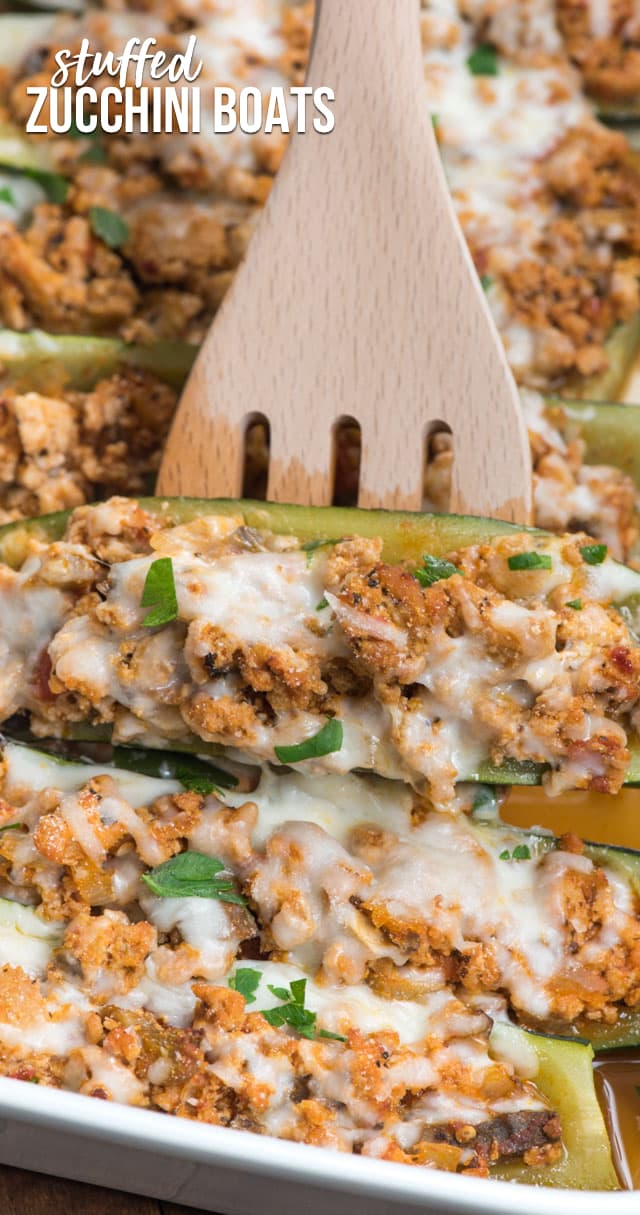 While this recipe isn't a 30 minute meal, unless you pre-bake the zucchini, it's an easy recipe to put together. In fact, you can even make some of it ahead of time and just bake it when you're ready to eat.
This easy stuffed zucchini recipe is filled with ground turkey that's cooked with mushrooms and onions and garlic along with lots of herbs and spices. I love using ground turkey and use it instead of ground beef 99% of the time. Believe me, this recipe tastes so good you won't miss the beef, but if you have a purist in your home, you can substitute ground beef for the turkey.
The cooked meat is mixed with pasta sauce and then stuffed into zucchini boats. The mixture will fill about 4-5 regular sized zucchini, which will serve 4-8 people depending on what else you're serving. Because we try to eat low carb, the three of us just ate the zucchini boats along with a small side salad and we had leftovers for lunch the next day.
Now, to make sure your zucchini are cooked all the way, I have a few tips for that in the recipe. Really, since the filling is already cooked, all you need to do is make sure the zucchini is cooked to your liking. Then, add the best ingredient: cheese!! The cheese makes these SO good.