The BEST Chocolate Chip Cheesecake Bars – this is the best cheesecake bar recipe ever! It's smooth and silky and has an easy Oreo crust, making these heavenly bars one of the best desserts ever.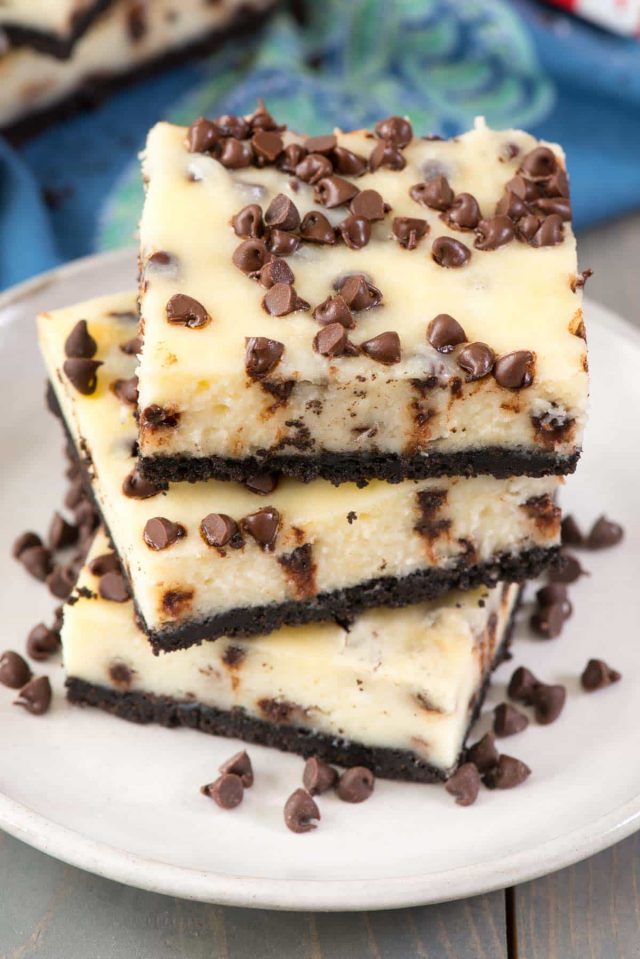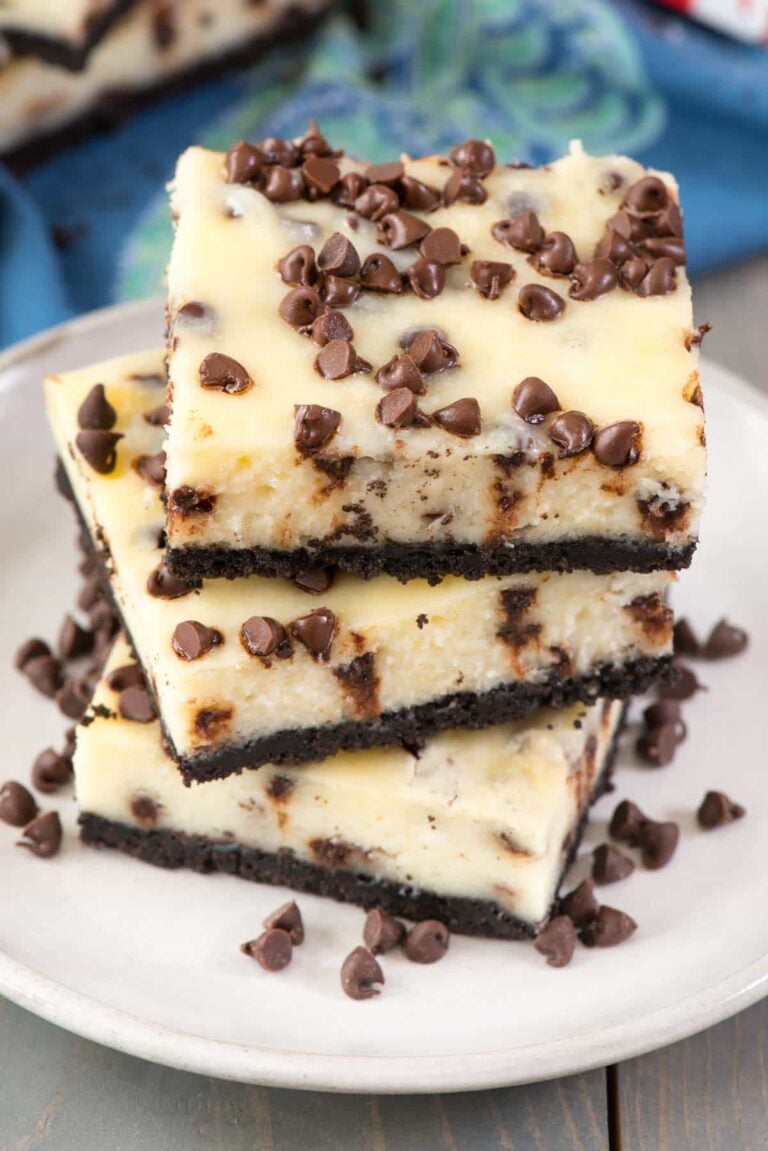 Remember when you started the job you're at now, and you didn't know anyone at all? Then, slowly, over the course of time you met a person here and there and they introduced you to other people and eventually you found yourself with some friends? The same goes with blogging, although it takes longer since we're not working in an office together. Virtual relationships take a little bit longer to develop but they can be real and some of the best ones out there, because they take extra work. You don't see or talk to the person every day, but they're there for you when you need them.
Back when I started this blog I knew no one who was blogging. Eventually I met Ashton and then she introduced me to Aimee and Jocelyn. We became a foursome, chatting often, sharing each others work, bouncing ideas off each other, and looking forward to seeing each other in person at conferences. That is why I'm so exited to bring you this Chocolate Chip Cheesecake Bar recipe today, because it comes from Jocelyn's debut cookbook! Jocelyn is the blogger over at Inside BruCrew Life, where she shares so many delicious dessert recipes and comforting dinners. Her new book, called Cheesecake Love, is a book full of the most fabulous CHEESECAKE recipes ever, including these bars.
I am just so proud of her. This book has been a labor of love for her. She's written it while blogging full time, raising 3 kids, sending one to college, and moving to new states – TWICE. The fact she is still sane while doing it all is a testament to what an amazing person she is.
If you love cheesecake in any form, Cheesecake Love needs to be on your list. Everything about cheesecake is in this book, from elegant full size cheesecakes to bars, breakfasts to dessert mashups. All the fabulous flavors are there: chocolate, vanilla, pumpkin, mint, berry – you name it. I wanted to make every single recipe but finally settled on these bars because Chocolate Chip Cheesecake Bars may be a simple and easy recipe, but sometimes a classic is what you're craving.
I can guarantee that these cheesecake bars will be the best ones you'll ever make. Throw away those other recipes from Pinterest and use this one instead. It really is the BEST ONE EVER.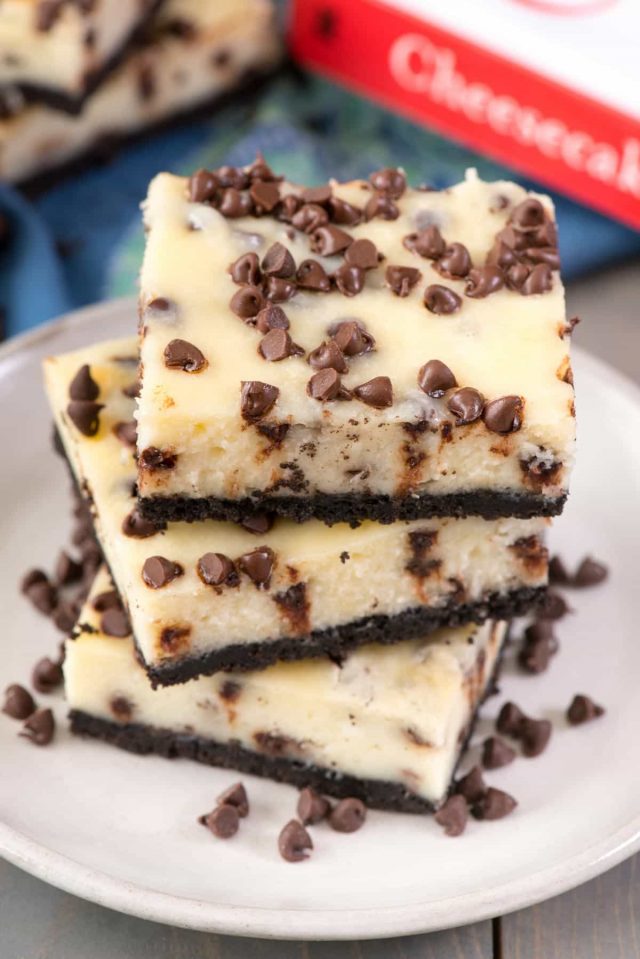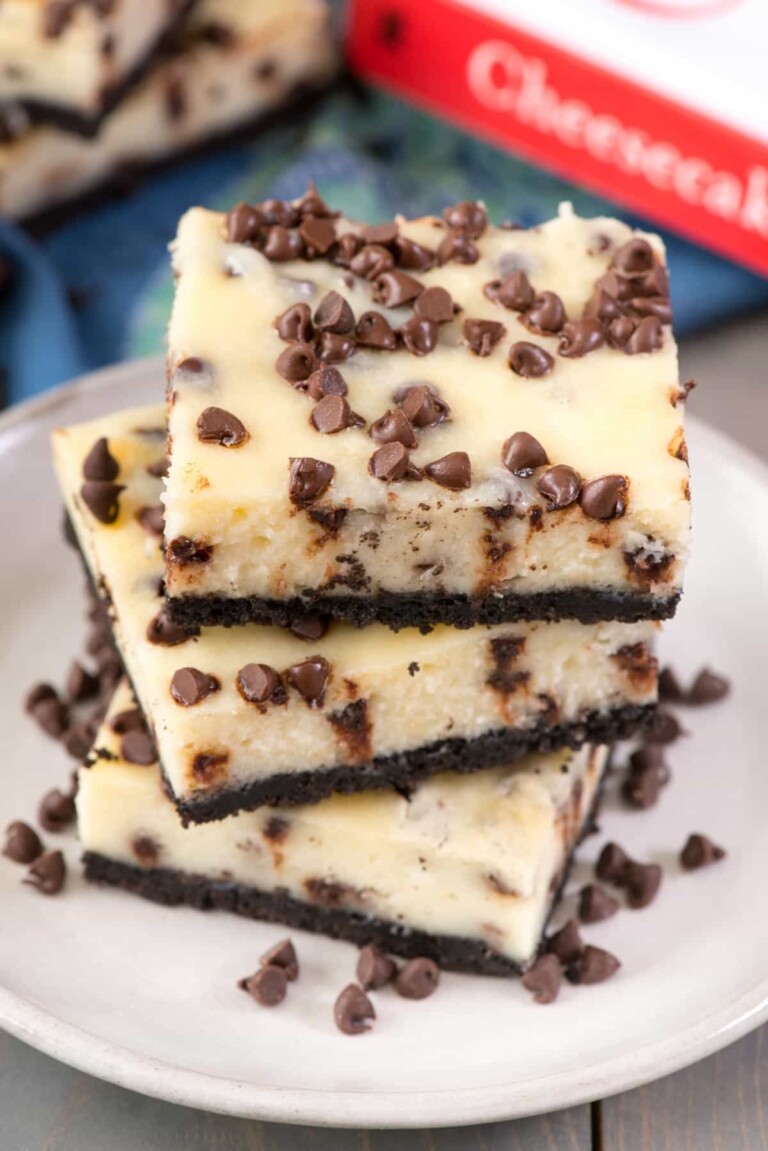 The recipe starts with an easy Oreo crust, except it's made in a 9×13″ pan. While the crust pre-bakes you make the filling for the bars with silky cream cheese, sour cream, and eggs. Don't forget the chocolate chips – they add such a good chocolatey flavor to the bars.
Often you'll see recipes that bake cheesecakes in a water bath. Jocelyn instead uses a steaming method: she has you place a pan of water in the bottom of the oven to increase the moisture in your oven. This keeps the end product nice and creamy. She explains in the baking tips section of the book that the steaming method is not only easier but also decreases the chances that water will leak into your cheesecake. Plus, when you're making a 9×13″ cheesecake bar recipe, there's often not a baking pan big enough for a water bath.
I'd never actually heard of or used the steaming method, but I will from now on. All you have to do is put a rimmed baking sheet full of water on the bottom of your oven while it's preheating. Easy peasy!
Her steaming method works like a charm because these chocolate chip cheesecake bars were super creamy and almost silky in texture. They were definitely some of the BEST cheesecake I've ever eaten!