7 Layer Pizza Dip is an easy hot cheesy dip recipe that is even better than pizza!! The layers of cheese, sauce, and toppings that will be the hit of your party. What will you top it with? Easiest Ever Layered Pizza Dip Pizza is a huge weakness for me. I could eat it every…
Homemade Apple Pie Filling – this easy recipe takes just a few minutes and tastes so much better than canned pie filling! Keep it in your freezer for when you want pie filling ASAP! You never need to buy the can of pie filling again – just whip up this easy recipe to use for…
This All Butter Pie Crust is my absolute favorite pie crust recipe. It works EVERY time and produces flaky, buttery homemade pie crust that will make your pie recipe perfect! With this easy tutorial you will get the perfect pie crust every time. The BEST Pie Crust Recipe I've been using this all-butter pie crust…
Zucchini brownies are a healthier recipe for brownies, and these are the BEST zucchini brownies ever! They're ooey, gooey, and SUPER fudgy brownies. And NO one will know they have zucchini inside! PIN IT NOW to save for later! Yes, it is another zucchini recipe. I know, you're probably yelling at the computer chanting "No…
Easy Oven Baked Chicken Tenders are the perfect easy dinner recipe. These are baked in the oven so they're healthier than fried, but they're crunchy and full of flavor. I pinky swear: these are PICKY EATER APPROVED. When I can get my daughter to enjoy chicken, you know it's a good recipe. Chicken Tenders Recipe…
This EASY White Bread is made from scratch. It makes two loaves and is the perfect sandwich bread! Making homemade bread is easier than you think. This post is sponsored by Fleischmann's® Yeast. Their RapidRise® Yeast makes making homemade white bread EASY! PIN IT NOW TO SAVE FOR LATER This year, my goal is to…
This Easy 5-Minute Gravy Recipe is perfect for turkey, chicken, or beef! It's so flavorful and it's foolproof too and perfect for a any meal. PIN IT NOW TO SAVE FOR LATER! Gravy has always been sort of an enigma to me. I've never known the exact ratios of liquid and thickener or whether to…
This is the ULTIMATE Pizza Dough Recipe! This easy pizza crust recipe can be made thick, thin, or personal sized with whole wheat or gluten free flour. You can make a baked pizza crust or a grilled pizza recipe. Top it with whatever you like for the best dinner, or make a dessert pizza! Never thought you could…
Peach Pie is such an easy pie recipe that is classic for summer. Make this easy peach pie with a crumble topping or as a double crust pie or even with a lattice! Once you have my peach filling recipe, you can make this into any pie you like. Peach lovers will love this pie.…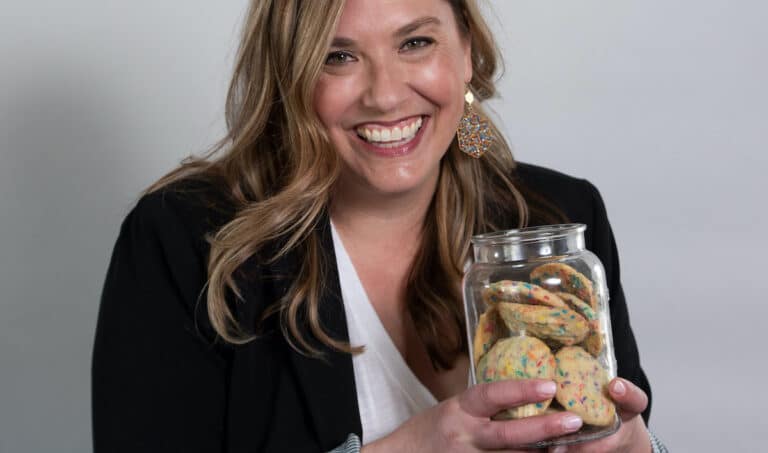 Hi, I'm Dorothy!
Welcome to Crazy for Crust, where I share recipes that are sometimes crazy, often with a crust, and always served with a slice of life.
This easy Chicken Broccoli Skillet Dinner recipe is done in under 30 minutes! It's an easy meal for weeknight dinners with a creamy parmesan sauce and lots of pasta. Even the pickiest eaters will love this easy chicken and broccoli pasta. Easy Chicken and Broccoli Pasta Skillet One pot meals are a staple at our…
We LOVE French Bread Pizza in this house – it's one of my go-to dinners! Today I'm showing you how to make this easy pizza recipe and sharing all my tips and tricks for the BEST recipe ever! This post is sponsored by Mirum, but all opinions are my own. Pizza night is my favorite…
My Garlic Butter Chicken is an easy 30 minute meal made with fresh vegetables! It's such and easy one pot skillet meal done in no time at all. Our entire family absolutely LOVED this meal. This post is sponsored by Challenge Dairy, but all opinions are my own. Challenge Butter is my go-to and upped…
Easy homemade BBQ Chicken Pizza is the perfect easy weeknight meal or dinner recipe! This easy pizza recipe has chicken, cheese, and BBQ sauce all on a homemade pizza crust. It's the perfect copycat recipe. We absolutely LOVE this pizza, whether or not I make my own crust. It's one of the best pizza recipes…
This easy Swedish Meatball Recipe is a delicious 30-minute dinner. Frozen meatballs make it so easy to make, and the quick homemade sauce takes them over the top! Serve it with noodles for a cozy, comforting dinner. One of our favorite easy dinners to make is Swedish meatballs and noodles, and my recipe is so…
Make this Teriyaki Chicken Bowl for dinner, or make it ahead for meal prep. Either way, it's an easy recipe that is light and flavorful. Tender chicken and vegetables are coated with an easy teriyaki sauce and served over rice for a delicious dinner that's quick to make. When we want something light, we make…
I started making Black Bean Burgers about 10 years ago and we've been enjoying them ever since. I absolutely LOVE beans, so making them into a burger was not a stretch. These are an easy 30-minute meal that's vegan with a gluten-free option. They're a meatless burger you WILL want to eat, and I added…
Pie Recipes
No matter what pie recipe you're looking for you'll find one you and your family will love on this list of over 200 pies!
View more Pie recipes
These adorable Lemon Pie Cookies are what happens when you combine a lemon cookie with flaky pie crust. Each cookie is filled with tart lemon curd and topped with a sweet glaze. These Pillsbury pie crust cookies are bright, delicious, and easy to make with just four ingredients! Easy Lemon Pie Cookies Combining cookies and…
Chocolate Chip Cookie Pie is a giant chocolate chip cookie cake in a pie crust – it's an epic rich and fudgy pie recipe that's completely from scratch! It's my original recipe and will become one of the greatest recipes you've ever made! This post is sponsored by Challenge Butter, whose butter is the base…
Peppermint Pie is a cold and creamy no-bake pie that's perfect for the holiday season! The peppermint cheesecake filling combined with the chocolate crust is the best flavor match. Plus, you can make this dessert ahead of time to make things even easier. If it's Christmas, it's time for all the peppermint things! If you…
For a simple pie recipe, you can't go wrong with an old-fashioned sugar cream pie recipe! Also known as Hoosier sugar cream pie, this is a simple pie made with staple ingredients. It has a flaky pastry crust and a rich and creamy filling and is so easy to make – a custard pie without…
No Bake Lemon Cream Pie – this EASY lemon pie recipe has a homemade graham cracker crust and is filled with lemon and vanilla pudding! It's the EASIEST lemon pie recipe ever! If you have ever wanted to make lemon meringue pie with pudding, this is the perfect recipe to try. No Bake Lemon Cream…
For an elegant chocolate dessert, it doesn't get any better than this Chocolate Ganache Pie! It has an Oreo crust, salted caramel pecan layer, and a thick chocolate ganache layer topped with sea salt! This pie recipe is the epitome of decadence! Ultimate Chocolate Caramel Pie Recipe I'm hitting you with this chocolate ganache pie today,…
This easy no-bake caramel cheesecake combines a chocolate cookie crust, a cream cheese filling, and a caramel swirl on top! It's so cool and creamy and great if you need a make-ahead dessert. Let's talk about the trifecta that is chocolate, cheesecake, and caramel. Isn't it just the best combination? I never get tired of…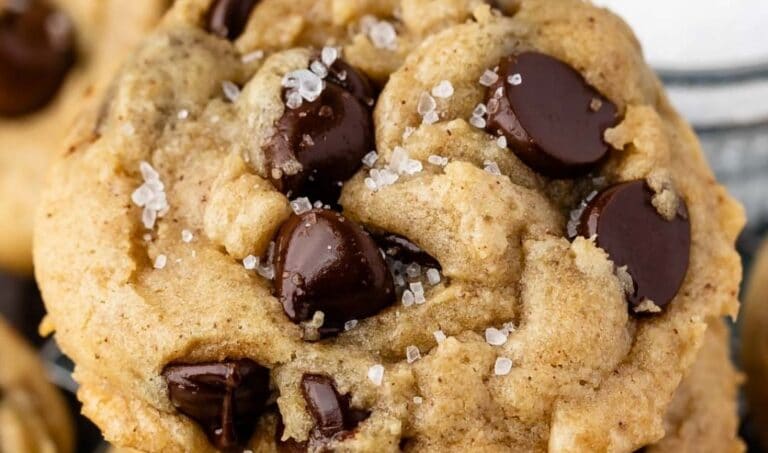 Salted Chocolate Chip Cookies combine sweet and salty for the ultimate chocolate chip cookie recipe! Every bite is loaded with melted chocolate chips with a hint of sea salt that adds texture and enhances the flavor of the cookies. They are seriously the best! Sea salt chocolate chip cookies happen when you make the best chocolate chip cookie and add a hint of salt. It's such a…