Easiest ever TWIX Cupcakes! This easy cupcake recipe fills vanilla cupcakes with caramel and tops them with a chocolate ganache frosting like a Twix Candy Bar.
We love making these vanilla cupcakes for so many occasions. The rich chocolate frosting makes them the perfect dessert, especially because we love copycat candy bar recipes!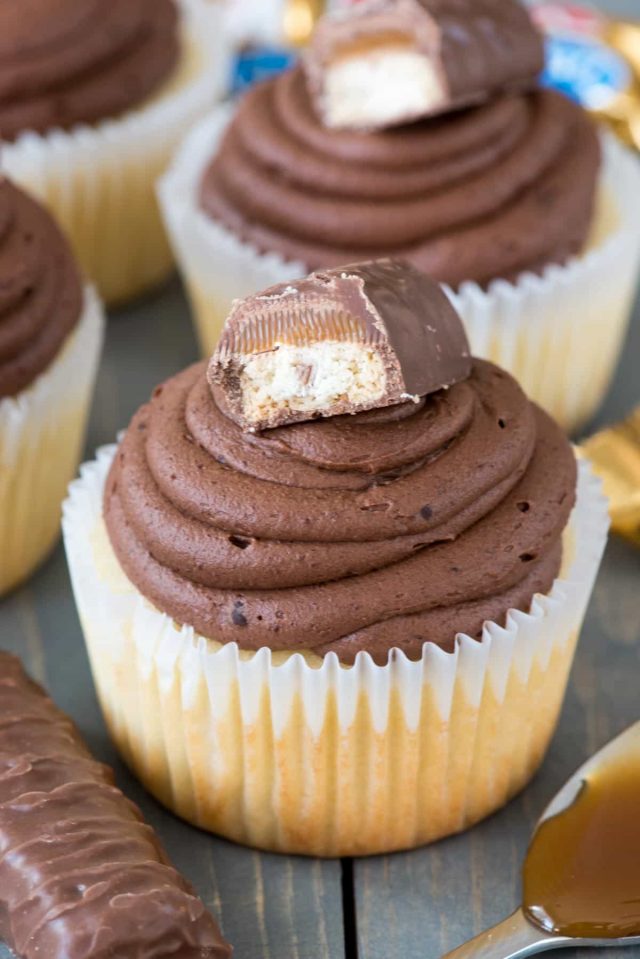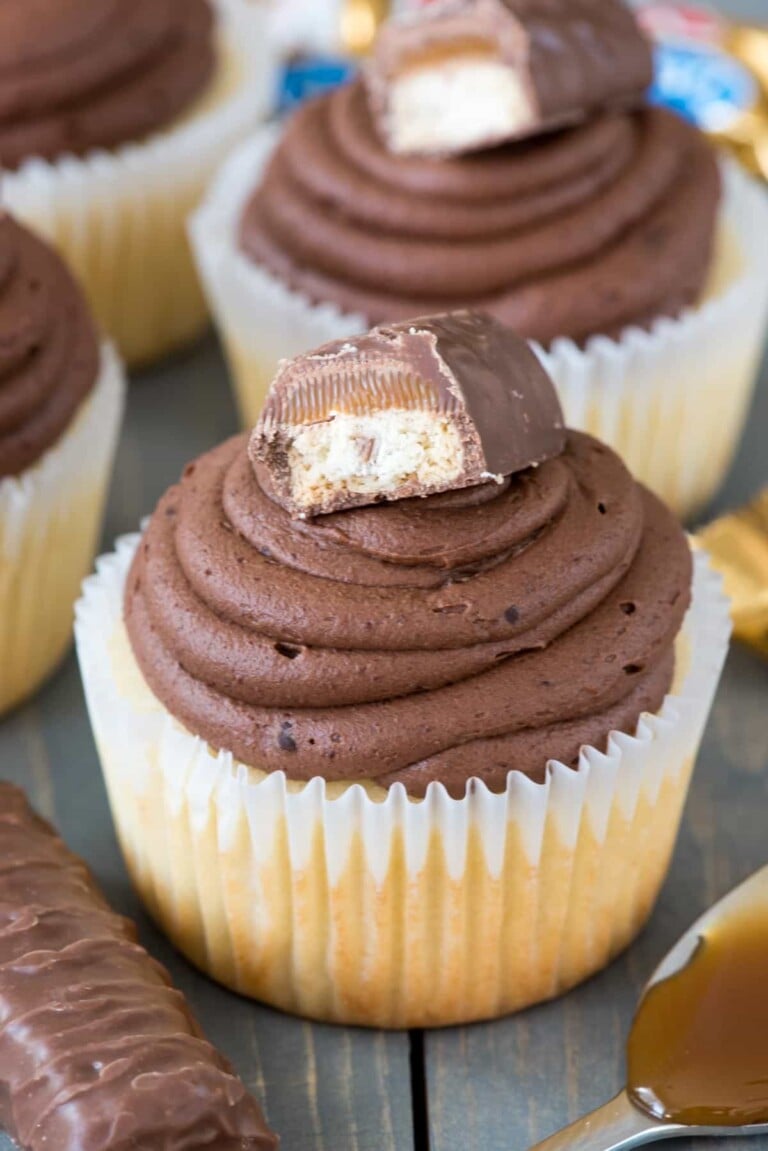 Every once in awhile it dawns on me that my daughter is 12 and no longer a baby. I realize that, when a friend is talking about her toddler or someone I know is having a baby, I really can't relate anymore, except to the regular parenting dilemmas (like mom guilt). No advice I have anymore is very relevant. I mean, I had a baby back in the dark ages when our baby monitors were audio only. I couldn't SEE my daughter sleeping in her crib to know if she was just play crying or if something was wrong.
Even giving advice about things that don't change much – like breastfeeding – seems wrong. So many things are different now, from car seat regulations to when kids are supposed to start solid food to even cold medicine. Dude, if I'd had to go through Jordan's baby and toddler life without being able to give her kid cold medicine I probably would have gone even crazier than I already did. The only reason I got through teething was because of these homeopathic pills that would "instantly take the pain away" and last I heard they'd were deemed totally unsafe. (OOPS.) And omg, keeping kids backwards until 2 and in a 5 point harness until 7 or something. When Jordan turned four and could sit in a booster with the normal carseat I was ecstatic.
Basically, I'm so glad I'm not dealing with babies and toddlers anymore. If there is one thing I learned about myself after having Jordan it was that I am NOT a baby person. Hand me a 6 year old and I'm good. I need someone who can talk, hang out on their own, sleep through the night, and go shopping with me. Now, when it comes to other people's babies? Oh my goodness, I can't stand how much I love them. They make my ovaries dust themselves off. You know why? Because I can give it back after 10 minutes and go back to my day. And because, baby smell. DUH.
That story really has nothing to do with these easy Twix Cupcakes except that cupcakes are sort of like a baby cake and when I think of babycakes I think of my friend Jocelyn from Grandbaby Cakes…who is having a baby really soon!
Surprise Jocelyn, today is your virtual baby shower day!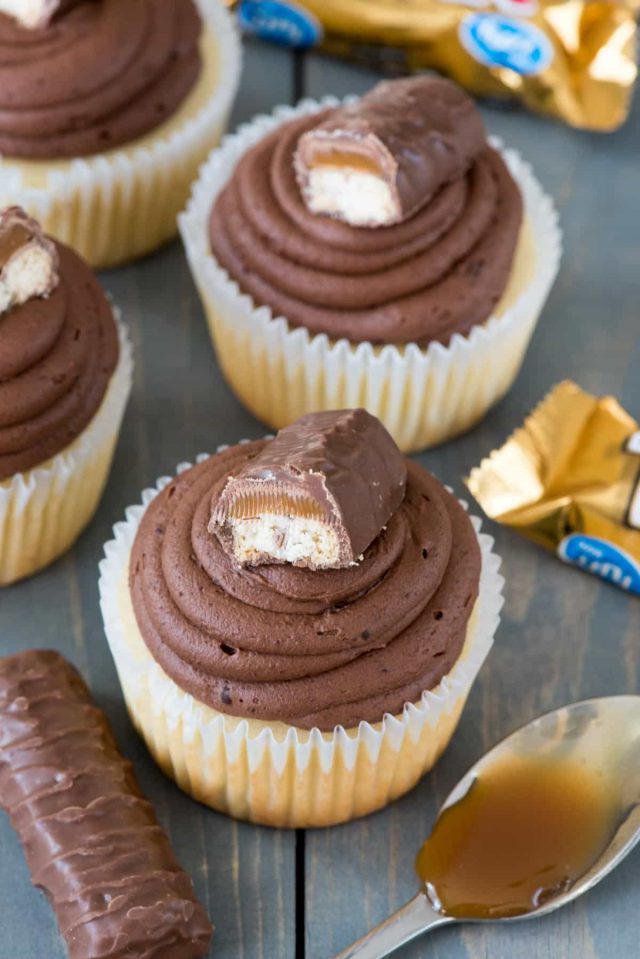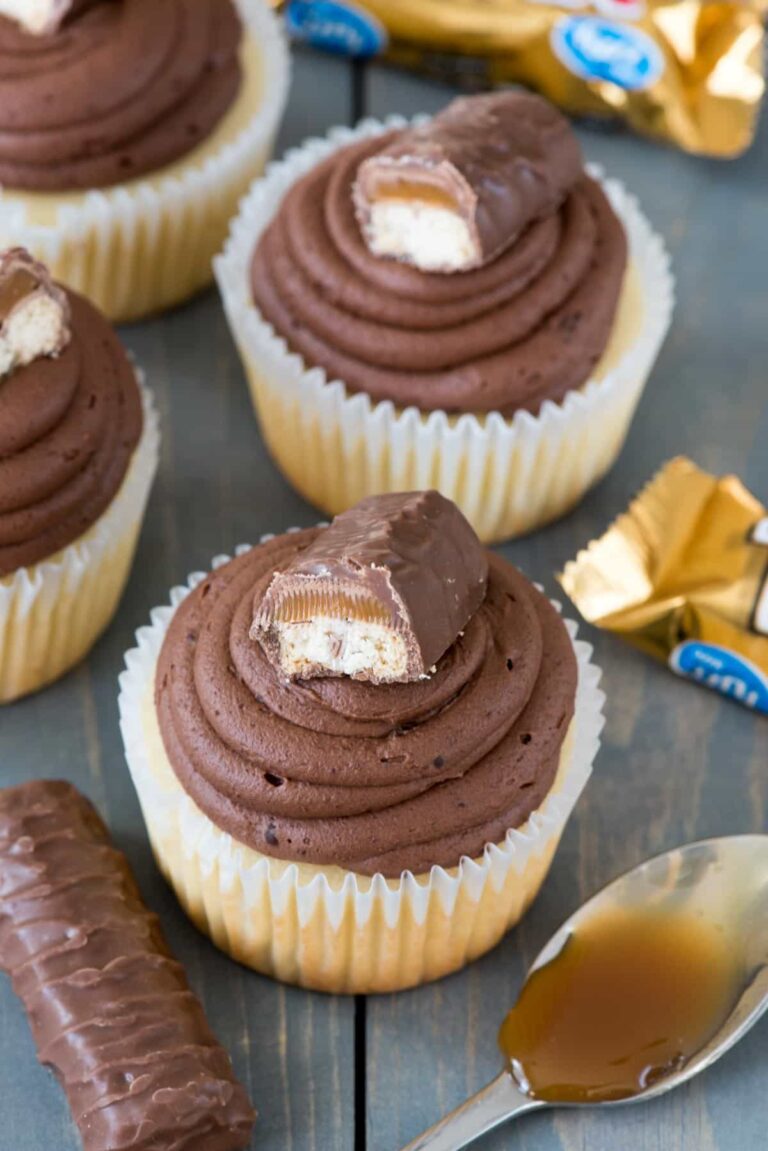 I met Jocelyn a few years ago and instantly felt a connection to her. She is seriously one of the sweetest, nicest, and most giving bloggers I know. Today is about celebrating her and her soon to be born baby girl. How does one celebrate? With cupcakes, of course!
I had two baby showers when I was pregnant with Jordan. One with work friends and one with my family. For me, the shower is all about the cake or cupcakes or dessert. (If I'm not pregnant, it's all about the champagne punch.) These EASY Twix Cupcakes would be a great addition to any shower or birthday party or anytime you feel like marrying Twix and Cupcakes. Actually, it's like if Twix and Cupcakes got married and had a baby.
So really, these cupcakes DO have something in common with the theme of this post after all. 😂