EASY Peanut Butter Cookie Cake is a giant peanut butter cookie! My husband loved this cake for his birthday.
Sometimes you feel like a peanut butter cookie…but you want a peanut butter cake too. This cookie cake is the perfect combination.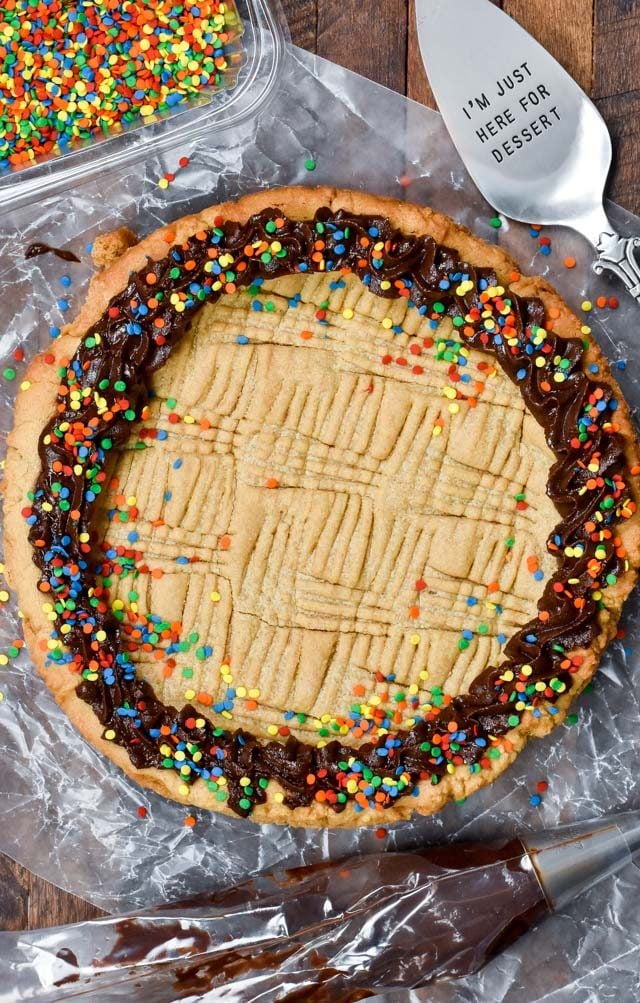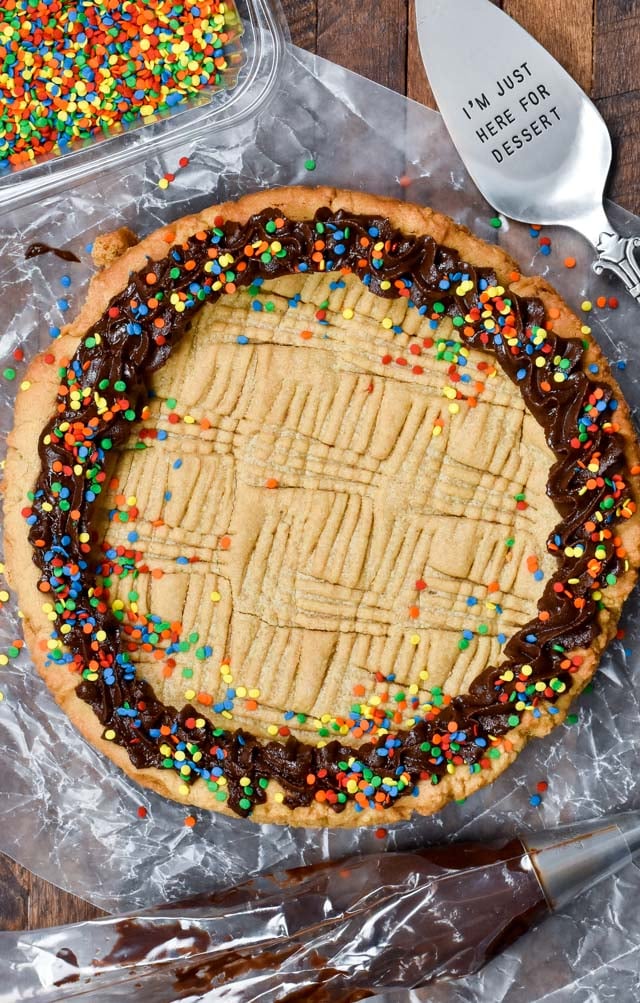 Monday was my husband's birthday. He probably wouldn't appreciate if I spilled his age but he's double-digits older than I am and I'm 40 so…you can do some estimation.
We've had a challenging summer, as some of you may know from reading my newsletter. He had his hip replaced early in June and he's still in the recovery period: no driving, has to use a walker. He had to work (from home) on his birthday, so we didn't do anything spectacular, but we did go for dinner and I surprised him with a weekend in San Francisco once he gets the green light to be a normal person again.
If you've read this blog for any length of time, you'll know that if Mel eats one of my desserts, you know it has to be good. (You also know it's either carrot cake or peanut butter.) It's kind of a running joke, that he doesn't eat ant of the sweets I put on this site. People always say to him, "Oh man how do you keep from eating all her desserts?" and he replies, "It's easy, I don't eat dessert."
In fact, he has his own tag on this site. It's the Mel Ate It tag, a collection of all the things he's actually eaten. (Let's remember I have over 1000 recipes…)
When his birthday was rolling around I tried to decide: do I go carrot cake or do I go peanut butter? It's always going to be one of those two, because those are the only desserts he eats – ever. (Except when I make toffee at Christmas, but still…peanut butter.)
His absolute favorite are peanut butter cookies. I decided to make my favorite peanut butter cookie recipe into a cookie cake, which, if I'm being honest, is my favorite kind of cake too.
A cookie cake is the best of both worlds: it's a giant cookie that's topped with frosting, like a cake!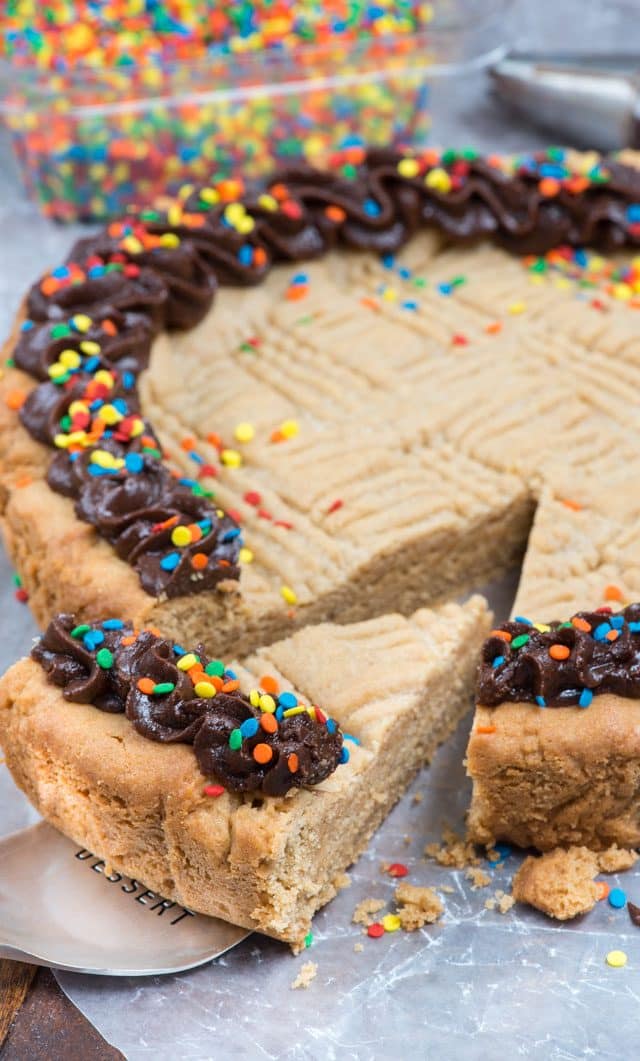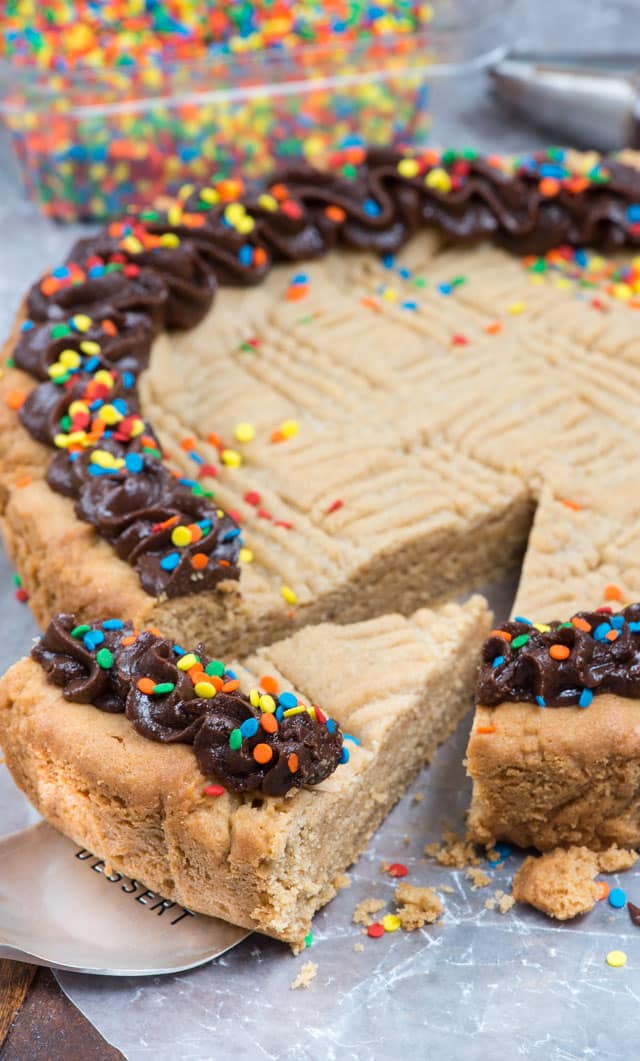 Because this peanut butter cookie cake is so thick, it's soft and chewy at the same time. It's full of rich peanut butter flavor and I added a rich fudge frosting around the outside. Chocolate and peanut butter are totally BFFs, especially where Mel is concerned.