This post may contain affiliate links. For more information, read my disclosure policy.
Learn how to make a lattice pie crust in this easy tutorial! A lattice pie crust is a pretty decorative pie crust for any pie.
This easy photo and video tutorial will teach you how to make this pretty decorative basket weave on top of a pie!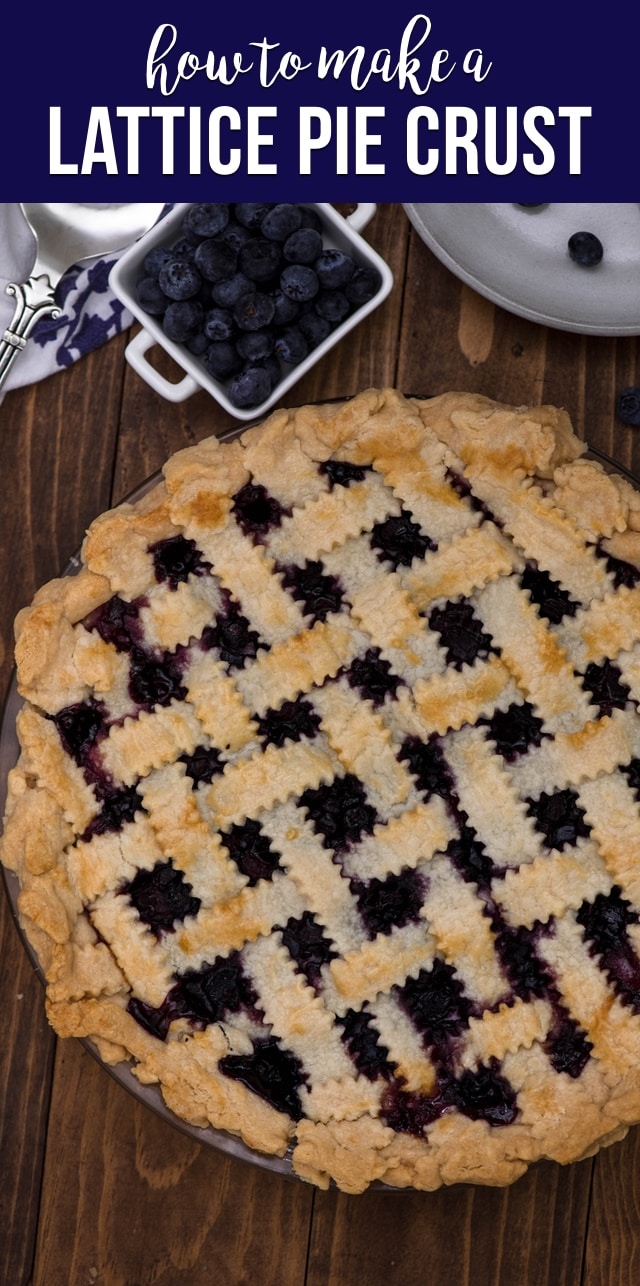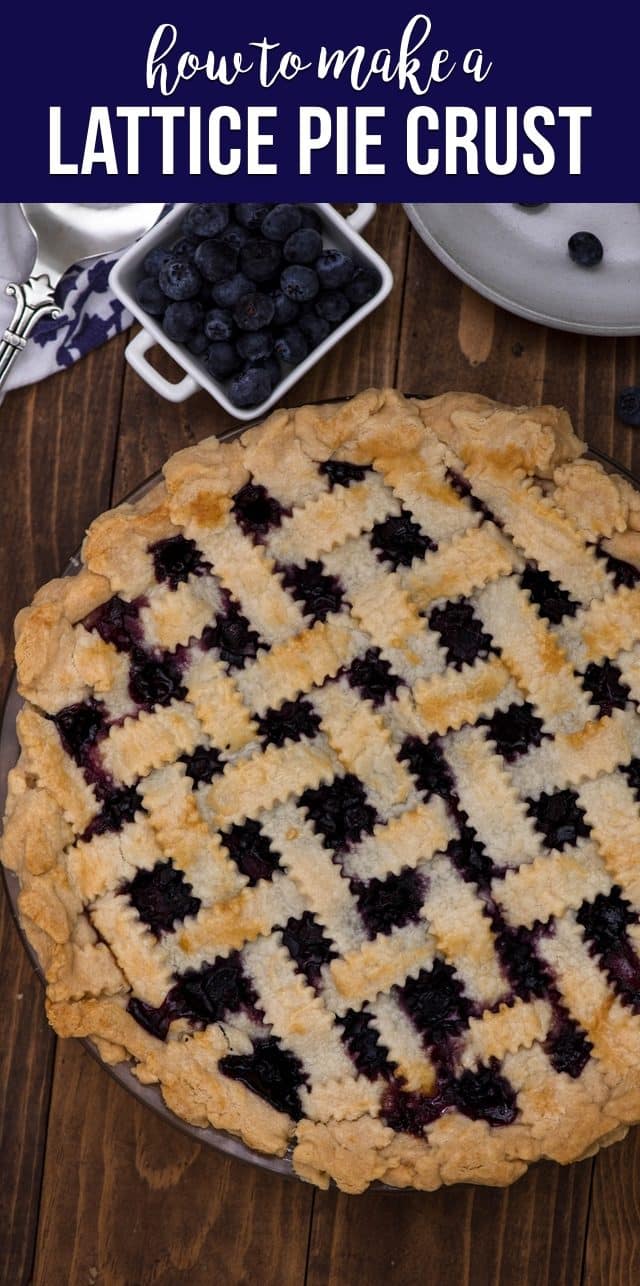 Lattice top pies are so gorgeous, don't you think? I always see them online or in bakeries and just think how pretty they are.
Like a cake roll, a lattice pie crust looks really hard and confusing to do. But also like making a cake roll, it's much easier to make a lattice pie crust than you think. Once you visually see the method, how to weave a lattice clicks into place and becomes really easy to do.
Lattice top pies are perfect for all sorts of fruit pies, like apple or blackberry or any fruit pie you love. Weaving a lattice on top just adds another kind of pie crust to your baking arsenal for when you're making pie!
Here are the things you need to make a lattice top pie crust:
Pie crust, obviously. You can use my all butter pie crust recipe or you can use a refrigerated pie crust. Don't use a frozen one!
A knife or pizza cutter or pastry wheel for cutting the strips.
A ruler, if you think you need one. (I always do.)
It's easier to show you how to make a lattice pie crust than to explain it. Below is a photo tutorial on weaving a lattice, and if you scroll down to the recipe card you can watch a video on how I make it.
How to make a lattice pie crust: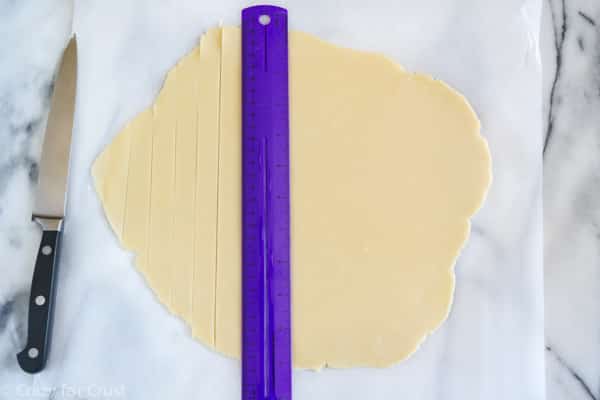 First, roll out your pie crust. It should be chilled a little bit, but not so long that the crust is so cold you can't handle the strips.
Using your knife or cutter and ruler, cut strips of pie crust that are about 1/2-3/4-inch thick.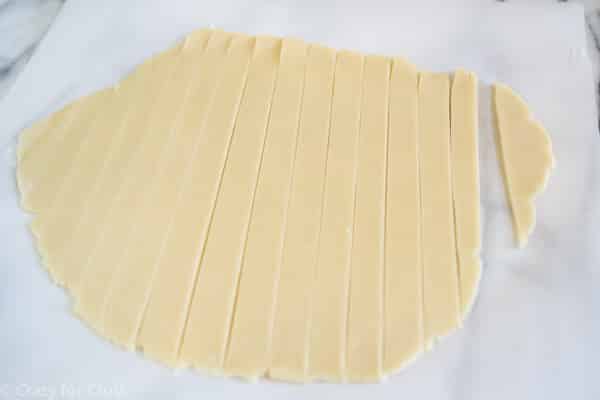 Once your lattice is cut, you'll have several strips. Now it's time to make your pie!
Place a bottom crust in your pie plate and fill with your desired filling.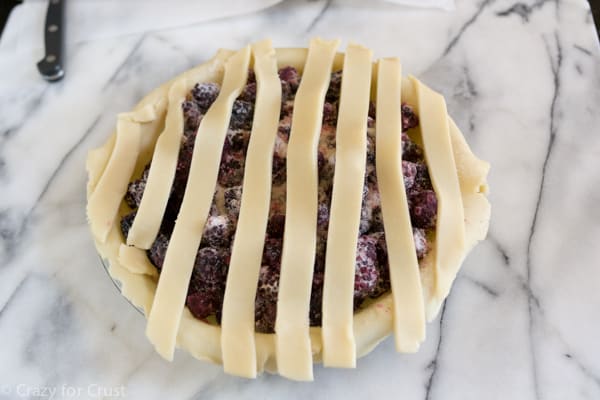 Take strips of the lattice and lay them on your pie, leaving small gaps between. I like to line up the short strips from the edges with the edge of the pie plate and use the longer strips in the middle.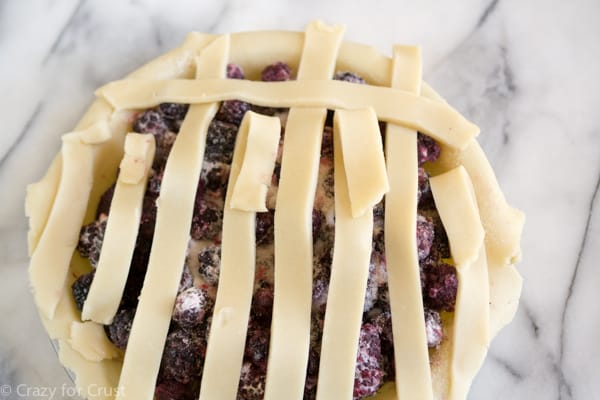 To weave your lattice, pull back every other strip and place a new strip of pie dough perpendicular to the strips you already laid. Replace the strips you folded over.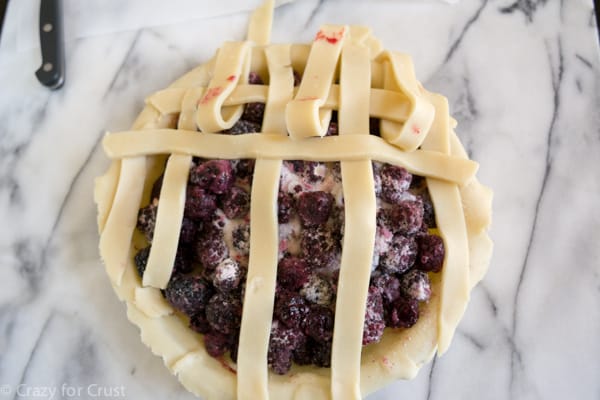 Then, do the same thing with the alternating strips. Keep going until the entire pie is covered in basket weave.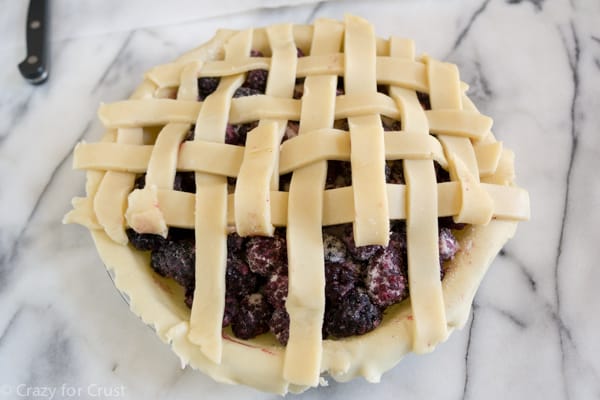 Work your way, alternately curling up strips and laying new ones, until your pie is covered.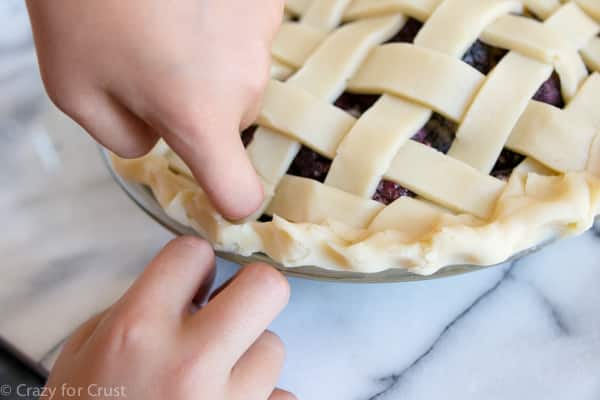 Making a lattice pie crust is easier than it looks and results in a gorgeous pie!
Trim the edges and crimp as desired.
Once you have the lattice made, it's good to brush it with egg wash. You don't have to, but it makes for better browning. To make your egg wash, just whisk up your egg and use a pastry brush to lightly brush it all over the crust. Don't have a pastry brush? Just use your fingers.
That's it! That's how easy it is to make a lattice pie crust. It's a gorgeous topping for a pie that will make people think you worked really hard, but it's easier than it looks!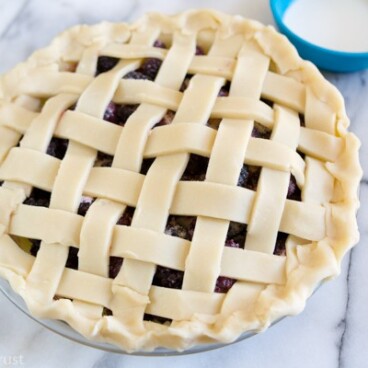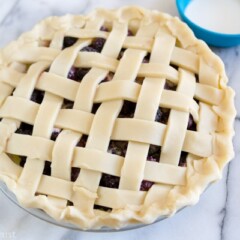 Lattice Pie Crust
This how to make a lattice pie crust tutorial is an easy method for making a decorative pie crust!
Instructions
Roll one pie crust out to fit your pie plate. Place the crust in the pie, letting the edges overhang. Chill 30 minutes. Roll the second pie crust out to fit the pie plate and chill while you prepare the filling.

Fill pie as desired using your recipe.

Remove rolled out crust from the refrigerator. Using a knife, pizza cutter, or pastry wheel, cut strips in the pie crust that are 1/2-inch to 1-inch thick. Use a ruler to help keep them straight, if needed.

Pick up strips of the pie crust and lay them over the pie with gaps between that are the same width as the strips. Try to use the size strip that matches with the location on the pie (smaller strips close to the sides, longer strips in the middle).

Fold over alternating strips and place a new strip perpendicular to the ones you already placed on the pie. Unfold the strips, then repeat using the alternating strips. Continue the basket weave until the pie is covered with the lattice.

Brush the lattice crust with a bit of egg wash (just beat an egg with a fork like you're making a scrambled egg and use a pastry brush or your fingers to lightly brush it over the crust). This is for browning. Sprinkle with coarse sugar, if desired.

Trim edges and crimp as desired. Chill pie for 20-30 minutes, then bake according to recipe directions.
Recipe Nutrition
Serving:
2
pie crust
|
Calories:
1899
kcal
|
Carbohydrates:
194
g
|
Protein:
30
g
|
Fat:
109
g
|
Saturated Fat:
34
g
|
Cholesterol:
186
mg
|
Sodium:
1707
mg
|
Potassium:
457
mg
|
Fiber:
10
g
|
Vitamin A:
270
IU
|
Calcium:
104
mg
|
Iron:
11.3
mg
Nutritional information not guaranteed to be accurate
Be sure to check out my ultimate pie crust guide and all of my pie recipes.
Lattice crust goes so well on top of these pies: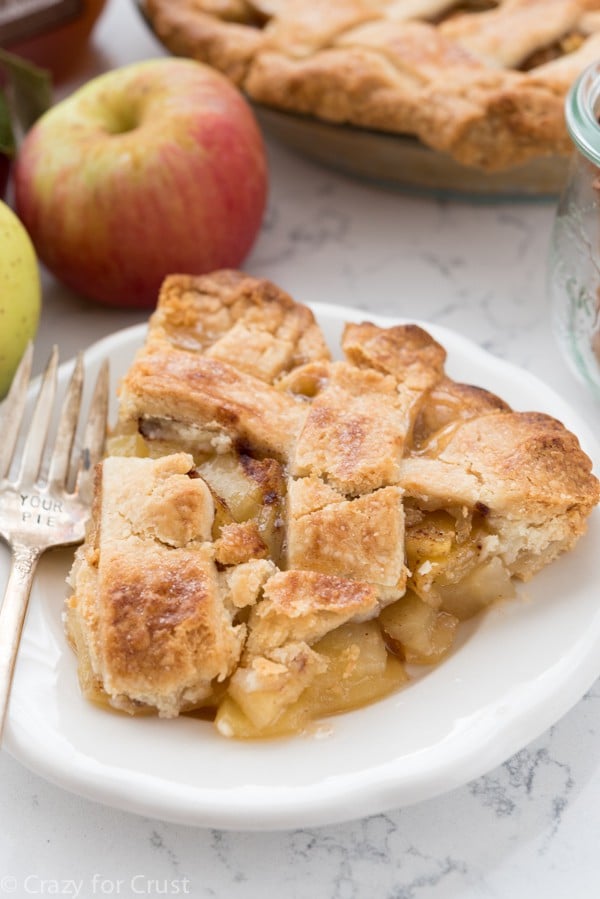 Last Updated on May 13, 2020