This post may contain affiliate links. For more information, read my disclosure policy.
This tutorial will show you how to blind bake a pie crust for any filled pie recipe! Learn how to pre-bake your pie dough for cream or custard pies!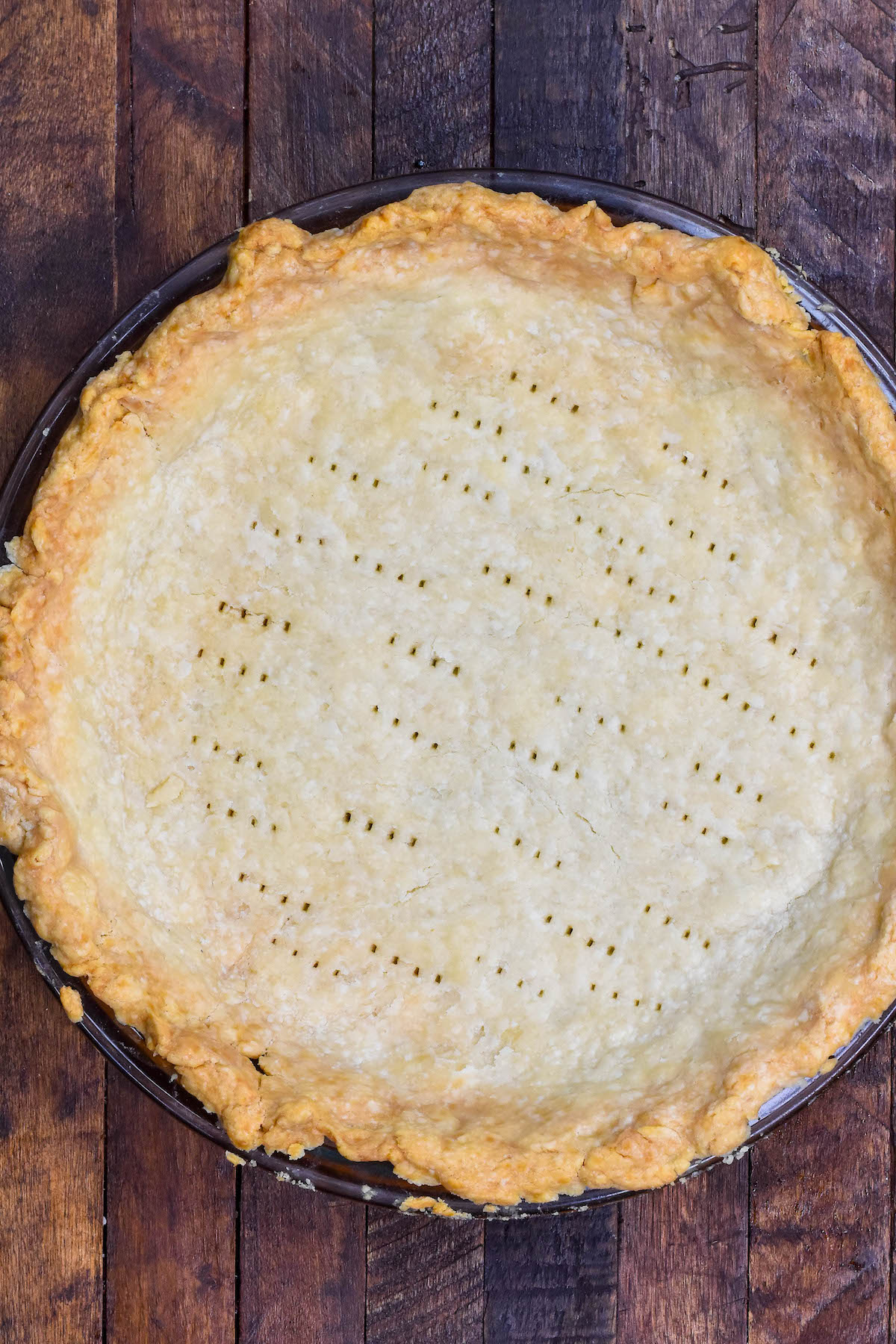 Why blind bake pie crust?
Have you ever heard the term "blind bake" before? Blind baking, or baking blind (or pre-baking) is the process of baking a pie crust without filling. This method is used when you're going to be filling a pie crust with an unbaked filling, like a cream pie or lemon meringue.
Blind baking isn't just as easy as popping a pie crust in the oven. Pie crust is delicate and baking it without using the proper blind baking process will cause breakage, bubbling, or shrinking.
Why this method works
I've tried blind baking with so many methods over the course of my life but this easy method is the one that always works without fail. If you blind bake a pie shell using this method you will not have any shrinkage or breaking of your pie crust. Blind baking a pie crust ensures a crispy crust that won't shrink or bubble during baking!
Blind Baking Tips
1. COLD Crust is essential
You want your pie crust to be absolutely cold before baking, especially if you're using my all butter pie crust. Butter has a lower melting point than shortening so it will shrink more than a shortening crust. Keeping the pie crust cold will eliminate shrinking or melting.
Chill the pie crust for at least 4 hours in the refrigerator or freeze for at least 30 minutes. You can also bake my pie crust recipe (or any one, for that matter) straight from the freezer.
2. Pie weights should be used!
Pie weights are what a lot of bakers and chefs use to blind bake pie crusts, but you can definitely blind bake a pie crust without weights. You can also hold down your crust with common pantry ingredients if you don't have weights.
Things you can use to blind bake in place of pie weights:
Note that you won't be able to cook with these things after you've used them for pre-baking your pie crust, but they're easier to use in a pinch.
Regardless of what kind of weight you use, parchment paper is a MUST to shield your crust from whatever you're filling it with.
3. Fully Blind Baked vs Partially Blind Baked
Fully Blind Baking: This method is used when you want the crust fully cooked before adding a filling. First, bake it with the weights so the edges begin to cook through. Then I remove the weights to bake it again to ensure that the bottom is crispy and completely cooked through.
(Be sure to mark the bottom of the crust with the tines of a fork to prevent bubbling of the pastry before you pop it back in for the second bake.)
Partially Blind Baking: This is for when you're making a pie that needs to bake but not for very long (like Sugar Cream Pie). Baking the pie with the filling wouldn't be long enough to fully bake your crust, so it's important to do the first blind baking step (with weights), then you fill it after.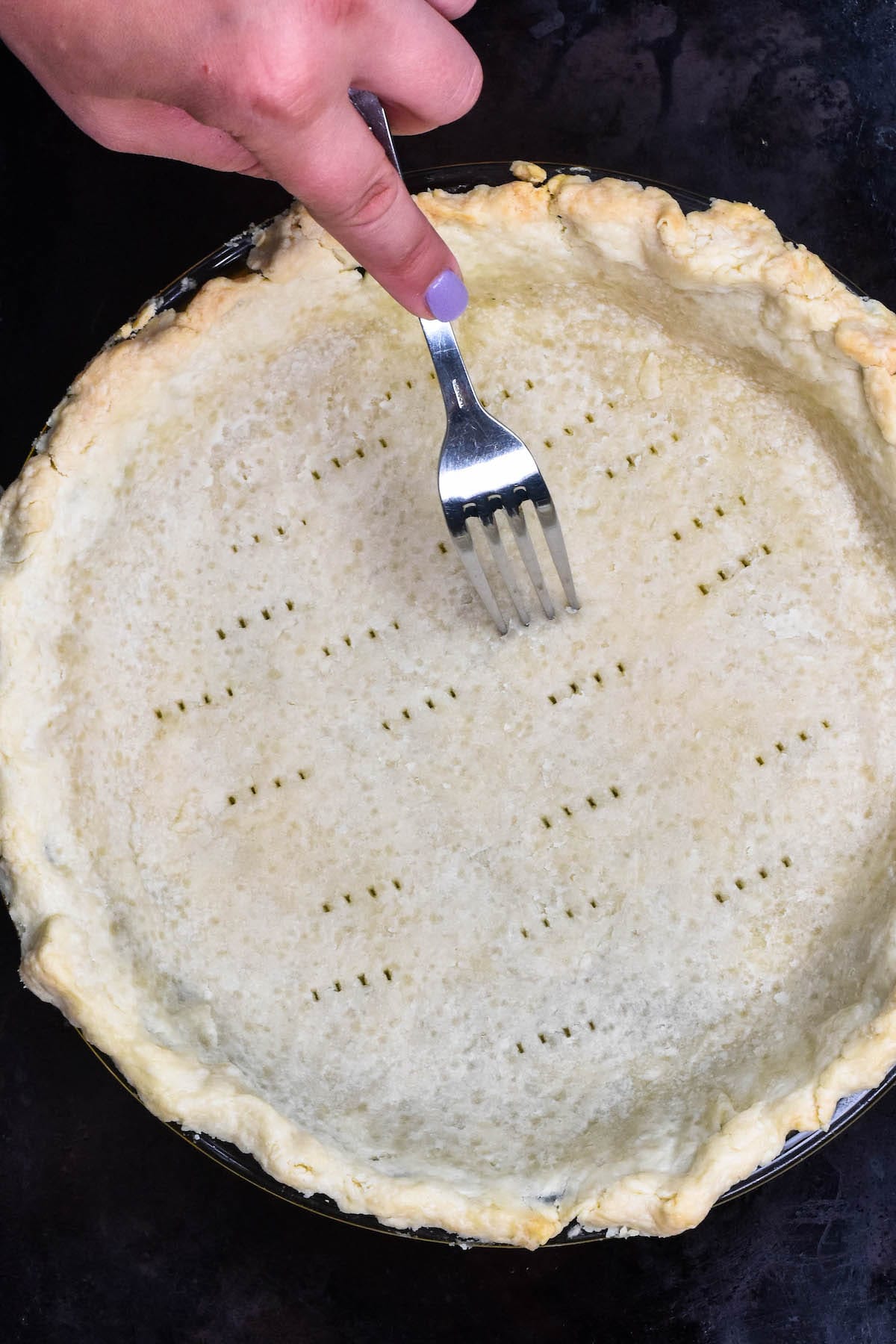 How long does it take to blind bake a crust?
It takes about 20-35 minutes to fully pre bake a pie crust. Once it cools, it's ready to fill with any cream filling or pie filling!
Baking time depends on the recipe you use for pie crust. My all butter crust takes about 25-30 minutes but different pie crusts will take different amounts of time. WATCH it to make sure it doesn't burn.
If you're using a store bought crust, be sure to blind bake it using the directions on the package because the time might be more or less.
FAQs
How t blind bake pie crust without weights?
If you don't have weights you can use rice, beans, flour, lentils or anything similar.
How to blind bake pie crust in muffin tins?
You'll need to press the crust into the muffin tin and then place parchment paper or cupcake liners on top, and fill those with weights or an alternative.
How to store blind baked pie crust
Store it in an airtight container for up to 2 days – you can also freeze it but be careful because baked pie crust is fragile.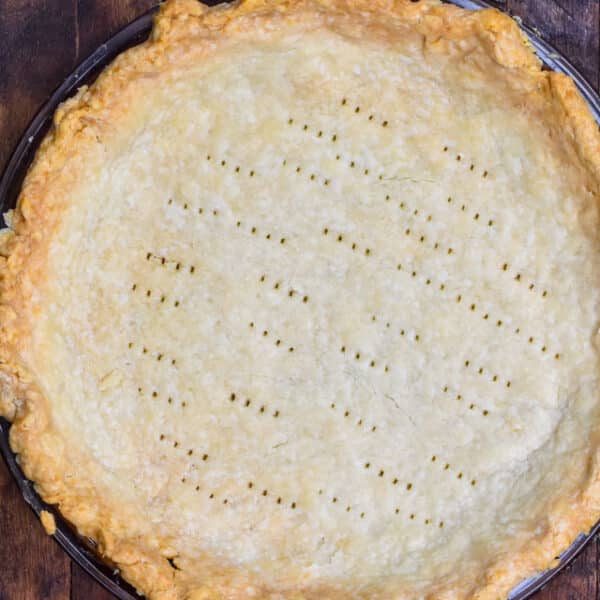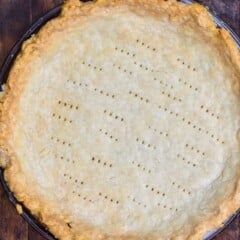 How to Blind Bake Pie Crust Recipe
Blind baking a pie crust is important for when you're making a pie with an unbaked filling, like a cream pie. This method will make your pie crust perfectly pre-baked.
Ingredients
1

All butter pie crust

(or a frozen or refrigerated crust)

Rice, lentils, pie weights, or beans (for baking)
Instructions
Prepare crust as directed in recipe. Place in pie plate and crimp as desired.

CHILL the pie crust for AT LEAST 4 hours or freeze for 30 minutes to one hour before baking.

Place parchment paper in the bottom of the pie crust, making sure to make the parchment flush with the crust. Fill the pie with pie weights, rice, lentils, or beans. (Note: the rice, lentils, and beans will not be usable for cooking after blind baking in this manner.)

Place pie on a cookie sheet. Bake for 10-15 minutes, or until the edges of the crust are starting to brown. (If you're making lemon meringue pie or some other pie that will be filled and baked again, stop at this point and continue with the recipe you're using. This is a "partially baked" pie crust.)

Remove the crust from the oven. Carefully remove the parchment and pie weights. Using a fork, poke holes all over the bottom of the crust.

Bake for an additional 10-15 minutes, or until crust is browned and cooked through. Cool before filling as desired.

Note: this recipe is written for my all butter pie crust. Remember that not all crusts will bake the same. Make sure to keep an eye on the crust after the first round of baking – if it looks fully baked then it might already be done. If you're using a Pillsbury crust or other frozen store-bought crust, I suggest following the package directions (it will take a lot less time).
Recipe Notes
For bake time – this recipe was made using my all butter pie crust. If you use a different pie crust recipe (or a refrigerated crust) be sure to check with that recipe on bake time. You can use this method for blind baking but not all crust recipes bake at the same amount of time.
Recipe Nutrition
Serving:
1
pie crust
|
Calories:
776
kcal
|
Carbohydrates:
82
g
|
Protein:
10
g
|
Fat:
44
g
|
Saturated Fat:
13
g
|
Sodium:
695
mg
|
Potassium:
164
mg
|
Fiber:
4
g
|
Calcium:
32
mg
|
Iron:
4.4
mg
Nutritional information not guaranteed to be accurate
Be sure to check out my tutorial on how to make the best pie crust and also check out my list of pies (and no bake pies too, for all your cream pie desires).
Recipes that use Blind Baked Crust:
Last Updated on October 13, 2022