This post may contain affiliate links. For more information, read my disclosure policy.
The best Peach Crisp with peaches and a sweet, buttery crisp topping made with oats. This is an easy dessert you can make all year with fresh peaches, frozen, or even canned! Serve it warm with ice cream or whipped cream for a fantastic dessert.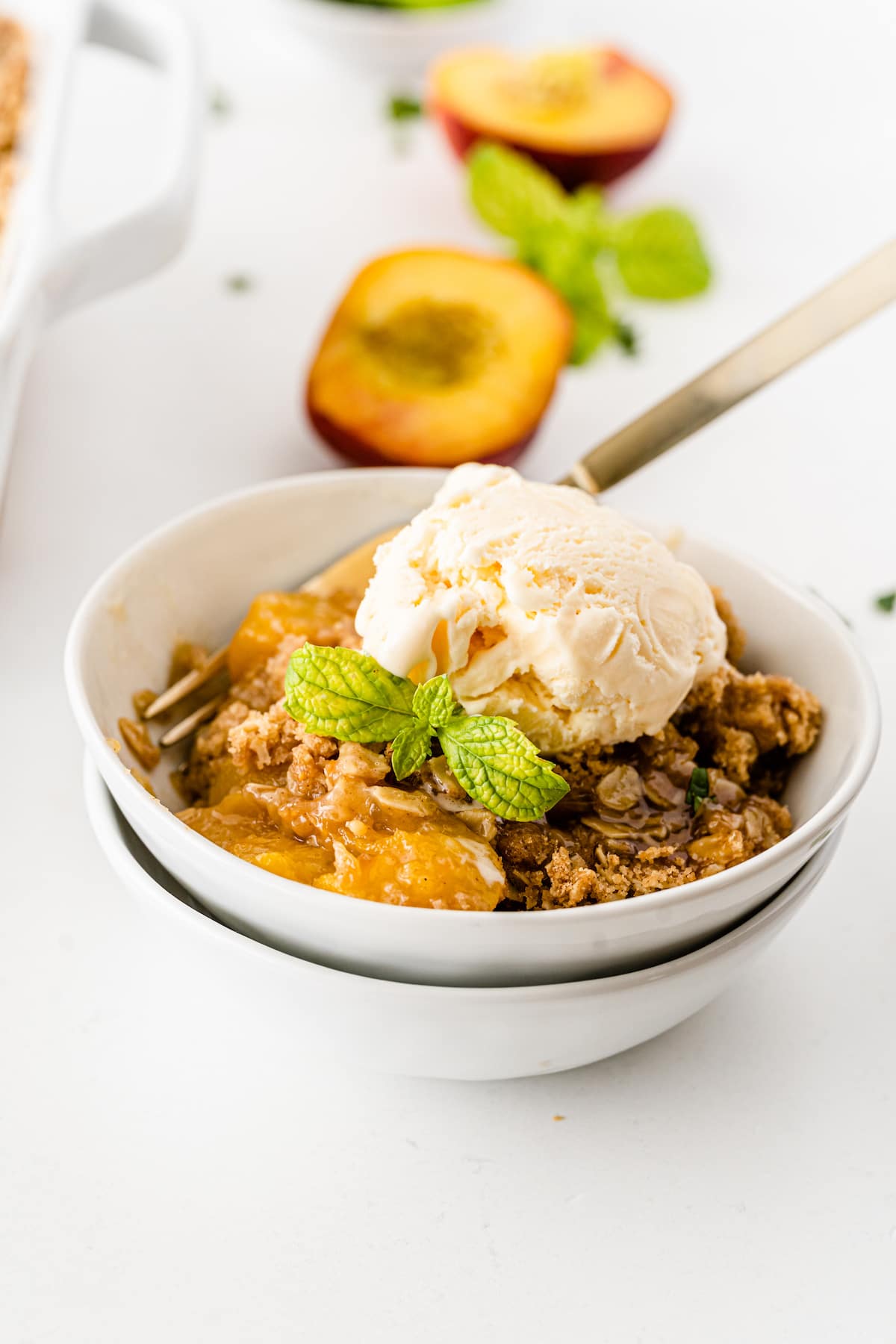 Best Peach Crisp Recipe
When I see fresh in-season peaches start showing up at the store, it's all I can do not to buy all of them. I can devour them out of hand, but I absolutely love to bake with fresh, juicy, sweet peaches. One of my favorite ways to use them is in this super easy delicious peach crisp recipe.
How does a sweet and fruity peach filling topped with buttery, sweet oats sound? The only thing else you need is a scoop of ice cream to go with it!
There's nothing better than summer-fresh peaches, but I've made this peach crisp with canned peaches and frozen ones when they aren't in season. It's a winner no matter what time of year you make it!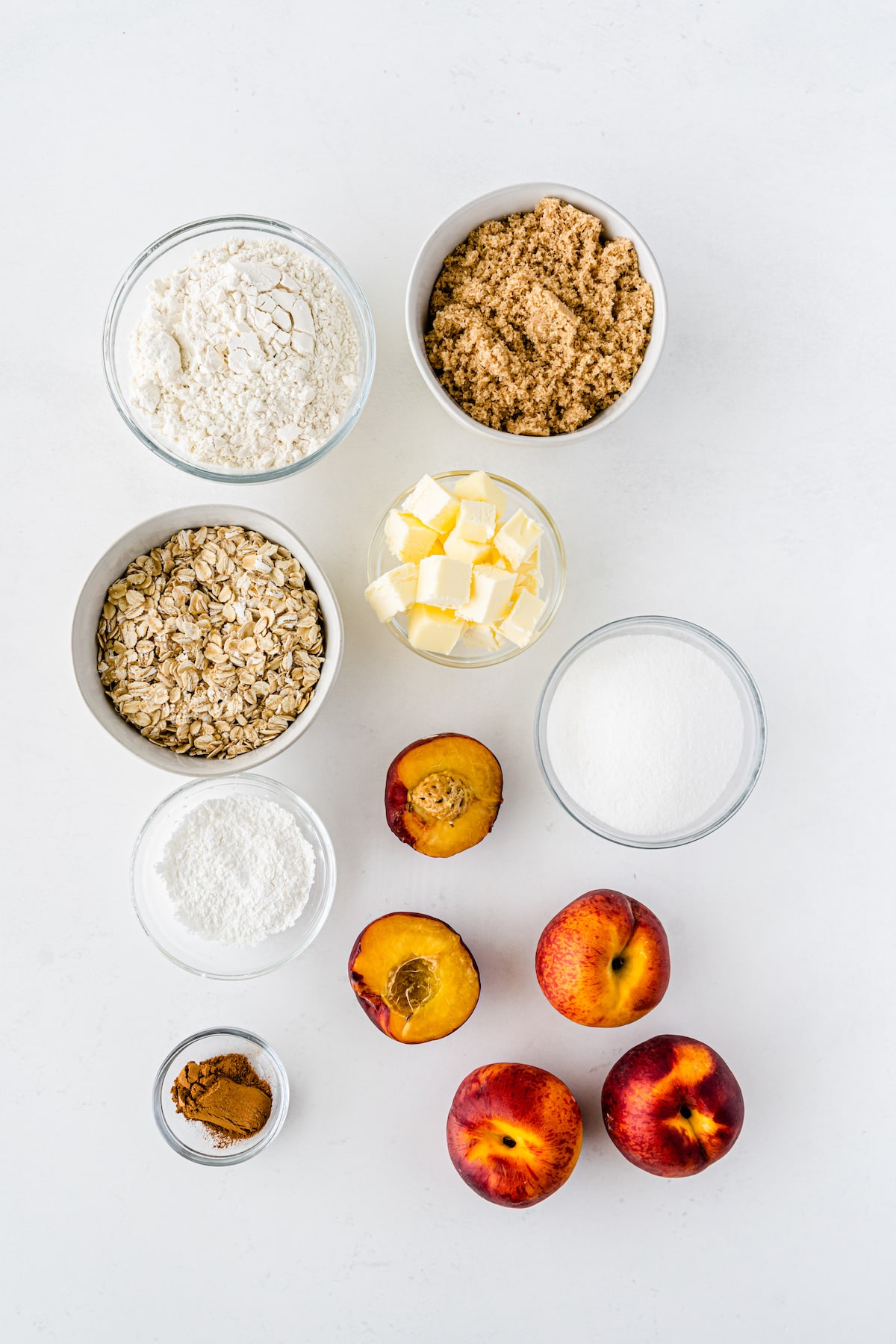 Ingredients
All-purpose flour: Be sure to measure it correctly!
Quick cook oats: Don't have quick oats? Make your own quick oats from old fashioned.
Brown sugar: I love the richness of the brown sugar – make sure to pack it.
Cinnamon: Can't have a crisp without cinnamon!
Salt: If you're using unsalted butter, you'll need to add at least a pinch.
Diced cold unsalted butter: I like to dice it then put it back in the fridge so it's cold when I start mixing the crumble.
Peeled and sliced peaches – fresh, frozen, or canned will work!
Granulated sugar: Perfect for sweetness to coat the peaches
Cornstarch: This is for thickening the fruit.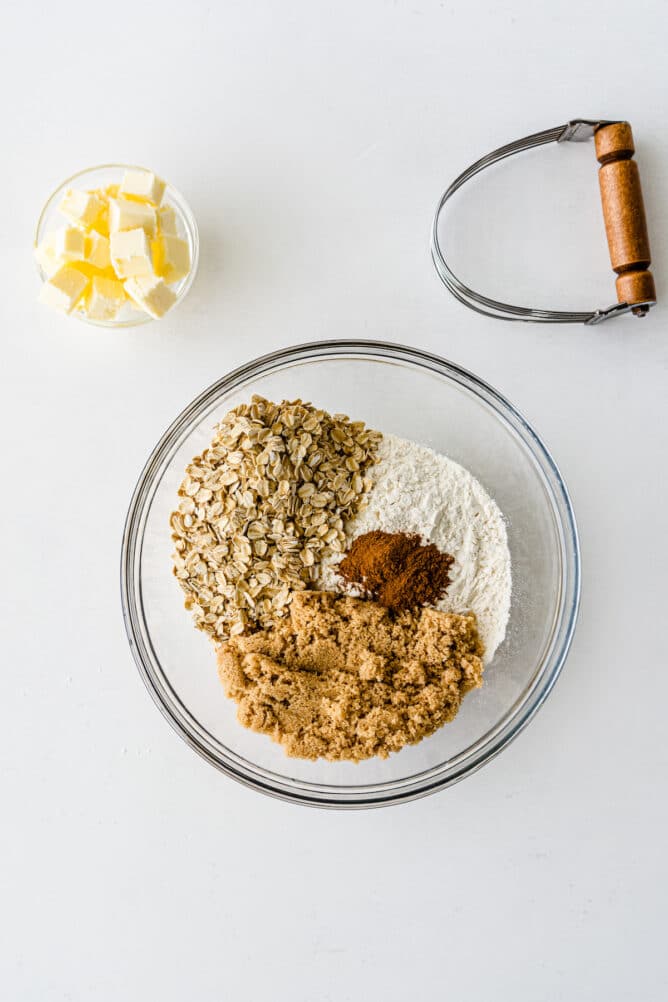 How to Make Peach Crisp
For the peaches – if you use frozen sliced peaches, thaw them first and drain them well. For canned peaches, drain them well before using them in the recipe.
Crumble Topping: In a large bowl, mix the flour, brown sugar, oats, cinnamon, and salt. Add the diced butter and cut it into the mixture using a pastry cutter. Work the butter in until the mixture forms small crumbs.
Prepare Peaches: Place the peaches in a large bowl, and then add the granulated sugar and cornstarch. Lightly toss to combine and coat the peaches evenly.
What pan to use: Transfer the peaches to your baking dish or 8×8" square pan. Top the peaches with the topping. Then, lightly press it into the peaches.
Bake the crisp for about 30 minutes at 350°F. When the topping is browned and crunchy, take it out of the oven.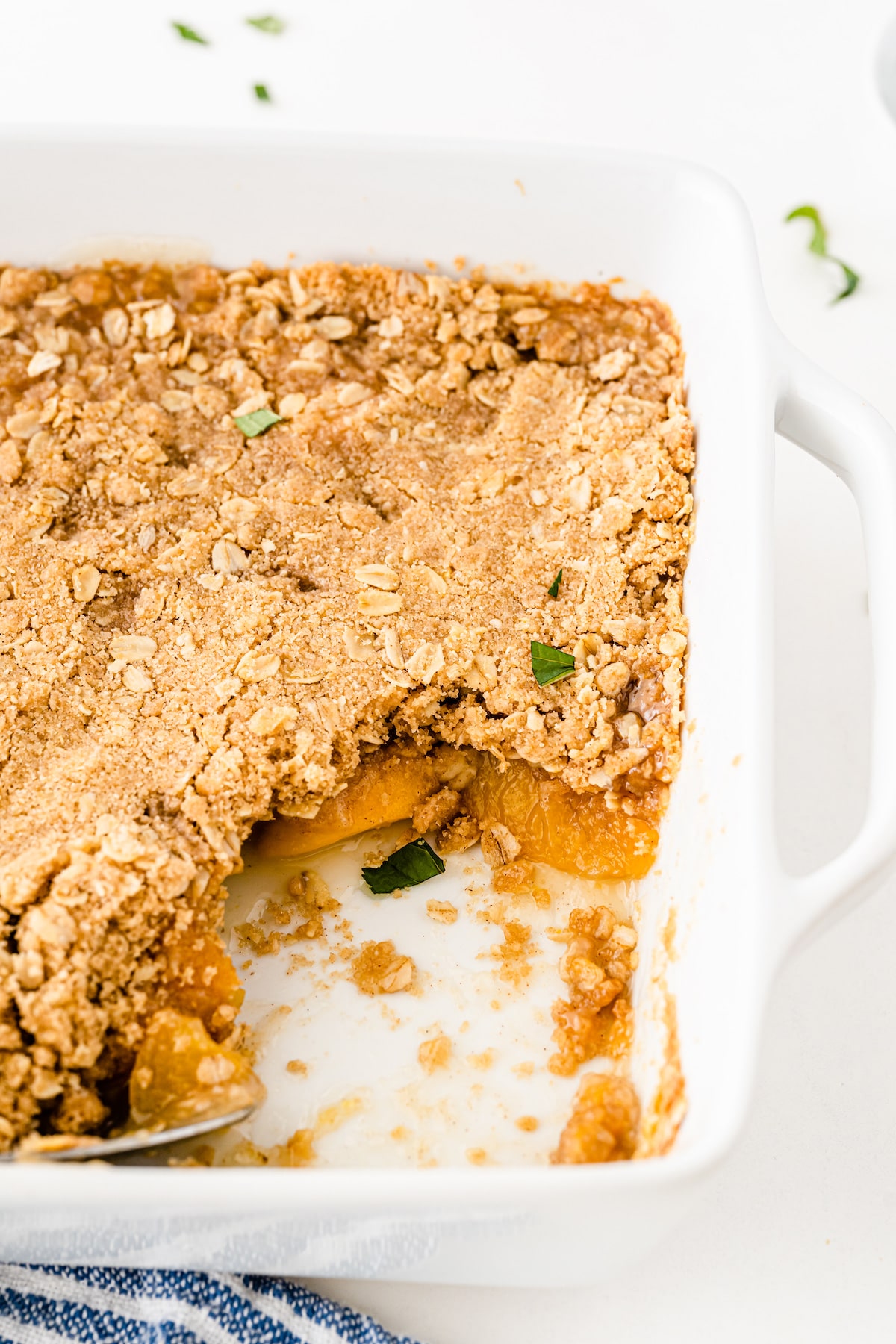 Tip From Dorothy
Expert Tips
Let the peach crisp cool until it's warm or at room temperature. I don't recommend serving it hot from the oven because the filling won't be set. Allowing it to cool a bit will give the filling time to thicken and set.
Serve it warm or at room temperature with scoops of vanilla ice cream or a spoonful of whipped cream on top.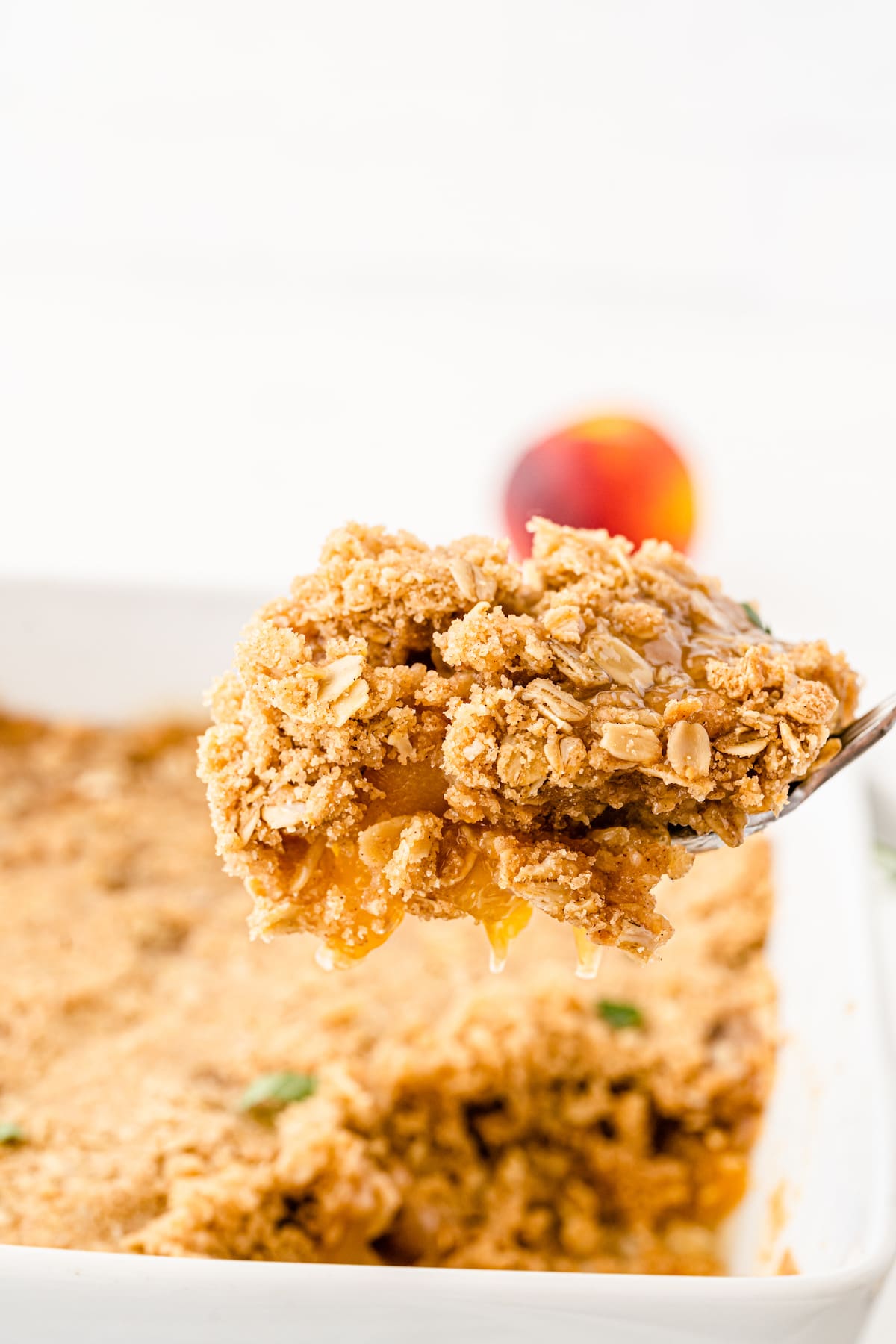 FAQ
What's the difference between peach crumble and peach crisp?
It's all about the topping! They are two different types of desserts, but they are similar. Both have a buttery, sugary topping, but a crumble has more of a thicker streusel topping. A crisp has some of the same ingredients but also includes oats. So when it bakes, you get a thinner, crisper topping which is how it got its name.
How do you make peach crisp from scratch?
The filling is made with sliced peaches, sugar, and cornstarch which thickens the juices as they are released from the fruit. Place them in a baking dish and add the best peach crisp topping made with oats, sugar, cinnamon, and butter. The butter is worked into the ingredients, so it creates a crumbly topping. Bake the crisp at 350°F until the top is crisp and crunchy and the filling is bubbling hot. You can serve it warm or at room temperature.
Can you substitute canned peaches for fresh?
Yes, just be sure to drain the canned peaches before adding them to the recipe.
Can I use frozen peaches?
Frozen peaches will work as long as they are thawed and drained before you toss them with the other ingredients.
How many peaches is 4 cups?
You will need approximately two pounds of peaches for four cups. This is about six medium-sized peaches.
What pan do I use for peach crisp?
You can use an 8×8-inch or 9×9-inch square pan, or use a 9-inch or 10-inch pie plate.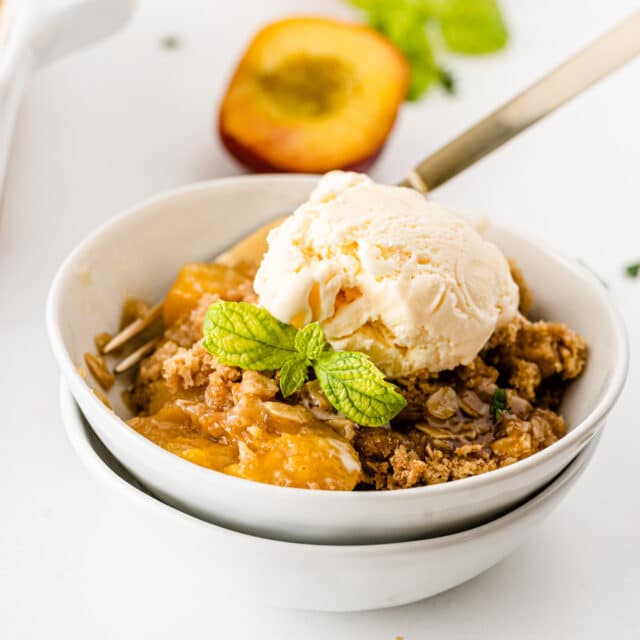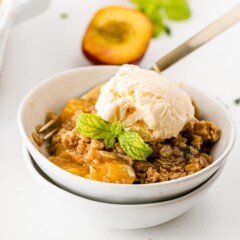 Peach Crisp Recipe
Peach Crisp is an easy dessert you can make all year with fresh peaches, frozen, or even canned!
Ingredients
¾

cup

(217g) all-purpose flour

¾

cup

(60g) quick cook oats

¾

cup

(150g) brown sugar

1

teaspoon

cinnamon

¼

teaspoon

salt

6

tablespoons

(85g) cold unsalted butter

diced

4-5

cups

sliced peaches

fresh, frozen or canned, see notes

½

cup

(100g) granulated sugar

3

tablespoons

(8g) cornstarch
Instructions
Preheat oven to 350°F.

Make the crumble by combining the flour, brown sugar, oats, cinnamon and salt in a large bowl. Use a pastry cutter to cut in the butter until the mixture forms small crumbs. You may need to use your hands to help it along. Set aside.

Place peaches in a large bowl. Toss gently with sugar and cornstarch Place in the bottom of casserole dish or 8-inch square pan.

Pour the crumble over the top and press down slightly to compact.

Bake for 30-33 minutes. It's done when the crust is browned and the topping looks crunchy. Serve warm (or room temperature) with whipped or ice cream. Note: if you serve it before it cools and has time to gel, the filling will spill in the pan. It'll set a bit as it cools.
Recipe Notes
Fresh peaches: peel and slice
Frozen peaches: thaw and drain well
Canned peaches: use 2 (15 ounce cans) peaches, drain well
Pan: use either an 8-inch or 9-inch square pan, a round cake pan, or even a deep dish pie plate or any casserole dish approximately that size.
Recipe Nutrition
Serving:
1
serving
|
Calories:
402
kcal
|
Carbohydrates:
73
g
|
Protein:
3
g
|
Fat:
12
g
|
Saturated Fat:
7
g
|
Polyunsaturated Fat:
1
g
|
Monounsaturated Fat:
3
g
|
Trans Fat:
1
g
|
Cholesterol:
30
mg
|
Sodium:
121
mg
|
Potassium:
271
mg
|
Fiber:
3
g
|
Sugar:
52
g
|
Vitamin A:
812
IU
|
Vitamin C:
7
mg
|
Calcium:
62
mg
|
Iron:
3
mg
Nutritional information not guaranteed to be accurate
This Peach Crisp is a perfect fruit dessert with an oat crisp topping– serve it with whipped cream or vanilla ice cream to really kick it up a notch.
Last Updated on July 21, 2023