This post may contain affiliate links. For more information, read my disclosure policy.
Raspberries and peaches combine to make the best Raspberry Peach Pie! This summer pie recipe has a deliciously sweet fruit filling and can be made as a double-crust, lattice, or crumble pie.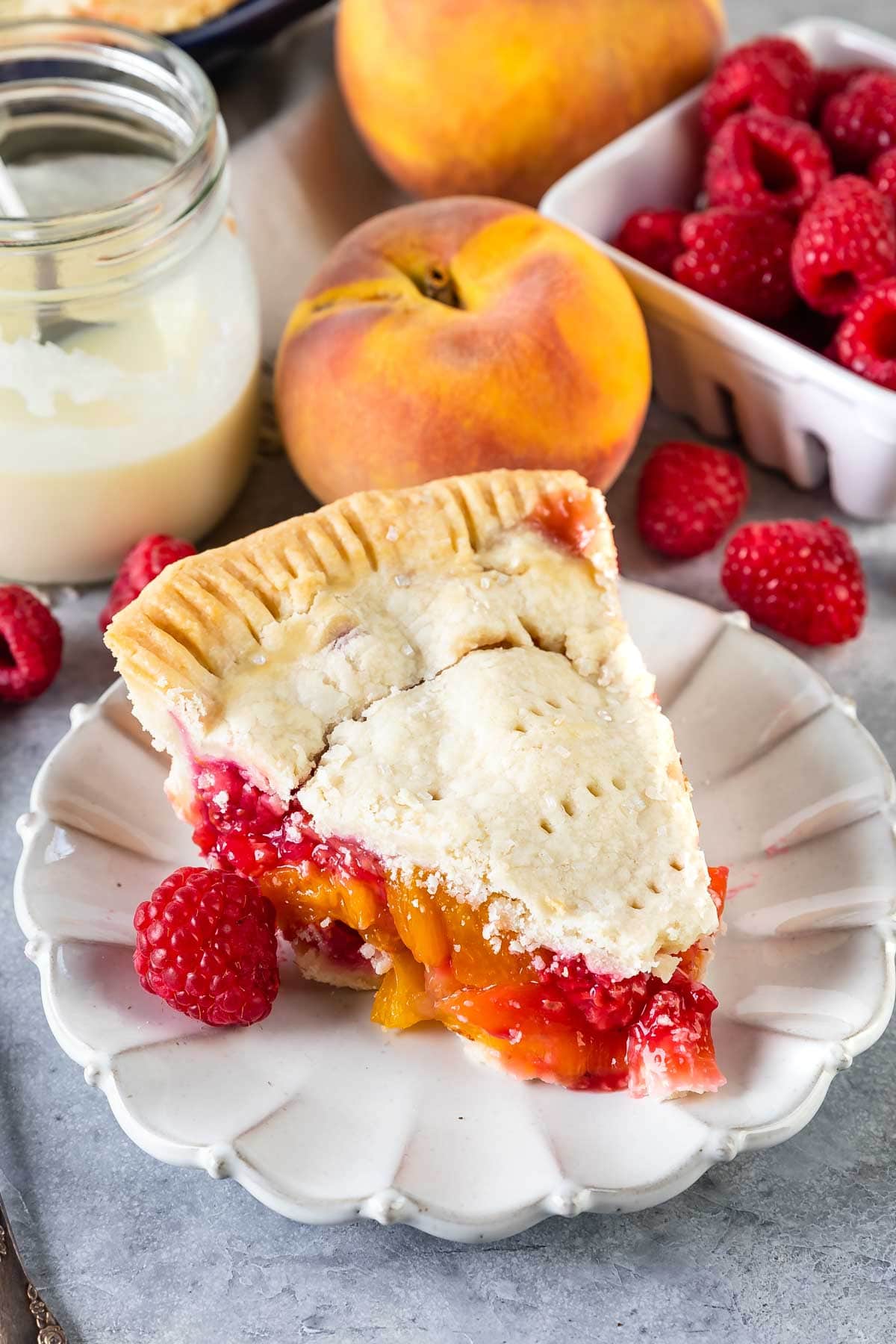 Perfect Peach Raspberry Pie
Raspberry peach pie: just the name says how amazing it is! Tart raspberries with fresh peaches are one of my all-time favorite fruit pie fillings.
And it is perfect! Perfectly easy to make and perfectly delicious to eat. My peach raspberry pie is so good, but the even better part is that it's simple to make. With this fruit combination, you don't have to do much to make the most fantastic pie.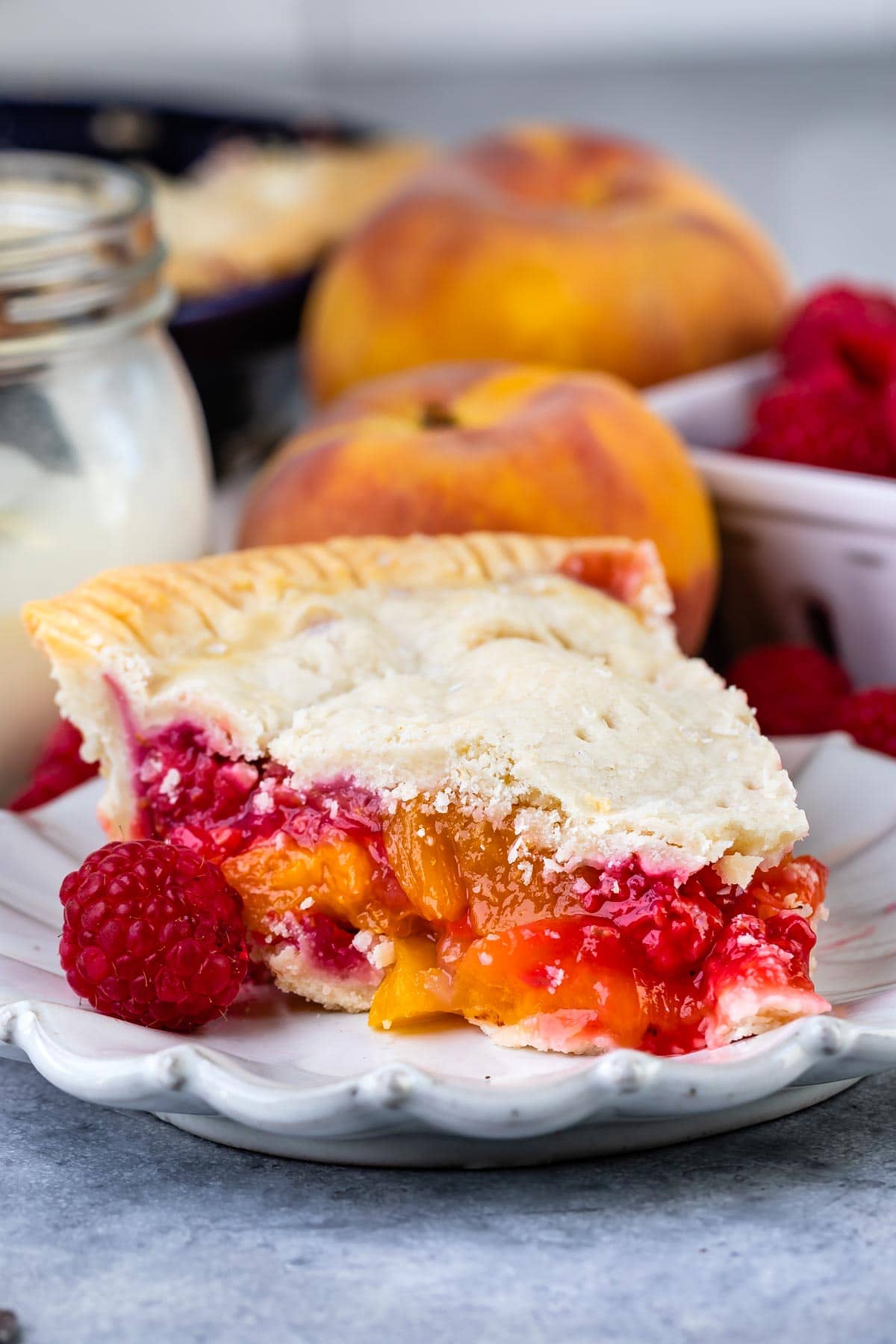 Frozen Fruit vs Fresh vs Canned
Here's what I've learned after making about a gazillion fruit pies over the years: You can use fresh, canned, or frozen fruit in pie filling. All that matter is how you prep it.
When raspberries and peaches are in season, it's always a good idea to take advantage of that. I mean, summer pies are just the best, right?
When peaches are out of season, I prefer frozen fruit because it's frozen at peak ripeness for the best flavor. But I would never turn away from canned because it's so convenient.
I used frozen peaches and fresh raspberries in this pie. You can mix and match! Because fresh peaches are only good for a short time in the summer, frozen ones are great. Raspberries are usually available year-round, so – yay! – that means we can have raspberry and peach pie any time of year.
No matter which one you use, be sure to pat the fruit dry before baking it. This removes any excess moisture that can make your filling watery. So, frozen fruit should be thawed and drained, and canned fruit drained. Fresh fruit should be washed and patted dry.
So, this means you can make a peach raspberry pie with frozen fruit or peach raspberry pie with canned peaches, or any combination of these three options you like!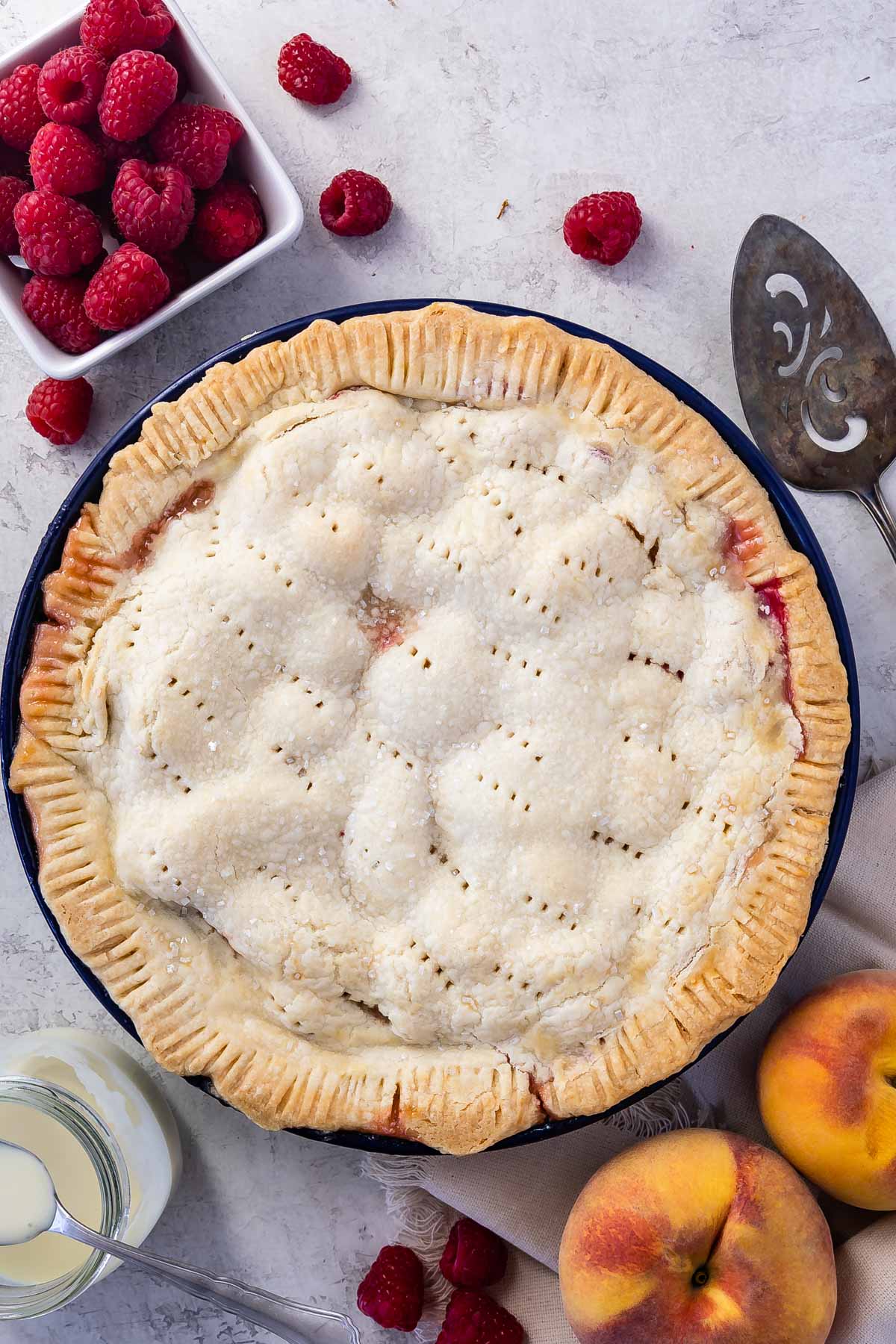 How to Make Peach Raspberry Pie
Fit the bottom pie dough crust into a 9" pie plate.
Mix cornstarch and granulated sugar in a small bowl. Place the raspberries and peaches in a large mixing bowl. Add the lemon juice, vanilla, and cornstarch mixture. Lightly toss the fruit to coat it evenly.
Spoon the filling into the pie crust and then lay the top pie dough over the top of the filling. Seal the edges of the pie by crimping and trimming them.
Cut slits into the top crust to allow steam to escape. Brust the pie with egg wash and then sprinkle sanding sugar over the top.
Place the pie on a baking sheet (this will catch any drips) and cover the edges of the crust with a pie crust shield to prevent over-browning.
Bake the pie at 425°F for 10 minutes, then adjust the oven temperature to 350°F. Bake the pie until the crust is lightly golden brown, about 45 to 55 minutes.
Cool the pie at room temperature before slicing and serving it.
Storing and Freezing Instructions
Refrigerator: You can store the pie in the fridge for up to three days.
Freezer: Or, you can cool the pie and wrap it tightly with plastic wrap. It will keep well in the freezer for up to three months.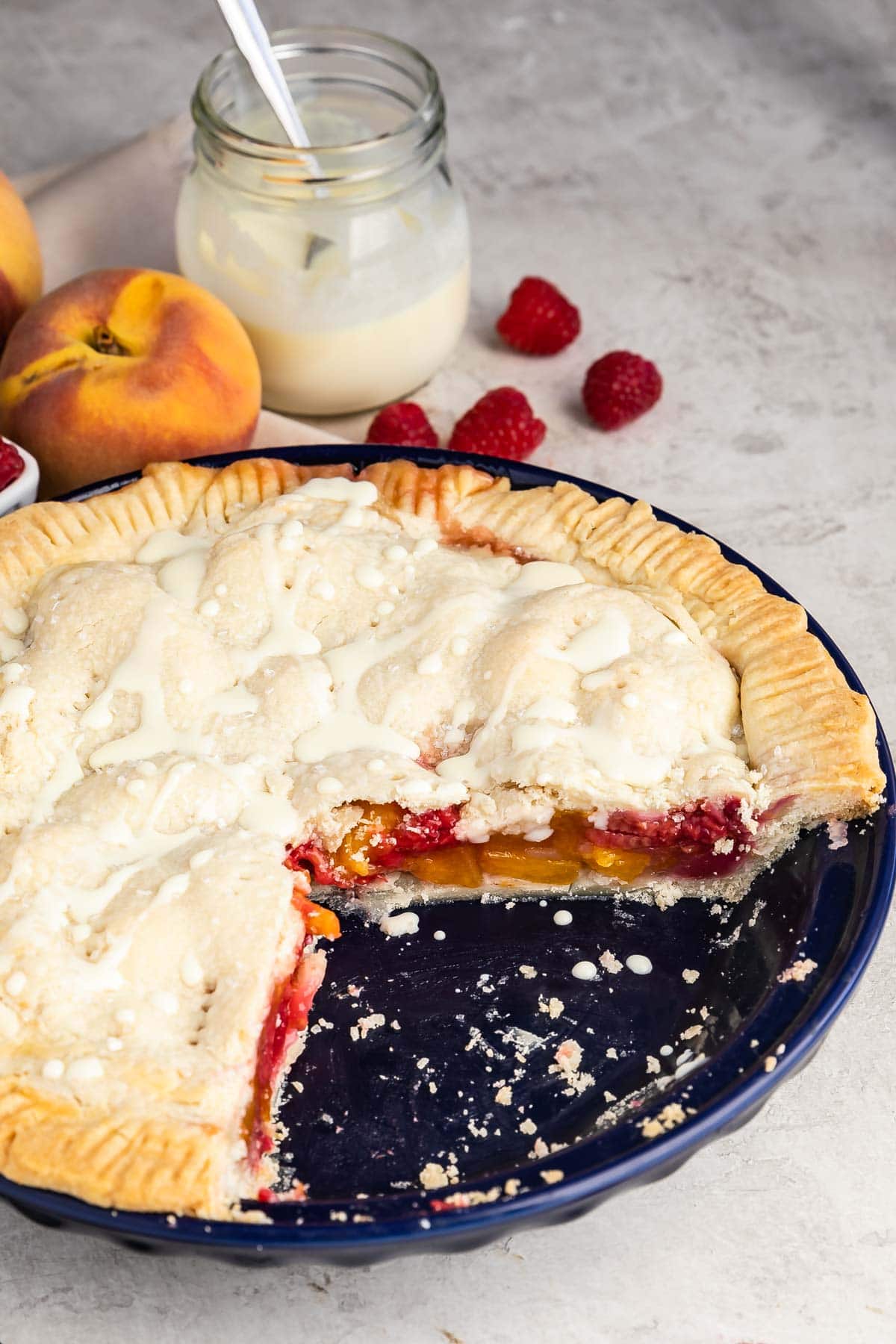 Expert Tips
For frozen fruit, be sure to thaw it and drain it thoroughly. It's even a good idea to dry the fruit with a paper towel. Getting rid of excess moisture will ensure you get a great bottom crust.
Like the frozen fruit, fresh fruit should be dried, too, after you wash it. Use a paper towel to blot it to remove any excess moisture. Same goes for canned fruit – drain it and dry it!
Don't skip the cornstarch. As the fruit cooks, it will release moisture. The cornstarch thickens it so your pie doesn't have too much liquid, which can soak into the crust.
Don't poke holes in the bottom crust. Some recipes call for this, but it's unnecessary for this raspberry and peach pie. If you poke holes, the liquid from the fruit will soak into the crust and make it soggy.
FAQs
How do you keep a peach pie from getting watery?
Make sure the fruit is dry before adding it to the crust. Canned fruit, thawed fruit, and fresh fruit should be patted dry to remove excess moisture.
Cornstarch thickens the liquid in the fruit filling, which keeps this raspberry peach pie from getting watery. So, please don't skip it!
Should you peel peaches when making a pie?
I prefer peeled peaches for pie because the skins can change the texture of the filling. Frozen peaches are already peeled, so they're super easy to use. Or, if you use fresh, peel them with a vegetable peeler before adding them to your pie.
Should frozen peaches be thawed before baking in a pie?
Yes, you should thaw frozen peaches before using them. Frozen fruit has more moisture which can make your filling watery. Once you've thawed the fruit, drain it to remove any excess liquid before adding it to your pie.
I hope you try this peach and raspberry pie soon! No matter what time of year it is, you can treat yourself to this fruity, deliciously sweet pie. Enjoy!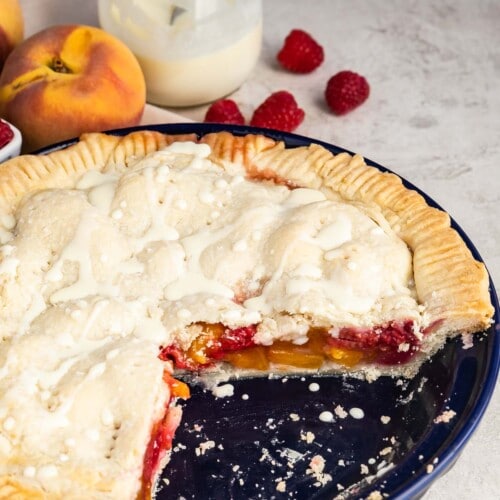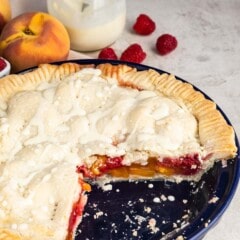 Raspberry Peach Pie
This is a great summer pie with multiple way to top it! This is great for the summer.
Cook Time
1

hour
10

minutes
Total Time
1

hour
55

minutes
Ingredients
Pie:
2

recipes All Butter Pie Crust

¼

cup (32 g)

cornstarch

⅔

cups (134 g)

granulated sugar, plus more for sprinkling

12

ounces (340 g)

fresh raspberries, washed and drained

16

ounces (454 g)

frozen peaches, thawed and drained

1

teaspoon

lemon juice

1

teaspoon

vanilla extract
Coating:
Egg wash and sanding sugar
Instructions
Preheat oven to 425°F.

Prepare crusts for 2 crust pie in a 9-inch pie plate.

Stir cornstarch and sugar together in a small bowl.

Place the raspberries and peaches in a large bowl. Add lemon juice and vanilla, then sprinkle sugar mixture over the fruit and toss to coat. Spread in prepared pie plate.

Carefully lay the top crust over the top of the filling. Crimp and trim the edges as desired. Cut slits to allow steam to escape during baking. Brush pie with egg wash and sprinkle with sanding sugar.

Place pie pan on a rimmed baking sheet and cover the edges with a pie crust shield. Bake at 425°F for 10 minutes, then lower oven temperature to 350°F and bake until crust is light golden, about 45-55 additional minutes. Cool completely before slicing.

Store pie in refrigerator for up to 3 days or freeze for up to 3 months.
Recipe Notes
Be sure your fruit is thawed and drained if using frozen fruit.
Don't mix the fruit with the sugar until you're ready to fill the pie.
Bake on a cookie sheet to avoid a mess in your oven!
Recipe Nutrition
Serving:
1
serving
|
Calories:
346
kcal
|
Carbohydrates:
58
g
|
Protein:
4
g
|
Fat:
12
g
|
Saturated Fat:
3
g
|
Polyunsaturated Fat:
2
g
|
Monounsaturated Fat:
5
g
|
Sodium:
183
mg
|
Potassium:
177
mg
|
Fiber:
5
g
|
Sugar:
26
g
|
Vitamin A:
199
IU
|
Vitamin C:
14
mg
|
Calcium:
21
mg
|
Iron:
2
mg
Nutritional information not guaranteed to be accurate
Last Updated on July 3, 2023