This All Butter Pie Crust is my absolute favorite pie crust recipe. It works EVERY time and produces flaky, buttery homemade pie crust that will make your pie recipe perfect!
With this easy tutorial you will get the perfect pie crust every time.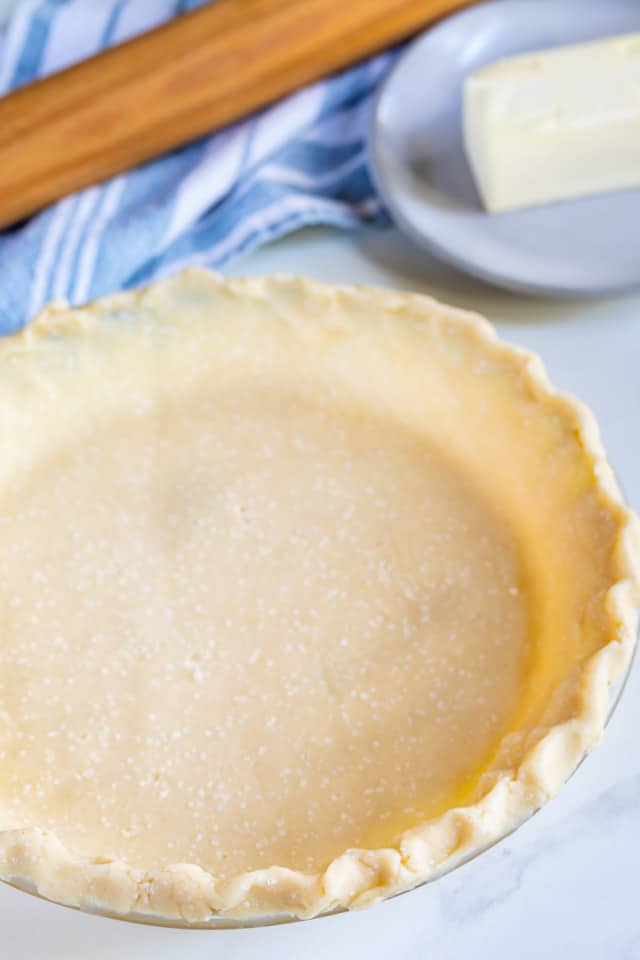 The BEST Pie Crust Recipe
I've been using this all-butter pie crust recipe for over 10 years. I always try other recipes but I come back to this one because it's so easy and so good.
To make a good pie crust you need just 4 ingredients: fat, water, flour, and salt. You can use a few different kinds of fats for pie crust, the most popular being butter, shortening (Crisco), or lard. I'm going to go against the grain and tell you, my crust is all butter. I love butter (who doesn't?) and I find that the taste of an all butter pie crust is so much better than any other recipe.
Video – How to make a Flaky Pie Crust
Table of Contents
4 Ingredients to the Best Pie Crust
A pie crust recipe with butter is such an easy pie crust to make. There are two ways I make this crust: in a food processor or by hand. You can do either one! This really is a no fail pie crust made with butter!
Flour – plain all-purpose flour is best
Salt
Butter – make sure your unsalted butter is COLD
Water – make sure to use ICE WATER
This crust makes one 9-inch pie crust. If you want to make a double crust pie, just double the recipe.
My all butter pie crust recipe is quick, fast, easy and delicious! It's the perfect vehicle for ALL your pie recipe needs.
How to make Homemade Pie Crust
When you start making an all butter pie crust, you need to think ahead a little. Everything needs to be COLD. Cold butter and ice water are the keys to a successful crust. Before you start, dice your butter and then put it back in the refrigerator. Then fill a measuring cup with ice and water.
Add your flour and salt to your food processor. (Remember, if you're using unsalted butter, add an extra 1/4 teaspoon of salt.)
Now, if you don't have a food processor, don't fret. You can do this by hand with a pastry cutter. I'm just really, really lazy. If you're using a pastry cutter, just whisk the flour and salt first.
Add your butter. It's COLD, straight from the fridge. Don't touch it too much. Don't go answer the phone. Cold, straight from the fridge to the food processor!
Pulse a couple of times. If you're using a pastry cutter, now is the time to hope you're been working your arms. Put some muscle into it!
This is what it will look like:
Add your ICE water. Not the ice, just the cold water. Start with 2 tablespoons.
Pulse a few times, let it run a few seconds. I always add a third tablespoon of water at that point, always. But, depending on altitude and humidity and your kitchen and the star alignment, you might not need the third…or you may need a fourth. Run the processor and your mixture should go from this:
To this:
If it's not coming together add more water, but wait to see if it comes together. You do not want a wet dough. It takes a few seconds for it to turn into the ball.
At this point, I do something unconventional: I don't chill it yet. *gasp*
I hate rolling chilled dough. Like, I'd rather eat beets. So instead, I roll out my dough, put it in my pie plate, THEN chill it while I make my filling. This dough is sturdy enough to roll right away, and if it's rolled out, it chills faster. Win-win, in my book.
(FYI, I do the same thing when I make sugar cookies!)
Okay, so now you have a ball of all butter pie crust dough.
Rolling out an Pie Crust with Butter
Turn it out onto a cutting board or a silicone baking mat (like a roul'pat or a silpat) that's been dusted with flour. FYI, if you're using a cutting board or marble slab, you'll need more flour. Silicone is better if you have it – less sticking with minimal flour, which is your goal. The more flour you add, the tougher your crust is going to be.
Press it into a disk with your hands, flour your rolling pin and roll it out into a circle. If you find that the rolling pin is sticking, you can add a sheet of wax paper so it won't stick.
I like to pick mine up and flip it over and around every few rolls until it gets too big to do that. This is important because that way you know it's not sticking to your surface. There is nothing worse than rolling out the perfect dough and have it crack and break when you go to pick it up.
Roll it until it's about 1/4″ thick. Or, well, this thickness:
The easiest way to transfer your all butter pie crust to your pie plate is to roll it up on the rolling pin. If you've moved your crust around a bit, it should roll up no problem.
Pie Plate Size
Put it in your pie plate. Press it to fit, gently. This crust fits best in a 9″ pie plate. Beware: not all pie plates are the same size. Some are 9 1/2″, some are 10″, some are 7″. Be sure what size you have before you start. If I'm using a 10″ pie plate I double the recipe and use 2/3 of the dough.
How to crimp your edges
I like to lay the overhang flat around the pie rim, then fold it under if possible. It won't be overhung that much around the whole pie plate. Some will be flat, some will have enough to fold under.
On the left I had enough to fold over, there in the center, not so much. That's okay!
Now you decide how you want your edges. Crimped? Forked? (I'm sure there's an official word for "forked" but whatever, I like making up my own vocabulary.)
This is what your crimped pie looks like:
Or make it pretty with a fork:
And it will look like this when you're done:
Make it decorative: Another way I like to dress up my pie edge is to make a second all butter pie crust and use small cookie cutters to cut shapes and put them around the edges.
Stop your homemade pie crust from burning
Then all you have to do is fill your pie and bake it! Here's a tip so your pie crust isn't too brown after baking (I hate a dark crust!): Use a pie shield or tear off strips of foil that are about 1 1/2″ thick. (No need to measure, just guesstimate.) Tear those in half and wrap them around the pie.
Then bake the pie, as directed. About 10-15 minutes before the pie will be done, remove the foil. So many recipes say to add the foil if the pie is getting too brown, but how are you supposed to do that without burning your fingers? (Um, you can't. That's a fact.) Make a preemptive strike – cover first, then remove so the edges can brown to a normal color.
And hey, all you crust haters who eat the filling and throw away the crust: this will make you like it, I bet. You probably hate it because it's brittle and burned…if you follow that tip, it won't be! 🙂
How long to bake a Butter Pie Crust
I have added baking times to the recipe because of reader comments, but you really have to go by the recipe you're using. This crust blind bakes in about 20-30 minutes, but if you're making a filled pie, you'll need to bake according to the recipe directions.
All butter pie crusts don't brown like a crisco crust does, so it'll be lighter in color when it's done baking.
How to blind bake flaky pie crust
See my tutorial and video on how to blind bake this crust – it will take about 20-30 minutes and it's a two step process.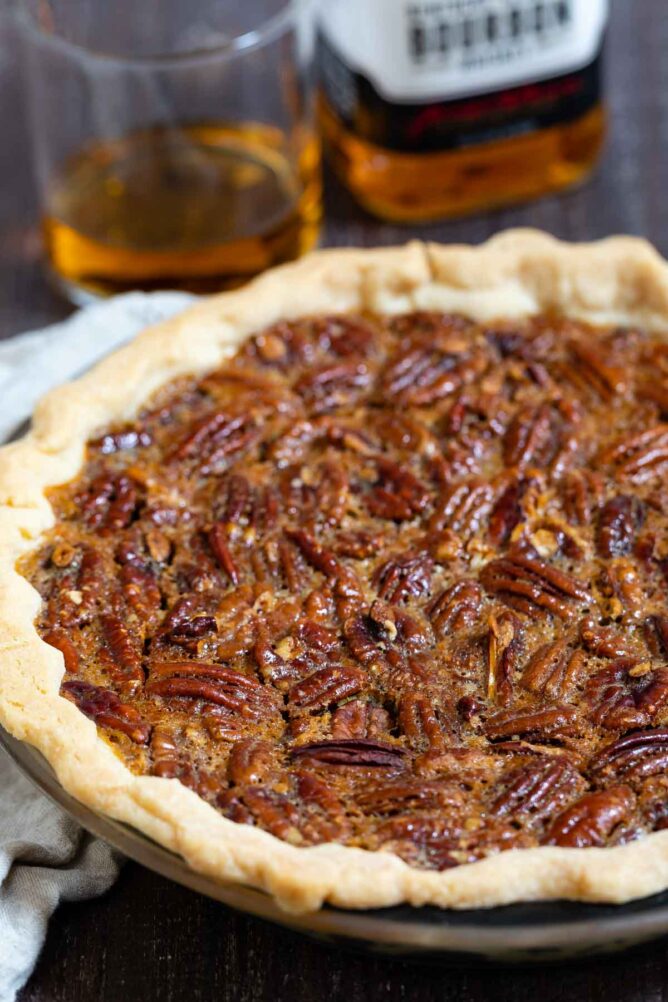 Tips for an Easy Pie Crust Recipe
Cube your butter: while you're assembling your ingredients, cube your butter and put it back into the refrigerator to chill at least 5 minutes. Starting with cubed butter makes it easier for the processor to work it into the dough.
Chill the crust before baking: regardless of whether you're pre-baking the crust or making a filled and baked pie, chill the crust at least 30 minutes before baking – or even freeze it. Baking it COLD is the key.
Thickness: roll the crust to about 1/4-inch thick. If it fits in a 9-inch pie plate with just a bit of overhang, it's the correct thickness.
Roll on a lightly floured surface if you're not rolling between sheets of wax or parchment paper.
Only add 1 tablespoon of water at a time – it's easy to add more but you can't take it out once it's in!
I like baking in glass pie plates – I find them the best at getting the bottom done and the best for slicing.
Pie Dough Recipe FAQ
Pie Dough Recipe Resources
Check out all of my pie crust recipes for even more inspiration!
Favorite Crazy For Crust Recipes
Need some pie ideas to fill your crust with? Check out my Pie Recipe Collection!
Snickerdoodle Chess Pie by Something Swanky, Peanut Butter Pie with White Chocolate Ganache by Wine & Glue, or Blueberry Crumble Cream Pie by I Wash, You Dry or some of my favorites:
Aunt Tootsie's Lemon Meringue Pie
My favorite crumb apple pie recipe
Last Updated on December 1, 2020