This post may contain affiliate links. For more information, read my disclosure policy.
Peaches and blueberries are the perfect match and there's no better way to combine them then in this Peach Blueberry Pie!
This pie has the easiest filling that you can make with fresh or frozen fruit and you can top it with flaky pie crust or a sugary crunchy crumble topping.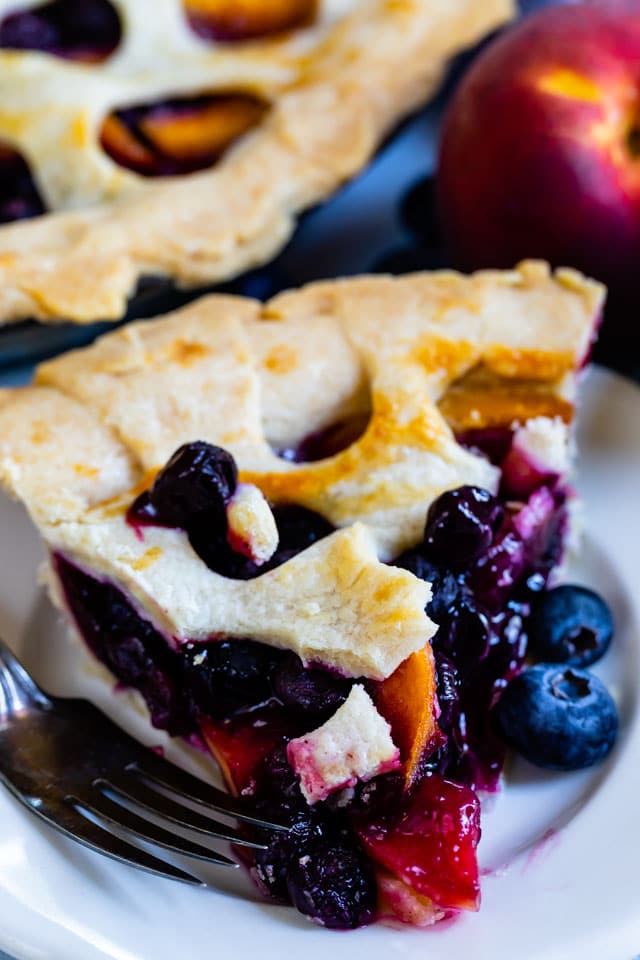 What is it about peaches and blueberries? I think it might be one of my favorite fruit combinations ever and there's no better way to showcase them then in this amazing homemade pie.
You know I look for any excuse to pull out my perfect all-butter pie crust and if you haven't tried it you are in for a treat. It's so flaky, buttery and holds up perfectly when you bake the pie. I love to make a double crust peach and blueberry pie because more crust is always good!
But… sometimes I make this a peach and blueberry crumble pie and switch out the top crust for a crunchy crumble topping. It can be a tough decision because both ways are so good!
Whichever you decide to do I can promise this will be the best blueberry peach pie you've ever made. I can't wait to show you how to make it!
Table of Contents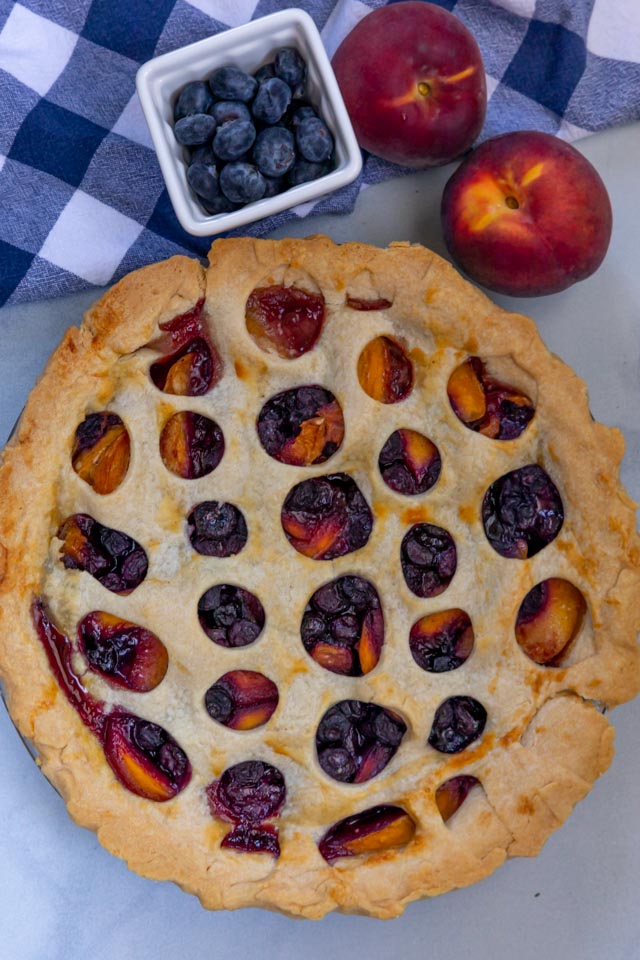 Blueberry Peach Pie Ingredients
Once you've decided if you're doing an all-butter crust pie or crumble pie it's all about the filling. It's so easy to make and you can use fresh or frozen blueberries and peaches to make it (more tips about that in a minute!). Here are the ingredients you'll need for the pie filling:
Peaches
Blueberries
Granulated sugar
Ground cinnamon
Lemon juice
Cornstarch
Combine all of the ingredients together in a bowl. Carefully stir them so you don't break or mash the fruit.
Line a 9-inch pie plate with one pie crust and crimp the edges. Pour the fruit filling into the crust. Top the pie with the other crust or the crumble topping if you're using that.
Bake the pie at 425°F for 10 minutes. Lower the heat to 350°F and bake it for another 30 to 40 minutes or until the crust is golden and baked through.
Wait until the pie cools before slicing so the mixture can set.

PRO TIP
When you first take the pie out the oven the filling will be on the thin side, but it will thicken as the pie cools. So, wait to slice it until the filling has set otherwise it might run all over the place if it's too warm.
How to Make Peach Blueberry Pie with Frozen Fruit
I love to use fresh fruit for this pie when it's in season during the summer, but if in-season peaches and blueberries aren't available you can substitute frozen ones.
If you do, be sure to the fruit is completely thawed before you use it. You will also want to drain it thoroughly so there isn't any excess liquid in your filling.
If you don't drain the fruit it will release that extra moisture into the pie which will make your crust soggy. It will also make the filling thinner and it may not set up right when it's cooled.
Once you've thawed it and drained it, you can make the filling as instructed in the recipe.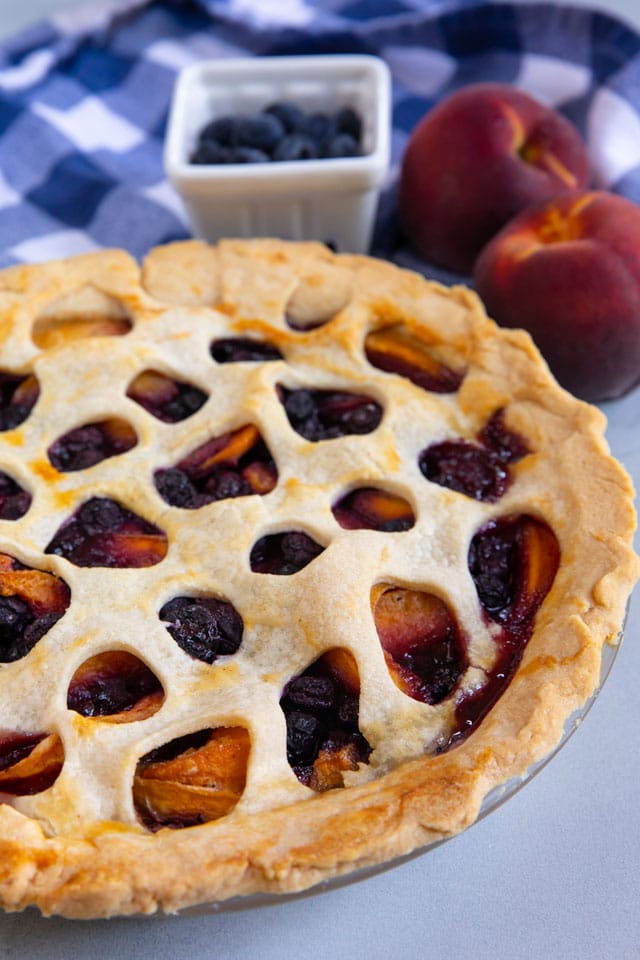 A Few More Tips and Tricks!
I know it can be intimidating making pie crust from scratch, so if you are worried be sure to check out my all-butter pie crust video tutorial. I walk you through the whole process so you can make the perfect crust!
You can create a lattice crust for the top or feel free to use the whole crust and cut vents in it before you bake it. It definitely needs the vents so steam can escape from the pie while it bakes, so don't forget that step.
Once you've assembled the pie get it into the oven right away. You don't want it to sit too long because the sugar in the filling will break down the fruit creating too much liquid. This can make your pie crust soggy and the filling might not set up properly.
Once the pie is cooled, slice it and serve it with ice cream or whipped cream. You can keep leftover pie in the refrigerator for a few days. Just keep it covered.
I hope you give this pie recipe a try – you are going to love the combination of blueberry and peach! I might be biased, but there is nothing better than homemade pie. Enjoy!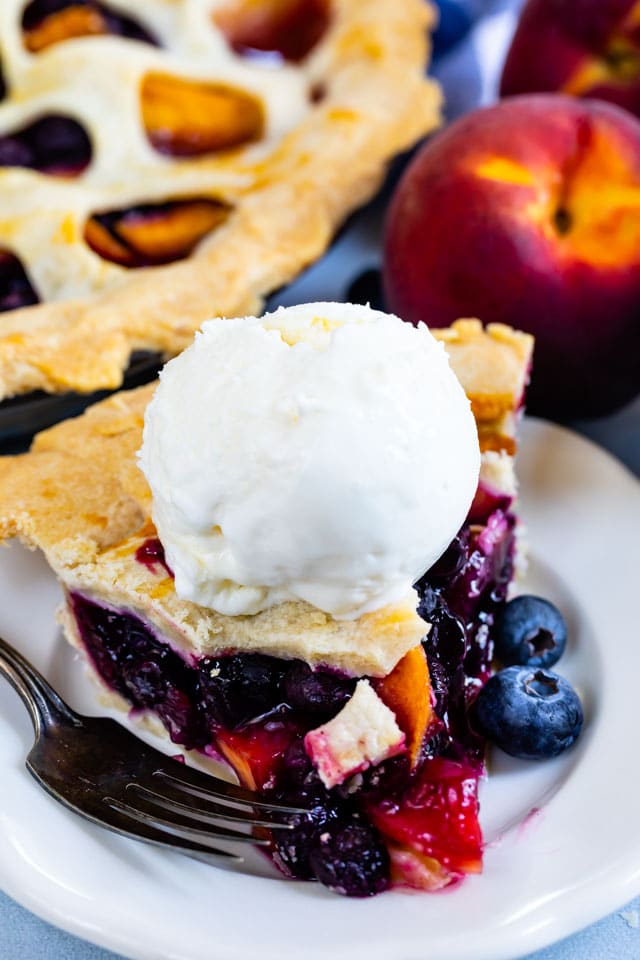 Other Favorite Pie Recipes
Have you made this recipe?
Tag @crazyforcrust on Instagram or hashtag it #crazyforcrust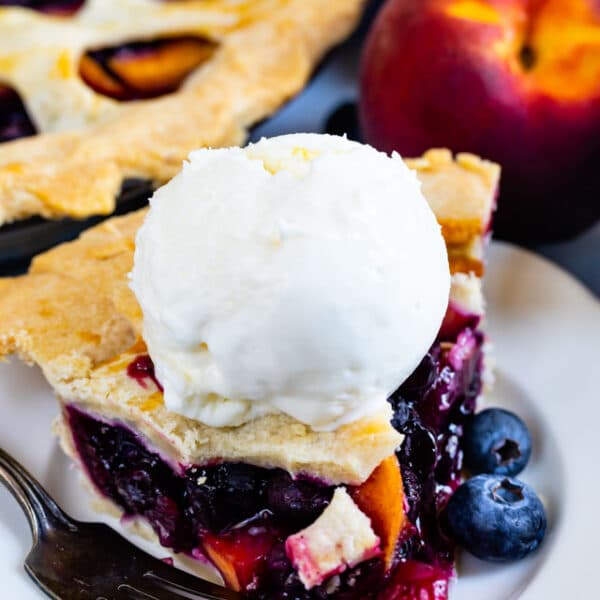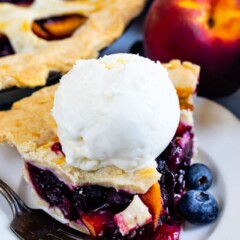 Peach Blueberry Pie Recipe
Peach Blueberry Pie is the perfect pie recipe with fresh or frozen blueberries and peaches! The easy filling is delicious and you can make this with a double crust or crumble topping.
Total Time
1
hour
20
minutes
Ingredients
2

recipes All Butter Pie Crust

3

cups

fresh or thawed frozen peaches

2

cups

fresh or thawed frozen blueberries

2/3

cup

granulated sugar

1/2

teaspoon

ground cinnamon

1

tablespoon

lemon juice

4

tablespoons

cornstarch
Instructions
Preheat oven to 425°F.

Place one pie crust in the bottom of a 9-inch pie plate and crimp as desired.

Carefully stir together peaches, blueberries, sugar, lemon juice, cinnamon and cornstarch. Pour into prepared pie plate.

Top the pie by making a lattice (see note) or a double crust pie. If using a double crust pie, be sure to cut holes in the top to vent during baking. If desired, cut shapes out of the top pie crust using a cookie cutter.

To make the cutout lattice shown, use different size round cutters (or jar lids, etc) to make a circle pattern on top of the pie.

Place a pie shield around the edge of the pie and place the pie on a cookie sheet.

Bake for 10 minutes at 425° then lower the temperature to 350°F and bake for about 30-40 minutes, or until crust is baked through and golden.
Recipe Notes
Make sure that your berries are fully thawed if using frozen and that you've drained them well.
Be sure to mix the pie filling and add it to the pie crust then bake it immediately. Don't let it sit too long or the sugars will make the fruit weep, making your pie liquidy.
The pie will look liquidy when it comes out of the oven but it should solidify as it cools.
You can also top this with a crumble topping instead of a second pie crust.
Recipe Nutrition
Serving:
1
serving
|
Calories:
99
kcal
|
Carbohydrates:
25
g
|
Protein:
1
g
|
Fat:
1
g
|
Saturated Fat:
1
g
|
Sodium:
1
mg
|
Potassium:
111
mg
|
Fiber:
1
g
|
Sugar:
20
g
|
Vitamin A:
167
IU
|
Vitamin C:
7
mg
|
Calcium:
5
mg
|
Iron:
1
mg
Nutritional information not guaranteed to be accurate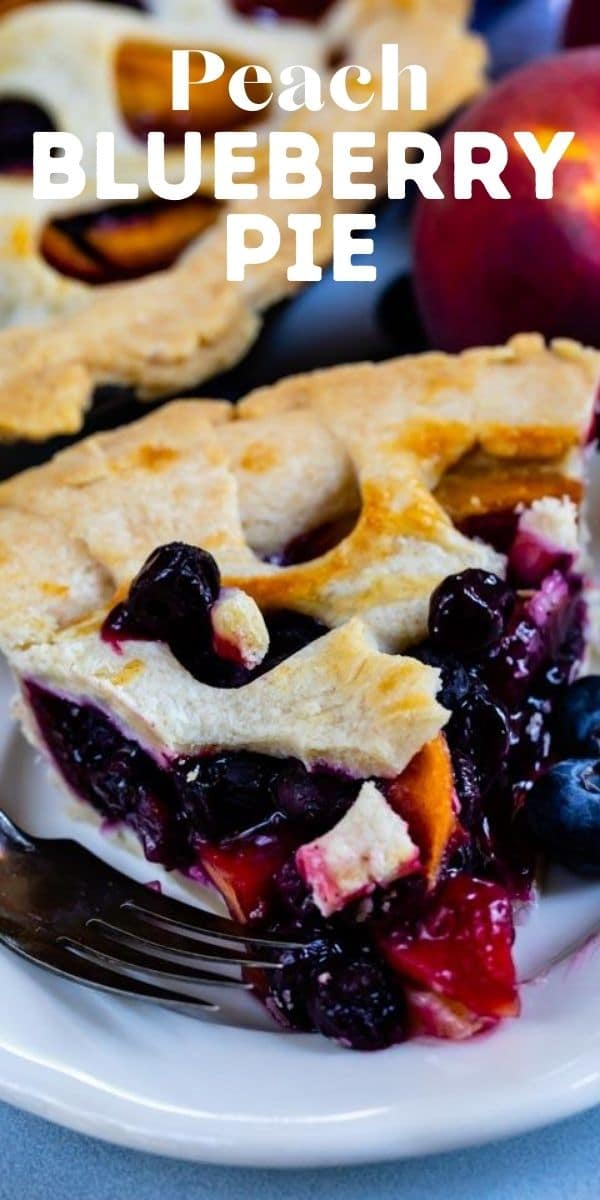 Blueberries and peaches are a perfect combination, add a pie crust and you have this perfect Peach Blueberry Pie! You can make this recipe with fresh or frozen blueberries and peaches which makes it even easier to bake.