This post may contain affiliate links. For more information, read my disclosure policy.
This easy Raspberry Peach Blueberry Pie is filled with summer fruit: berries and peaches! No worries though, you can make this all year long using frozen fruit. Choose your favorite topping: lattice, double crust or crumble topping. Any way you top it, this easy pie recipe is completely from scratch.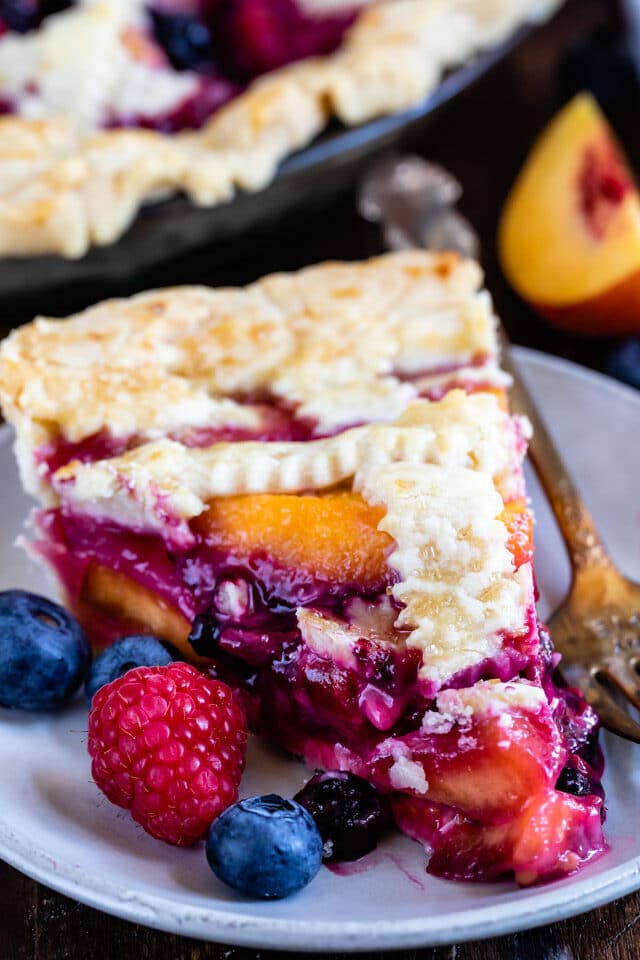 God I love these photos. Something about berries in pictures make editing them so easy! Anyway, let's get back on track.
This pie was inspired by three different things:
My friend Brandy, from Nutmeg Nanny, wast telling me when we were in Sonoma that she loves a pie that has peaches, blueberries and raspberries. She was like, I know it's weird but it's good! (Side note: I hope she doesn't mind that I'm making her idea!)
Also during our trip to Sonoma, we did a tasting at St. Francis Winery. The meal was EPIC and it was capped off with an Italian cake that tasted like angel food cake. The cake was topped with a vanilla sauce, white nectarines and lots of fresh berries. I'd never though of pairing the three until after that, when Brandy told me about her favorite pie.
I posted Pumpkin Danish last week and while most people were all BRING ON THE PUMPKIN, one Negative Nancy chastised me for bringing fall too early and said I needed to make more berry and peach recipes.
Three references to berries and peaches in one week means I needed to make a PIE!
If you're looking to use up some summer produce, make a lattice top Raspberry Peach Blueberry Pie this weekend!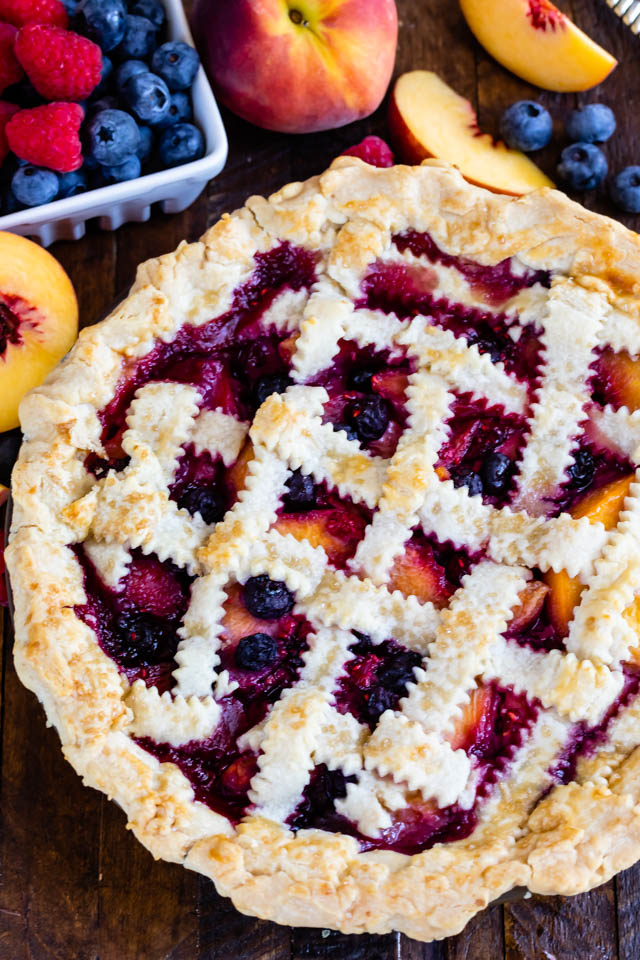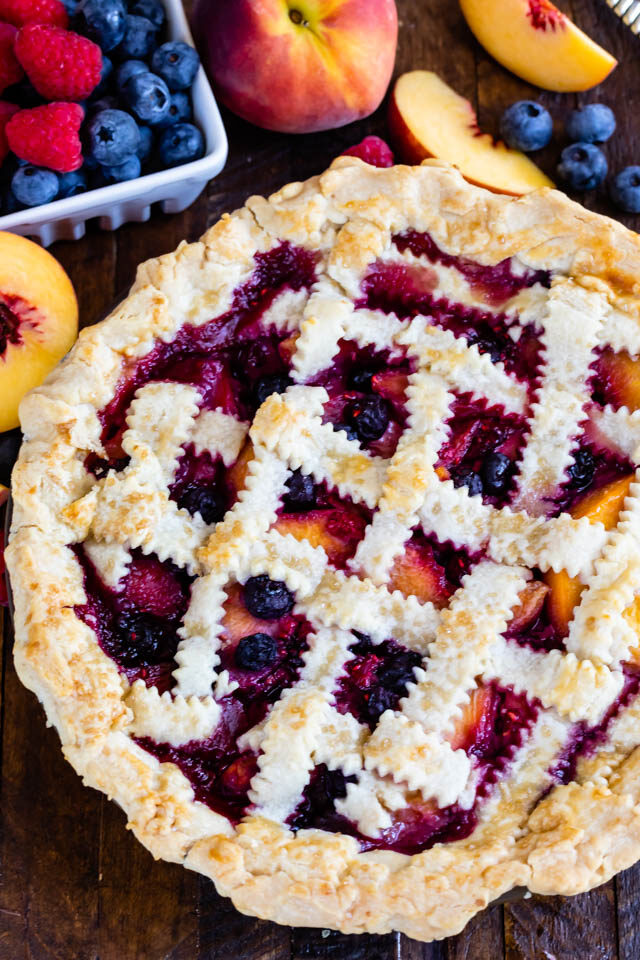 Now I've heard of Peach Pie, Blueberry Pie, Raspberry Pie and combinations like Peach Blueberry or mixed berry, but I'd never specifically heard of pairing blueberries with raspberries and peaches. It does make sense to mix them though because if peaches go with blueberries and blueberries go with raspberries then logic concedes they all go together. Or….something.
The beauty about making homemade pies is you get to control what kind of crust and topping you want to use.
There are so many different variations for this pie and even the fruit is something that can have a little wiggle room.
The one thing that is constant about this pie and all my berry pie recipes is the ratio of ingredients: 5 cups or so of berries to 2/3 cup sugar with 4 tablespoons cornstarch. Any fruit pie (except apple) I make will have that ratio.
What kind of crust goes with a fruit pie?
I love to use my all butter crust if I'm going the homemade pie crust route. It's my favorite pie crust recipe.
Now, if you're not into making your own crust you are totally free to use a refrigerated or frozen pie shell. I promise I won't tattle or judge!
You can top this Raspberry Peach Blueberry Pie in three different ways:
Make it a double crust pie. That is, make two recipes of my all butter pie crust (or buy a pack of two pie crusts) and top the pie with a pie crust. Just be sure to cut some vent holes if you do this.
Make a lattice top pie, which is what's shown in the photos. The video in this post and the linked tutorial show you how to do this.
Make a crumble pie with a buttery sugary topping (that's my favorite!)
No matter how you top the pie, as long as you stick to my ratio of ingredients you'll get an amazing pie recipe every time.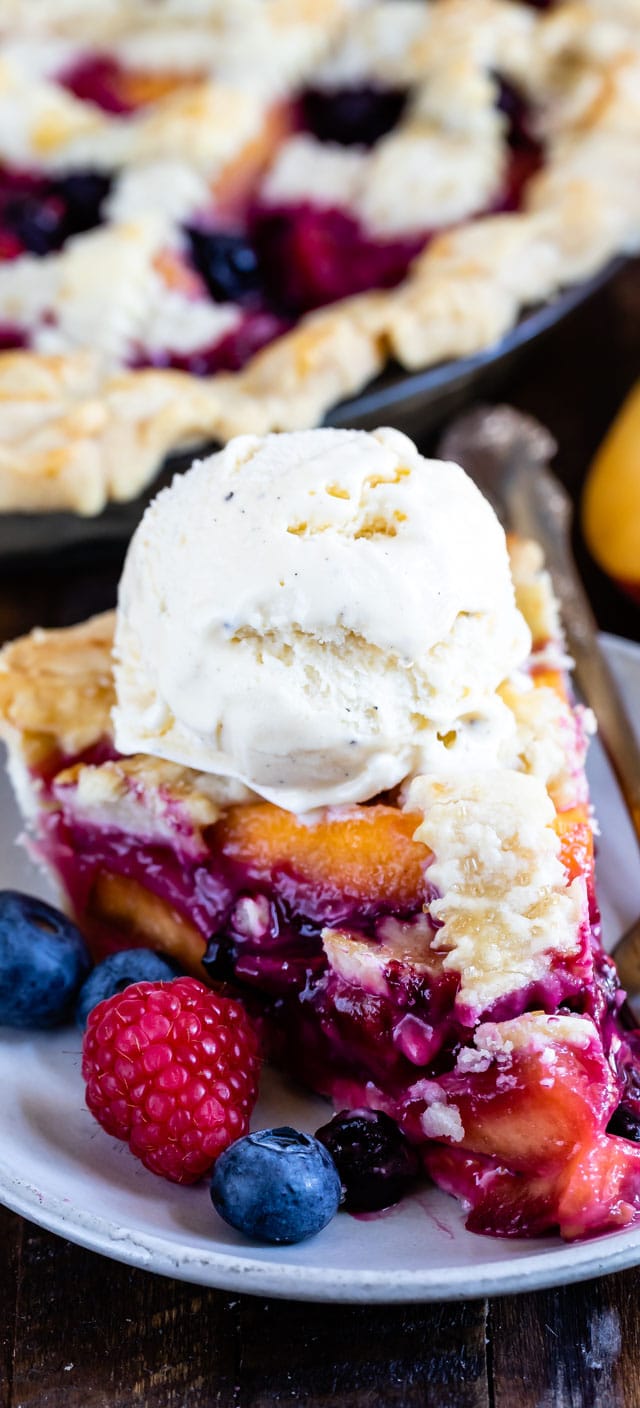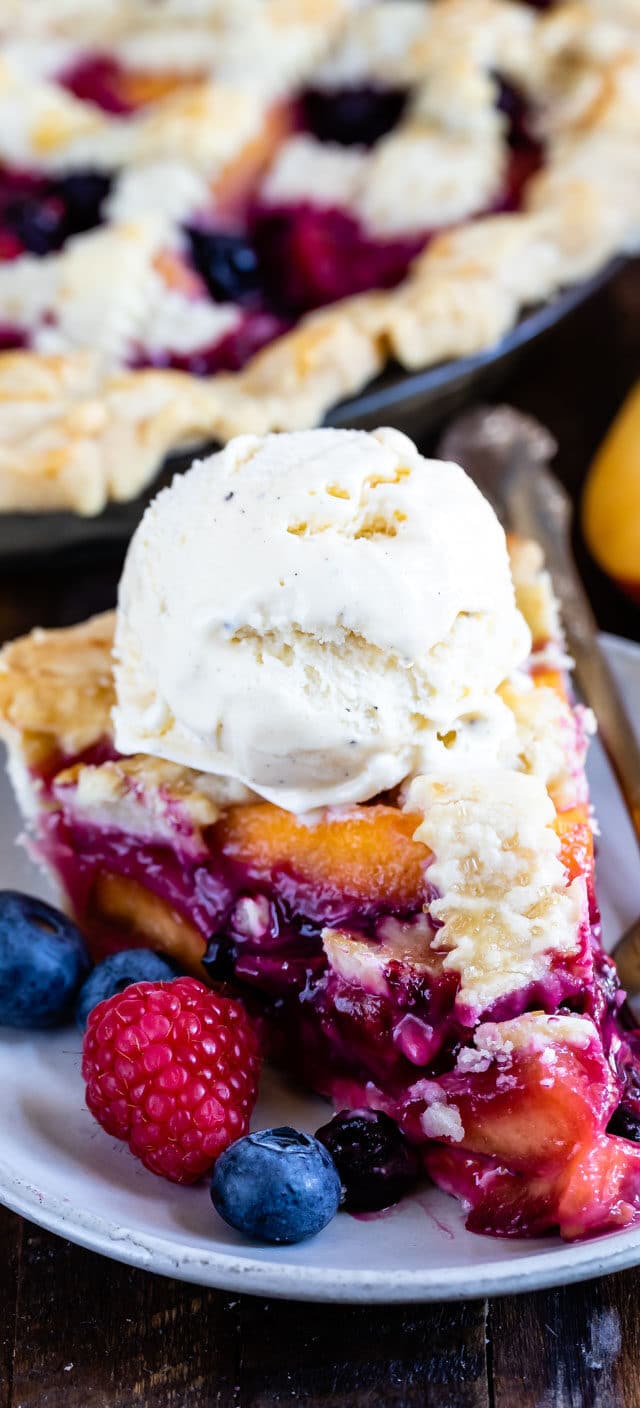 Should you use cornstarch or flour to thicken fruit pie?
I have tried both and I prefer using cornstarch to thicken fruit pies. I find that it works best. Also, be sure not to use too much sugar. 2/3 cup is plenty if you're using 5 cups of fruit. More sugar will cause the pie to be wetter (the fruit reduces more). If you've ever made a pie that spills all over when you cut it, chances are it had too much sugar or not enough cornstarch.
Also, once the pie filling is mixed, let it sit a minute and then drain the juices to keep your pie crust from getting soggy and make sure your filling isn't too wet.
Can you make pie with frozen berries?
YES! This pie was actually made with frozen berries and frozen peaches. I always have frozen fruit on hand, plus I hate peeling peaches.
You can use fresh or frozen fruit when making any of my fruit or berry pies. The only thing you need to make sure of is that your frozen fruit is thawed and drained before making the filling. This will ensure your pie isn't too wet.
How to keep your pie crust from getting soggy:
I bake the pie for 10 minutes at 425°F, then reduce the heat to 350°F for the rest of baking. I also use a pie shield so that the pie crust around the edge doesn't get overdone and I bake my fruit pies on a cookie sheet to prevent spills. The cookie sheet helps conduct heat to the bottom of the pie as well. You can also:
Make sure you strain your fruit before making the filling and after.
Bake your pie on a hot cookie sheet.
I like my bottom crust a bit soft (but not soggy). If you want a extra crunchy bottom crust you can partially blind bake it for about 5-10 minutes, then add your filling and topping. This works best for a crumble pie where you don't need to attach a top crust to the partially cooked bottom.
How you know when your pie is done:
Your pie is done when your top crust or crumble is browned and the fruit is bubbling. Note that if you're using my all butter pie crust recipe that it won't get totally brown, just slightly golden as you see in the photos. An egg wash helps with the golden brown-ness but it doesn't get dark.
Cool it completely (and chill it) before slicing. Serve with ice cream for a delicious berry peach pie!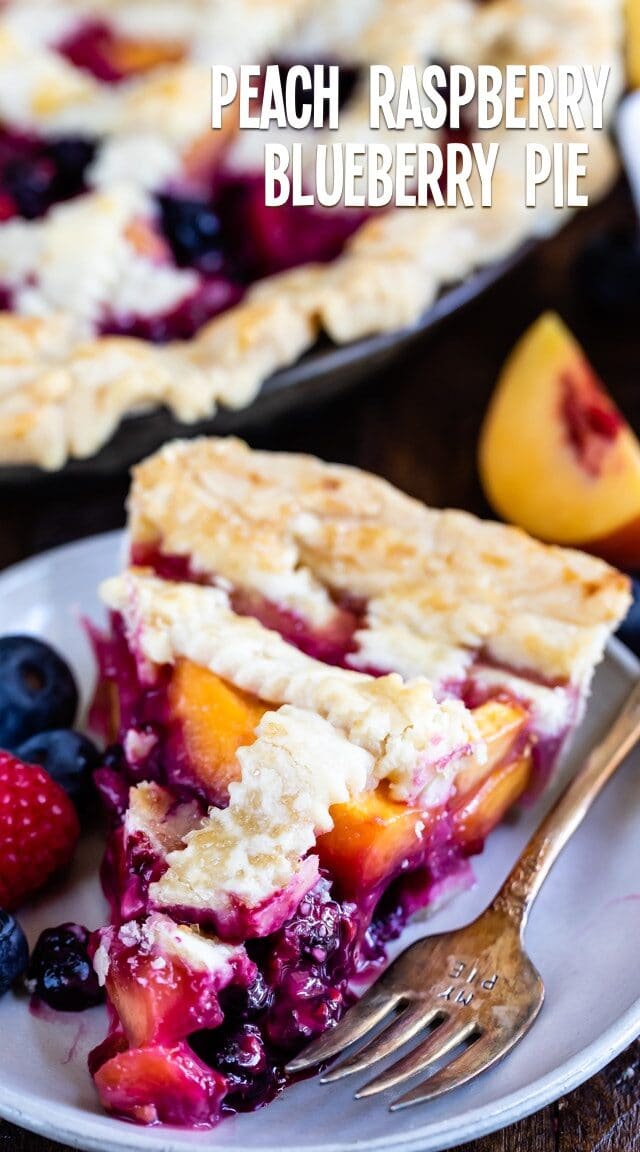 Raspberry Peach Blueberry Pie is a delightful combination for a fruit pie. Top this with a lattice or a crumble topping and serve it with ice cream!
My favorite pie recipes:
Want even more? Subscribe to Crazy for Crust to get new recipes and a newsletter delivered to your inbox. And stay in touch on Facebook, Pinterest, Twitter, and Instagram for all my latest updates. If you make this recipe, share a photo on social media tagging @crazyforcrust and using the hashtag #crazyforcrust.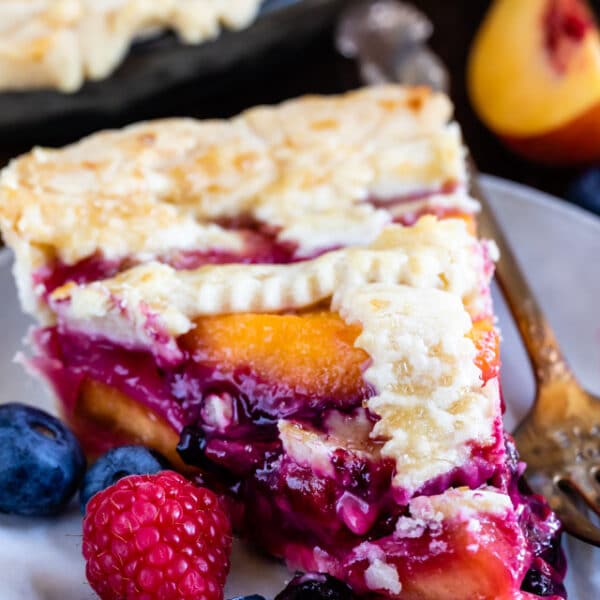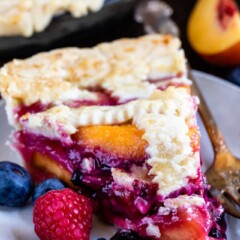 Raspberry Peach Blueberry Pie
Use fresh or frozen fruit to make this peach pie with blueberry and raspberries!
Total Time
1
hour
45
minutes
Ingredients
1

recipe

All Butter Pie Crust

3-4

cups

fresh or thawed frozen peach slices, thawed

1

cup

fresh or frozen raspberries, thawed

1

cup

fresh or frozen blueberries, thawed

2/3

cup

granulated sugar

1

tablespoon

lemon juice

4

tablespoons

cornstarch
Instructions
Preheat oven to 425°F.

Place one pie crust in the bottom of a 9-inch pie plate and crimp as desired.

Carefully stir together peaches, blueberries, raspberries, sugar, lemon juice, and cornstarch. Let sit for a couple minutes, then drain and pour into prepared pie plate.
Topping choices:
Top the pie by making a lattice (see note) or a double crust pie. If using a double crust pie, be sure to cut holes in the top to vent during baking. OR

Top the pie with a crumble topping.

Place a pie shield around the edge of the pie and place the pie on a cookie sheet.

Bake for 10 minutes at 425° then lower the temperature to 350°F and bake for about 40-50 minutes, or until crust is baked through and golden.
Recipe Notes
You can use any topping for this pie: make a lattice pie crust, a crumble topping, or make a double crust pie.
If using frozen berries, make sure they are thawed and drained well.
Be sure to read the blog post for all sorts of fruit pie baking tips.
Recipe Nutrition
Serving:
1
serving
|
Calories:
280
kcal
|
Carbohydrates:
44
g
|
Protein:
3
g
|
Fat:
11
g
|
Saturated Fat:
3
g
|
Sodium:
164
mg
|
Potassium:
156
mg
|
Fiber:
3
g
|
Sugar:
19
g
|
Vitamin A:
159
IU
|
Vitamin C:
8
mg
|
Calcium:
13
mg
|
Iron:
1
mg
Nutritional information not guaranteed to be accurate
**Did you make this recipe? Don't forget to give it a star rating below!**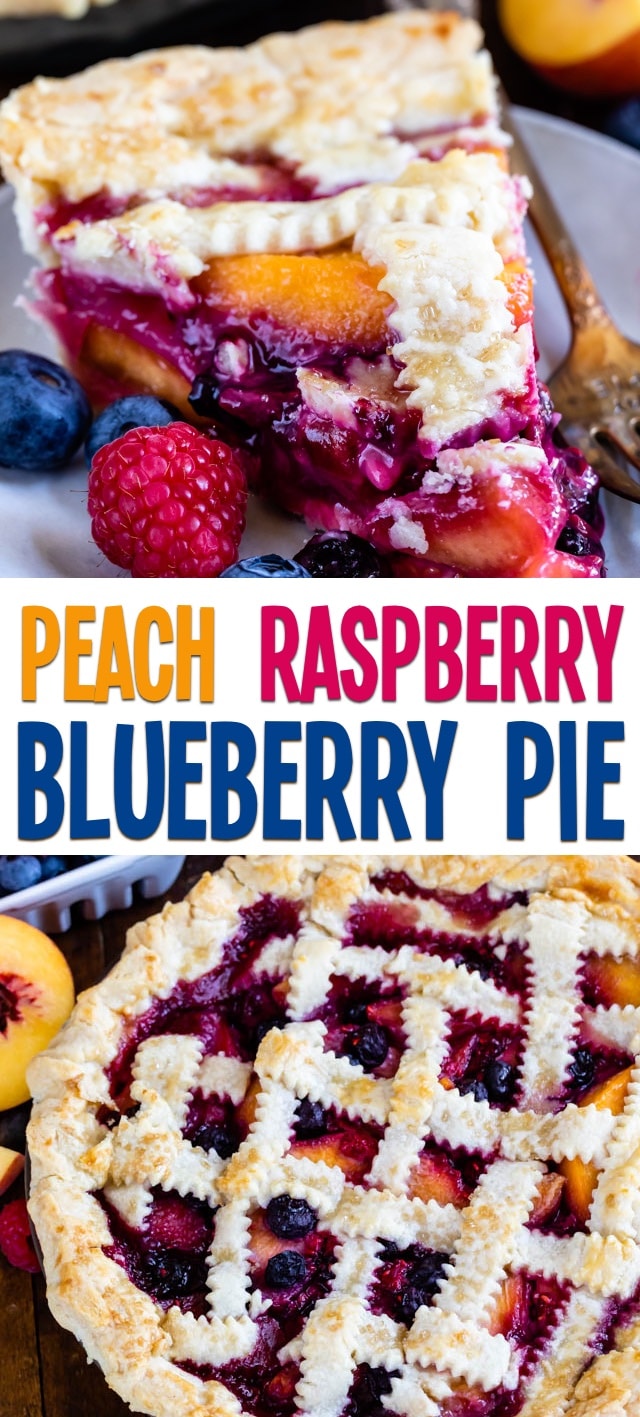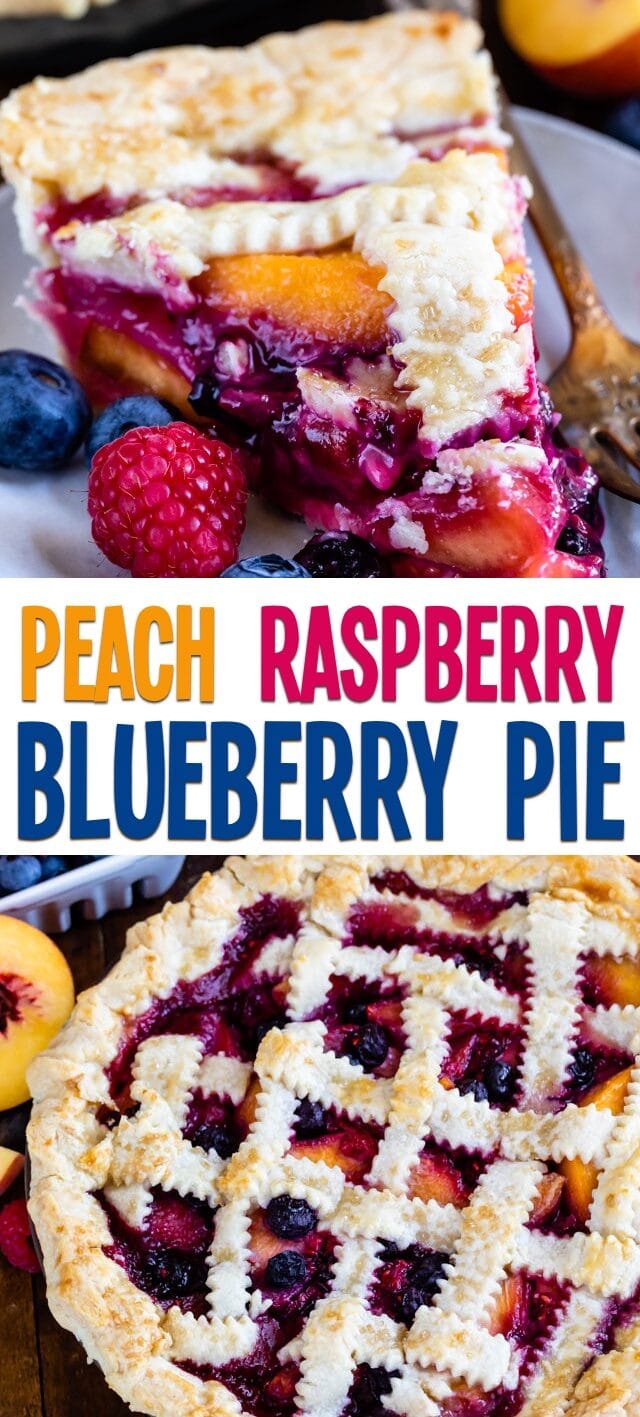 Last Updated on August 11, 2019