This post may contain affiliate links. For more information, read my disclosure policy.
Sure, you've seen the viral snackadiums people make for the Super Bowl – the ones with appetizers and guacamole but have you ever seen a Dessert Snackadium? With sprinkles and cake batter dip?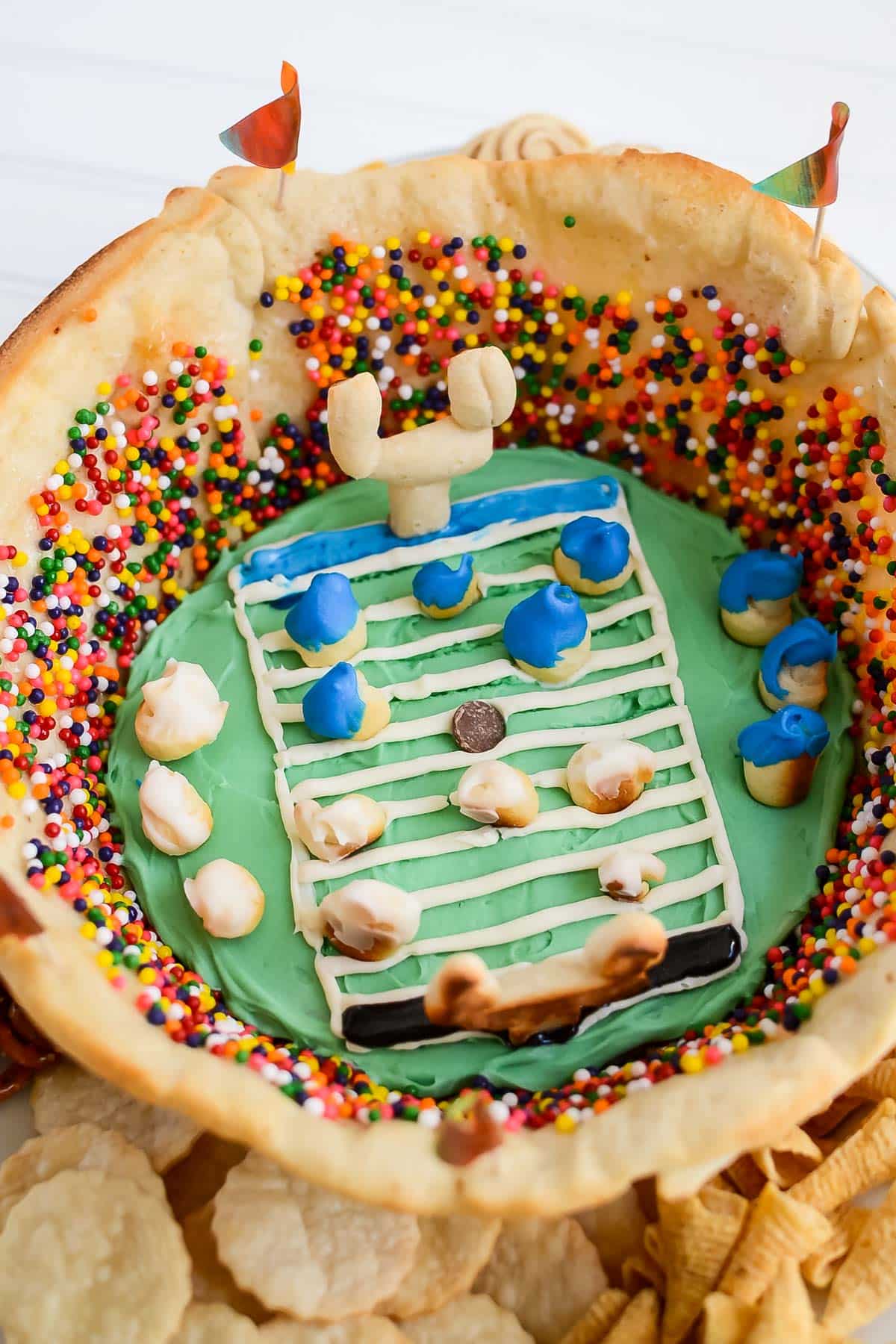 What is a Snackadium?
A snackadium is a football stadium built out of snacks. Most of the time you see savory ones with stands made out of different appetizers like pigs in blankets, pepperoni pinwheels, chips, veggies, and other charcuterie like things. Usually it has bean dip and/or guacamole in the center for the field.
This version is a Dessert Snackadium – the stadium is made out of pizza crust and filled with cake batter dip and green frosting. The people are sprinkles and the players are pizza dough!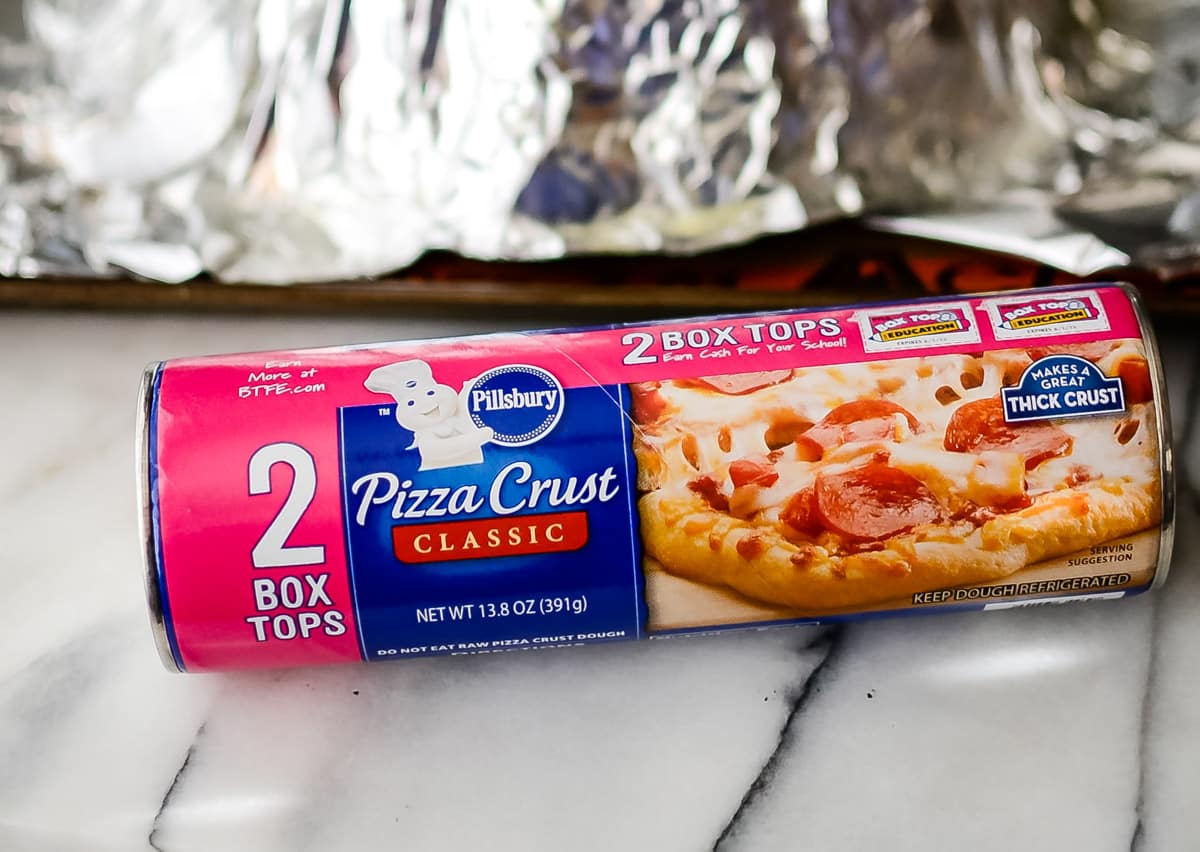 What do you need to make it?
I built my snackadium out of Pillsbury Pizza Dough. I've always loved the versatility of that dough! You could use any kind of pizza dough you want.
The filing is chocolate cake batter dip with some green tinted vanilla buttercream on top.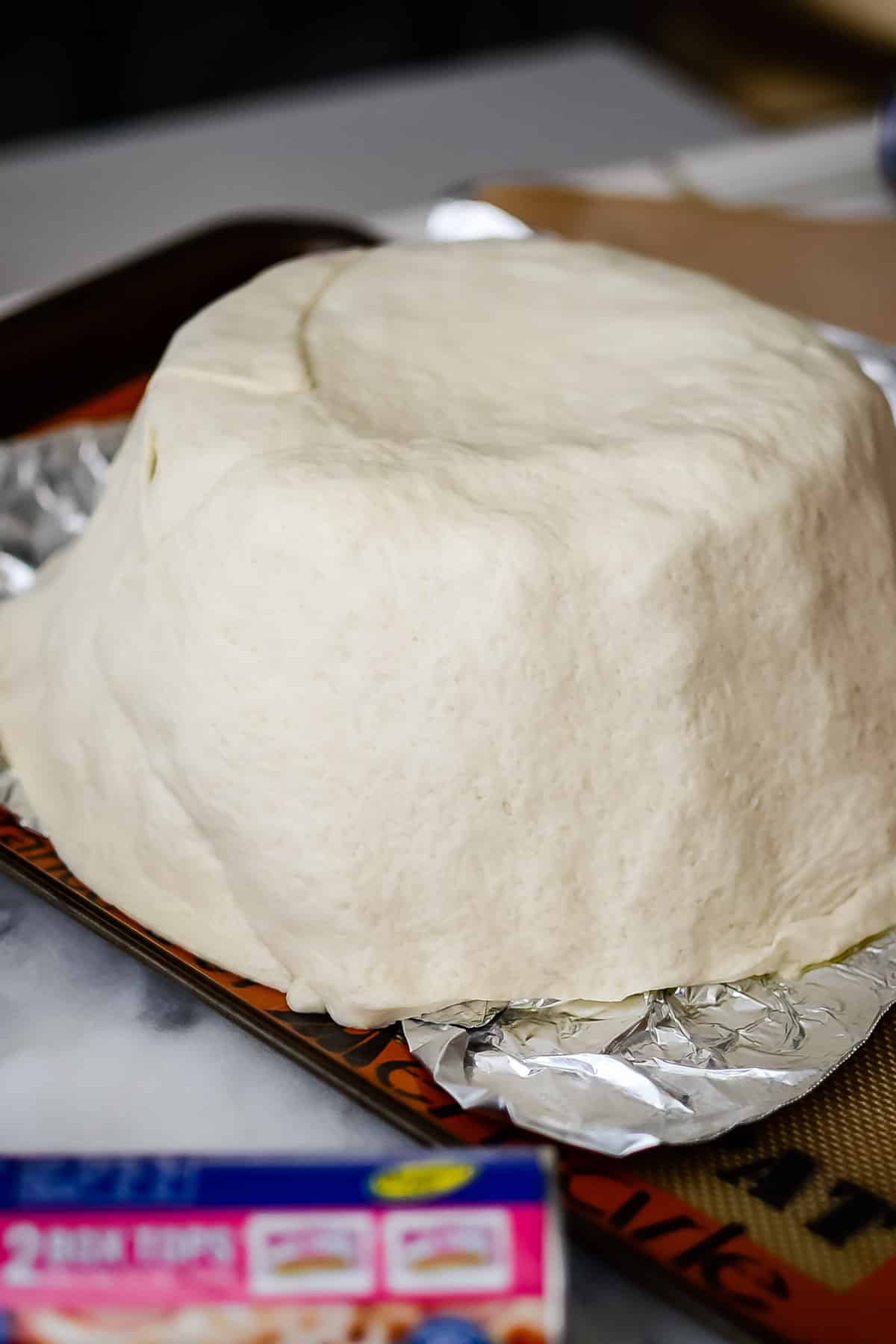 How do you make a Snackadium?
I baked my dough on an inverted budnt pan, covered in foil and sprayed generously with cooking spray. I baked it longer than you would a pizza to eat, because I wanted it completely cooked through so it would stand up and not collapse.
Now, once you have your field, you need players. And goal posts. I used crescent rolls for the players. One triangle of the crescent roll dough was cut into about 16 small triangles and 16 tiny crescent rolls were formed. Half I dipped in blue candy melts, half I dipped in white, for each team. The crescent roll dough was also used for the sign.
I fashioned my goal posts out of some of the pizza dough scraps from the snackadium, but you can also use some of the crescent roll dough.
The flags were made from Fruit By The Foot, cut into triangles and wrapped around toothpicks. Gotta have team flags!
Brush the inside of the snackadium with corn syrup and press sprinkles to represent people.
Fill the bowl with dip (you could also use chocolate dip) and then top it with green frosting. Use white frosting to decorate the field then place the players and goal posts.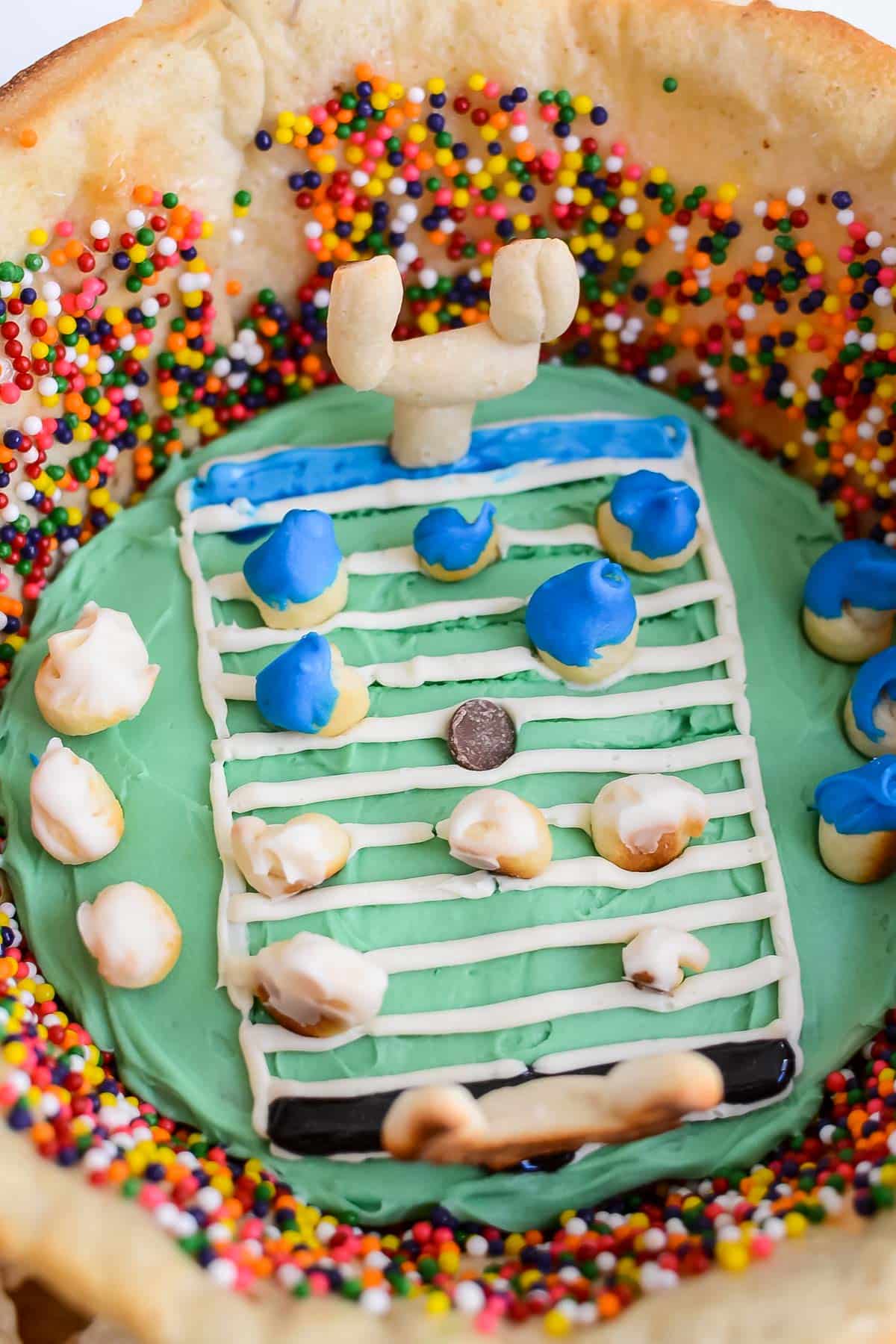 What do you dip in Cake Batter Dip?
The snackadium, while gorgeous, needs to be edible. The dip is great, but how do you eat it, besides with a spoon? You need dippers! You can use any and all manner of dippers for your cake batter dip: Pie crust dippers, Bugles, sweet Chex Mix, pretzels. You could use chocolate chip cookies or sugar cookies too!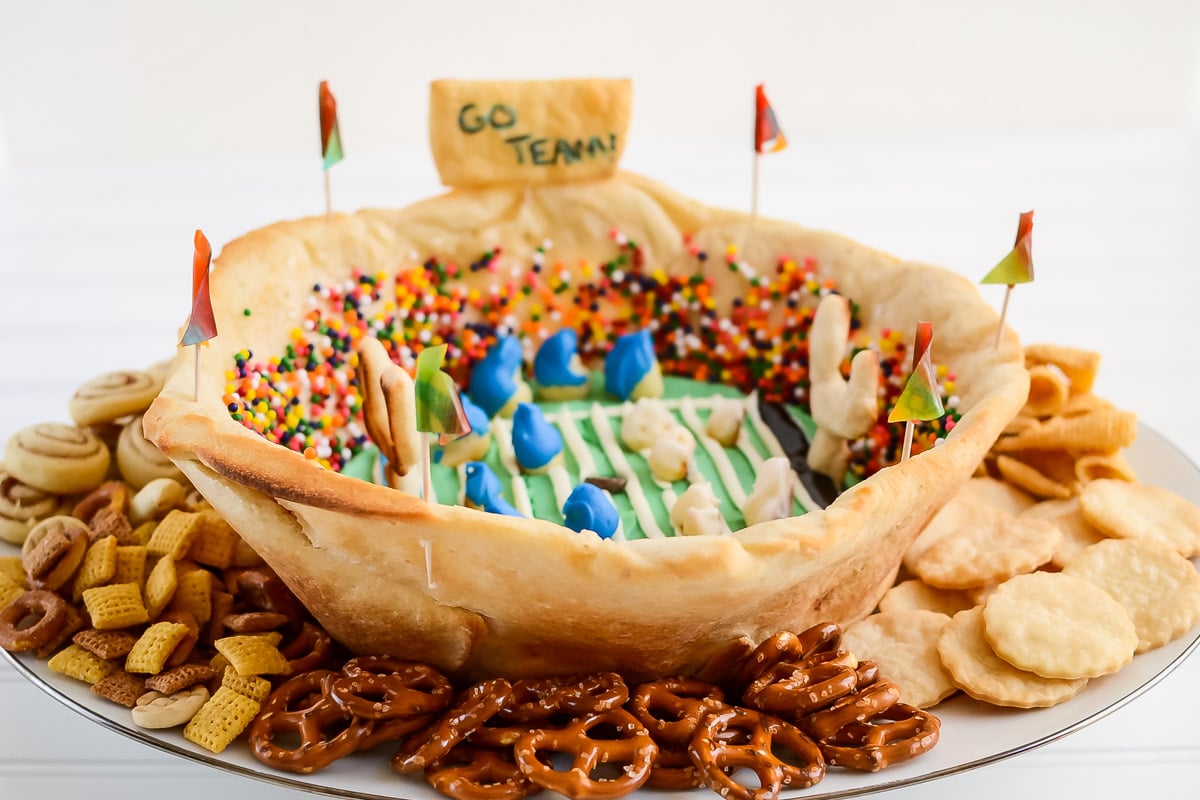 Expert Tips
Color the players however you want – be sure to use the colors from the big game.
Make sure your piza crust is really golden brown – you want it fully done (crunchy) so it holds up.
Spray the foil with nonstick cooking spray really well so it pops off easily.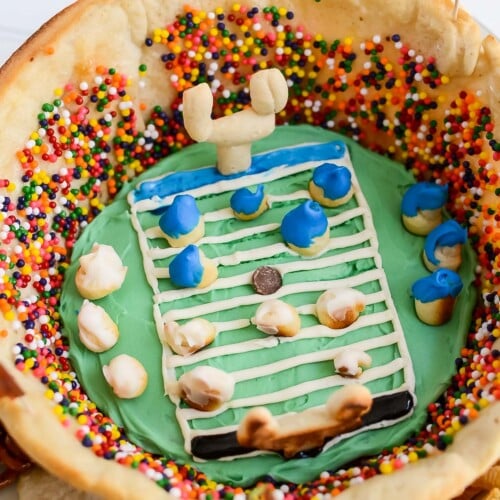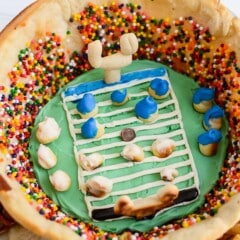 Dessert Snackadium with Pillsbury
A showpiece centerpiece that looks like a football stadium
Ingredients
For the Dip and Field:
4

ounces

cream cheese

room temperature

¼

cup

unsalted butter

room temperature

2-3

tablespoons

milk

1

cup

(113g) powdered sugar

1

cup

Devil's Food Cake Mix

(or chocolate cake mix)

1

can

white frosting

Green Food Coloring
For the Snackadium:
1

can

Pillsbury Pizza Crust

1

can

Pillsbury Crescent Rolls

¼

cup

corn syrup

Nonpareils

Candy melts in your teams colors

Edible Food Writers

1

Fruit by the Foot

Assorted Dippers
Instructions
Snackadium:
Preheat oven to 400°F. Line a cookie sheet with parchment paper. Turn a 12-cup fluted bundt pan upside down on the cookie sheet. Cover it with foil and spray with cooking spray.

Unroll your can of pizza dough and cut it in half. Place half of the dough over one side of the budnt pan and repeat with the remaining dough. Press the seams together, and trim around the edges as needed. Use those extra pieces to fill in any gaps you need to completely cover your overturned bundt pan. Save two small extra pieces for your goal posts!

Bake for 14-18 minutes. It will be browner than it would be if you were going to make pizza; you want it done and not soft, otherwise it will collapse. Let it cool for at least 30 minutes before removing from pan and turning it over.
Decorations:
Goal Posts: Take two small amounts of leftover pizza dough and roll them into 3 ropes of dough. Cut 1 rope in half, so you have 2 long pieces and 2 short. Assemble the pieces in the shape of the goal post and press the edges together to seal. Repeat for second goal post. Bake for about 5 minutes on a parchment lined cookie sheet.

Players: Unroll your crescent rolls. Separate 2 triangles from the rest of the package. Reserve the remaining rolls. Cut 1 crescent roll triangle into about 16 smaller triangles. Roll into tiny crescent rolls. Bake for just a few minutes. Once cool, melt some candy melts in desired colors and dip half the tiny crescent rolls in each color. Let harden.

Sign: Cut a square from the 1 triangle of crescent roll and bake for about 5 minutes. Once cool, write a desired message on the sign with edible food writers.

Spectators: Place corn syrup in a small bowl. Using a basting brush, brush the corn syrup around the inside of your baked snackadium. Sprinkle generously with nonpareils, to represent the spectators. Be sure to put your "people" all the way up to the top of the sides of your snackadium. Chill for at least 15 minutes.

Flags: Cut triangles from your Fruit by the Foot strip and wrap each end around a toothpick. Stick around the top of the snackadium for decoration.
Dips:
Cake Batter Dip: Mix 4 ounces room temperature cream cheese and 4 tablespoons room temperature butter with a hand mixer. Mix in 1 cup of cake mix (dry) and 1 cup of powdered sugar. Add 2-3 tablespoons of milk until mixture reaches your desired consistency. Spread your "dirt" cake batter dip (Devil's Food) in the bottom of your snackadium.

Reserve half the can of vanilla frosting. Tint the rest green and spread it over the cake batter dip.

Place the rest of the white frosting ziploc bag with the corner snipped off. Pipe a large rectangle in the center of your field. Divide your large rectangle into 12 small ones, using your frosting, to create the playing field and yard lines. If you wish to make "end zones" you can tint some of your leftover white frosting a color and fill in each of the outer rectangles with different colors. Place a goal post in each end zone.

Place your tiny crescent roll "players" on the field and on the sideline. You can use a chocolate chip for the football. Attach the sign to the snackadium with a toothpick.

Serve with any dippers you want!
Recipe Notes
Color the players however you want – be sure to use the colors from the big game.
Make sure your piza crust is really golden brown – you want it fully done (crunchy) so it holds up.
Spray the foil with nonstick cooking spray really well so it pops off easily.
Recipe Nutrition
Serving:
1
serving
|
Calories:
124
kcal
Nutritional information not guaranteed to be accurate
Last Updated on February 9, 2023