This post may contain affiliate links. For more information, read my disclosure policy.
This is the ULTIMATE Pizza Dough Recipe! This easy pizza crust recipe can be made thick, thin, or personal sized with whole wheat or gluten free flour. You can make a baked pizza crust or a grilled pizza recipe. Top it with whatever you like for the best dinner, or make a dessert pizza!
Never thought you could make HOMEMADE Pizza Dough? YOU CAN NOW, with this recipe!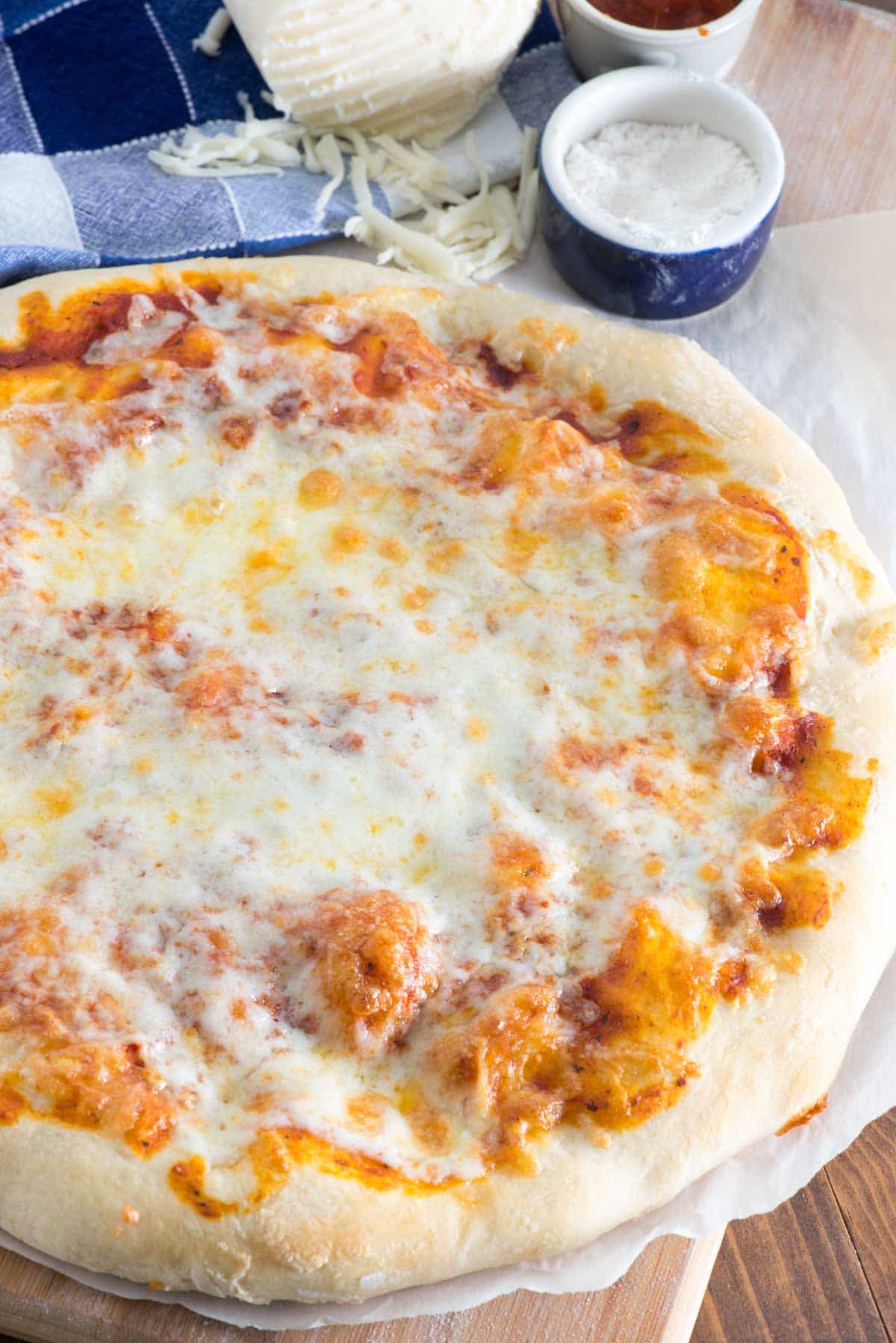 EASIER THAN EVER Pizza Dough Recipe
Until I started blogging, I was terrified of yeast and making my own bread and pizza dough. It was so much easier to buy a tube of dough or a packaged already baked one, but those never tasted as good as take-out so I was always left wanting MORE. One day I tried making my own pizza dough and OMG >> life changing.
Making this homemade pizza dough recipe is so much easier than you think it will be.
Get over your fear of yeast, okay? Once you have this recipe down, the world opens up. Pizza, flatbread, cheese breadsticks, dinner rolls…you name it, you can make it with this pizza dough recipe.
Plus, if you make your own pizza at home YOU control the ingredients. There will be less calories than the pizza joint down the road, so you won't feel as greasy and guilty afterward. Be sure to use my Homemade NO COOK Pizza Sauce recipe too!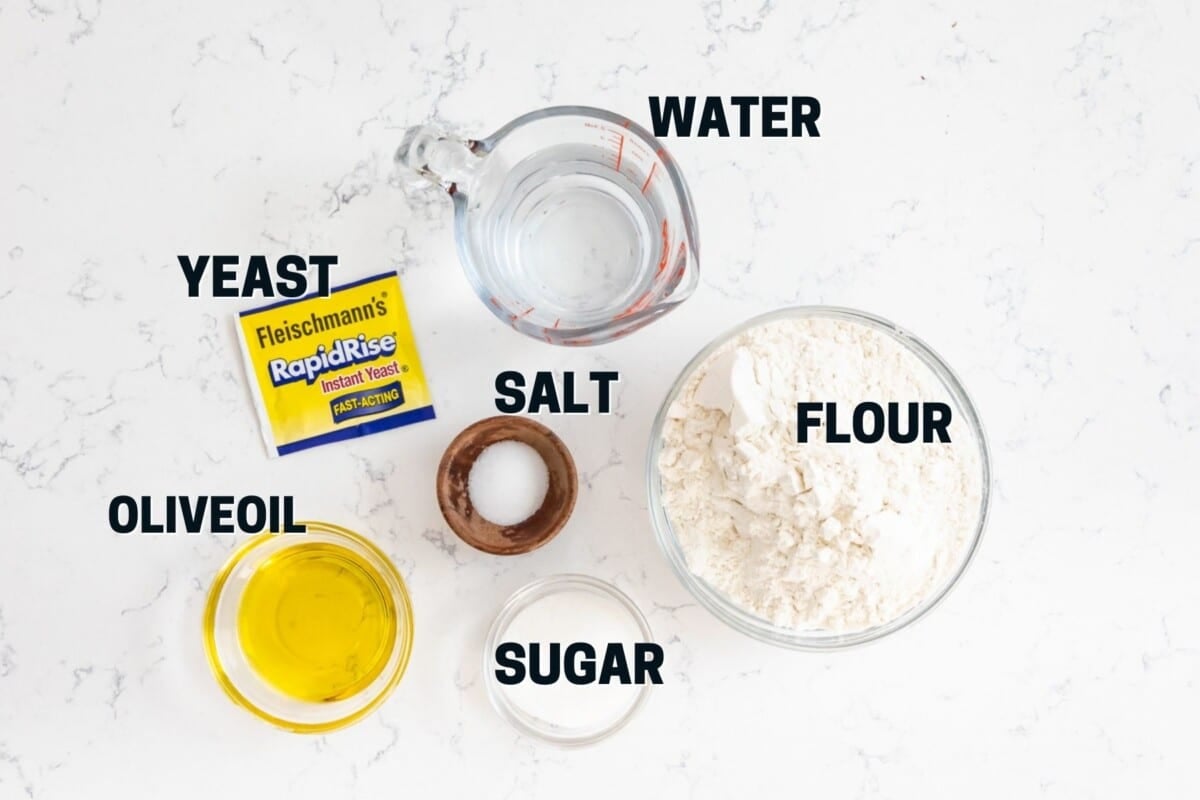 Pizza Dough Ingredients
Yeast – You can use Instant Yeast OR Active Dry Yeast but the directions vary so read below the difference.
Water – We'll need to heat this according to the yeast you're using.
Flour – All-purpose flour is what I normally use but see below for other flour options.
Salt – For flavoring
Sugar – Helps activate the yeast
Olive Oil – a little fat makes adds flavor and texture to the dough.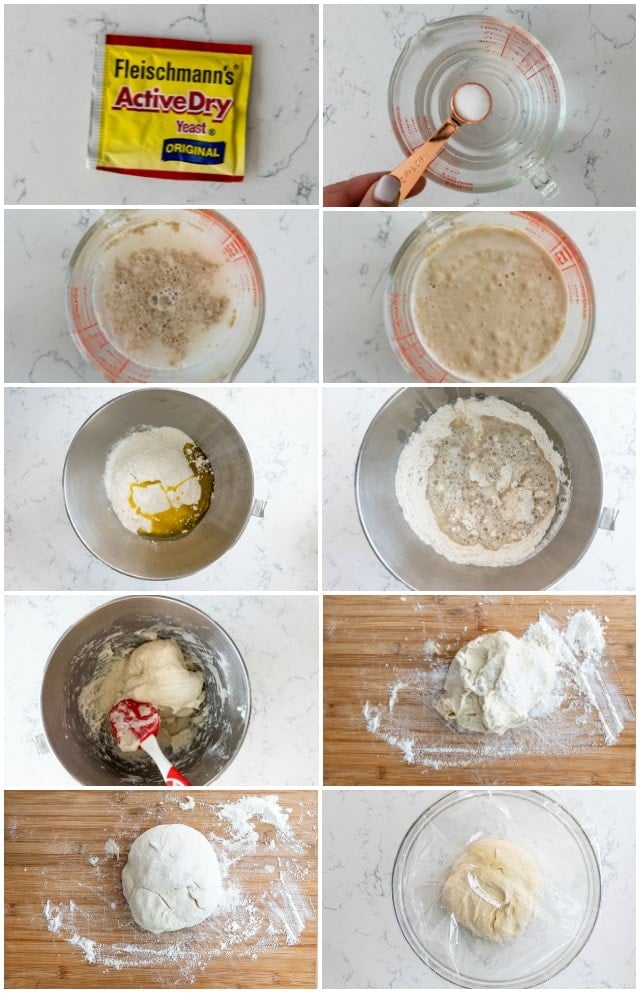 Make pizza dough with Active Dry Yeast
When you're using active dry yeast you need to proof it first, so the process goes like this:
Heat the water to 110-115°F and add the sugar and yeast to the water, stir. Let it sit to activate (or bloom) for about 5 minutes.
Stir together the flour, salt and oil.
Once the yeast is bubbly, add it to the dry ingredients and mix or knead with a stand mixer (or by hand) until the dough is sticky but not wet.
Knead it on a lightly floured surface, then add it to a bowl and cover with plastic wrap.
Let the dough rise at room temperature until doubled in size (about 1-2 hours).
Then you can make your pizza!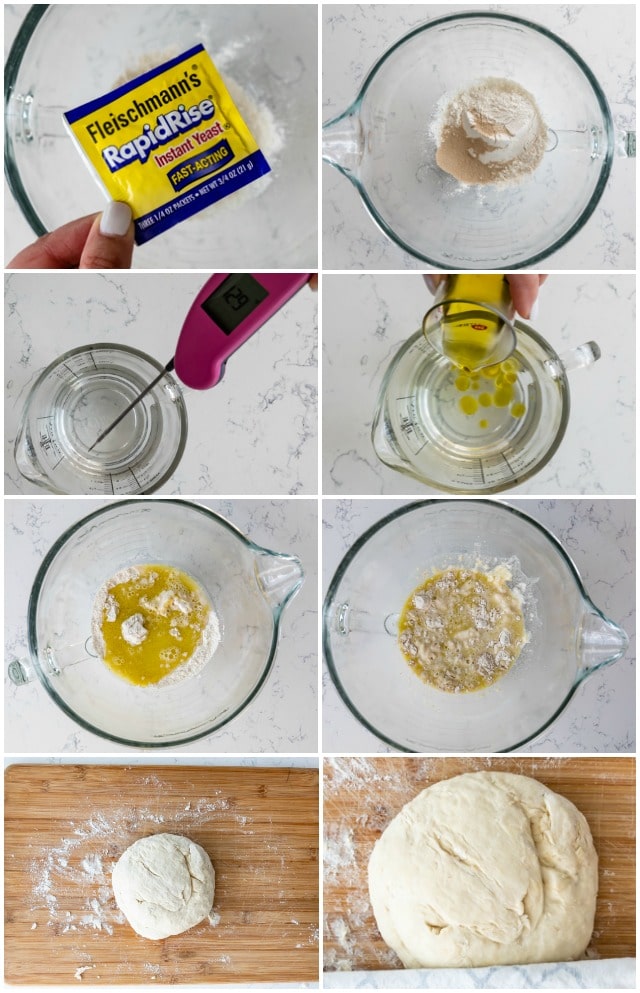 Making pizza crust with Instant Yeast
Instant yeast (aka Rapid Rise Yeast, if you're using Fleischmann's) is my FAVORITE to use because it takes all the guesswork out of it. I HIGHLY recommend using Instant Yeast in this recipe.
There's no proofing and less rise time when you're using instant yeast!
Whisk the dry ingredients together (1 cup of flour, sugar, salt and the yeast – no proofing, remember!)
Heat the water to between 120°-130°F and add the oil, then add it to the wet ingredients.
Mix or knead with the dough hook to moisten, then add the rest of the flour and run the mixer until the dough forms a loose and slightly sticky ball.
Turn out the dough onto a floured surface and knead until the dough forms a ball and, when touched with two fingers, the dough bounces back.
Cover with a clean kitchen towel and REST for 10 minutes – that's it!
Make your pizza.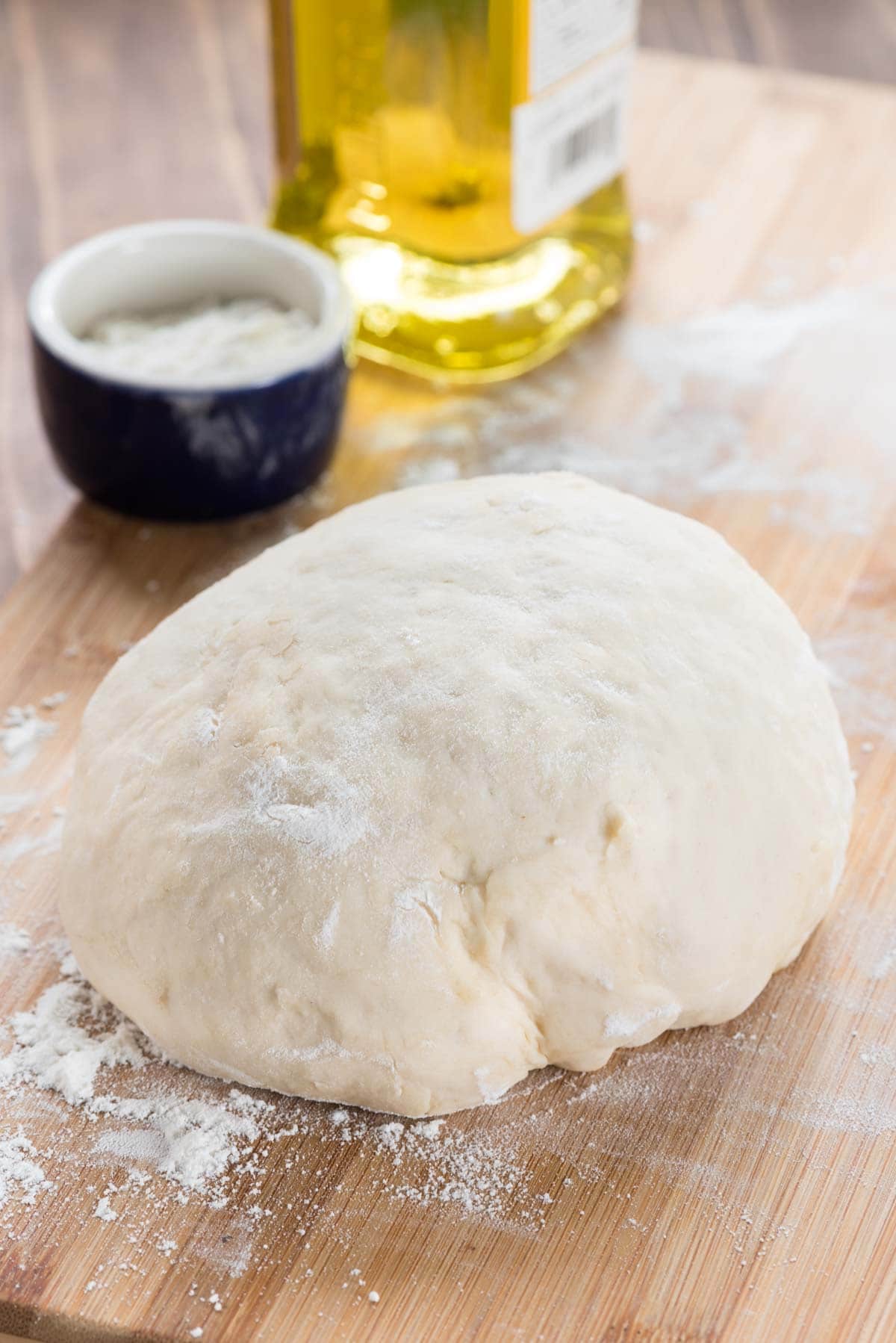 Different Flours for Pizza Dough
While I think the best flour for pizza dough is all purpose, you can use others as well:
How to make Gluten-Free Pizza Dough
You can swap out the all-purpose flour for the 1:1 gluten-free AP flour. Bob's Red Mill is my favorite kind, it's a light blue bag.
If you're making this gluten-free, know that the dough is not going to rise. I let mine sit, but the gluten doesn't form, because, obviously. So instead you just press the dough into the pan instead of rolling it out. The end result is more like a crunchy crust/chewy cracker.
How to make Whole Wheat Pizza Crust
To make easy pizza dough whole wheat, you have a few options:
Use the same amount white whole wheat flour instead of all purpose.
Use 1 cup whole wheat flour and the rest all-purpose.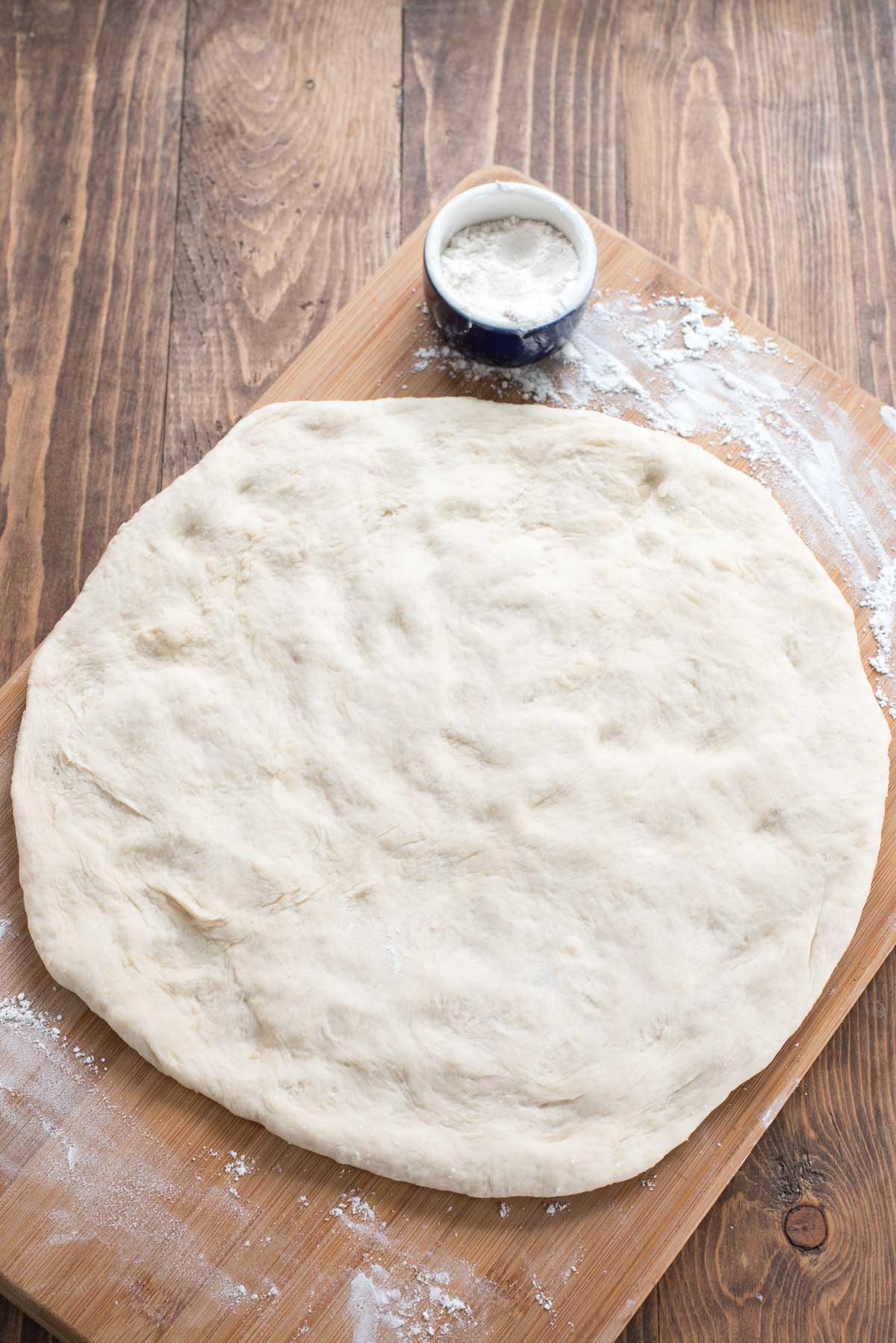 Expert Pizza Dough Tips
It's very important that you have your oven preheated very hot, and that you preheat your pan, especially if you want a crunchy crust.
Put the pan in the oven to preheat while the oven heats. Make your pizza on a parchment paper then carefully transfer it to the hot pan (on the parchment). It'll sear the bottom to give it a browned and crunchier feel than if you just put the dough on the pan and bake it.
Make thin crust pizza by cutting the dough in half to make TWO pizzas.
Make thick crust pizza by using the dough for just one pizza.
Make Breadsticks by flattening them and using my Cheesy Ranch Breadstick topping!
FAQ
What's the secret to crispy pizza crust?
To make a thin or crispy crust divide the dough in half before forming. That way it's not as puffy and will crisp up better.
How do I make the bottom of my pizza crust crispy?
Either divide the dough in half to make a thin crust or bake the dough for 5 minutes before adding the toppings.
Can I make pizza crust ahead of time?
Make this pizza dough up to 24 hours ahead of time and store in the refrigerator covered with plastic wrap. Or you can freeze it!
What yeast is best for pizza dough?
It just depends on how much time you have for rising. You can use active dry yeast or instant yeast – this recipe shows both ways.
How to freeze homemade pizza dough
Place it in an airtight container or gallon size sealable bag. Freeze for up to one month.
How to thaw homemade pizza dough
Thaw in the refrigerator overnight, then allow to rest for 30 minutes at room temperature.
Can I flavor my pizza dough?
If you want to make your pizza dough taste even better add some dried herbs (up to 1 teaspoon of your favorite) to the dough while mixing.
How do you stretch out pizza dough?
I like to use my hands to stretch it as much as possible and press it into the size I want. You can also use a rolling pin.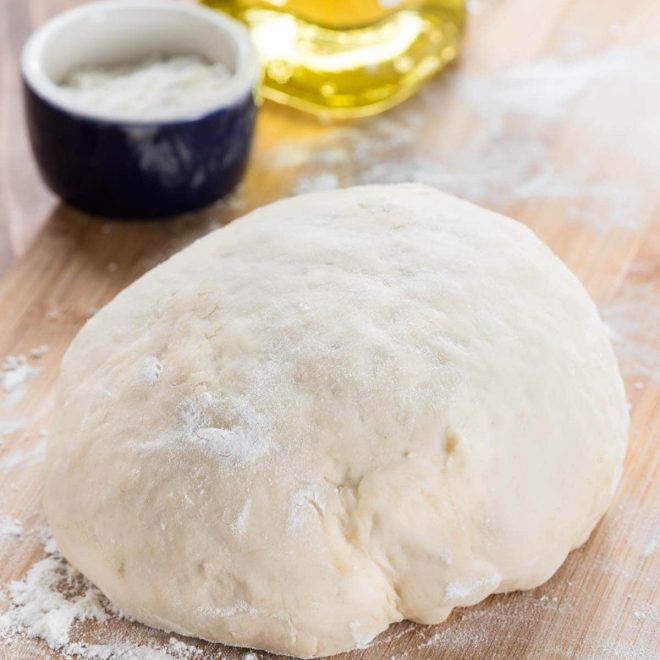 The ULTIMATE Pizza Dough Recipe
This is the ULTIMATE Pizza Dough Recipe! This easy pizza crust can be made thick or thin or personal sized with whole wheat or gluten free flour. It can be baked or grilled and topped with whatever you like for the best dinner (or even dessert).
Total Time
1

hour
30

minutes
Ingredients
1

cup

(237ml) warm water

(temperature depends on type of yeast)

2 ¼

teaspoons

active-dry or fast-acting yeast

(1 normal sized packet) see instructions for different baking directions

½

teaspoon

granulated sugar

1

teaspoon

salt

3

tablespoons

(45ml) olive oil

3

cups

(372g) all-purpose flour

(approximate, see notes for alternative flours)
Instructions
If using ACTIVE DRY YEAST:
Measure warm water (between 100°-110°F) in a measuring cup, then add the yeast and sugar. Stir gently, then let sit until it's active and foamy. This will happen within 5 minutes. If it doesn't, your water may have been too hot or cold or your yeast may be old. It is important to use a thermometer to measure your water temp. An instant read thermometer is best but in a pinch a meat thermometer will do.

Stand mixer preparation: add salt, oil, and 2 cups of flour to the mixing bowl. Attach the dough hook to the stand mixer. Stir the flour mixture gently while adding the proofed yeast mixture. Run the mixer on low speed until the mixture is combined and wet and then add the third cup of flour. The mixture should come together into a ball that is just a bit sticky.

By hand preparation: stir salt, oil, and 2 cups flour in a large mixing bowl, stirring in the yeast mixture as you go, using a wooden spoon. Add the third cup of flour and then stir until you can't anymore. Remove the spoon and then use your hands to work the dough into a ball that is slightly sticky.

Spray a second large bowl with nonstick cooking spray, add your pizza dough ball, then spray the top lightly with cooking spray and cover tightly with plastic wrap. Place in a warm area of the kitchen and let rise until doubled in size, about 1-2 hours.
If using FAST-ACTING YEAST:
Mix 1 cup flour with salt, sugar, and yeast in the bowl of a stand mixer. Set aside. If doing this by hand, just mix it in a large bowl.

Measure warm water (between 120°-130°F) in a measuring cup. Add the oil. Add the liquid ingredients to the dry ingredients and mix with dough hook, scraping the sides of the bowl as needed, until a wet mixture forms. Add one more cup flour and continue mixing, then add as much flour as you need for the dough to come together in a ball (about 3/4 cup – 1 cup). If doing this by hand, use a wooden spoon until you can't anymore then get your hands in the bowl.

Turn out dough onto a floured surface. Knead for just a few minutes, or until the dough comes together and springs back when pressed with two fingers. Cover and let rest for 10 minutes.
When you're ready to bake:
Note: this pizza dough can make 1 thicker crust or 2 thin crust 10-12" pizzas, or 4-6 small personal sized pizzas.

When ready to make pizza: turn out dough onto a lightly floured cutting board or a sheet of parchment paper. Sprinkle with more flour if needed so you can stretch and flatten the dough into your desired size.

Cut parchment paper to fit the pan you're using, hanging over just about an inch on all sides our circumference. Preheat oven to 500°F. Place pizza pan in the oven while the oven is preheating. Place your pizza dough on the sized parchment paper and top as desired. Once the oven is up to temperature, carefully transfer the pizza to the hot pan (be careful – pan is HOT). Cook until the cheese is melted and crust is slightly browned, 10-20 minutes depending on thickness, size, and toppings.
Recipe Notes
Whole wheat pizza crust: Use white whole wheat flour instead of all purpose, or go half and half, using all purpose and regular whole wheat flour.
Gluten free? Great! Use a one-to-one gluten free flour that you can substitute for all-purpose. The dough won't rise and will have a slightly different texture.
Thick crust pizza: this pizza dough recipe makes one 12″ puffy chewy crust.
Thin crust: Cut the dough into two pieces and make two 12″ thin crusts.
Cut the dough into 4-6 pieces for PERSONAL pizzas!
Breadsticks? NO PROBLEM. Flatten the dough then slice into sticks.
Fast acting yeast is called by different names depending on brand. Fleischmann's Yeast calls it Rapid Rise, for example.
Recipe Nutrition
Serving:
1
slice
|
Calories:
211
kcal
|
Carbohydrates:
35
g
|
Protein:
5
g
|
Fat:
5
g
|
Saturated Fat:
1
g
|
Sodium:
285
mg
|
Fiber:
2
g
|
Sugar:
2
g
Nutritional information not guaranteed to be accurate
Pizza Recipes
Once you have your pizza base, make some fun recipes with it!
Special tools for making homemade pizza dough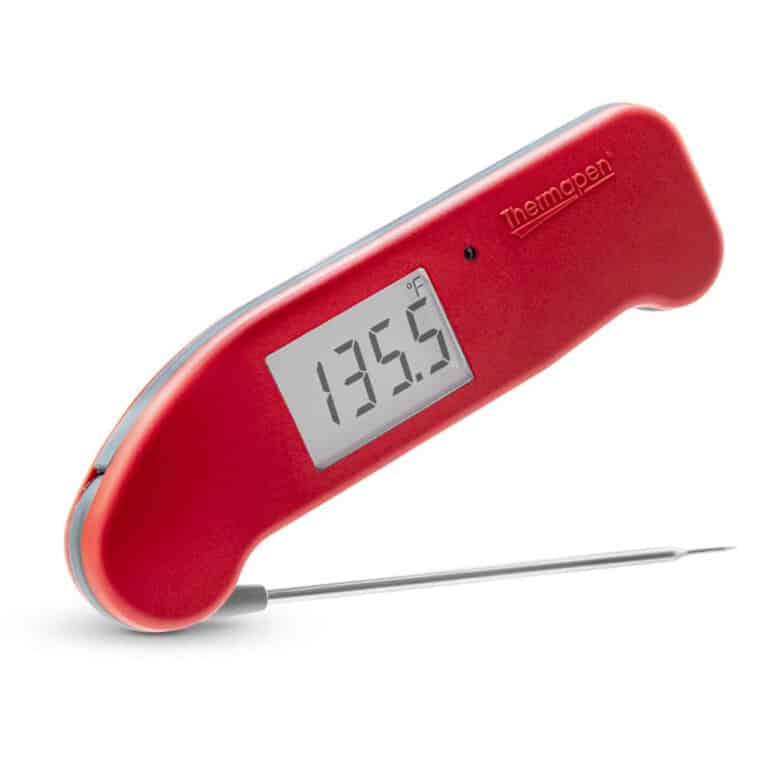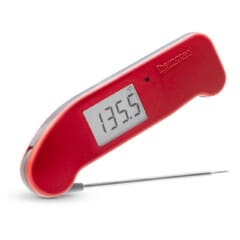 Instant Read Thermometer
This helps make sure your water is the correct temperature. I love Thermapen but you can also find cheaper options on Amazon.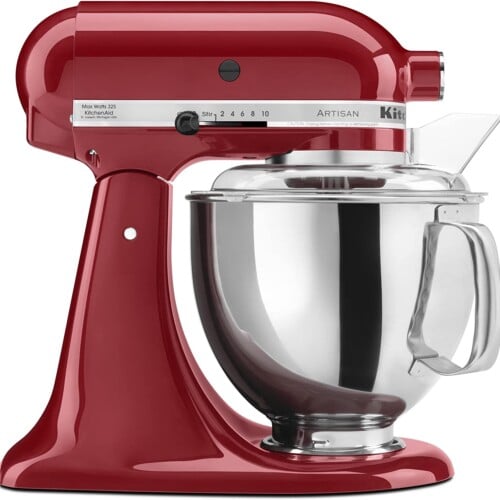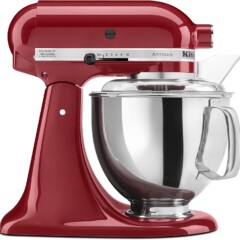 Stand Mixer
A stand mixer makes the dough come together easily when you use the dough hook. Using a stand mixer just means you'll have less kneading time by hand.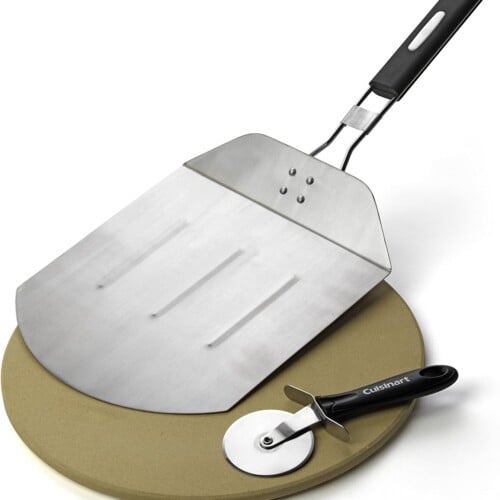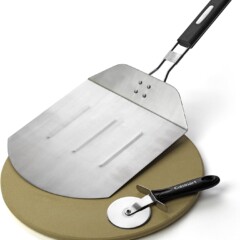 Pizza Stone
I love using a pizza stone for my pizza to give it that crunchy bottom. But you can also just use a cookie sheet or a pizza pan (with or without holes).
Learn how to make the ULTIMATE Pizza Dough recipe! This homemade pizza crust is easy to make for ANY pizza recipe – you can make it regular, whole wheat or even gluten free pizza! Learn every step so that it's beyond easy to make your own pizza at home.
Last Updated on January 10, 2023