This post may contain affiliate links. For more information, read my disclosure policy.
Can you make pizza dough without yeast? Yes you can – and you only need 5 ingredients!
In under 30 minutes you have have pizza on your table with ingredients you already have in your pantry. This is the easiest pizza dough recipe ever!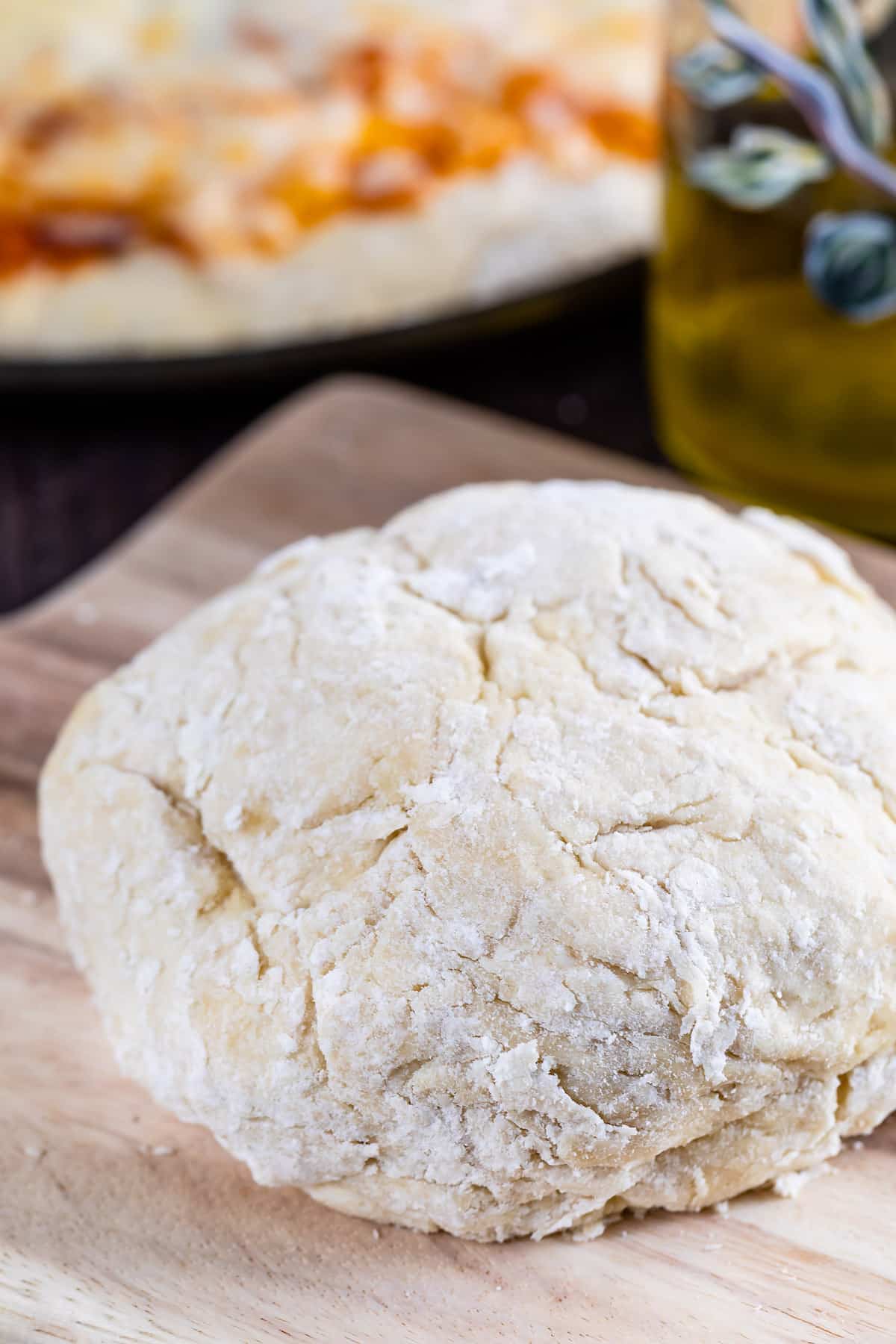 Why we love Homemade Pizza Dough without Yeast
So many people have been making my ultimate pizza dough recipe lately but, like with my white bread, I get tons of questions about how to make it without yeast.
Sometimes you can't find yeast in the store or sometimes you just want easy homemade pizza fast and without any strange ingredients – and that's when you want a no yeast pizza dough recipe.
Why you'll love this recipe
A no yeast pizza crust saves time because you don't have to knead it or wait for rising. Dough won't rise without yeast, so as soon as it comes together it's ready to roll out to make your pizza.
You can use this dough for or breadsticks or garlic bread too!
No rise time means this is a 30 minute pizza recipe!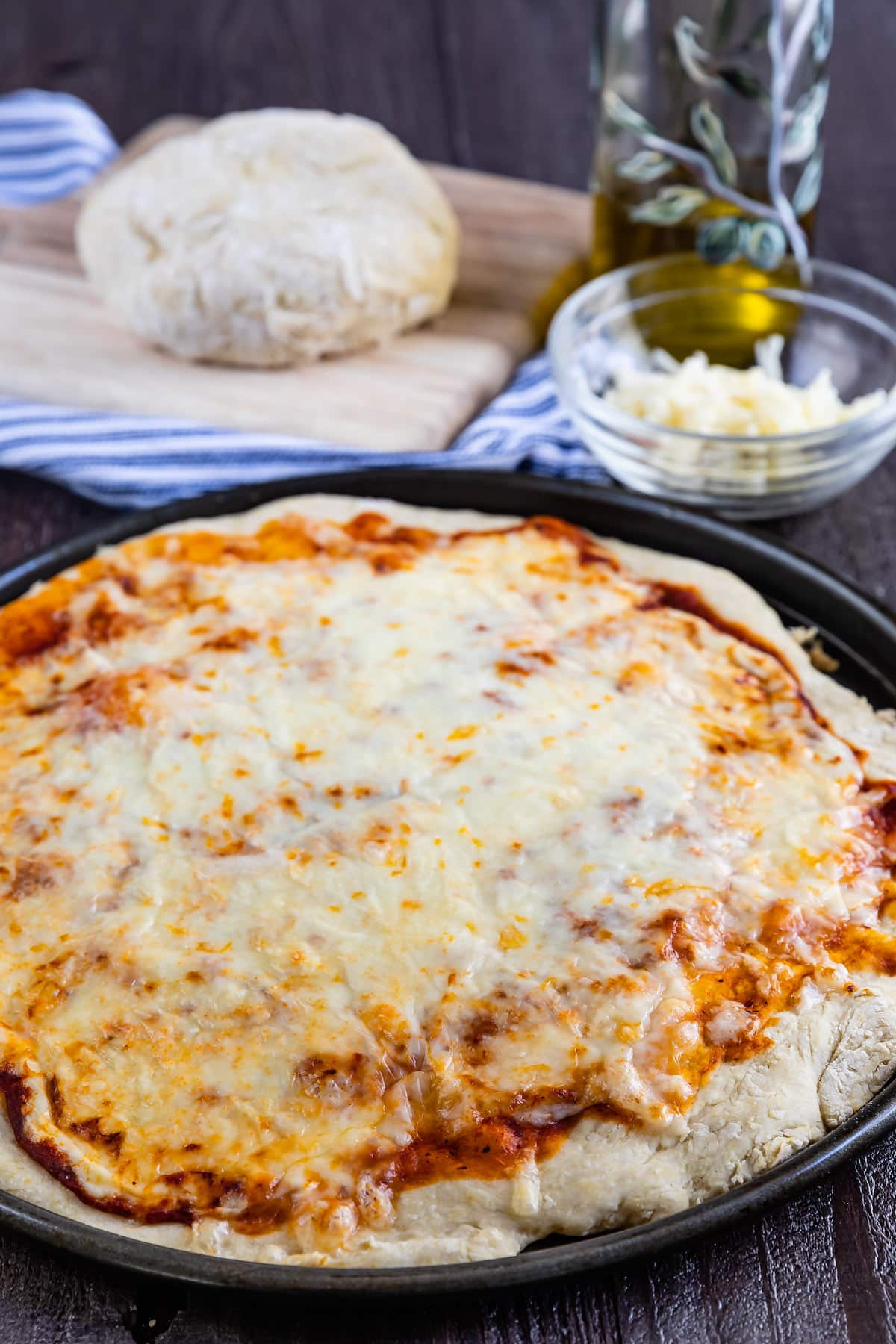 No Yeast Pizza Dough Ingredients
All Purpose Flour – this is my standard pizza crust flour
Baking Powder – this is what we're using to help the crust rise
Salt – for flavor
Olive Oil – for chew and flavor
Water – to bind the ingredients
If you happen to have self-rising flour, you can easily substitute in this recipe. Instead of the dry ingredients below, just use 2 1/2 cups of self-rising flour.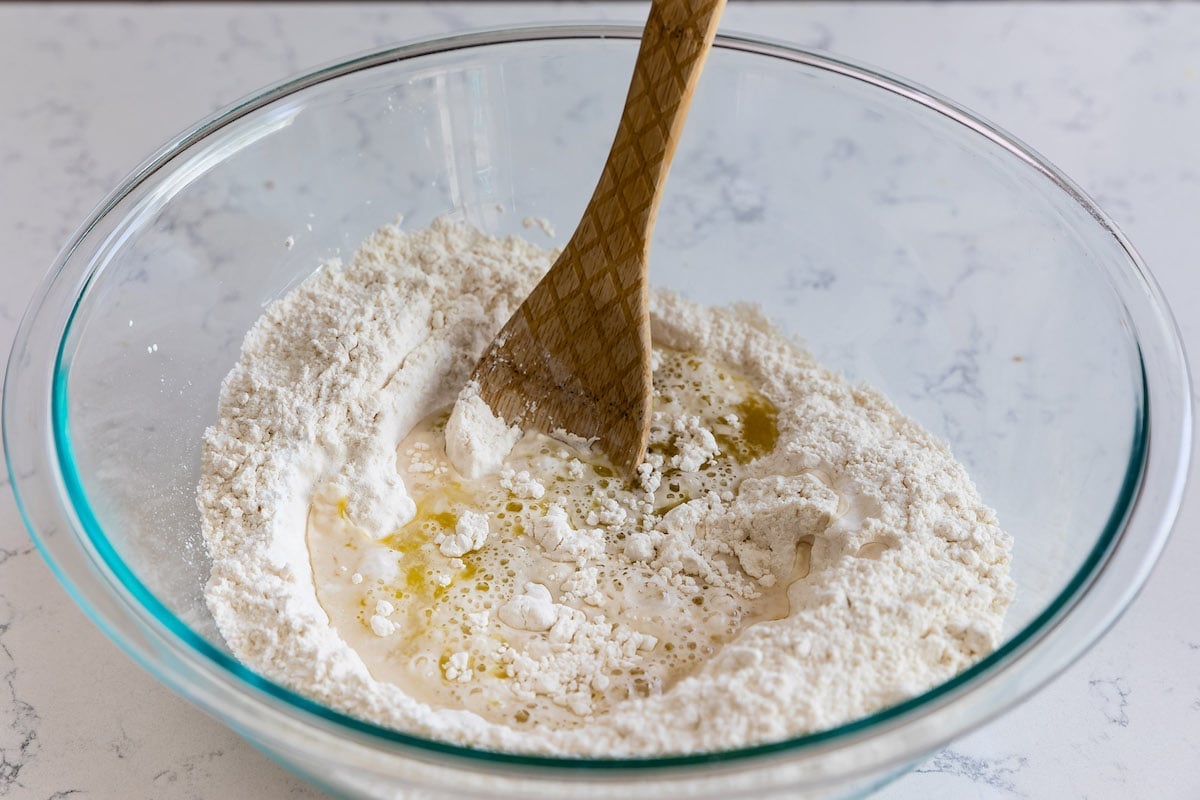 How to make Pizza Dough without Yeast
Whisk together the dry ingredients in a large bowl.
Add the wet ingredients to the dry ingredients.
Mix it together as much as you can with a wooden spoon or spatula.
At some point it will be come impossible for it to come together with just a spoon (this is called a "shaggy dough"), so you'll need to get your hands in there to "knead" it together in to a ball.
Roll pizza crust out on parchment paper, otherwise it will stick to your surface. It's also easier to transfer to your pan when it's on parchment paper. Simply roll out your dough to your desired thickness. You can make a thick crust pizza or a thin crust, by just rolling it more or less.
Best Pizza Pans
Just like when you make a traditional pizza dough, you have pan options:
Use a round pizza pan, like I did. Mine is a 10″ round, but you can use any size. If you have a smaller pan but want a thinner pizza, just divide the dough in two to make two pizzas.
Use a cookie sheet or jelly roll pan
Bake this in a cast iron skillet
Divide the dough in quarters to make four personal pizzas.
How to get a crispy bottom
No matter what your pizza crust recipe, the best way to cook your pizza dough is to start with a hot pan.
Preheat your oven to 450°F before making the dough, and then let the pan preheat in the oven while you're preparing the crust. Transfer the crust to the hot pan – carefully – either before or after topping with toppings.
The hot pan will cook the crust before the dough itself cooks in the oven, making it crunchier.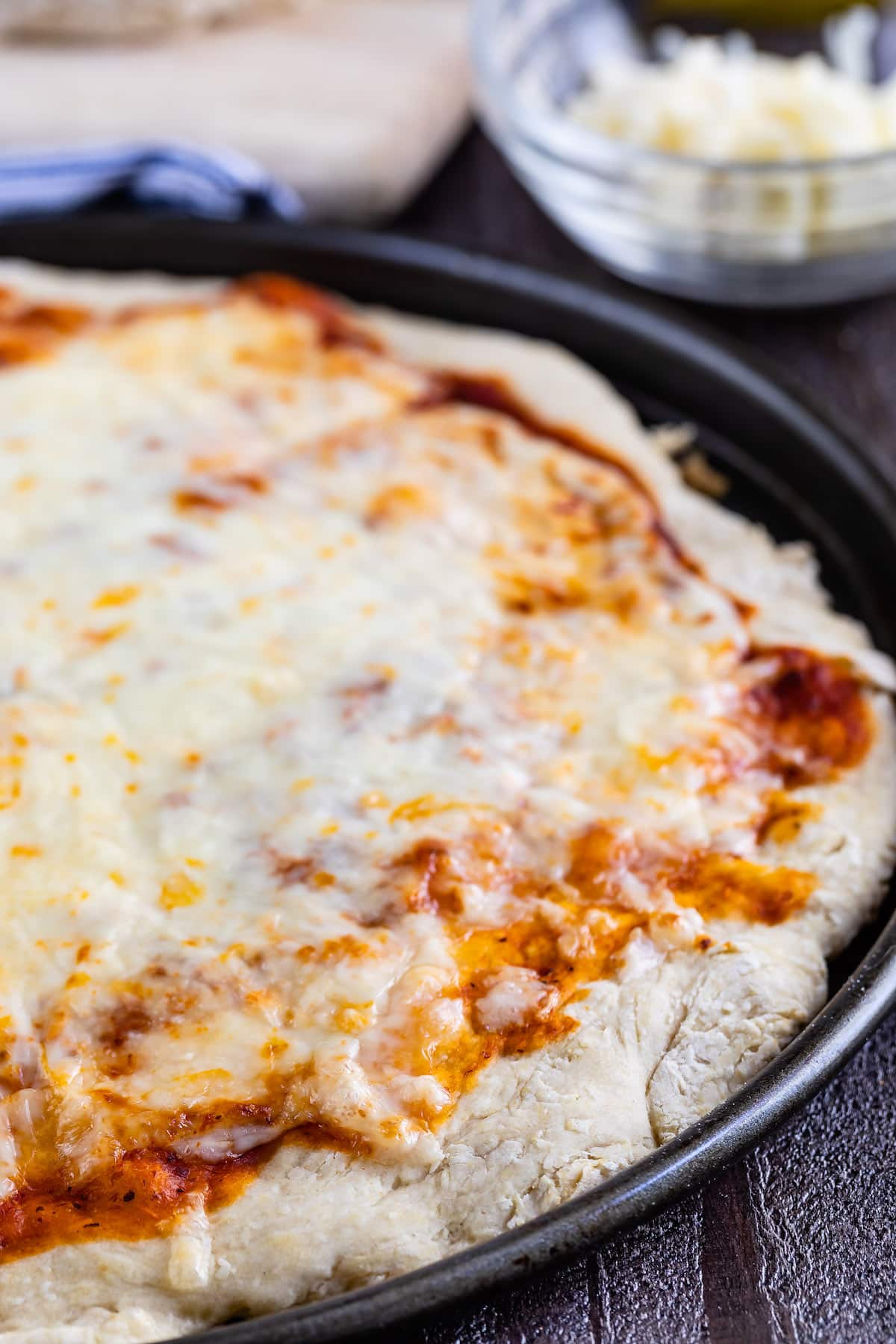 How to use Alternate Flours
Because this crust has no yeast and is not finicky, there are lots of substitutions you can make:
Gluten Free Pizza Dough: use a Gluten Free 1:1 All Purpose Flour (i.e. Bob's Red Mill light blue bag). Use the same amount as called for in the recipe.
Whole Wheat Pizza Dough: Substitute 1 cup whole wheat flour and use the rest all-purpose.
Bread Flour and White Whole Wheat Flour can be used one-to-one, as can self-rising flour.
And if you're looking to make a healthier pizza crust, check out my Weight Watchers Pizza Dough Recipe which is very similar to this one, but it uses Greek Yogurt instead of water and oil.
Storing Yeastless Pizza Dough
I made an extra batch of dough and put it in the refrigerator to test how long it lasted, and it was only good overnight. Therefore, I'm advising you to make the crust right before making your pizza, and don't try to make it ahead of time, unless you're using it within a few hours.
FAQs
Does pizza dough rise without yeast?
This recipe won't rise in the traditional sense – you don't have to rest it or give it time to rise. Because of the baking powder it will rise in the oven, as the baking powder does it's job.
Can you freeze no yeast pizza dough?
Freeze the dough before you've baked it in an airtight container. Let it thaw to room temperature before using.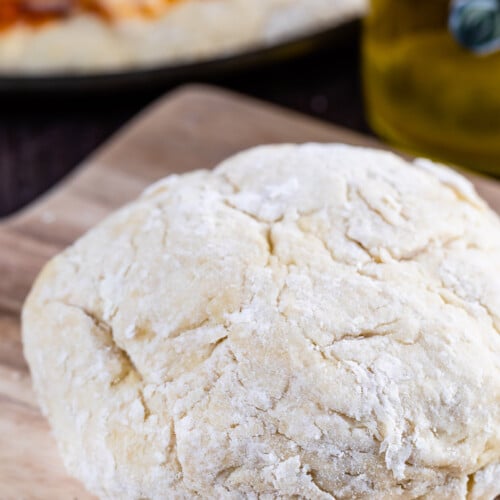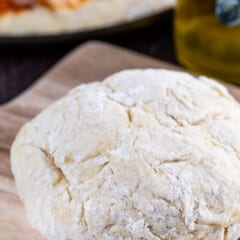 No Yeast Pizza Dough Recipe
Make my no yeast pizza dough recipe and have pizza in under 30 minutes! This pizza dough is made without yeast and can be made gluten-free, whole wheat or with most different kinds of flour and any toppings.
Ingredients
2 ½

cups

(310g) all purpose flour

2 ½

teaspoons

baking powder

½

teaspoon

salt

2

tablespoons

(30ml) olive oil

¾

cup

(177ml) water
Instructions
Preheat oven to 450°F. Spray your pizza or sheet pan with nonstick cooking spray.

Whisk together flour, baking powder, and salt. Add oil and water and stir until you can't anymore, then work the dough with your hands until it's smooth and forms a ball.

Place the ball of dough on a floured surface (or on parchment paper) and roll it into desired size (about 9-11-inch circle).

Place dough on prepared pan. Top as desired with sauce, cheese and toppings.

Bake for about 10-12 minutes, rotating the pan as needed so it cooks evenly.

The crust won't get dark golden, but will look slightly golden and no longer doughy, and the cheese will be melted once it's done.

Serve hot. Store leftovers in an airtight container for up to 3 days.
Recipe Notes
Whole Wheat Dough: substitute half whole wheat flour and half all-purpose (1 1/4 cups of each).
Gluten Free Dough: substitute GF AP 1:1 flour for the all purpose.
Substitute the equal amounts of Bread Flour or White Whole Wheat Flour for the All Purpose called for.
To substitute Self-Rising Flour use 2 1/2 cups self-rising flour and omit the dry ingredients.
You can also divide the dough into 4 pieces to make 4 mini pizzas, or turn your dough into breadsticks.
Recipe Nutrition
Serving:
1
serving
|
Calories:
349
kcal
|
Carbohydrates:
61
g
|
Protein:
8
g
|
Fat:
8
g
|
Saturated Fat:
1
g
|
Sodium:
297
mg
|
Potassium:
336
mg
|
Fiber:
2
g
|
Sugar:
1
g
|
Calcium:
120
mg
|
Iron:
4
mg
Nutritional information not guaranteed to be accurate
Pizza Toppings
With this pizza dough without yeast you can make so many different kinds of pizza!
This No Yeast Pizza Dough is SO easy to make! This recipe only calls for 5 ingredients and you can even make it whole wheat or gluten free!
Last Updated on February 2, 2023