This post may contain affiliate links. For more information, read my disclosure policy.
My Vanilla Buttercream Frosting Recipe is one of the easiest and best frosting recipes – this is my GO-TO for every cake I make. I've been making it for years and have a secret ingredient that makes it extra fluffy.
If you need a simple buttercream for any cake or batch of cupcakes, this is the one to use!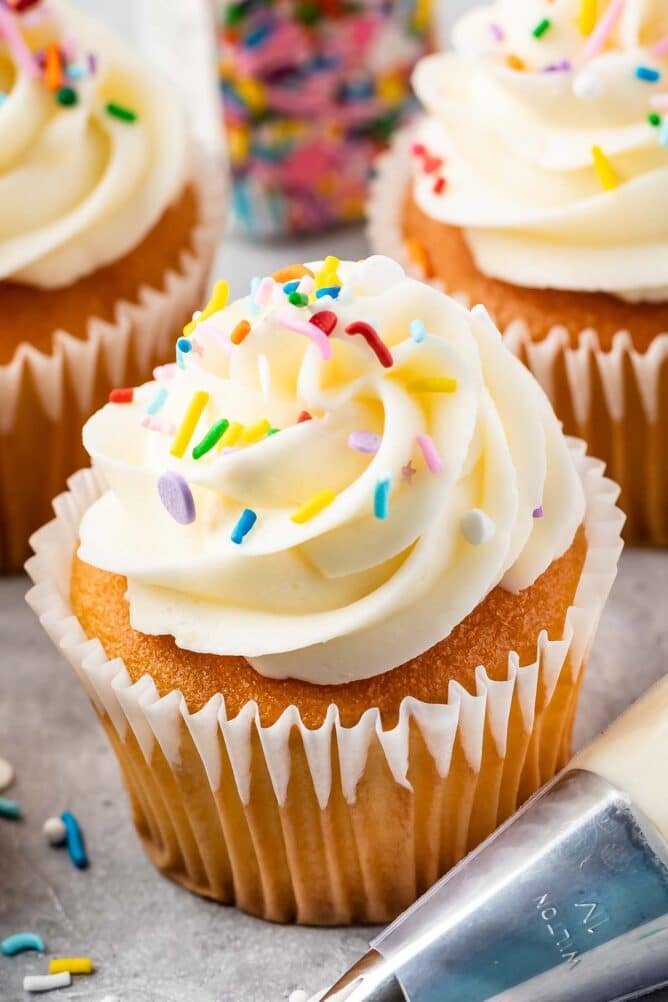 Creamy Vanilla Buttercream Frosting Recipe
This is an American Buttercream recipe – fluffy and sweet with butter and powdered sugar. It's my favorite frosting for cakes, cupcakes and cookies and it's easy to color too!
Why you'll love this recipe
Here is what I love about this simple frosting:
It's fast and easy to whip up
It's a fluffy white frosting that's perfect for piping or just spreading
It's smooth, every time, and creamy and the perfect amount of sweet
My secret ingredient – heavy whipping cream – makes it extra perfect!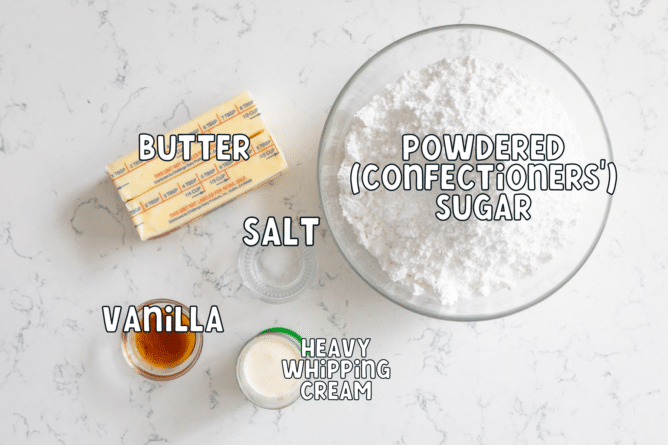 5 Ingredients in Vanilla Frosting
Butter: use a good one for best flavor. Also, use REAL butter, not margarine or any substitutes. My favorite butter is, as always, Challenge. Just use a good one; I don't recommend cheap store brands when butter is an integral ingredient, like in frosting. Make sure the butter is softened before making the frosting.
Powdered Sugar, also called confectioners sugar, is the building block of this frosting. There are no substitutions for this. Some people sift their sugar, but I just scoop it from the container – be sure NOT to pack it or your frosting will be too sweet.
Salt seems like something that doesn't belong in frosting but I always add it to deepen the flavor as well as cut or enrich the sweetness of the frosting. If you're using UNSALTED butter, you need to add 1/2 teaspoon. If you use SALTED butter you can reduce that to 1/4 teaspoon or omit and add after the fact, to taste.
Vanilla Extract: only use PURE vanilla. Please, in general, never buy imitation. My favorite vanilla to use in frosting is actually Vanilla Bean Paste, which has those little bean flecks but is cheaper than buying actual vanilla beans. Use what you have, but always buy PURE vanilla.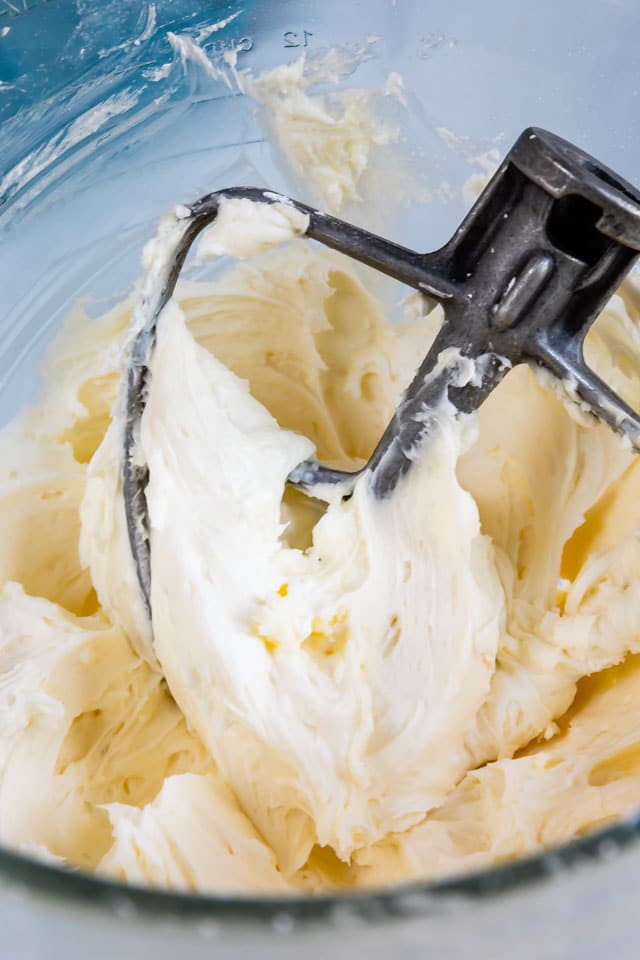 How to make Vanilla Buttercream
Making this classic frosting recipe is easy. My favorite way to make this frosting is in a stand mixer, but you can also use a hand mixer.
You're going to want to start with softened butter. (If you've forgotten this step, read how to soften butter quickly.)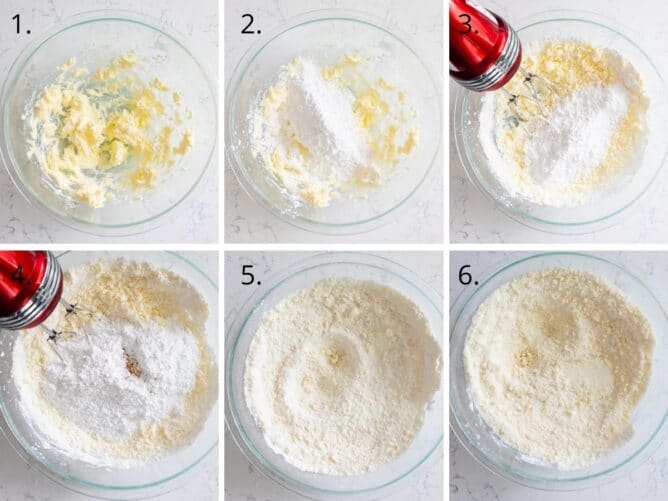 Beat the butter for a few seconds first, to get it nice and smooth. You can use a hand mixer and a large bowl or a stand mixer fitted with the paddle attachment.
Add some powdered sugar. Don't add all your powdered sugar at once; I like to add it one cup at a time, mixing between each, because if you add too much it will fly everywhere.
Continue mixing adding more powdered sugar.
Mix in the salt and vanilla.
At this point your mixture will be crumbly if you're using a hand mixer. It might me more smooth if you're using a stand mixer.
Add a bit of heavy whipping cream. You'll see that I list a range of tablespoon amounts for the cream and that is because the amount of cream you use depends on the texture you want and it also depends on how soft your butter is when you start. I usually use about 2 tablespoons.
Mixing Notes
I like to beat the frosting on medium speed until it's nice and smooth once the heavy whipping cream is mixed in, making the frosting nice and fluffy.
If you're using a hand mixer: You may need to add the cream while it's still crumbly because it takes longer to mix with a hand mixer.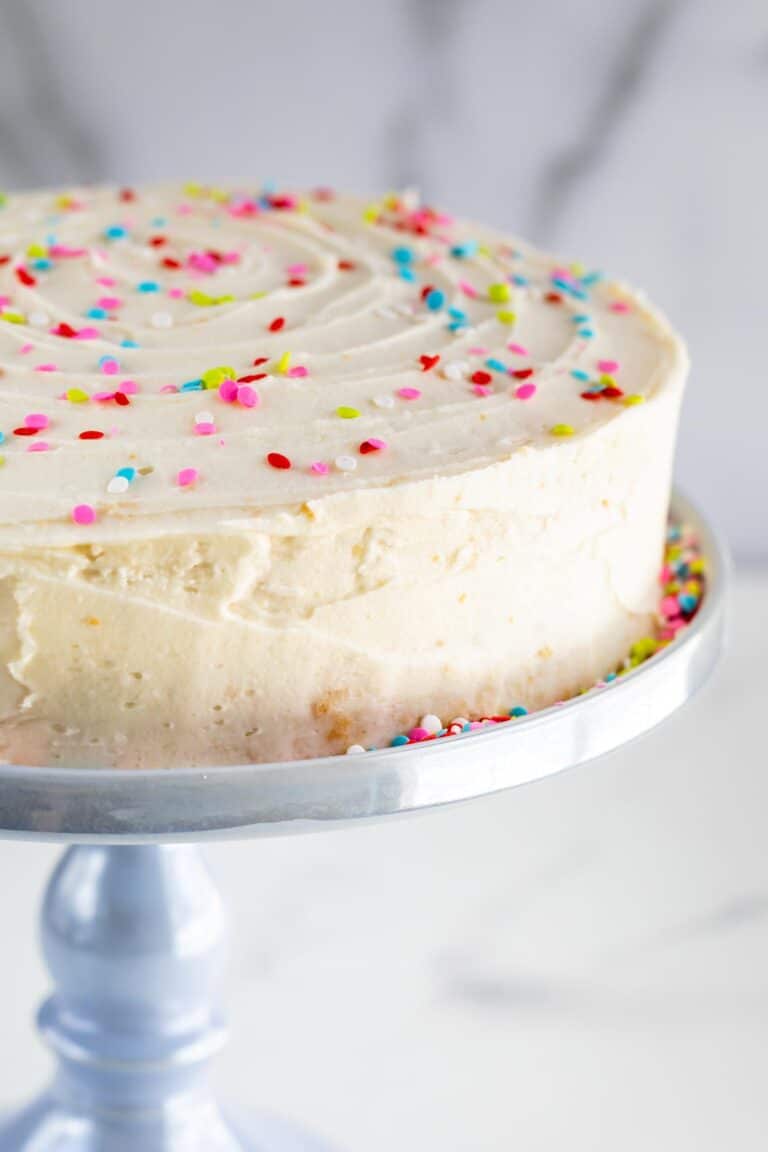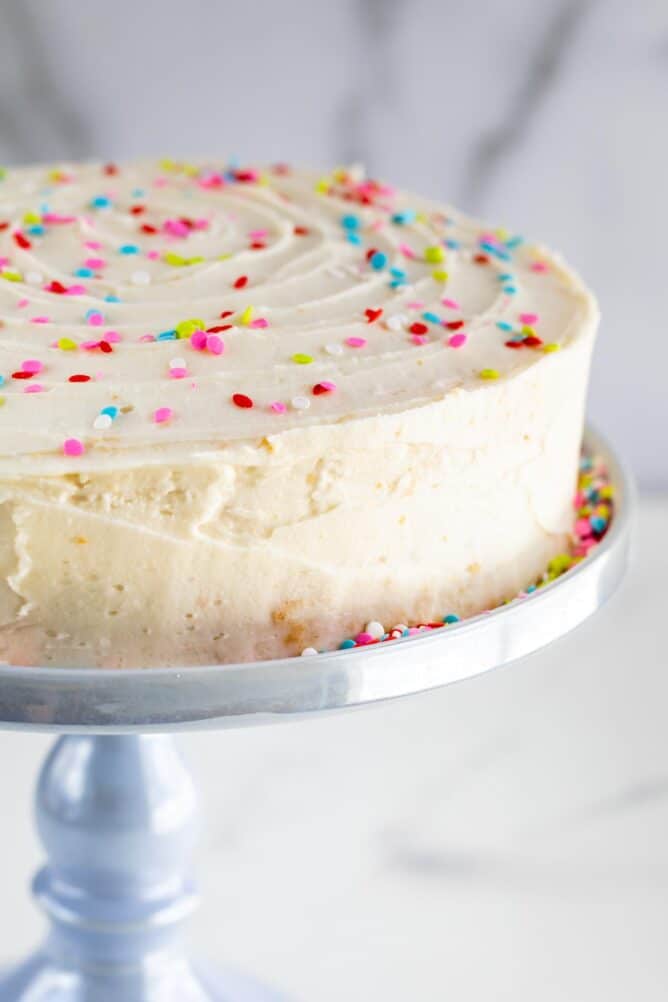 Expert Tips
Be sure to measure your powdered sugar correctly (spoon and level it). I prefer weighing it if you have a scale. It doesn't really matter if you have more powdered sugar in your frosting, but it means you may need more cream, and your frosting will be sweeter.
Use salted or unsalted butter in frosting, but you need to add salt regardless (add more if using unsalted butter).
The heavy whipping cream makes a whipped buttercream frosting that's fluffy and sweet. I'll never use milk in frosting again!
This vanilla frosting recipe is perfect for piping on cupcakes or cake or using on sugar cookies.
If you want to color your buttercream frosting, I suggest using GEL food coloring instead of water-based (grocery store) food coloring. Gel colors are richer, more vibrant, and won't thin the frosting.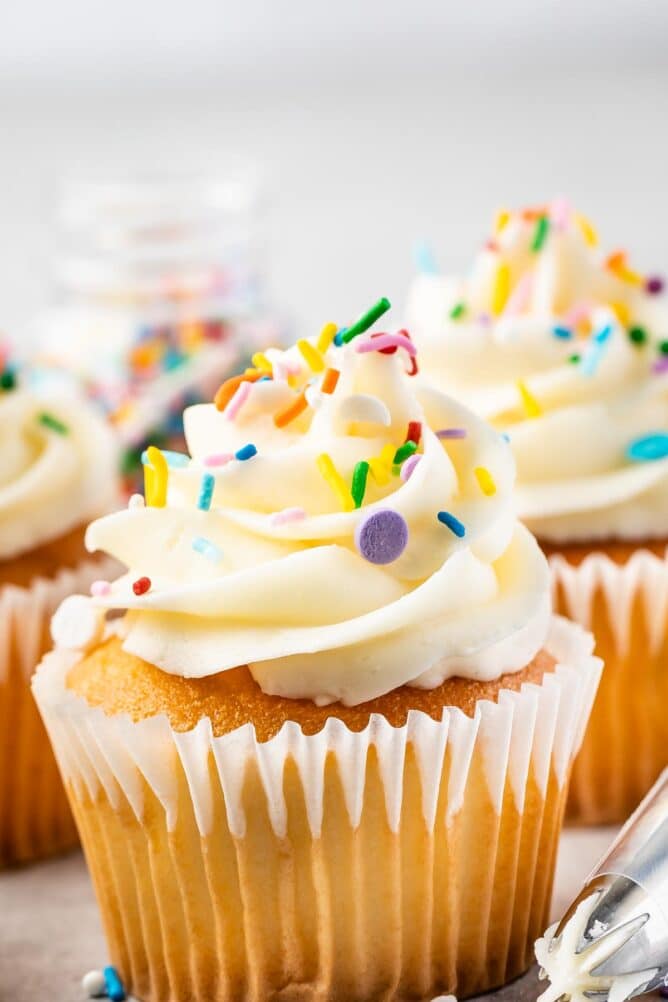 FAQ about Vanilla Buttercream Frosting Recipe
Why is my buttercream frosting runny?
This can happen for a couple reasons: was your butter too soft? If so, try chilling the frosting for a bit and see if it firms up. If it's not that, then chances are you added too much cream. Add a bit more powdered sugar and taste it to make sure it isn't too sweet (if so, add more salt).
Why is vanilla frosting too sweet?
Add a bit more salt, that will cut the sweetness.
Can I use milk to make vanilla buttercream frosting?
Yes, you can use milk (regular, 2%, nonfat) or even half and half. However, the frosting will be thinner and not as fluffy and you will most likely NOT NEED 2 tablespoons, so add LESS to start.
How do I make dairy free or vegan frosting?
You can substitute Earth's Balance Vegan Butter STICKS and use non-dairy milk for the cream. Again, you'll need less than 2 tablespoons so start with 1 tablespoon.
Can buttercream frosting be made the day before?
You can make this up to 2 days ahead and store it in an airtight container in the refrigerator. To use cold let it come to room temperature on the counter. Stir. You may need to add a bit of cream or milk to thin it and make it spreadable.
Can I freeze buttercream frosting?
Freeze buttercream in an airtight container for up to 2 months. Let it thaw and come to room temperature on the counter. Stir. You may need to add a bit of cream or milk to thin it and make it spreadable.
Is vanilla frosting the same as icing?
Depending on where you live it is! Many people refer to the two interchangeably, but I think of frosting like buttercream and icing is more of a drizzle of a powdered sugar and cream mixture without butter.
Why do you add vanilla to frosting?
The vanilla is the flavor! A good vanilla buttercream frosting recipe will have lots of PURE vanilla extract. You can also use any other kind of flavoring: almond extract or lemon, coconut – any extract you like.
Can I color buttercream frosting?
Use GEL food coloring instead of water-based (grocery store) food coloring to color buttercream. Gel colors are richer, more vibrant, and won't thin the frosting. Gel is also best if you want to make bright red buttercream icing – use Super Red or an equivalent. Grocery store brands will get dark pink at best.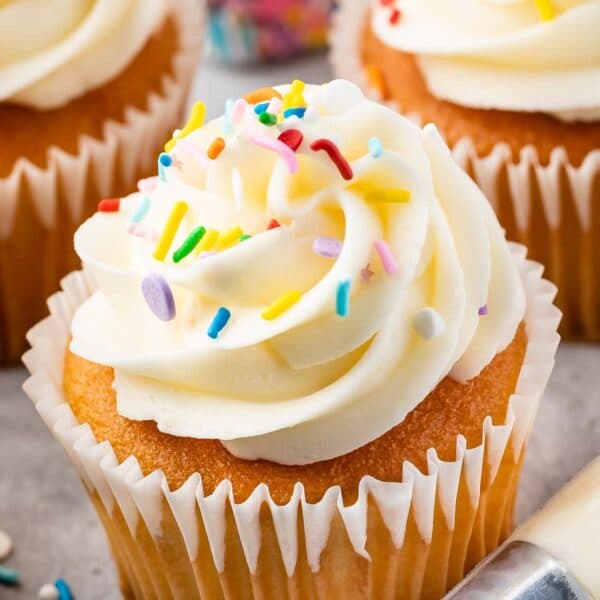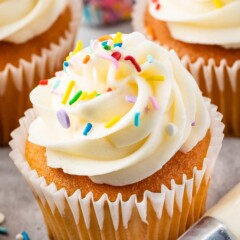 Whipped Buttercream Frosting Recipe
This is the BEST Vanilla Buttercream Frosting recipe and perfect to use on any layer cake, sheet cake or cupcakes. It's easy with just 5 ingredients and absolutely delicious.
Ingredients
1

cup

(226g) unsalted butter

softened

4

cups

(452g) powdered sugar

½

teaspoon

salt

(see note)

1

teaspoon

vanilla extract

2-3

tablespoons

(30-45ml) heavy whipping cream

see note
Instructions
Beat butter with a hand or a stand mixer until smooth, then add the powdered sugar 1 cup at a time, mixing in between each addition. Scrape down the sides of the bowl.

Add the salt and vanilla, mix until smooth.

Add 2 tablespoons of heavy whipping cream and beat on medium high speed until the frosting is smooth and fluffy and the desired consistency.

Note on mixing: if you're using a hand mixer it'll stay crumbly for quite some time; add the heavy whipping cream to help it come together.

If you feel like you need a little more to get to the consistency you like, you can add up to another 1 tablespoon, adding a teaspoon at a time. This differs each time you make it depending on what mixer you're using or how hot it is (the buttercream comes together easier in summer, for example, when the kitchen is warmer).

Frost as desired; will frost one 9×13-inch cake or a 9-inch layer cake or 24 cupcakes. If you like extra frosting for decorating, make a double batch.

Store in refrigerator for up to 3 days and allow to come to room temperature before using; you may need to add some extra cream to thin it.

You can freeze the frosting too for up to a month. Just let it defrost in the refrigerator then at room temperature before using.
Recipe Notes
If using salted butter, reduce salt to 1/4 teaspoon or omit the salt and add it to taste (if the frosting seems bland or too sweet, add salt).
In place of heavy whipping cream you can use whipping cream, half and half, any milk, or non-dairy milk but the less fat in the milk the thinner the frosting will be, so use less (start with 1 Tbsp). To make vegan frosting, substitute non-dairy milk and Earth's Balance Vegan Butter Sticks.
This recipe works best with gel food coloring for tinting.
Recipe Nutrition
Serving:
1
serving
|
Calories:
226
kcal
|
Carbohydrates:
30
g
|
Protein:
1
g
|
Fat:
12
g
|
Saturated Fat:
8
g
|
Cholesterol:
33
mg
|
Sodium:
76
mg
|
Potassium:
3
mg
|
Sugar:
29
g
|
Vitamin A:
382
IU
|
Calcium:
5
mg
|
Iron:
1
mg
Nutritional information not guaranteed to be accurate
How to use Buttercream Frosting
We love this buttercream frosting recipe for cake or cupcakes, but it's also great for cookies and perfect for piping.
Other Buttercream Frosting Recipes
Favorite Equipment and Tools
This is the best Vanilla Buttercream frosting recipe! It's so easy to make and tastes way better than the container at the store. You'll never need to shop for buttercream again!
Last Updated on January 11, 2023