This post may contain affiliate links. For more information, read my disclosure policy.
Um, I don't know where to start except that I made the best sweet dessert dip in the whole entire world: Pumpkin S'mores Dip. Pumpkin pie, chocolate, ganache, and marshmallow are all in one place…so get ready to drool.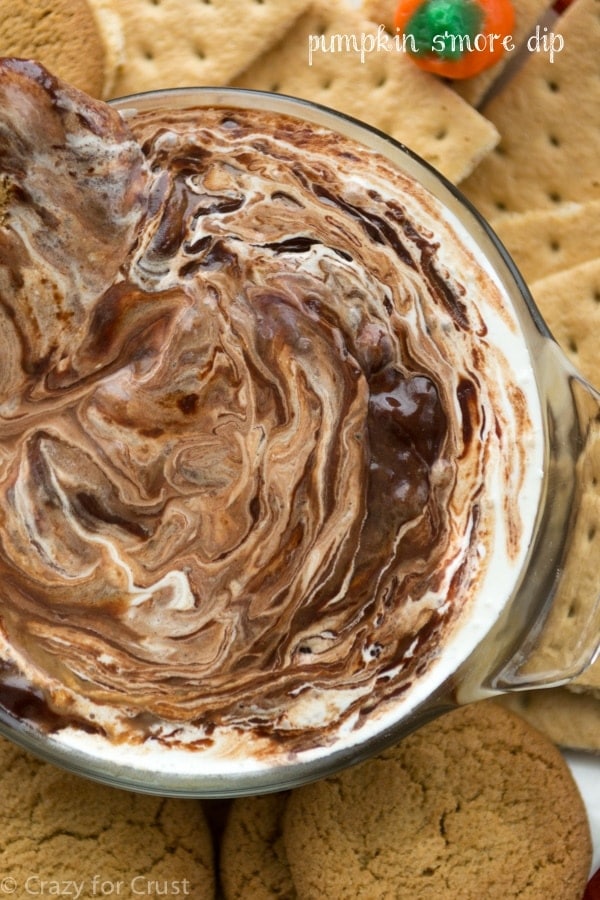 I was a stay-at-home mom for about 6 years. I was a completely full-time mom, no job outside (or inside) the home (besides the job of being a mom, of course). That was probably the hardest job I ever had; not for the challenge it presented but for the tedium. I'm not a "natural" mom who loves playing dolls all day; I'd rather be doing something – anything – besides building legos. But it didn't make sense for our family for me to try and find a job to work around Mel's hectic schedule, and I really couldn't imagine doing anything else.
The SAHM does it all for the family: cooking, cleaning, parenting, volunteering…the list is endless. When I was a SAHM I had loads of guilt: that I wasn't contributing to the family income, that I wasn't parenting good enough, that I should volunteer more, that I was going to lose my mind. I resented the feeling that I was looked down upon by (some of the) other moms for "doing nothing".

I've never worked outside the home and been a mom at the same time, and I can't even imagine how stressful that is. Trying to do all the things moms have to do and not be at home during the day would put me over the edge – which is one of the reasons I never attempted it. Having to manage the housework and cooking and homework and recitals and sports while juggling a work schedule that involves commute would be insane, I imagine. I'm assuming there is also guilt involved with being a working mom as well. You probably get judged by some of the SAHM's. (BTW, I was not one of those judgey "she shouldn't be working" SAHMs. I kind of wished I was you.)
And then there is what I do now: a WAHM/SAHM hybrid. I work full-time in my house, but we don't have childcare…so I'm also a SAHM. Luckily Jordan is in school, but as many of you who work at home know, work hours can't always fit inside an 8am-2pm day. Often I have to work at 6am or in the evening, and Jordan just has to deal.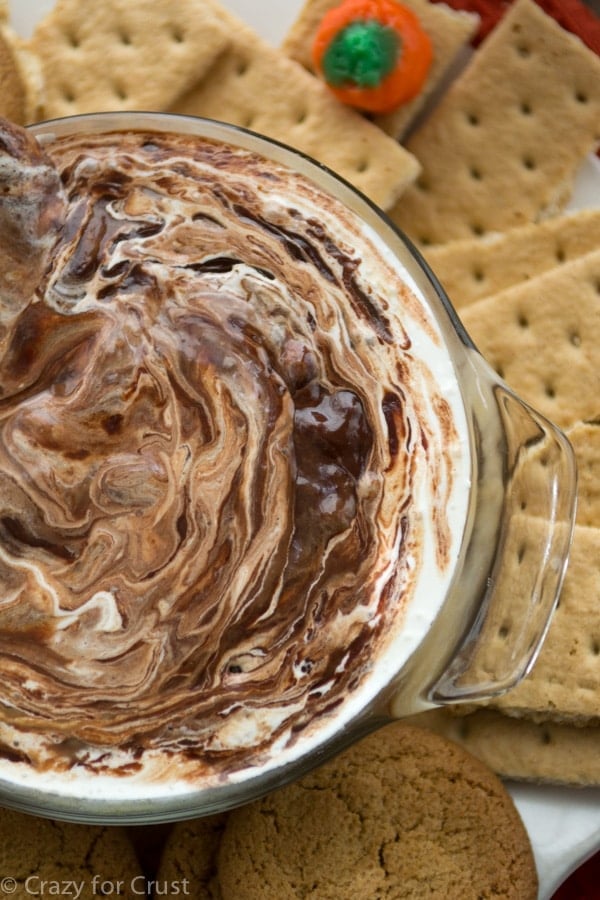 Working full-time at home means I have to do all the things moms do (cleaning – doesn't happen, cooking – only if it's for the blog, parenting – I try my best) and then work. This means that during school hours I spend as much time as I can churning out my work so I can do minimal things when Jordan is home. I have lots of guilt; that I'm not parenting enough, that I'm not a good enough wife or that the house looks like hell. What I really hate is when I get guilt from outside sources because I don't do more at school or that I'm not around school enough. Because I work. All day. Anyone who works from home understands this – working at home is an enigma. What does she do all day? Watch The View? (Yes, but that's on my lunch break.) Eat cookies? (Yes, but that's my job.) Surf Facebook? (Yes, but again, that's my job.)
Anyway, my point is, can all us moms just get along? I don't judge other mom's for what they do, if they work a job or if they are a full-time mom. Can we just all realize we're all doing the best we can and just because you can't see that someone else is working or volunteering or parenting, it doesn't mean they aren't?
I think the world would be better if we could all grant each other that courtesy, dotcha think?
Good, because when I was working yesterday I made Pumpkin S'mores Dip. It was a hard job, but you should be glad I did it.
This dip, OMG. I've seen these ganache/marshmallow s'more dips across the internet (most recently on my friend Alyssa's blog) and I wanted to make one…with pumpkin.
So I did. And it's the best thing everrrrr!
There are three components to this dip:
Pumpkin pie-like filling. I mixed pumpkin puree with sweetened condensed milk and pumpkin pie spice. That goes on the bottom.
Chocolate ganache. Chocolate chips and heavy whipping cream create the best ganache – you just swirl it into the pumpkin.
And finally, Marshmallow. The swirly warm marshmallow is made my melting it with sweetened condensed milk. It adds the perfect touch to the top of the dip.
Serve this pumpkin s'mores dip with graham crackers for an authentic s'more feel… or use gingersnaps. I love gingersnaps with pumpkin – they're my favorite thing to pair with it. This dip is served warm and everyone will LOVE it.
Watching the World Series tomorrow? Serve this.
Hosting Halloween or Thanksgiving or Christmas? Make this.
Football party on Sunday? You got it. MAKE THIS.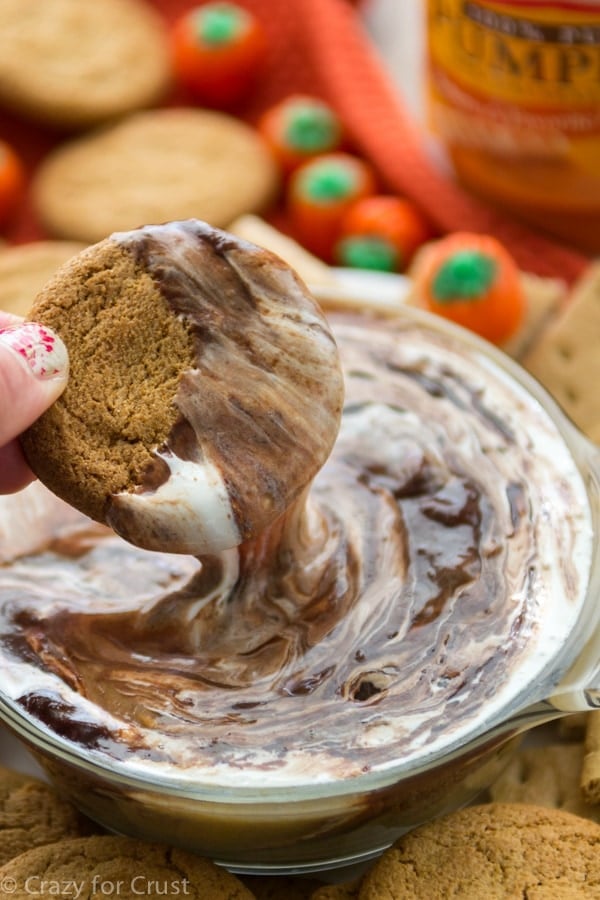 Then get a straw and drink it…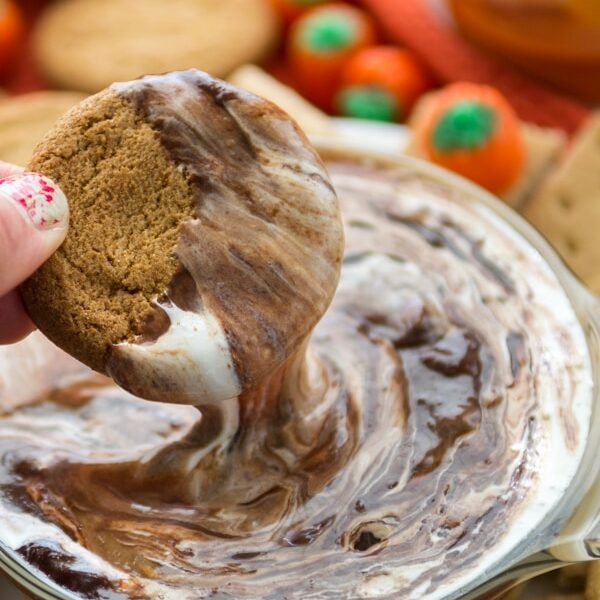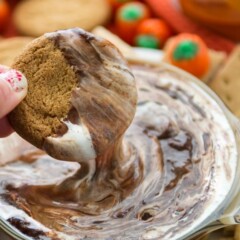 Pumpkin S'mores Dip
This three layer swirled pumpkin s'mores dip is the perfect fall party treat. Pumpkin pie, chocolate ganache, and marshmallow are all swirled together to make a great warm dip for any gathering.
Ingredients
1/2

cup

pumpkin puree

not pumpkin pie mix; I use Libby's

1/4

teaspoon

pumpkin pie spice

1/2

cup

sweetened condensed milk

I use fat-free, divided

1

cup

semi-sweet or milk chocolate chips

3

tablespoons

heavy whipping cream

1/3

cup

marshmallow cream

such as Fluff
Instructions
Graham crackers and/or Gingersnaps for dipping (or fruit, pretzels, etc.)

Stir pumpkin puree, pumpkin pie spice, and 1/4 cup sweetened condensed milk together in a small bowl. Set aside.

Place the chocolate chips and heavy whipping cream in another small bowl or glass measuring cup. Microwave in 30 second increments, stirring between each, until the chocolate is melted and smooth (about 1 minute total in my microwave).

Pour the chocolate slowly over the pumpkin mixture. Use the back of a wooden spoon or a knife to swirl it.

Place the marshmallow cream and remaining 1/4 cup sweetened condensed milk in yet another bowl. Heat for 20-30 seconds, until it stirs smooth. Pour slowly over the top of the chocolate pumpkin mixture and swirl again.

Serve immediately with gingersnaps, graham crackers, fruit, or pretzels for dipping.
Nutritional information not guaranteed to be accurate
Peanut Butter Brownie Batter Dip
Sweets from friends:
Caramel Butter Pecan Cake Batter Dip by Something Swanky
S'more Dip by Bakeaholic Mama
Nutella S'more Dip by Heather's French Press
Last Updated on May 13, 2020