This post may contain affiliate links. For more information, read my disclosure policy.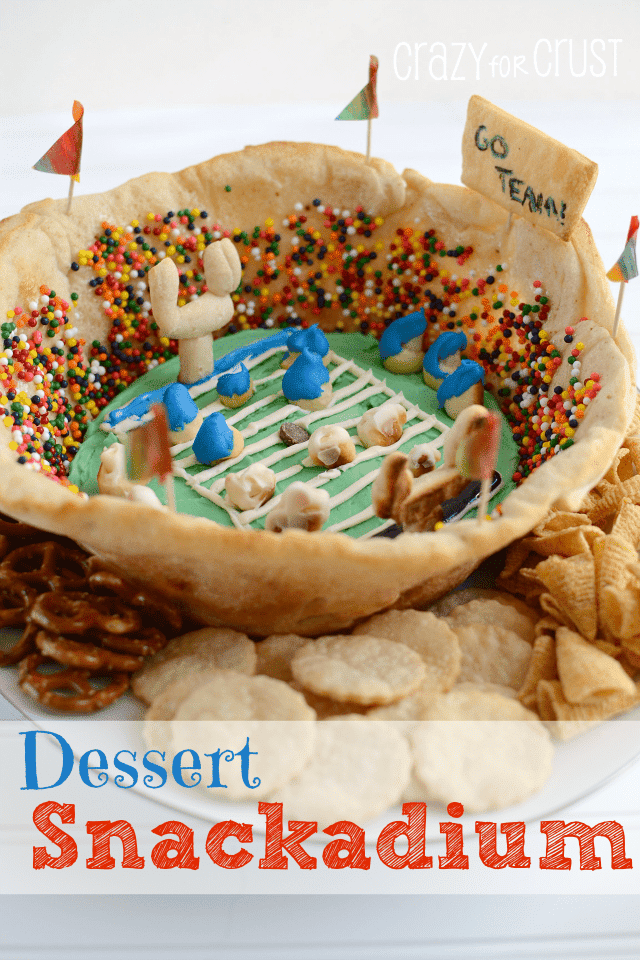 You all know how my husband feels about football. And you all know how I feel about football.
The fact that my husband tries to plan a business trip over Superbowl weekend so he can watch the game in the privacy of his hotel room speaks volumes to our football feelings in this household.
But just because I read during football games and fast forward through the Superbowl so that I can watch the commercials, it doesn't mean I don't want football food. I love football food. Especially dessert football food. Especially cute dessert football food!
And what's cuter than an edible football stadium?
How about nonpareil people?
Or tiny crescent roll players?
Or pizza dough goal posts?
Cuteness overload! And that's what football is all about…right?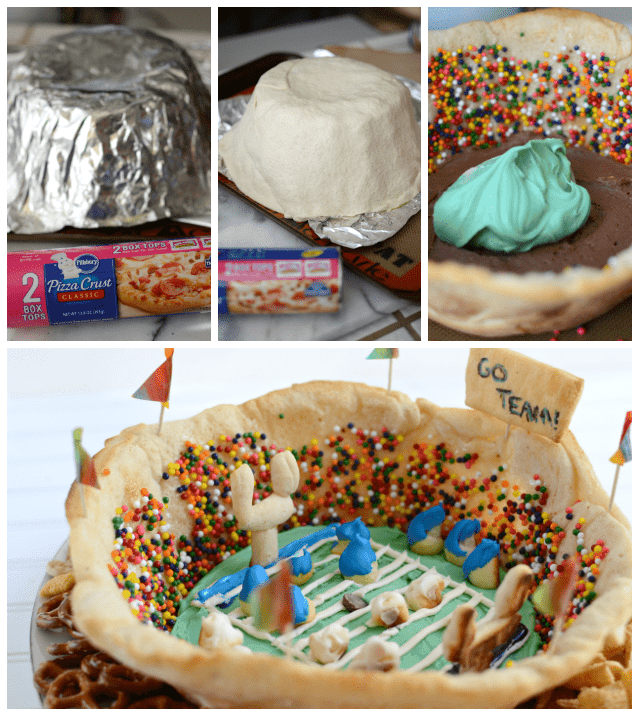 I built my snackadium out of Pillsbury Pizza Dough. I've always loved the versatility of that dough! I love making a fast pizza with it, as well as calzones and breadsticks. Now I build stadiums. I'm an architect, yo!
I baked my dough on an inverted budnt pan, covered in foil and sprayed generously with cooking spray. I baked it longer than you would a pizza to eat, because I wanted it completely cooked through so it would stand up and not collapse.
Of course, you need something to make the field. I knew I wanted to do a dip. My first thought was peanut butter, but I've already done that. Then I remembered cake batter dip, one of my most popular recipes.
I made Devil's Food Cake Batter Dip for the dirt. I had a lot of frosting leftover in my fridge from Christmas, so I tinted it green as the grassy field. But I think it would be even better if the green layer was cake batter dip also, made from White Cake Mix. So I wrote the recipe reflective of that. But, by all means, use frosting if you have it. I know I love to eat spoonfuls of frosting. Who doesn't?
I also made some pie crust dippers. Because they're just good. 🙂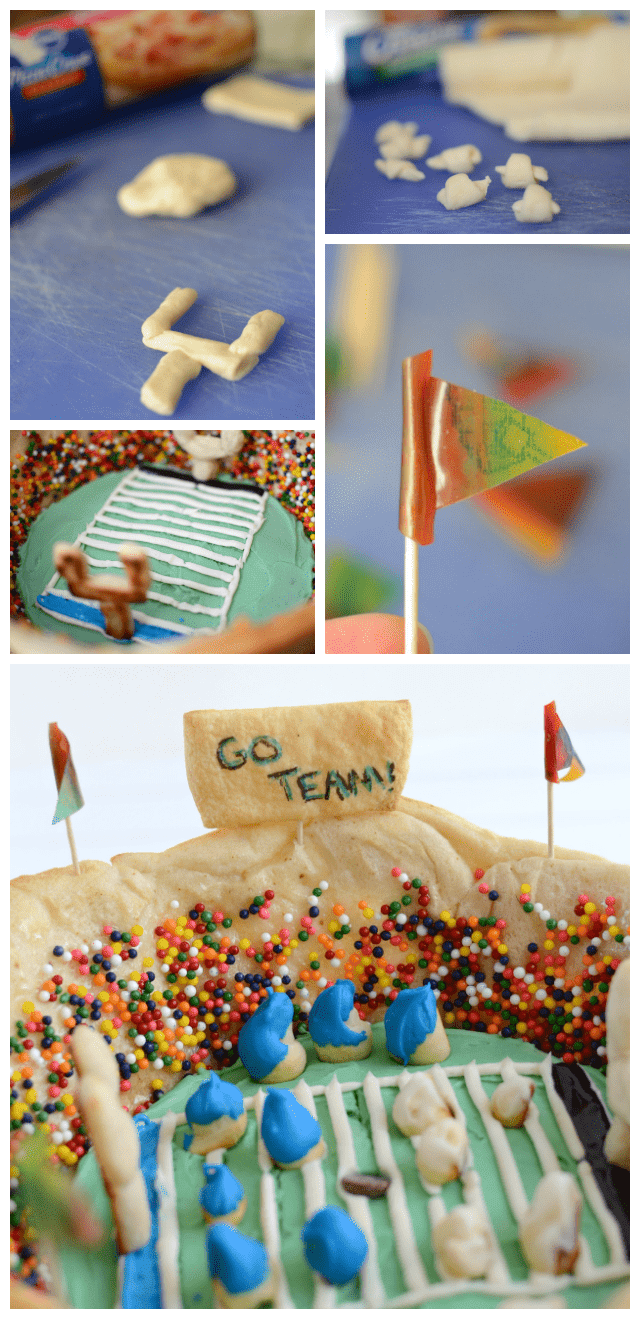 Now, once you have your field, you need players. And goal posts. I used Pillsbury Crescent Rolls for the players. One triangle of the crescent roll dough was cut into about 16 small triangles and 16 tiny crescent rolls were formed. Half I dipped in blue candy melts, half I dipped in white, for each team. The crescent roll dough was also used for the sign.
I fashioned my goal posts out of some of the pizza dough scraps from the snackadium, but you can also use some of the crescent roll dough.
The flags were made from Fruit By The Foot, cut into triangles and wrapped around toothpicks. Gotta have team flags!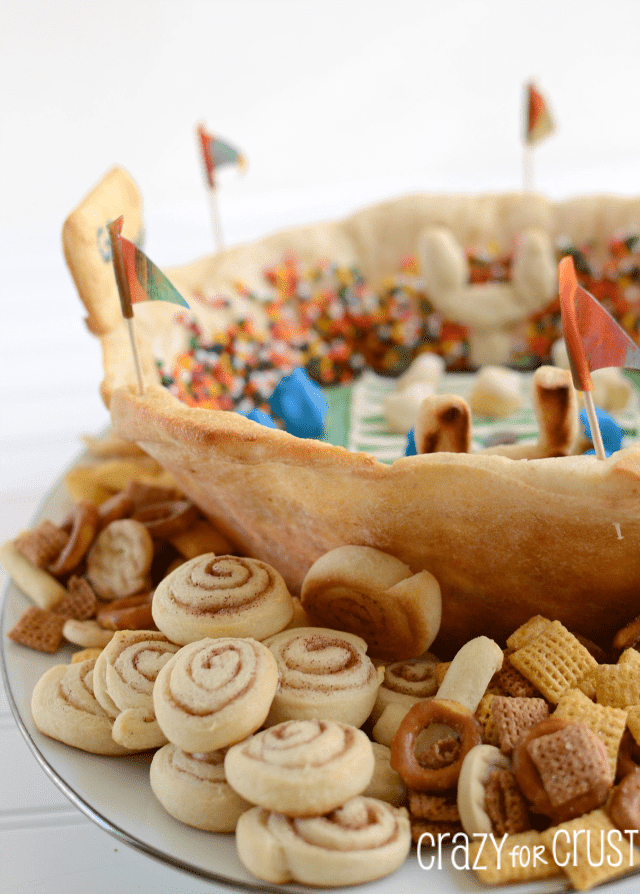 The snackadium, while gorgeous, needs to be edible. The dip is great, but how do you eat it, besides with a spoon? You need dippers! You can use any and all manner of dippers for your cake batter dip: Pie crust dippers, Bugles, sweet Chex Mix, pretzels. But I also made some cinnamon sugar crescent swirls. They were super easy, and oh-so-good. Simply fashion a rectangle out of your remaining crescent rolls (remember, we used one or two in the making of people) and sprinkle with cinnamon sugar. Roll, slice, and bake. They are great dipped in cake batter dip, or just by themselves!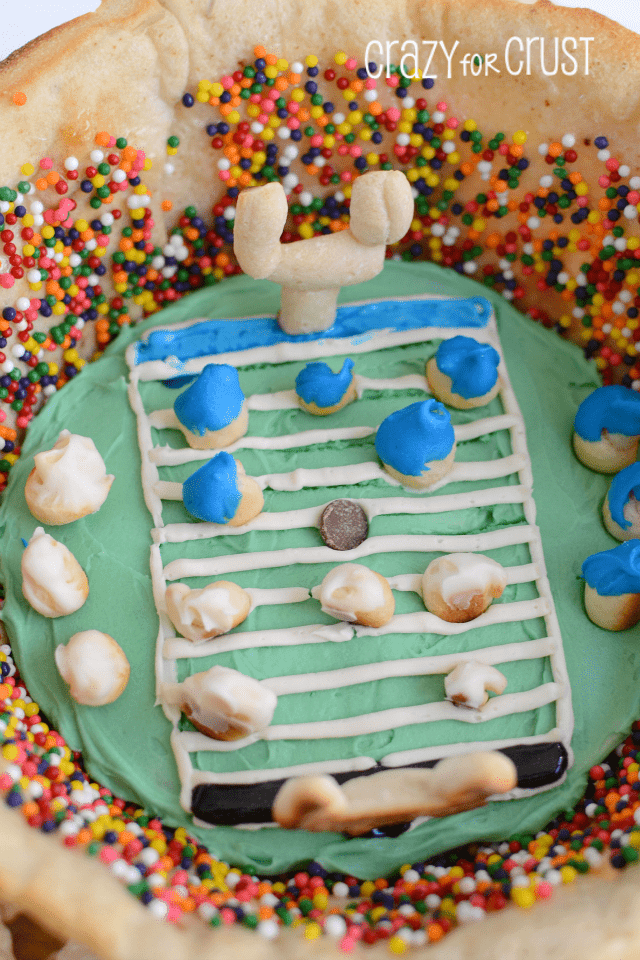 The spectators. How can we forget them? Every football game needs it's fans! The idea to use nonpareils came from In Katrina's Kitchen, who made some cute sundae bowls last year. Because my snackadium was so large, and because Target was conveniently out of regular sized nonpareils, I used jumbo. But feel free to use either!
Any of these elements, including the dip and the crescent roll swirls, would make a huge hit at your Superbowl Party this year!
This snackadium, while it was a lot of work, is kind of a stunning piece of art. It was hard to eat it, but we managed.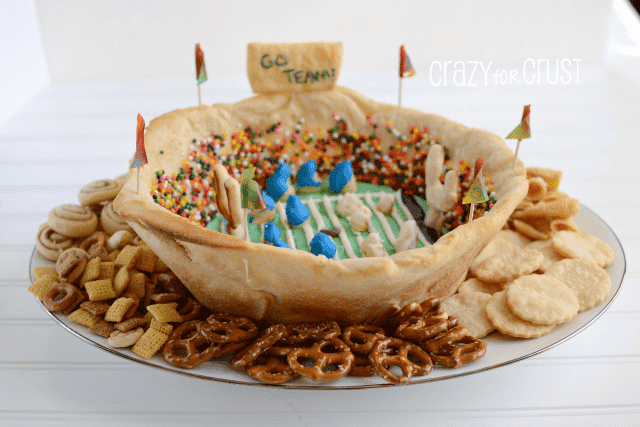 It did feel weird to eat the nonpareil people and crescent roll players though. It felt…wrong. But we managed that too. 🙂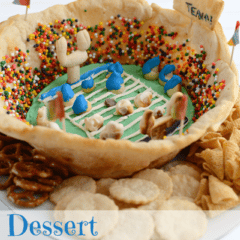 Dessert Snackadium with Pillsbury
Ingredients
For the Dip:
1

block of cream cheese

room temperature, divided

1

stick of butter

room temperature, divided

4-6

tabelspoons milk

divided

2

cups

powdered sugar

divided

1

cup

Devil's Food Cake Mix

1

cup

White Cake Mix

Or you can do all White Cake Mix - 2 cups and skip the dirt level

Green Food Coloring
For the Snackadium:
1

can Pillsbury Pizza Crust

1

can Pillsbury Crescent Rolls

1/4

cup

corn syrup

Nonpareils

White frosting

Candy melts in your teams colors

Colored icing or food coloring

optional

Edible Food Writers

1

Fruit by the Foot

Assorted Dippers: Pretzels

Sweet Chex Mix, Bugles, or [Pie Crust

Dippers

1

tablespoon

sugar

optional

1

teaspoon

cinnamon

optional
Instructions
*To bake the Snackadium:* preheat oven to 400 degrees. Line a cookie sheet with parchment paper. Turn a 12-cup fluted bundt pan upside down on the cookie sheet. Cover it with foil and spray with cooking spray. Unroll your can of pizza dough and cut it in half. Place half of the dough over one side of the budnt pan and repeat with the remaining dough. Press the seams together, and trim around the edges as needed. Use those extra pieces to fill in any gaps you need to completely cover your overturned bundt pan. Save two small extra pieces for your goal posts! Bake for 14-18 minutes. It will be browner than it would be if you were going to make pizza; you want it done and not soft, otherwise it will collapse. Let it cool for at least 30 minutes before removing from pan and turning it over.

*To make your goal posts:* Take two small amounts of leftover pizza dough and roll them into 3 ropes of dough. Cut 1 rope in half, so you have 2 long pieces and 2 short. Assemble the pieces in the shape of the goal post and press the edges together to seal. Repeat for second goal post. Bake for about 5 minutes on a parchment lined cookie sheet.

*To make your players:* Unroll your crescent rolls. Separate 2 triangles from the rest of the package. Reserve the remaining rolls. Cut 1 crescent roll triangle into about 16 smaller triangles. Roll into tiny crescent rolls. Bake for just a few minutes. Once cool, melt some candy melts in desired colors and dip half the tiny crescent rolls in each color. Let harden.

*To make your sign:* Cut a square from the 1 triangle of crescent roll and bake for about 5 minutes. Once cool, write a desired message on the sign with edible food writers.

*To make the dips:* You can make all your dip green or you can make half brown and half green. The brown dip is made with Devil's Food Cake Mix and the green dip is made with White Cake Mix (you can even use leftover white frosting instead, if you prefer). For each dip, mix 4 ounces room temperature cream cheese and 4 tablespoons room temperature butter with a hand mixer. Mix in 1 cup of cake mix (dry) and 1 cup of powdered sugar. Add 2-3 tablespoons of milk until mixture reaches your desired consistency. Tint the White Cake Batter Dip with green food coloring, to represent grass.

Place corn syrup in a small bowl. Using a basting brush, brush the corn syrup around the inside of your baked snackadium. Sprinkle generously with nonpareils, to represent the spectators. Be sure to put your "people" all the way up to the top of the sides of your snackadium. Chill for at least 15 minutes.

Spread your "dirt" cake batter dip (Devil's Food) in the bottom of your snackadium. Top with the green "grass" dip.

Place about 1/4 cup of white frosting (from a can or from scratch) in a ziploc bag with the corner snipped off. Pipe a large rectangle in the center of your field. Divide your large rectangle into 12 small ones, using your frosting, to create the playing field and yard lines. If you wish to make "end zones" you can tint some of your leftover white frosting a color and fill in each of the outer rectangles with different colors. Place a goal post in each end zone.

Place your tiny crescent roll "players" on the field and on the sideline. You can use a chocolate chip for the football.

Attach the sign to the snackadium with a toothpick.

Cut triangles from your Fruit by the Foot strip and wrap each end around a toothpick. Stick around the top of the snackadium for decoration.

*Serving suggestion:* serve with cinnamon crescent rolls! To make the cinnamon crescent rolls, you will use the remaining rolls from the can that made the "players". Press the seams of 4 triangles together to make a rectangle. Mix the cinnamon and sugar in a small bowl. Sprinkle on the crescent roll rectangle and roll tightly. Chill for 30 minutes. Slice, and bake for about 8 minutes at 350 degrees. Place around your snackadium for a sweet dipper.
Nutritional information not guaranteed to be accurate
Find all my funfetti recipes here.
I have partnered with Pillsbury through DailyBuzz to help promote their Crescent Roll and Pizza Crust products. I have been compensated for my time commitment to work with this product. However, my opinions are entirely my own and I have not been paid to publish positive comments. Thank you Pillsbury for this awesome opportunity to create a Snackadium!
Last Updated on May 12, 2020