This post may contain affiliate links. For more information, read my disclosure policy.
How to make the perfect easy cheese board. This is a how to make an easy charcuterie board for beginners post; learn the basics of what to include and how to make a beautiful appetizer centerpiece.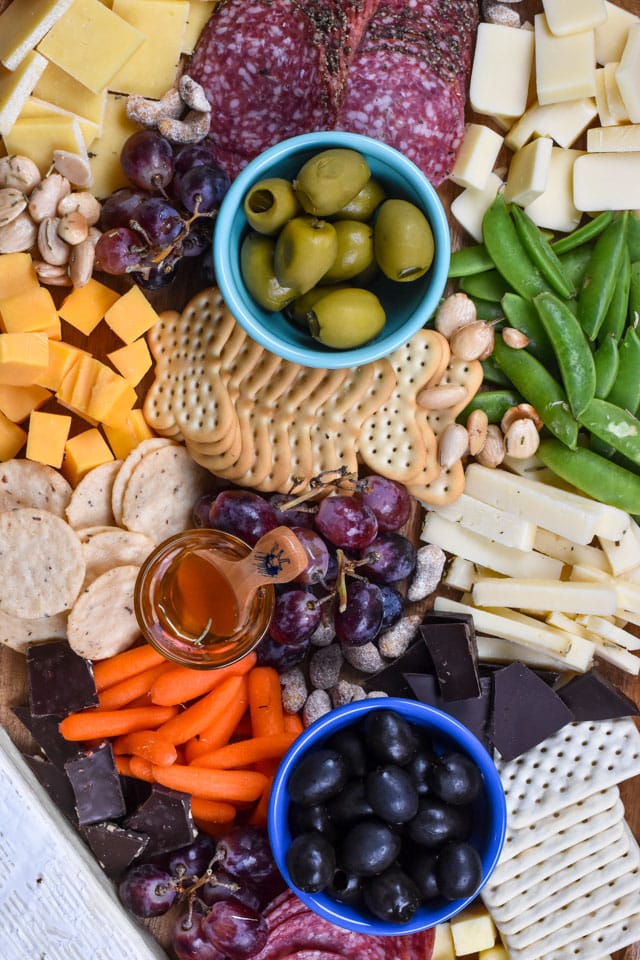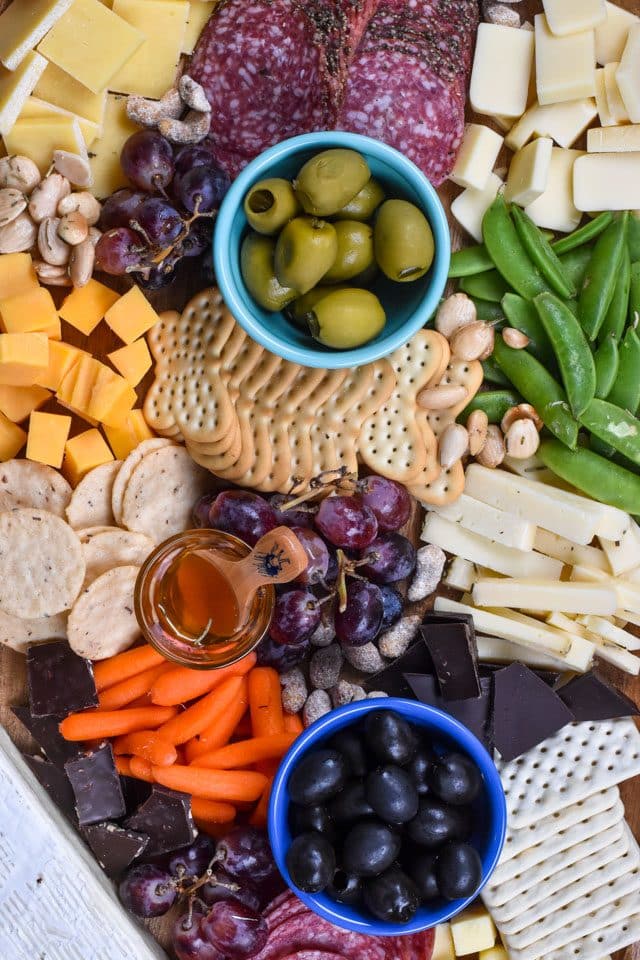 Table of Contents
Simple Charcuterie Board for Beginners
It's funny, the things that separate food bloggers from regular people. Occasionally someone will send me a Facebook link of some outrageous concoction, brownies with ice cream and cookies and cake or something, and they'll be incredulous like OMG can you believe this? And all I have to say is, yes, I can believe it, and I've probably made it.
The other night my husband and I were watching Christmas Cookie Wars and he said, "wow that lady is really talented" at the same time I thought, "Wow, that chicks cookies are really basic." ?
But the biggest difference I see between myself and my non-blogging friends is when it comes to charcuterie cheese boards. When I look at these photos, I think that this board is nice, but pretty basic. This cheeseboard, while fantastic, isn't anything special. I mean, I'm not Mary or Holly or Averie.
However, whenever my friends come over and they see my cheese boards, they think they're fantastic.
Pot-ae-to, pot-ah-to. (<< that works better out loud)
Anyway, after a mom's night last month, a few of my friends begged me to tell them my "secret" to making the perfect cheese board. I'm pretty sure they wanted more in depth than throw cheese on a plate, so that's why I decided to write this post.
To me, making a cheese board is all about balance: salty, creamy, sweet, soft, crunchy. If you check all the boxes you'll have the perfect easy appetizer that doubles as dinner!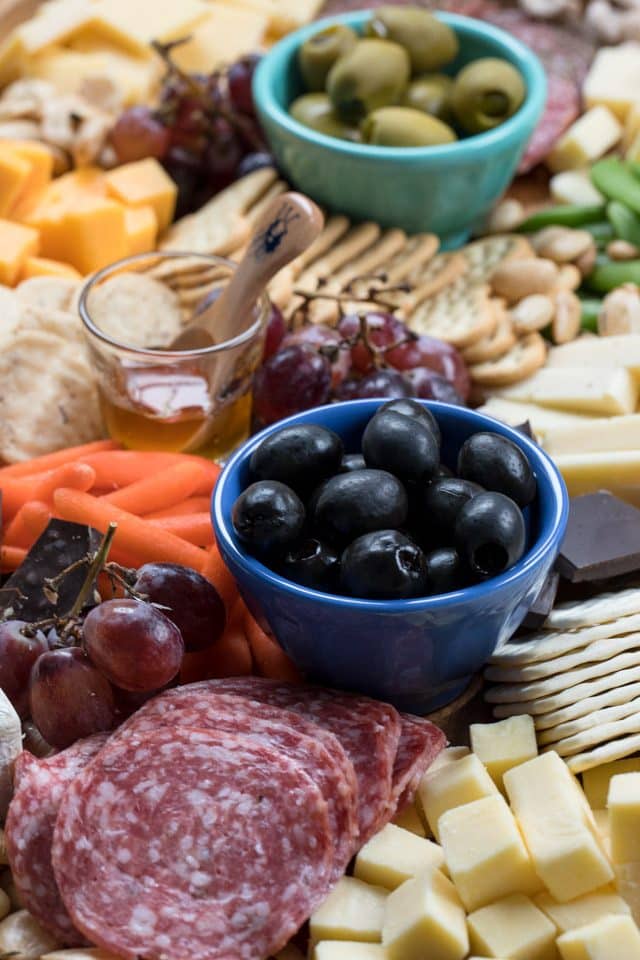 What kind of cheese do you put on a charcuterie tray?
I'm sure there are rules somewhere about this, but my opinion is: put cheese on your cheese tray that you like to eat. Are there going to be kids at your party? That will also shape what kind of cheeses you select.
Head to the deli/specialty cheese section of your grocery store for all these picks.
Here are my general cheese rules:
Dubliner – this is always on every single cheese tray I make. It's made by Kerrygold and it's wonderfully nutty. It has the consistency between cheddar and parmesan. Most grocery stores have it in the specialty cheese aisle (even Walmart and Target).
Sharp Cheddar – I love a nice sharp cheddar. My favorite brands are Tillamook and Cabot.
Parmesan or Asiago – you can often find flavor infused wedges with pepper or rosemary or wine.
Gouda or Gruyere (optional) – I often include Gouda when my daughter will be joining us. It's one of the only specialty cheeses she (and lots of kids) likes.
Medium Cheddar is important to have if you're having kids. Or Colby, but cheddar is better. I love Tillamook!
Brie or Goat cheese (or something soft and spreadable).
I like to try and cut each cheese in a different way (cubes, slices, wedges, etc) so they're distinguishable.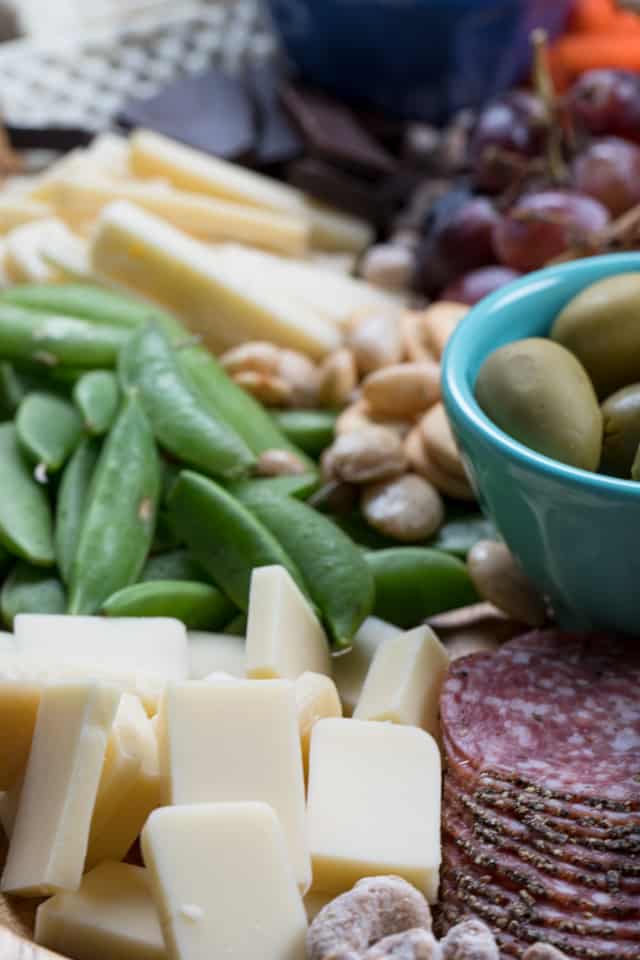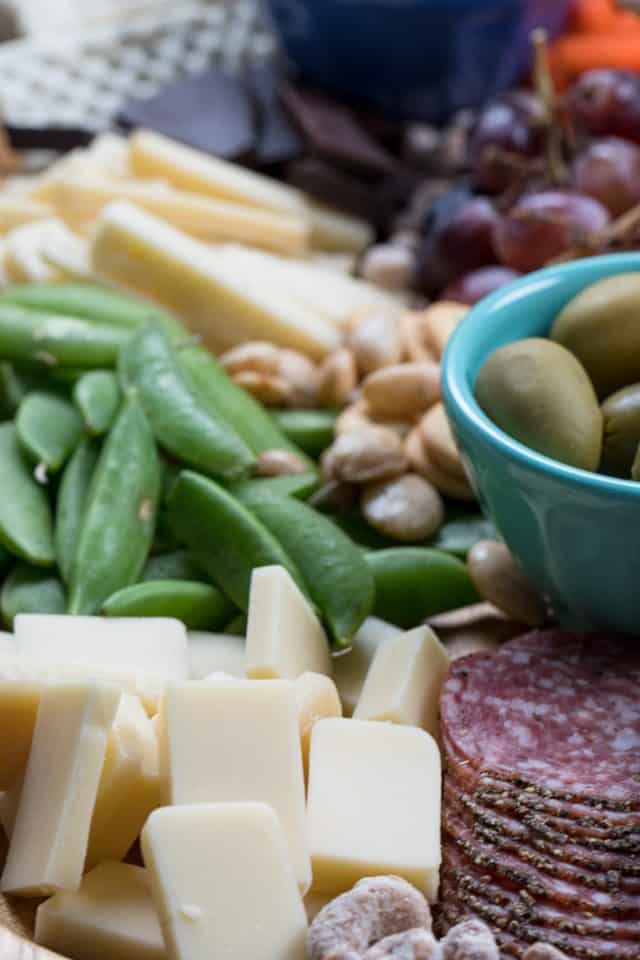 What kind of meat do you put on a cheese tray?
Again, this is like the cheese: use what you like. Here are my suggestions:
Salami, for me, is a must. It's often the only meat I put on my charcuterie tray, because it's a universal meat. I often use regular salami and peppercorn salami on my trays (one for the adults and one for kids).
If you want to be a little fancier, try prosciutto, mortadella, or sopressata.
You can use thinly sliced meats or stick salami that you cut into chunks.
Really, there is no recipe for a cheese board. It's all about what you like and then throwing it all together.
Vegetables and Fruits
I always like to add a few kinds of raw vegetables to my charcuterie. My two favorites are carrots and cucumber, but snap peas or celery go well also.
Cheese and grapes go well together, so I usually ad a few bunches of grapes as garnish.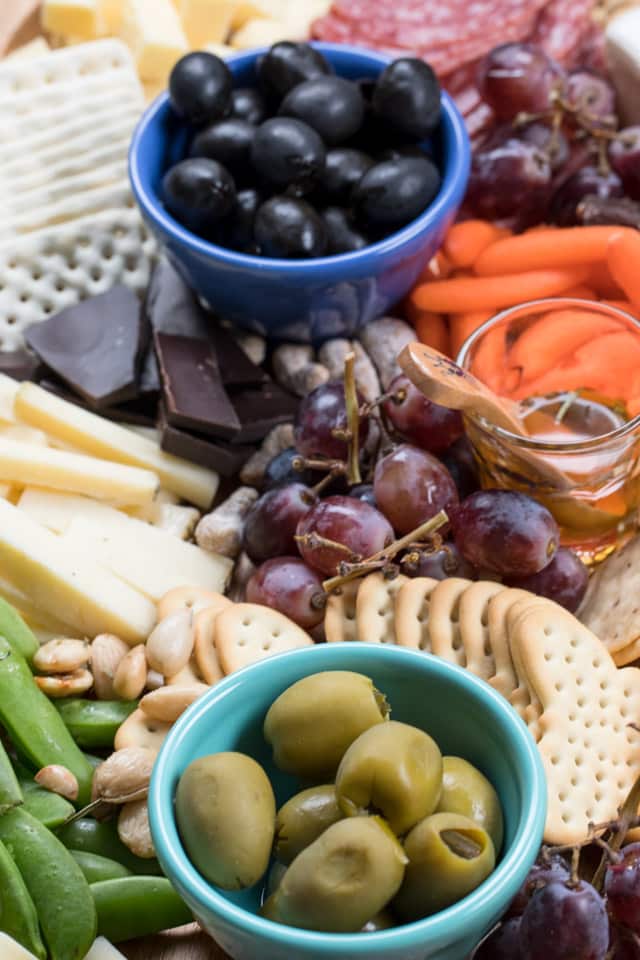 What else goes on a cheese board?
The cheese and meat are the backbone of the tray. I always add them to the board first. Then I add my vegetables. Then, think about the following:
Crackers. Crackers and cheese are important. Just get about 2-3 different kinds of crackers, but you don't need to put a ton on there. You'll notice I don't have many; you can always add more but believe me, you probably won't need to unless you have lots of kids. Adults are weird and don't eat tons of carbs with their meat and cheese.
My favorite crackers for a charcuterie board:
Pepperidge farm "Trio" crackers
Water biscuits (such as Carr's)
Something gluten-free, like a Nut Thin or something similar
Other items to add to your board:
Olives and/or mini pickles, for a salty bite. I love a mix of green and black olives.
Nuts! My favorite to use are Marcona Almonds (get them at Trader Joe's) but mixed nuts, almonds, cashews – anything works
Honey – I love drizzling honey on my cheese!
Jam or mustard
Chocolate – chocolate and cheese pair well together. Get a dark chocolate bar and just break pieces to fill in the board.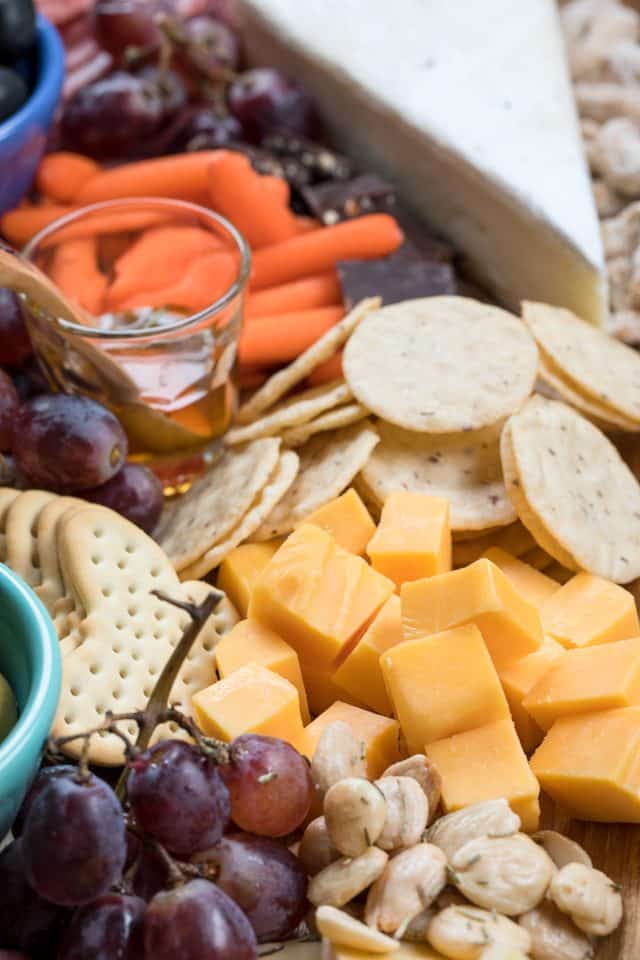 That's everything that goes into one of my easy cheese boards. My rule of thumb is that it should seem messy but it's really not.
How to assemble a cheese board:
Add your cheeses spaced around your board.
Add your salami or other meat in a few different places.
Place bowls of olives or honey or jam down the middle.
Add crackers and vegetables in large open spaces.
Place bunches of grapes, nuts, and chocolate in all the cracks.
It really is SO easy to make this on your own. You'll never buy a cheese plate from the grocery again! Believe me, serve this cheese tray as an appetizer and people will be wowed.
Where to buy charcuterie boards
The board you see in these photos (or, rather, don't see) is from Target. They have several options that are fantastic prices. Check out the kitchen aisle to grab a few.
Check out Ross, Home Goods, or TJ Maxx. They often have them cheap!
Amazon has some great options, just search "wooden serving tray".
Want to splurge? Buy a Boos Block!
Have you made this recipe?
Tag @crazyforcrust on Instagram or hashtag it #crazyforcrust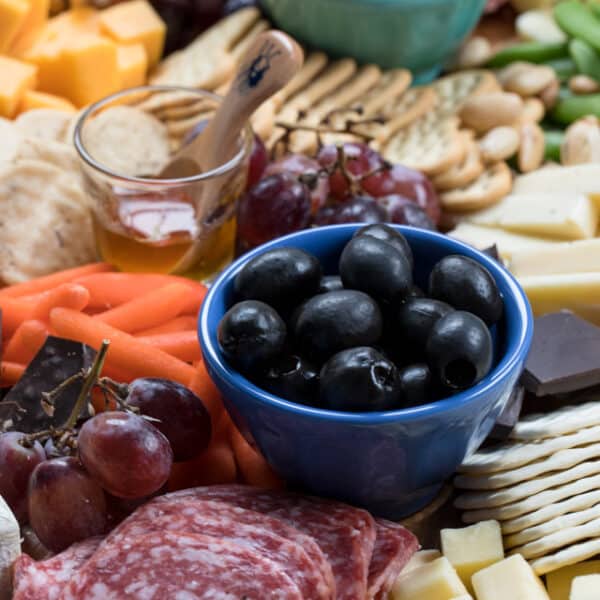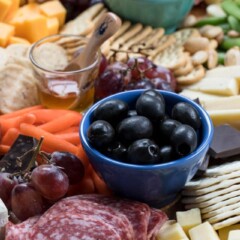 Easy Cheese Board for Beginners
How to make the perfect easy cheese board. This is a how to make a charcuterie board for beginners post; learn the basics of what to include and how to make a beautiful appetizer centerpiece.
Ingredients
8

ounces

sharp cheddar

cubed

8

ounces

parmesan

sliced

8

ounces

medium cheddar

cubed

8

ounces

Dubliner, Gruyere, or other cheese

sliced

1

wedge

Brie

1

can

black olives

1

jar

green olives

use your favorite flavor

6

ounces

almonds or marcona almonds

6

ounces

other nuts (like cashews)

6

ounces

seedless grapes

red or green

2

packages

crackers

use your favorite kinds

2

packages

salami or Prosciutto

use your favorite

3

cups

chopped vegetables

carrots, cucumber, snap peas, etc.

1

tablespoon

honey
Instructions
Arrange all ingredients on large serving tray.
Recipe Nutrition
Serving:
1
serving
|
Calories:
397
kcal
|
Carbohydrates:
29
g
|
Protein:
14
g
|
Fat:
24
g
|
Saturated Fat:
9
g
|
Cholesterol:
32
mg
|
Sodium:
1257
mg
|
Potassium:
121
mg
|
Fiber:
2
g
|
Sugar:
7
g
|
Vitamin A:
475
IU
|
Vitamin C:
0.4
mg
|
Calcium:
436
mg
|
Iron:
2.2
mg
Nutritional information not guaranteed to be accurate
**Did you make this recipe? Don't forget to give it a star rating below!**
Some of my other favorite appetizers: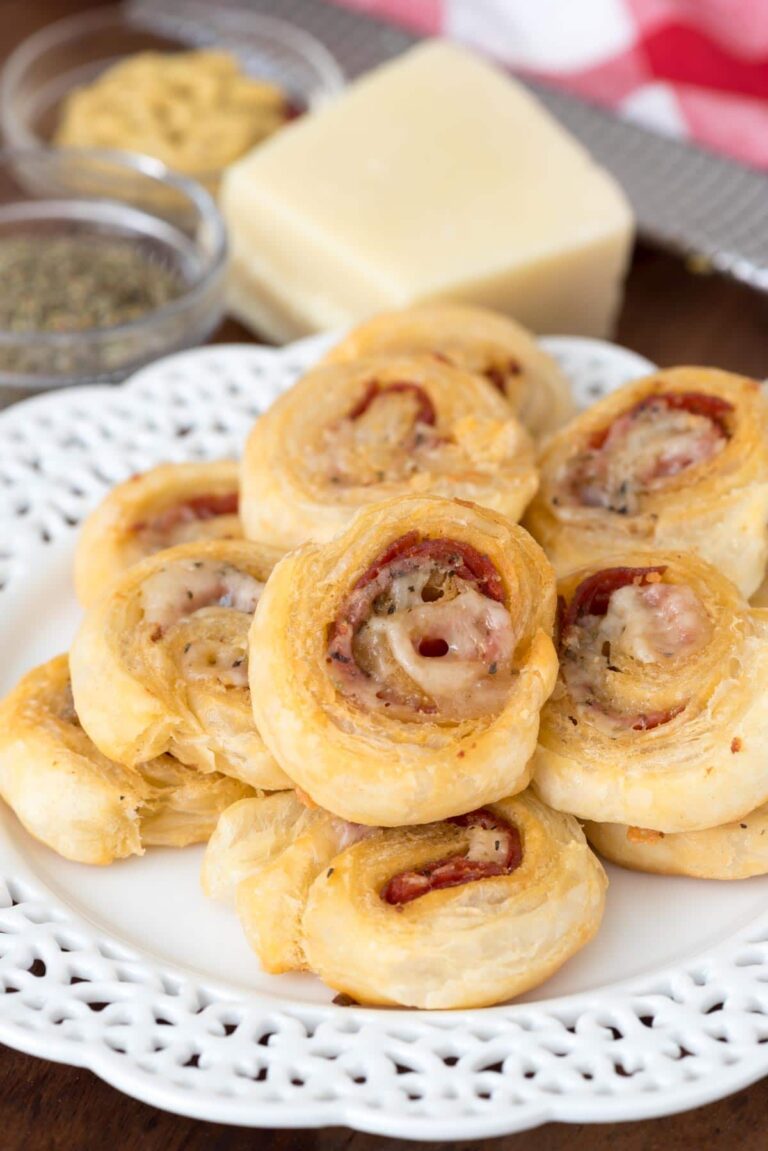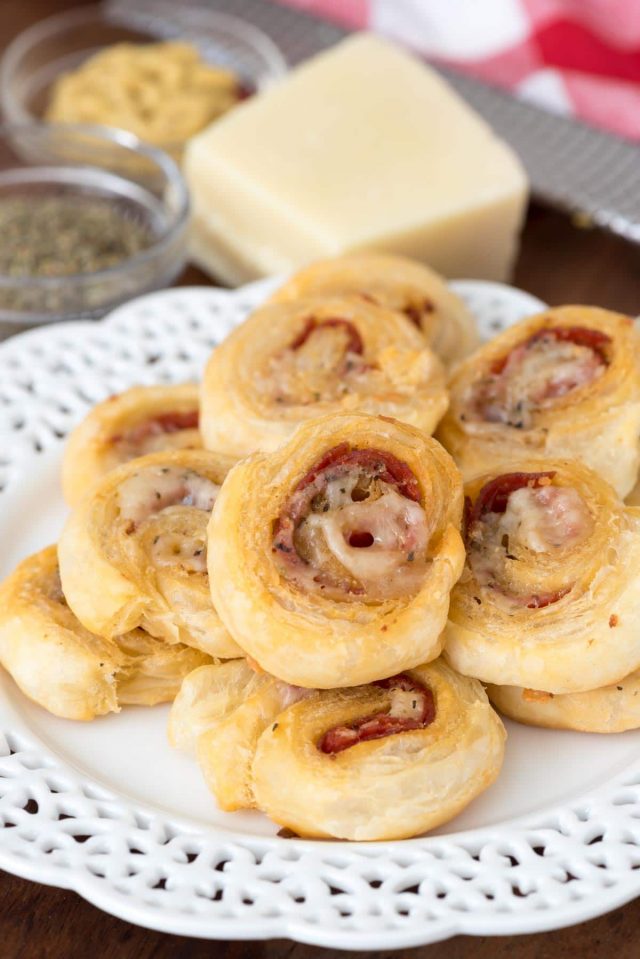 Ham and Cheese Croissant Sliders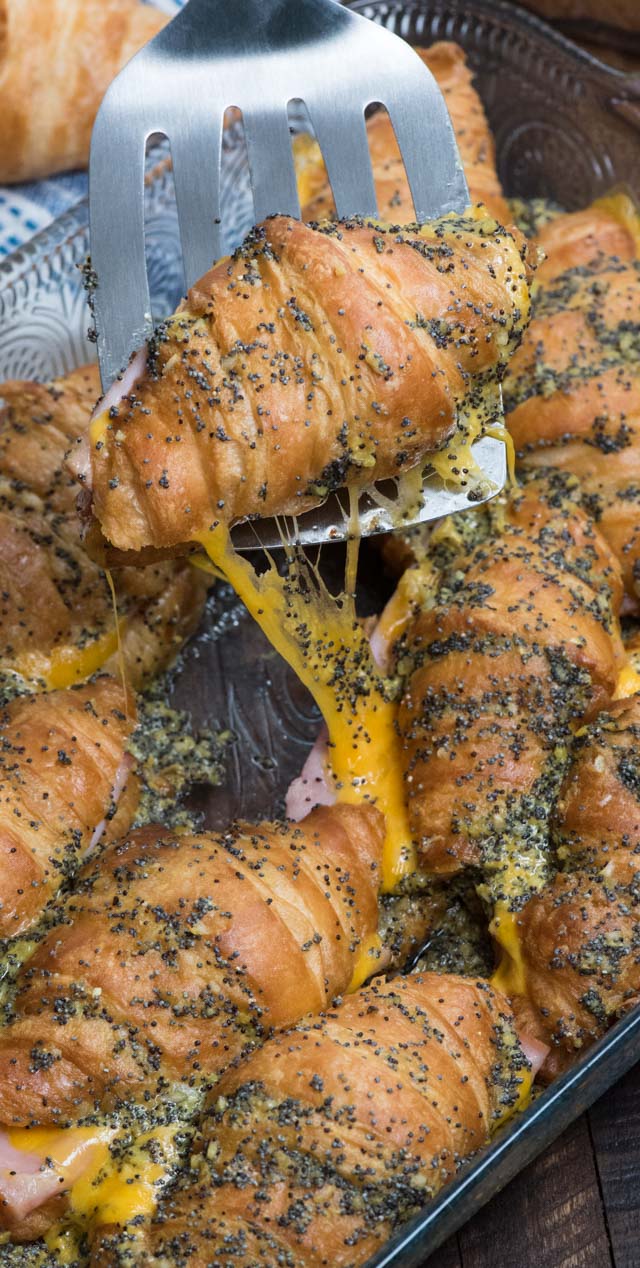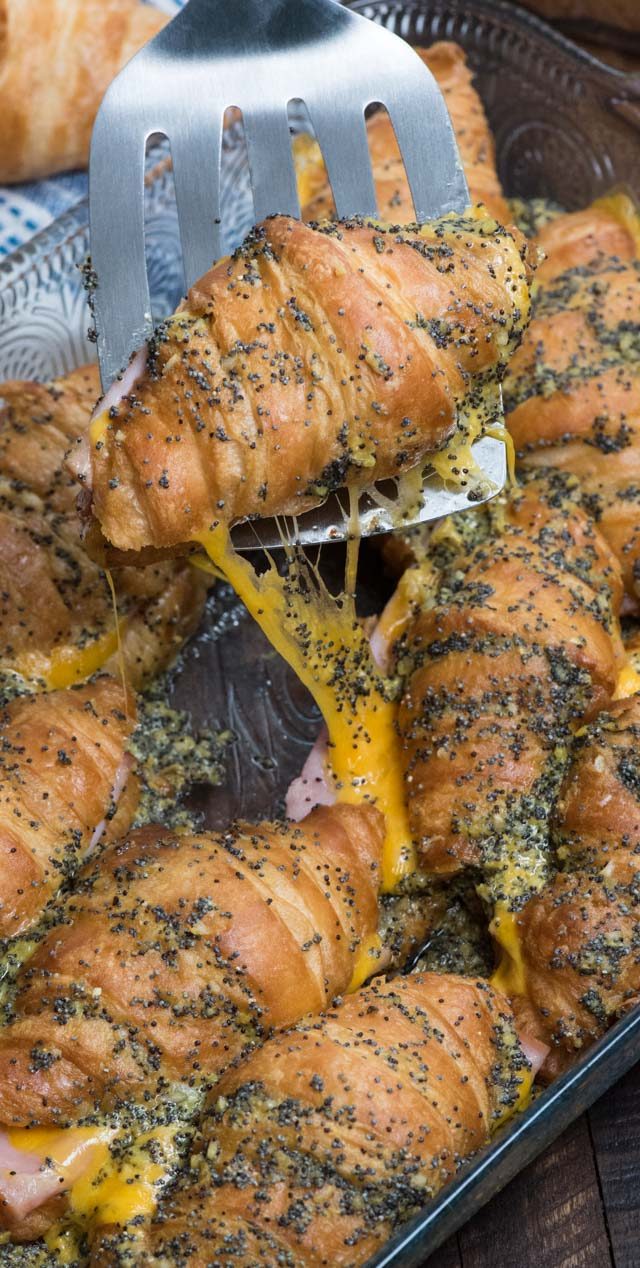 Last Updated on March 10, 2022