This post may contain affiliate links. For more information, read my disclosure policy.
You know what's better than a scoop of ice cream next to a cupcake? A scoop of ice cream that comes inside a cupcake. Ice Cream Cupcakes are your favorite cupcake recipe filled with your favorite ice cream and frosted with whipped topping. These cupcakes are easy, fast and perfect for a birthday party!
A long time ago a friend shared a photo on my Facebook wall of ice cream stuffed inside a cupcake and I thought it was so genius I had to make them immediately. It's just such a great idea: cake and ice cream all in one!
There is nothing better than dessert stuffed in dessert. I'm obsessed with stuffing desserts, like Rolos in peanut butter cookies or Oreos in gooey bars. Now it's all about ice cream in cupcakes!
Back to the matter at hand: a cupcake stuffed with ice cream. I mean, it's kind of genius. Think about it: a birthday party without an ice cream scoop. No more "he got more ice cream than I did!!!"
It's the perfect single serving dessert for when you want a cupcake…and ice cream too. And the flavor combos. Oh. My. Gosh. Think of the possibilities!
Ice Cream Cupcakes are the perfect birthday cupcake with your favorite flavor cake and ice cream all in one single serving!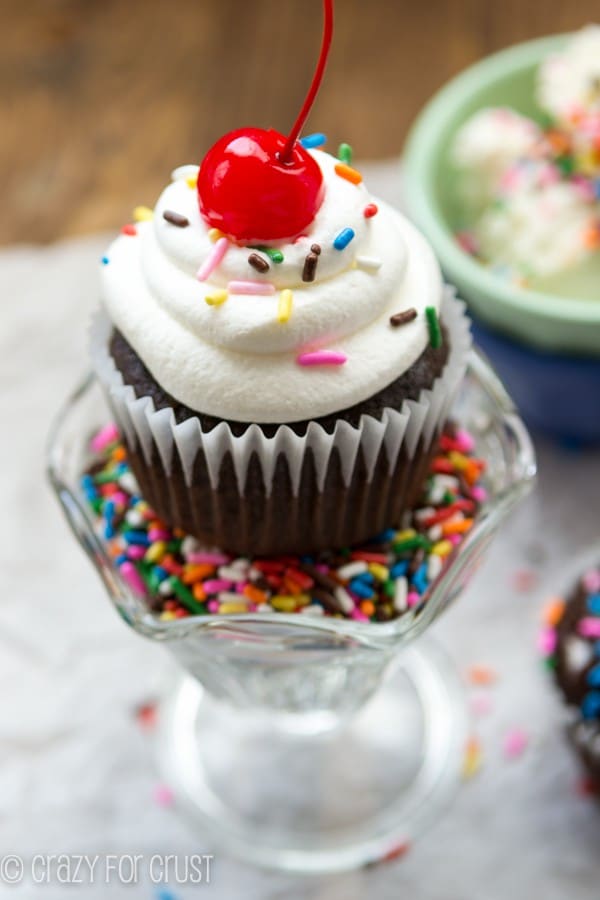 The possibilities for these cupcakes are endless. Chocolate, vanilla, strawberry…there is no shortage of ice cream cupcake recipes you can make. For these, I went the chocolate cupcake with vanilla ice cream route, but I'm me, so I added some sprinkles into the vanilla ice cream because everything is better with sprinkles.
Once you know the method for how to make an ice cream cupcake, you can make whatever flavor you want. You can use a box mix or you can make them from scratch.
I bet there are a gazillion combinations of ice cream cupcake you could make. And that number is probably accurate because I majored in math and know all about probability.
What kind of ice cream cupcakes can you make?
You can even use a box mix and your favorite ice cream from the frozen section!
And…about a gazillion more. Basically, what I'm trying to say is…go find your two favorites and pair them together. Be sure to check out all my cupcake recipes and my ice cream recipes to get some inspiration!
How do you get ice cream inside a cupcake?
It really is a valid question until you see how it's done.
Start with 24 baked and cooled cupcakes. Box or scratch, it doesn't matter. These are my favorite chocolate cupcakes.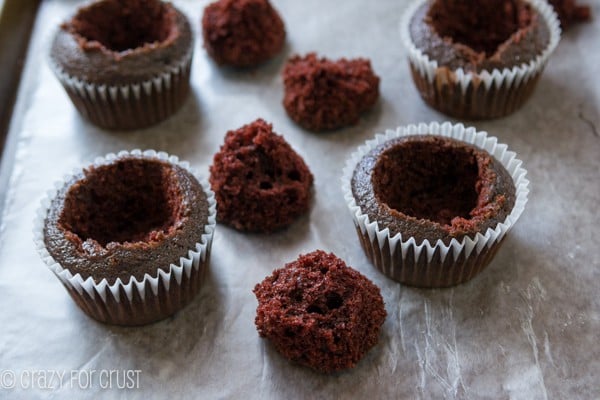 Cut a circle in the top about the size of a half dollar. Cut down deep and dig out a chunk of cake. It may be cone shaped.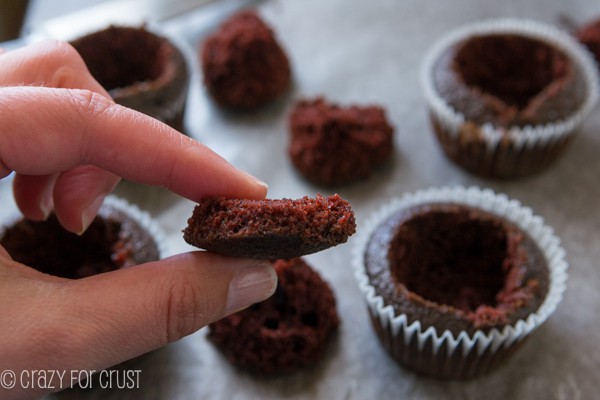 Then, cut off the end of what came out of the cupcake. Remember – ice cream is going in that hole. Not all the cupcake is going to fit back inside, so you need to get rid of it. Or eat it.
I suggest you prepare all your cupcakes, then place a cookie sheet topped with wax paper in your freezer. Work in batches for the next step (about 3-4 cupcakes per batch) so that the ice cream doesn't melt.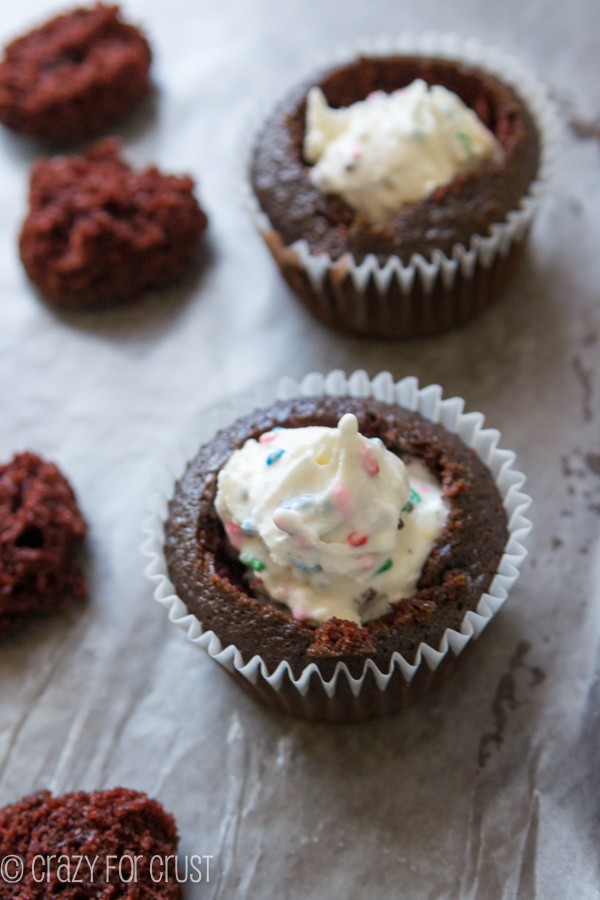 Place your ice cream inside the cupcake hole.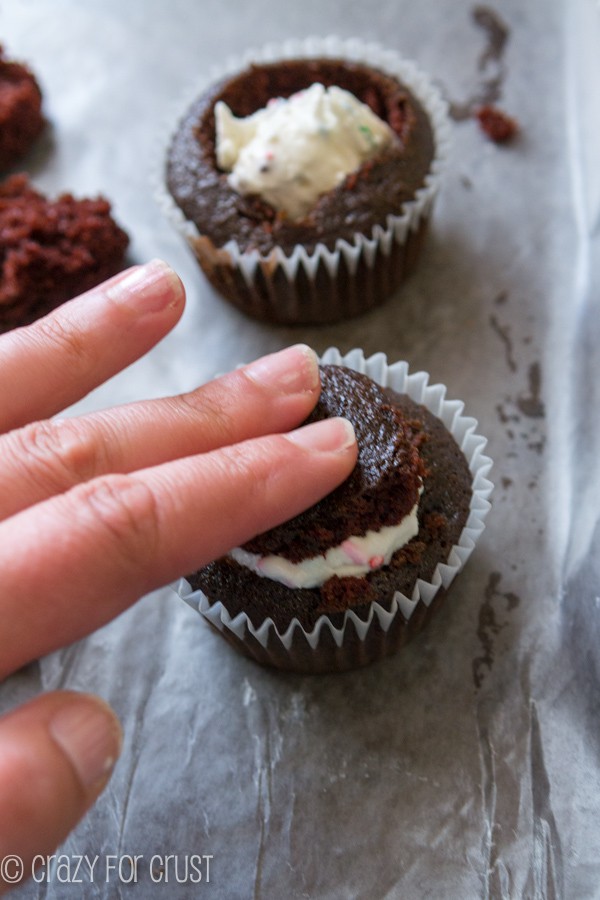 Then top it with the top and place them in the freezer. You can wrap the cookie sheet with plastic wrap and freeze over night, or place these in a ziploc bag and freeze for up to 1 month. That's the best kind of do-ahead I can ask for!
Now, you're probably thinking what about frosting? Don't worry, I've got you covered there too. I topped mine with a dollop of Cool Whip before serving, but you can use your favorite frosting.
One note: frozen frosting is just meh, so what I like to do is have my frosting ready to go and frost right before serving.
It makes these have way more combinations than a gazillion. We have to add another layer to that takes it up to a quadrillion, I think.
What kind of frosting is good on ice cream cupcakes?
I have so many frosting recipes for you to choose from, or go the easy route like I did.
These are perfect for any birthday, the 4th of July, or a random Wednesday because cupcakes and ice cream are always a good thing.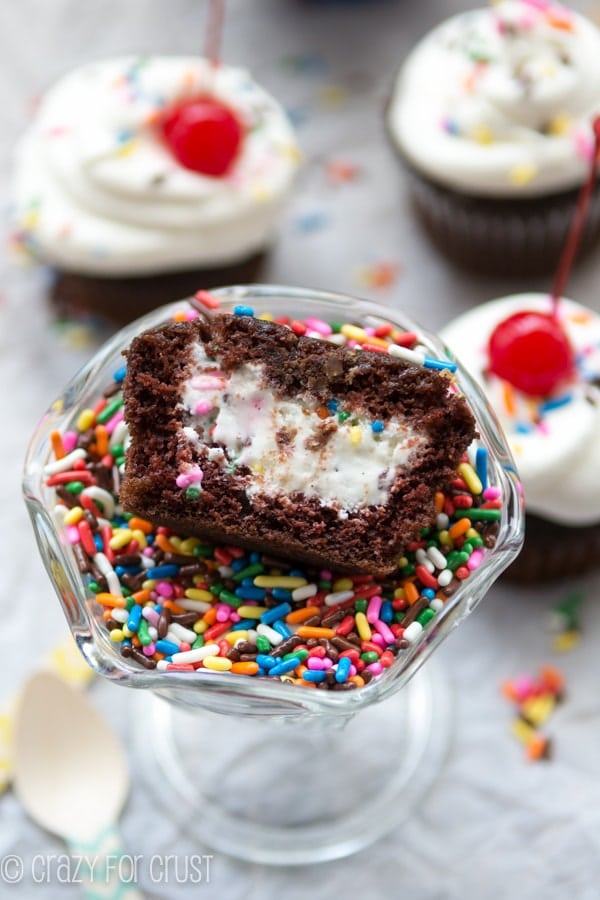 Sure, you could buy ice cream cupcakes from Walmart or Dairy Queen or Carvel, but it's just so much more fun to make your own. Get the kids involved and make your own cupcakes and add your favorite ice cream!
Other cake and ice cream recipes you'll love:
Want even more? Subscribe to Crazy for Crust to get new recipes and a newsletter delivered to your inbox. And stay in touch on Facebook, Pinterest, Twitter, and Instagram for all my latest updates. If you make this recipe, share a photo on social media tagging @crazyforcrust and using the hashtag #crazyforcrust.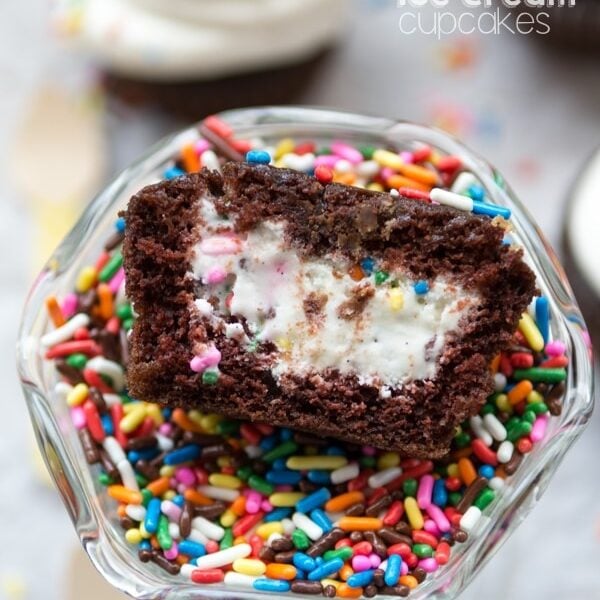 Ice Cream Cupcakes
Cupcakes and ice cream all in one! It's easy to fill your favorite cupcakes with your favorite ice cream to make one easy to serve and eat party treat. The method is super easy - and the options for flavor combinations are endless! Use your favorite flavors to make your favorite ice cream cupcake!
Ingredients
24

cupcakes

baked and cooled (see note for links)

1

quart

ice cream

you'll likely have leftover

1/4

cup

sprinkles

optional

8

ounces

Cool Whip

fresh whipped cream, or your favorite frosting (chocolate or vanilla)
Instructions
Start with 24 cupcakes that have been baked and completely cooled. You can use your favorite flavor box mix, or your favorite from scratch recipe. (Consider using my chocolate cupcakes or vanilla cupcakes if you want a from scratch cupcake.) Place the cupcakes on a cookie sheet lined with wax paper. Make room for a second cookie sheet lined with wax paper in your freezer.

For sprinkle filled ice cream: scoop half of a 1.5Q container of ice cream into a bowl and let it soften for a few minutes. Stir in 1/4 cup sprinkles, then place the bowl back in the freezer to firm up while you prepare the cupcakes. Otherwise, just have your favorite flavor ice cream in the freezer and ready to go.

To prep the cupcakes: use a pairing knife to cut a large circle (about the size of a half dollar) in the top of the cupcake. Cut down almost to the bottom of the cupcake, then lift out the cut part. You should end up with a cone shaped chunk of cake. Slice the cone off of each of the cupcake pieces. (You need to make the piece of cake smaller, because the cupcake will be filled with ice cream.)

I suggest you prepare all the cupcakes for the ice cream, then place your second cookie sheet in the freezer. Work in batches of 3-4 cupcakes, filling with ice cream, then placing on the cookie sheet that's in the freezer. That way the ice cream won't melt out of the cupcakes.

Scoop about 1-2 tablespoons of ice cream into the center of each cupcake. Place the top back on and press gently. Put the cupcake on the cookie sheet in the freezer. Continue until all the cupcakes are filled and in the freezer.

Cover the cupcakes with plastic wrap (leaving them on the cookie sheet) and freeze for at least 4 hours before serving. You can place them (frozen) in a single layer in large

Ziploc bags and freeze for up to 1 month before serving.

When ready to serve, have your frosting or a thawed carton of Cool Whip ready. Remove a cupcake from the freezer, frost as desired, and serve immediately. (For an amazing chocolate frosting recipe try this one or for vanilla, this is my favorite.
Recipe Nutrition
Serving:
1
cupcake
|
Calories:
268
kcal
|
Carbohydrates:
43
g
|
Protein:
4
g
|
Fat:
9
g
|
Saturated Fat:
3
g
|
Cholesterol:
11
mg
|
Sodium:
198
mg
|
Potassium:
96
mg
|
Fiber:
1
g
|
Sugar:
26
g
|
Vitamin A:
135
IU
|
Vitamin C:
0.1
mg
|
Calcium:
98
mg
|
Iron:
0.7
mg
Nutritional information not guaranteed to be accurate
**Did you make this recipe? Don't forget to give it a star rating below!**
Click here to see my best Cake Mix recipes!
Find your favorite flavor cupcake and then pair it with some ice cream!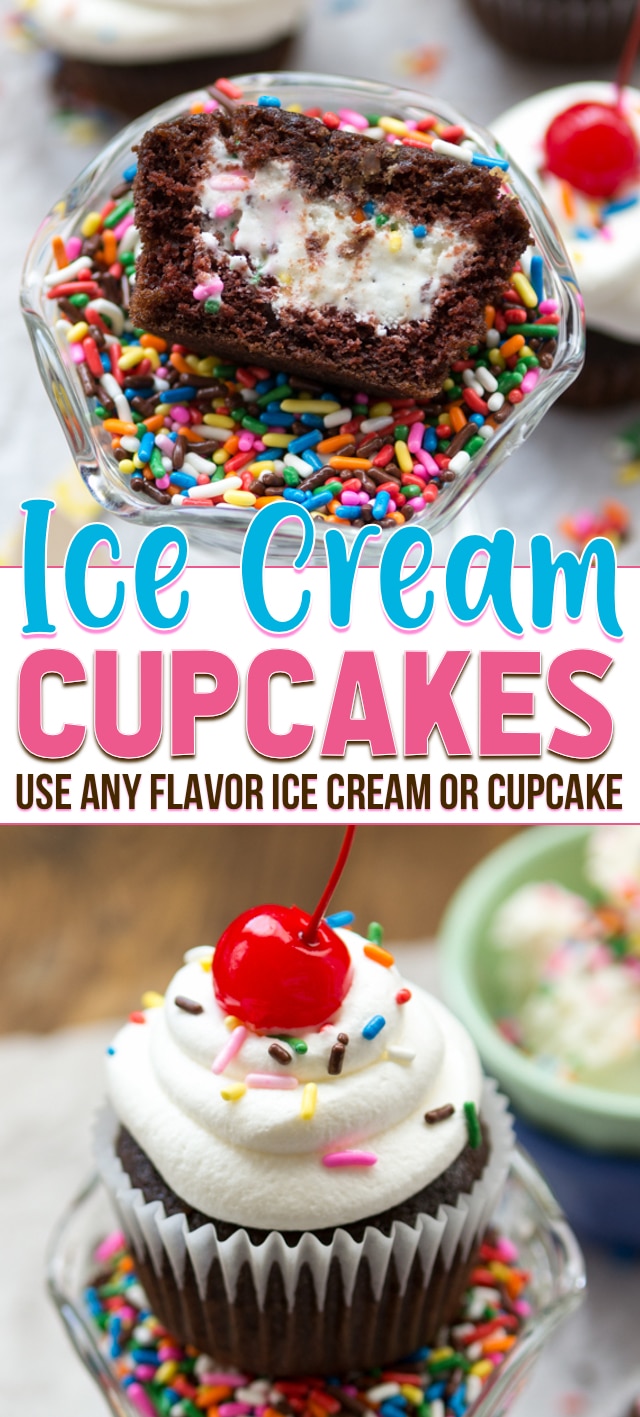 Last Updated on August 22, 2019