This post may contain affiliate links. For more information, read my disclosure policy.
Oreo Stuffed Chocolate Chip Cookie Gooey Bars – my FAVORITE Chocolate Chip Cookie Gooey Bars STUFFED WITH OREOS! These are the BEST cookie bar ever.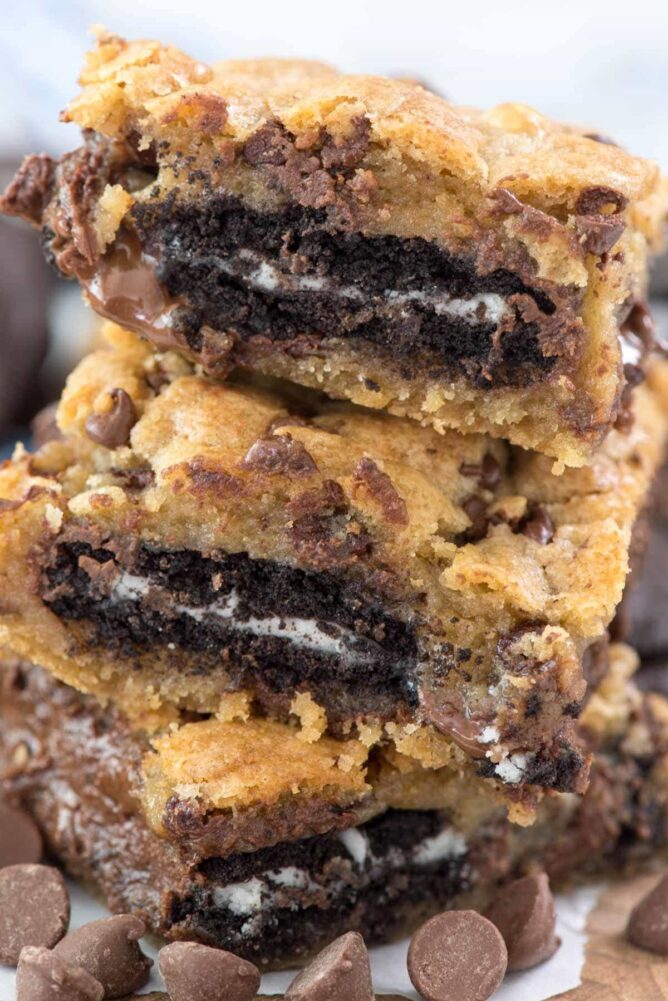 At what age is it acceptable to drop your kids off at a water park to hang out with their friends? I ask because yesterday I spent 7 hours at such a park with Jordan and her friends. Now, to be honest, I spent 7 hours sitting in a cabana because girlfriend don't swim/do water/walk barefoot at water parks, but still. I had to be there alllllllll day and it wasn't even the type of cabana that served drinks with umbrellas, just overpriced pizza and soda.
Jordan and her friends are 12, and according to the park ages 12+ can be there without an adult. I wasn't ready this year but next year I plan to buy her a season pass and drop her off with her friends. As long as they adhere to the buddy system and the shoes-in-bathroom system, I'm good with her being there alone. (After all…I sat in a cabana for 7 hours…they were basically alone yesterday.) The biggest thing I worry about with Jordan is that she'll lose her money, her phone, her goggles, her head…etc. (Girlfriend is seriously disorganized when it comes to stuff.)
The park didn't even offer anything good for dessert other than shakes and Dippin' Dots which were invented by someone who hates people because really, people say they're good but people are liars. I just wanted a cookie or a gooey bar darn it [read: glass of wine or a vodka soda] and they didn't have it anywhere!!
Next time I go I'm sneaking these chocolate chip gooey bars stuffed with Oreo cookies into the park. (And by next time I go I mean never.)
Oreo Stuffed Chocolate Chip Cookie Gooey Bars are chocolate chip cookie, a gooey bar, and an Oreo all in one magical bite.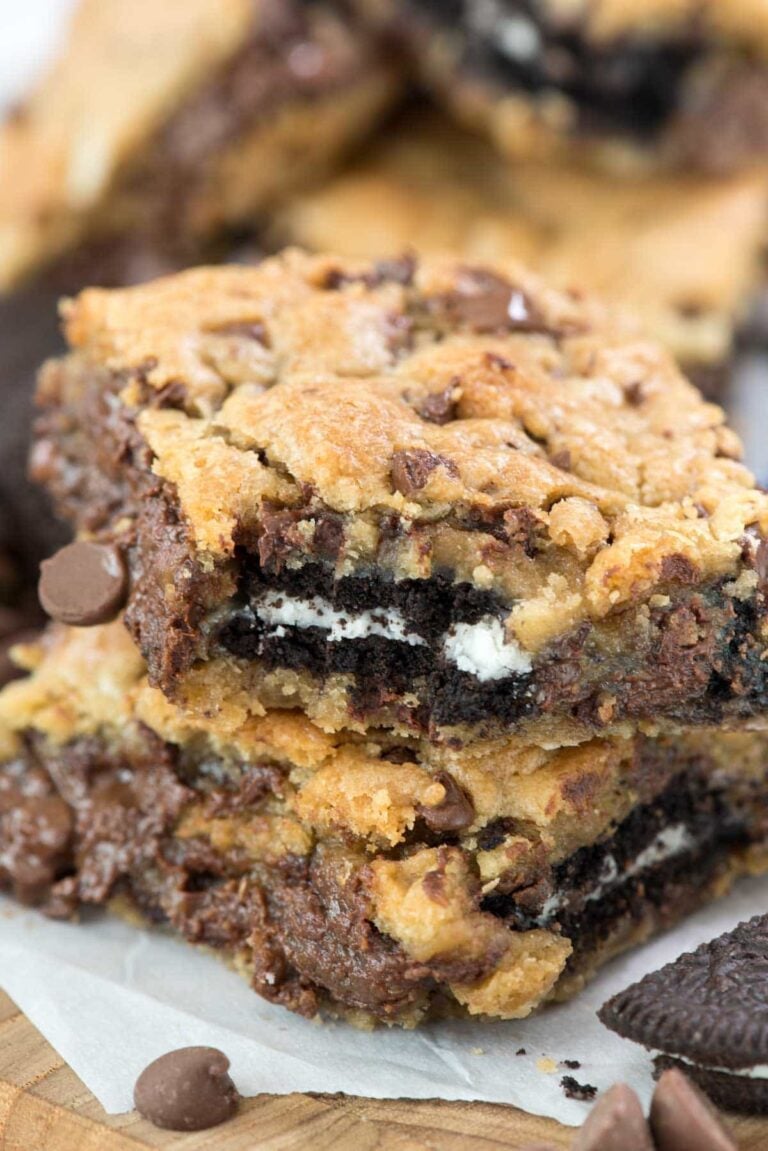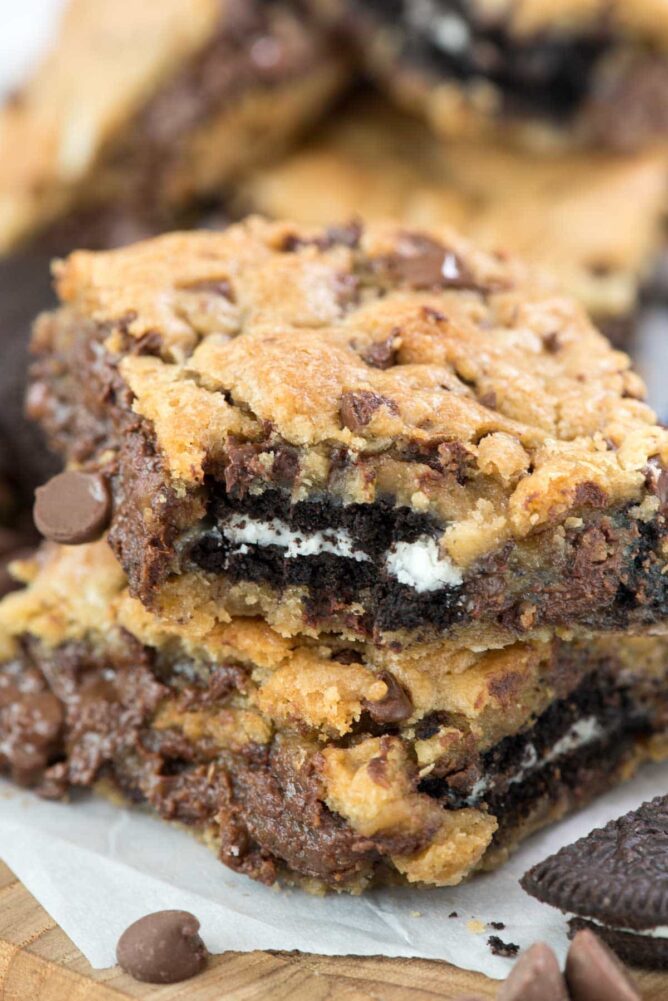 Now, stuffing Oreos into chocolate chip cookies isn't new. Picky Palate kind of invented that back in 2011, and then was promptly copied by just about everyone and not always sourced. (I kind of hate copiers who do it wrong – not sourcing. I'm dealing with that right now…people using "inspiration" from my recipes in cookbooks…it sucks.) Everyone is familiar with the Oreo stuffed cookie phenomenon so it was only a matter of time before I added one of my favorite cookies to one of my favorite recipes: GOOEY BARS!
If you're new to this blog (welcome!) you may not know that I am the source for gooey bar recipes (also, cake rolls!) and I have so many different versions. I've got gooey bars made with cake mix, sprinkles, lemon. I've got cookie versions, like chocolate chip, peanut butter, and caramel, and now I'm adding OREO STUFFED to that list. (Not to be confused with my Oreo Gooey Bars that are cookie gooey bars that taste like Oreos.)
These Oreo STUFFED Chocolate Chip Gooey Bars are exactly what they sound like: my favorite chocolate chip cookie recipe with Oreos and sweetened condensed milk in the middle. The result: a rich, chocolatey, GOOEY cookie bar WITH OREOS.


The melty chocolate in these photos get me every time. I like to cut them when they're warm so I get super messy when I eat them. (Or I just take a fork to the pan…is it a wonder why I have to workout every day?) If you love Oreo cookies and chocolate chip cookies, THESE are the cookie for you.
Tips for gooey bar success:
I love my favorite chocolate chip cookie recipe, but you can use your favorite or try using my Doubletree Chocolate Chip Cookie Copycat.
Don't feel like making dough? Use a store bought cookie dough!!
Use a flavored Oreo for even more fun (have you seen the new Dunkin' Donuts Mocha flavor???)
These are some serious bars, cut them small and use them for a party. They go a long way!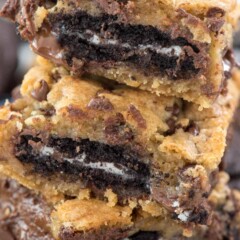 Oreo Stuffed Chocolate Chip Cookie Gooey Bars
Oreo Stuffed Chocolate Chip Cookie Gooey Bars - my FAVORITE Chocolate Chip Cookie Gooey Bars STUFFED WITH OREOS! These are the BEST cookie bar ever.
Ingredients
1

cup

unsalted butter

melted

3/4

cup

granulated sugar

1

cup

light brown sugar

2

large eggs

1

tablespoon

pure vanilla extract

1

teaspoon

baking soda

3 1/4

cups

all-purpose flour

1/2

teaspoon

salt

1 1/2

cup

mini chocolate chips

1

14 ounce can fat-free sweetened condensed milk

2

cups

chocolate chips

24

Oreos
Instructions
Pour butter into an electric mixer fitted with paddle attachment. While still hot, add both sugars and mix on low until combined. Let sit to cool for a few minutes.

While butter mixture is cooling, combine flour, baking soda, and salt in a medium bowl. Stir and set aside.

Turn mixer (with butter mixture bowl attached) on low. Add eggs, one at a time, mixing completely. Mix in vanilla extract. Add flour mixture to the wet ingredients and mix until combined. Stir in chocolate chips.

Line a 9x13" baking pan with foil and spray with cooking spray for easy removal.

Press half the cookie dough in the prepared pan. Pour sweetened condensed milk over the top of the bottom layer (be careful to leave about 1/4" edge around the pan so the milk doesn't touch the foil), then place the Oreos on top. Break up the remaining cookie dough and place on top of milk. Press with your hands to flatten. It will mostly cover but not completely cover the bottom layer.

Preheat oven to 350°F. Bake for about 30-35 minutes until the tops of the bars start to get golden brown. Cool completely before slicing into bars.
Nutritional information not guaranteed to be accurate
If you love gooey bars, be sure to check out my entire collection of gooey bar recipes, including my favorite funfetti and lemon versions! And check out some of my favorite friend recipes: Ooey Gooey Butter Cake Bars by Wishes and Dishes, Coconut Butterscotch Chocolate Chip Gooey Bars by Mom on Timeout, or Salted Caramel Chocolate Chip Bars by A Spicy Perspective.
Peanut Butter Cookie Gooey Bars
SaveSave
SaveSaveSaveSaveSaveSave
SaveSave
Last Updated on May 12, 2020