This post may contain affiliate links. For more information, read my disclosure policy.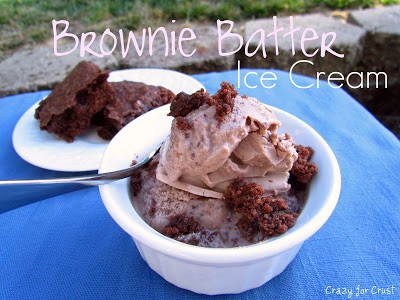 Apparently, July is National Ice Cream Month. Many of the blogs I read have put out some super-delicious and sinful ice creams over the past few weeks. In the back of my mind I kept telling myself to make some ice cream. Because, now that I have a food blog, isn't it practically a rule that I celebrate all these food holidays? I'm sure it's written in some blogger handbook somewhere, in all sorts of legalize. It's probably a law.
A few months ago I actually printed out a calendar of a bunch of the holidays. And then I promptly lost it (although I bet if I look hard enough at all of Jordan's artwork I could find it), which is why the best food holiday (hello, it's ice cream) almost passed me by. I've talked about my OCD in previous posts. Obviously it does not extend to food holidays.
Sigh.
I've wanted to make this ice cream for awhile, ever since I made those Brownie Batter Crispy Treats. I've had this open box of brownie mix sitting in my cabinet just calling to me every time I get my baking stuff out. I figured if I was going to make it, it had to be this week. I needed to make it in time to celebrate National Ice Cream month, after all.
And I have no reason to hesitate about having homemade, full-fat ice cream in my freezer. My pants still totally fit me after four days of eating my way though Las Vegas. Ahem.
I used what was left of my open box of brownie mix to make this ice cream. I made a half-batch of brownies and used the rest of the mix in the ice cream. Because what would Brownie Batter Ice Cream be without actual brownies in it?
Plus, by using the rest of the box, I will be forced to open another when I want to make some other brownie batter treat, thus starting this whole song-and-dance over again.
This ice cream is really good. Too good. I'm-going-to-have-to-give-it-away good. And since it's 100 degrees here in Sacramento, giving it away might pose a problem. Needless to say, if you come to my house sometime soon, I will figure out a way to fill you with Brownie Batter Ice Cream. Yesterday the ice cream man helped me more than I ever thought he would. Jordan had two friends over and he drove by, eliciting begging for ice cream. I just gave a wicked smile. Three scoops down…so many to go!
I hope you enjoy this as much as I do!
Get all my No Churn Ice Cream Recipes here.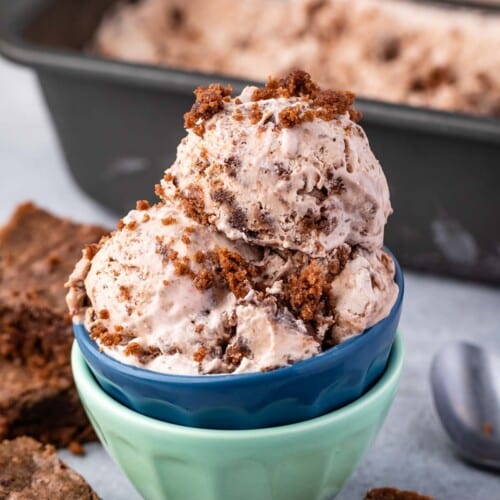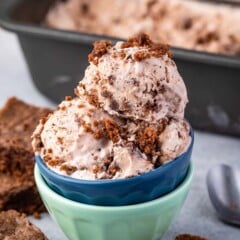 Brownie Batter Ice Cream Recipe
This easy brownie batter ice cream is no churn and made without a machine!
Total Time
4

hours
50

minutes
Ingredients
For the brownies:
2

cups

(263g) brownie mix

(from 9x13 family size box)

1

large

egg

¼

cup

(59ml) oil

2

tablespoons

(30ml) water
For the ice cream:
2

cups

(474ml) heavy whipping cream

14

ounces

sweetened condensed milk

1 ½

cups

(197g) brownie mix

the powder, not prepared
Instructions
For the Brownies:
Preheat oven to 350°. Mix all ingredients in a medium size bowl and stir until combined (about 50 strokes). Pour into a 9x5" loaf pan that has been sprayed with cooking spray. Bake 20-25 minutes. Cool completely.
For the ice cream:
Beat heavy whipping cream until stiff peaks form. Set aside.

Stir brownie mix (powder) into the sweetened condensed milk. Fold this into the whipped cream.

Crumble some of the brownies you baked. You can use as much or as few as you like. (I used about ½ of the loaf.) I won't judge you for how you dispose of the rest of the batch.

Stir into the ice cream mixture. Place in a container and freeze until hard.
Recipe Notes
You can substitute 2 (8-ounces each) containers Cool whip for the heavy cream.
You can use fat-free sweetened condensed milk.
Recipe Nutrition
Serving:
1
serving
|
Calories:
444
kcal
|
Carbohydrates:
75
g
|
Protein:
11
g
|
Fat:
46
g
|
Saturated Fat:
20
g
|
Polyunsaturated Fat:
4
g
|
Monounsaturated Fat:
17
g
|
Trans Fat:
0.03
g
|
Cholesterol:
107
mg
|
Sodium:
390
mg
|
Potassium:
249
mg
|
Sugar:
80
g
|
Vitamin A:
1041
IU
|
Vitamin C:
2
mg
|
Calcium:
184
mg
|
Iron:
3
mg
Nutritional information not guaranteed to be accurate
Last Updated on September 12, 2022