This post may contain affiliate links. For more information, read my disclosure policy.
This is the BEST Basic Yellow Cake Recipe! It's perfect for a layer cake, a sheet cake or cupcakes! This easy cake recipe is homemade – you'll never need to buy a box cake mix again.
If you're looking for a classic yellow cake recipe, you've found it!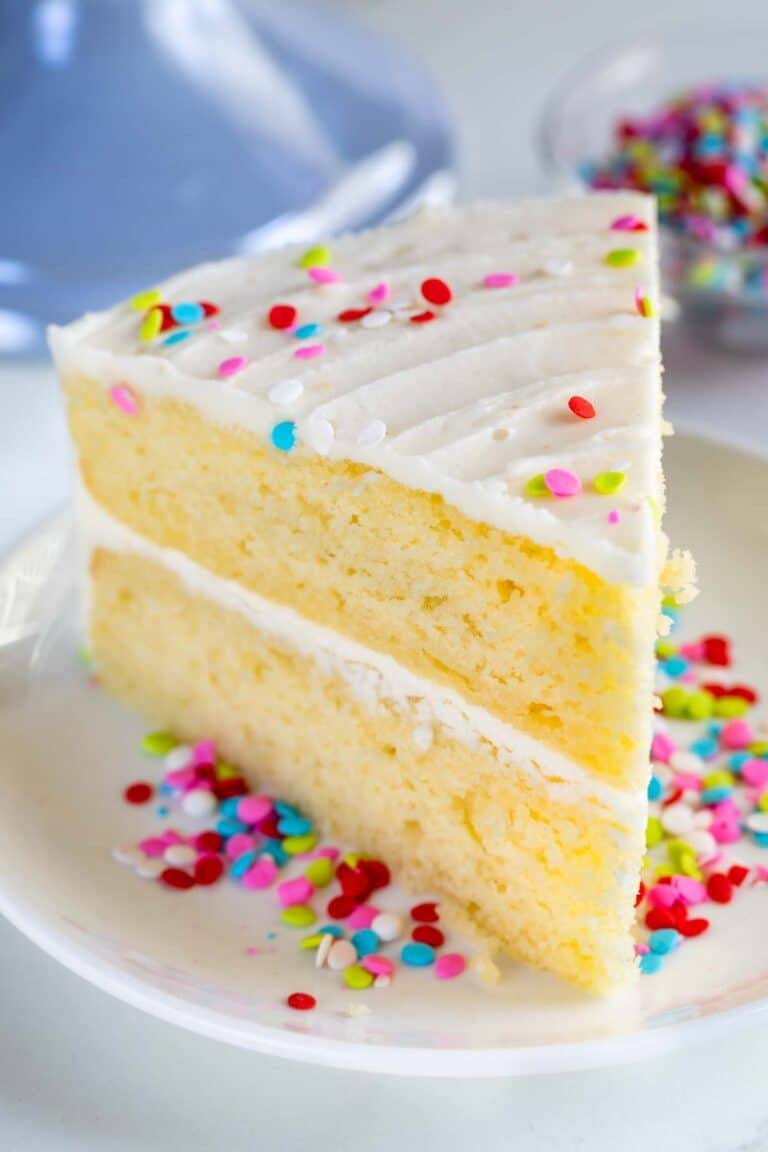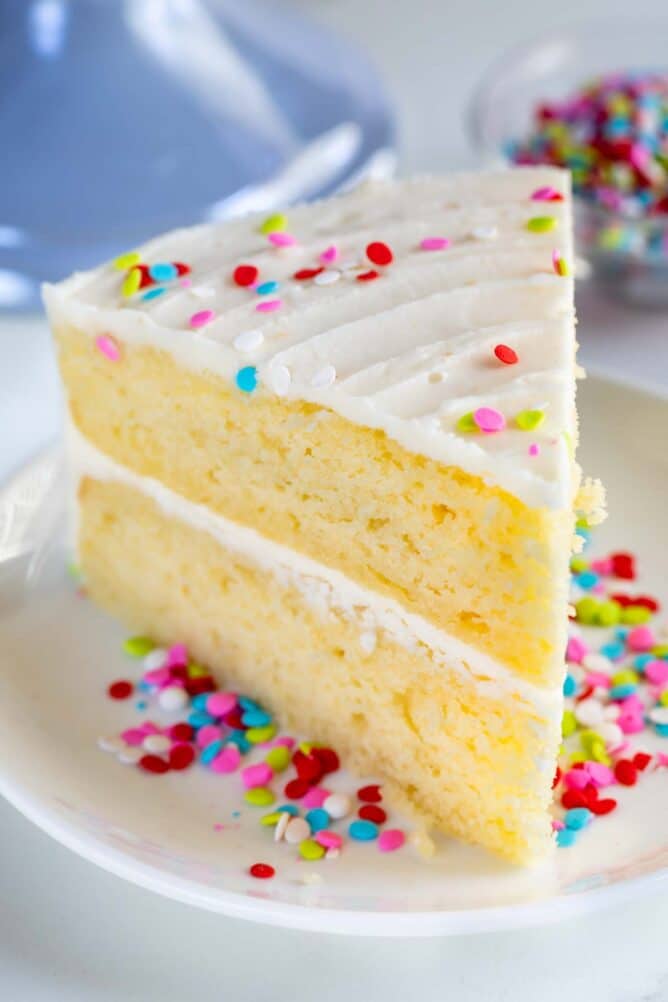 Best Yellow Cake Recipe for cake or cupcakes!
Have you ever wanted to find a recipe for cake that also works for cupcakes? Well, look no further, because this is it!
I got so tired of trying to find a yellow cake that was an all-purpose cake recipe, that I decided to create my own.
If you guys remember, I have a perfect vanilla cupcake recipe and a perfect yellow cake recipe on this blog. BUT! I wanted to come up with one that would work for both. I needed a recipe that was moist, light and airy, and wouldn't make me miss my good old standby, the box mix.
Since the basic yellow cake recipe was derived from the cupcake recipe, I started there and managed to come up with a cake recipe that makes a 9-inch layer cake, 24 cupcakes, or a sheet cake…all in one simple recipe!
This recipe is moist yet sturdy (it can hold up to stacking), fluffy and sweet, and tastes just like a yellow or white cake should. If I'm being honest, white cake and yellow cupcakes are my favorite cake. I'm a vanilla girl at heart!
If you're ready to ditch your box cake mix, then print out this recipe. It's the only one you need from now on, I promise! This is the perfect cake to make with vanilla buttercream frosting.
VIDEO: How to make this Yellow Cake Recipe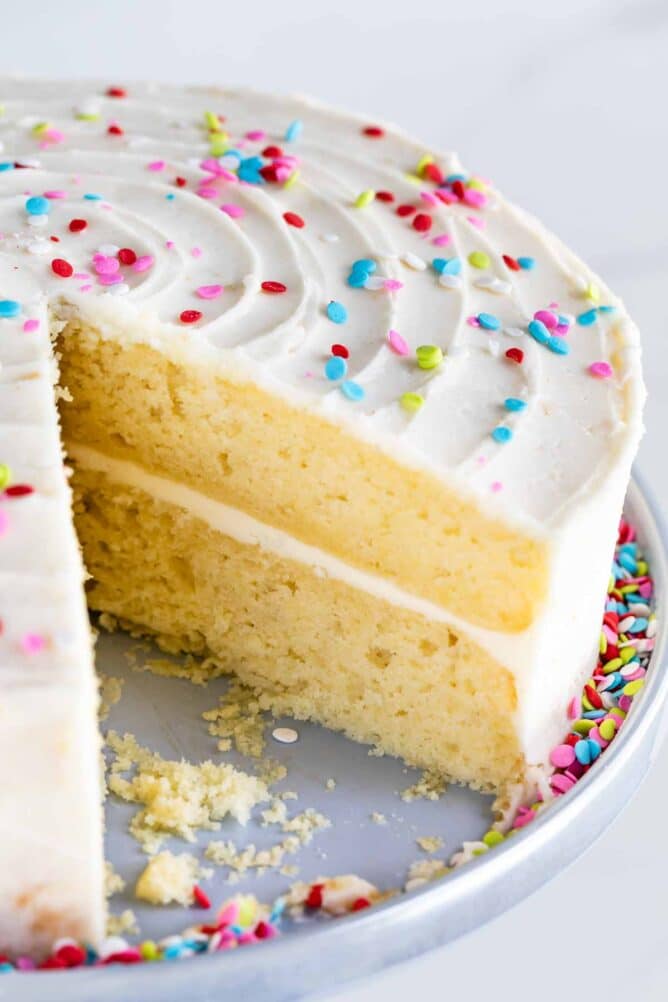 What is Yellow Cake Flavor?
If you've ever wondered what the flavor of yellow cake is, it's basically vanilla. This is a Basic Yellow Cake Recipe, and I call it yellow instead of vanilla because most people think of yellow cake when they think of a box mix.
What makes it yellow are the butter and eggs. The flavor comes from the butter and the vanilla extract. You can use plain vanilla extract or use vanilla bean paste, which I love.
Expert Tips: What makes a cake more moist?
I know, moist. It's such a controversial word in the food world. I mean, I guess I could say tender. Or fluffy? But moist just fits because it encompasses all those things: this cake is tender, fluffy, and not dry. Dry cake *shudder*
There are a few ways you can keep your cake moist, tender, and airy:
I use buttermilk in this recipe. The sourness of the buttermilk helps break down the gluten, keeping the cake moist and tender.
Extra baking powder: this cake uses 3 teaspoons. Getting the right ratio of baking powder can be difficult: too little and the cake doesn't rise enough and is tough, too much and your cake tastes bitter. 3 teaspoons is just right for this cake recipe.
4 eggs add structure, color, flavor, and moistness to the recipe.
Don't over mix it.
Don't over bake it.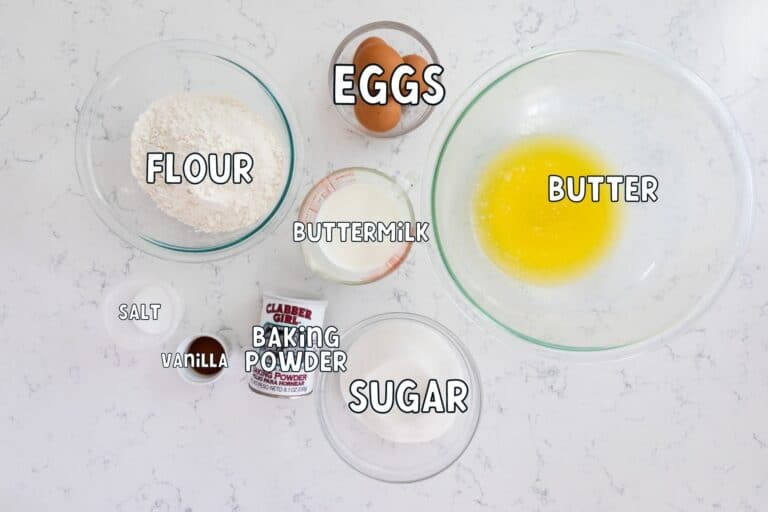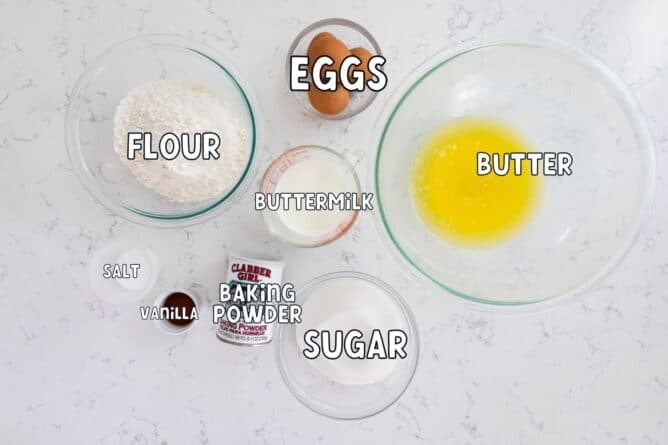 What you need to make Yellow Cake
Melted Butter: Instead of softened, I use melted butter. I find it keeps the cake moister than with softened butter, and it has more flavor than oil.
Sugar: For sweetness – just granulated sugar.
Eggs: Eggs give the cake structure and the fat in the yolk keeps the cake moist (and gives it the telltale yellow color).
Vanilla: For flavor. For even more flavor use vanilla bean paste!
Baking Powder: Helps the cake rise and be nice and fluffy.
Buttermilk: I use buttermilk to add a little extra flavor, plus the tang from the buttermilk keeps the cake moist.
All-Purpose Flour: You'll notice this recipe has all-purpose flour, not cake flour. I prefer that because it's easy to come by. Everyone has all-purpose flour in their pantry; not everyone has cake flour.
The main difference between cake flour and all-purpose is protein content: cake flour has about 8% and all-purpose is slightly higher. This makes for a bit denser of a cake (hence the extra baking powder and buttermilk in my recipe). You can learn all about cake flour here.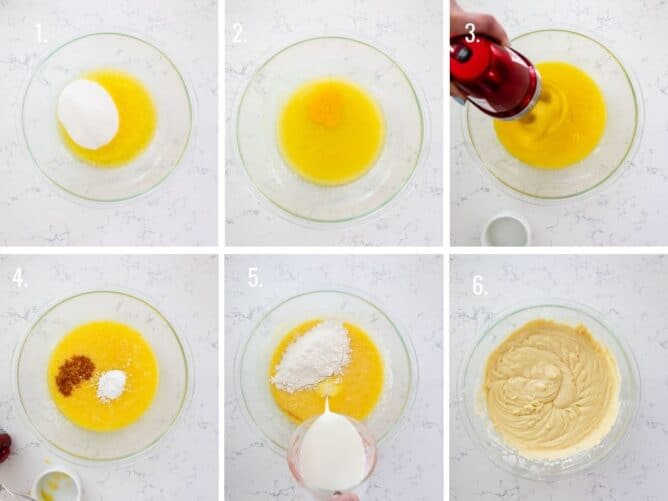 How to make Yellow Cake
Add sugar to melted butter in a large bowl. Mix until smooth.
Add an egg and mix.
Continue mixing, adding eggs one at a time.
Add baking soda, salt and vanilla, then mix.
Add flour and buttermilk in alternate additions, mixing in between.
Don't over mix! Add your batter to your desired pan and bake.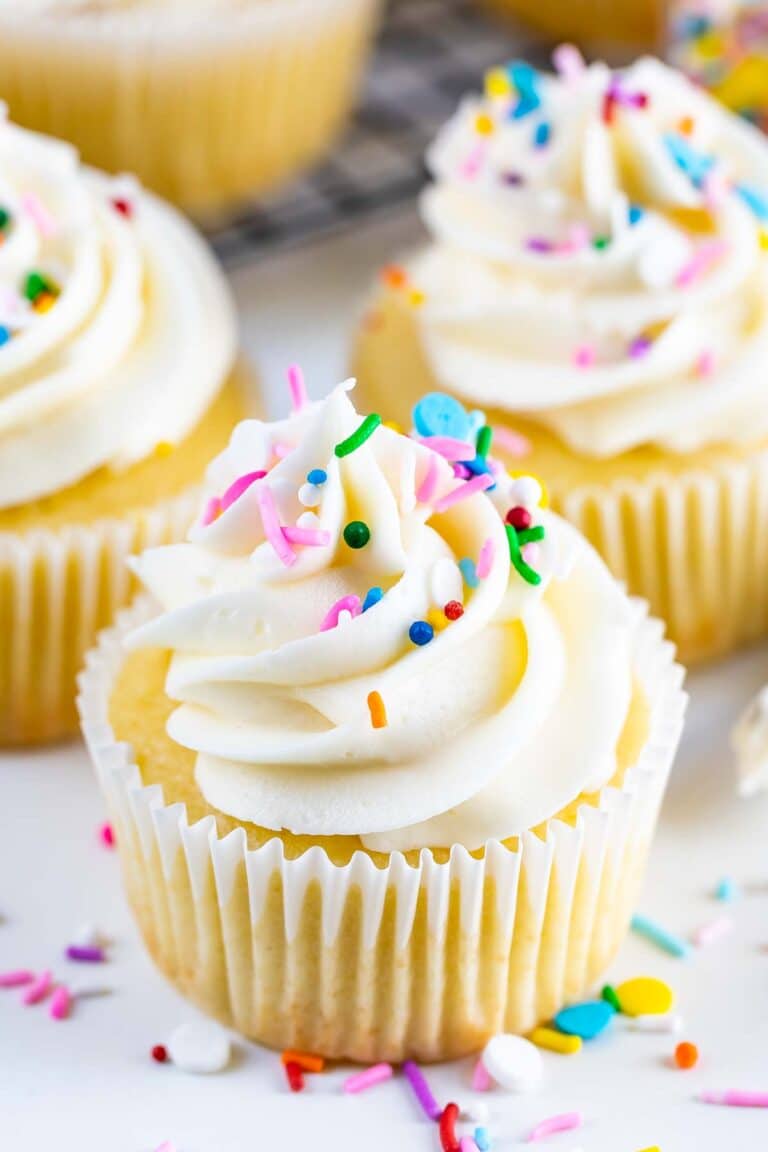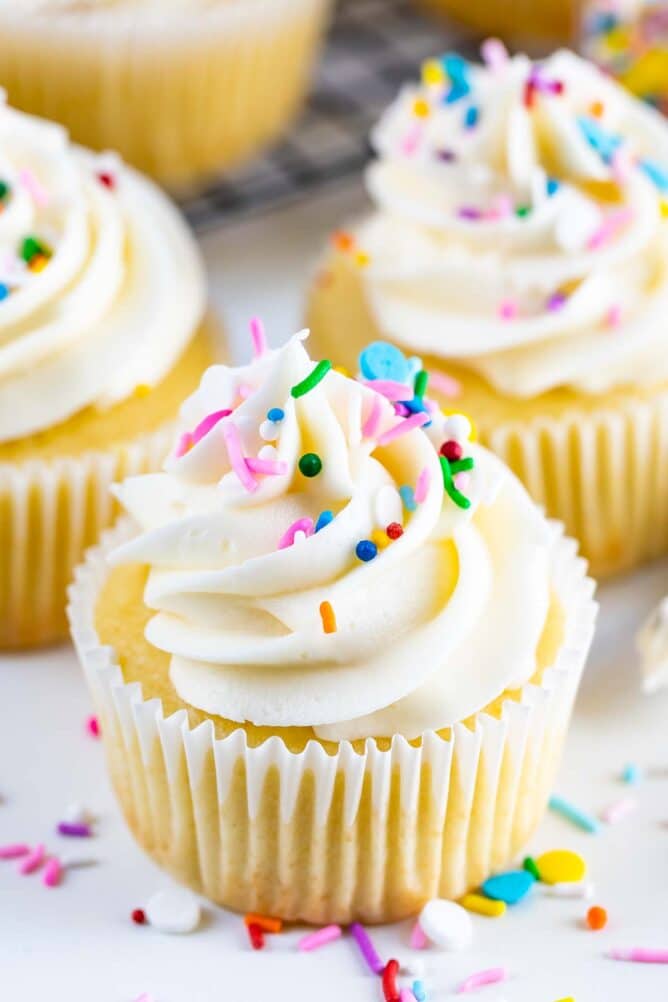 Make Cupcakes with This Cake Recipe
Vanilla cupcakes are perfect for every occasion, because you can dress them up with pretty sprinkles, or chocolate frosting, or any kind of frosting you like. Yellow cake is a blank slate for sprinkles (like funfetti cake), for peanut butter filling, or to make into Twix Cupcakes or anything like that.
I love that this recipe makes perfect number of cupcakes – 24 yellow cupcakes – in case I decide I don't want a layer cake.
Pan Size Equivalents
You can make this recipe a few different ways:
Three 8-inch rounds
Two 9-inch rounds
24 cupcakes
9×13-inch sheet cake
It makes this the perfect all-purpose cake recipe! Learn how to prepare your cake pans here.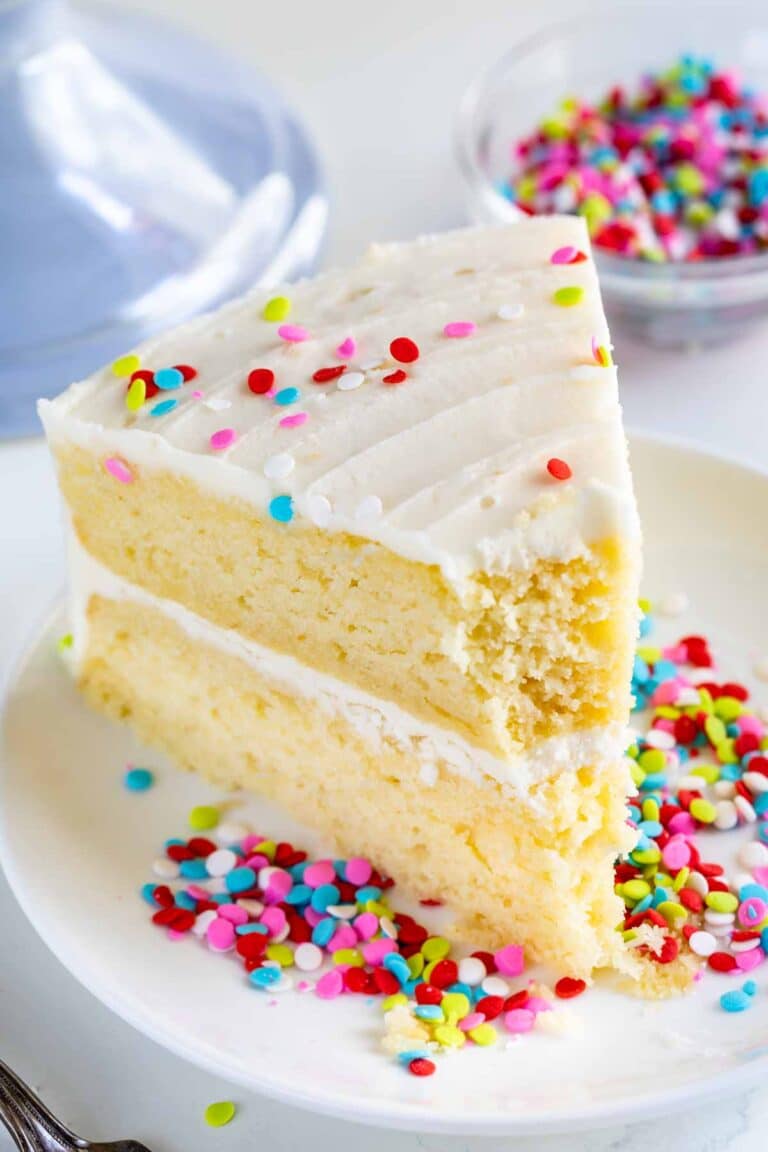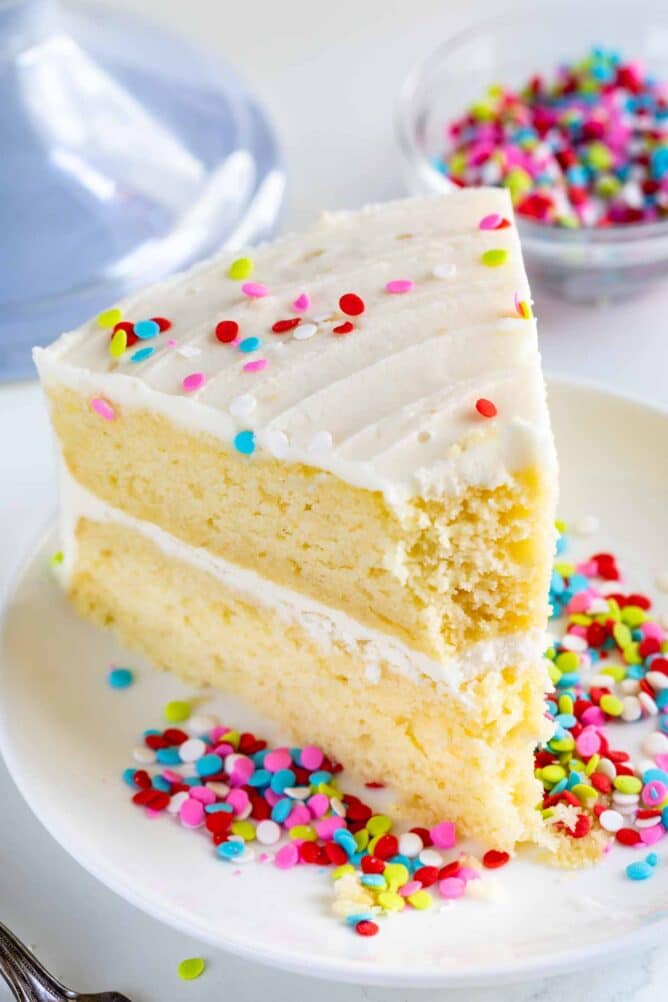 FAQ about my Yellow Cake Recipe
What is the difference between yellow cake and white cake?
Yellow cake uses whole eggs, while white cake uses just egg whites. The egg yolks add a richness and color to the batter of a yellow cake recipe.
Can you make yellow cake without buttermilk?
If you don't have buttermilk, don't worry. You can make this cake with ANY kind of milk, as long as you add 1 teaspoon of vinegar or lemon juice to the batter. However, I recommend using whole milk or full fat non-dairy milk – the more fat in the liquid the better the cake.
Can you make this yellow cake recipe with oil?
You can substitute vegetable oil for the melted butter. This makes it easy to make dairy-free. I recommend adding a bit of butter extract for flavor, but it's not required.
Gluten-Free Cake Option
I have substituted Bob's Red Mill 1:1 GF All-Purpose flour in this cake with success.
Frosting Choices
Reader Favorite Cake Recipes
Have you made this recipe?
Tag @crazyforcrust on Instagram or hashtag it #crazyforcrust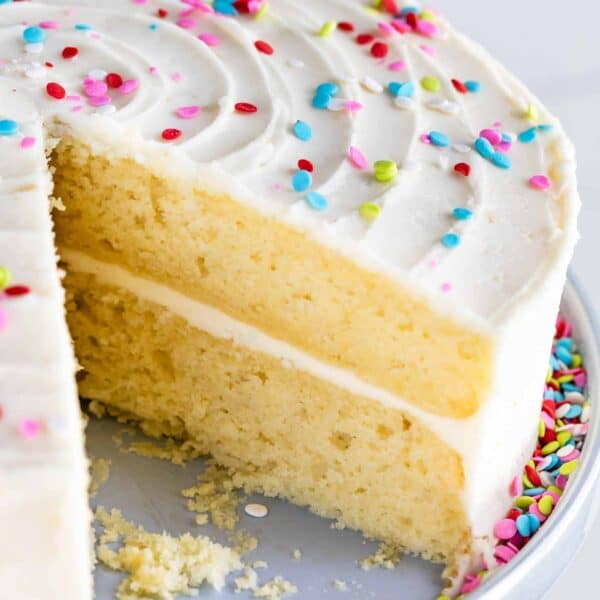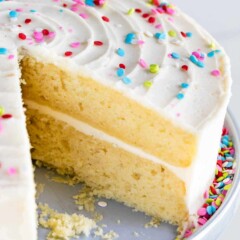 Basic Yellow Cake Recipe
This is the BEST Basic Yellow Cake Recipe! It's perfect for a layer cake, a sheet cake or cupcakes! This easy cake recipe is homemade – you'll never need to buy a box cake mix again.
Assembling Time
30
minutes
Total Time
1
hour
30
minutes
Ingredients
For the Cake:
1/2

teaspoon

salt

3

teaspoons

baking powder

2 1/2

cups

(310g) all-purpose flour

1

cup

(227g) unsalted butter, melted

1 1/2

cups

(297g) granulated sugar

4

large eggs

1

teaspoon

(5 ml) vanilla extract

1 1/4

cups

(296) ml buttermilk
For the frosting:
1

cup

(227g) unsalted butter, softened

4

cups

(452g) powdered sugar

1/2

teaspoon

salt

1

teaspoon

(5 ml) vanilla extract

2-3

tablespoons

(30-45 ml) heavy whipping cream
Instructions
For the cake:
Preheat oven to 350°F. Prepare cupcake pans with liners or grease and flour cake pan(s).

Whisk salt, baking powder, and flour in a medium sized bowl. Set aside.

Using a hand mixer, cream sugar into melted butter until smooth. Beat in eggs, one at a time, then mix in vanilla extract.

Add dry ingredients alternately with the buttermilk, starting and ending with the flour, mixing gently between each addition. Mix until just combined. Be sure to scrape the sides of the bowl.

Pour batter into prepared pans and bake as directed. Cool completely before removing and frosting.

Bake Time: 24 cupcakes: 14-17 minutes // Two 9-inch round pans: 24-27 minutes // Two 8-inch round pans: 25-33 minutes // 9×13-inch pan: 30-40 minutes
For the frosting:
Beat butter until smooth with a hand or a stand mixer. Note: if you're using a hand mixer be sure to use a very large bowl to avoid wearing the powdered sugar.

Add powdered sugar, one cup at a time, and beat on medium speed until crumbly. Mix in salt and vanilla.

Add 1 tablespoon of heavy whipping cream at a time, mixing between each addition, until the frosting is smooth and the desirable consistency.

Frost cake or cupcakes as desired.
Recipe Notes
You can use a 9×13-inch pan, two 8-inch or 9-inch rounds, or make 24 cupcakes.
Recipe Nutrition
Serving:
1
serving
|
Calories:
334
kcal
|
Carbohydrates:
42
g
|
Protein:
3
g
|
Fat:
17
g
|
Saturated Fat:
10
g
|
Cholesterol:
74
mg
|
Sodium:
175
mg
|
Fiber:
1
g
|
Sugar:
30
g
Nutritional information not guaranteed to be accurate
If you love yellow cake, check out Jocelyn's with chocolate frosting, Cheryl's Raspberry Filled Vanilla Cupcakes, or this milk chocolate icing! Perfect Funfetti Cake is great for a birthday!
**Did you make this recipe? Don't forget to give it a star rating below!**
A Basic Yellow Cake Recipe is perfect to make both cake and cupcakes and is better than a box mix!
Last Updated on August 21, 2022