This is the only chocolate cake recipe you need! Skip the box and make my Basic Chocolate Cake recipe. This cake recipe makes a layer cake, a sheet cake, or 24 cupcakes!
I may have called this a basic chocolate cake recipe but it's the BEST ONE! Plus, that fudgy frosting on top is the perfect addition.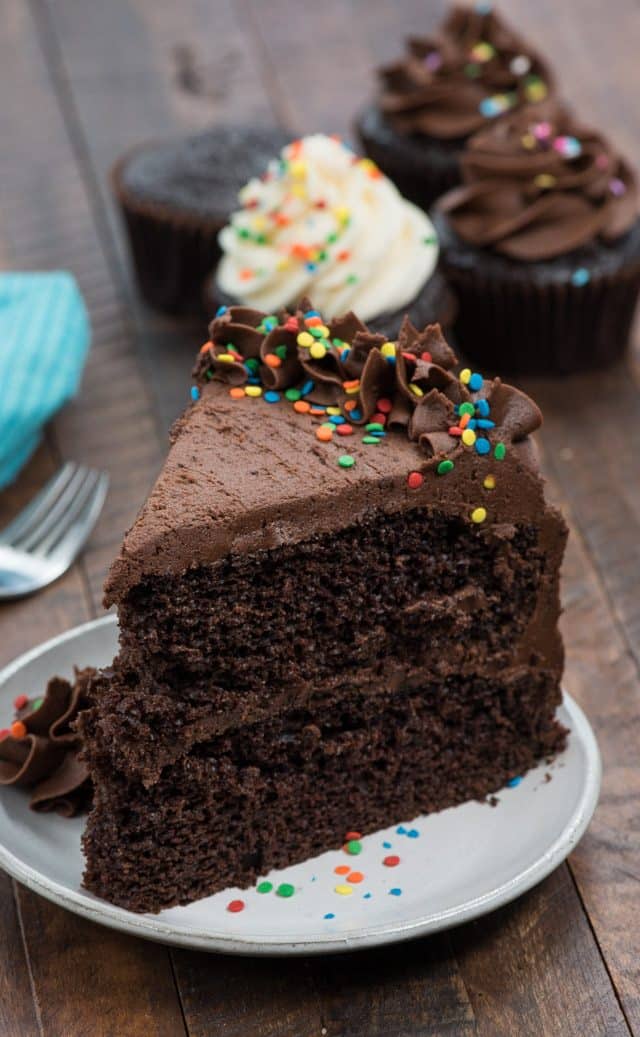 Let's head back to basics with this chocolate cake recipe! I already have a lot of basic recipes on this blog (like yellow cake, sugar cookies, red velvet, etc.) and I'm trying to complete the list. While I already have a chocolate cupcake recipe (which really is the best recipe), I wanted a versatile chocolate cake recipe too.
This easy chocolate cake recipe is actually derived from that chocolate cupcake one, but it's modified to fit in two 9-inch pans. That chocolate cupcake recipe makes over 30 cupcakes and doesn't really fit into a typical layer cake or sheet cake mold, so I wanted something more mainstream for y'all.
With this chocolate cake recipe for cake and cupcakes, you'll NEVER need to buy a box mix again!
Whether you're looking to make a perfect 9-inch layer cake, a 9×13-inch sheet cake, or 24 wonderful cupcakes, this chocolate cake recipe is the only one you need in your arsenal. This cake recipe is great with vanilla frosting or cream cheese frosting, but is perfectly heavenly when paired with the fudgy chocolate frosting in the recipe.
If you're a chocolate cake lover, look no further, because your search for chocolate cake is done!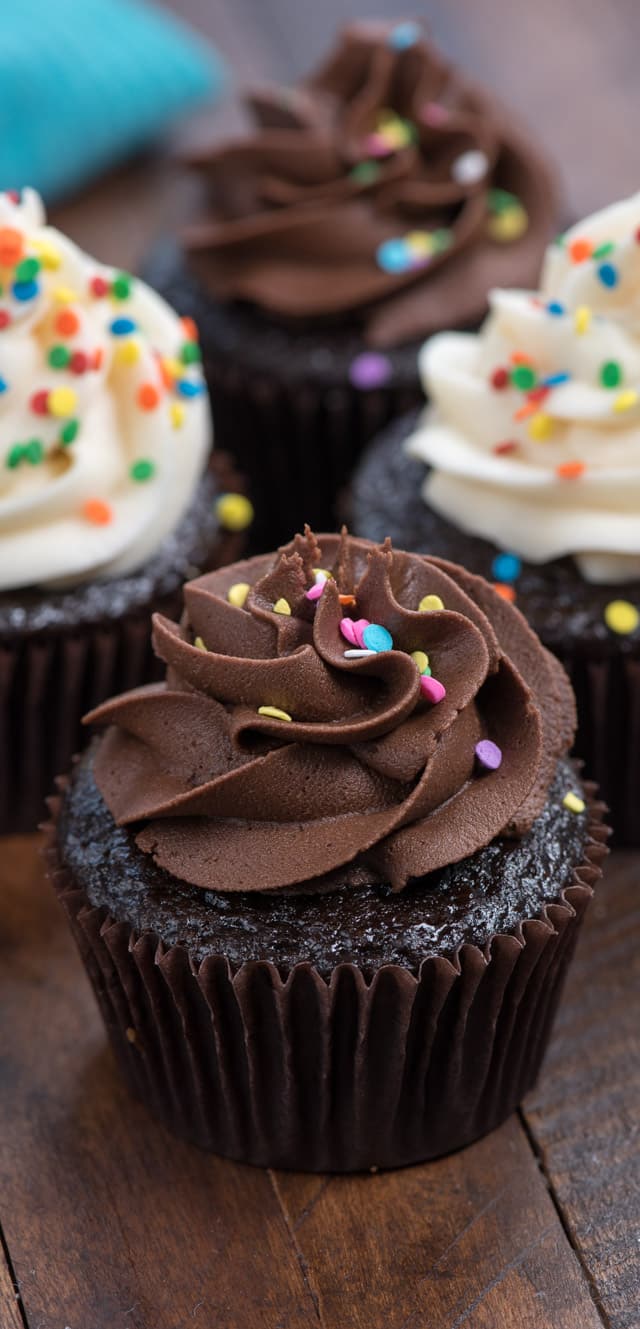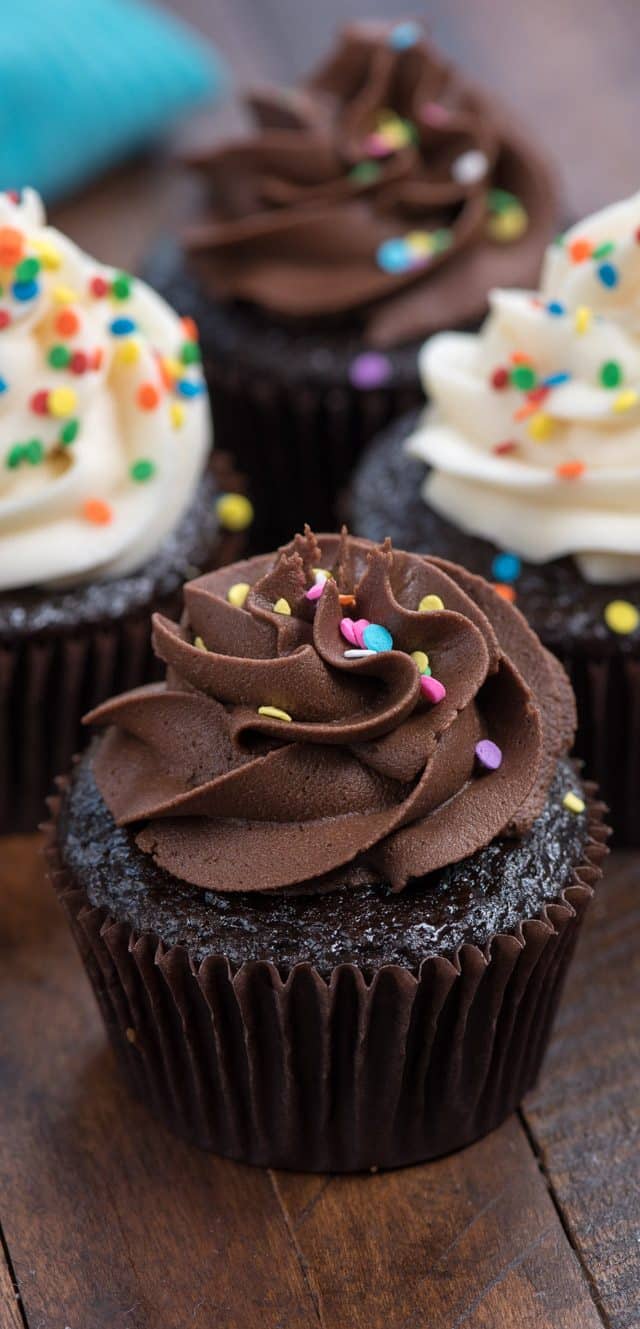 I love that this cake recipe makes 24 cupcakes. I mean, don't get me wrong: I love my best chocolate cupcake recipe that makes 30. Sometimes you need thirty cupcakes…but sometimes you don't. Sometimes you even want to cut a recipe in half and only make 12 cupcakes.
Sometimes you find a recipe that uses a cake mix and you want to make it from scratch – you need a recipe that makes 24 cupcakes for that.
This recipe does all that and more: it makes every kind of chocolate cake you can imagine, with one simple recipe.
Here are a few things I love about this chocolate cake recipe:
It's a simple chocolate cake recipe.
It's a one bowl cake – you don't even need a mixer!
The chocolate flavor is deep and rich.
This recipe produces moist and fluffy chocolate cupcakes that stay soft and flavorful for a few days.
It's the PERFECT Chocolate cake recipe that makes cake and cupcakes too!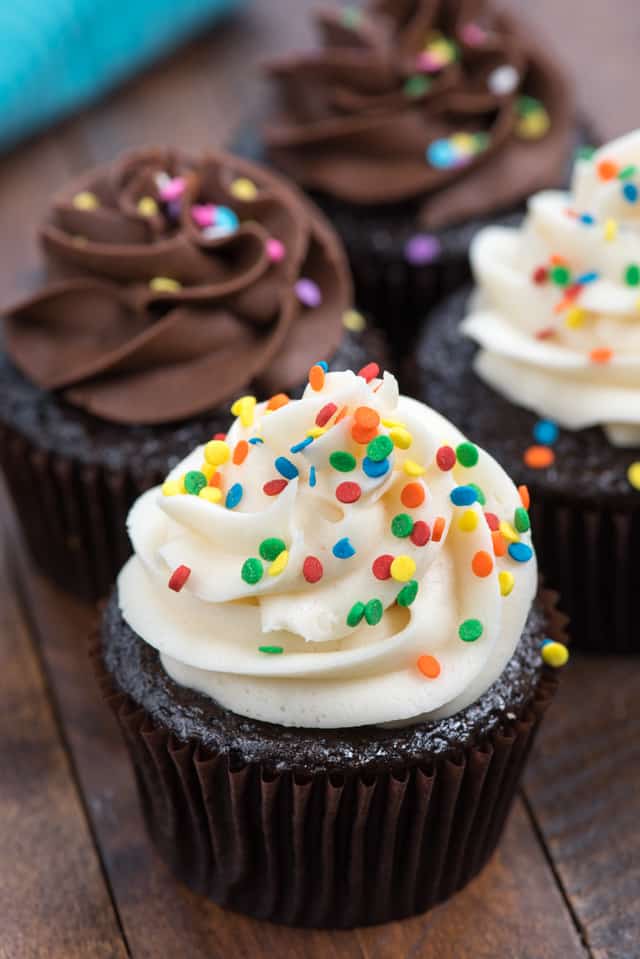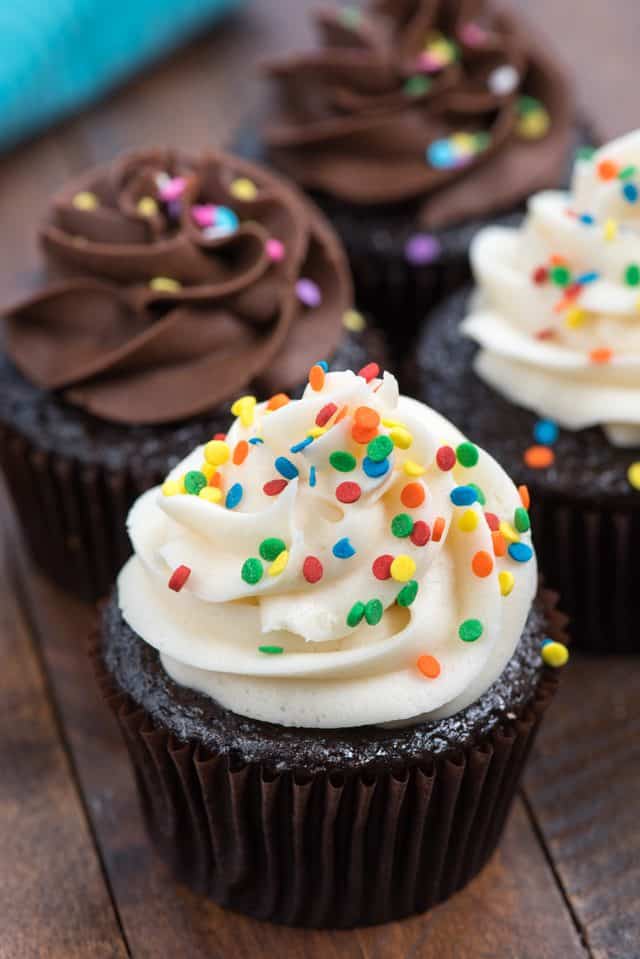 How do you make the perfect chocolate cake recipe?
Let's break down the simple ingredients:
It has the usual cake making suspects: sugar, flour, baking powder, eggs, and cocoa. Use regular or dark cocoa powder (just make sure you're using unsweetened cocoa from the baking aisle).
There are a few unusual suspects to: baking soda, oil, buttermilk, and hot water.
Why do you use oil in a cake recipe?
I love using oil instead of butter in a lot of my cakes. (And when a recipe does call for butter, I often melt it, as I do in my yellow cake recipe.) I find that a liquid fat gives more moisture in a cake than a solid one, hence using oil or melted butter. (After all, think about your favorite chocolate cake mix; it calls for oil, right?)
Why baking soda and buttermilk? Can I substitute milk?
This recipe uses both baking soda and baking powder. The two work in tandem to create lift and keep the cake light and airy.
Baking soda requires an acid to help it activate (like buttermilk). Baking powder is made up of baking soda and enough acid to already cause the reaction. Using them both gives the extra lift needed that baking soda alone wouldn't be able to give.
Since baking soda requires an acid to activate it and make it work, that's why I used buttermilk. That tanginess of the buttermilk comes from the acid that helps the baking soda work.
If you don't have buttermilk you can substitute milk but you also need to add an acid or the baking soda won't work. If you're substituting milk, add 1 teaspoon of white vinegar or lemon juice to the milk; that will create buttermilk!
Also, an important note: baking soda and acid creates a chemical reaction. Remember that volcano from 3rd grade? It erupted right as you added the vinegar; same goes with baking. If a recipe calls for baking soda (especially a cake), it needs to be baked ASAP. There's no wait-and-let-it-sit with this batter. Make it then bake it!
Why do you add hot water to your cake?
You'll notice that the recipe calls for HOT water. Why?
Hot water, when added to a chocolate cake recipe, helps to bloom the cocoa. Blooming the cocoa is an important step because it brings out the flavor and adds depth to the cake. Don't skip the hot water!
Tip: want an extra kick from the chocolate? Add 1 teaspoon of instant espresso or 1 tablespoon instant coffee to the hot water. You won't taste the coffee flavor, but the coffee will bring out the chocolate flavor even more.
What's the best frosting for chocolate cake?
Honestly, I can eat this cake plain, but I'm weird. Vanilla frosting or cream cheese frosting is amazing. So is my Brown Butter Chocolate Frosting.
This recipe uses another favorite chocolate frosting – and it's made with melted butter. I really think melted butter could create world peace; it's that good.
Simply mix the melted butter with cocoa and powdered sugar and add milk (plain old milk!) to the frosting. It'll be smooth and fantastic – but use it immediately. As the butter cools it hardens, so it will get harder to spread the longer it sits out.
All of these things added to the recipe create the perfect chocolate cake that everyone will love. Make cake or cupcakes or your favorite cake mix recipe – homemade!
BEST Chocolate Cake Recipe
This is the only chocolate cake recipe you need! Skip the box and make my Best Chocolate Cake recipe. This cake recipe makes a layer cake, a sheet cake, or 24 cupcakes!
Ingredients
For the Cake
1 3/4

cups

347g granulated sugar 

3/4

cup

63g unsweetened cocoa powder

1

teaspoon

salt

1 1/2

teaspoons

baking powder

1 1/2

teaspoons

baking soda

2 1/2

cups

310g all-purpose flour

1/2

cup

119 ml vegetable oil

2

large eggs

1

cup

237 ml hot water

1

cup

237 ml buttermilk

1

tablespoon

15 ml vanilla extract
For the Fudgy Chocolate Frosting:
1

cup

85g unsweetened cocoa powder

5

cups

565g powdered sugar

1

cup

227g unsalted butter, melted

1

tablespoon

15ml vanilla extract

1/2

teaspoon

salt

5

tablespoons

75ml milk (use regular milk for best results)
Instructions
Make the Cake:
Preheat oven to 350°F. Prepare cupcake pans with liners or grease and flour cake pan(s).

Whisk together sugar, cocoa, salt, baking powder, baking soda, and flour in a large bowl. Set aside.

Whisk oil, eggs, water, buttermilk, and vanilla in a large measuring cup or bowl.

Pour wet ingredients into dry ingredients and whisk until smooth. Batter will be thin.

Pour into prepared pans and bake as directed, or until a toothpick comes out clean from the center. Cool completely before frosting.
Make the Frosting:
Add powdered sugar and cocoa to a very large bowl. Whisk to combine and get out any lumps.

Pour in unsalted butter and mix with a hand mixer or stand mixer until crumbly, then add vanilla and salt.

Add milk and mix until frosting is smooth and the desired consistency. Use immediately.

Bake Time:

24 cupcakes: 13-16 minutes

Two 9-inch rounds: 28-35 minutes

9x13-inch pan: 35-40 minutes
Nutrition Information
Serving:
1
slice
|
Calories:
664
kcal
|
Carbohydrates:
103
g
|
Protein:
7
g
|
Fat:
28
g
|
Saturated Fat:
13
g
|
Cholesterol:
72
mg
|
Sodium:
566
mg
|
Fiber:
6
g
|
Sugar:
73
g
Be sure to check out all of my cake recipes! I also love Barbara's German Chocolate Cake and Holly's Chocolate Mayonnaise cake sounds so interesting!
BEST Yellow Cake Recipe is perfect for all your cake needs.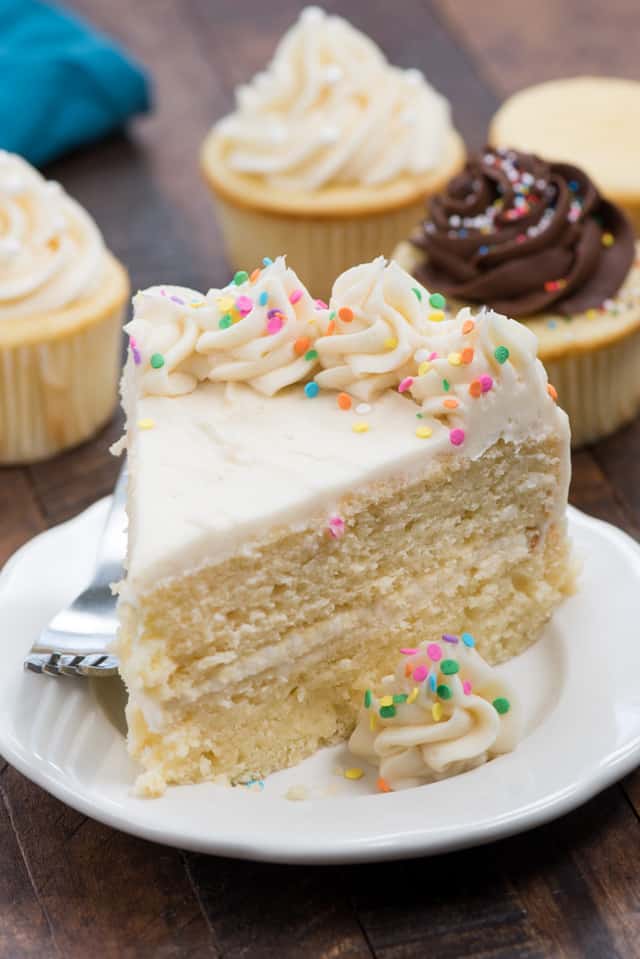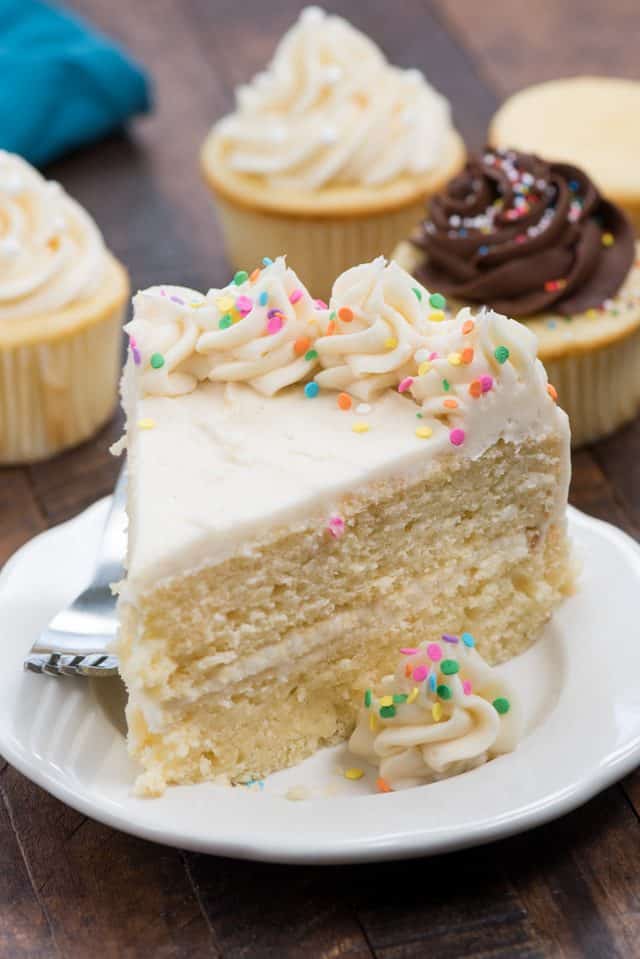 Turn yellow cake into a Funfetti Cake!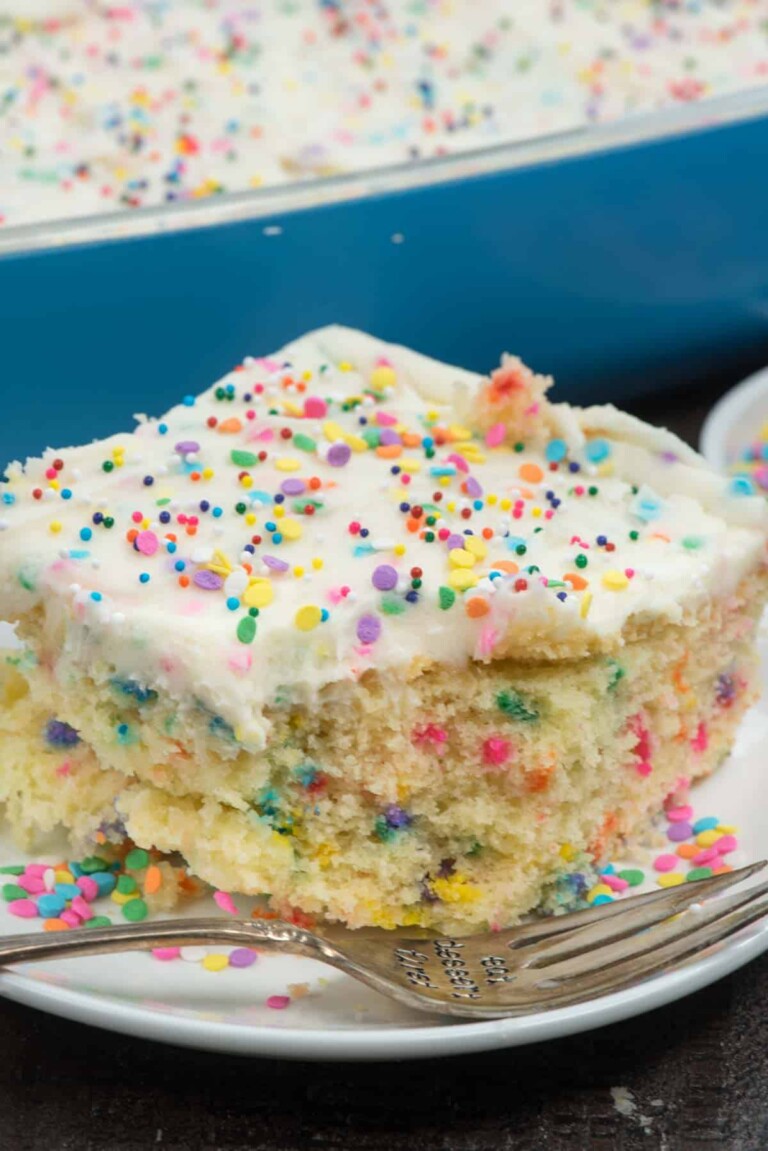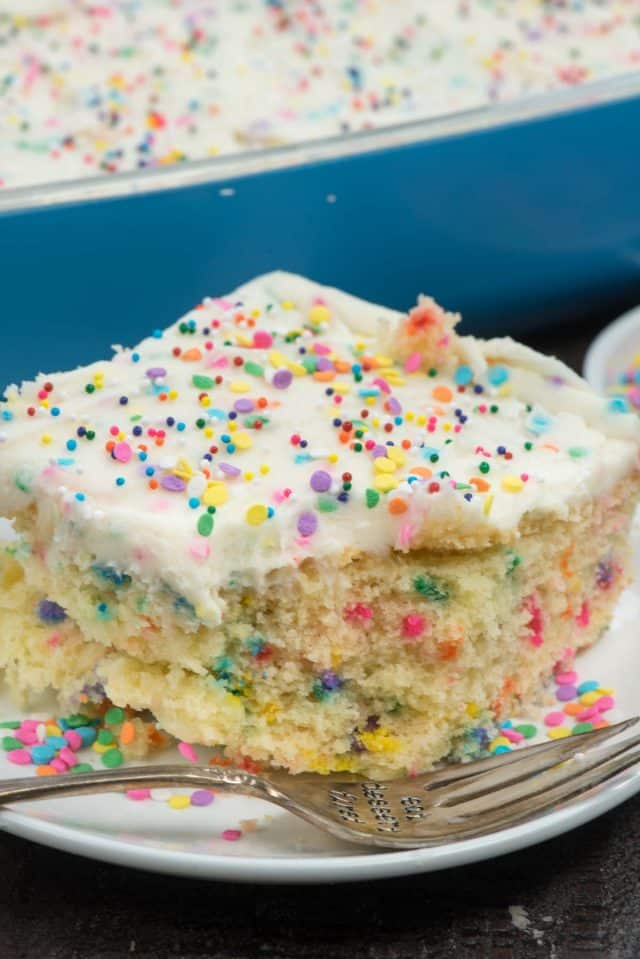 Chocolate Cake is also good made as an OREO Cake!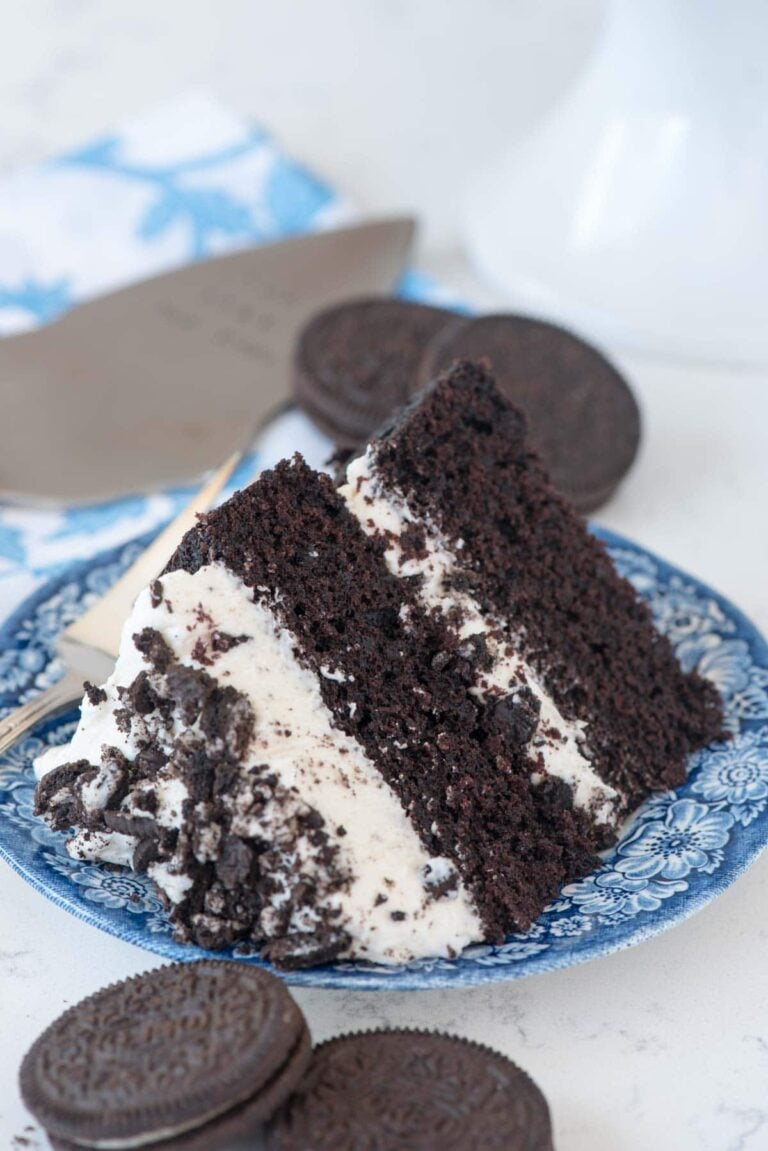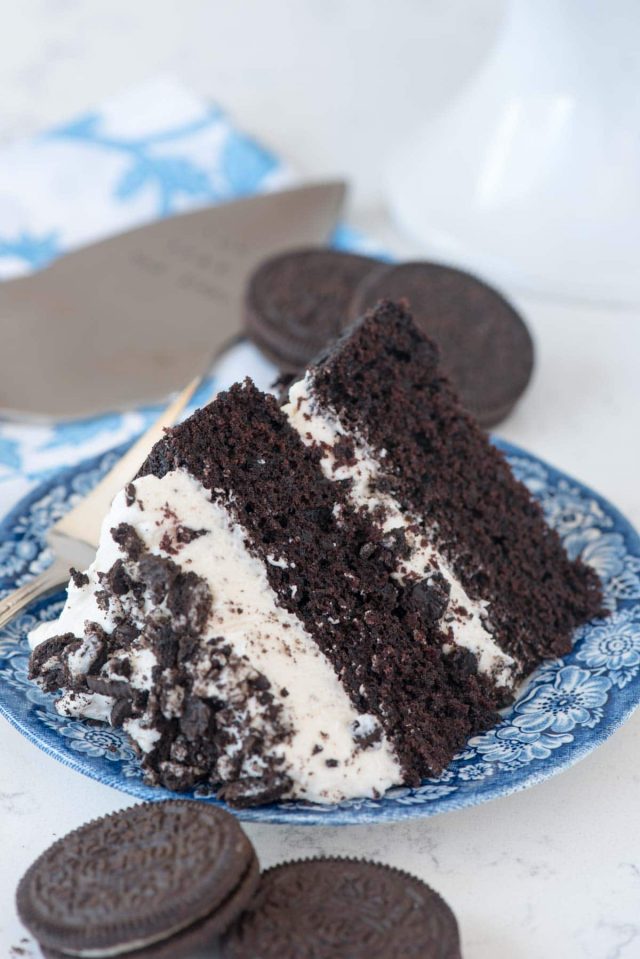 All text and images © DOROTHY KERN for Crazy for Crust. Please do not use my images without prior permission. If you want to republish this recipe, please re-write the recipe in your own words, or link back to this post for the recipe. Disclaimer: Nutrition information shown is not guaranteed to be accurate.
This post may contain affiliate links. For more information, read my disclosure policy.
Published on: June 17, 2018