This post may contain affiliate links. For more information, read my disclosure policy.
This recipe makes the BEST Chocolate Cake and it's the only recipe you need! NEVER buy a box again: this cake recipe makes a layer cake, a sheet cake, or 24 cupcakes!
This is an easy and amazing cake with my absolute favorite fudgy chocolate frosting. I'm not great at making cakes but if I can do it, you can do it!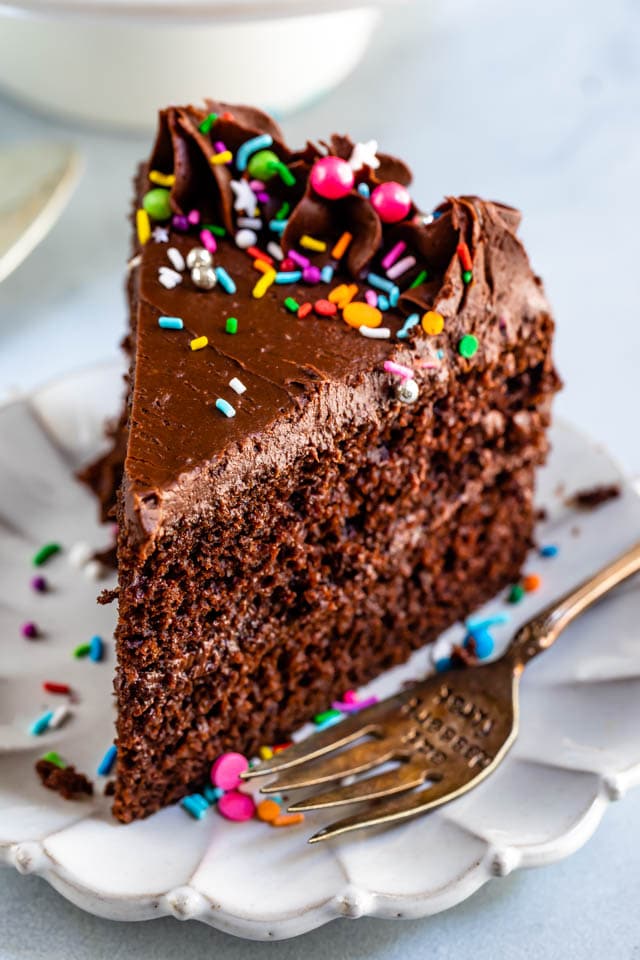 Why this is the BEST Chocolate Cake Recipe
Let's head back to basics with this chocolate cake recipe! I already have a lot of basic recipes on this blog (like yellow cake, sugar cookies, red velvet, etc.) and I'm trying to complete the list. While I already have a chocolate cupcake recipe (which really an amazing recipe), I wanted a versatile chocolate cake recipe too.
I worked extra hard to come up with a chocolate cake that is:
Moist and tender
Super chocolatey and rich but not overly so
Easy to work with, with a simple batter
Can make cupcakes OR any cake
Whether you're looking to make a perfect 8-inch or 9-inch layer cake, a 9×13-inch sheet cake, or 24 wonderful cupcakes, this chocolate cake recipe is the only one you need in your arsenal. You can use any frosting, but my fudgy chocolate frosting is by far my favorite.
If you've been wanting or wondering how to make chocolate cake from scratch, then this is for you.
How to make Chocolate Cake Recipe Video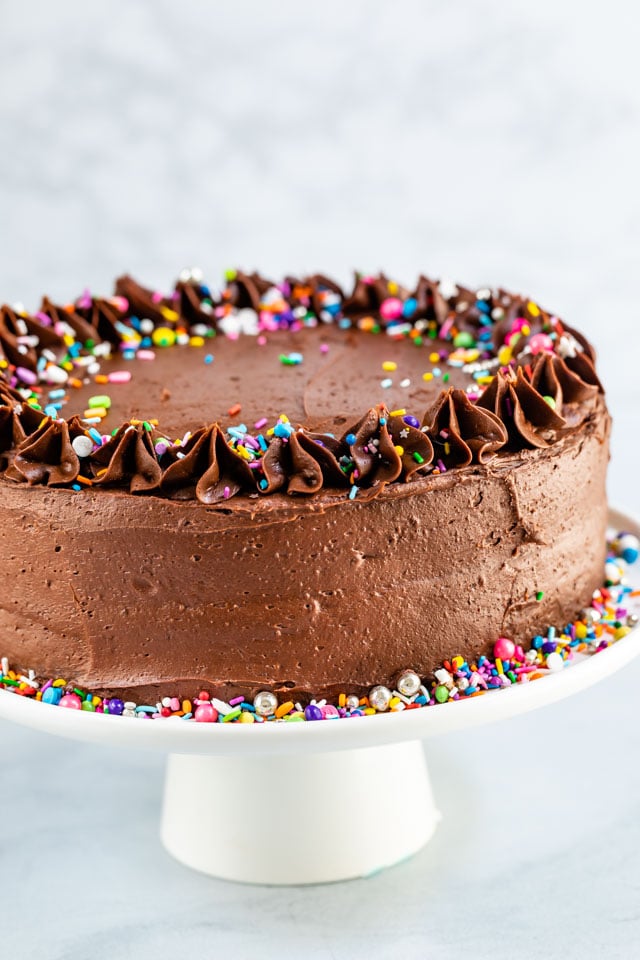 Ingredients
Let's break down the simple ingredients:
It has the usual cake making suspects: sugar, flour, baking powder, and eggs.
Cocoa is a usual ingredient in chocolate cake, and you can use natural unsweetened or special dark (that Hershey's one) but you cannot use dutch process in this cake. (Read all about cocoa here.)
There are a few unusual suspects to: baking soda, oil, buttermilk, and hot water. Let's talk about those in depth.
Why do you use oil in a cake recipe?
I love using oil instead of butter in a lot of my cakes. (And when a recipe does call for butter, I often melt it, as I do in my yellow cake recipe.) I find that a liquid fat gives more moisture in a cake than a solid one, hence using oil or melted butter. (After all, think about your favorite chocolate cake mix; it calls for oil, right?)
Baking Soda and Buttermilk in Cake
This recipe uses both baking soda and baking powder. The two work in tandem to create lift and keep the cake light and airy.
Baking soda requires an acid to help it activate (like buttermilk). Baking powder is made up of baking soda and enough acid to already cause the reaction. Using them both gives the extra lift needed that baking soda alone wouldn't be able to give. (Learn more about baking soda vs baking powder.)
Since baking soda requires an acid to activate it and make it work, that's why I used buttermilk. That tanginess of the buttermilk acts as an acid that helps the baking soda work.
Why do you add hot water to your cake?
You'll notice that the recipe calls for HOT water. Why?
Hot water, when added to a chocolate cake recipe, helps to bloom the cocoa. Blooming the cocoa is an important step because it brings out the flavor and adds depth to the cake. Don't skip the hot water!
Tip: want an extra kick from the chocolate? Add 1 teaspoon of instant espresso or 1 tablespoon instant coffee to the hot water. You won't taste the coffee flavor, but the coffee will bring out the chocolate flavor even more.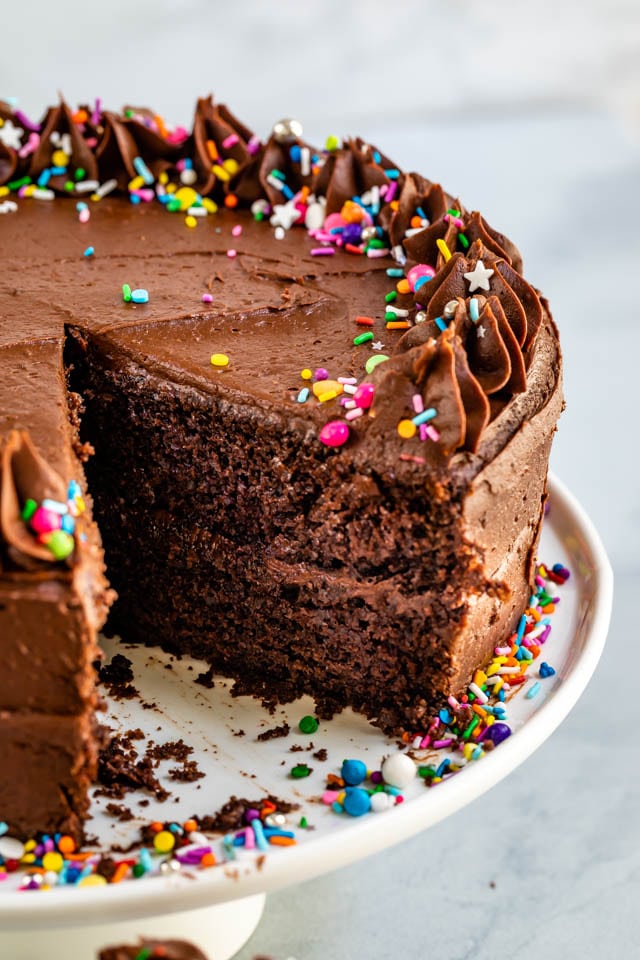 Substitutions
Can I substitute milk or make it dairy-free?
If you don't have buttermilk you can substitute milk but you also need to add an acid or the baking soda won't work. If you're substituting milk, add 1 teaspoon of white vinegar or lemon juice to the milk; that will create buttermilk!
To use non-dairy milk, just make sure to add 1 tsp vinegar or lemon juice to the wet ingredients. This will create the chemical reaction needed to activate the baking soda.
Can I make the cake Gluten-Free?
Yes! To make a gluten free chocolate cake, just substitute 1:1 gluten free all-purpose flour (my favorite is the light blue Bob's Red Mill package).
Baking Tips
Here are a few tips for cake baking success:
Baking soda and acid creates a chemical reaction. Remember that volcano from 3rd grade? It erupted right as you added the vinegar; same goes with baking. The baking soda chemical reaction begins right away and if you don't bake it quickly enough, your cake won't rise.
If a recipe calls for baking soda (especially a cake), it needs to be baked ASAP. There's no wait-and-let-it-sit with this batter. Make it then bake it!
Other baking tips for cake making success: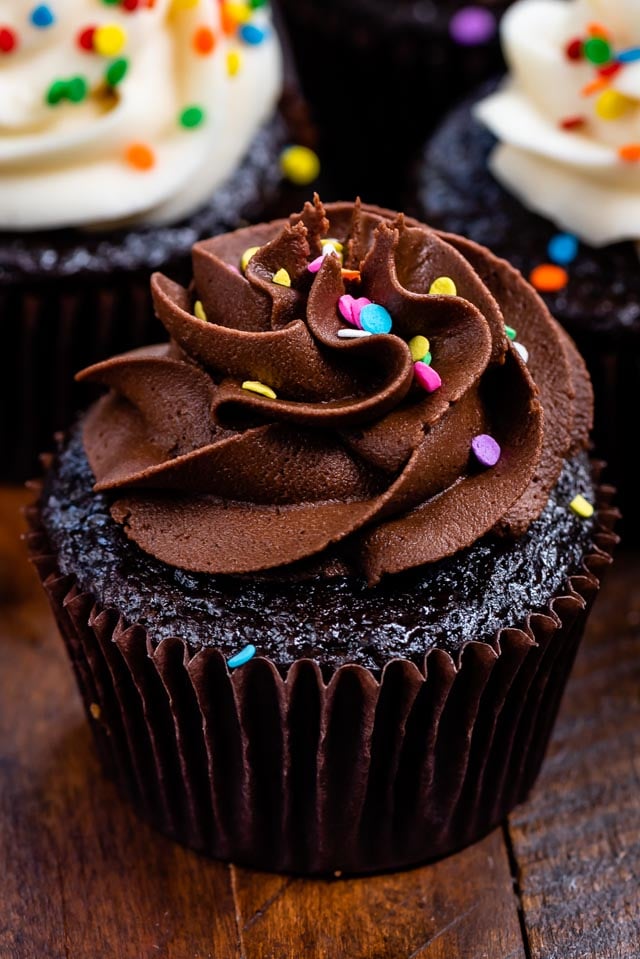 Other Pan Sizes
I love that this cake recipe cane be used to make other size cakes and cupcakes.
Here are the best pan sizes for this cake:
Two 9-inch rounds (with tall 3-inch sides; that's important!)
Three 8-inch rounds
9×13-inch pan
24 Cupcakes
Best Chocolate Fudge Frosting
Honestly, I can eat this cake plain, but I'm weird. Vanilla frosting or cream cheese frosting is amazing. So is my Brown Butter Chocolate Frosting.
This recipe uses another favorite chocolate frosting that is super fudgy. What makes it so good and fudgy? Melted Butter!
Besides the melted butter, this frosting has the other usual subjects: powdered sugar, cocoa, salt and vanilla.
It also uses milk to thin it and it is important you use whole milk (low-fat or non-fat is fine too) and not heavy cream. Heavy Whipping Cream will make it too gloppy to spread.
The most important tip about the frosting is that, because it starts with melted butter, you have to make it right before you use it. It will start to harden after a little bit, so have the cakes all ready to frost BEFORE making the frosting, and it'll spread just fine.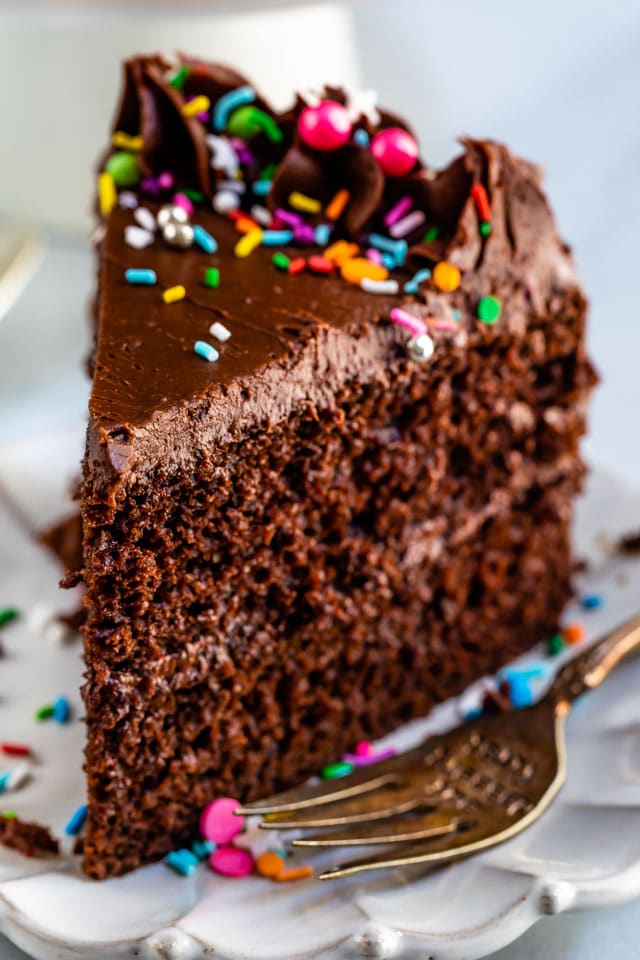 FAQ
How do you keep chocolate cake moist?
Make sure not to over bake the cake or it will be dry. This cake is super moist thanks to the baking soda and vinegar!
What makes cake moist and soft?
Mixing the sugar with the fat properly can keep the cake soft, not over baking, and measuring flour correctly all can keep your cake moist and soft.
How to store chocolate cake?
Store the frosted cake loosely covered. You don't have to chill it but you can, although the refrigerator can dry it out. Once it's sliced I recommend storing it on the counter for up to 3 days.
Can you freeze a simple chocolate cake recipe?
You can freeze the layers before you assembling, just wrap them well in plastic wrap first. You can freeze the whole cake frozen but I don't really recommend that unless you're just freezing leftovers.
Other Favorite Cakes
Have you made this recipe?
Tag @crazyforcrust on Instagram or hashtag it #crazyforcrust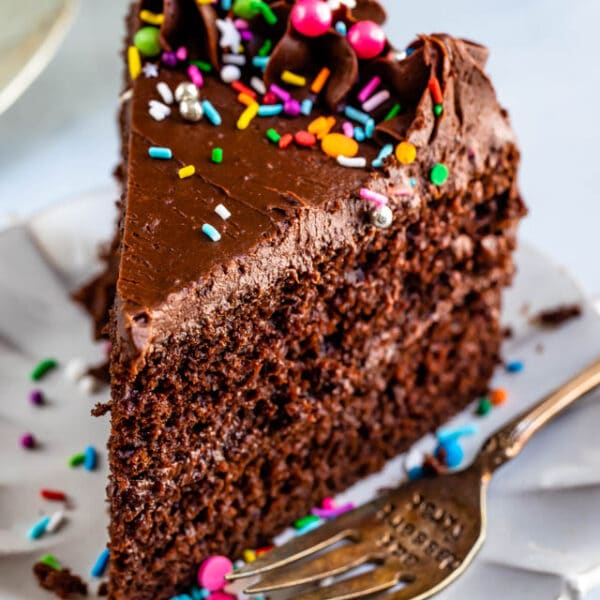 BEST Chocolate Cake Recipe
This is the only chocolate cake recipe you need! Skip the box and make my Best Chocolate Cake recipe. This cake recipe makes a layer cake, a sheet cake, or 24 cupcakes!
Ingredients
For the Cake
1 3/4

cups

granulated sugar

(347g)

3/4

cup

unsweetened cocoa powder

(63g)

1

teaspoon

salt

1 1/2

teaspoons

baking powder

1 1/2

teaspoons

baking soda

2 1/2

cups

all-purpose flour

(310g)

1/2

cup

vegetable oil

(119 ml)

2

large eggs

1

cup

hot water

(237ml)

1

cup

buttermilk

(237ml)

1

teaspoon

vanilla extract

(5ml)
For the Fudgy Chocolate Frosting:
1

cup

unsweetened cocoa powder

(85g)

5

cups

powdered sugar

(565g)

1

cup

unsalted butter, melted

(227g)

1

teaspoon

vanilla extract

(5ml)

1/2

teaspoon

salt

5

tablespoons

milk

(75ml), use regular milk for best results
Instructions
Make the Cake:
Preheat oven to 350°F. Prepare cupcake pans with liners or grease and flour cake pan(s).

Whisk together sugar, cocoa, salt, baking powder, baking soda, and flour in a large bowl. Set aside.

Whisk oil, eggs, water, buttermilk, and vanilla in a large measuring cup or bowl.

Pour wet ingredients into dry ingredients and whisk until smooth. Batter will be thin.

Pour into prepared pans and bake as directed, or until a toothpick comes out clean from the center. Cool completely before frosting.
Make the Frosting right before using:
Add powdered sugar and cocoa to a very large bowl. Whisk to combine and get out any lumps.

Pour in unsalted butter and mix with a hand mixer or stand mixer until crumbly, then add vanilla and salt.

Add milk and mix until frosting is smooth and the desired consistency. Use immediately.

Bake Time:

24 cupcakes: 13-16 minutes

Two 9-inch rounds: 28-35 minutes

9×13-inch pan: 35-40 minutes
Recipe Notes
Use Unsweetened Cocoa or Hershey's Special Dark Cocoa but NOT Dutch Process
Substitute 1:1 gluten free AP flour to make these gluten-free
For the buttermilk, you can substitute milk or non-dairy milk by adding 1tsp vinegar or lemon juice to the wet ingredients.
Recipe Nutrition
Serving:
1
slice
|
Calories:
664
kcal
|
Carbohydrates:
103
g
|
Protein:
7
g
|
Fat:
28
g
|
Saturated Fat:
13
g
|
Cholesterol:
72
mg
|
Sodium:
566
mg
|
Fiber:
6
g
|
Sugar:
73
g
Nutritional information not guaranteed to be accurate
Be sure to check out all of my cake recipes! I also love Barbara's German Chocolate Cake and Holly's Chocolate Mayonnaise cake sounds so interesting!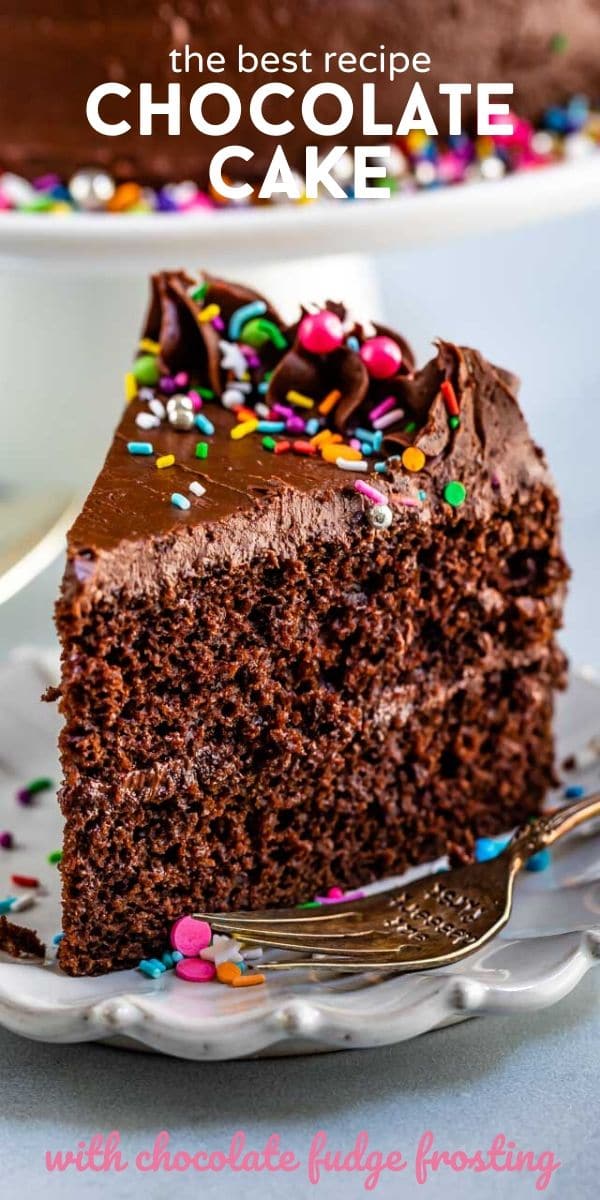 Hands down the BEST Homemade Chocolate Cake Recipe you'll try! So easy, moist and has a fudgy chocolate frosting. This can be made as a sheet cake, layered cake or even cupcakes.
Last Updated on June 2, 2021