This post may contain affiliate links. For more information, read my disclosure policy.
You guys. That's not peanut butter frosting…it's peanut butter ice cream! On top of the fudgiest brownies ever!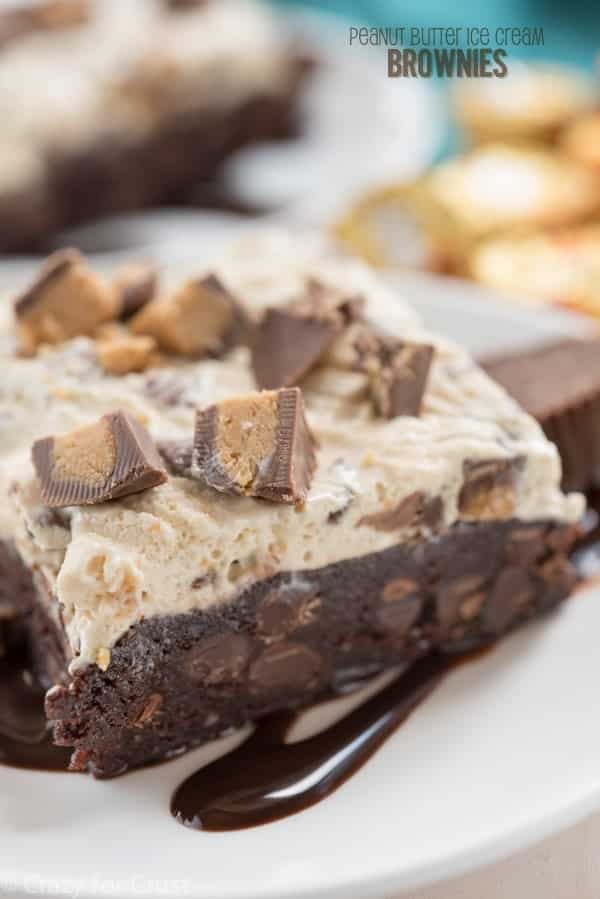 Today is a very special day in our house. Why, you ask? Well, today is the day that Mel force feeds himself something sweet just to make me happy! Why does he do that? Because it's his birthday today!
I know, you're thinking that doesn't make sense. Why would he force himself to eat dessert on his own birthday?
Happy wife, happy life is all I have to say. 😉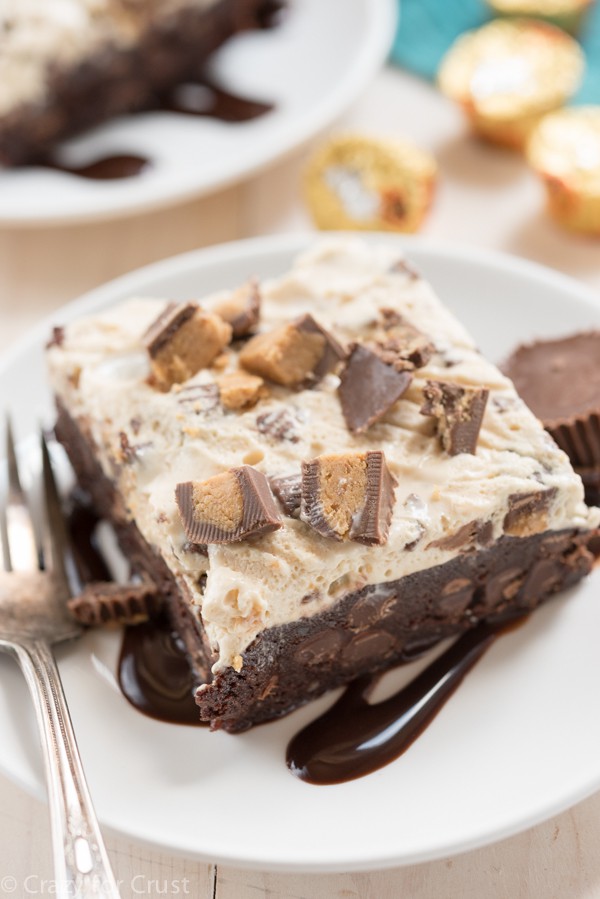 The reason he eats dessert on his birthday is because I'm guaranteed to make something he likes. It's either going to be peanut butter or carrot cake, and this year peanut butter won (as it usually does).
And by "eats dessert on his birthday" I mean he will "eat one bite of dessert on his birthday". Whatever, I still win. I make something outrageously peanut buttery, he takes a bite, gives it a thumbs up, and then it gets the Mel Ate It tag.
(BTW, if you click on that link you'll get the list of recipes he's eaten on this blog. Remember, there are over 800 recipes or something on this blog. This short list does not mean my recipes suck, it means that he is weird when it comes to dessert…but I love him anyway.)
This birthday dessert? Might be the most epic of all of them. It's a Peanut Butter Ice Cream Brownie: a fudgy brownie topped with peanut butter ice cream. Like an ice cream cake but an ice cream brownie.
See? EPIC.
I think this might be my favorite of all the birthday desserts I've made him. It's kind of a combination of these deep dish cookie sundaes, peanut butter brownie ice cream, and last year's frozen peanut butter cheesecake. Ice cream for his birthday seems to be a theme (especially considering I made him an carrot cake ice cream cake one year). Ice cream is one of his favorite things and peanut butter is his #1 addiction.
And, well. Jordan and I like brownies so…we made a combo. 🙂
As always,this recipe is very simple. It starts off with an easy one bowl brownie recipe. I used dark chocolate cocoa powder, filled them with chocolate chips, and baked them in an 8×8″ pan. This gives a thick, chewy, super chocolatey, and fudgy brownie – with only one bowl! You don't even need to melt any butter or chocolate or anything. #easypeasy
This brownie recipe is also the base recipe for my Brownie Mix Recipe, in case you were wondering. If you have a jar of that amazingness laying around, make it as directed in that post for a 9×9″ pan, adding the chocolate chips. You can bake it in a 9×9 or an 8×8, your choice. Once the brownies cool, you remove them from the pan (using the foil liner, see instructions). Then you get ready to make your ice cream brownie (cake)!

The ice cream "frosting" is, as usual, an easy no-churn recipe. I mix peanut butter with sweetened condensed milk and whipped topping (or fresh whipped cream) to make the most decadent ice cream – without any fancy gadgets or machines. I chopped up some peanut butter cups and put them in the ice cream because Mel loooooves those things. You can omit them…but then we can't be friends anymore. 😉
Here's how you assemble your ice cream brownie: once you've removed the sheet of brownies using the foil, line the pan with plastic wrap. Remove the foil from the brownies and place them back in the pan. Frost them with the ice cream mixture – before it's frozen – then wrap it up in more plastic.
Simply freeze the whole slab until the ice cream hardens and then you have ice cream frosted brownies! The brownies are so fudgy they can be eaten straight from the freezer. Which is a good thing…or a bad thing depending on how you look at it.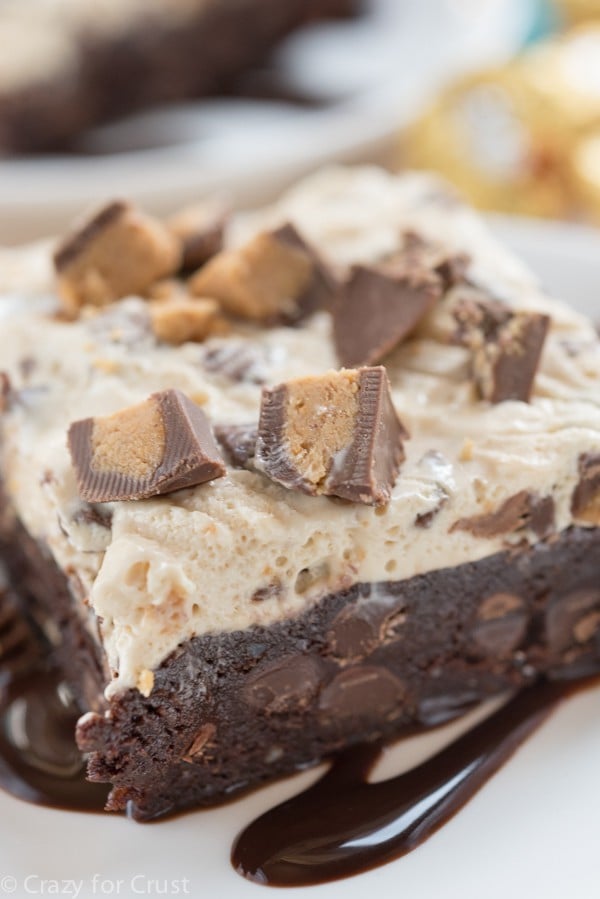 My goal is to get him to eat two bites of his dessert this year. Should we make a wager?
To Mel: Happy birthday sweetie!! I love you lots and hope you know my making fun of how much dessert you love is a joke. Except I do think it's kind of weird you can resist it all, but whatever. xoxox 🙂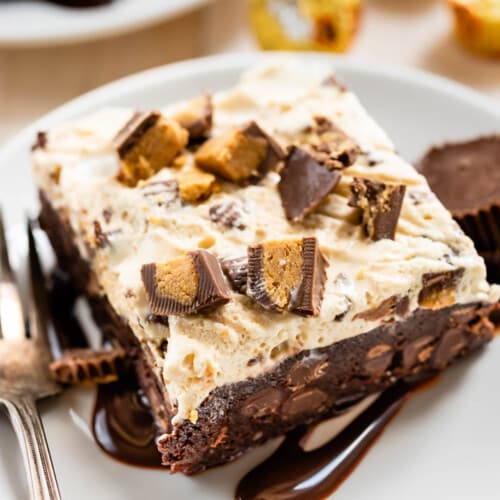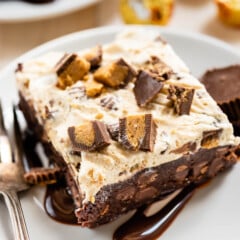 Peanut Butter Ice Cream Brownies
These super fudgy brownies are topped with peanut butter ice cream for the ultimate froze dessert indulgence!
Ingredients
For the brownies:
You may use a box mix or my homemade brownie mix for an 8x8 or 9x9 pan if you prefer.

1/2

cup

vegetable oil

1

cup

granulated sugar

2/3

cup

unsweetened cocoa powder

2

large eggs

1

tablespoon

vanilla extract

1

tablespoon

water

1/2

cup

flour

1

cup

chocolate chips
For the ice cream:
1/4

cup

sweetened condensed milk

2

tablespoons

peanut butter

1/4

teaspoon

vanilla extract

1 1/2

cups

whipped topping or fresh whipped cream

3/4

cup

peanut butter cups

chopped (about 12 miniature Reese's)
Instructions
Preheat oven to 350°F. Line an 8x8 or 9x9 pan with foil and spray with cooking spray.

Stir oil, sugar, cocoa, eggs, vanilla, and water until smooth. Stir in flour, then stir in chocolate chips. Spread in prepared pan and bake for 23-26 minutes until they just start to loose their glossy sheen. (I like mine a little under done.) Cool completely before continuing.

Stir together sweetened condensed milk, peanut butter, vanilla, and whipped topping. Stir in peanut butter cups.

Use foil to carefully remove the entire sheet of brownies from the pan. Line the same pan with plastic wrap, making sure that the plastic overhangs the edges and that the plastic comes up the sides of the pan all the way.

Remove the foil from the brownies and place the brownie slab carefully back in the pan, on top of the plastic. Spread ice cream mixture on top. Wrap up the plastic wrap, adding more as needed, to completely cover the ice cream layer. Freeze for at least 4 hours or overnight before serving. Store in freezer.
Nutritional information not guaranteed to be accurate
UPDATE: He had a slice! And he proclaimed it in the top 5 desserts of all time so…you should make these today. 🙂
Get all my No Churn Ice Cream Recipes here.
Click here to see more PEANUT BUTTER recipes!
Peanut Butter Brownie Ice Cream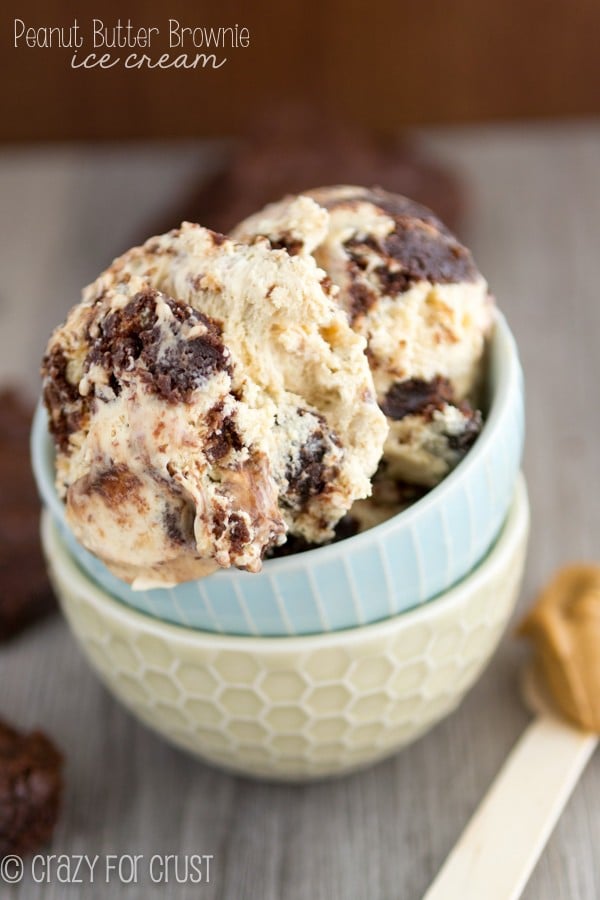 Fudgy Peanut Butter Swirl Brownies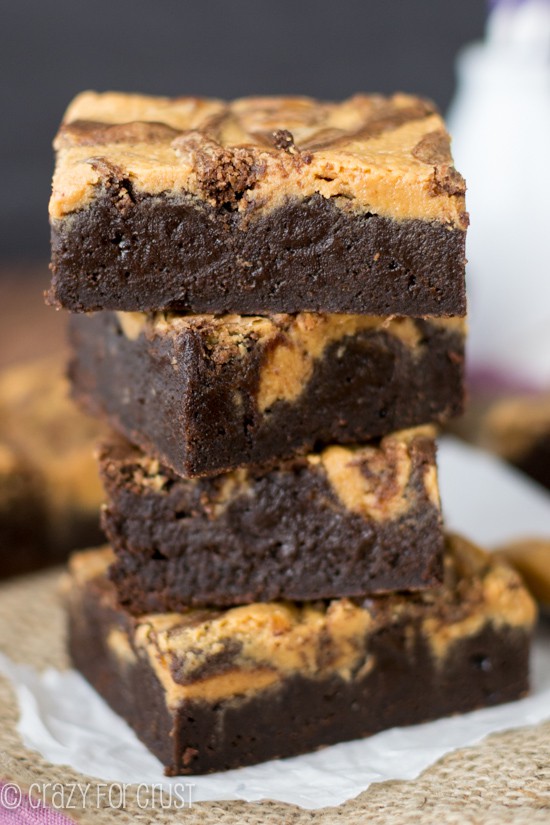 Reese's Brownies with Oreo Crust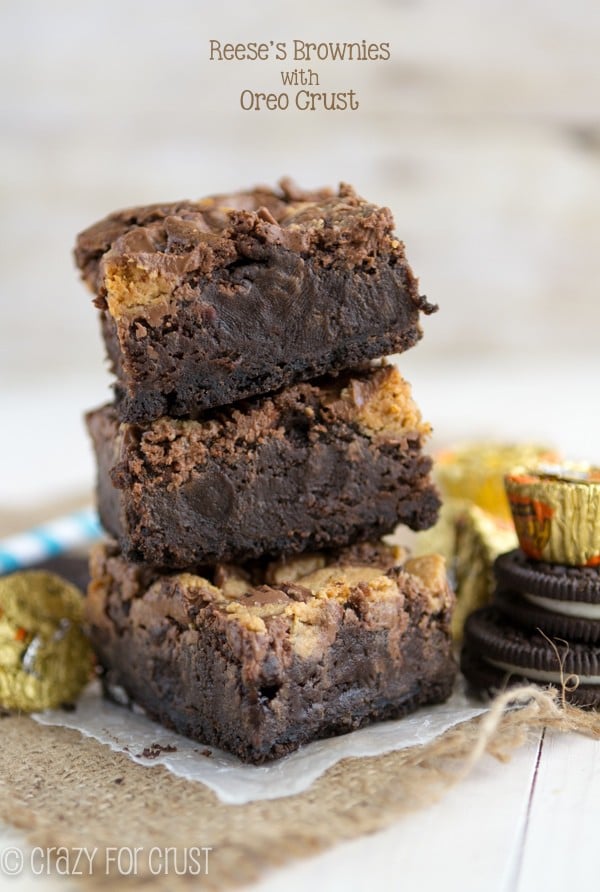 Sweets from friends:
Mocha Brownie Ice Cream Cake by Life, Love, and Sugar
Mint Chip Brownie Ice Cream Squares by Glorious Treats
Toffee Ice Cream Brownie Bars by Two Peas and their Pod
Last Updated on August 21, 2018