This post may contain affiliate links. For more information, read my disclosure policy.
Last summer, when I made these ice cream cupcakes, raise your hand if you said to yourself "bet she makes a mint version some day!"
Some day is here, my friends. I made Mint Chip Ice Cream Cupcakes and that was the best decision I made all month.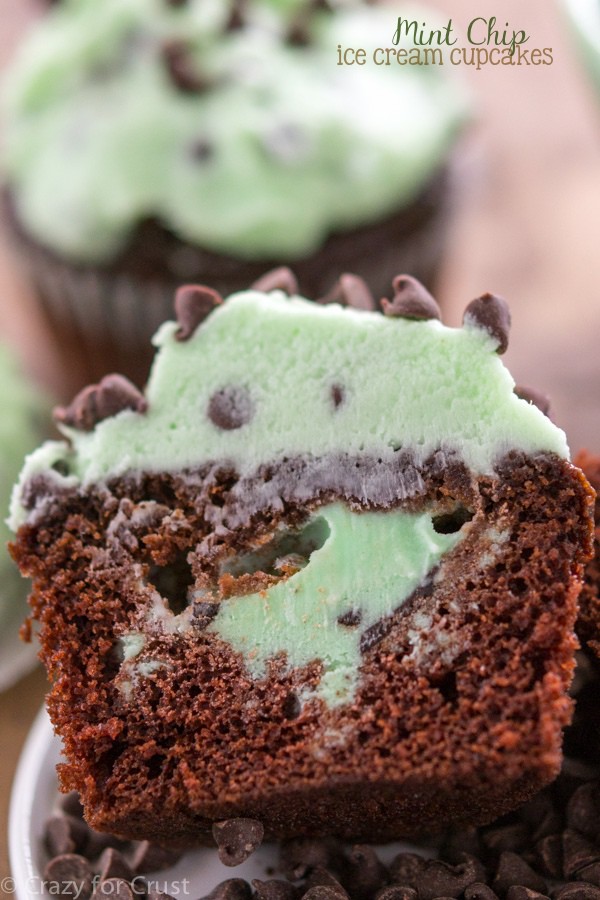 I hope you're not too tired of mint chip recipes yet. Please hang in there with me for two more recipes? Yes? Okay good.
I gotta say, I'm so glad February is over. After last year, when I spent January and February writing my book I never thought I'd be so happy to see those two months over with. And then this year happened.
Between Jordan having that virus that lasted 3 weeks, Mel's every week travel schedule, my mom's birthday, my MIL's birthday, Jordan's birthday, Jordan's party, Jordan's room remodel, and the school Daddy Daughter Dance I was in charge of, I've pretty much been a wreck for weeks.
I don't handle stress well. Want to know what I do when I'm stressed? I eat. #yogapantsforlife #theybetternotoutlawthem #whatwouldIwear?
I'm very much looking forward to March, St. Patrick's Day, and spring. These cupcakes are perfect for all three of those things!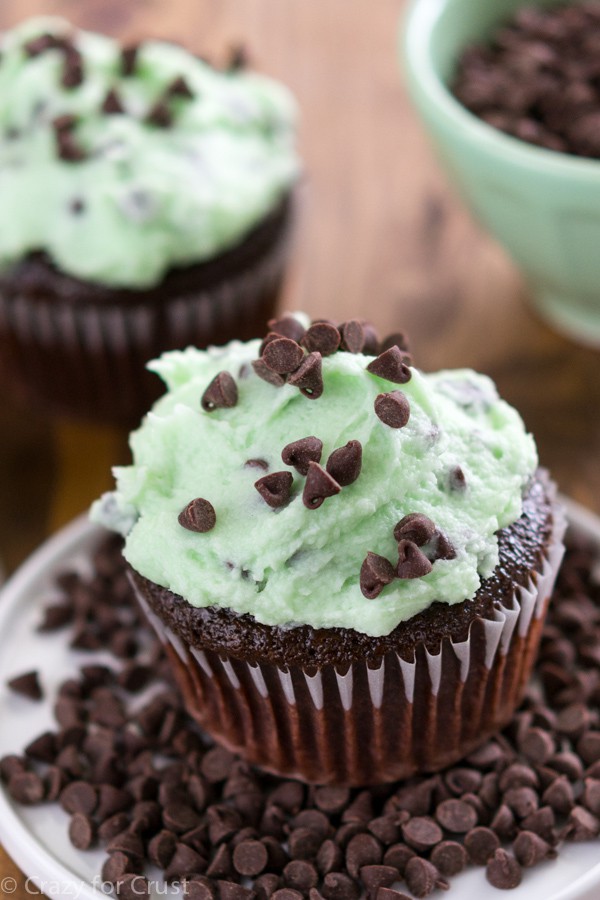 These Mint Chip Ice Cream Cupcakes were Jordan's birthday cupcake. She's pretty predictable, that girl.
Me: Jordan, what do you want for your birthday cake this year?
Jordan: MINT!!!
Me: Jordan what do you want for your cupcakes on your birthday?
Jordan: MINT!!!
Me: Jordan, what do you want for dinner?
Jordan: MINT!!!
I gotta say though, these cupcakes? Stellar. The frosting is my favorite frosting, ever. I even like it better than this one. And this one too. I know, right??
If you've never made, or seen, ice cream cupcakes before, they're super easy to make. You start with your favorite cupcakes. Since these are Mint Chip, you probably want to use chocolate cupcakes. You can use a box mix or make my favorite chocolate cupcakes.
Check out my original ice cream cupcake post for a photo tutorial of how to get the ice cream inside the cupcake. Hint: cut a hole in the top, fill with ice cream, replace top. You can use your favorite ice cream, but I used mint chip (obvi).
The frosting is a mint chip whipped frosting. Butter, powdered sugar, peppermint extract, and green food coloring make it mint flavored. The secret to the soft texture of this frosting is the heavy whipping cream. I always use HWC in all my frosting recipes. I think it gives the frosting that extra-special taste that regular milk doesn't give. You add several tablespoons to this frosting to get it to your desired thickness. One note:
Please do not add all the HWC at the same time. Read the instructions carefully and add it 1 tablespoon at a time. You don't want soup, you want frosting. 🙂
These cupcakes should be assembled right before eating. You can frost and freeze them but I don't like frozen frosting and by the time the frosting thaws, the ice cream would be melted. I keep the frosting in a plastic container and make sure it's room temperature (leave it on the counter for a few hours before serving the cupcakes). You can even have it in a plastic bag with a tip cut off to make frosting even faster. Take the cupcakes out of the freezer and frost them. By the time you're done, the ice cream is the perfect temperature to eat.
That's the other thing I really love about ice cream cupcakes in general: you can make as many as you want and then just eat one at a time because they are stored in the freezer. Great for using up any leftover cupcakes!
Whenever I look at these cupcakes I think of that song, "Ice cream and cake and cake, Ice cream and cake and cake, Ice cream and cake…"
I have no idea where that song comes from but Jordan sings it all. the. time. and now it's stuck in my head.

You're welcome. 🙂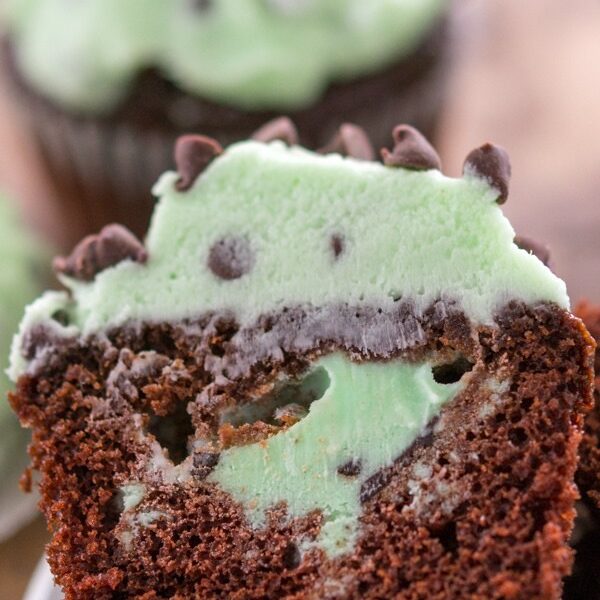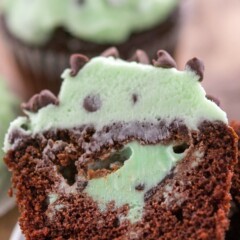 Mint Chip Ice Cream Cupcakes
Fill your favorite cupcakes with mint chip ice cream and top them with mint chip frosting for the perfect cupcake flavor!
Ingredients
For the Cupcakes:
24

chocolate cupcakes

baked and cooled (from a box mix or from scratch; this is my favorite chocolate cupcake recipe)

1/2

carton

about .75 quart mint chip ice cream

Mint Chip Frosting

see below

Mini Chocolate Chips

for garnish
For the Mint Chip Frosting:
12

tablespoons

unsalted butter

softened

3

cups

powdered sugar

1

teaspoon

vanilla

1/4-1/2

teaspoon

peppermint extract

4-6

tablespoons

heavy whipping cream

4-5

drops green food coloring

optional

1/2

cup

mini chocolate chips
Instructions
Start with 24 cupcakes that have been baked and completely cooled. You can use a chocolate box mix, or your favorite from scratch recipe. (I used my chocolate cupcakes recipe.) Place the cupcakes on a cookie sheet lined with wax paper. Make room for a second cookie sheet lined with wax paper in your freezer.

To prep the cupcakes: use a pairing knife to cut a large circle (about the size of a half dollar) in the top of the cupcake. Cut down almost to the bottom of the cupcake, then lift out the cut part. You should end up with a cone shaped chunk of cake. Slice the cone off of each of the cupcake pieces. (You need to make the piece of cake smaller, because the cupcake will be filled with ice cream.) See this post for photo instructions.

I suggest you prepare all the cupcakes for the ice cream, then place your second cookie sheet in the freezer. Work in batches of 3-4 cupcakes, filling with ice cream, then placing on the cookie sheet that's in the freezer. That way the ice cream won't melt out of the cupcakes.

Scoop about 1-2 tablespoons of ice cream into the center of each cupcake. Place the top back on and press gently. Put the cupcake on the cookie sheet in the freezer. Continue until all the cupcakes are filled and in the freezer.

Cover the cupcakes with plastic wrap (leaving them on the cookie sheet) and freeze for at least 4 hours before serving. You can place them (frozen) in a single layer in large Ziploc bags and freeze for up to 1 month before serving.

To make the frosting: beat butter with a hand or a stand mixer until smooth. Mix in powdered sugar slowly, then add vanilla and peppermint extract. Start with 1/4 teaspoon peppermint extract then taste and add more as desired. I used 1/2 teaspoon. Mix in 1 tablespoon of heavy whipping cream at a time, mixing well, until you've reached your desired consistency. I used 5 tablespoons of heavy whipping cream. Stir in food coloring and then chocolate chips.

When ready to serve, have your frosting ready. Remove a cupcake from the freezer, frost as desired, and serve immediately. Top with additional mini chocolate chips for garnish.
Nutritional information not guaranteed to be accurate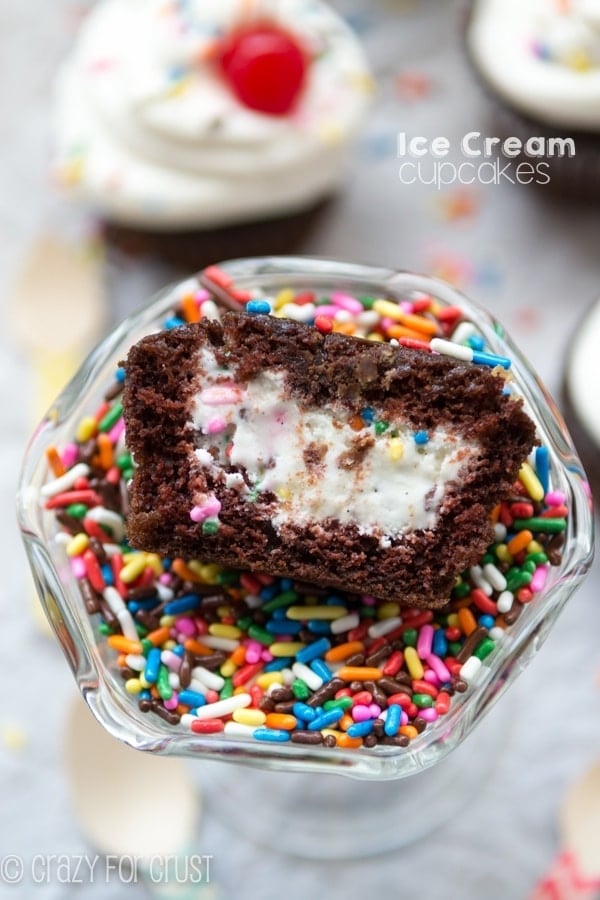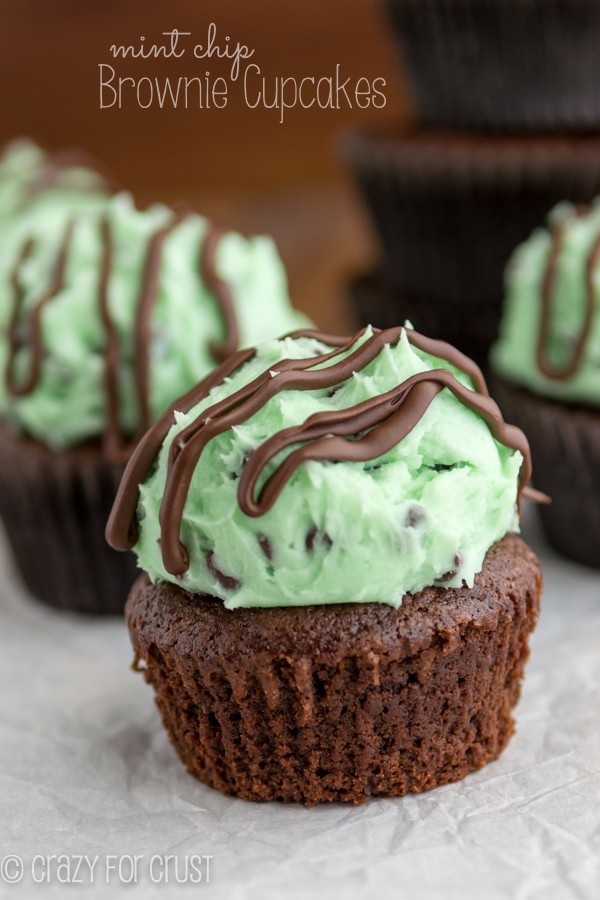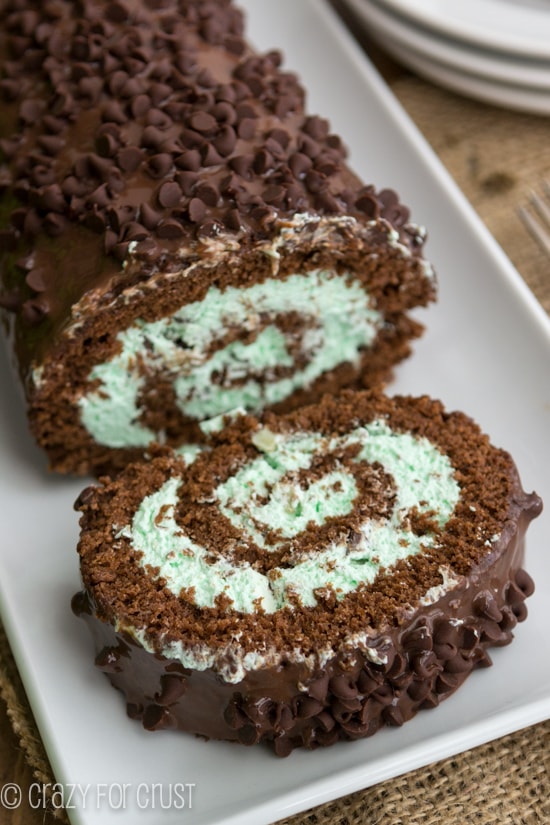 Sweets from friends:
Mint Chip Ice Cream Pie by The Cookie Rookie
Mint Chocolate Chip Cheeseball by Mom on Timeout
Mint Chip Oreo Ice Cream Sandwiches by Lovely Little Kitchen
Last Updated on August 21, 2018