Perfect Funfetti Cupcakes
This post may contain affiliate links. For more information, read my disclosure policy.
I am addicted to sprinkles, which means that I heart all things funfetti.
These Funfetti Cupcakes? Are the PERFECT recipe, I promise you that!
Last week, as you may already know, was Jordan's 9th birthday. We celebrated with a full week of parties. (Birthdays are a big deal in our house!)
There was the family party, where Jordan got a Chocolate Mint Cake Roll and my mom got Turtle Brownies. (Their birthdays are only a few days apart.)
There was her actual birthday where she had a new cupcake flavor (coming next week!) and a new M&M cookie (also, coming soon!).
Then there was her friend birthday party last Friday. See what I mean? A week of birthdays. I'm kind of crazy and she's kind of spoiled, but that's just how we roll in our house. Birthdays are always huge!
As much as Jordan loves mint, she loves plain too. She wanted plain cupcakes. I've already made the Perfect Vanilla Cupcake, so I nixed that idea and suggested funfetti.
Besides, sprinkles are so much more fun than plain old vanilla!
She was bouncing off the walls in anticipation of her party. I took two advil before everyone got there as a precursor to the headache that was inevitable.
Have you ever gathered 8 8- and 9-year old girls in one house? I'm surprised there is any glass left in our windows.
They had these cupcakes with cotton candy ice cream. Then they had popcorn and suckers during the movie.
Hey, I have the fun house. Then I send them home. Bwahahahaha.
Screaming (and a few crying jags) aside, these cupcakes were the star of the evening. Heck, they were the star of the week.
They're my favorite cupcakes to date. I've made a lot of cupcakes and cakes in my time here at Crazy for Crust and I'm putting myself out there for these:
These are the BEST cupcakes I've ever made. Big statement, but true.
I used my vanilla cupcake recipe as a starting point. I really love that recipe, so I knew these would be good. In essence, a funfetti cupcake is a vanilla cupcake baked with sprinkles inside. But since they scream SWEET!, I decided to add a little more sugar along with the sprinkles.
OMG, best decision ever.
Just 1/4 cup more sugar made these cupcakes super fluffy with the perfect amount of sweetness.
And then, well. Funfetti needs sprinkles!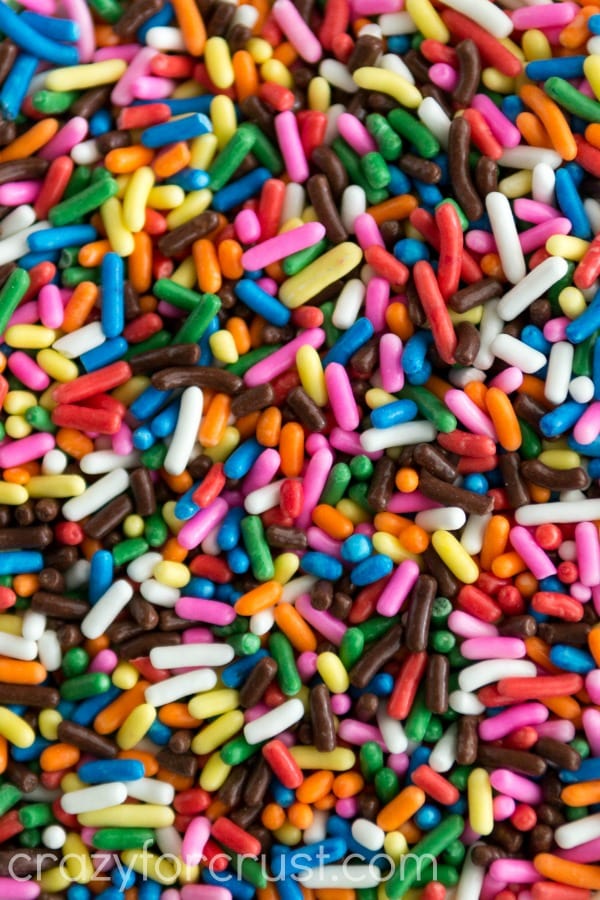 My favorite sprinkles are rainbow jimmies (what's in that picture above).  I buy them in tubs at Walmart. They're made by Cake Mate. Wilton also sells a good selection, but in less quantity. If you're buying specific colors, I love Sweet! Baking Supply. The sprinkles are cheap for huge bottles and they ship fast. I just love the price on these Cake Mate tubs. I go through one a week, it seems like.
You can also use nonpareils in these cupcakes. Lots of Funfetti Cupcake recipes use those (my friend Sally has a rockstar recipe she uses them in). I'm not a huge fan of nonpareils in general (I don't like the crunch they make when you chew them). Plus, I feel like sometimes they dissolve. I've never had a problem with these jimmies dissolving (and I use them in lots of recipes!)
You could frost these with a chocolate frosting, but I love a vanilla frosting on funfetti anything. This recipe is the same one I used for my vanilla cupcakes, and it's my favorite buttercream ever. I use lots of butter and powdered sugar (of course), but I also use a little heavy cream. It makes it smooth and adds a touch of yum.
The frosting makes a lot. I had some left over, but I always like to err on the side of too much frosting. I like to pile it high, and I don't want to run out. Isn't that the worst feeling? When you have two cupcakes to go and run out of frosting? You can freeze the leftover frosting for later use (or eat it with a spoon).
You can make the frosting ahead of time, up to a day before, and store it in the refrigerator. Just let it come to room temperature before frosting. (And if you're like me and forget to take it out, you can heat it in the microwave on 5-10 second increments, stirring between each, until it's smooth enough to spread.)
My favorite frosting tip is the 1M. It gives those pretty swirls. It's pretty much the only tip I use.
Top these cupcakes with a liberal coating of more sprinkles and you have the best funfetti cupcakes ever.
I'm not kidding, Jordan almost didn't get any for her party. I wanted to hoard them.
These cupcakes? Will be made again and again in my kitchen. I want another one right now!
Check out all my funfetti recipes!
Servings: 15
Perfect Funfetti Cupcakes
Ingredients
For the cupcakes:
1 1/2 cups all-purpose flour
1 teaspoon baking powder
1/2 teaspoon salt
1 stick unsalted butter — melted
1 1/4 cups sugar
3 large eggs
1 tablespoon vanilla extract
3/4 cup buttermilk — or combine 3/4 cup milk + 1 teaspoon white vinegar and let sit for 5 minutes
1/2 cup Sprinkles
For the frosting:
2 sticks unsalted butter — softened
1/4 teaspoon salt
5 cups powdered sugar
1 tablespoon vanilla extract
1-2 tablespoons heavy whipping cream
Additional Sprinkles — for decorating
Instructions
Preheat oven to 350 degrees. Line cupcake tins with liners (makes 15).

Whisk flour, baking powder, and salt in a medium bowl.

Add melted butter to a large bowl and mix in sugar with a hand mixer for 30 seconds, until thick and yellow. Add eggs one at at time, beating after each addition. Beat in vanilla extract.

Add the flour mixture and buttermilk alternately, starting and ending with the flour. Don't over mix! Stir in sprinkles. Divide batter among liners, filling 2/3 full (about 1/4 cup of batter per cupcake). Bake for 15-20 minutes until a toothpick comes out clean. (Mine took less than 20, so check at 15!) Cool completely before frosting.

To make the frosting: Beat butter until creamy. Beat in salt and 1 cup of powdered sugar at a time until it's all added. Beat in vanilla extract and 1 tablespoon of heavy whipping cream. Add more cream as needed for desired consistency.

Frost cupcakes by placing frosting in a pastry bag. I like the 1M tip, it gives pretty swirls. Add sprinkles for fun!

Note: you can make the frosting the day before, but let it come to room temperature before using.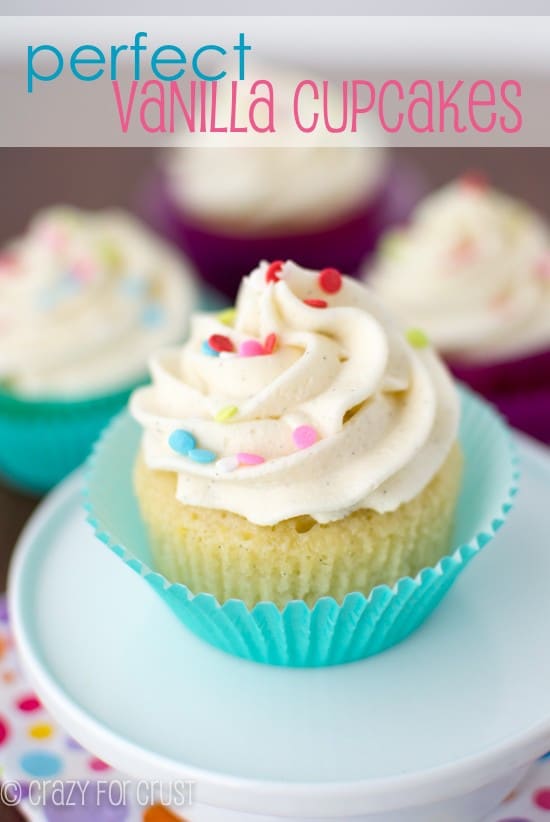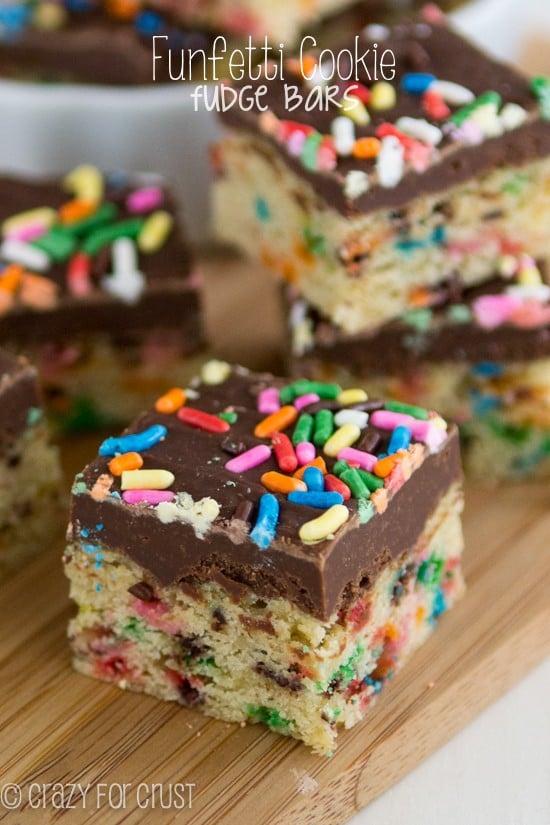 Sweets from friends:
Funfetti Cheesecake Bars by Sweet Treats and More
Skinny Funfetti Cake Batter Dip by Something Swanky
Funfetti Ice Cream Squares by Lauren's Latest