Rolo Stuffed Peanut Butter Cookies
This post may contain affiliate links. For more information, read my disclosure policy.
You know you want Rolo Stuffed Peanut Butter Cookies today, right???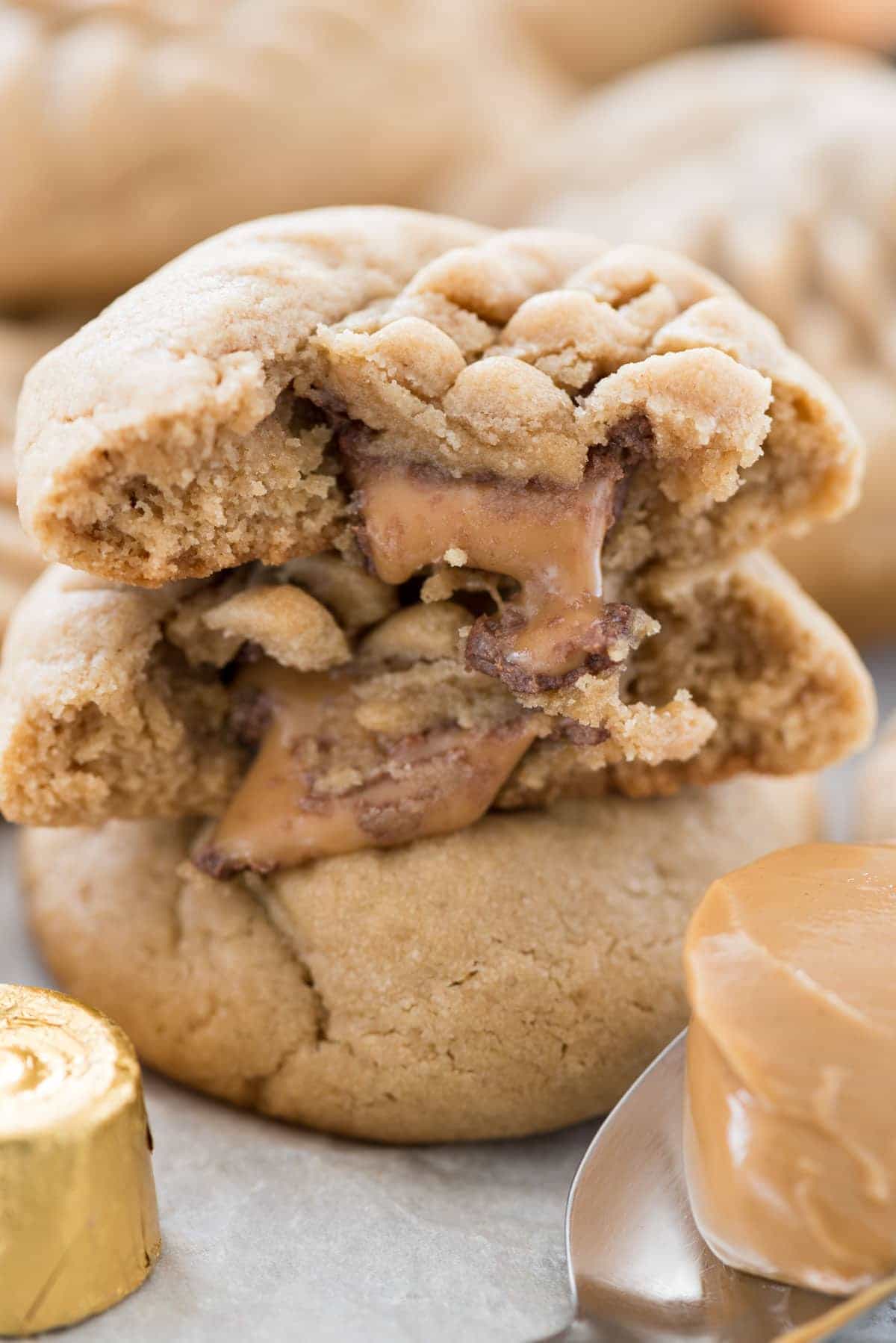 Growing up, I never expected to live farther than five minutes away from my parents. After all, my Nana was about two minutes from my house, and my Grandma was three, depending on traffic lights. But life never really goes as planned, and we have landed about a two hour drive from my childhood home.
I'm not complaining; two hours is much preferable to the 11 hour drive it used to take my parents to come visit us when we lived in Arizona. Plus a time difference, for six months (I really don't get that, BTW). I'll take two hours, no problem.
The problem with being far away is that we don't always get to celebrate birthdays on the actual day. And in my family? Birthdays are big. (Like you didn't guess from yesterdays post.) Big with cake and candles and singing. Usually a dinner out, to a nice restaurant where you can wear your dressy jeans.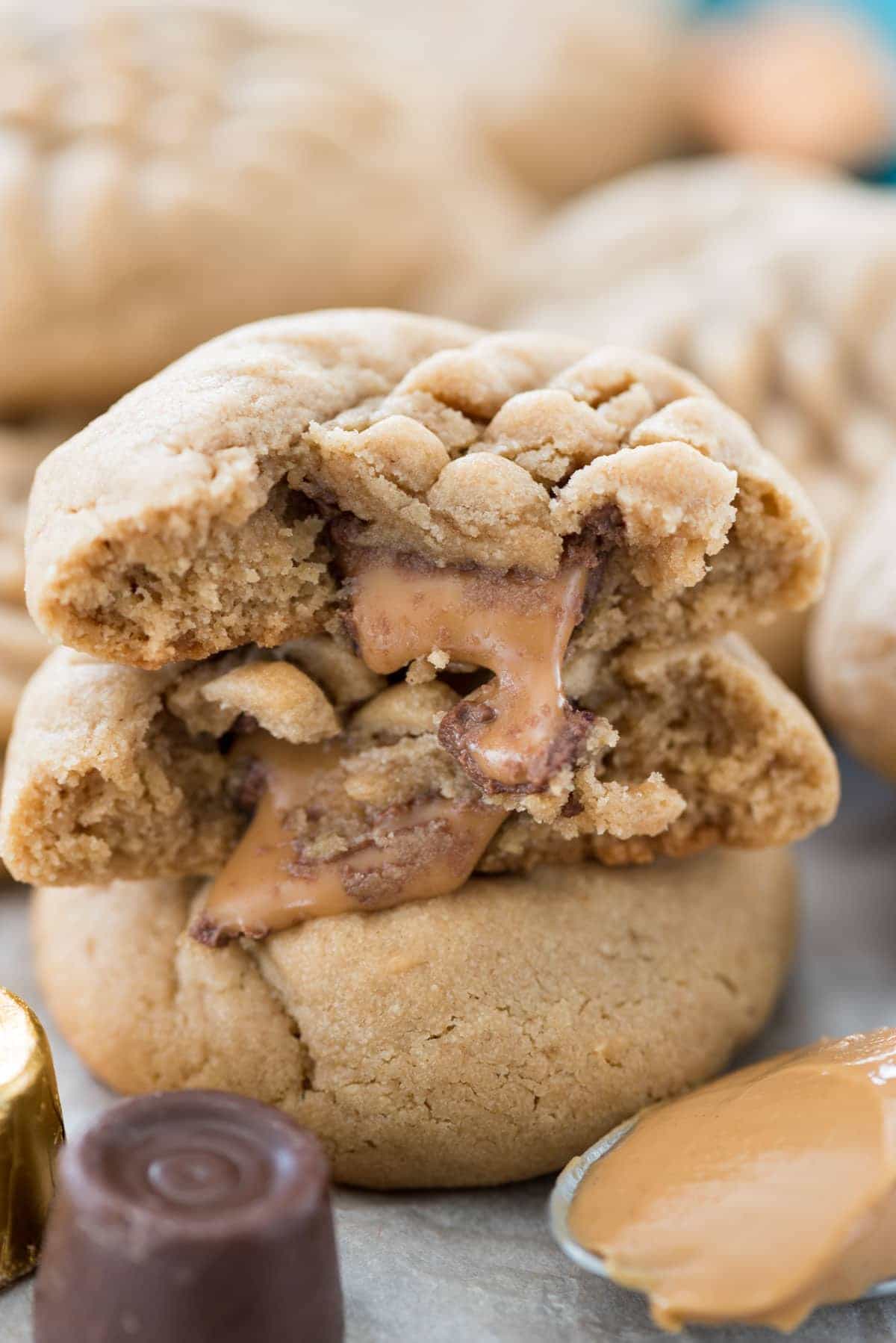 Yesterday was my mom's birthday. We couldn't be there, it being mid-week during school time and all. We're going to see her next week, but still. I couldn't let her birthday go without some sort of celebration, right? I can't very well mail a birthday cake. So I made cookies instead.
Rolo stuffed cookies aren't new, but they're new to me! I've been wanting to make them for ages now. So I combined my favorite peanut butter cookie recipe with one of my mom's favorite candies.


All you have to do is get a scoop of cookie dough and wrap a Rolo inside. Easier than inventing mail-proof buttercream. I added some crisscross marks 'cuz, well, it's not a peanut butter cookie without fork marks.

Voila! Insta-birthday.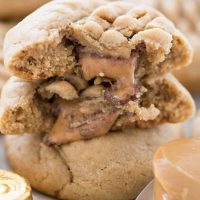 Rolo Stuffed Peanut Butter Cookies
Ingredients:
1/2 cup unsalted butter, softened
3/4 cup peanut butter
3/4 cup packed brown sugar
1/4 cup granulated sugar
1 large egg
tablespoon vanilla
1 tablespoon milk
1/4 teaspoon salt
1/2 teaspoon baking soda
1 13/4 cups flour
24-28 Rolos, unwrapped
Directions:
Preheat oven to 350°F. Line 2 cookie sheets with parchment or silpat baking mats.
Cream butter, peanut butter, and both sugars in the bowl of an electric mixer fitted with the paddle attachment. Add egg, vanilla, milk, salt, and baking soda. Mix until combined. Slowly add flour and mix until dough comes together.
Scoop 2 tablespoon sized balls of dough. Wrap a Rolo completely into the middle of each ball, rolling it between your palms to seal. Place 2" apart on cookie sheets and use a fork to make a small criss-cross pattern on the top.
Bake for 9-12 minutes, until they just begin to brown. Cool completely and remove from cookie sheets.
Store in an airtight container for up to 3 days. They can be frozen in sealable containers or ziploc bags between layers of paper towels for up to one month.
To get the gooey caramel in the photos, eat when warm!
All images and text ©
. Please do not use my images without prior permission. If you want to republish this recipe, please re-write the recipe in your own words, or link back to this post for the recipe.
Click here to see more PEANUT BUTTER recipes!
Rolo Chocolate Chip Cookie Cups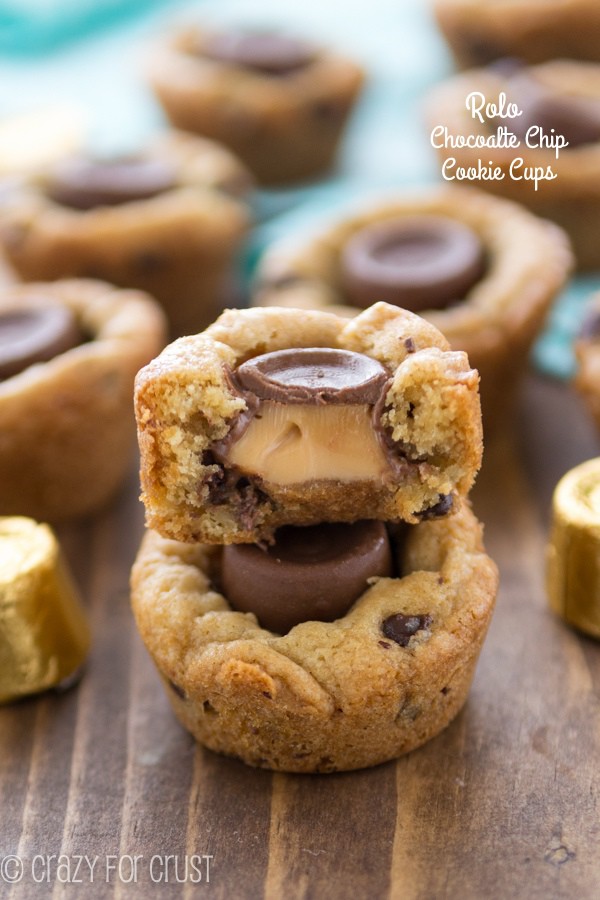 Cookies 'n Cream Peanut Butter Cookies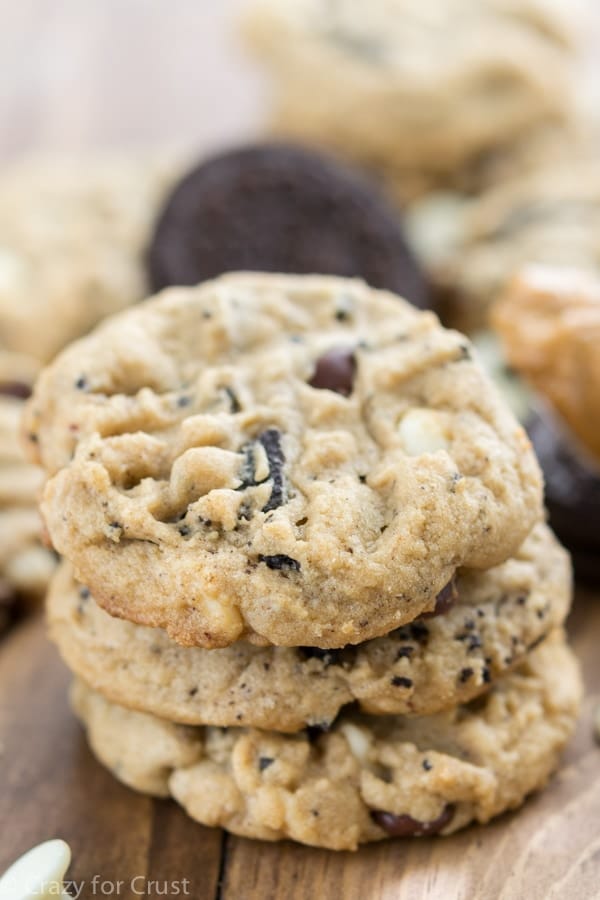 Snickers Stuffed Peanut Butter Cookies