This post may contain affiliate links. For more information, read my disclosure policy.
My Easy Pumpkin Bread Recipe is one of my absolute favorite fall desserts. I've been making variations of this bread for years and my family loves every single one! This version has a crunchy cinnamon sugar topping – it's the perfect breakfast or snack during pumpkin season!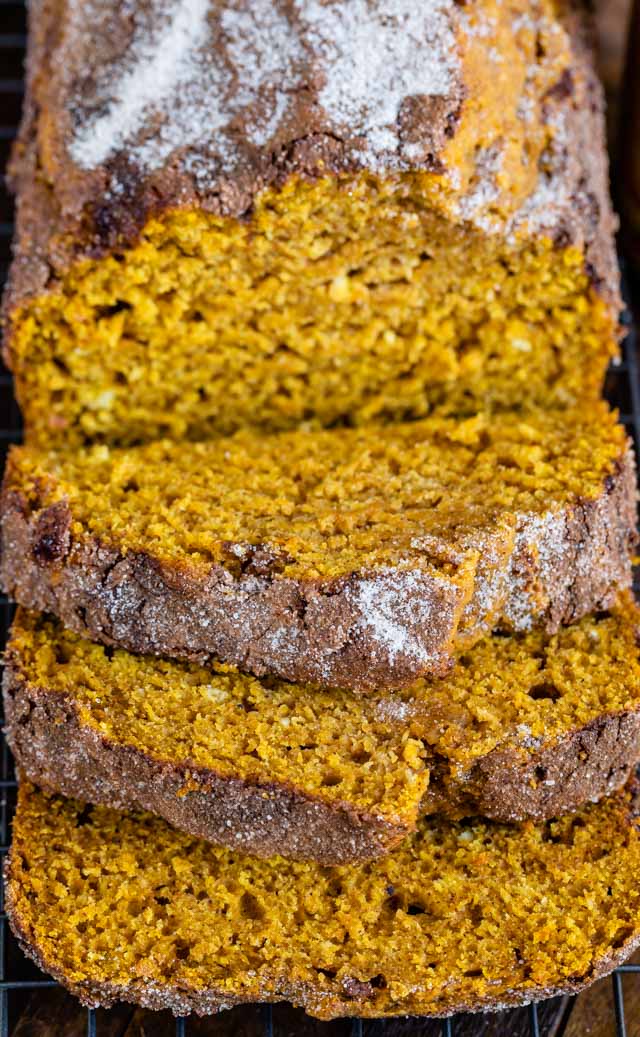 BEST Pumpkin Bread Recipe EVER
I will never forget the first time I had pumpkin bread: I was a kid, probably around 10 years old. Someone gifted us a version of bread baked in a jar and we were equal parts intrigued and delighted because it was so good.
After that taste I started making my own pumpkin bread every year and this is my favorite recipe! It's soft and moist and perfectly spiced with pumpkin pie spices. I make all sorts of versions of pumpkin bread, but this one is my favorite: it's topped with cinnamon sugar. The crunchy topping is the perfect complement to the pumpkin flavor of the bread!
What can you make out of pumpkin (that's not pie)?
We all think about pumpkin pie this time of year, but did you know there are so many other things to make with pumpkin? I've made bread, muffins, bars, cookies…there are so many different recipes you can make with canned pumpkin puree. Easy Pumpkin Bread is my absolute favorite!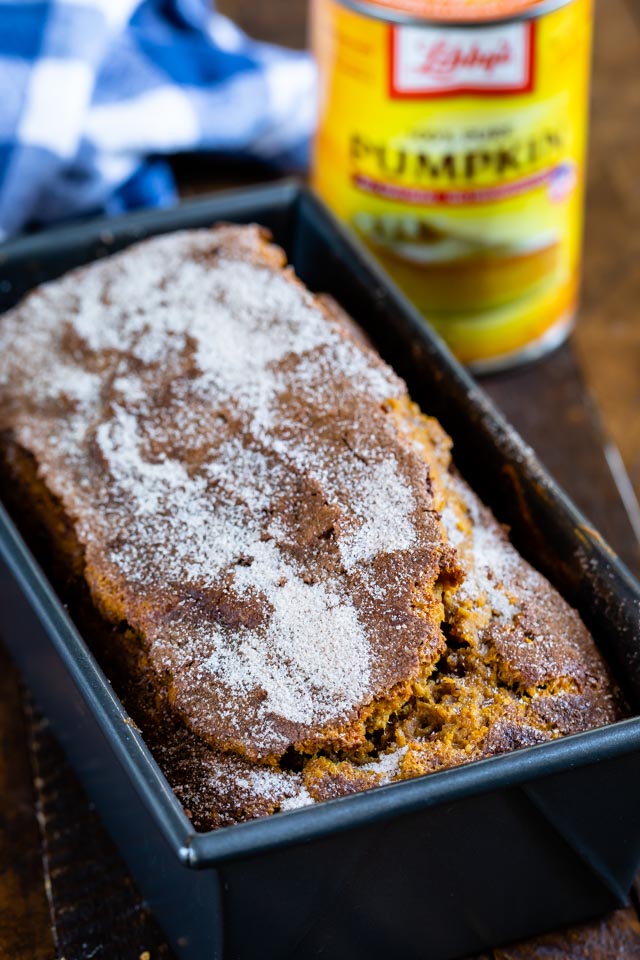 What is canned pumpkin?
No matter what pumpkin recipe you decide to make, be sure to use the best canned pumpkin out there: LIBBY'S® 100% Pure Pumpkin.
Canned pumpkin is just that: pure pumpkin in a can. They've taken all the work out of making puree for you! I've been using LIBBY'S® for my entire life: it's always the can my mom bought when she was making our pumpkin pies.
What can you make with canned pumpkin?
Everyone thinks of pie this time of year and LIBBY'S® is the one I think of when I think of pie. Did you know that, for the first time in its history, LIBBY'S® Pumpkin is adding a NEW pumpkin pie recipe to it's revamped label! It's a creamier twist on the original, using sweetened condensed milk!
But pie is not just what you can use LIBBY'S® for – did you know you can:
Replace eggs in baking (1 egg = 1/4 cup pumpkin puree)
Replace oil/butter in baking (1 tablespoon oil/butter = 1 tablespoon pumpkin puree)
Pumpkin is also good in so many recipes…like Pumpkin Bread!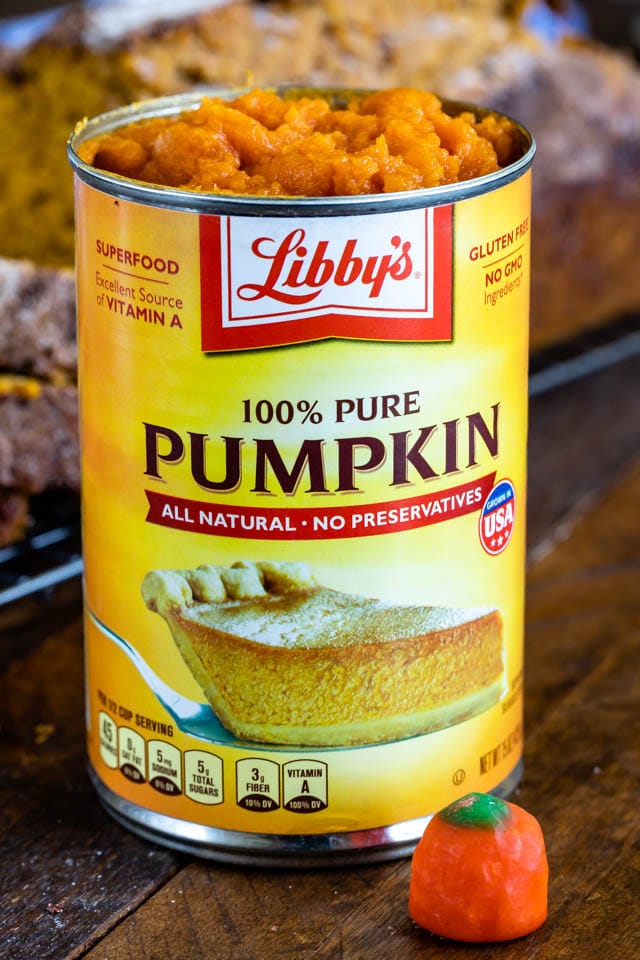 Ingredients in Pumpkin Bread
This recipe is SO easy because you don't need a mixer! It's a stir-and-bake recipe, so it gets into the oven quick. (It's why I love making my pumpkin bread recipe with oil: it stirs up fast!)
In order to ensure moist pumpkin bread you need:
Pumpkin: I love using LIBBY'S® 100% Pure Pumpkin
Oil: Vegetable or canola, may substitute coconut (in liquid form)
Eggs: Be sure to buy large eggs
Sugar: This recipe uses both granulated sugar and brown sugar to keep the bread nice and moist.
Baking Soda: This is what helps the bread rise, along with the buttermilk.
Salt: Required since we started with a neutral oil
Pumpkin Spices: I love the combo of spices – you can also substitute pumpkin pie spice.
Buttermilk: Buttermilk might sound like a strange ingredient, but I love it. I used it in my banana bread also – and it creates the perfect rise. Don't have buttermilk? You can make your own – learn how to make buttermilk here.
Flour: I always use all-purpose flour but you can also use 1:1 Gluten Free All Purpose.
How do you make an easy pumpkin bread recipe?
Add your pumpkin, oil, eggs and sugar to a large bowl and stir. One bowl no mixer needed!
Stir in the spices, baking soda and salt.
Add the buttermilk and flour then stir until thick.
Place in pan and bake until a toothpick comes out clean.
Variations: Once your ingredients are mixed you can decide if you want plain pumpkin bread or you can make pumpkin chocolate chip bread or add some other fun mix-ins. (I love adding chopped peanut butter cups!)
For this recipe, I mixed up some cinnamon sugar and topped the batter with it. It adds a nice crunchy top to the bread!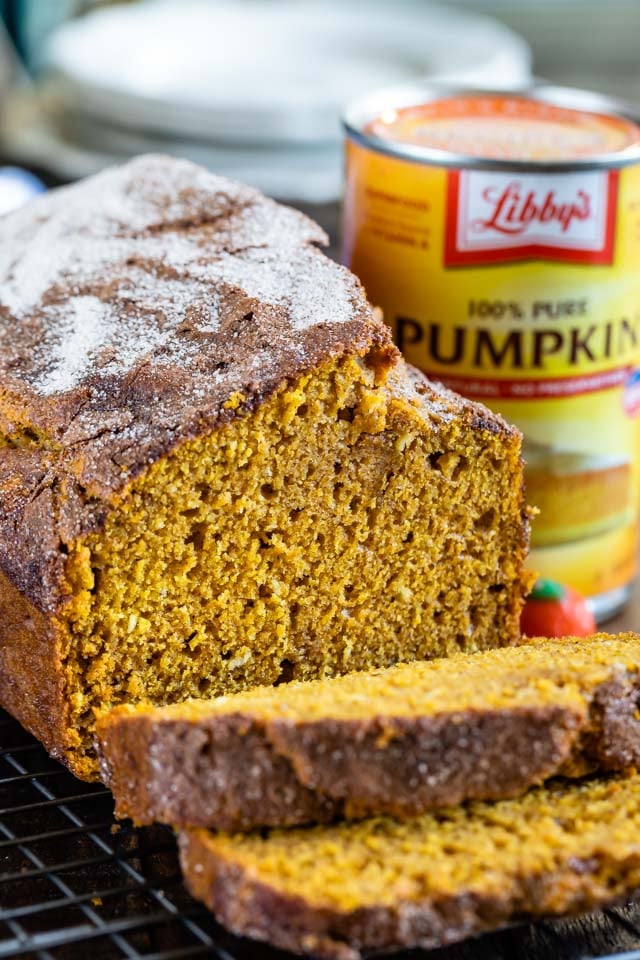 How do you know when pumpkin bread is done?
After mixing, simply bake the bread in an 8×4-inch or 9×5-inch baking pan. It will take about 40-50 minutes to bake, depending on the size of pan and your oven.
The bread will puff and rise. You know it's done when you stick a toothpick in the center and it comes out with just a few crumbs sticking to it.
Do the toothpick trick in the crack of the bread to make sure the bread is done baking.

PRO TIP
Why did my pumpkin bread fall?
Chances are, your bread fell after baking because it wasn't baked enough. Make sure you do the toothpick test in the crack of the bread and that only a few crumbs stick to the toothpick.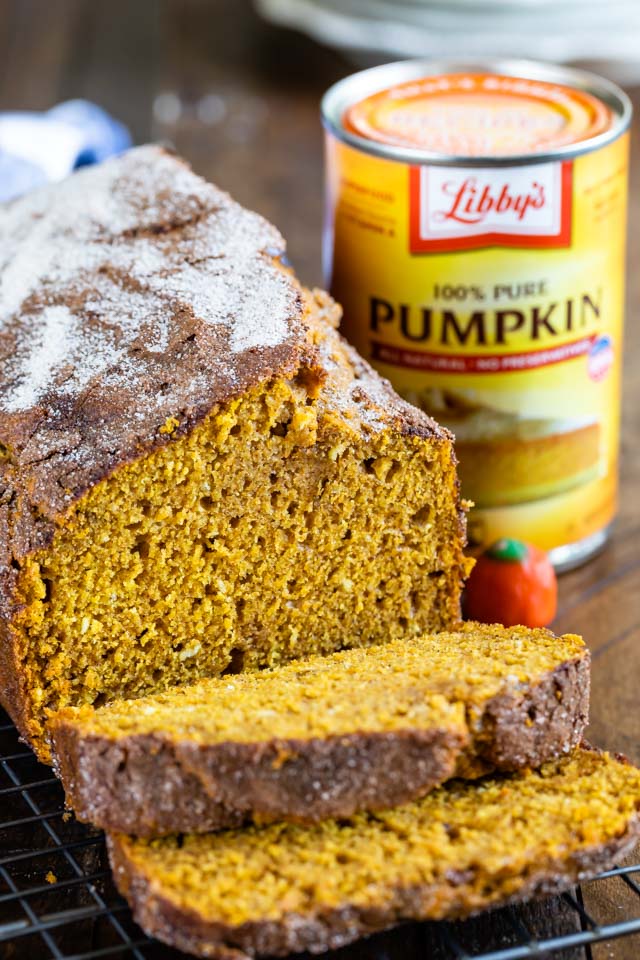 Other variations of pumpkin bread:
I love making different versions of this easy pumpkin bread recipe!
No matter what kind of pumpkin bread I make, I always use LIBBY'S® 100% Pumpkin!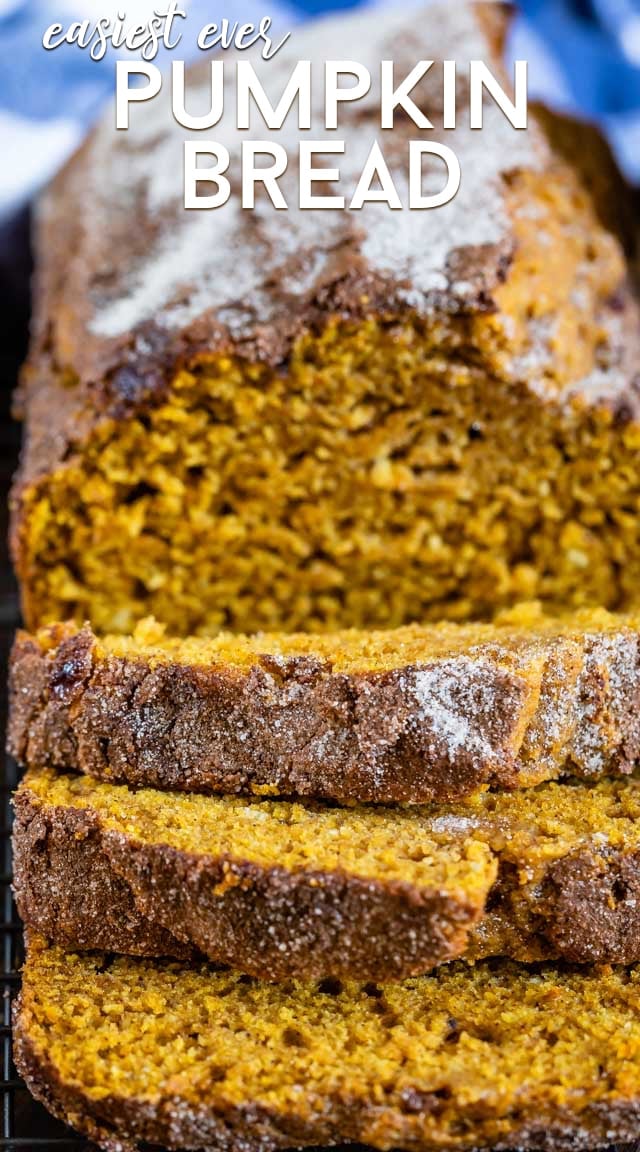 FAQ
What pan is best for pumpkin bread?
You can use an 8×4 or 9×5-inch loaf pan for this bread, either one works.
Can I make pumpkin bread gluten free?
For this recipe you may substitute 1:1 Gluten Free All Purpose Flour (i.e. Bobs Red Mill) in equal amount for the all purpose flour.
How to store pumpkin bread?
Store this loosely covered on the counter for up to 3 days, or in the refrigerator for 4 days.
Can you freeze pumpkin bread?
Yes – freeze it well wrapped in plastic wrap or freeze slices in baggies for easy grab and go!
How do you keep pumpkin bread moist?
Don't over bake it – that will dry it out. Using brown sugar in the batter will help, as will using the buttermilk to keep it nice and soft.
Why is my pumpkin bread dry?
Chances are it's over baked – don't bake it too long or it will dry out.
Love pumpkin recipes? Try these using LIBBY'S®:
Have you made this recipe?
Tag @crazyforcrust on Instagram or hashtag it #crazyforcrust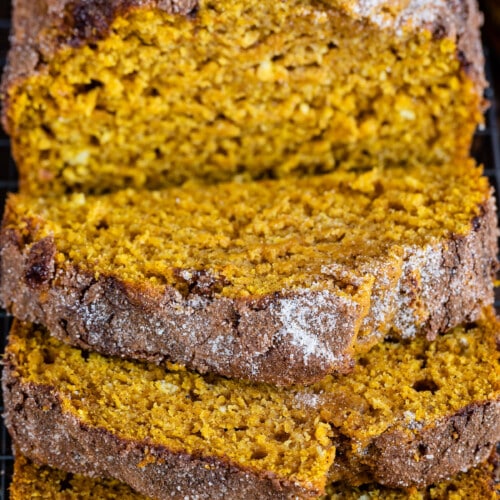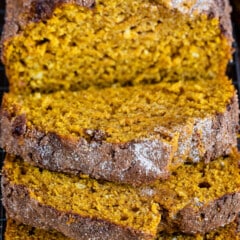 Easy Pumpkin Bread
Making my Easy Pumpkin Bread Recipe is so simple and fast and it tastes amazing with a cinnamon sugar crust on top!
Ingredients
Bread:
½

cup

(100g) granulated sugar

¼

cup

(50g) brown sugar

⅓

cup

(79ml) vegetable oil

1

cup

(244g) LIBBY'S® 100% Pumpkin Puree

2

large eggs

2

teaspoons

pumpkin pie spice

½

teaspoon

salt

1

teaspoon

baking soda

⅓

cup

(79ml) buttermilk

2

cups

(248g) all-purpose flour
Topping:
2

tablespoons

granulated sugar

1

teaspoon

ground cinnamon
Instructions
Preheat oven to 350°F. Spray a 9×5-inch or 8×4-inch loaf pan with cooking spray.

Stir granulated sugar and brown sugar with oil and pumpkin. Stir in the eggs, pumpkin pie spice, salt, and baking soda. Stir until combined. Stir in buttermilk and flour.

Pour batter into prepared pan. Combine cinnamon and sugar for topping; sprinkle over bread.

Bake for 40-50 minutes. If you want it totally done (no gooey center), test it by inserting a toothpick just partway into the top center of the bread. If this comes out clean, it's done. If you like a gooier center, remove it when testing it with at toothpick that way comes out with a little stuck to the top.

Cool before removing from pan. Store in an airtight container for up to 2 days or freeze for up to one month.
Recipe Notes
To make your own buttermilk, add 1/2 teaspoon of vinegar or lemon juice to a measuring cup and fill with milk to 1/3 cups. Let sit for 5 minutes.
Recipe Nutrition
Serving:
1
serving
|
Calories:
313
kcal
|
Carbohydrates:
50
g
|
Protein:
5
g
|
Fat:
11
g
|
Saturated Fat:
8
g
|
Cholesterol:
42
mg
|
Sodium:
313
mg
|
Potassium:
134
mg
|
Fiber:
2
g
|
Sugar:
24
g
|
Vitamin A:
4842
IU
|
Vitamin C:
1
mg
|
Calcium:
42
mg
|
Iron:
2
mg
Nutritional information not guaranteed to be accurate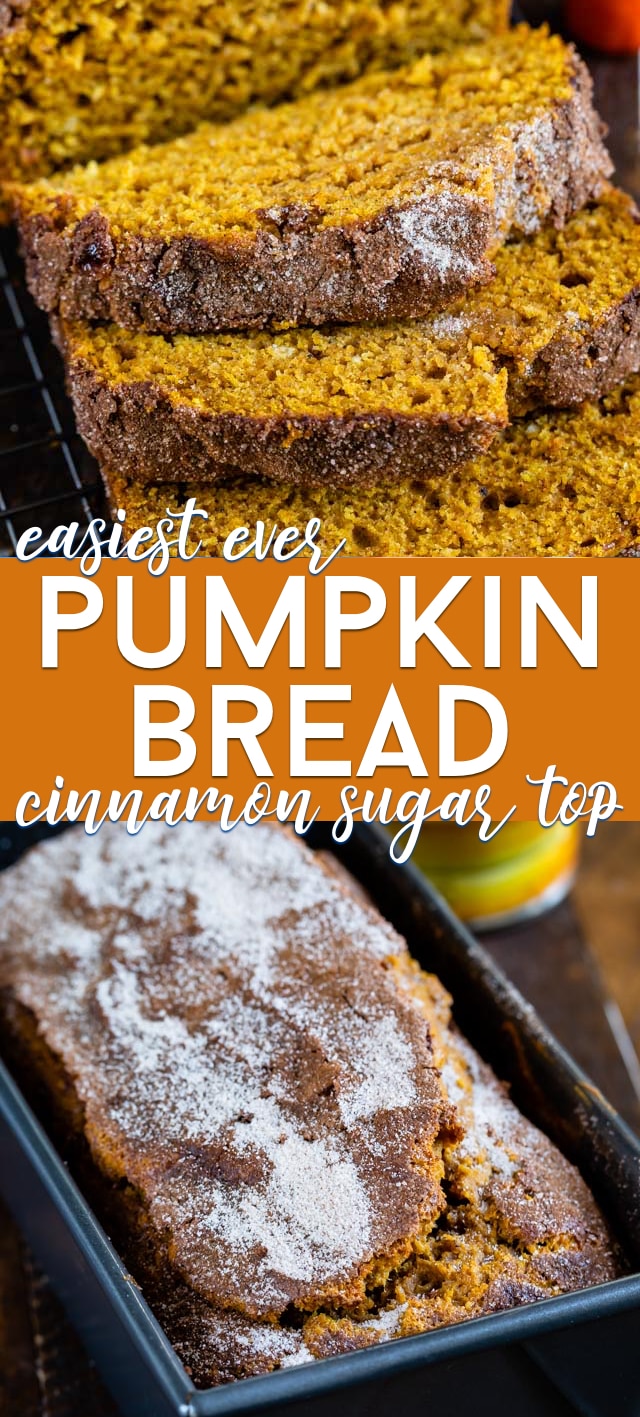 My easy pumpkin bread is the perfect way to use canned pumpkin – just don't forget that cinnamon sugar topping!
This post was originally sponsored by LIBBY'S® 100% Pure Pumpkin, the brand of pumpkin I always choose and have been using since I was a kid. It's my own version of the libby's pumpkin bread recipe!
Last Updated on September 27, 2021