Ohmergerd, you GUYS. These BROWNIES!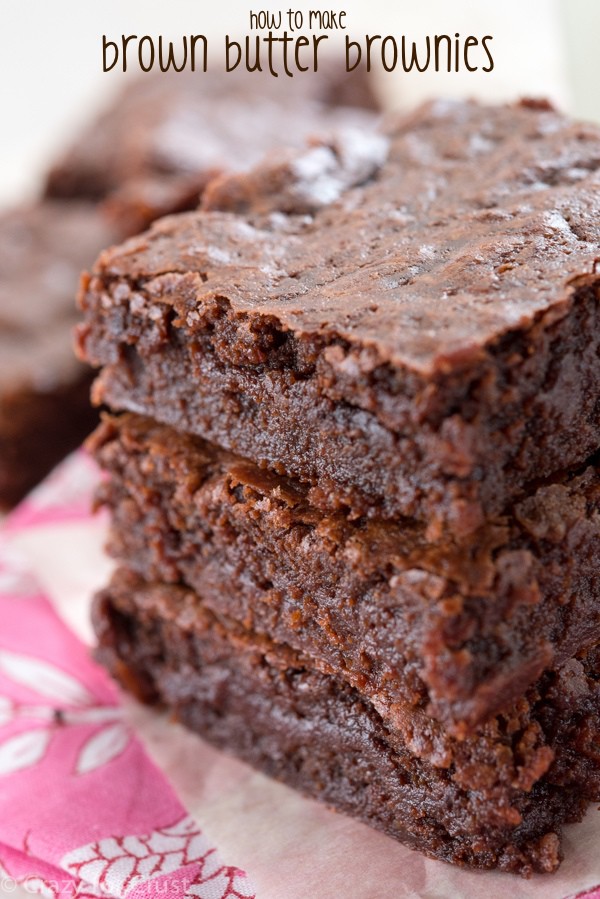 These brown butter brownies are fork-to-pan brownies. They're EASY to make, don't let the words "brown butter" fool you.
Have you ever had brown butter? I'm in loooooove with the stuff. I use it in the BEST EVER Chocolate Chip Cookie recipe and in Chocolate Chip Cookie Cupcakes and I even have a cake I'll be sharing with you super soon that  you're going to love.
Y'all, brown butter is where it's AT.
My favorite brownie recipe is amazing just by itself. But when you brown the butter first. Oh. EM. GUMMY BEARS.
Just looook: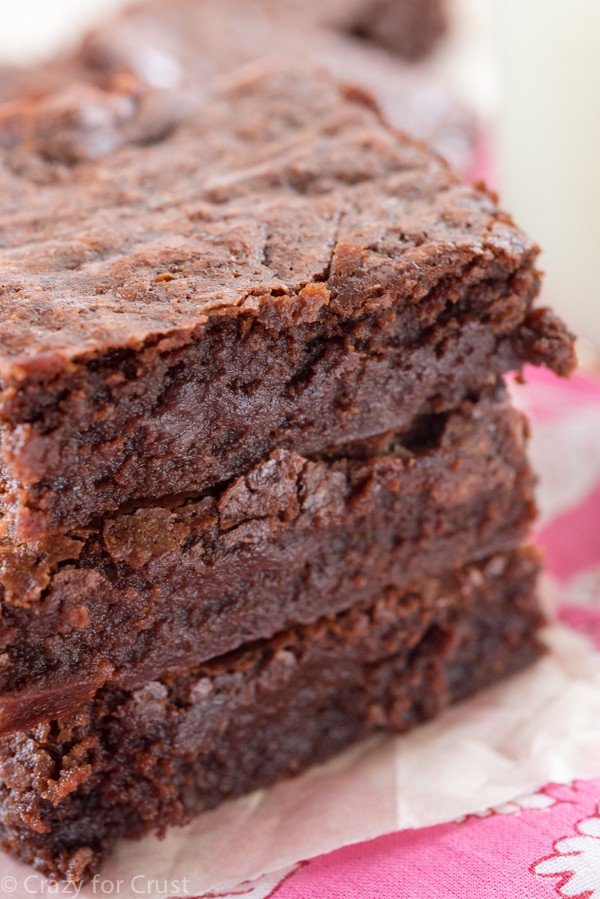 What is brown butter? Well, brown butter happens when you cook butter over low heat until it melts, then it boils and as it cooks it turns a light golden brown color, hence the name. The golden brown color gives the butter a richer, nuttier flavor. Adding brown butter to sweet and savory dishes adds a huge depth of flavor to your recipe, especially to baked goods.
These brownies have 3 kinds of chocolate and tons of brown butter flavor. Browning butter is SUPER easy, I promise. You can see this post for a tutorial but basically you add your butter to a saucepan and heat it over medium low heat for several minutes, stirring occasionally, watching it closely, until it turns a rich amber color. If you've never done it before you just have to be careful to watch it as it starts to change color because it goes from butter color to burned pretty fast. You want a rich amber color.
(Whenever I use the word "amber" does anyone think of Jurassic Park? I can't think about that word without thinking of the little mosquito in the block of amber at the beginning of the movie.)
ANYWAY, best brownies in the WORLD right here.

You need this recipe, am I right or am I right? Yes?
This recipe originally appeared on eBay.
Brown Butter Brownies
These Brown Butter Brownies are my FAVORITE BROWNIES ever!! They're gooey and perfect and the brown butter inside gives them a unique flavor. Plus - 3 kinds of chocolate!
Ingredients
3/4

cup

unsalted butter

2

ounces

unsweetened baking chocolate

coarsely chopped

2

ounces

semi-sweet baking chocolate

coarsely chopped

1 3/4

cups

sugar

3

eggs

1

tablespoon

vanilla extract

2

tablespoons

unsweetened cocoa powder

1/2

teaspoon

salt

1

cup

all-purpose flour
Instructions
Preheat oven to 350°F. Line a 9x13" pan with foil and spray with nonstick cooking spray.

Melt butter in a saucepan over medium heat. Cook, stirring often, about 6 minutes, until it becomes brown in color. It will foam, reduce, then foam again. Once it's done cooking the foam is a light brown and it will dissipate after you remove it from the heat. Once it starts to brown, keep stirring so it doesn't burn. Once it gets to an amber color, turn off the flame.

Add both baking chocolates to the butter and stir until the chocolate is melted. Stir in sugar, eggs, vanilla, salt, and cocoa and stir until combined. Stir in flour.

Pour brownie batter into prepared baking pan. Bake for 20-24 minutes until a toothpick along the edge comes out with just a few crumbs. This results in very fudgy dense brownies. Cool before slicing into bars.

Optional: Add 1 cup of chopped nuts, chocolate chips, or other chopped candies to the batter before pouring into the pan to bake.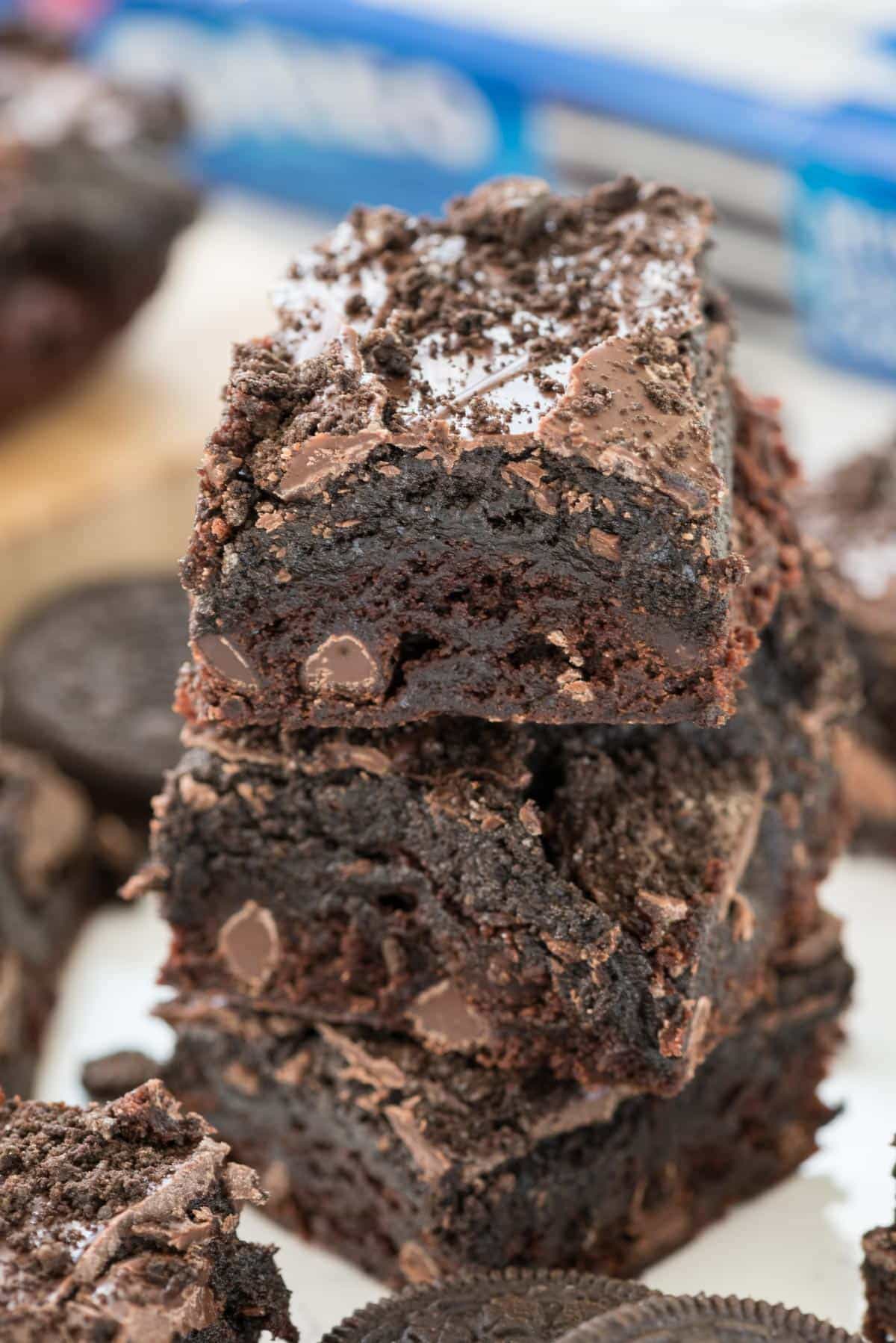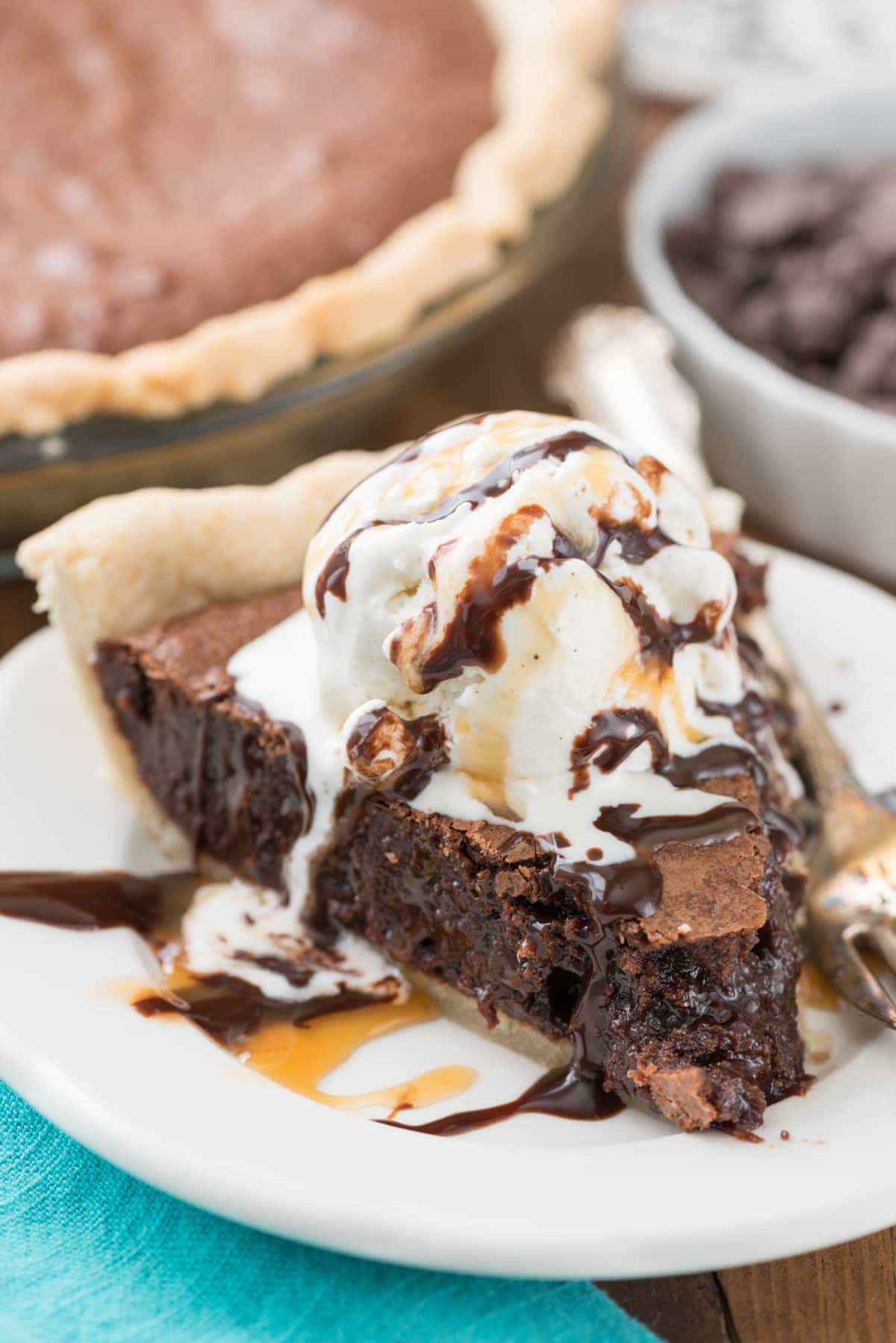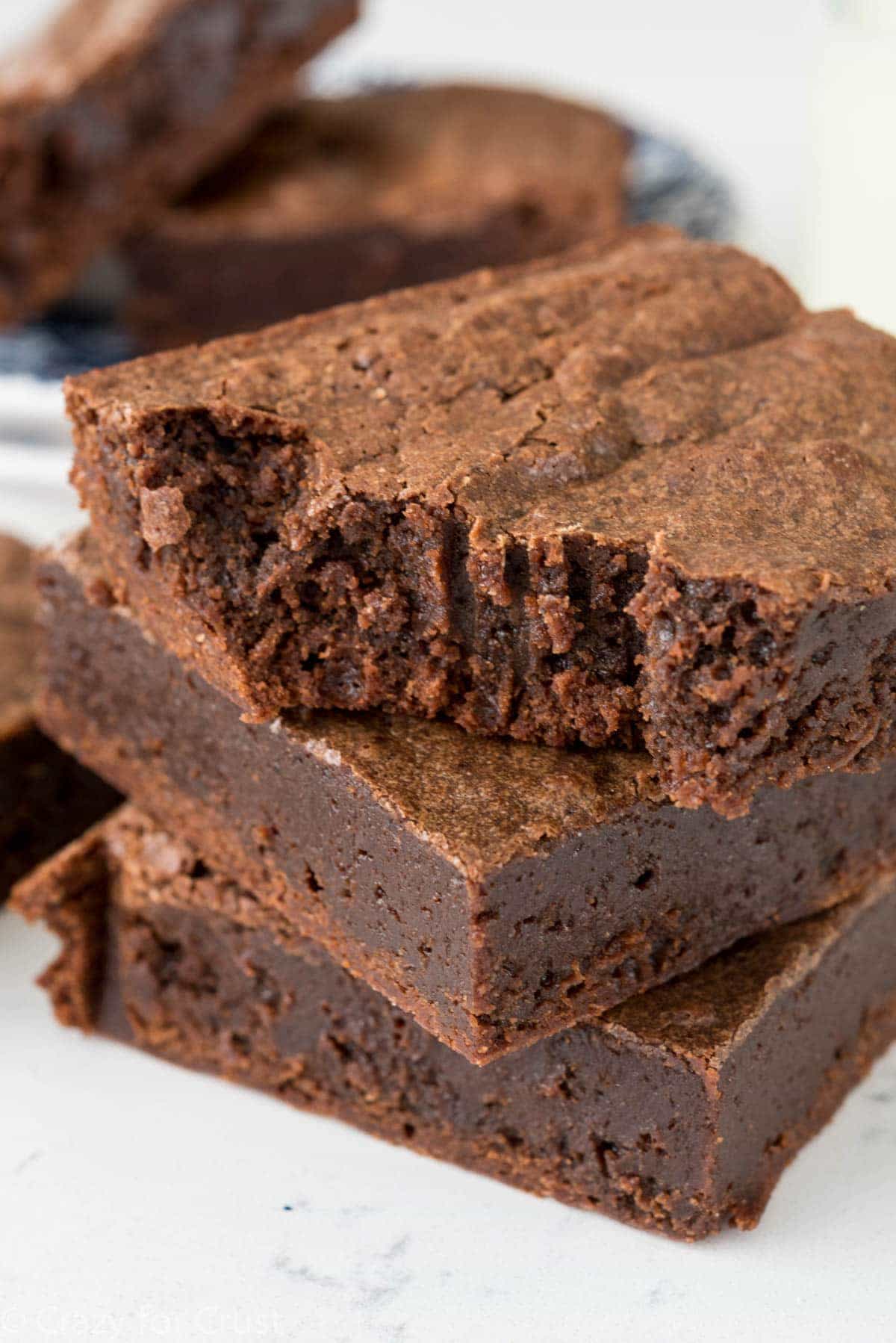 All text and images © DOROTHY KERN for Crazy for Crust. Please do not use my images without prior permission. If you want to republish this recipe, please re-write the recipe in your own words, or link back to this post for the recipe. Disclaimer: Nutrition information shown is not guaranteed to be accurate.
This post may contain affiliate links. For more information, read my disclosure policy.
Published on: September 5, 2015