This post may contain affiliate links. For more information, read my disclosure policy.
Today I'm sharing how you can make the BEST brownie recipe from scratch. Brown butter brownies are just as easy as regular ones with just one added step (making brown butter) and it makes a huge difference!
Learn how to make brown butter and take your brownies to the next level the next time your chocolate craving is intense! NEVER buy a box mix again.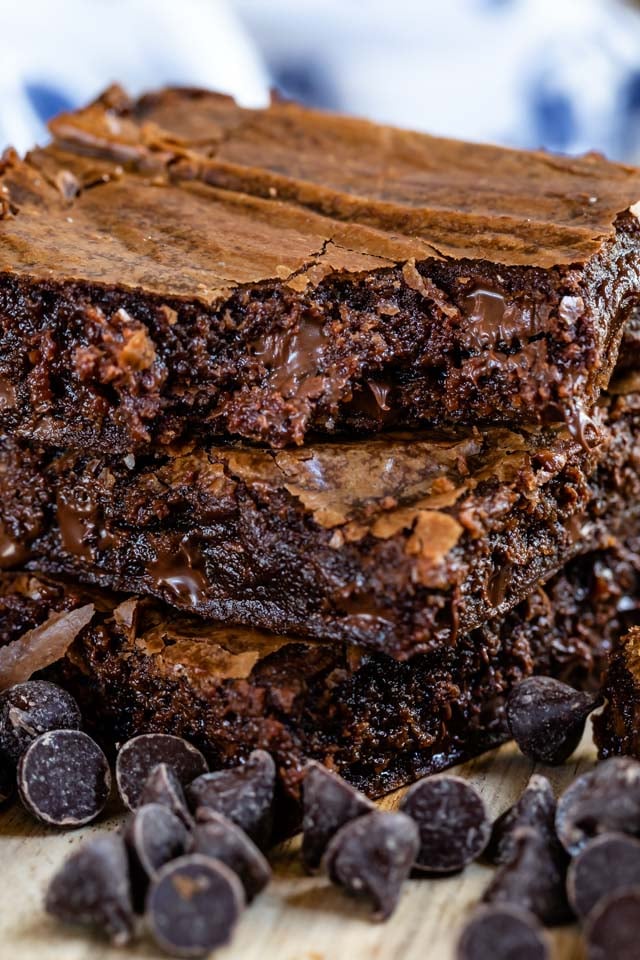 Have you ever had brown butter? I'm in love with the stuff and this brown butter brownie recipe is my favorite way to use it. Oh, who am I kidding? I love brown butter in so many dishes!
Why We LOVE These Brownies
I love my basic homemade brownie recipe, but adding brown butter just takes it to a whole other level. It adds a subtle nuttiness and depth of flavor you just don't get with regular butter. It pairs perfectly with the chocolate so you get rich, fudgy homemade brownies that will leave everyone wondering what the secret ingredient is.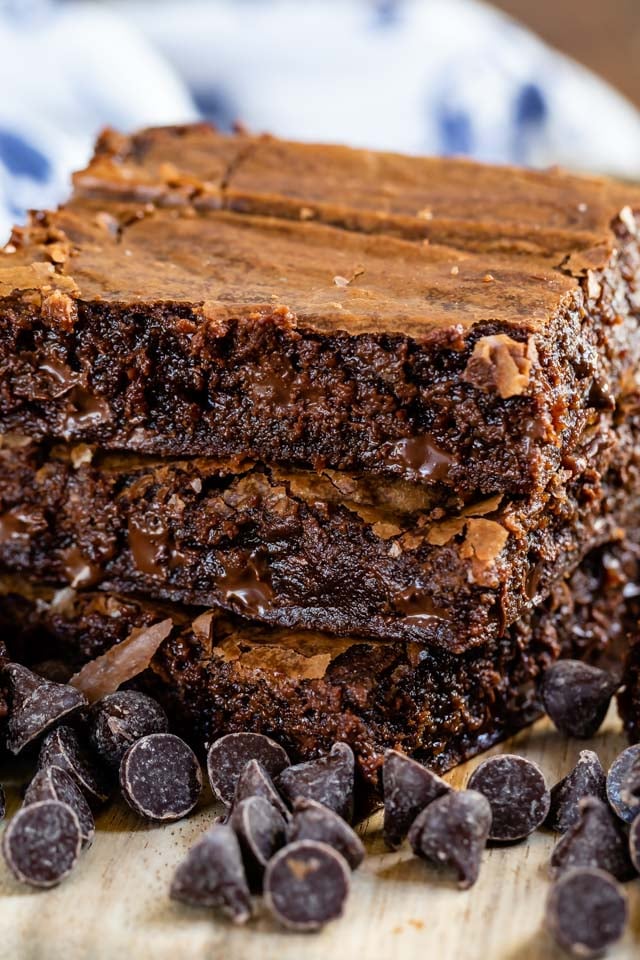 Ingredients for the best brownie recipe
Make this easy brownie recipe with brown butter with just a few ingredients:
Unsalted butter: using butter makes them rich and fudgy
Unsweetened Baking Chocolate: adds so much chocolate flavor
Sugar: YES a full 2 1/2 cups
Eggs: 4 eggs gives these that fudgy center texture
Vanilla extract and Salt: for flavor
Unsweetened cocoa powder: for MORE chocolate!
All-purpose flour: be sure to measure it correctly
Chocolate Chips
It is very important that you use unsalted butter in this recipe. Browning the butter in this way concentrates the flavor and if you use salted butter, the flavor will be very salty.
There is three kinds of chocolate in this recipe: unsweetened baking chocolate, cocoa, and chocolate chips. You can make some substitutions for each if you want:
Unsweetened chocolate: you can also use semi-sweet but this will make the brownies sweeter so reduce the sugar by 1/4 cup.
Cocoa Powder: you can use regular unsweetened, Hershey's Special Dark OR Dutch Process.
Chocolate Chips: use your favorite!
How to Make Brown Butter
Maybe you're wondering what brown butter is? Brown butter happens when you cook butter over low heat until it melts, then it boils and as it cooks it turns a light golden-brown color, hence the name.
Browning butter is SUPER easy, I promise. I have a brown butter tutorial post, but basically you do the following:
Melt: Add your butter to a saucepan and heat it over medium low heat for several minutes.
Stir: Stir it occasionally and watch it closely. As it cooks, the butter will foam and then subside until it starts to turn golden.
Watch it: If you've never made it before you just have to be careful to watch it as it starts to change color because it goes from butter color to burned pretty fast. You want a rich amber color.
So, it's not hard and it doesn't take long – you mostly have to stay close and as soon as it's that beautiful amber color, turn off the heat.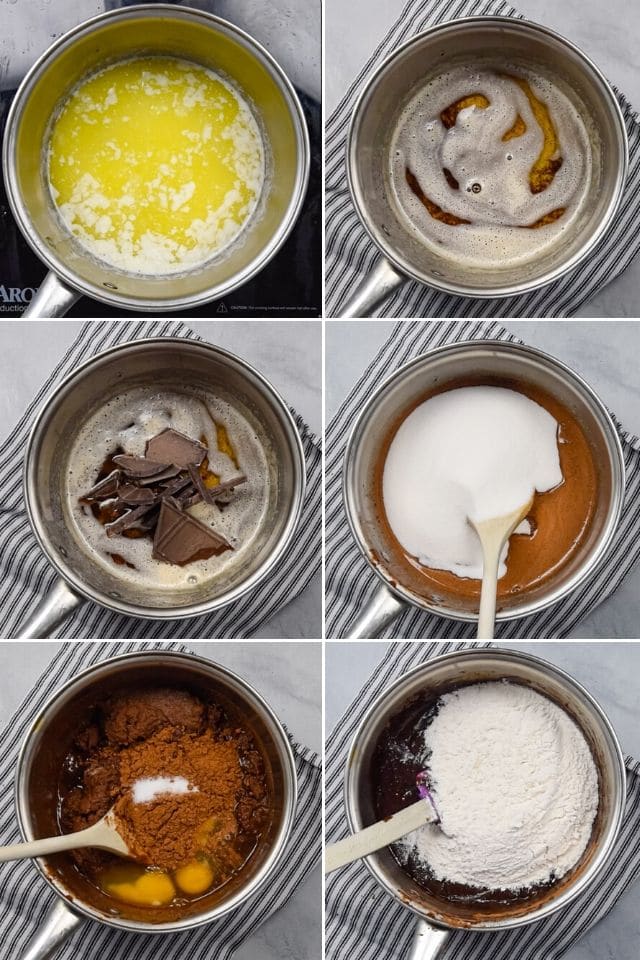 How to Make this Brownie Recipe from scratch
1. One Pot Brownies: I call these "one pot brownies" because you can make the batter in the same pot you browned the butter: no need to drag out other bowls. You can transfer the brown butter to a bowl if you prefer, but no need. Just make sure to remove it from the heat.
2. Melt Chocolate: While your butter is still warm, add the unsweetened chocolate and stir until it's melted into the butter.
3. Mix: Mix in the sugar, eggs, vanilla, cocoa powder and salt until well combined. Stir in the flour and that's it!
4. Bake: Pour the batter into a prepared 9×13" baking pan. Bake them for 20 to 24 minutes at 350°F. The brownies are done when a toothpick inserted along the side comes out with just a few crumbs.
5. Cool: Cool the brownies completely before slicing and serving.
Additions in Brownies
I love them just as they are but sometimes it's nice to give them a twist with some different add-ins. You can add one cup of the following add-in options before you bake them:
Chopped nuts
Chocolate chips
Other chopped candy of your choice
These brownies are so rich, so fudgy, so AMAZING. But, don't take my word for it – make a batch of these this weekend and I guarantee you will be a brown butter believer after! This really is the best brownie recipe. These would also be amazing with peanut butter frosting on top!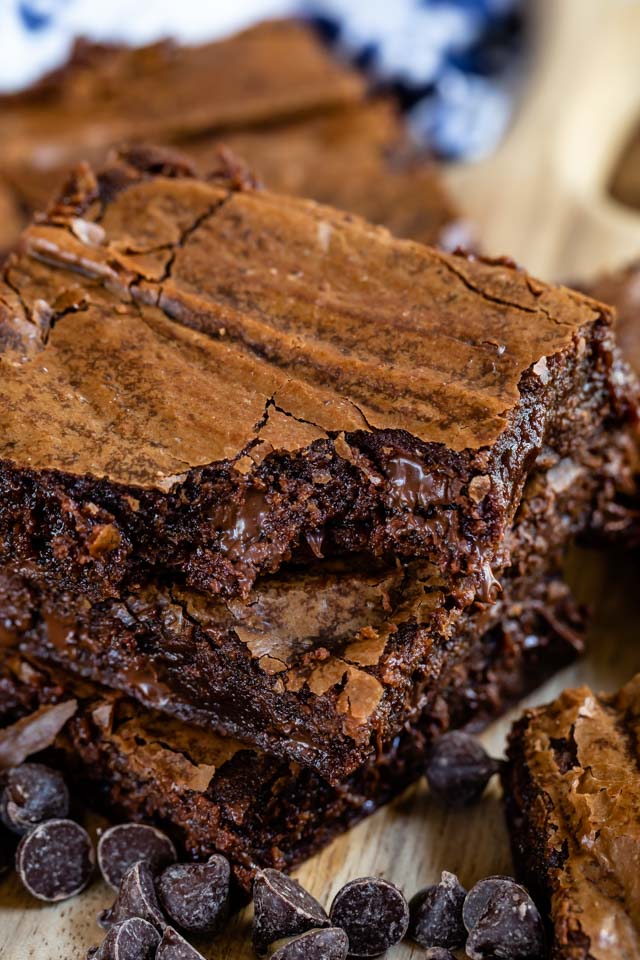 FAQ for making the BEST Brownie Recipe
What makes brownies fudgy?
Melted butter and an extra egg is the key to my fudgy brownies – the center stays nice and gooey.
How do you make brownies not cakey?
Be sure to measure your flour correctly, not use and baking powder or baking soda, follow the recipe, and don't over bake them!
Can I double the recipe?
This recipe makes a hefty 9×13-inch pan of thick brownies, so if you double the recipe be sure to use two pans. It can be doubled by just doubling everything in the ingredients.
How can I make these a small batch of brownies?
You can easily cut this recipe in half and bake them in an 8×8-inch pan.
How to store brownies?
Store these in an airtight container for up to 3 days on the counter.
Can I freeze brownies?
Yes, you can! I freeze them all the time – just place them in a gallon size resealable bag or airtight container and freeze for up to 3 months.
How do you make the best brownies from scratch?
Use this recipe: with 3 kinds of chocolate and lots of brown butter this is the best brownie recipe in the world. They're simple brownies with tons of flavor.
Other favorite brownie recipes:
Have you made this recipe?
Tag @crazyforcrust on Instagram or hashtag it #crazyforcrust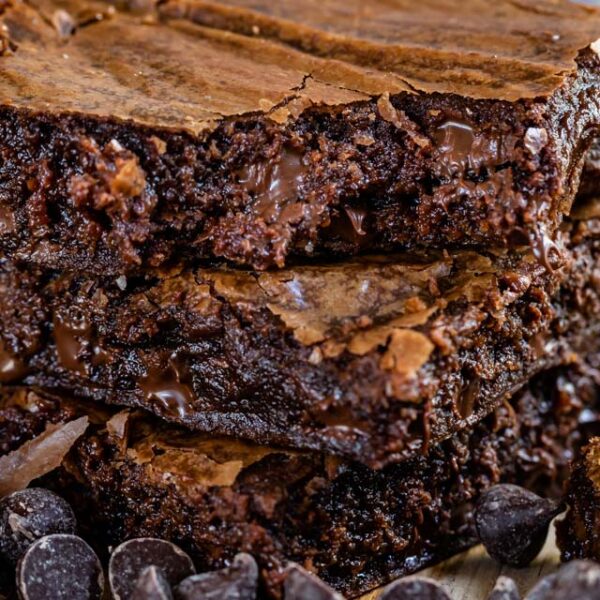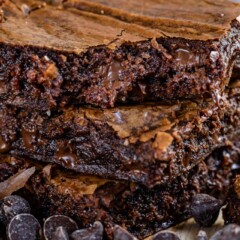 Brown Butter Brownies Recipe
These Brown Butter Brownies are my FAVORITE BROWNIES ever!! They're gooey and perfect and the brown butter inside gives them a unique flavor.
Ingredients
1

cup

unsalted butter

4

ounces

unsweetened baking chocolate

coarsely chopped

2 1/2

cups

sugar

1/4

cup

unsweetened cocoa powder

4

large

eggs

1

teaspoon

vanilla extract

1/2

teaspoon

salt

1 1/3

cups

all-purpose flour

1 1/2

cups

chocolate chips
Instructions
Preheat oven to 350°F. Line a 9×13″ pan with foil and spray with nonstick cooking spray.

Melt butter in a saucepan over medium heat. Cook, stirring often, about 6 minutes, until it becomes brown in color. It will foam, reduce, then foam again. Once it's done cooking the foam is a light brown and it will dissipate after you remove it from the heat. Once it starts to brown, keep stirring so it doesn't burn. Once it gets to an amber color, turn off the flame.

Add baking chocolate to the butter and stir until the chocolate is melted. Stir in sugar, eggs, vanilla, salt, and cocoa and stir until combined. Stir in flour then stir in chocolate chips

Pour brownie batter into prepared baking pan. Bake for 25-35 minutes until a toothpick along the edge comes out with just a few crumbs. This results in very fudgy gooey brownies. Cool before slicing into bars.
Recipe Nutrition
Serving:
1
brownie
|
Calories:
268
kcal
|
Carbohydrates:
36
g
|
Protein:
3
g
|
Fat:
14
g
|
Saturated Fat:
8
g
|
Cholesterol:
53
mg
|
Sodium:
71
mg
|
Potassium:
74
mg
|
Fiber:
2
g
|
Sugar:
28
g
|
Vitamin A:
307
IU
|
Vitamin C:
1
mg
|
Calcium:
27
mg
|
Iron:
2
mg
Nutritional information not guaranteed to be accurate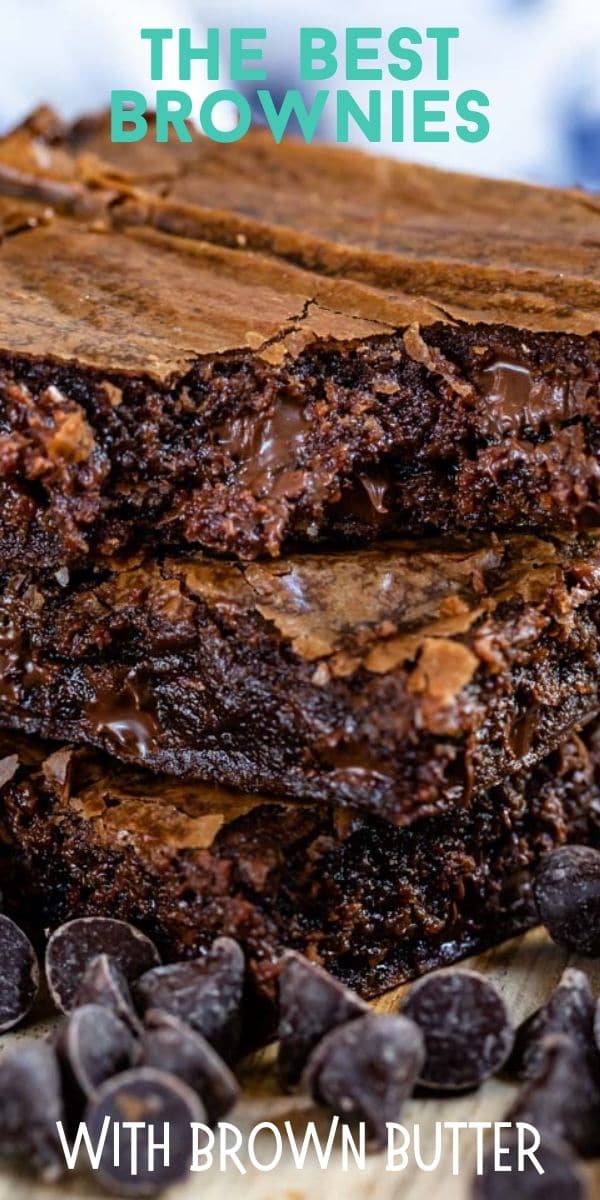 Brown Butter Brownies are an easy one bowl brownie recipe that are super fudgy and delicious thanks to the brown butter and the chocolate chips. This is my GO TO brownie recipe!
Last Updated on August 4, 2022