This post may contain affiliate links. For more information, read my disclosure policy.
Knowing how to make this buttermilk recipe at home has saved me so many times. I constantly forget to buy it at the store leaving me with two options when I'm baking: make my own or run to the store.
This is probably the EASIEST kitchen hack you'll ever learn!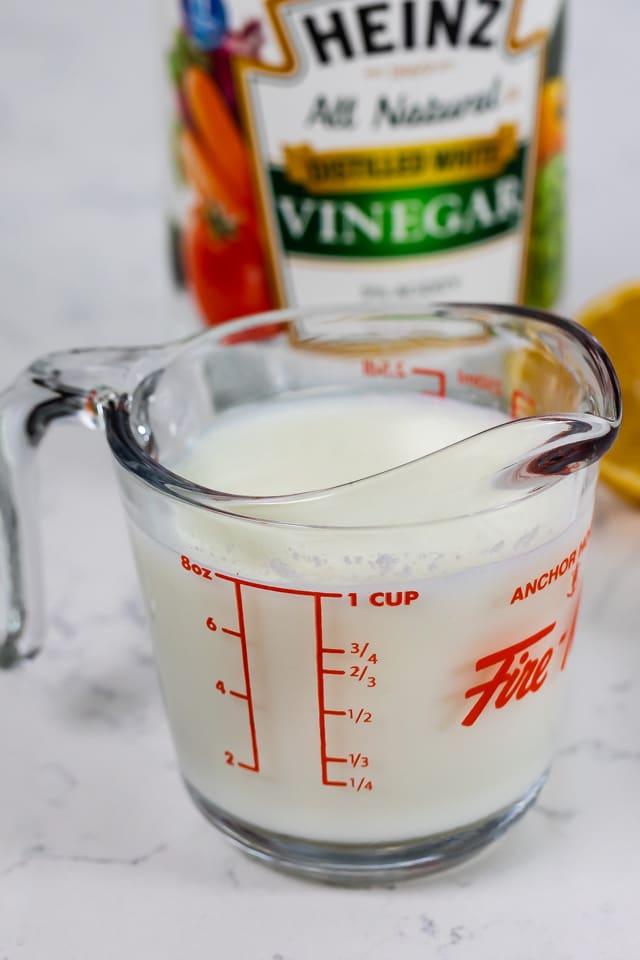 What is buttermilk?
Buttermilk is a fermented dairy drink. Back in the "olden days" it was the liquid that remained in the churn after churning butter out of cream. Back then, before refrigeration, having a use for this extra liquid was important so as not to waste it.
Today, most buttermilk is cultured and created from pasteurized milk by adding cultures that sours the milk.
Buttermilk Uses
This important ingredient is found in so many recipes! From cakes to pies to biscuits and breads, buttermilk is one of those important ingredients to have on hand.
It's used for flavor in lots of recipes but the sourness is also used to activate baking soda – the reaction causes some recipes to rise, making it an important ingredient that affects the outcome of a recipe.
Here are some of my favorite recipes that use buttermilk:
How do you make buttermilk substitute?
Since it is such an important ingredient and not always used just for flavoring, we need to know if there is a substitute or how to make it at home.
All you need are two ingredients to make homemade buttermilk from milk:
Milk (2% or nonfat is fine, whole is okay too)
White vinegar or lemon juice
You simply mix the vinegar or lemon juice with the milk and let it sit for 5 minutes.
How do you make buttermilk from yogurt?
You can also substitute yogurt! Usually, 1 cup of regular yogurt can be substituted equally for 1 cup of buttermilk.
You can also mix 1/4 cup of milk with 3/4 cup of regular yogurt for a thinner consistency.
If you're using GREEK yogurt, mix equal parts of milk with the Greek yogurt.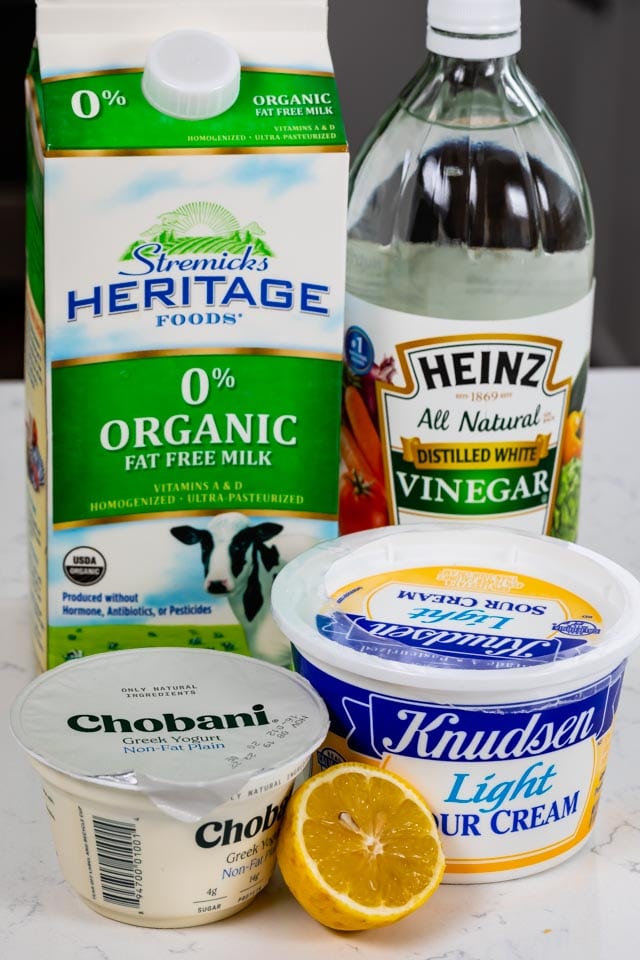 2 Ingredient Buttermilk Recipe Substitutes
While it's usually best to use the actual ingredients called for when baking, sometimes substitutes are a must. Here are a few ways you can substitute for 1 cup of buttermilk:
1 cup milk + 1 tablespoon white vinegar or lemon juice
1 cup regular yogurt
1/4 cup milk + 3/4 cup yogurt
1/2 cup milk + 1/2 cup Greek yogurt
1/4 cup milk + 3/4 cup sour cream
1 cup milk + 1 3/4 teaspoons cream of tartar
1 cup water + 4 tablespoons powdered buttermilk
The best buttermilk substitute is milk + white vinegar or lemon juice.

PRO TIP
How to make Vegan or Dairy Free Buttermilk
This is one of the questions I get most often! Most of the time you CAN do this but you must follow my rule!
Non-dairy milk won't "curdle" like buttermilk does when you add the vinegar. But you can't just swap a non-dairy milk without the vinegar or lemon juice because often the recipe needs the acid to activate the baking soda.
My solution: make it as stated in the recipe below (1 tablespoon vinegar or lemon juice + 1 scant cup almond milk or other nondairy milk) and just add it to the recipe. This will ensure the leavening works as its supposed to.
How Long Does Buttermilk Last?
Buttermilk will last a few weeks in the refrigerator if it's from the store (check the sell by date). Homemade buttermilk won't last as long – use it within a day or two.
Can you freeze buttermilk?
Yes you can freeze it! You can freeze milk or buttermilk. I recommend freezing it in its original container or an airtight one. Freeze for up to one month. You can even freeze buttermilk in small containers of 1 cup each so that you just have to pull out some when you want to make pancakes or vanilla cupcakes.
Be sure to read some of my other Baking Tips and Tricks: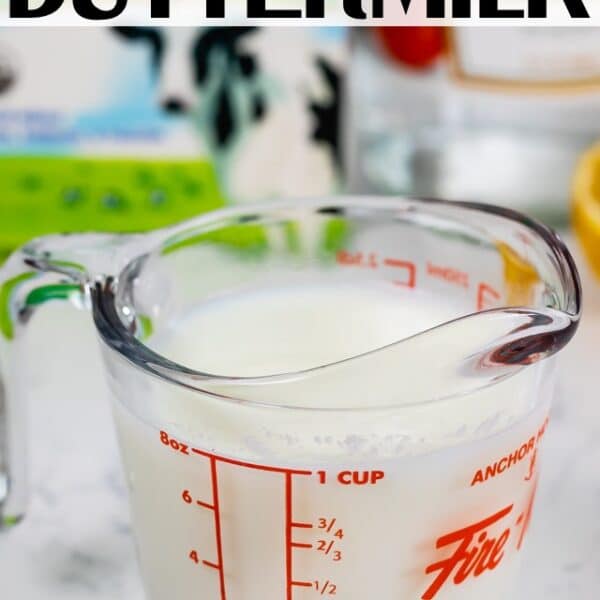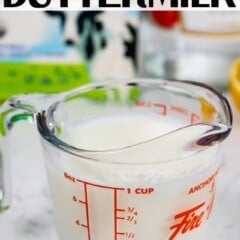 How to make Buttermilk
Knowing how to make buttermilk at home will save you time and money! Plus learn about all the subsitutes you can use for buttermilk.
Ingredients
1

tablespoon

white vinegar

or lemon juice

1

scant cup

milk

2% or nonfat, whole is fine
Instructions
Add vinegar or lemon juice to a measuring cup. Add milk to the 1 cup line. Let sit for 5 minutes. Use in place of buttermilk.
Recipe Nutrition
Serving:
1
cup
|
Calories:
3
kcal
|
Carbohydrates:
1
g
|
Protein:
1
g
|
Fat:
1
g
|
Saturated Fat:
1
g
|
Cholesterol:
1
mg
|
Sodium:
1
mg
|
Sugar:
1
g
Nutritional information not guaranteed to be accurate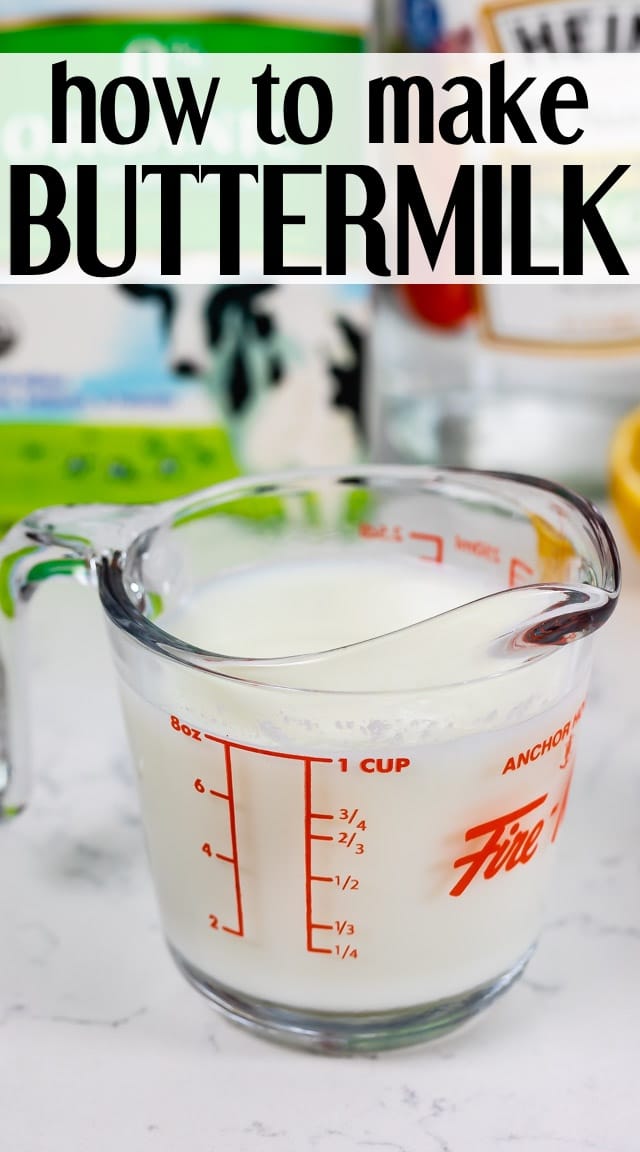 Last Updated on April 1, 2022