5 Organic Dairy Myths Debunked (and The BEST Pumpkin Muffins Recipe)
This post may contain affiliate links. For more information, read my disclosure policy.
What is Organic Milk anyway and why is it important? Today I'm sharing about Horizon Organic and why I buy organic milk.
Something to use organic milk in? The BEST Pumpkin Muffins! This easy muffin recipe is full of pumpkin flavor and perfect for fall breakfasts!
This post has been sponsored by Horizon Organic. All opinions are my own. Plus… pumpkin muffins are amazing!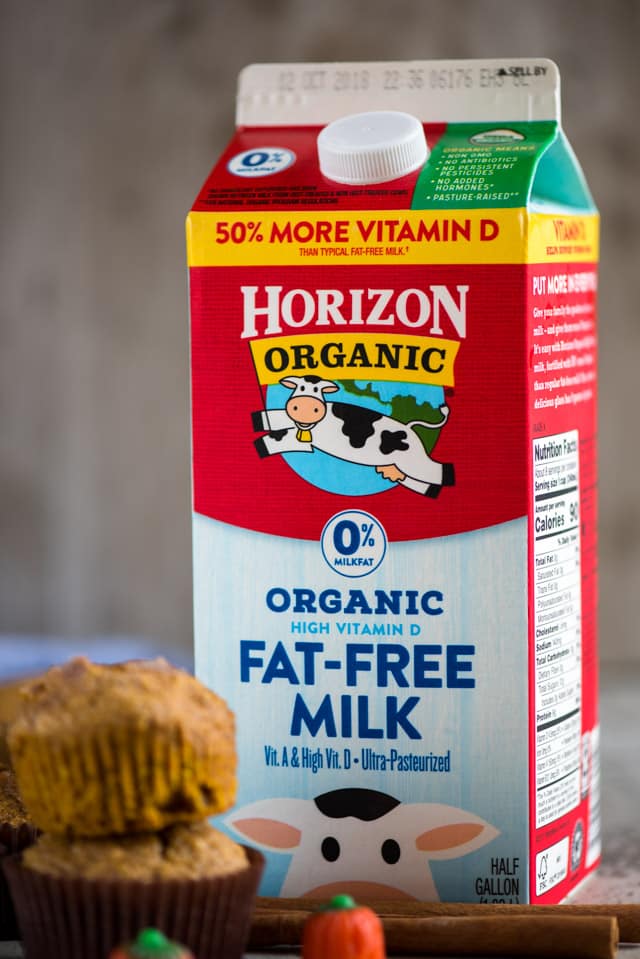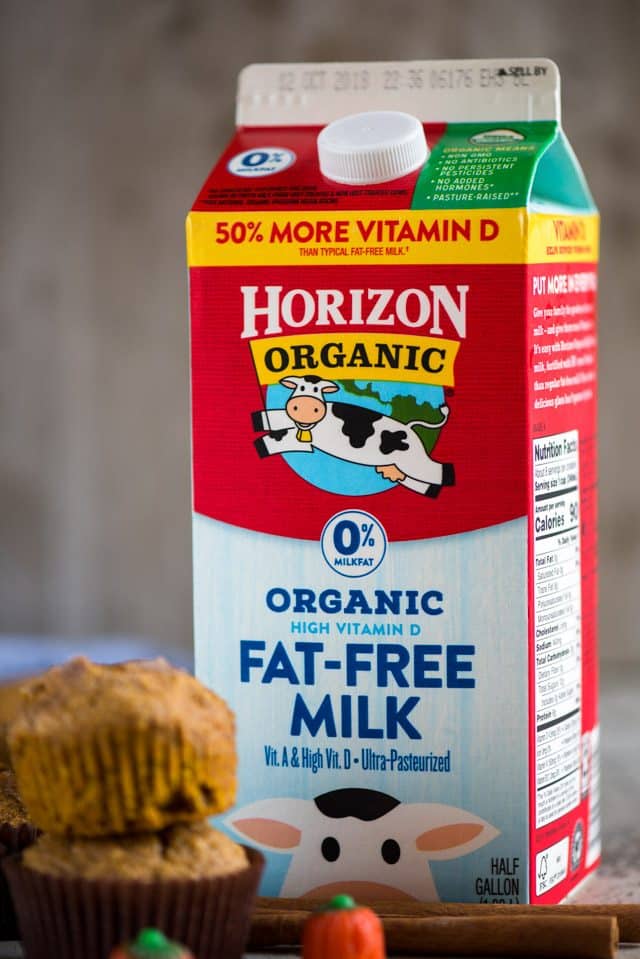 My family thinks Horizon milk tastes great, but that's not the only reason I like to buy organic.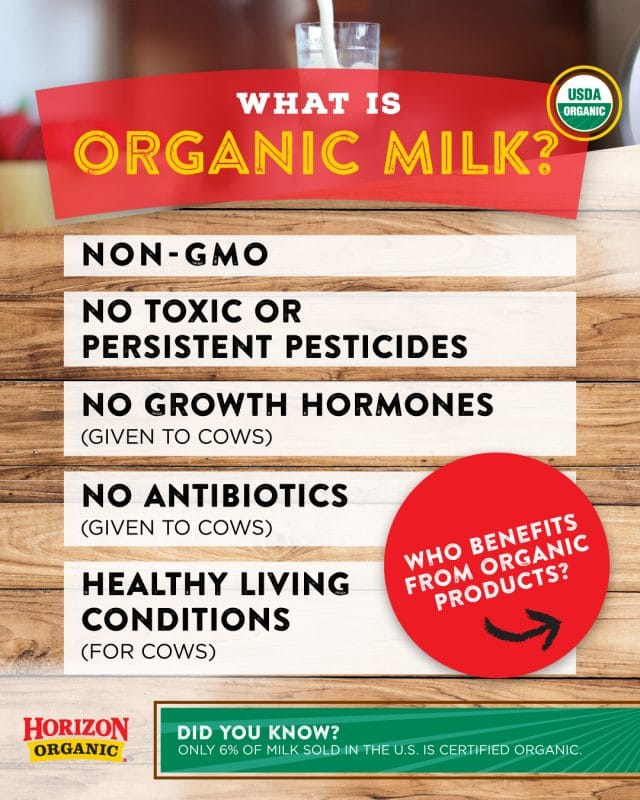 For a long time, I passed over Organic Milk because I didn't know why it was better. Then I learned a few things about organic milk I didn't know.
What is organic milk and why should you buy it?
It's non-GMO and the cows are given non-GMO food.
The milk comes from cows who haven't been given antibiotics.
No toxic or persistent pesticides are used to grow the food that's given to the cows.
No growth hormones are given to the cows.
Organic rules require healthy living conditions for the cows that produce organic milk. (It's the same reason I buy organic eggs!)
The most important part of organic milk for me: the animals have safe, healthy living conditions.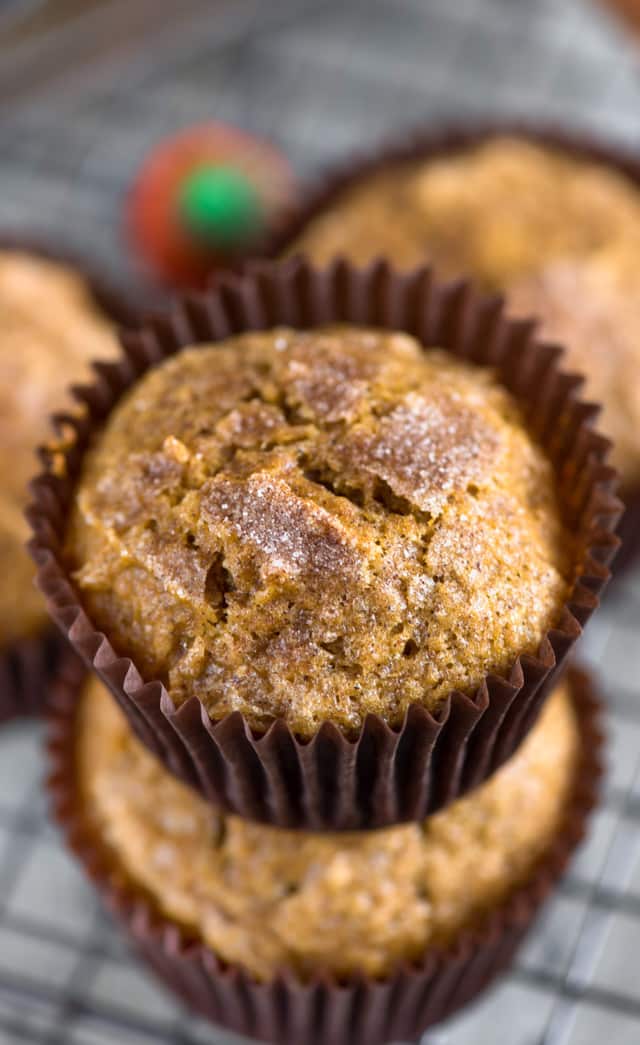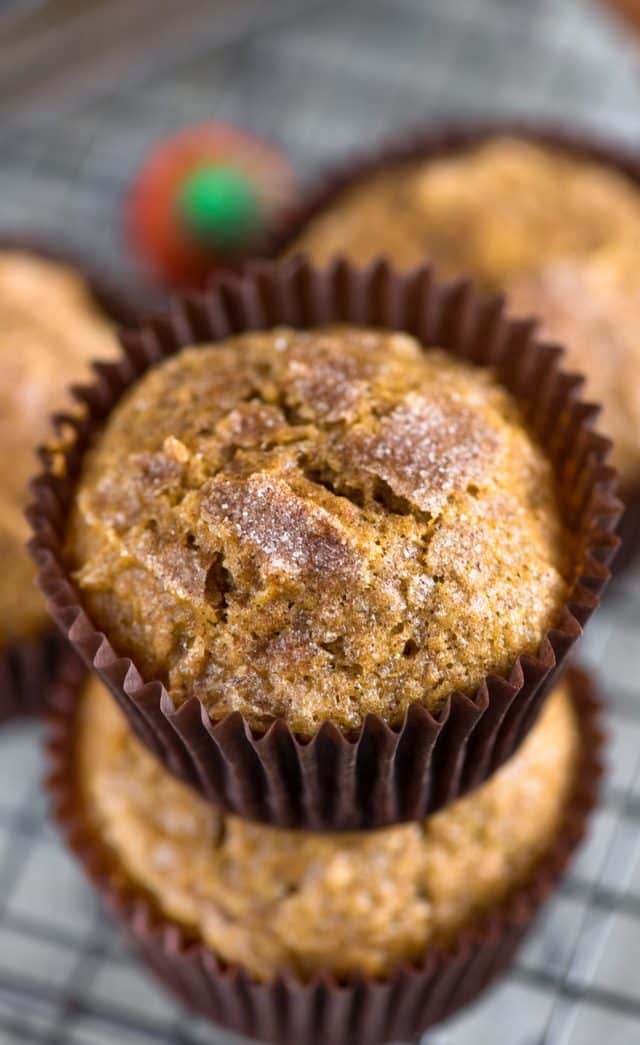 I really love that organic milk means the cows haven't been given antibiotics or hormones. However, for me, the most important thing about buying organic milk is that the cows have safe, healthy living conditions. I appreciate they have access to the outdoors year-round, must be provided shade, shelter, exercise, fresh air, and direct sunlight, and their housing has to have proper ventilation, clean water, and proper sanitation. The care of the animal is a huge deal to me.
Something else I always think about when we're headed back to school is whipping us into healthier eating again. I get really lax over the summer with cooking and shopping, so when the school year starts, I try to focus on buying healthier foods and making recipes with better ingredients, like organic milk.
I made these delicious pumpkin muffins with Horizon Organic Milk, and we absolutely loved the result!
I made these muffins the other morning just before my trainer came over to work out with me. She walked in and couldn't stop talking about how good my house smelled; it smelled like fall!
Whenever I bake Pumpkin Muffins or pumpkin bread or anything cinnamon and apple, it makes the whole house smell amazing. I know it's barely September, but I am so ready for fall and cooler temperatures! Once school is back in and Labor Day is over, I'm ready to slide headfirst into PSL season.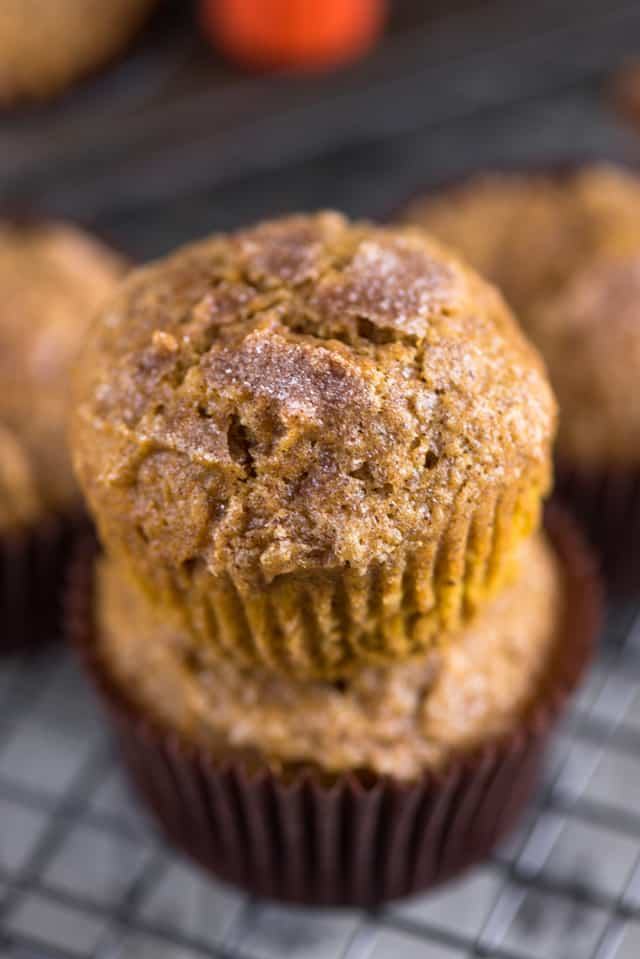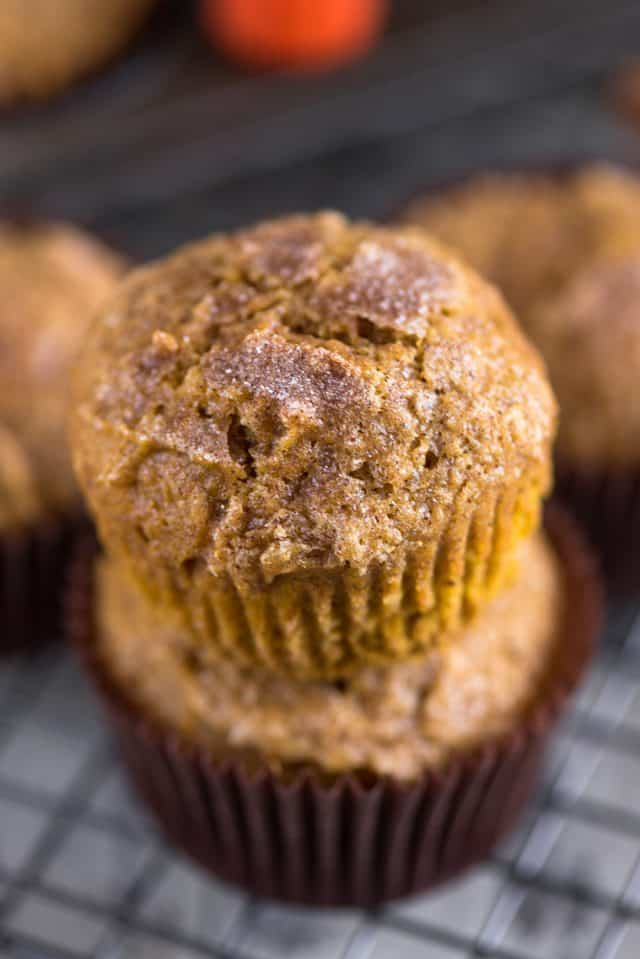 These easy pumpkin muffins are made from scratch!
I use milk in so many baked goods, from cake to banana bread and so many more. These pumpkin muffins use milk too. Milk is important for baking; the protein creates a strong batter. The sugar and fat in milk tenderize or moisten baked goods.
I used non-fat milk in these muffins, but you wouldn't know it's missing the fat because the pumpkin keeps the muffins super moist. However, if you only have reduced-fat or full-fat milk in your refrigerator, feel free to use one of those instead.
In addition to the milk and pumpkin, this easy muffin recipe has brown sugar and granulated sugar. I like using both in fall flavor muffins because the brown sugar adds a depth of flavor you'd expect from pumpkin recipes.
Don't forget the pumpkin spice! When you're making pumpkin muffins (or anything pumpkin for that matter), you have to add all the pumpkin spices to the batter so it actually tastes like what we've come to think pumpkin flavor is. If you don't have pumpkin pie spice, you can make your own with my DIY Pumpkin Pie Spice recipe.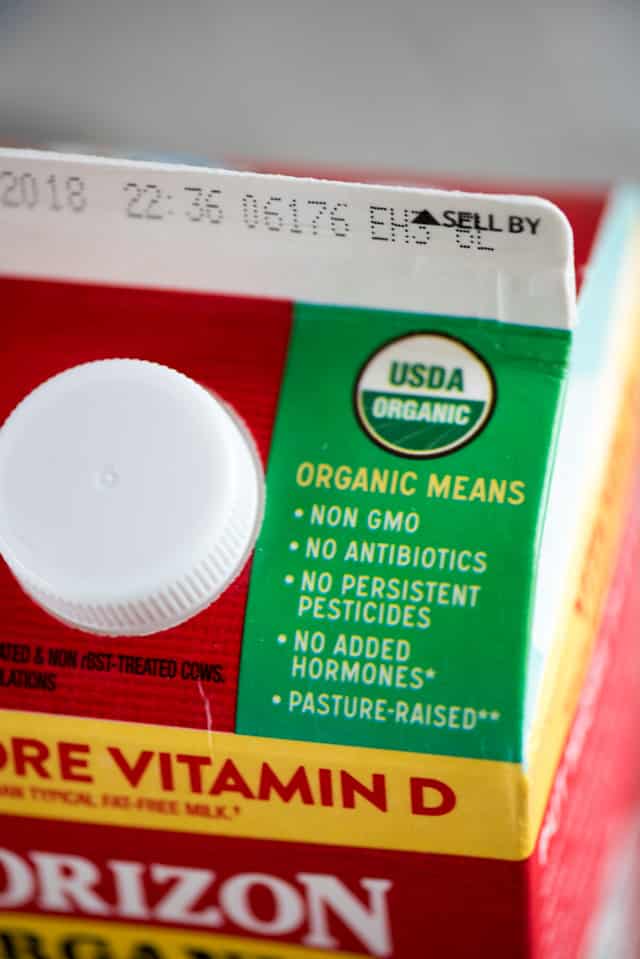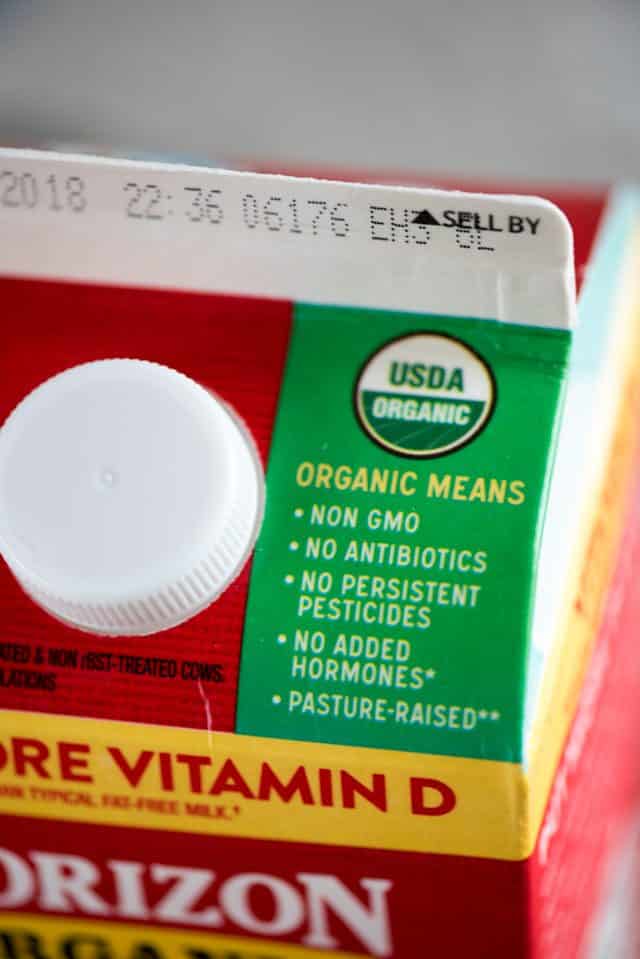 I love to sprinkle some cinnamon sugar on top of these muffins before baking too. It gives them a nice crunchy top with a little extra sweetness.
This pumpkin muffin recipe is kind of a blank slate. Want to add chocolate chips or peanut butter cups, or maybe even add a maple frosting on top? Feel free!
These taste great out of the oven, or you can store them in an airtight container or even freeze them for later. I love having a batch in my freezer for fast morning breakfasts!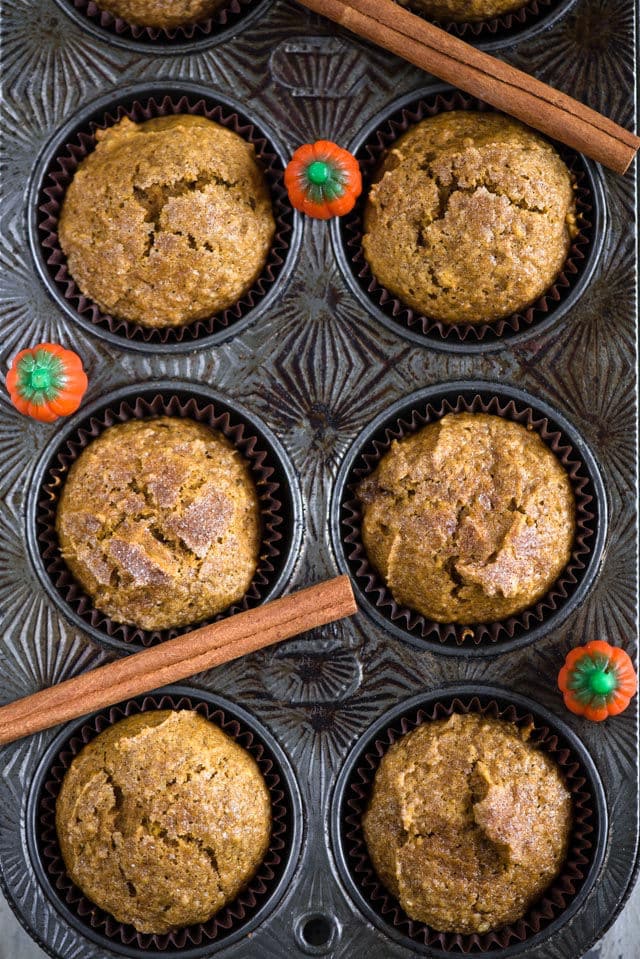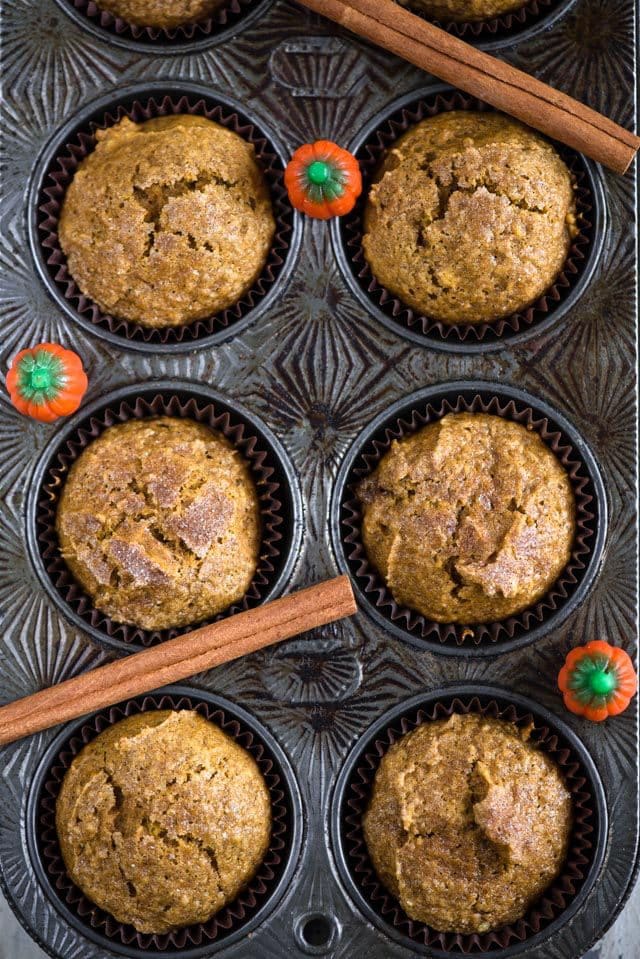 When you're shopping for ingredients, just remember: Only ORGANIC means ORGANIC, and Horizon Organic has you covered!
Want even more? Subscribe to Crazy for Crust to get new recipes and a newsletter delivered to your inbox. And stay in touch on Facebook, Pinterest, Twitter, and Instagram for all my latest updates.
Servings: 14 muffins
BEST Pumpkin Muffins
These are the BEST Pumpkin Muffins! This easy muffin recipe is full of pumpkin flavor and perfect for fall breakfast!
Ingredients
1/2 cup granulated sugar
1/4 cup brown sugar, packed
1 cup organic pumpkin puree
1/3 cup vegetable oil
2 large Horizon Organic eggs
2 teaspoons pumpkin pie spice
1/2 teaspoon salt
1 teaspoon baking soda
1 teaspoon vinegar or lemon juice
1/3 cup Horizon Organic Fat-Free Milk
2 cups organic all-purpose flour
1/4 cup cinnamon sugar — (see notes)
Instructions
Preheat oven to 350°F. Spray muffin pans with nonstick cooking spray or line with muffin liners.

Stir (or mix with hand mixer) together granulated sugar, brown sugar, pumpkin puree, and oil until smooth. Stir in salt, baking soda, pumpkin pie spice, and Horizon Organic eggs.

Add vinegar, Horizon Organic milk, and organic flour and stir or mix until no lumps remain.

Fill muffin cups about 2/3 full. Sprinkle each muffin with cinnamon sugar. Bake for 15-22 minutes, or until a toothpick comes out clean from the center of the muffin. Cool slightly before eating.

Store in an airtight container for up to 3 days or freeze for up to one month. To defrost, heat in microwave or let sit on the counter.
Recipe Notes
To make your own cinnamon sugar, mix 1/2 cup granulated sugar with 1 tablespoon cinnamon and stir. Store in an airtight container.
Course: Breakfast
Cuisine: American
Keyword: muffin, pumpkin
Nutrition Information
Amount per serving (1 muffin) — Calories: 185, Fat: 6g, Saturated Fat: 4g, Cholesterol: 26mg, Sodium: 176mg, Potassium: 79mg, Carbohydrates: 30g, Fiber: 1g, Sugar: 15g, Protein: 3g, Vitamin A: 2775%, Vitamin C: 0.8%, Calcium: 24%, Iron: 1.3%
**Did you make this recipe? Don't forget to give it a star rating below!**
This is a sponsored conversation written by me on behalf of Horizon Organic. The opinions and text are all mine. [TAPINFLUENCE AGREEMENT: https://www.tapinfluence.com/tapinfluence-master-influencer-agreement/]