Mom know's best, which is how I know this is the BEST Banana Bread recipe! It's my mom's recipe and I've been eating (and making it) my entire life.
It's so easy to make banana bread and my mom has a few secrets to getting the perfect taste, texture and that telltale crack down the center. This is a no fail recipe – promise!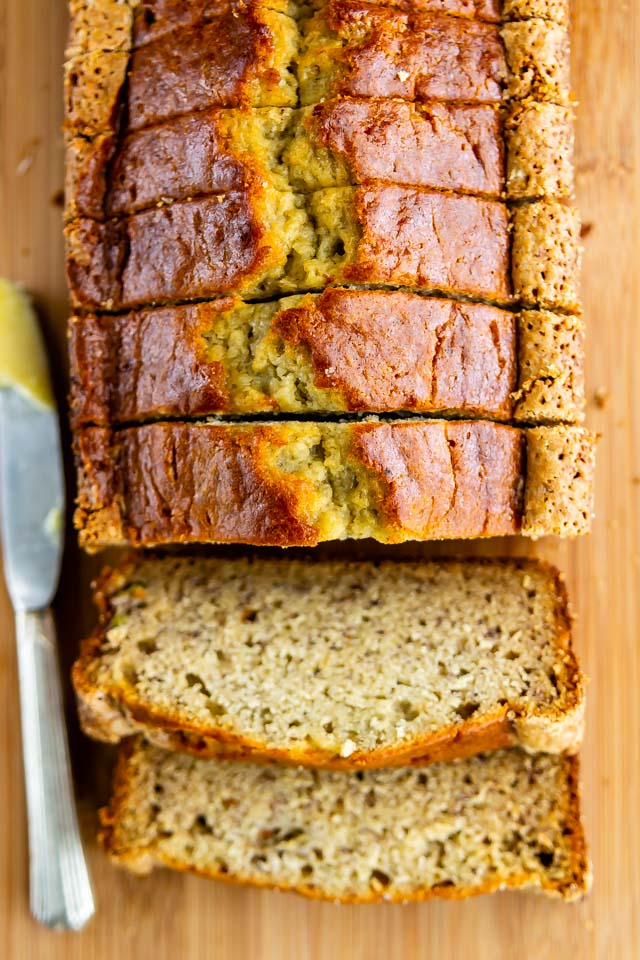 I make a lot of banana bread. I eat a lot of banana bread. In fact, I've posted lots of banana bread!
Every single banana bread or banana-like muffin on this site has been based off of one recipe: my Mom's. It's one of those recipes I've eaten my whole life.
I have to say, I think it's the best banana bread recipe, ever. And while I love all my variations, I still love the original recipe the best.
Banana bread is the perfect way to use up overripe bananas – and it's so easy to make. You're going to love my mom's recipe. She has two simple things she does that makes her bread stand apart: the milk and the pan.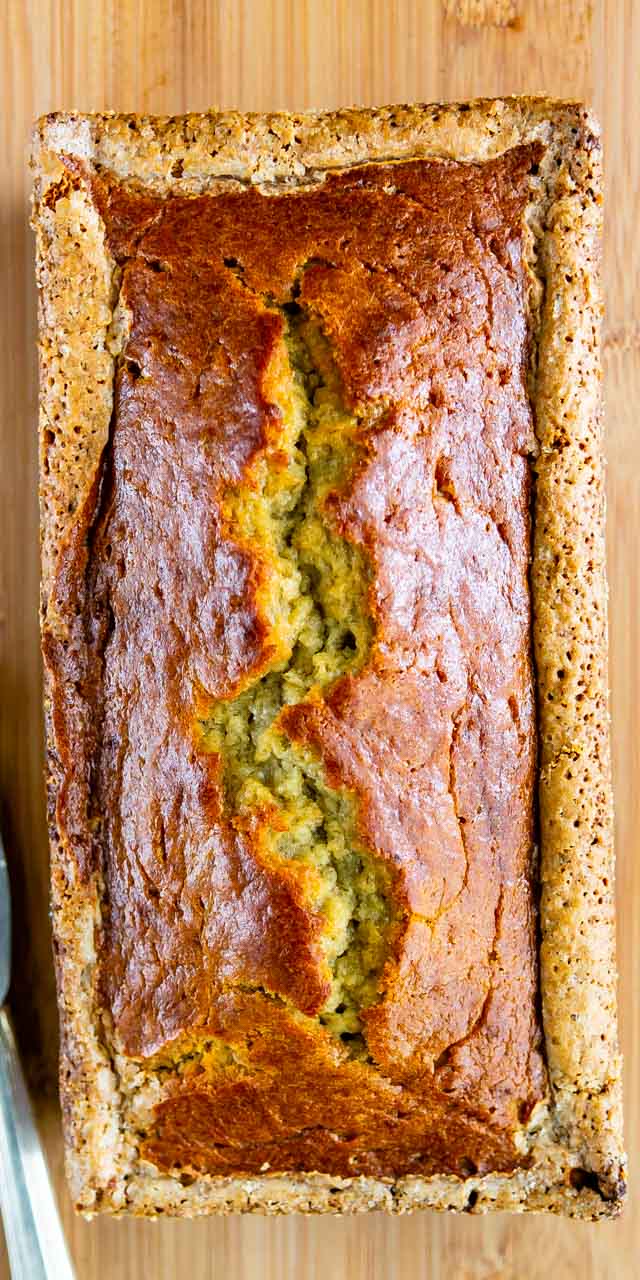 What's in Banana Bread?
Banana Bread is a simple quick bread recipe. "Quick Bread" is bread that doesn't have yeast (as in, it's quicker to make it because it doesn't need to rise).
Most banana bread have the same main ingredients:
Bananas
Butter
Sugar
Eggs
Flour
Leavening
Milk
Use Overripe Bananas for the best bread
Overripe bananas are sweeter and softer and they're the best for baking. At one time of another we've all bought bananas and forgotten about them, right?
You know your banana is overripe because they're brown and spotty, with no hints of green. My mom always called them "tired" bananas.
Did you know you can freeze bananas? Whenever I get ones that get too overripe, I just throw them in the freezer (peels and all). Then I defrost them on the counter to make banana bread or cake whenever I want.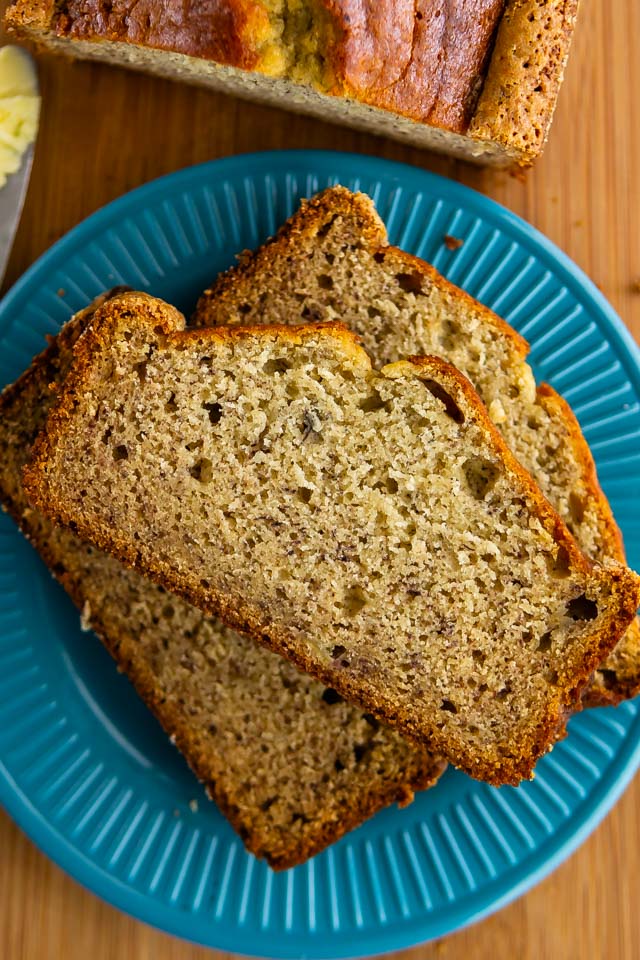 Butter, Sugar and Flour
When it comes to the other basic ingredients in this banana bread recipe, they are, well, basic:
Butter: I use unsalted butter but my mom always uses salted. If you're using salted butter, omit the salt in the recipe.
In a pinch, you can substitute vegetable oil, but make sure to use the salt in the recipe in that case (oil doesn't have salt in it).
Otherwise, we use granulated sugar and all-purpose flour. You can substitute half whole wheat flour (so 1 cup each whole wheat and all-purpose) if you want.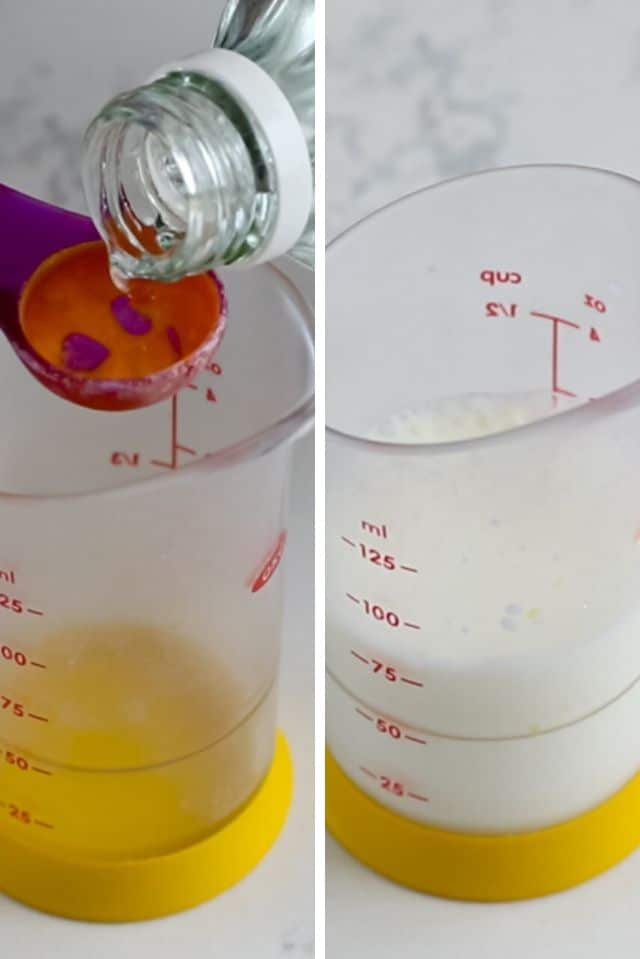 Mom Tip #1: Sour Milk
My mom's recipe calls for sour milk. So, what's sour milk?
Basically, sour milk is the same thing as buttermilk. Back when this recipe was written, I'm figuring that milk went sour more than it does now, but if you don't have sour milk sitting around, don't worry, you can make your own.
The recipe calls for 7 tablespoons sour milk. You can use:
½ teaspoon vinegar or lemon juice + 7 tablespoons milk or nonfat milk
½ teaspoon vinegar or lemon juice + 7 tablespoons nondairy milk
7 tablespoons buttermilk
The acidity in the sour milk (or vinegar or buttermilk) active the baking soda, making the bread rise.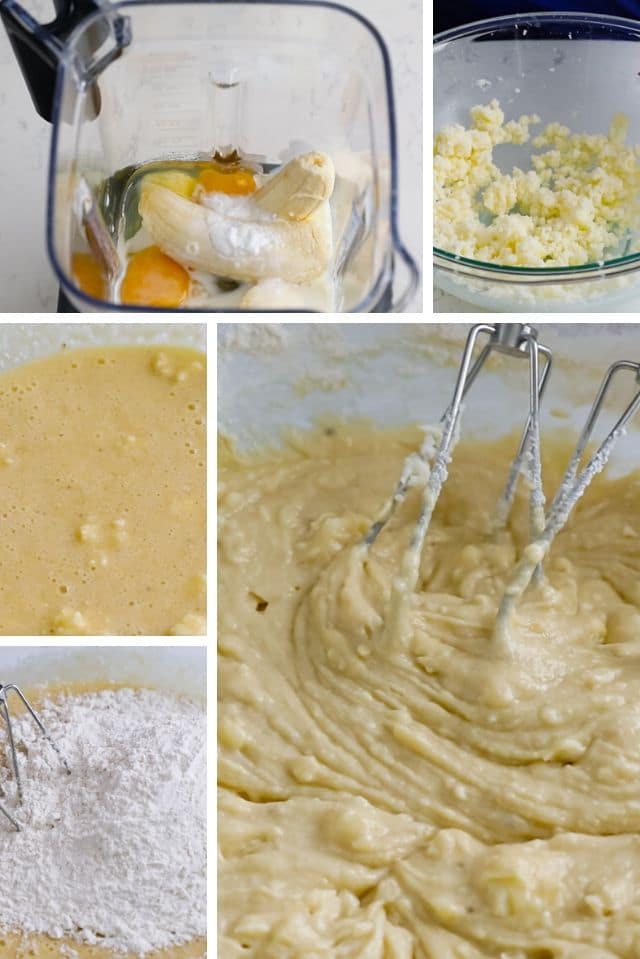 Tips for mixing the batter
Now, you may notice something a little different about this recipe: it uses a blender.
First, I cream together the butter and sugar, like you would do with any quick bread recipe. Then, you add the bananas, eggs, milk, and baking soda in a blender until it's liquid.
Now, you can definitely mash the bananas with a fork and just beat all the ingredients together in your mixing bowl. But I love how the puree gets that banana flavor into every single crumb of the bread.
Then, just add the puree into the creamed butter and sugar with the flour and mix until combined. You can also add some mix-ins at this point if you want:
½ cup chopped nuts
½ cup mini chocolate chips (or regular chocolate chips)
Then comes mom's tip #2: the pan.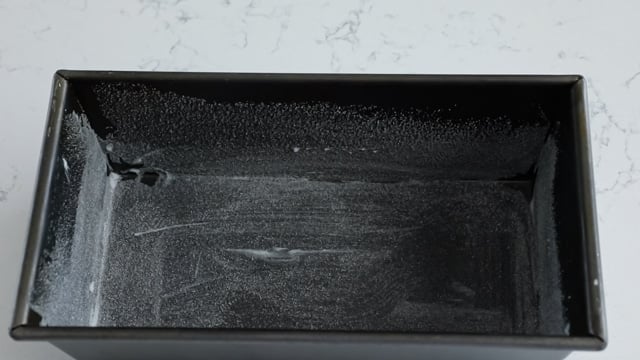 Mom's Tip #2: Flour and Sugar the Pan
You've probably "greased and floured" a pan before, right? For cakes or muffins or a whole multitude of things? Normally I use cooking spray for all my pans. But not for banana bread!
To get the amazing pan effect for this bread you grease the pan with butter or shortening, then you add some sugar and move the pan around so that you coat all the greased parts with sugar. Add the batter as you normally would and bake.
The sugar gives an amazing crunchy sweet crust to the bread. See that outer edge around the bread? That's from the sugar on the pan. It's crunchy on the outside, soft on the inside.
Mind. Blowing.
Note: do NOT try and sugar your pan using a cooking spray instead of butter or Crisco. I've had reports that it turns the bread black, which is not appetizing.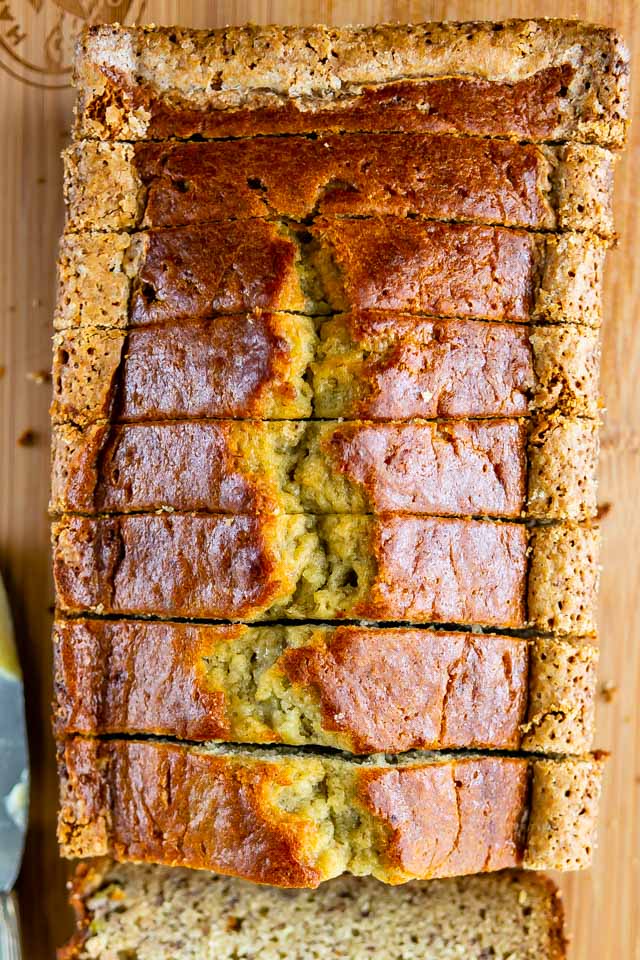 Baking Banana Bread
Banana bread bakes for a long time (about 45-55 minutes, depending on your oven).
The bread will get dark golden on the top and there will be that nice long crack running through the center. The crack is my favorite part!
You know it's done when a toothpick comes out with just a few crumbs from the center of the crack.
Then you just have to wait until it cools a little. In a perfect world you'd wait until it's totally cool and then remove the whole loaf from the pan.
The only time it's ever been a perfect world in my house is when I knew I was doing a photo shoot. Otherwise? Fork to pan.
This recipe also makes great mini loaves or muffins. I've done them all. Just adjust your baking time.
Storing and Freezing Banana Bread
It won't last long, but store it covered on the counter. If you're like us, it'll be gone in a day.
You can also slice the cooled loaf and freeze the slices in sandwich baggies. Then pop one into a lunchbox for a yummy mid-morning snack.
Oh God. Now I'm drooling. Excuse me, off to my freezer!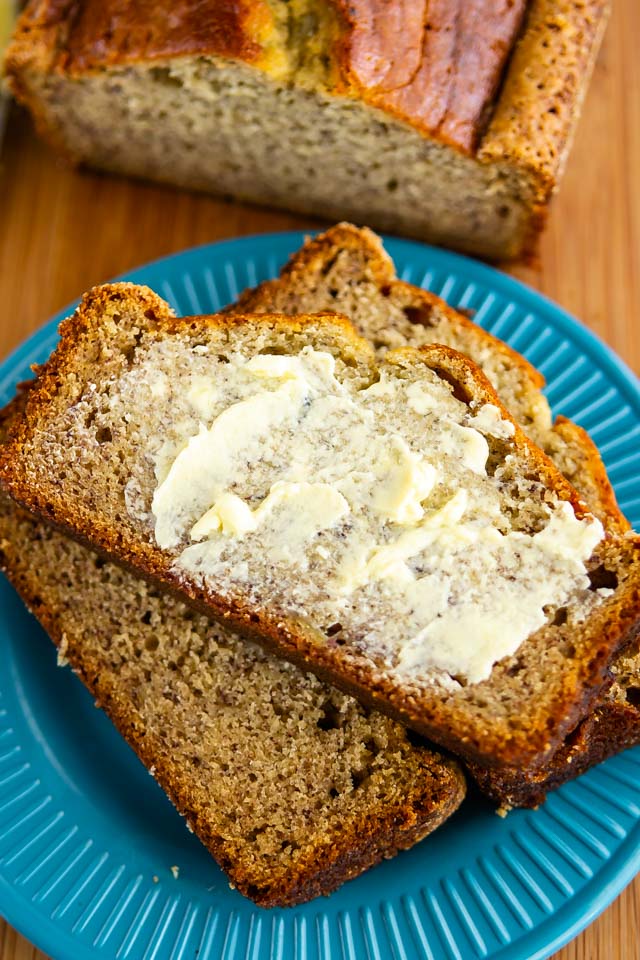 Other recipes great for using overripe bananas:
Have you made this recipe?
Tag @crazyforcrust on Instagram or hashtag it #crazyforcrust
Mom's Best Banana Bread Recipe
The best banana bread recipe: it's my mom's recipe and is great for using overripe bananas. It's easy and so delicious.
Ingredients
1

cup

granulated sugar

plus more for the pan

1/2

cup

salted butter

softened (plus more for the pan)

2

medium tired bananas

brown spotted

2

large eggs

7

tablespoons

sour milk

see note

1

teaspoon

baking soda

2

cups

flour

spooned and leveled

1/2

cup

chopped nuts

or chocolate chips, optional
Instructions
Preheat oven to 375°F. Grease a 9x5x3" loaf pan with butter and coat it with sugar. (You do this like you would grease and flour a pan. Grease it first, then add about 2 tablespoons sugar to the pan and move the pan side to side until the bottom and sides are coated with sugar. Do NOT substitute cooking spray for the butter. You can skip the sugaring and just use cooking spray, if you wish.)

Cream butter and sugar with a hand mixer. Set aside.

Add bananas, eggs, milk, and baking soda to a blender jar and blend until smooth.

Pour half the banana mixture into the butter mixture with 1 cup of flour. Mix with hand mixer until just incorporated, then add the remaining banana mixture and flour. Mix until just incorporated. Stir in nuts if using them. Pour into prepared pan.

Bake for 50-60 minutes until a toothpick comes out with just a few crumbs. The edges will be a dark brown and there will be a nice crack down the center.

Cool completely before removing loaf from pan, but you can cut slices from the pan after it's cooled for about 15-20 minutes.
Recipe Video
Recipe Notes
In place of the sour milk you can use:
1 teaspoon vinegar + 7 tablespoons milk or nonfat milk
1 teaspoon vinegar + 7 tablespoons nondairy milk
7 tablespoons buttermilk
Nutrition Information
Serving:
1
serving
|
Calories:
328
kcal
|
Carbohydrates:
46
g
|
Protein:
5
g
|
Fat:
15
g
|
Saturated Fat:
7
g
|
Cholesterol:
58
mg
|
Sodium:
209
mg
|
Potassium:
163
mg
|
Fiber:
2
g
|
Sugar:
24
g
|
Vitamin A:
363
IU
|
Vitamin C:
2
mg
|
Calcium:
30
mg
|
Iron:
2
mg
Click here for easy ways to use overripe BANANAS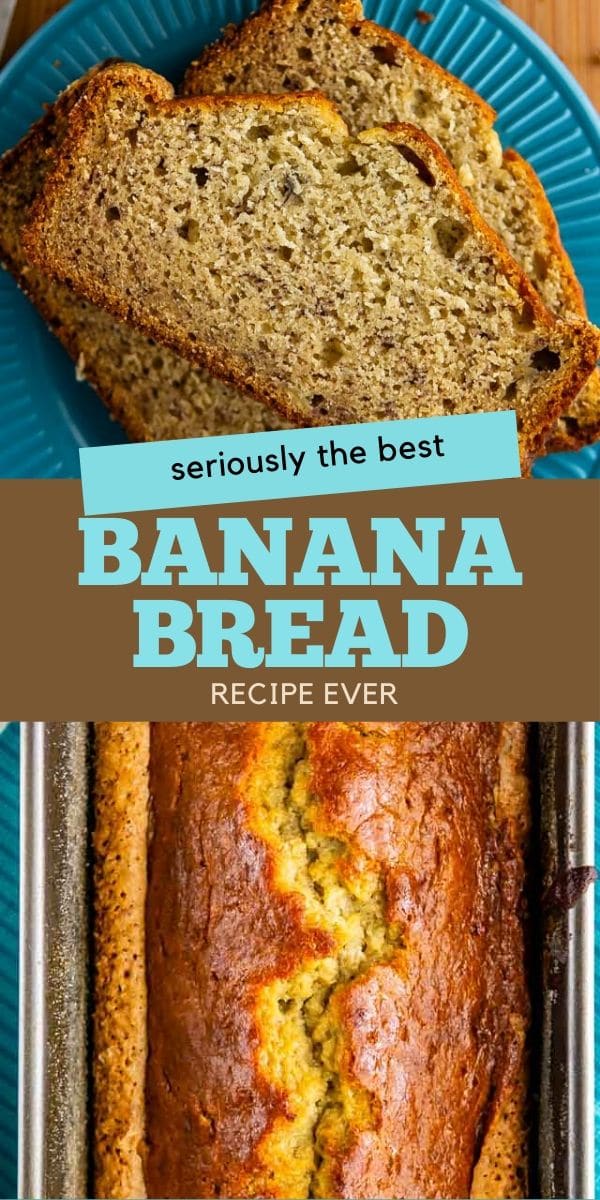 This is the BEST Banana Bread Recipe ever – it's an easy moist banana bread that's my mom's recipe. Make this plain or with chocolate chips or walnuts – it's such a simple classic and the BEST recipe!
All text and images © DOROTHY KERN for Crazy for Crust. Please do not use my images without prior permission. If you want to republish this recipe, please re-write the recipe in your own words, or link back to this post for the recipe. Disclaimer: Nutrition information shown is not guaranteed to be accurate.
This post may contain affiliate links. For more information, read my disclosure policy.
Published on: March 30, 2020