Easy Pumpkin Danish
This post may contain affiliate links. For more information, read my disclosure policy.
Oh yes, I'm pulling out the pumpkin. It's never too early for pumpkin!
First up for the best baking season: Easy Pumpkin Danish. Ready in under 30 minutes!
I said it last week: If you bake it, fall will come.
Well guess what? Fall did come. For 2 days it was cooler and overcast and it even drizzled. Then Mother Nature was all "NO FREAKING WAY! You need to BURN!" and she sent back the 90s…with humidity.
So I'm trying it again. It's pumpkin time people, let's all get on the fall baking train! Let's make the easiest pumpkin danish ever and then smoosh it in our faces for breakfast.
Or, you can pin it for next month. Whatever.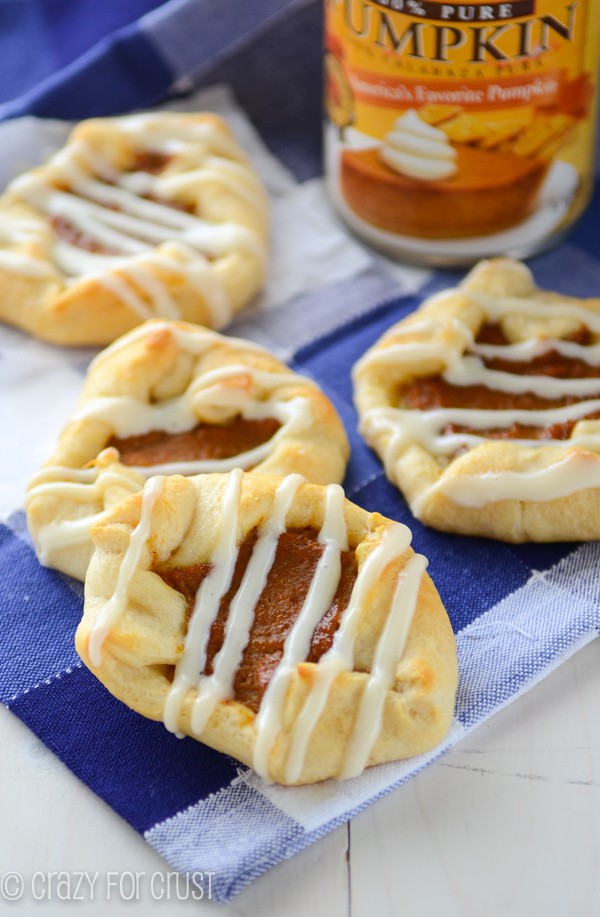 When I say this is the easiest ever, I really mean it. The danish dough starts with Pillsbury Crescent Rolls. I absolutely love those things.
This is the same basic idea I used to make these easy lemon cream danish earlier this year. You unroll the Crescent Rolls and press the seams together as best as possible. Cut the rectangle into 8 sections.
I like to place my crescent squares on my baking sheet for the shaping of the danish. They're hard to transfer once they're filled and room temperature.
Then simply add your pumpkin mixture and fold up the edges so the danish are a sort-of circle.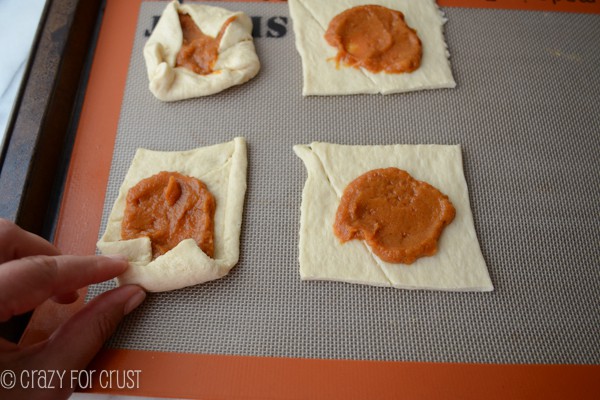 Once they're baked you can make a cream cheese glaze for them. Because, well. Pumpkin + Cream Cheese = Heaven.
These are easy and fast, and if they're unglazed you can freeze them for quick morning breakfasts or for whenever the pumpkin craving hits.
Like in August. When you want fall to come. I mean…school starts next week. School in session = fall = fall baking = pumpkin.
See? My math is totally legit.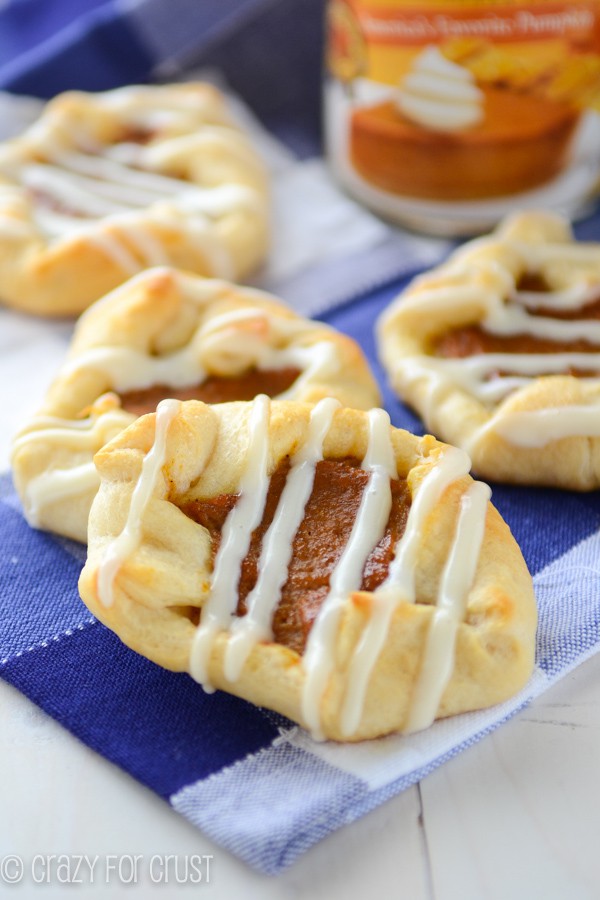 Get ready, internets. It's time for all the pumpkin. 🙂
Servings: 8 danish
Easy Pumpkin Danish
Crescent Rolls are filled with a pumpkin mixture to make an amazing fall breakfast! Topped with cream cheese glaze, these are the best way to get in the mood for pumpkin season.
Ingredients
Danish:
1 can Pillsbury Crescent Rolls — 8 rolls
3/4 cup pumpkin puree — not pumpkin pie mix
1/4 cup granulated sugar
1 teaspoon vanilla extract
1 teaspoon pumpkin pie spice
1 egg
 
Glaze:
2 ounces cream cheese — very soft
1/3 cup powdered sugar
1/4 teaspoon vanilla extract
1 tablespoon milk — nonfat, 2%, or regular
Instructions
Preheat oven to 350°. Line a cookie sheet with parchment paper or a silicone baking mat.

Unroll the Crescent Rolls into a large rectangle. Break the rectangle in half along the seam, so you have two rectangles made up of four crescent rolls each. Press the seams together, and then cut each rectangle into four squares, for eight total danishes.

Whisk together the pumpkin puree, granulated sugar, vanilla, pumpkin pie spice, and egg. Mix until smooth.

Note: It's easiest to place the Crescent rolls on the cookie sheet then add the pumpkin. It's hard to transfer them once they're filled.

Spoon about 1 1/2 tablespoons of the pumpkin mixture into the center of each Crescent square. Fold up the edges around, crimping as needed, to make your danish shape.

Bake for about 9-11 minutes, until golden. Cool before glazing.

To make the glaze: use a whisk or a hand mixer and beat cream cheese until smooth. Mix in powdered sugar then add vanilla and milk. Drizzle over danish. (I place mine in a sandwich sized ziploc bag and cut off one tip to drizzle in stripes.)
Click HERE for more Pillsbury Dough Recipes!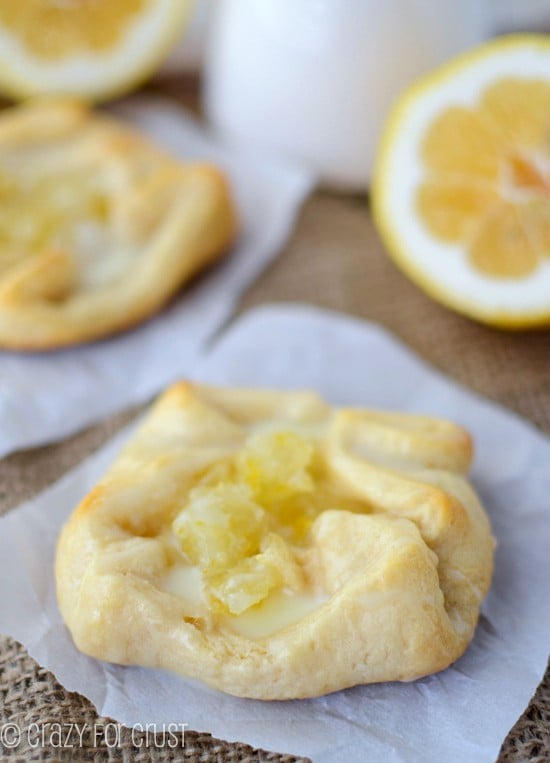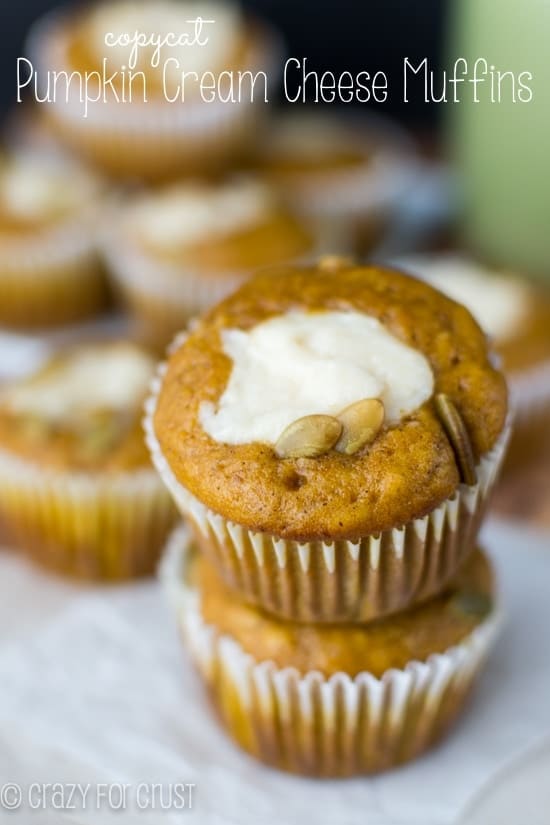 Peanut Butter Chocolate Chip Pumpkin Bread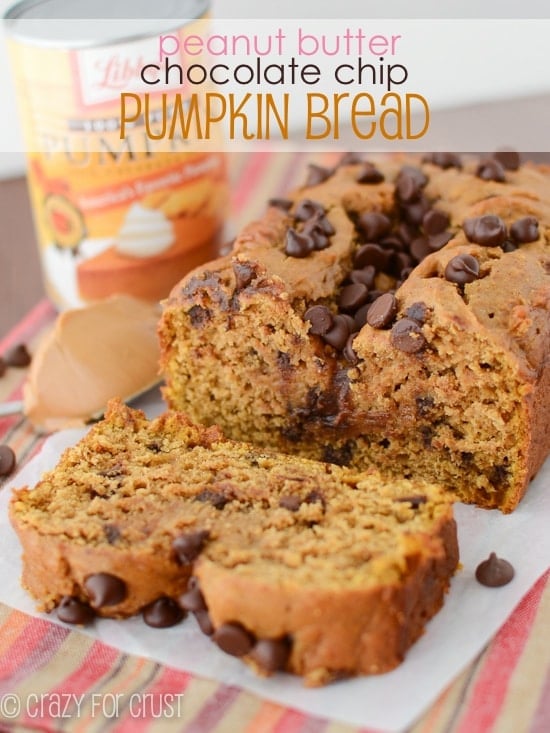 Sweets from friends:
Pumpkin Nutella Doughnuts by Something Swanky
Apple Pie Danish by Chocolate, Chocolate, and More
Easy Cheese Danish by Lauren's Latest