This post may contain affiliate links. For more information, read my disclosure policy.
Make this 4th of July Dessert Board, and it will be the hit of the party! Cookies, cupcakes, candy, and a cream cheese spread make an epic dessert charcuterie board that will satisfy everyone's sweet tooth.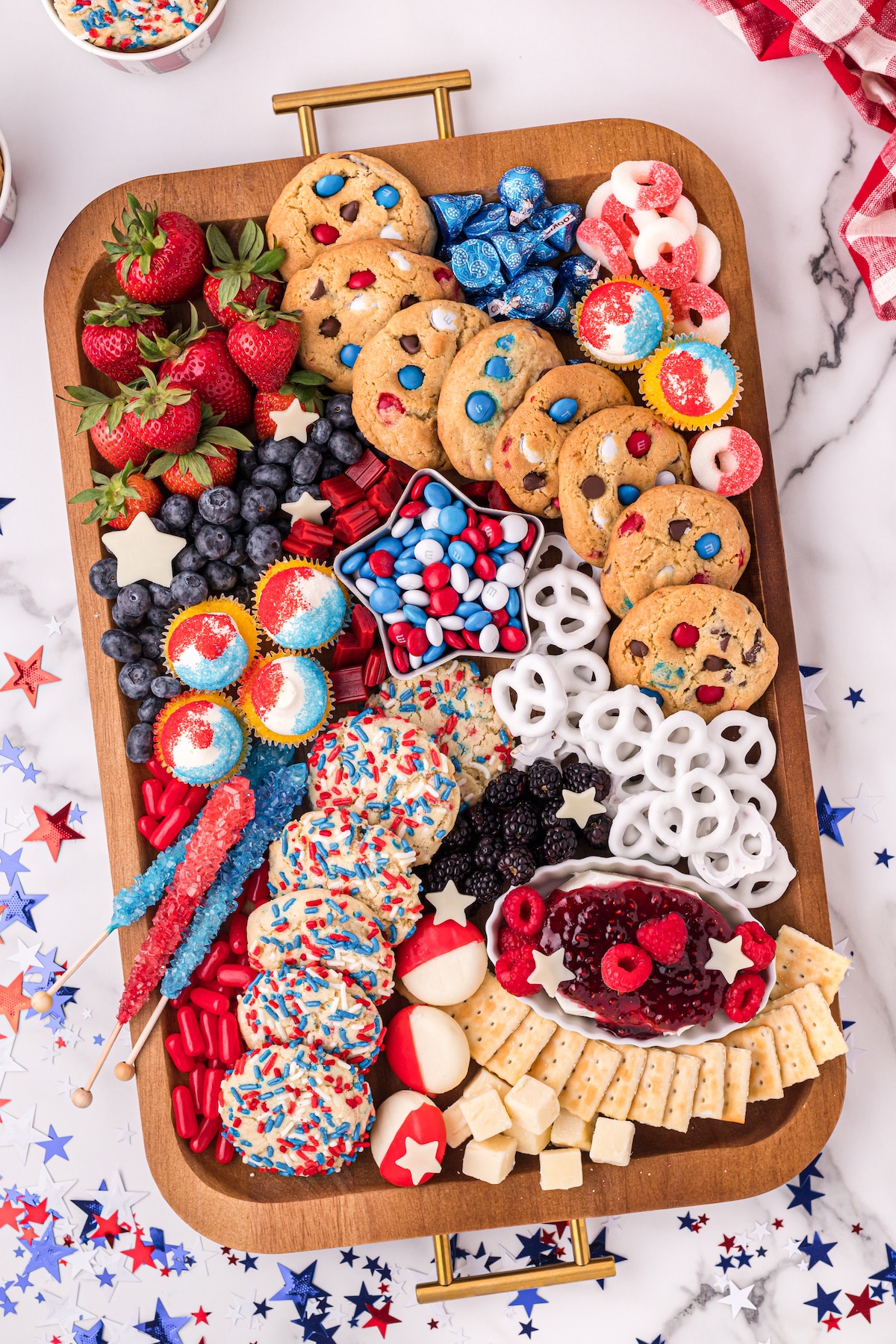 What is a 4th of July Dessert Board?
Dessert boards are all the rage lately, and I can see why – it's a great way to serve a bunch of sweets and treats for a crowd. Plus, it's a fun way to get creative! I love arranging all of the components to make a festive centerpiece for a party, potluck, or BBQ.
This 4th of July dessert board is perfect for a patriotic celebration. It looks super impressive, but it's so easy to do.
Dessert boards are like charcuterie boards, but instead of meat and cheese, they're assembled with cookies, cupcakes, candy… basically anything sweet that you love.
For this dessert charcuterie board, we're taking on a 4th of July theme with all the red, white, and blue treats. I'm showing you how to make it, plus sharing a few shortcuts and tips to make it easy. Plus it's easy to switch this board up for any holiday.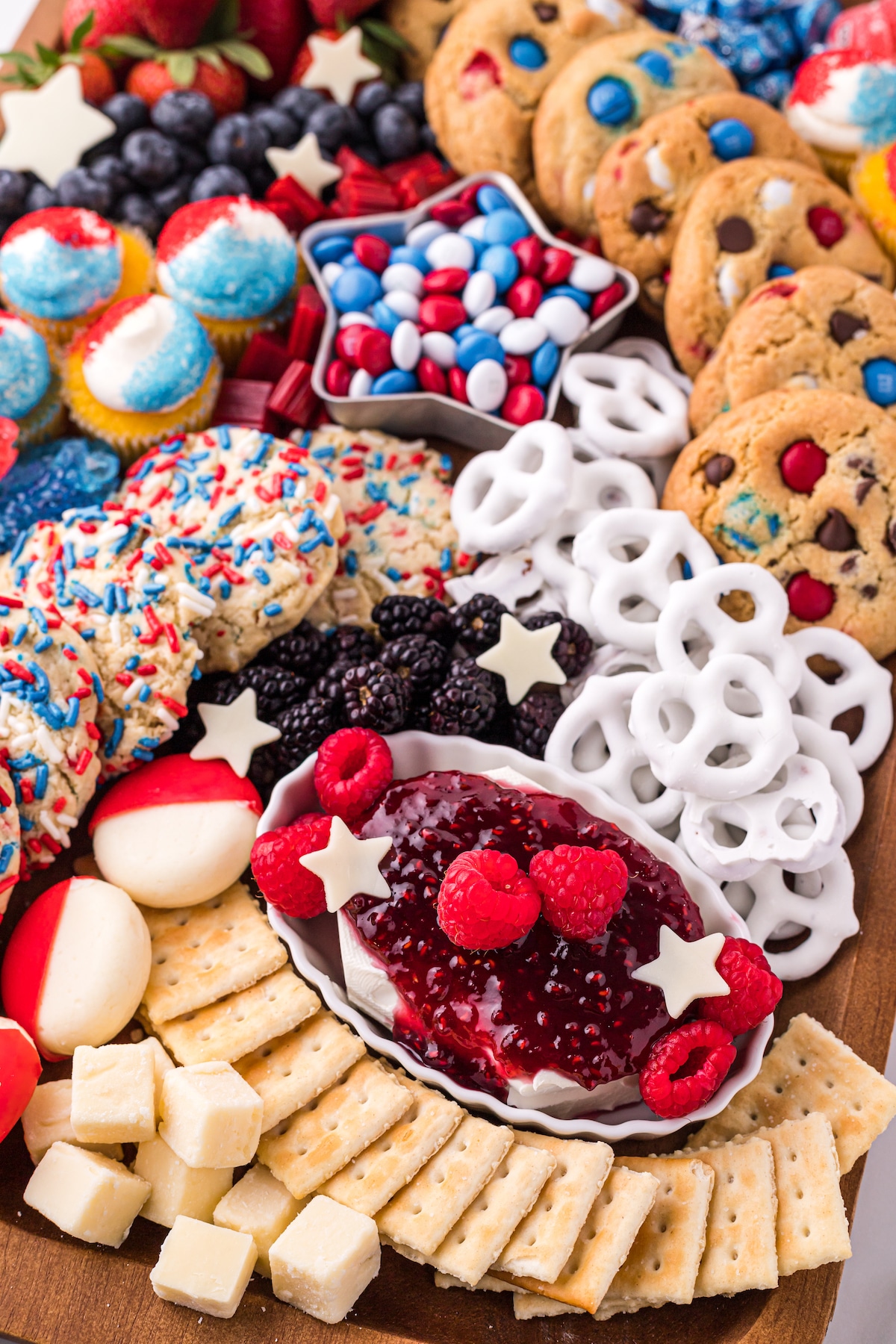 Dessert Charcuterie Board Ingredients
Use ANY of my 4th of July Recipes!
Mini Vanilla Cupcakes
Candy: Hershey's Kisses, M&Ms, Twizzlers, Hot Tamales, Watermelon Rings, Rock Candy (use the red, white and blue theme!)
Cheese: White Cheddar Cheese, Provolone, and Bella Cheese
Spread: Cream Cheese and Raspberry Jam
Fruit: Strawberries, Blueberries, and Blackberries
Other Snacks: White Chocolate Covered Pretzels and Crackers
Spiral Cookies
Spiral Cookies are my absolute favorite cookie recipe – all year long. I love making them for the 4th of July with red and blue sanding sugar, but you can make these all year with ANY colors. They're soft and crunchy, buttery and perfectly sweet! 4th of July Spiral Cookies Everyone will admire the patriotic…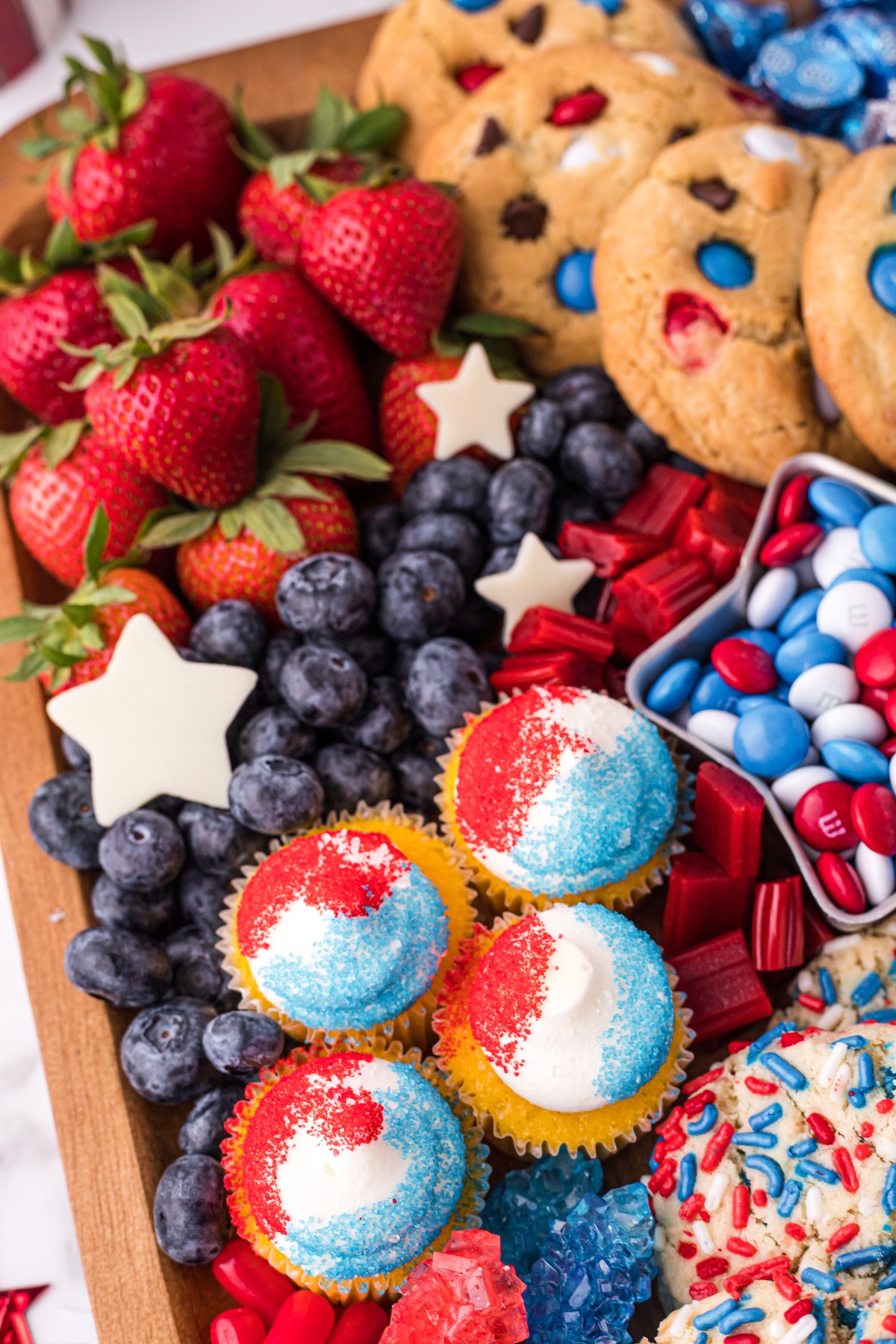 How to Make 4th of July Charcuterie Board
Use a large tray to assemble your dessert board. I like something with a rim, so everything stays put! A wooden tray or even a large rimmed sheet pan works great.
You will also need two small bowls – I use a star-shaped bowl to match the theme! For the other bowl, I use an oval ramekin. Fill one bowl with the M&Ms and place it in the center of the board.
Place the other bowl near one of the ends of the tray and place the cream cheese in it and top it with the raspberry jam.
Start by arranging the larger treats – I like to fan out the cookies on opposite ends of the board and line up the mini cupcakes.
Once you have the big treats in place, fill in the spaces with the other items. I like to place the crackers near the cream cheese spread, and everything else can be arranged how you want.
Recipe Swap
You can use this basic ingredient list as a guide and, use candy, sprinkles, and make dessert charcuterie boards for any holiday. Whether you're looking for new dessert board ideas or making your very first one, this 4th of July dessert charcuterie board is a great one to start with!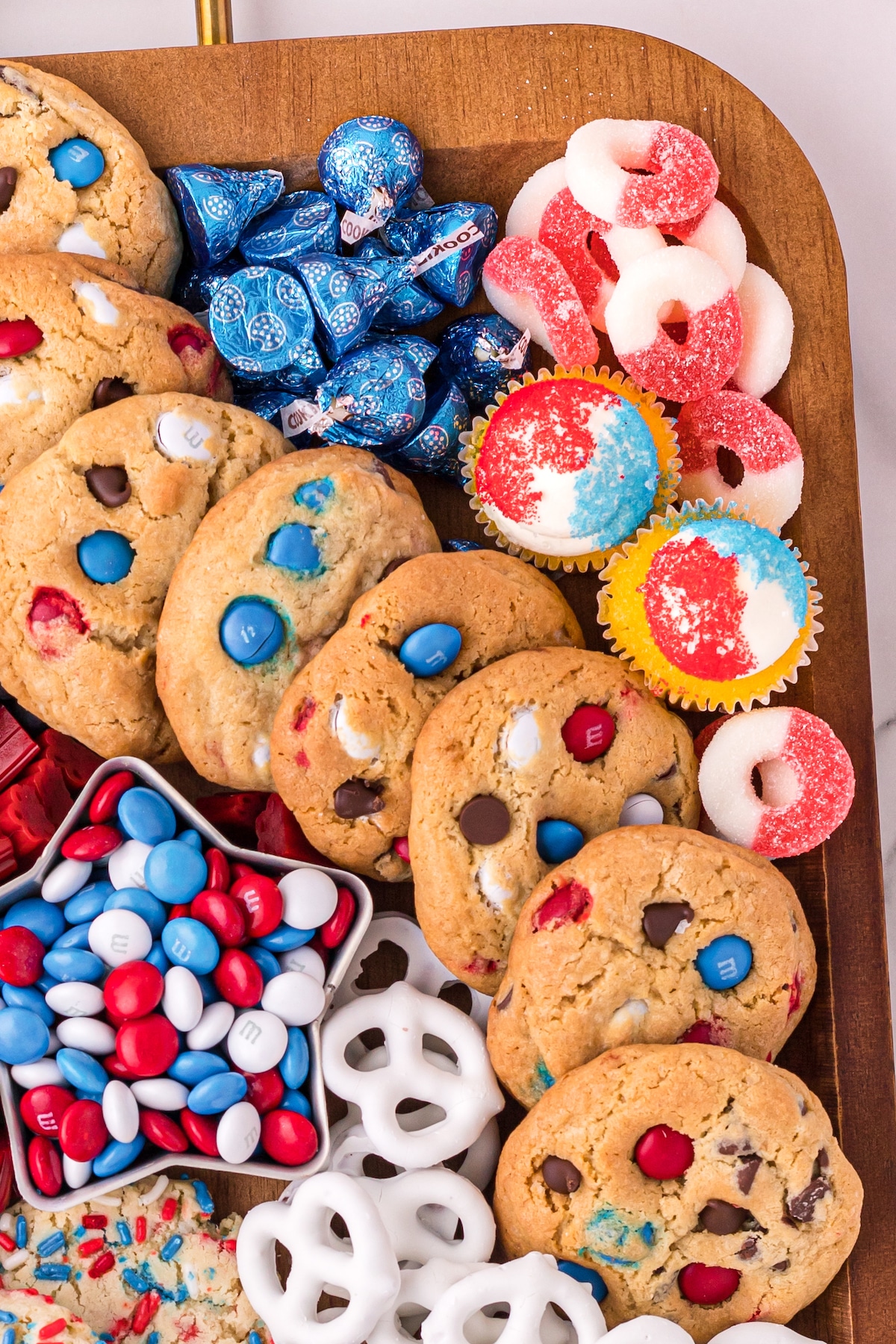 Expert Tips
You can make both kinds of cookies a few days ahead and store them in an airtight container. Then, on the day of the party, just assemble the board.
To save time, buy some plain mini vanilla cupcakes and decorate them with patriotic sprinkles to dress them up.
You can slice the cheese into cubes or use a small star cookie cutter to add a little more fun!
Look for red, white, and blue M&Ms in the seasonal candy aisle once it gets closer to the fourth of July. If you can't find them, you can also order them online.
Any candy or fruit that goes with the red, white, and blue theme will work with this board, so feel free to use your favorites to customize the board for your event.
I just use a block of cream cheese and a ¼ cup of raspberry jam to make the cream cheese spread. It's a great addition to the 4th of July charcuterie board.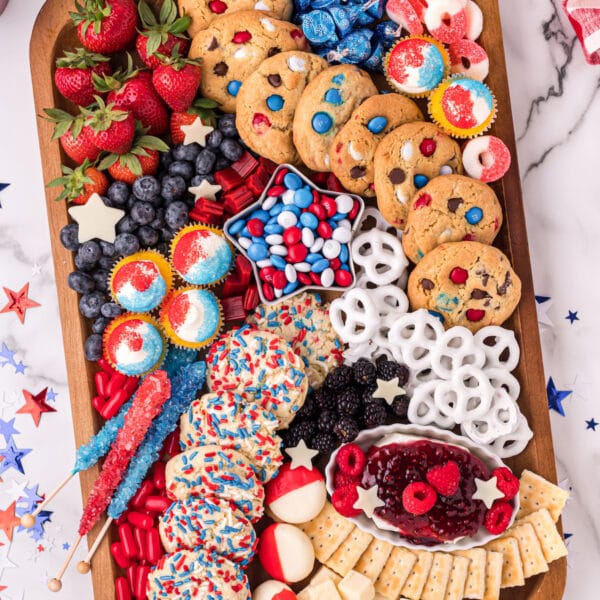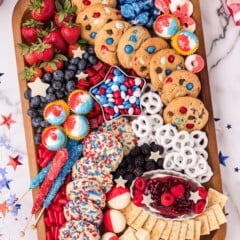 4th of July Dessert Board Recipe
Are you ready to celebrate the summer? This dessert board will be the talk of the party.
Ingredients
White Chocolate Covered Pretzels

Hersheys cookies and Cream Kisses

M&M's

Crackers

White Cheddar Cubed Cheese

Provolone cheese

Bella Cheese

Cream Cheese

Raspberry Jam

Strawberries

Blueberries

Blackberries

Twizzlers

Hot Tamales

Rock Candy

Watermelon Rings
Instructions
Grab a large tray. Place dip and small star dish filled with M&Ms on the tray.

Lay out each type of cookie then fill in remaining space all the other items.

Serve and enjoy!
Recipe Notes
• Let's talk about these cookies for a second, I have linked M&M's and sprinkles but if you are making these closer to the 4th of July go ahead and look in the holiday section or candy section. I guarantee you will be able to find them for a lot cheaper.
• Also, if you are anything like me, I usually will purchase a large bag of M&M's and then sort out all the colors so then if I am needing a certain color, I can just have that on hand. • If you are wanting to save yourself some time on the day of the party or get together you can easily make these cookies at least 2-3 days beforehand.
• Here is a fun little tip for you- purchase plain mini cupcakes and customize them by adding sprinkles of your choice. This can save you money from having someone else make them and yourself time in the kitchen.
• Add all your favorite holiday-colored fruit and candy to the board of your choice. That is what's so great about the boards you can customize them to your guest.
• It's always nice to add a dip to a board- this is a simple dip that I usually will make for each board- you take 1 block of cream cheese and ¼ cup of raspberry jam, that's it! Give it a try- I promise it's delish!
Recipe Nutrition
Serving:
1
serving
|
Calories:
145
kcal
Nutritional information not guaranteed to be accurate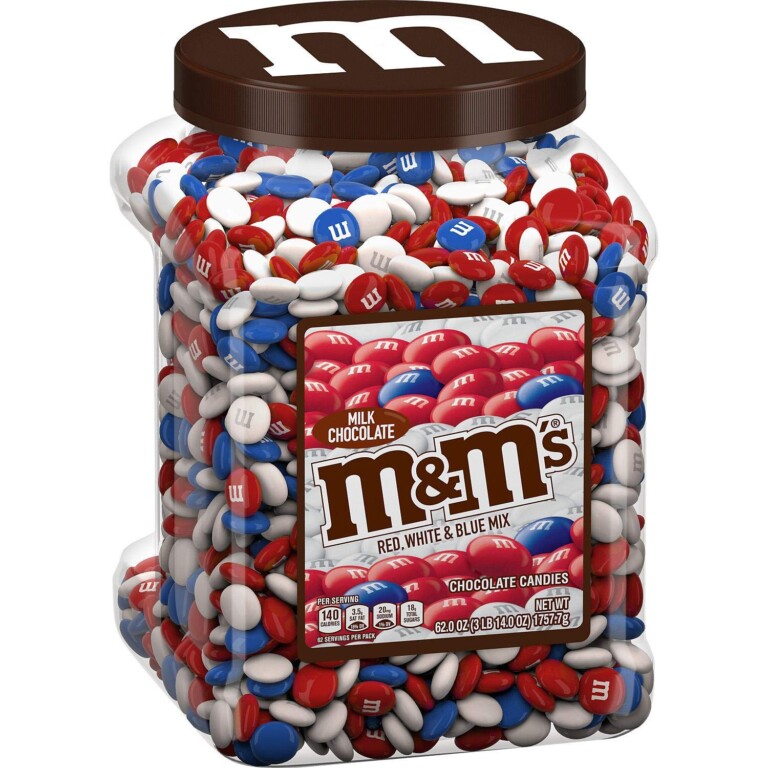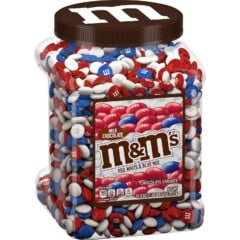 Red, White & Blue M&Ms
You can find these in stores near the holiday, or find them on Amazon.
This 4th of July Dessert Board is perfect for the holiday! It has something for everyone and can be completely customized to your favorite foods!
Last Updated on June 24, 2023