This post may contain affiliate links. For more information, read my disclosure policy.
If you love making sugar cookies for holidays, then these 4th of July Cookies are ones you should make this summer! I love decorated sugar cookies but I always have a hard time making the perfect decorations – until now.
Buttercream Sugar Cookies
These easy tips will show you how easy it is to decorate sugar cookies in patriotic colors – and they'll look like a professional made them!
I make sugar cookies every year for Christmas; they're our absolute favorite. As much as I'd love to make royal icing and do flooding and super intricate designs, that is just not me. I'm more of a buttercream cookie frosting gal, even better if you just frost with a knife and load on the sprinkles.
BUT! Sometimes you want to make cute decorative sugar cookies, but you want an easy way to do it where they'll look great every time. That's when you need THIS tutorial.
These Patriotic Sugar Cookies are so easy to make and look how fun and festive they are – and you just need some pastry bags and a couple of tips to do it. ANYONE can make pretty sugar cookies, I promise. If I can do it, so can you!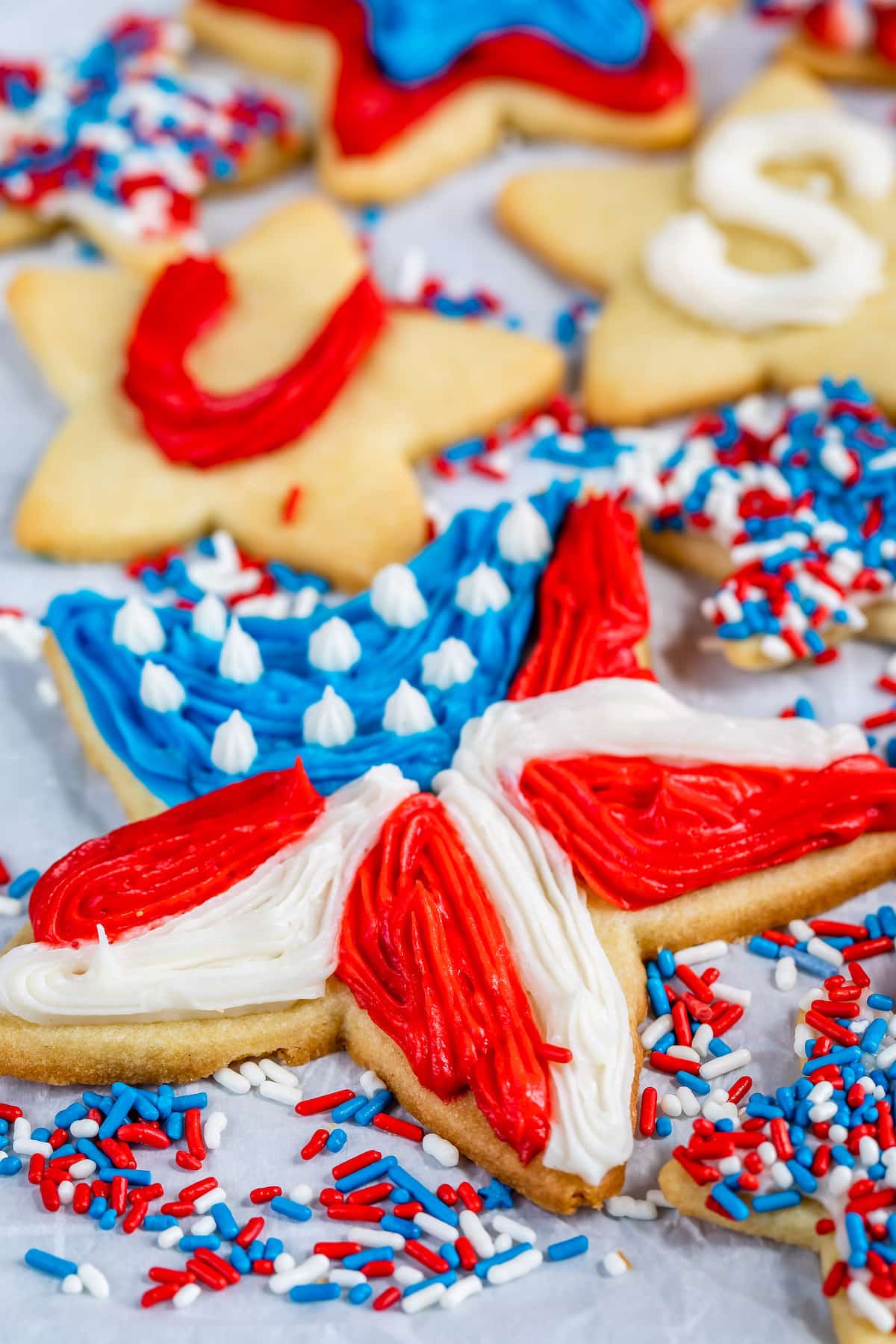 Equipment
If you're just using a knife to decorate your sugar cookies with icing, then you don't need lots of equipment outside of cookie cutters. However, to do this method of decorative icing, you do need a few things like pastry bags, couplers, and tips.
Here are the items I used: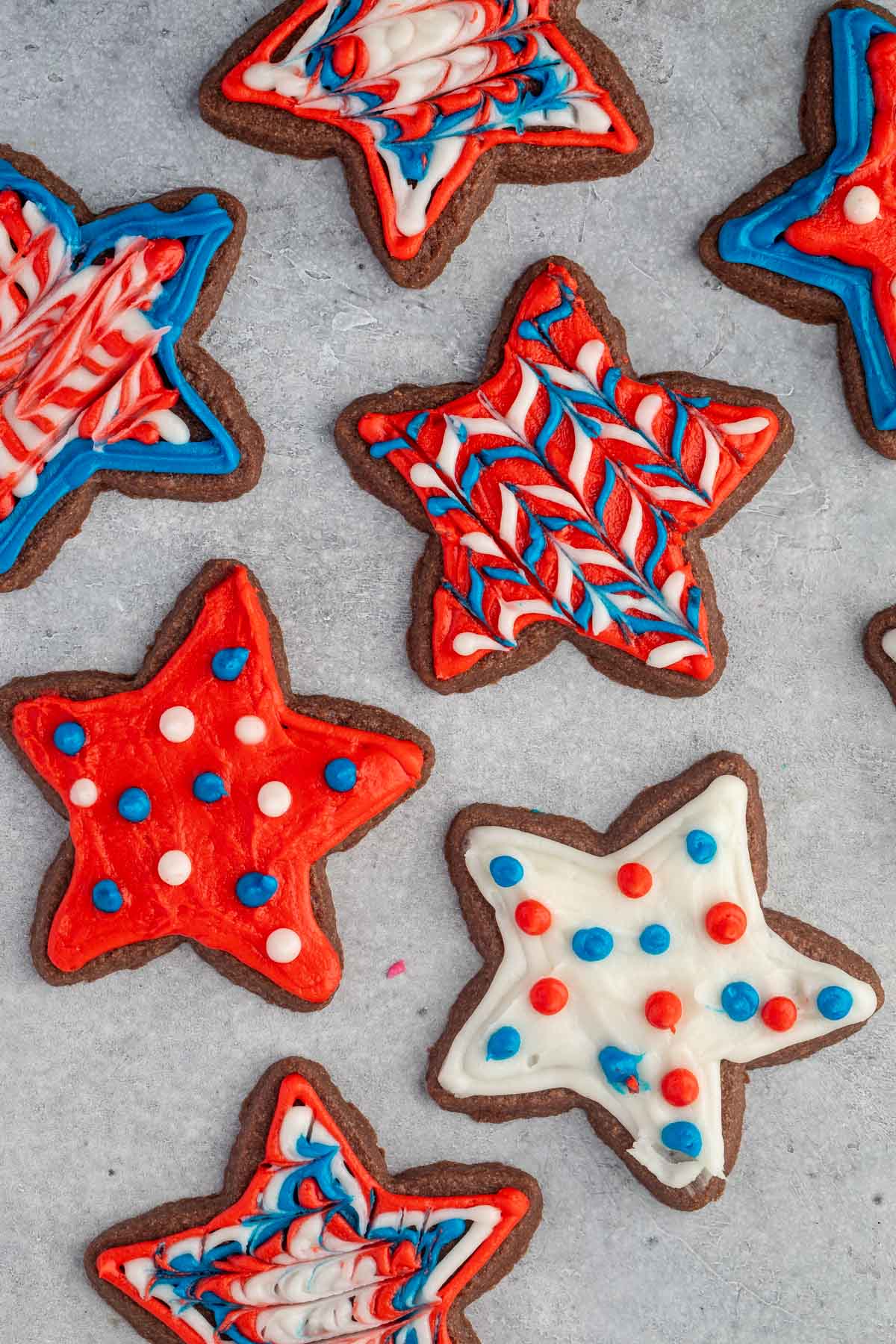 Prepare your Pastry Bag
Once you have your cookies baked and cooled, make your frosting. You can use my cookie frosting or you can get 3 cans of frosting from the grocery store.
Divide the frosting into three bowls. Color one red, one blue and leave the other white.
Prepare your pastry bag. Here's how:
The coupler has two parts: coupler and ring. Remove the ring and place the coupler in the pastry bag. Push it down as far as it will go.
Note where you need to cut the tip off the bag, then push the coupler up a bit, cut off the tip, and push the coupler back down. It should be almost even with the hole.
Place the desired tip on the coupler and place the ring over the top and screw it tight.
Then, fill your pastry bag and you're ready to decorate.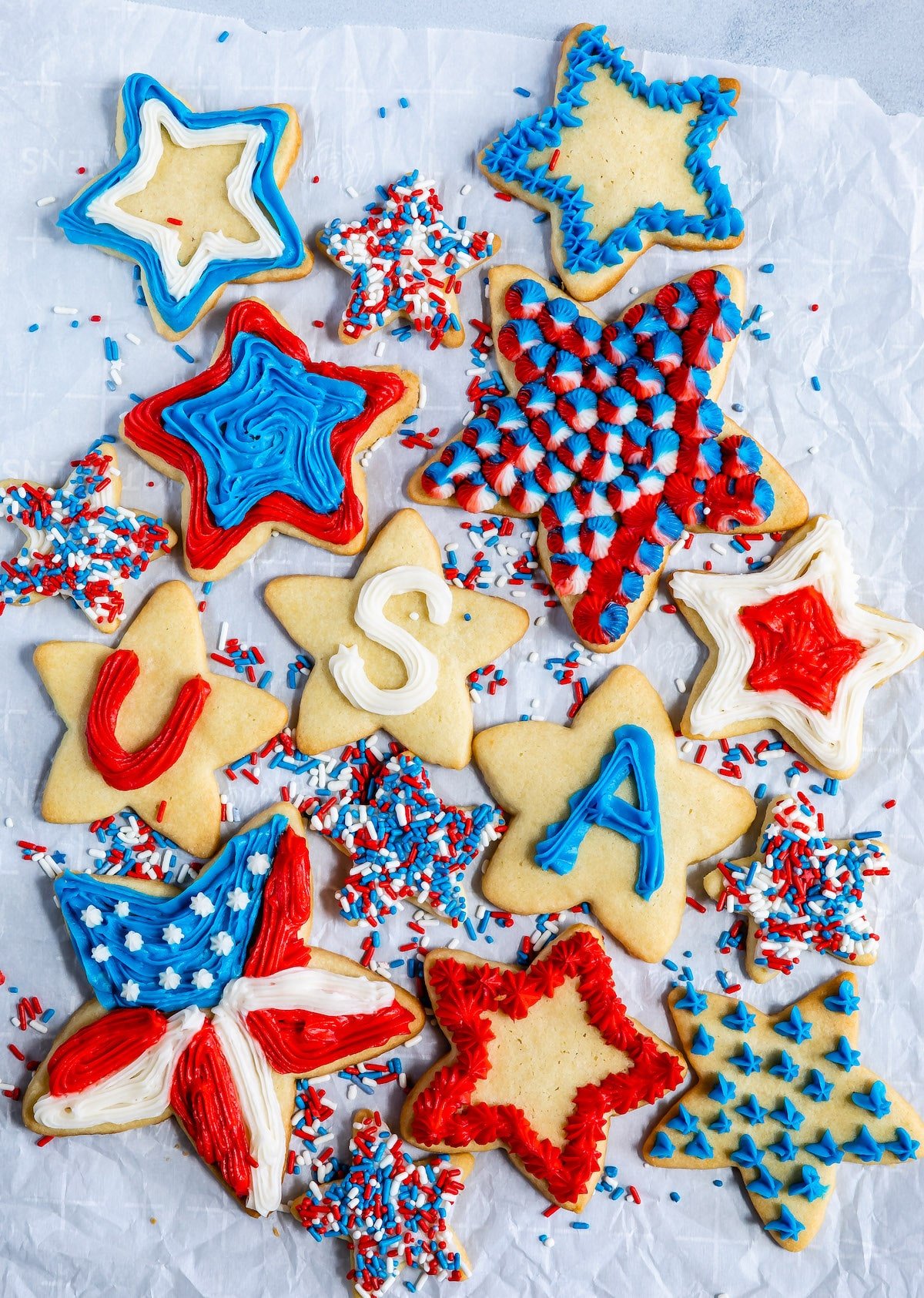 FAQs
How do you store sugar cookies?
Buttercream sugar cookies can be stored in an airtight container for up to 4 days. The frosting will semi-dry, so be sure to stack them between sheets of wax paper so they don't stick to each other.
How do you freeze decorated sugar cookies?
You can easily freeze these! Lay them in a single layer on a cookie sheet covered with parchment, wax paper, or a silicone baking mat. Freeze. Once frozen, layer them in between sheets of paper towels in an airtight bag or container and store up to 3 months.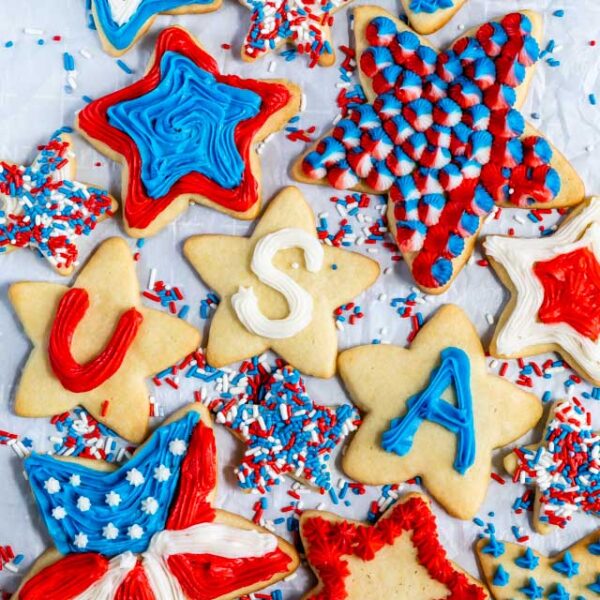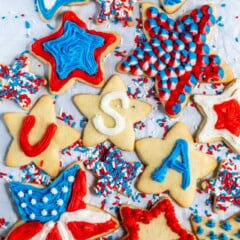 4th of July Cookies
These easy decorated sugar cookies are fun and festive and easier to make than with flood or royal icing. Anyone can make these!
Instructions
Bake cookies in star shapes as directed in recipe. Cool.

Divide frosting into thirds and color one red and the other blue. Place in pastry bags fit with small star tips.

Decroate cookies as desired. Let sit for 1 hour to semi-harden frosting. Frosting won't harden completely so be careful.

Store loosely covered for up to 4 days.
Recipe Nutrition
Serving:
1
cookies
|
Calories:
1
kcal
|
Carbohydrates:
1
g
|
Protein:
1
g
|
Fat:
1
g
|
Saturated Fat:
1
g
|
Cholesterol:
1
mg
|
Sodium:
1
mg
|
Sugar:
1
g
Nutritional information not guaranteed to be accurate
These decorated 4th of July cookies are SO easy. Make my favorite cutout sugar cookie recipe and decorate them with red, white and blue frosting using these simple tips. You can make patriotic sugar cookies EASILY no matter your skill level.
Favorite 4th of July Recipes
Last Updated on June 27, 2023