This post may contain affiliate links. For more information, read my disclosure policy.
Food boards are all the rage on Instagram these days, aren't they? But charcuterie boards don't just have to be about cheese: today I'm showing you how to make a DESSERT Board!
Dessert charcuterie is the new fun way to serve dessert. They are the new version of the dessert table and it's mind-blowingly simple to make one of these boards. You probably have everything you need already in the pantry!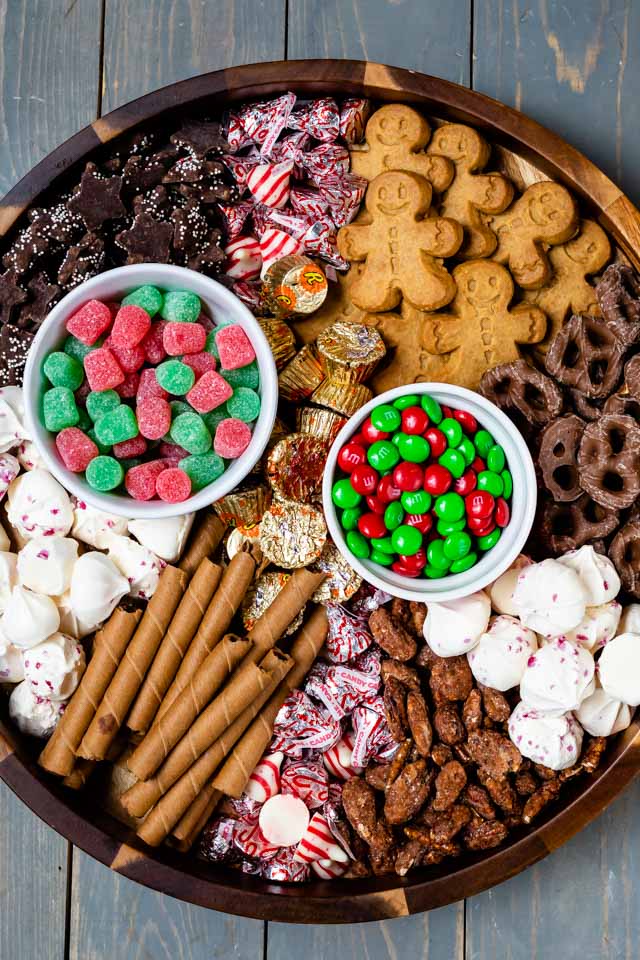 I love homemade desserts, sure, but sometimes you just want to make something EASY, and that's where a dessert board comes in.
What is Dessert Charcuterie?
Basically, dessert charcuterie is like a cheese board with dessert! Mix and match your favorite snack-type desserts and mix them up on a board. Easy peasy!
Dessert boards are the way to go when you're serving a crowd. Really, they're nothing new: it's basically a cookie platter with a new name.
Except that, instead of having to be all homemade, the treats can be store bought or a combination, making this a semi-homemade dessert that looks fantastic.
People ooh and ahhh over cheese boards, but they'll lose their minds at how fun a dessert board is.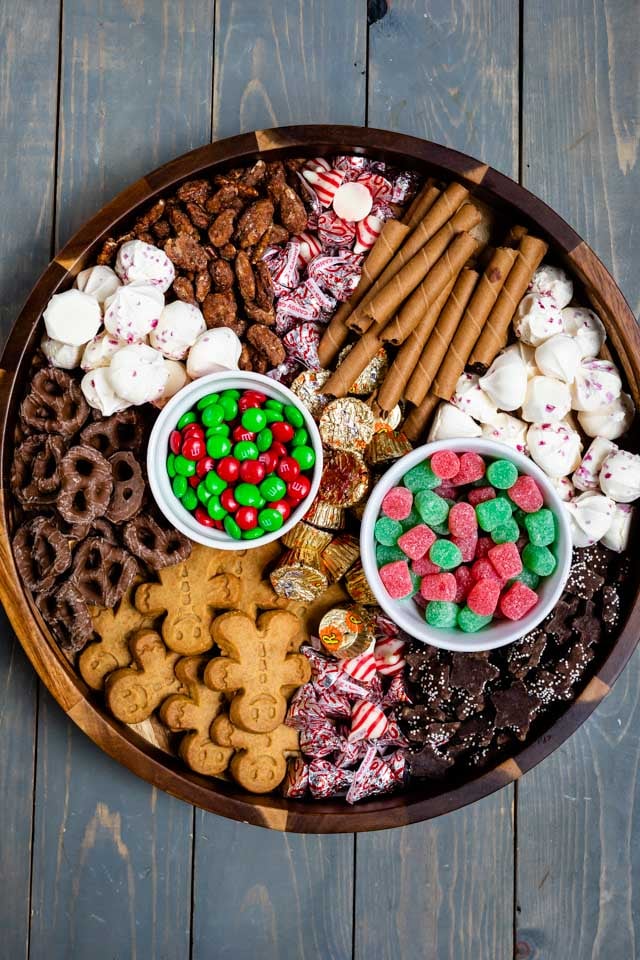 What can you put on a Dessert Board?
ANYTHING goes! If it's sweet, add it!
I actually love to use a dessert board like this as an excuse to clean out my sweets pantry. At the end of a month I'll have open bags of random candy or cookies from baking that I want to use up – a dessert charcuterie is a perfect excuse!
Dessert boards are a great way to clean out your pantry!

PRO TIP
First, you need to decide the theme of your dessert tray.
Dessert Board Themes:
Christmas (red, green and white treats or Christmas cookies)
New Years Eve (sparkles, boozy treats, chocolate)
Birthdays (think sprinkles and cake)
Valentine's Day (think red and pink)
St. Patrick's Day (all things green and gold)
Easter (pastels, carrot cake or coconut, bunny shapes, Easter candy)
4th of July (red, white and blue explosion)
Halloween (spooky treats)
Date night (chocolate, small treats for 2, champagne)
Girls night (bite size treats, cocktails, pink…anything goes!)
Sports celebrations (team colors – this also works for college or HS football or any sports team)
There are so many more ideas – the longer I brainstormed the more I thought about.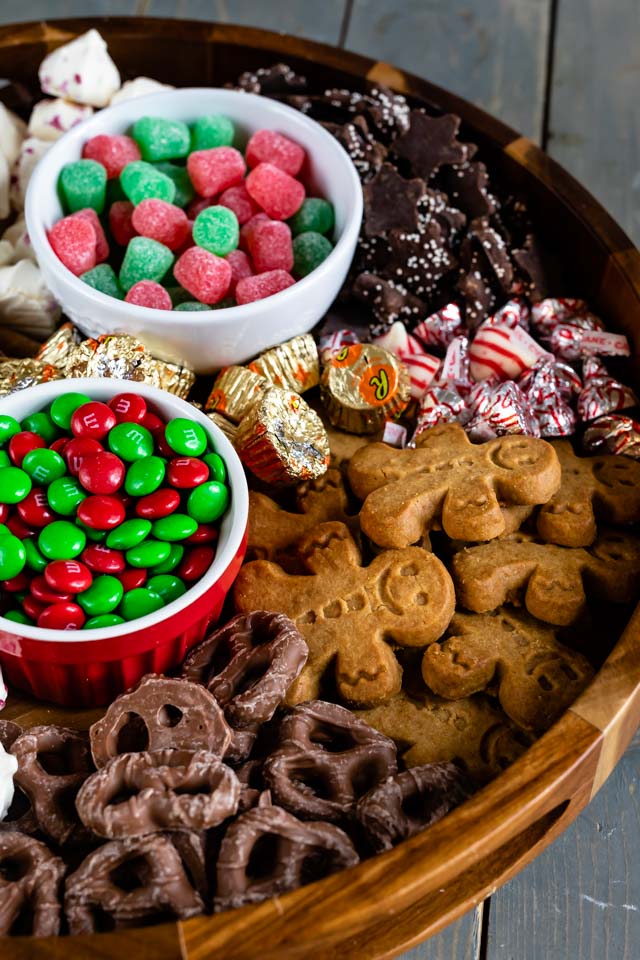 Store-bought treats are the easiest way to make a dessert board!
Try to get a mix of things like:
Chocolate covered pretzels
Small cookies
M&Ms or other chocolate candy
Foil wrapped candy in specific colors
Non-Chocolate candy (like gummies)
Fruit
Really anything goes. If you see it and like it, add it. Just think about your theme: colors, shapes, occasion, etc.
You can also think about adding some fun sweet dips to your dessert board, like you'd add hummus or cheeseballs to a charcuterie tray.
Try these easy dips based off your theme: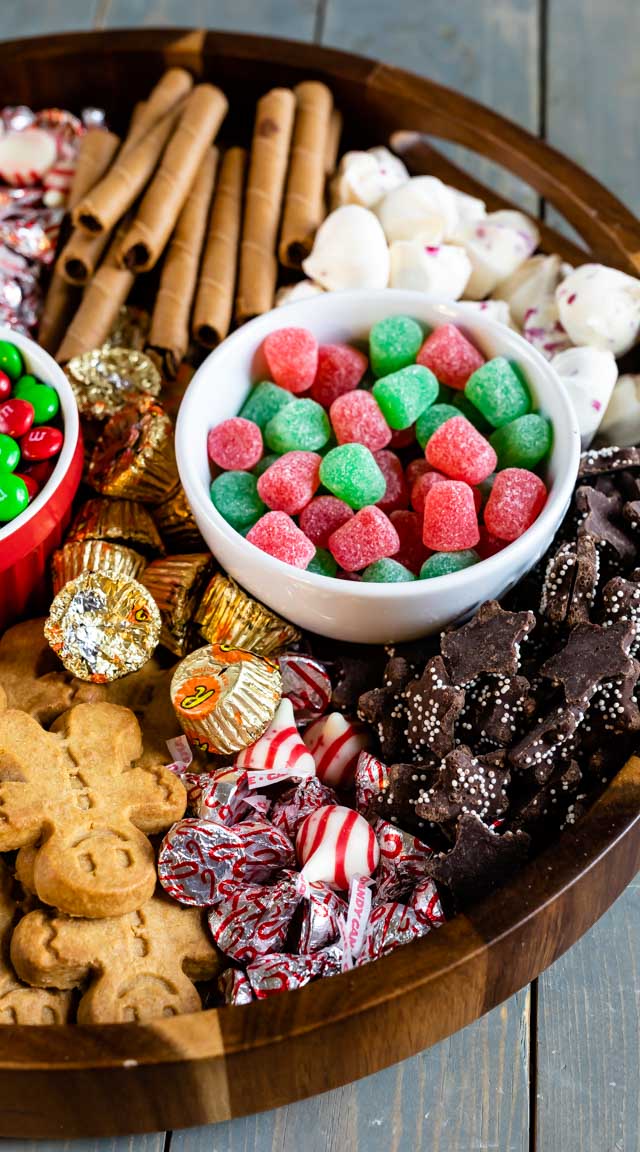 Homemade treats can take your dessert board to the next level!
Whether it's a cookie tray for Christmas or a birthday cake board for a kids party, it's easy to add some fun homemade treats to your dessert charcuterie.
How to assemble a dessert charcuterie board:
Decide on your theme.
Decide if you'll have a centerpiece to your board (i.e. a cake in the center or my peanut butter football, etc.)
If you're not using a centerpiece, pick 2-3 things to put in bowls to create texture and height (i.e. candies or dip)
Pick 5-7 things to put on your board, including your centerpiece or bowls.
Place your centerpiece or the bowls on the board and fill them.
Add the rest of your treats around it. You can put doubles of a treat where they fit, if you want.
Fill in the holes with nuts or small candies as needed.
Then just sit back, relax, and EAT!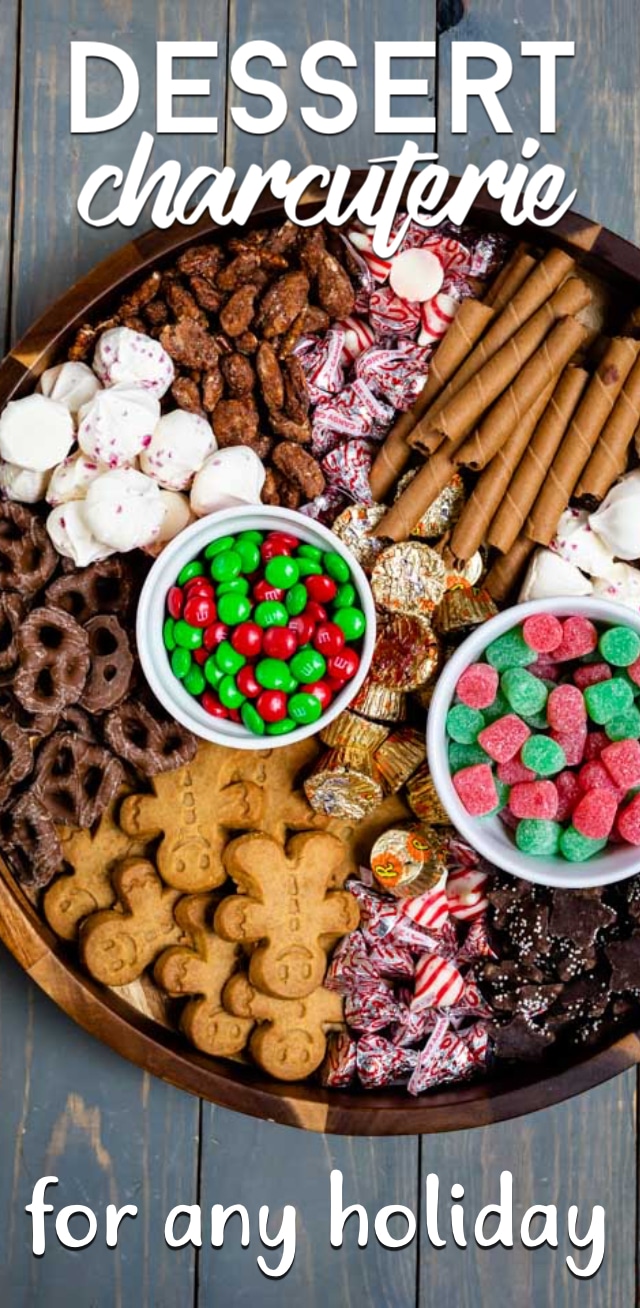 Have you made this recipe?
Tag @crazyforcrust on Instagram or hashtag it #crazyforcrust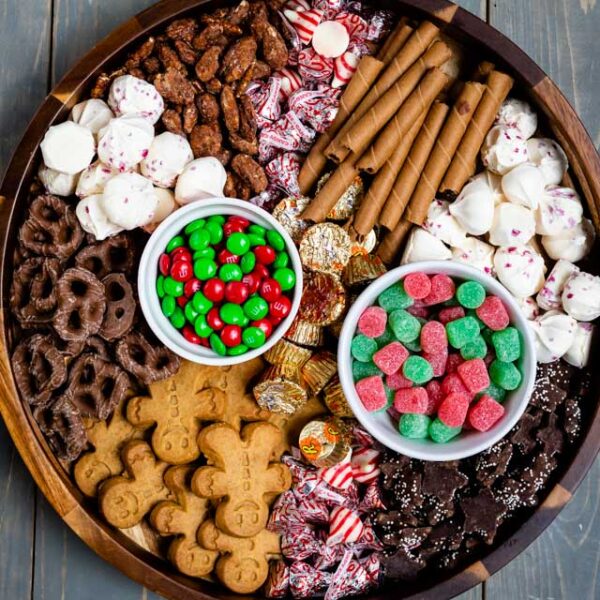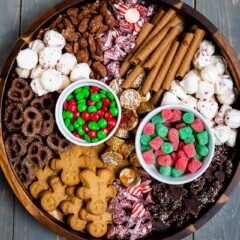 Dessert Charcuterie Board
Fill your dessert board with cookies, candies, nuts and anything you like! It's an easy dessert recipe that just needs to be assembled – you can use store bought cookies and no one will care! This is such a fun, easy way to share sweets at a party!
Equipment
Large board or tray, for serving
Ingredients
Centerpiece

2

batches

Cookies

2

types of

Candies

Dip

Fruit

Candy nuts or sweet trail mix
Instructions
Place centerpiece or bowls on board with small candies.

Fill in around the bowls with other treats.
Recipe Nutrition
Serving:
1
serving
|
Calories:
250
kcal
Nutritional information not guaranteed to be accurate