This post may contain affiliate links. For more information, read my disclosure policy.
Hands down, this is my favorite pudding cookie recipe ever. And that's an hefty endorsement, since I love pudding cookies so much! Fireworks Pudding Cookies – a brown sugar pudding cookie full of red, white, and blue!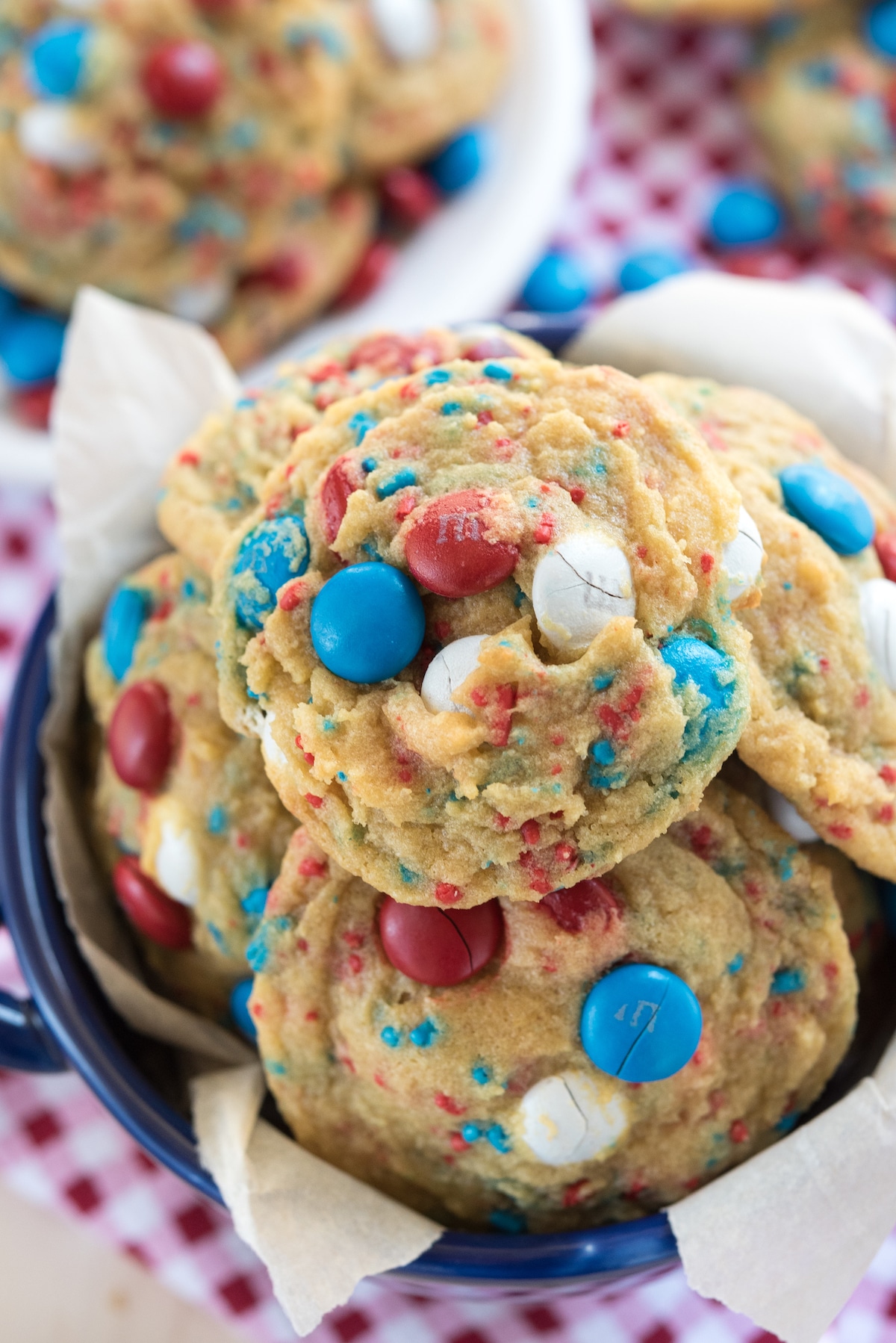 BEST 4th of July Cookies EVER
You guys, BIG NEWS! We got invited to a 4th of July party!
Okay, I'm betting there are two camps of people out there after reading that sentence: the group that feels sorry for me because it's such a big deal and the group that thinks I'm crazy for thinking it's a big deal.
Believe me, it is a big deal. We never get invited anywhere. And before you feel sorry for me again, don't. We're totally antisocial people. I'm an introvert who panics in big crowds and my husband likes to be at home. We work well together.
But this year on the 4th we'll be at a huge block party, which means I'll be bringing dessert. Maybe I'll bring cookies. But not these cookies, I took them to an end-of-school pool party. As a food blogger, my seasons are all messed up. For 4th of July, I'll probably make a pumpkin pie.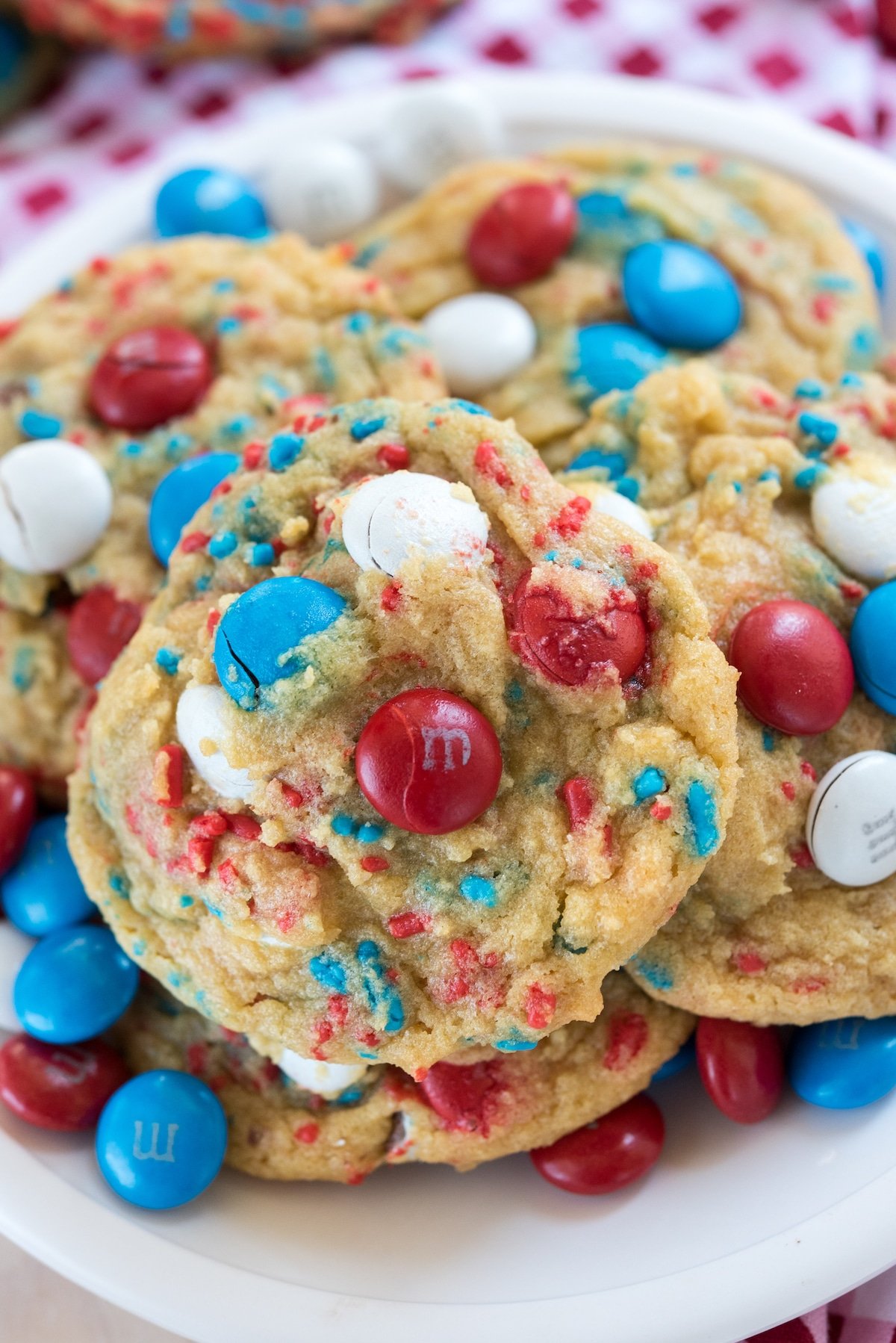 When I say that these pudding cookies are my favorite pudding cookies, I'm not joking. I've made lots of pudding cookies over the years (like lemon, coconut, oatmeal, and chocolate) but up until now my favorite have been the Cashew Buttersctoch ones. Soft and full of flavor, those cookies were a hit. Butterscotch and cashews not withstanding, I think what made those cookies such a winner was the brown sugar. They were full of it…and so are these.
Pretty much these cookies are brown sugar pudding cookies. Brown sugar is the only sugar in the cookies, besides what's in the pudding mix itself. Using all brown sugar in a recipe intensifies and deepens the cookie flavor while leaving them pillowy soft and chewy.
So, pretty much, when you add brown sugar AND pudding mix to a cookie? Softness explosion. If you like a soft cookie that still has some chew, these are for you.
(I'm a poet and I didn't even know it.)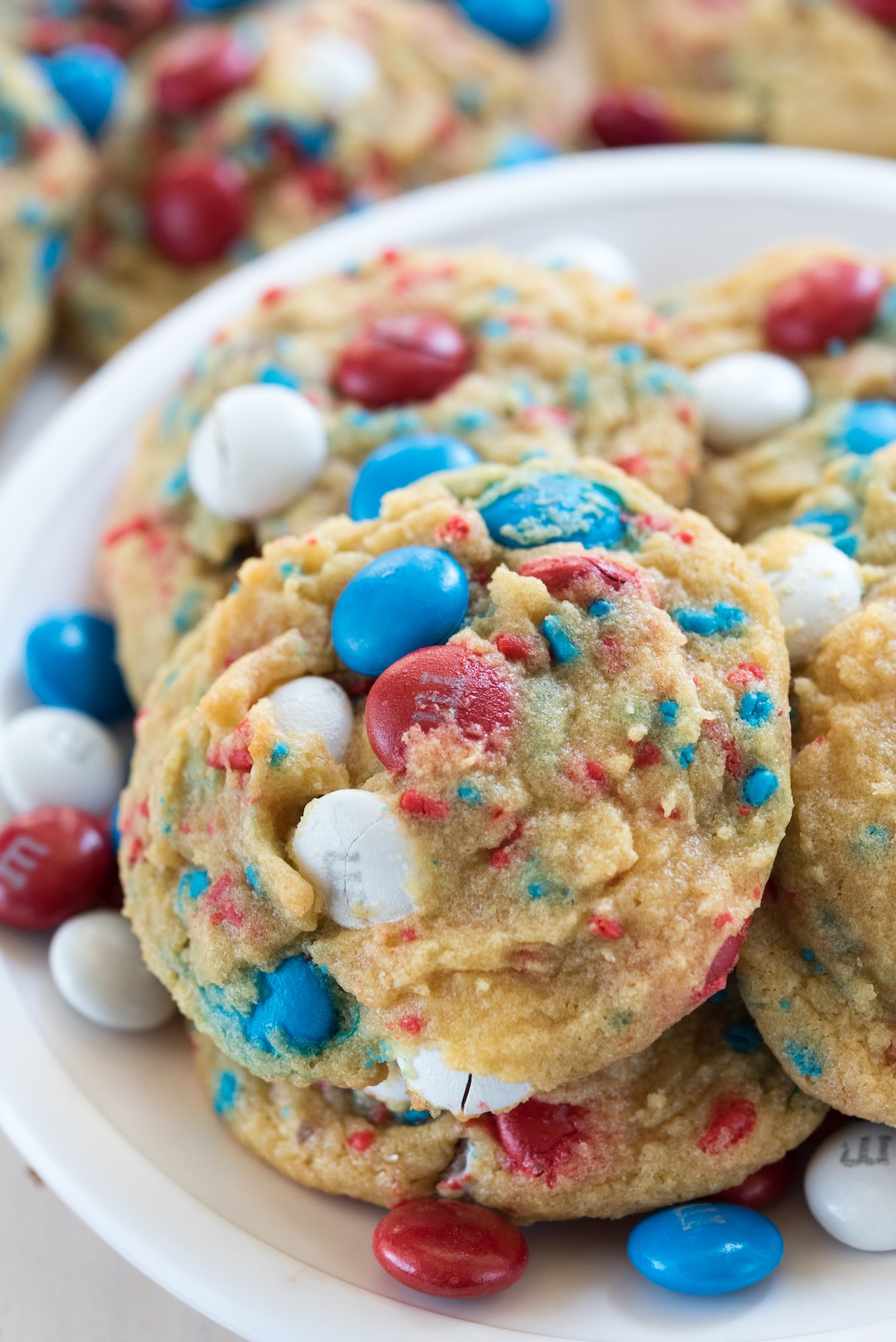 What makes these the BEST cookies?
The best part about a pudding cookie recipe is that you can completely change the cookie with one simple substitution. Those Cashew Butterscotch cookies had butterscotch pudding. (Hence the deep color and intense butterscotch flavor!) I chose a simple vanilla pudding for these cookies, so you really taste the brown sugar and vanilla you'd expect from a chocolate chip cookie.
But it's better.
As I've said before, I love red, white, and blue food. It's my favorite color combo and I wanted to make some cookies that would be perfect for your 4th of July party…if you're invited to one or even if it's a party of one. 🙂
These cookies are easy and come together fast. They do require chilling, but that's because I love an extra-soft and gooey cookie. I added 4th of July M&Ms and red and blue sprinkles so they look like Fireworks Pudding Cookies! We all know that cookies are perfect for summer parties. They don't melt or require serving utensils, which makes these the perfect party cookie!
(BTW, if you're having trouble finding the patriotic M&Ms, look in the actual candy aisle. I found them at Target near the regular M&Ms. You could also use any color M&M or your favorite flavor. You can find the sprinkles at most craft stores or even Target/Walmart.)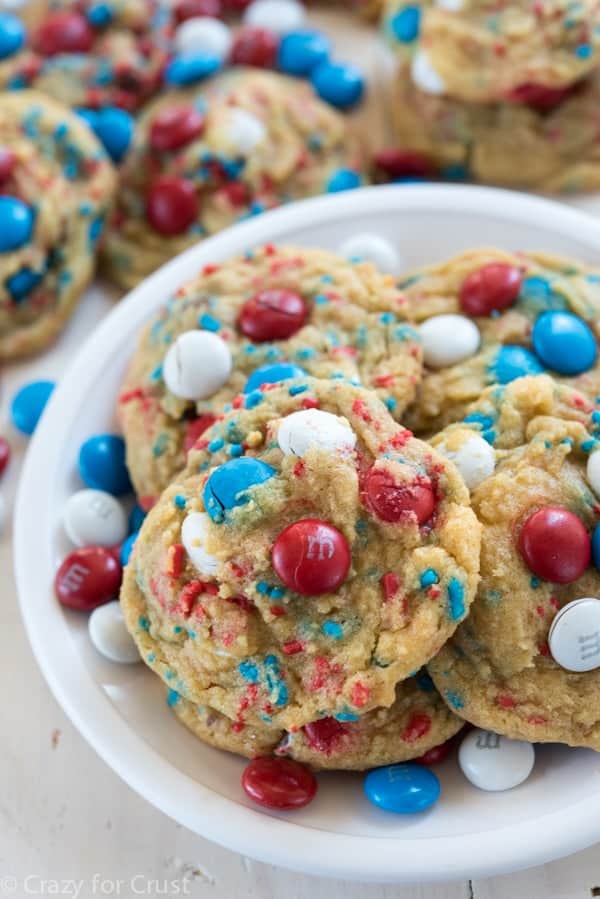 How are you going to celebrate the 4th? With cookies, I hope!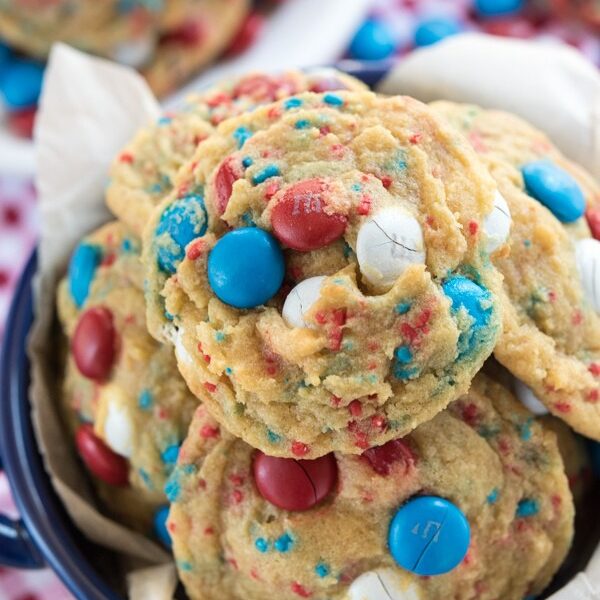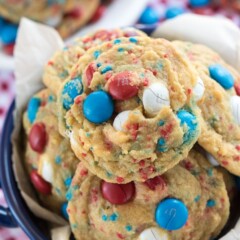 Fireworks Pudding Cookies
These brown sugar pudding cookies are my new favorite cookie recipe! Soft and chewy, they're perfect filled with patriotic colors and M&Ms!
Ingredients
1/2

cup

unsalted butter

softened

3/4

cup

brown sugar

packed

1

teaspoon

vanilla extract

1

egg

1

box

3.4 ounces INSTANT Vanilla Pudding Mix (just the mix, don't make the pudding)

1/2

teaspoon

baking soda

1/4

teaspoon

salt

1 1/4

cups

all purpose flour

1/4

cup

red and blue sprinkles

or any colors

3/4

cup

4th of July M&Ms

or any color of M&M
Instructions
Note: This dough requires chilling.

Cream butter and brown sugar in the bowl of a stand mixer fitted with the paddle attachment. (You can also use a hand mixer.) Mix in egg and vanilla until smooth. Add pudding mix, baking soda, and salt. Mix until combined. Mix in flour, then stir in sprinkles and M&Ms.

Scoop 2 tablespoon balls of cookie dough onto a cookie sheet covered with parchment or a silpat baking mat. There's no need to space them out, you're going to chill them. Cover and chill for at least 30 minutes.

Preheat oven to 350°F. Line cookie sheets with parchment paper or silpat baking mats. Place chilled cookie dough balls 2" apart on cookie sheet. Bake 9-11 minutes or until the edges just start to turn brown. Cool 5 minutes on cookie sheet before transferring to a rack to cool completely. Store in an airtight container for up to 4 days or freeze for up to one month.
Nutritional information not guaranteed to be accurate
Don't forget to check out my Fireworks SUGAR COOKIE CAKE! It's also the best for any party. And try these Triple Chocolate Cookies by It's Yummi and my other favorite, Old Fashioned Peanut Butter Cookies by Barefeet in the Kitchen!
Triple Dark Chocolate Pudding Cookies
Last Updated on April 1, 2023