This post may contain affiliate links. For more information, read my disclosure policy.
Yes YOU can learn how to make pie crust. It's EASIER than you think! Over the last 10 years I've made countless pies from scratch and no matter how unskilled you think you are you can do it.
With just a few ingredients and a my simple method for making a flaky and flavorful pie crust you can have a from-scratch crust for any pie, whether you're making a fruit pie, custard pie or pecan pie! Follow my steps and you can make a foolproof crust too!
Once you've mastered the technique, be sure to check out my ULTIMATE list of Pie Recipes and the biggest list of NO BAKE PIES ever!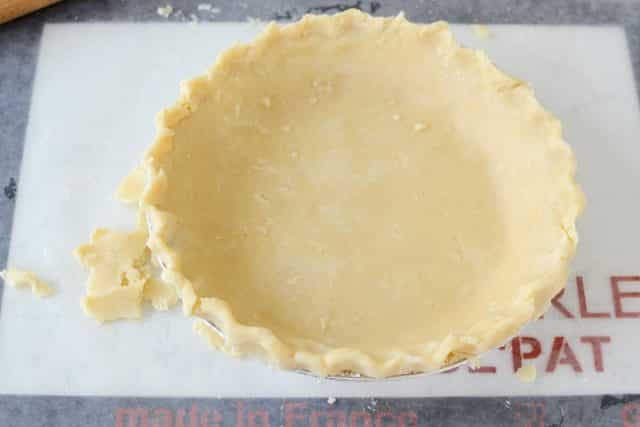 Do you think that gorgeous pie crust looks hard? Think again. Just a little time and it's EASY.
How to make Pie Crust – these tips make it easy and foolproof!
Things we're going to talk about:
Ingredients
Method & Baking
Topping
Recipes and resources
Tools of the trade
Recipes for the perfect crust:
This post is a generic how-to post that details all the things about how to make pie crust. Use this post as your guide when making ANY pastry crust and use one of my favorite recipes:
Be sure to scroll to the bottom of this post for specific pie recipes as well as how to do lattice, blind baking, crumble topping and more tips!
Ingredients for the perfect pie crust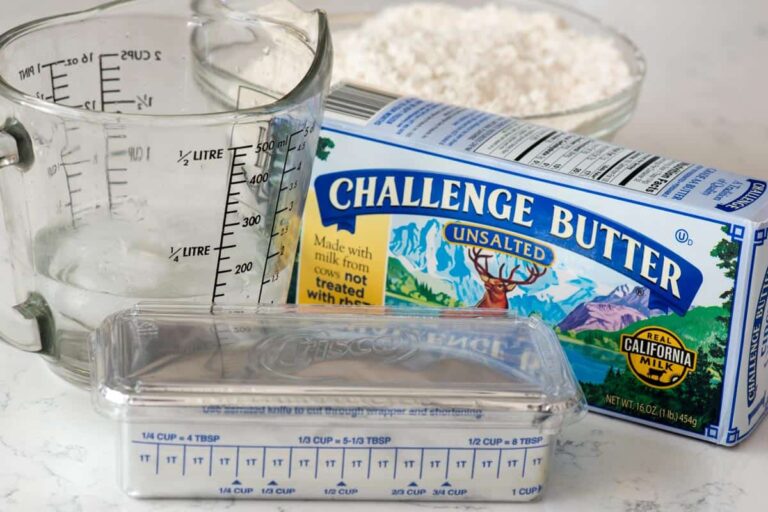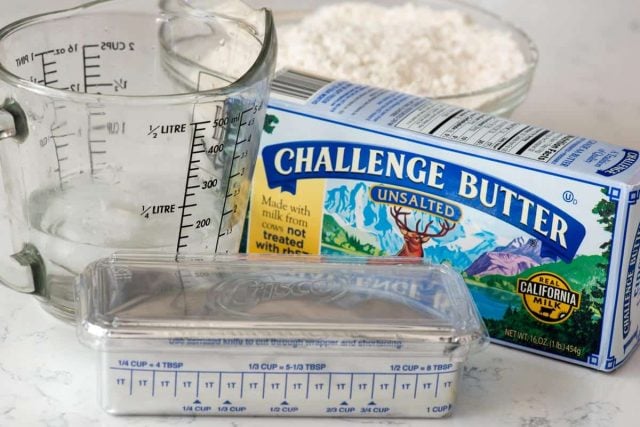 Should you use butter or shortening to make crust?
Fat is probably one of the most important parts of any pie crust; without it you'd just have a flour paste. The fat gives the crust it's flavor and it's tenderness and flakiness. The amount of fat, the kind, and how it is added to the flour will determine the overall flakiness and texture of the crust. A solid fat (i.e. butter or shortening) will give a flakier crust because they are solid at room temperature and hard when they are cold.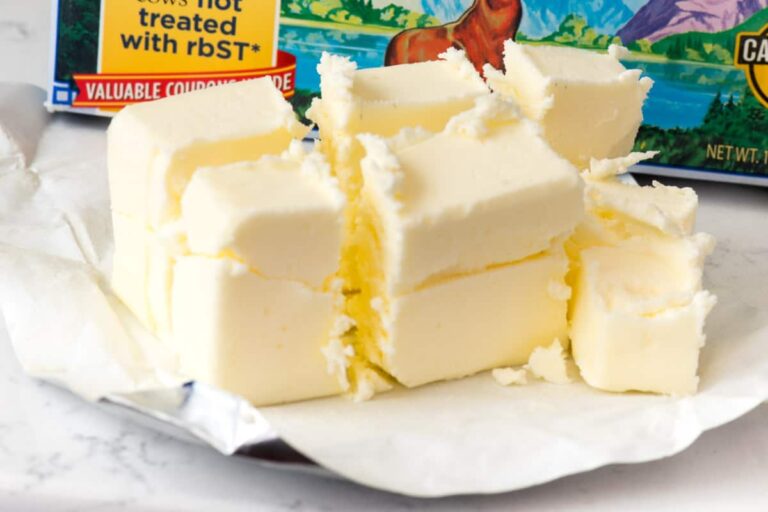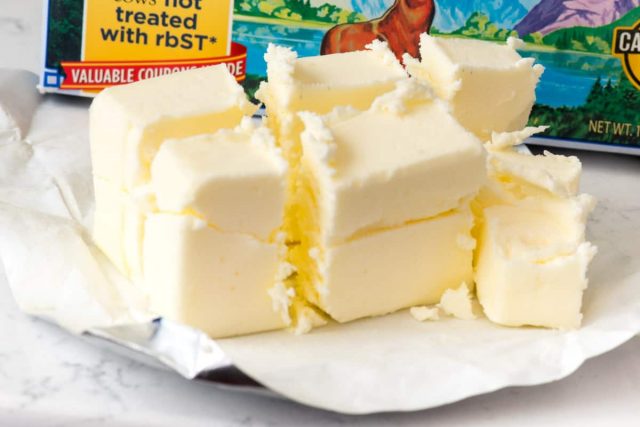 All Butter Crust: the flavor of the butter will shine through in this crust. Butter can be difficult to work with because it melts faster than shortening, but the flavor can't be beat. Never use low-fat butters or butter substitutes for a pie crust!
All Vegetable Shortening Crust: vegetable shortening has a higher melting point than butter, making it easier to work with. Because of that, you're less likely to overwork the crust which, technically, will yield a much flakier crust. The shortening crust typically has no flavor and is much more bland than a crust with butter.
Combination Butter/Shortening: this method should be the best of both worlds, right? Some shortening gives you more chances you'll get a flakier crust but you'll have some of that rich butter flavor.
Oil (vegetable, coconut, etc.): the fact that oil turns to liquid at a much lower temperature makes it not an ideal candidate for a flaky pie crust.
What kind of flour do you use for pastry crust?
For the average home baker, the most typical flour to buy is All-Purpose (AP) Flour. AP flour is the kind I normally use in my baking.
Flour is used in baking mainly because of the gluten that is created when it mixes with water. Some baked goods (like bread) need more gluten to achieve the consistency needed. For other baked goods, like pie crust, you want less gluten so that the end result is flaky, short, and crumbly. Flours that are higher in protein produce more gluten and vice versa.
Pie crusts, therefore, want a lower protein flour. AP flour fits the bill, ranging between 10-12% protein, depending on the brand. It's a good flour that's good for all bakers of any level. If you're adventurous, you can try pastry flour, which can result in a dough that is delicate and tricky to handle, but it's the pro choice for crust.
Should I add salt?
Salt is added mainly for flavor. Even a butter crust can be bland without salt, assuming you're using unsalted butter. You can play with the amount of salt added, but I usually add 1/4 -1/2 teaspoon per 1/2 cup of fat. (If you're using salted butter, reduce that salt by 1/4 teaspoon per 1 stick of butter, or omit it completely.) In general, you should use table salt when baking unless otherwise stated in the recipe.
Why do you use ice water? Why do you put vinegar in pie crust?
In order for the flour to do its job and create a structure that holds together, your crust needs water. Water is what binds together the bonded flour and fat and creates the final product. Be sure to always use ice water; using cold water will reduce the chances that your fat melts. You want the fat in as solid of a state as possible for the texture to remain flaky.
Adding the perfect amount of water to your crust mixture is crucial, and is probably the hardest thing for newbie pie makers to gauge. Too little water and the crust won't come together or will crack around the edges, too much water and it's a mess. You need very little water to create the perfect pie crust (usually less than 2 tablespoons for a single-crust pie). It's important to add it slowly and sparingly until you just have the right amount.
Other liquids you may see in crust recipes are vinegar and vodka. Vinegar is said to tenderize the crust, making it easier to roll and vodka is said to evaporate faster, leaving bigger pockets of air, resulting an a flakier crust. Whether or not they work remains to be seen, but you can use them if you like (or skip them if you prefer). Most of the time I add these ingredients in place of (or in conjunction with) the water.
What's the best method for making pie crust?
When you start making a pie crust, you need to make sure your fat and your water are very cold. Dice up your shortening and/or butter into small bits before starting and put them back in the refrigerator. Put ice and water into a measuring cup so it keeps that water icy cold. Starting with very cold ingredients is the first step to success.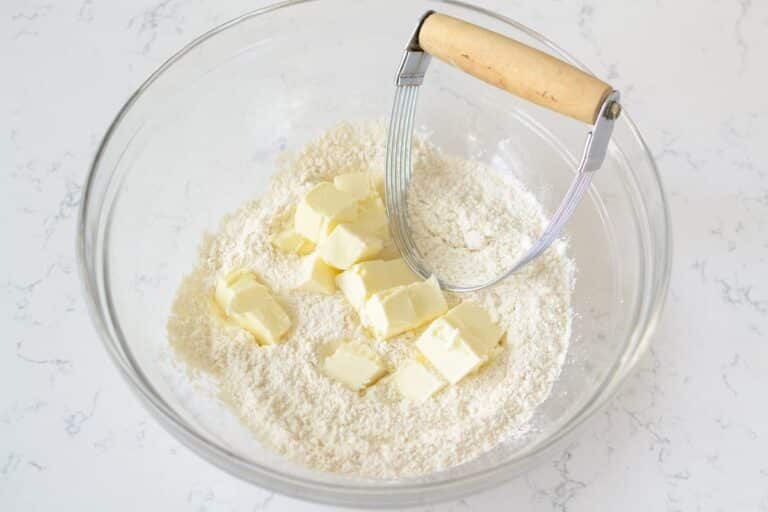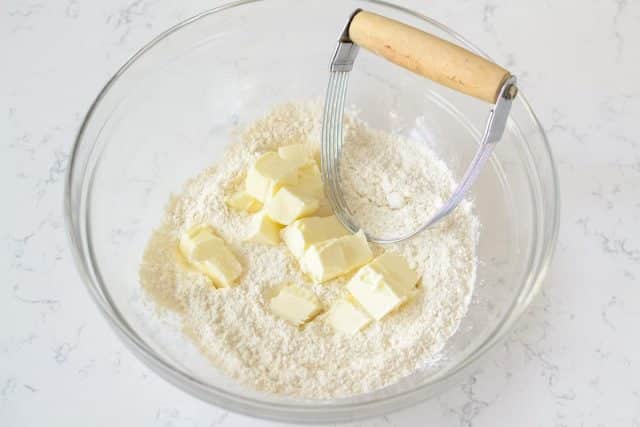 How to make it by hand:
If you're making your crust the way grandma did, you're doing it by hand. It also means you need to have a pastry cutter to make cutting the fat into the flour easier. (You can use two forks or knives, but that just takes even more time.) Once the mixture gets to a certain point, you'll need to turn it out onto a lightly floured surface and work it into a disk, trying not to add too much flour. Crusts made by hand are said to be more delicate and flaky.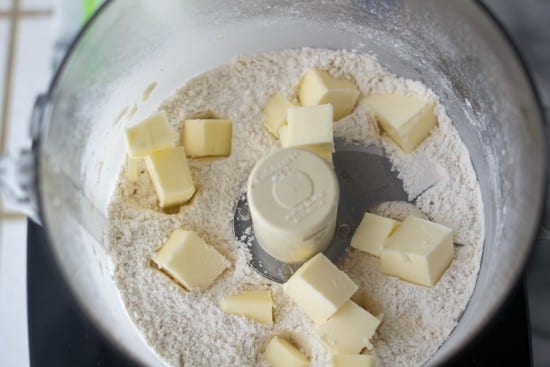 Can you make pie crust in the food processor?
The food processor is my favorite way to make it! It's easy and creates hardly any mess. You'll need at least an 8-cup food processor to make a crust (even bigger if you think you'll want to make two at a time for a double or lattice top pie). Crusts made in a food processor are said to be more mealy or doughy. Honestly, it's about personal preference (I like crusts that taste like shortbread, personally.)
How do you roll a pie crust?
Once you have a disk of dough, the next step is to turn it into a pie. I like to roll out my pie crust immediately when it's soft and easy to roll. The best way to roll out a crust (or any dough) is by using a silicone mat made for rolling (like a Roul'Pat or Silpat). I'll sandwich the dough between two sheets of wax paper and roll out my crust using a rolling pin. Then I place the crust into my pie plate and chill it for at least one hour (longer if possible). Chilling makes all the fat solid again so that when it bakes the cold fat, flour, and water can create the flaky texture. Warm dough will just melt in the oven because the bond between the fat and flour isn't firm. Don't skip the chilling step!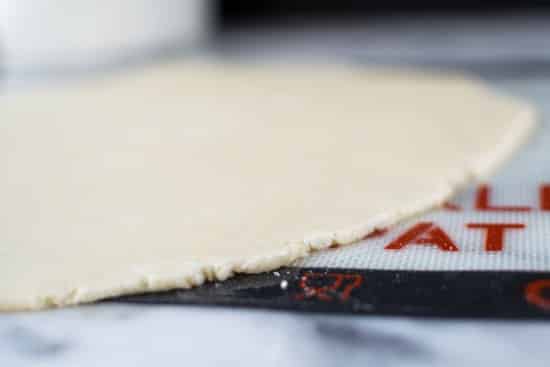 When it's time to make your pie recipe, there are usually two types: a baked pie (like pumpkin) and a filled pie (like banana cream). Here are some tips and tricks for accomplishing both with success:
Making crust for baked pies:
These are pies like apple and pecan; you fill them with the filling and bake the whole pie in the oven at once. These pies can turn out perfectly using the following tips:
Make sure the crust is chilled before you fill it. I like to keep it in the refrigerator for at least 30 minutes; using the freezer can speed up this process.
Use a pie crust shield during baking. These can help reduce the browning of the crust edges while the pie cooks. You can buy silicone pie shields or make your own using strips of foil. Just remove the shield during the last 15 minutes or so of baking so the edges brown a bit.
If you're having trouble with a soggy bottom crust cooking, try cooking the pie at a higher temperature to start. Cook it at about 400°F for 10 minutes, then lower the oven temperature to the temperature specified in the recipe. This helps cook through the bottom of the crust (I, personally, like the bottom less cooked, so I skip this step).
Making crust for filled pies:
Filled pies, or cream pies, are some of my favorites because they go down so easy. Often you find the crust for a filled pie being made of graham crackers or cookies, but a pastry crust is a delicious accompaniment too. Try these tips for pre-baking success:
Make sure the pie crust is VERY chilled before you pre-bake it. I like to keep it in the refrigerator for at least 1-2 hours; using the freezer can speed up this process.
Poke several holes in the bottom and up the sides of the pie crust with the tines of a fork before baking. This helps reduce the bubbling that occurs during baking.
Alternately, you can cover the bottom of the unbaked shell with parchment and line it with beans or pie weights before baking, but a fork is easier (and cheaper).
Learn how to blind bake a pie!
Topping & Decorations
There are several ways you can top a pie crust.
Double Crust Pies:
Fruit pies are the ones you see with a double crust most often. A double crust pie has a crust on the bottom and on the top of the pie.
There are three ways to make a double crust pie:
Classic double crust: just lay the top crust on the pie and crimp the edges. Be sure to cut holes in the top to vent steam while baking.
Lattice Top Pie: strips of crust are laid on top of the pie in a criss-cross pattern.
Decorative top crust: these are all the rage these days, made by using cookie cutters and other fun techniques to make a double crust pie. (See what I mean)
How to top a pie before baking:
Topping a pie crust with a little bit of something can help it brown and look pretty. The base layer should be wet and the top layer will be something dry.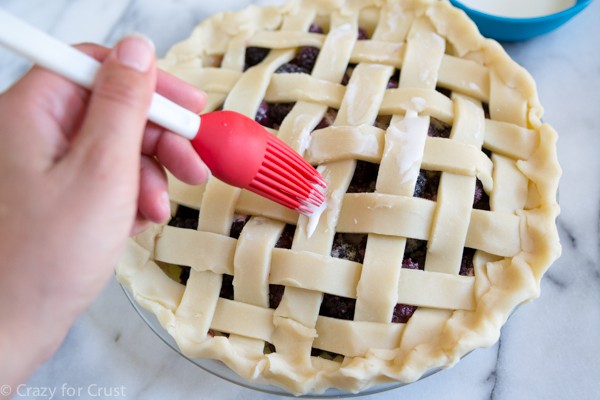 Base layers:
Add a spritz of water
Dust with a brush of melted butter
Egg wash
Milk
Top layers:
Sprinkle of coarse sugar
Cinnamon sugar
Spices
To top a pie crust, I like using an egg wash and a sprinkle of course sugar.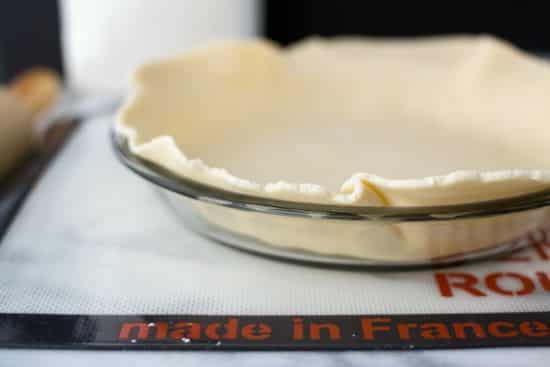 Can you freeze pie crust?
PRO TIP: Pie crusts can be made ahead of time and frozen for faster use.
Line your pie plate with your pie crust, then wrap well in plastic wrap. Freeze for up to 1 month. You can bake it from frozen or allow it to sit in the refrigerator before baking, but don't let it sit at room temperature (it should still be very chilled before using, not soft at all).
Recipes for making the perfect pie crust:
Now that you know how to make a pie crust you can make one of these delicious pies:
Special Equipment
You need very few special kitchen tools to make pie, but a few things will make your life easier. Here is a list of items I use for successful pie making:
9" pie plates: Unless otherwise noted, every pie recipe on this blog is made in a 9" pie plate. There are many different sizes of pie plate, so make sure you have some standard 9" (not deep dish) ones.
Rolling Pin
Pastry Cutter: this is a great tool if you plan to make crust by hand or if you are making a crumble.
Roul'Pat or other silicone surface for rolling: these help because your crust will stay put as you're rolling it out.
Food Processor if you're batting for that team.
Wax Paper to make it easier to roll out your crust without chilling first.
Foil or Pie Crust Shield for protecting the edges of your crust during baking.
Now get into the kitchen – YOU GOT THIS!
Pie crust isn't just reserved for pastry though. Do you love cookie crusts? Check out all my cookie crust recipes: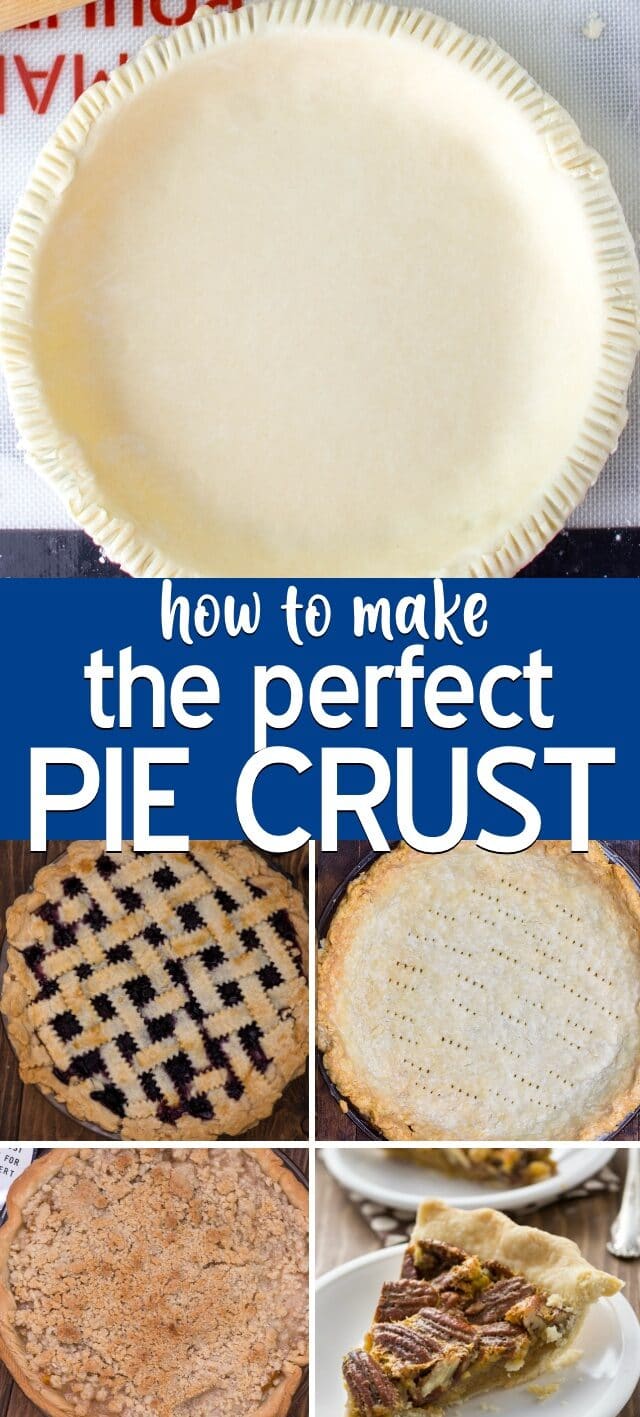 Last Updated on April 30, 2023