This post may contain affiliate links. For more information, read my disclosure policy.
Lemon Meringue Pie – this recipe is a family favorite! It's an easy pie recipe with homemade lemon filling and sweet meringue. This is a family recipe – my Aunt Tootsie made it for years – and now the recipe is mine to share. You're going to love it!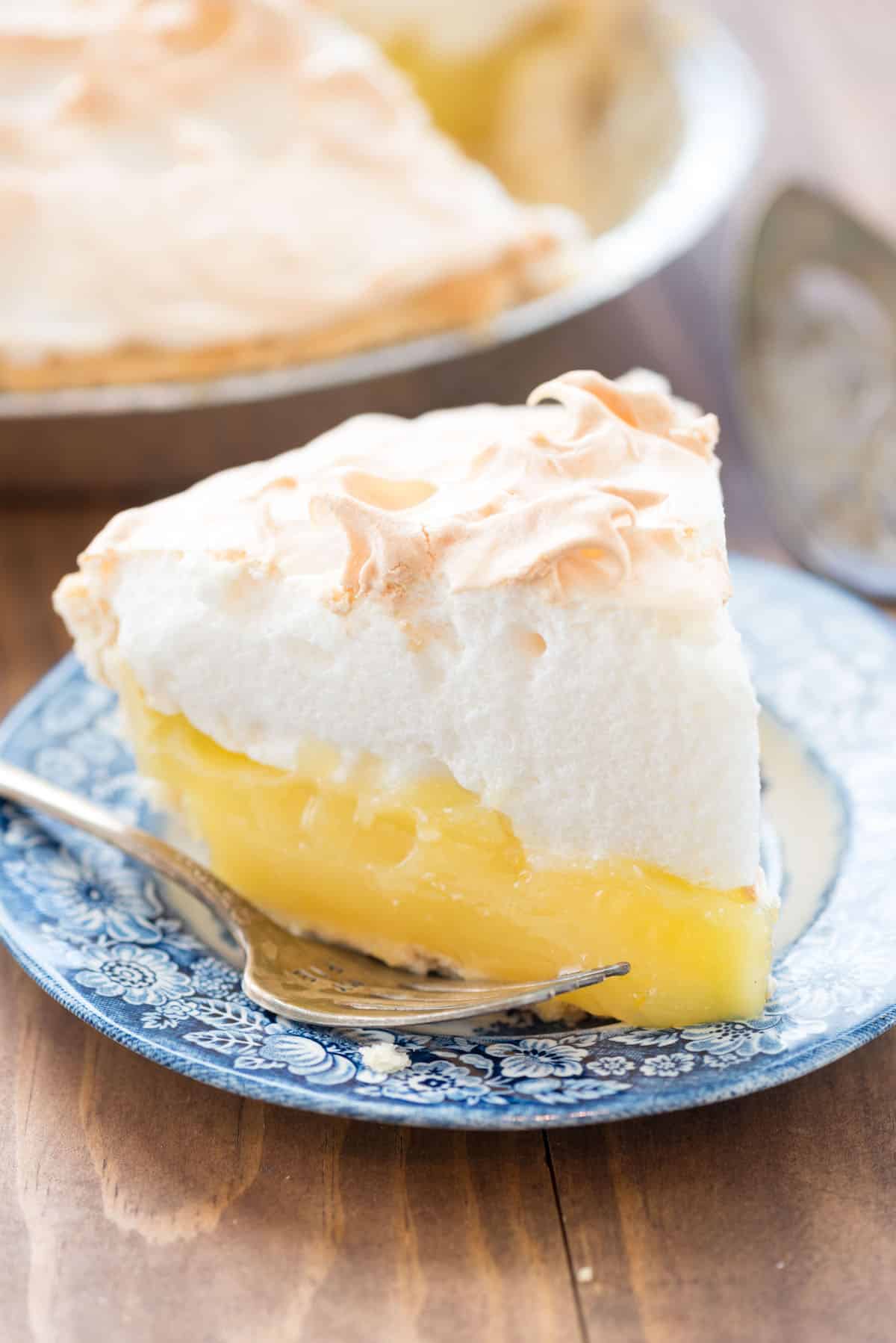 Lemon Meringue Pie Recipe that always works!
When I was a kid (and even still), whenever pie is mentioned around my dad, he brings up my Great Aunt Tootsie's Lemon Meringue Pie. He talks about how the crust was amazing and the filling was so smooth and perfect. A few years ago, I got an envelope full of hand written recipes and newspaper clippings that had been shoved in my Nana's recipe book. One of them was for my Aunt Tootsie's Lemon Meringue Pie!
Making Lemon Meringue Pie seems like an involved process, and it can be, but it's worth it. I would give it a medium on the scale of easy to hard, but this recipe is easy to follow and while it has some moving parts, it's totally attainable if you follow my recipe and tips below.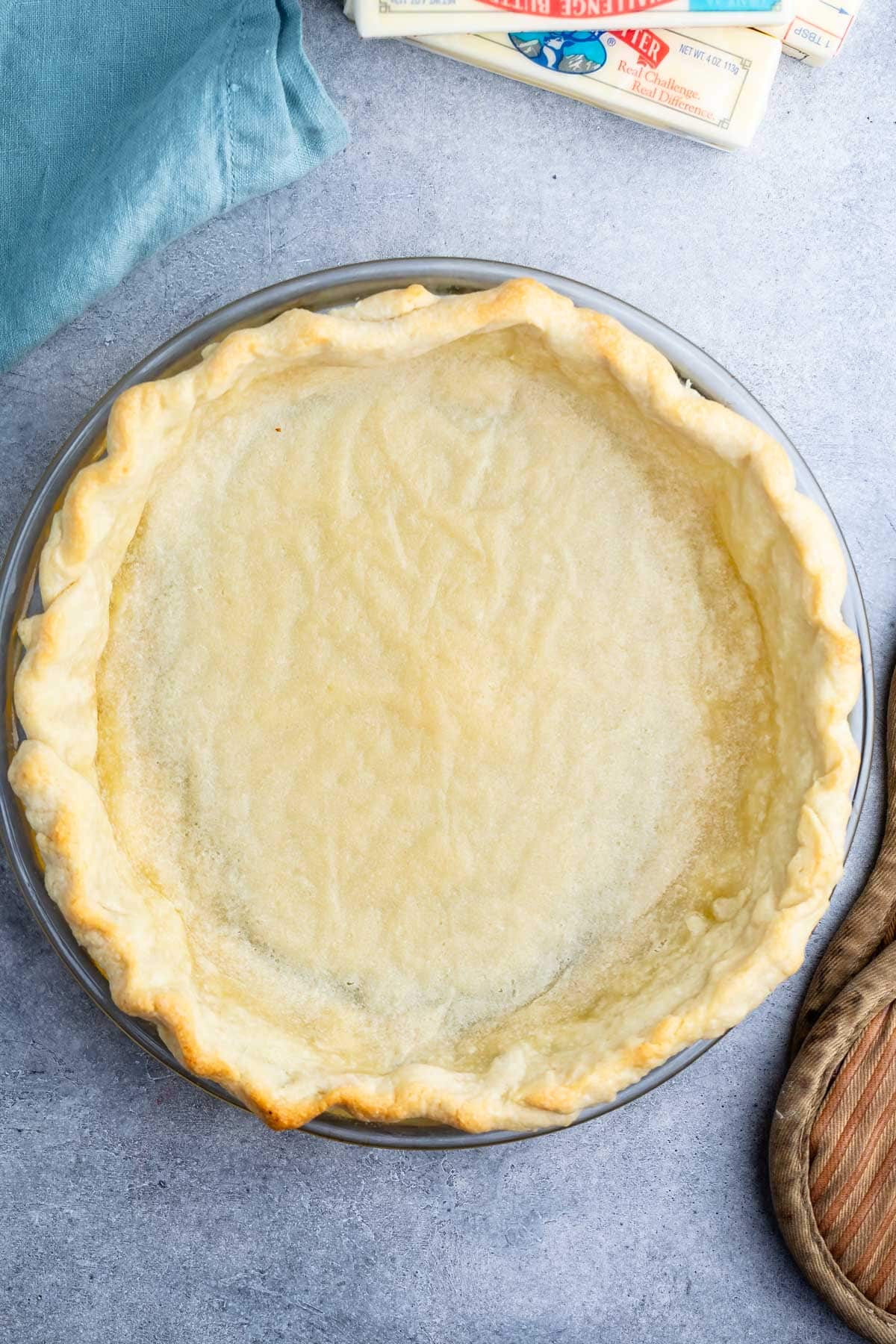 Lemon Meringue Pie Crust
Make a perfect crust: One of the ways to make this pie much easier is to use a pre-made crust. I love my all butter crust recipe but in a pinch or when I'm making an already involved recipe, I'll start with a pre-made crust.
Cook it properly: Make sure to partially pre-bake the crust. You're going to bake the pie, but at a low temperature just to set the meringue, so the pie crust must be almost fully cooked. This is called par-baking or blind baking and it's easy to do.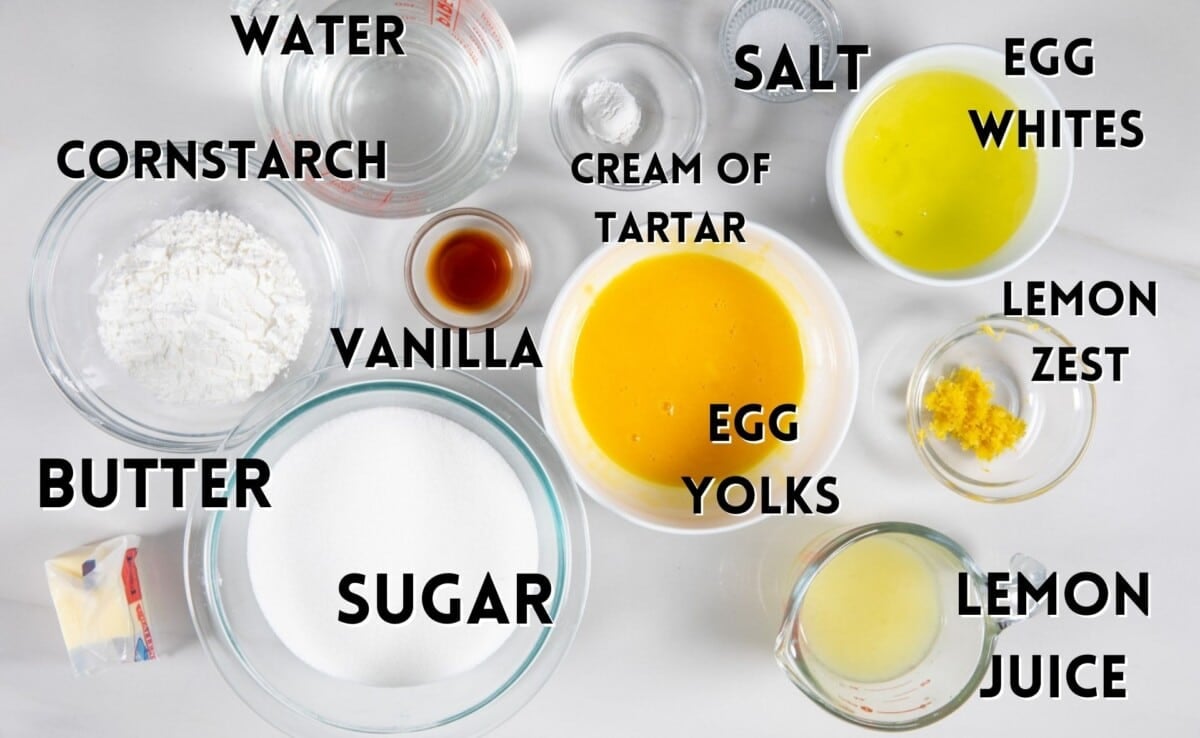 Filling Ingredients
The lemon filling for the lemon meringue pie is an easy lemon curd recipe. It's cooked on the stove, thickened then strained into the baked pie shell.
Cornstarch – this aids in thickening the lemon curd
Egg Yolks – the egg yolks are the body of the custard. Use large eggs that are room temperature.
Lemon Zest and Lemon Juice – the zest is where most of the lemon flavor comes from and the juice should be fresh lemon juice!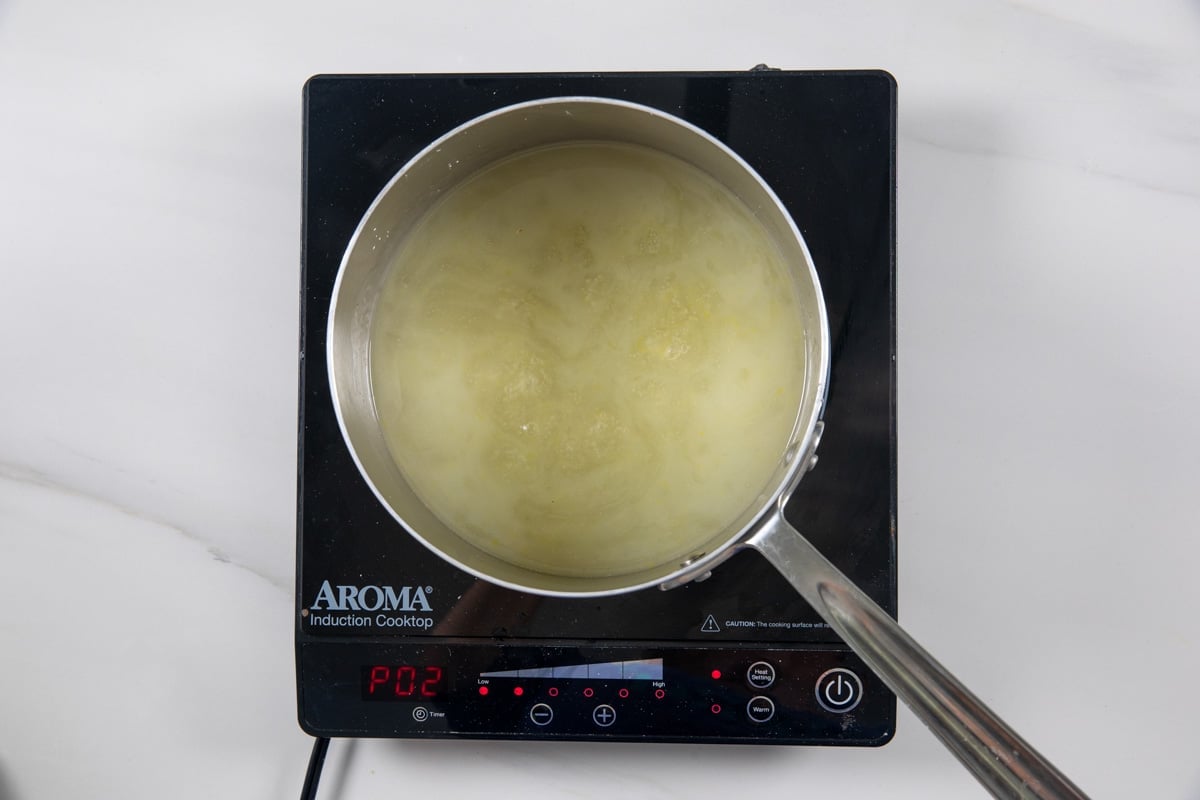 How to make Lemon Meringue Pie
Make sure you have all your ingredients assembled and ready. Whisk your egg yolks in a small bowl and set aside.
Whisk the filling ingredients together in your saucepan, cooking over medium heat, stirring often (like you're making pudding), until the mixture is thick and bubbly.
Pour a bit of the lemon mixture into the beaten eggs whisking constantly. Then pour the entire egg mixture into the lemon mixture while whisking.
Keep cooking for 2 minutes, remove from heat and stir in some butter and then your mixture will be ready.
I always strain my filling just in case little pieces of egg have cooked.
Place the filling in the pie crust and immediately make the meringue. You don't want the pie to cool too much before adding the meringue and baking the pie. The heat from the filling will make the meringue "cook" to the top of the pie.
What is tempering eggs?
A scary part about making a lemon curd like this is tempering the egg yolks.
Tempering eggs is just a fancy way of saying that you're getting them ready to put in the hot custard mixture. If you just pour them into the hot lemon mixture, they'll scramble (ew) so we have to do it slowly.
Pour a bit of the hot mixture into the egg yolks, whisking constantly. Then, pour the egg yolk mixture back into the pot, whisking constantly. Then you can continue making your filling without worrying about scrambled eggs.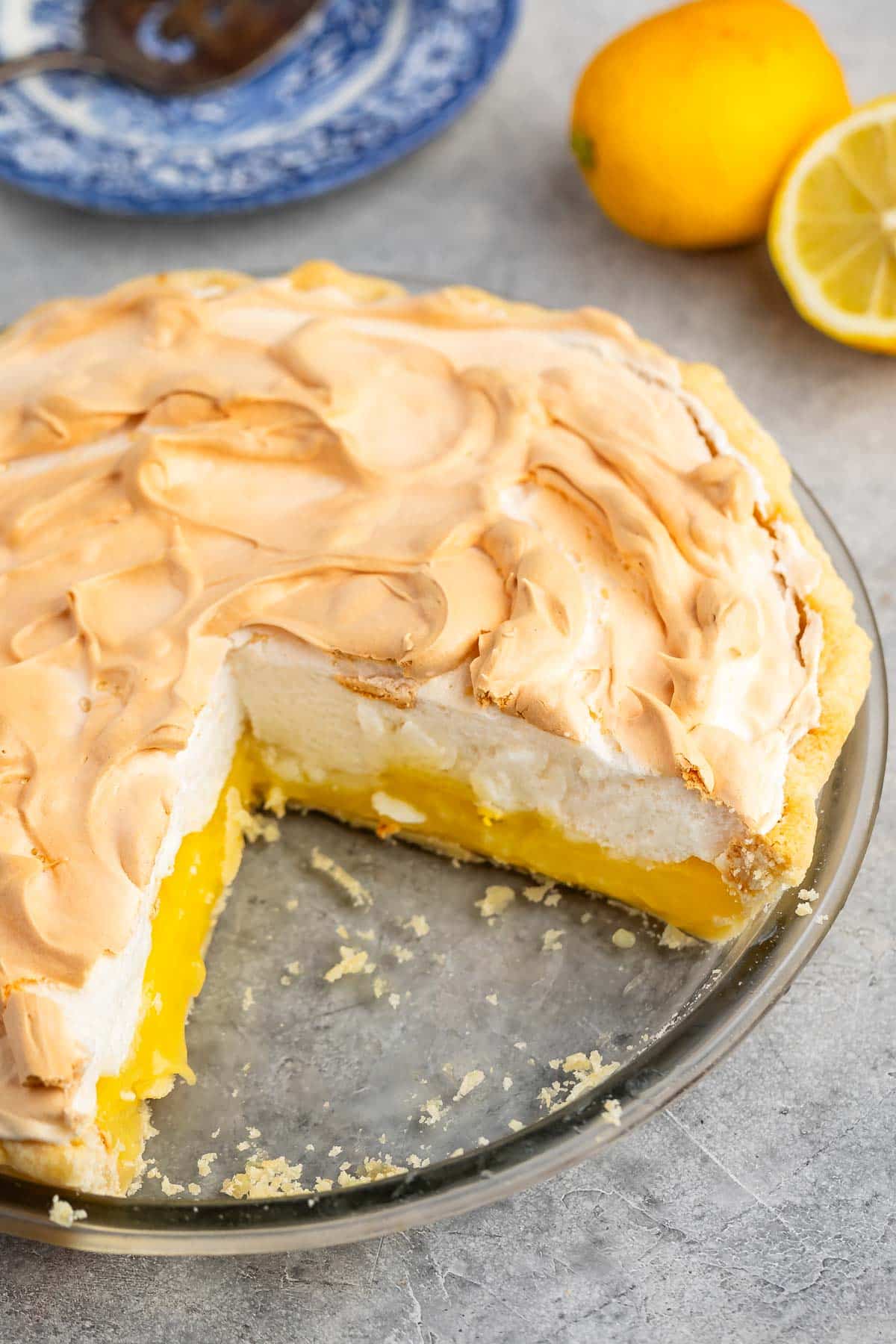 How to make Meringue
Classic Lemon Meringue Pie has a fluffy sweet meringue on top of the lemon filling. This kind of meringue is made by beating egg whites with sugar and then baking on top of the pie and it's like eating sweet clouds.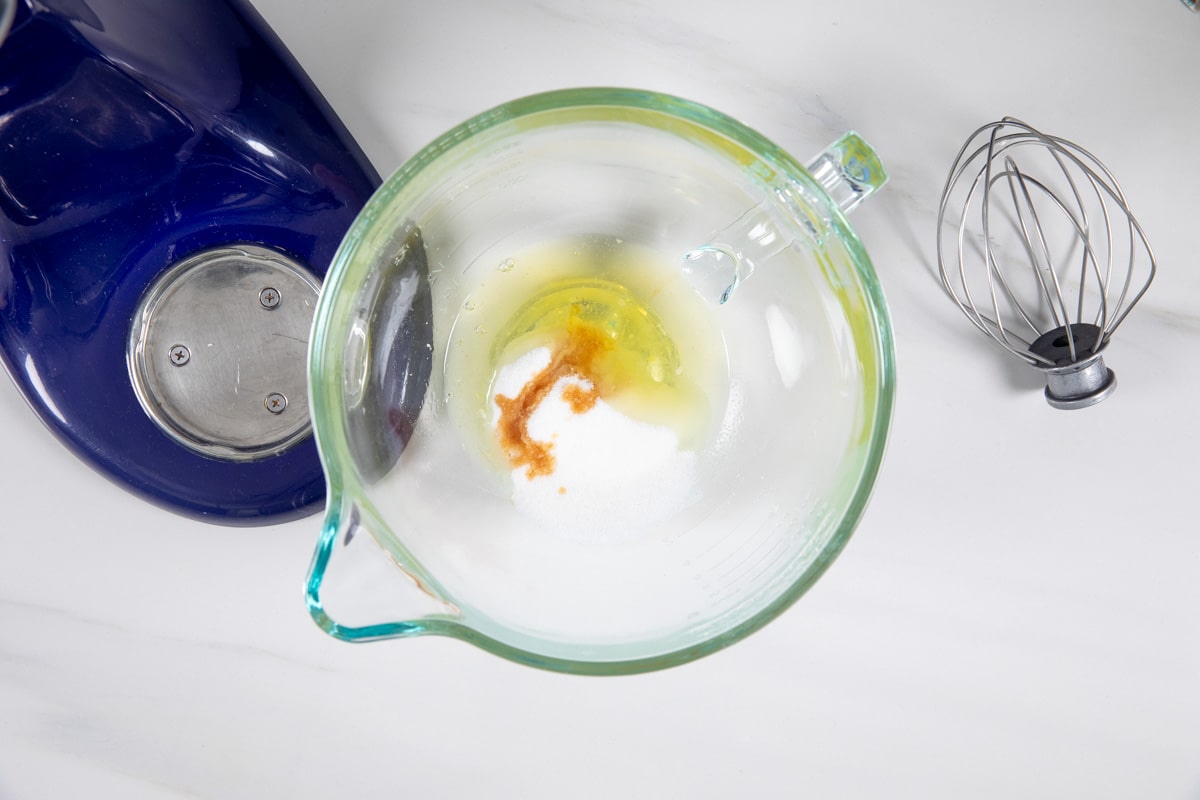 Make sure there are NO egg yolks in your whites. When separating your eggs, err on the side of white-in-yolk but not yolk-in-white if that makes sense. Egg whites don't whip right if they have the fat from the yolk in them.
Cream of tartar is a crucial ingredient in getting the stiff and stable peaks for the egg whites.
You'll beat the egg whites until soft peaks form before adding the sugar. Soft peaks means that the egg whites are fluffy, but the peaks will just start to hold if you turn the whisk upside down.
Once you add the sugar and beat the egg whites until stiff peaks form, you'll see they are glossy and the peaks hold their shape.
Add the meringue on top of the still-hot filling of the pie and swirl the tops into pretty peaks. Make sure to completely seal the meringue to the pie crust edges. Leave NO gaps to avoid weeping. Bake the pie, then completely cool before slicing.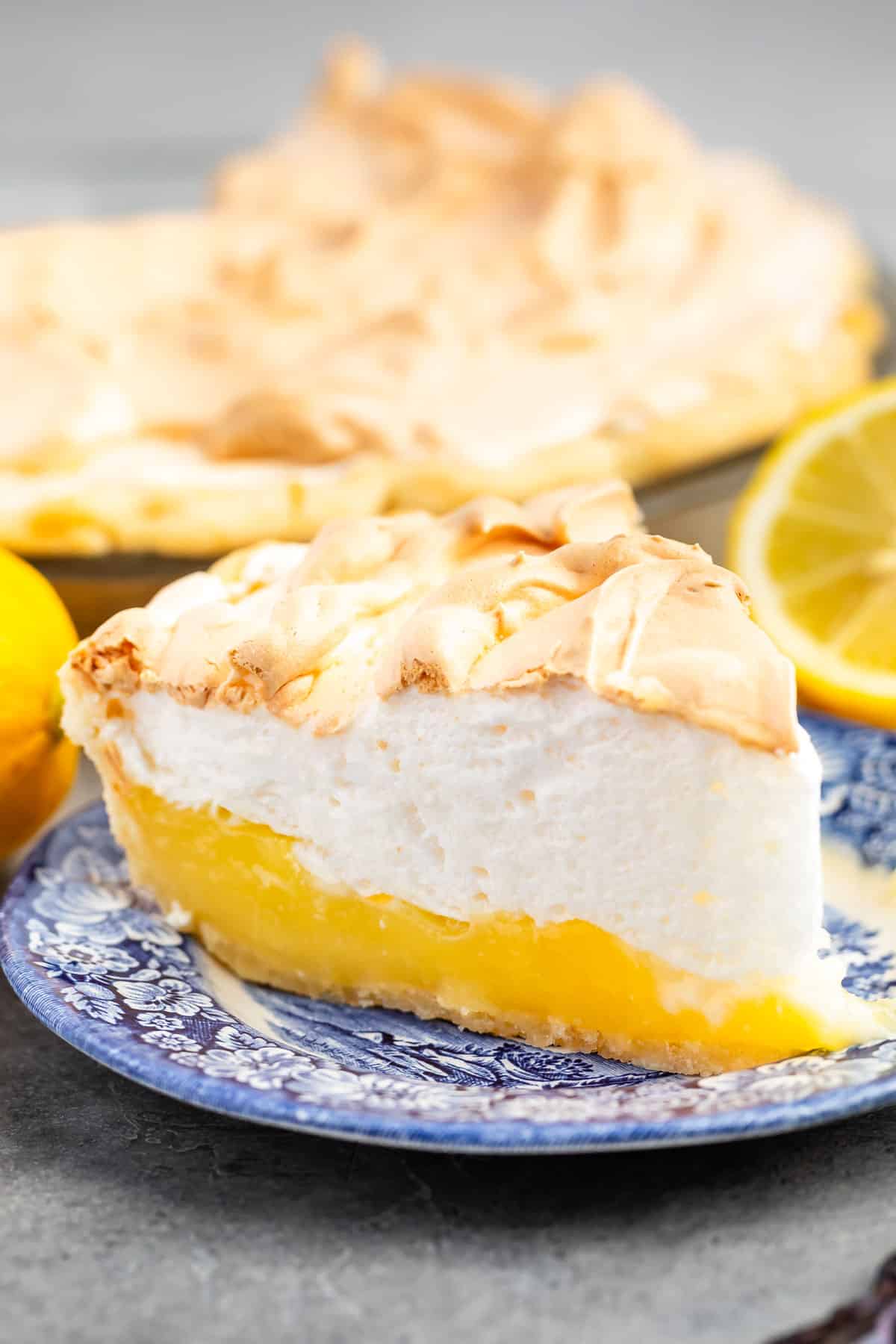 FAQs
How long does lemon meringue pie last?
Meringue will deflate and get a bit weepy after a day so it is recommended that you make your pie the same day it's going be eaten. There is lots of chill time involved so make sure to plan accordingly.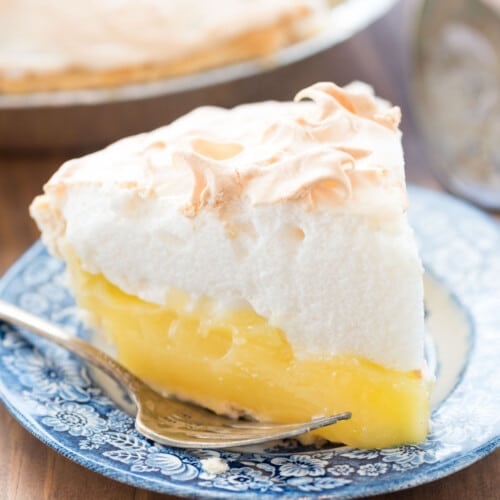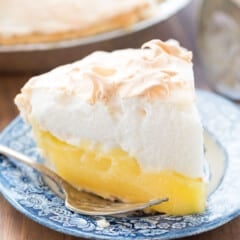 Aunt Tootsie's Lemon Meringue Pie Recipe
Aunt Tootsie's Lemon Meringue Pie – this recipe is a family favorite! It's an easy pie recipe with homemade lemon filling and meringue. Everyone loves it!
Total Time
1

hour
5

minutes
Ingredients
For the filling:
1

All Butter Pie Crust

pre-baked and cooled (or a pre-made crust from a pack of two or frozen)

1 ½

cups

(355ml) water

1 ½

cups

(300g) granulated sugar

5

tablespoons

(40g) cornstarch

½

cup

(118ml) fresh lemon juice

1

tablespoon

lemon zest

½

teaspoon

salt

4

large

eggs yolks

3

tablespoons

(42g) unsalted butter
For the meringue:
4

large

egg whites

½

teaspoon

cream of tartar

1

teaspoon

vanilla extract

½

cup

(100g) granulated sugar
Instructions
Preheat oven to 425°F. Place crust in 9-inch pie plate.

Partially blind bake the crust: poke holes in the bottom of the crust with a fork. Line the crust with parchment paper and fill with dried beans or pie weights (dried rice and lentils work too). If you're using my pie crust recipe, bake about 20 minutes, checking that the crust is browned (but the bottom won't be completely done yet, that's ok). If you're using a Pillsbury crust, it'll only take about 10 minutes to partially bake. Carefully remove parchment and pie weights.

Lower oven temperature to 300°F.

Whisk water, sugar, cornstarch, salt, lemon juice, and lemon zest in a medium saucepan. Place over medium-low heat and cook, stirring often, until it's thick and bubbly.

Place egg yolks into a medium sized bowl. Whisk them gently. Once the lemon mixture is thick and bubbly, carefully pour about half the lemon mixture into the egg yolks, whisking constantly, then place the egg mixture back into the pan with the remaining lemon mixture, continuing to whisk. You want to avoid scrambling the eggs. Bring to a gentle boil, then cook for 2 minutes. Remove from heat and stir in the butter until melted.

Strain the mixture to remove any bits of egg. Pour mixture into the prepared pie crust. Cover with plastic wrap while you prepare the meringue and keep it hot (the meringue needs to go onto hot filling).

Place egg whites, cream of tartar, and vanilla in the bowl of a stand mixer fitted with the whisk attachment (or you can use a large bowl with a hand mixer). Beat on high speed until soft peaks form (if you remove the beaters the tips curl slightly) and then continue mixing while gradually adding the granulated sugar. Continue mixing until stiff peaks form (they'll be glossy and stand straight).

Spread the meringue on the top of the lemon mixture in decorative peaks, being sure that the meringue touches the crust and no lemon shows through. Bake about 30 minutes or until the meringue is browned. Cool at room temperature for one hour, then chill at least 5 hours before slicing.

The pie will last a day or two in the refrigerator but tastes better day one.
Recipe Nutrition
Serving:
1
slice
|
Calories:
331
kcal
|
Carbohydrates:
56
g
|
Protein:
7
g
|
Fat:
9
g
|
Saturated Fat:
4
g
|
Cholesterol:
83
mg
|
Sodium:
48
mg
|
Fiber:
1
g
|
Sugar:
46
g
Nutritional information not guaranteed to be accurate
This simple Lemon Meringue Pie is the best! One of our family favorites – made the old fashioned way with a creamy lemon filling and meringue on top! I'll show you step by step with photos and video just how easy it is to make this homemade pie!
Last Updated on November 1, 2023