This post may contain affiliate links. For more information, read my disclosure policy.
Why do I always feel like making sheet cakes in the summer? Maybe it's the heat? Or the potlucks? Or just because chocolate sheet cakes are so flipping good?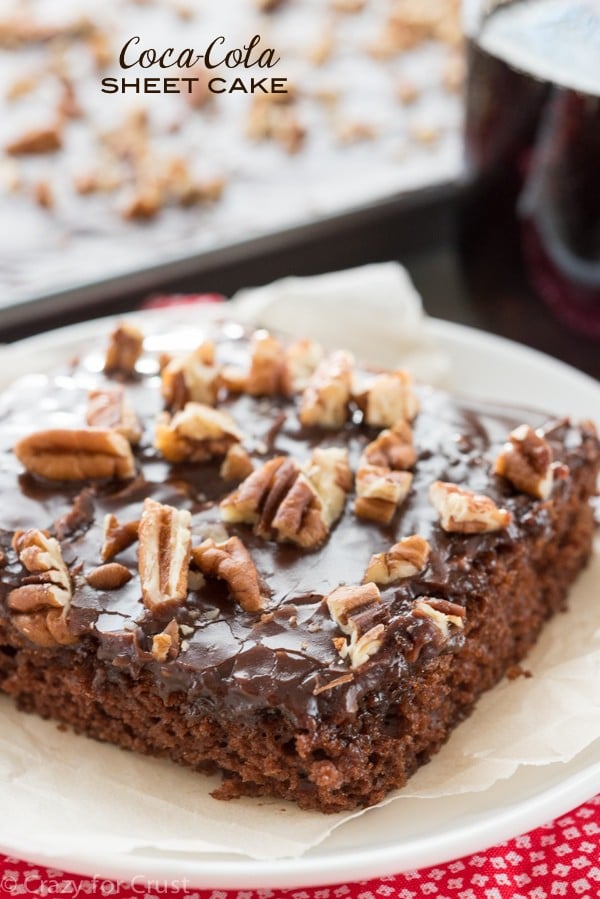 When I was a kid, as you know, we traveled around in an RV for two weeks every summer. We would drive for 2 weeks in a big circle, starting from San Francisco. Because of those trips I've seen all of the states until you hit Colorado. It's also why I hate camping, but whatevs. I got to see a lot!
When I was 15 we went back east to Washington DC, then drove to Boston, so I've seen a few parts of the northern southern states. (Is DC considered the south or the east? I don't even know.) The only place I haven't seen in the U.S. that I really want to see is the south. Florida, Georgia, the Carolinas, Louisiana, Kentucky…I really hope I have a chance to eat my way through all of those states some day. Because you know that the reason I travel is for food.
Obviously.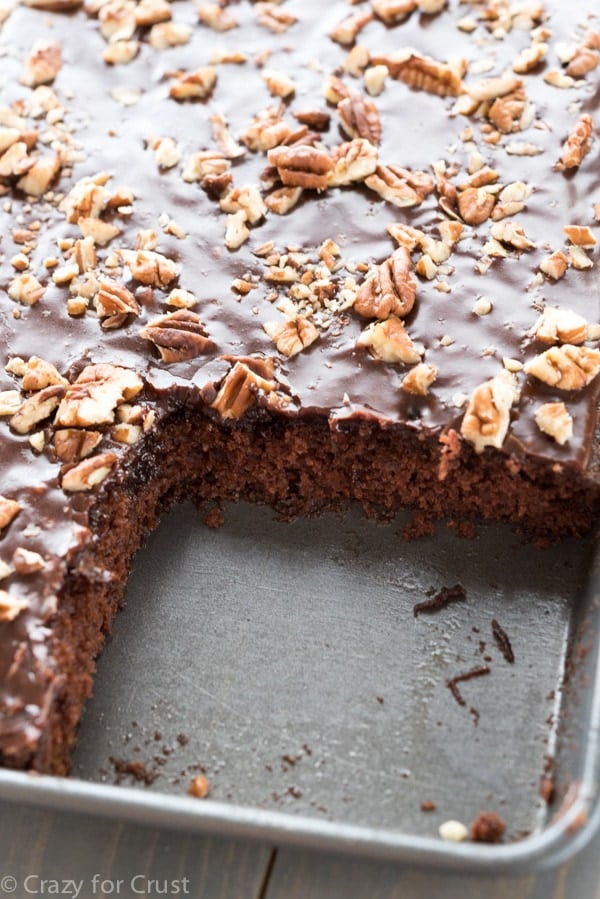 The food of an area is the soul of that area, don't you think? Crab in San Francisco, cheese in Oregon, BBQ in Texas, macadamia nuts in Hawaii. I associate food with places. Instead of souvenirs, I buy pastries.
Since I've never really been to the south (unless you count Miami but it was such a whirlwind I don't), whatever I know about southern food comes from the internet and TV. When I think of a good old southern dessert, I think of red velvet, cobbler, peach pie, and Coca-Cola Sheet Cake.
I've been wanting to make a sheet cake F.O.R.E.V.E.R. but just haven't. So when Ovation TV emailed and asked if I'd post a southern dessert to announce the new show Southern Uncovered, I jumped at the chance.
As if I needed a reason to make a decadent chocolate sheet cake filled with my favorite soda. Pffft.
Have you ever watched OvationTV? It's a network dedicated to celebrating the arts. How cool is that? If you've never seen it, check your local listings; most carriers have it. (On DirectTv it's channel 274.)
Their newest show, Southern Uncovered with the Lee Brothers, Matt and Ted (the Lee Brothers) explore different cities in the south to uncover the unique and unexpected sides of southern cuisine. They introduce us to people, food, and culture that define the south. Their list of cities are all ones I hope to visit one day: Charleston, Atlanta, Dallas, New Orleans, Asheville, and Louisville.
I wonder if they'll taste a sheet cake filled with cola? It would be a shame if they missed out on this one. You guys, this cake rocked my socks off.
This cake is SO easy to make. Really, it is. And, it's egg-free! That's right, no eggs at all. The buttermilk, baking soda, and soda bubbles give the cake what it needs to rise. The soda doesn't add much in the way of flavor to the cake, but it acts the leavening and keeps it so moist!
I've been wanting to try my hand at a soda cake forever, but I didn't really want to use a box mix. I kind of felt like making a from-scratch sheet cake. I decided to adapt my favorite chocolate cupcake recipe and turn it into this cake. I'd used that cake recipe to make a layer cake before, so I knew it would work, but I had to scale it down to fit in my sheet pan.
A sheet cake is baked in a sheet pan, which is a 10x15x1 inch pan. It's the same pan you make jelly/cake roll cakes in. You simply mix up the dry ingredients then whisk in the wet, no mixer needed. I just whisked it all together and poured it into the pan.
Once the cake is baked, you make the frosting. The frosting is the BEST PART. Oh my gosh, you guys. I love a cooked frosting because it stays gooey and fabulous. It's way better than a traditional buttercream. You bring the butter, cocoa, and soda to a boil, then you stir in the remaining ingredients and pour it over the just baked hot cake. Once the cake cools the frosting gets a little shell but stays gooey underneath.
It's fabulous.

Sheet cakes are the best for a potluck, no matter where you live, because they feed a lot of people. Unless you attack it with a fork, that is. (And be careful, because I guarantee you'll want to do that with this cake!)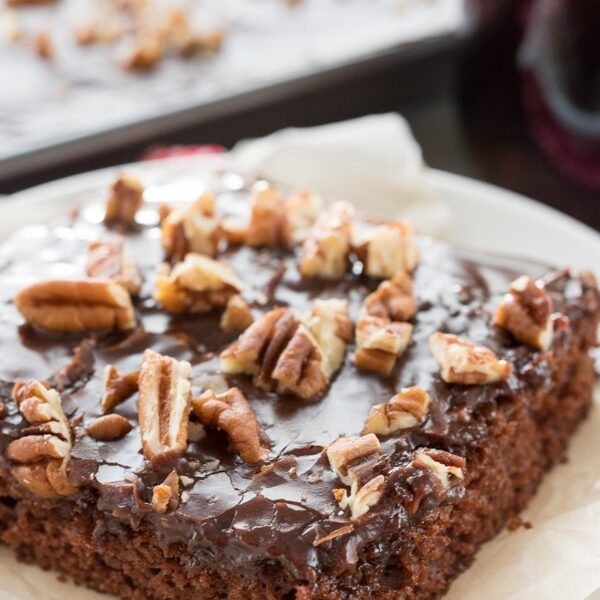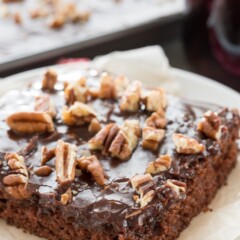 Coca-Cola Sheet Cake
This Cola Sheet Cake is super chocolatey and feeds a crowd! It's an easy recipe and is egg free!
Ingredients
Cake:
2

cups

all-purpose flour

1 1/3

cups

granulated sugar

1/3

cup

unsweetened cocoa powder

1

teaspoon

baking soda

1/2

teaspoon

salt

1/2

teaspoon

instant coffee granules

optional

1/2

cup

vegetable oil

1

cup

cola

not diet

1/3

cup

buttermilk

regular or low-fat

1

teaspoon

vanilla extract
Frosting:
1/2

cup

unsalted butter

diced

1/4

cup

unsweetened cocoa powder

1/3

cup

cola

1/2

teaspoon

instant coffee granules

optional

1

teaspoon

vanilla extract

Pinch

of salt

2

cups

powdered sugar

Chopped pecans or walnuts for topping
Instructions
Preheat oven to 350°F. Spray a 10x15 sheet cake pan with cooking spray (I like the kind with flour).

Whisk flour, sugar, cocoa, baking soda, salt, and coffee granules in a large bowl. Set aside.

Whisk oil, cola, buttermilk, and vanilla in a measuring cup. Stir wet ingredients into dry and stir until just blended and smooth.

Pour batter into prepared pan. Bake for about 15-22 minutes until a toothpick comes out clean 2" from the edge of the pan. The cake will somewhat spring back when touched.

As soon as the cake comes out of the oven, make the frosting. Heat the butter, cocoa, cola, and coffee granules in a small saucepan until it boils and the butter is melted. Remove from heat and stir in vanilla, salt, and powdered sugar. Pour evenly and carefully over cake, spreading as needed. Sprinkle with chopped nuts.

Cool completely before serving. Store loosely covered on counter or in refrigerator for up to 3 days.
Nutritional information not guaranteed to be accurate
Be sure to check out Southern Uncovered with the #LeeBros on @ovationtv, Sundays at 8/7c!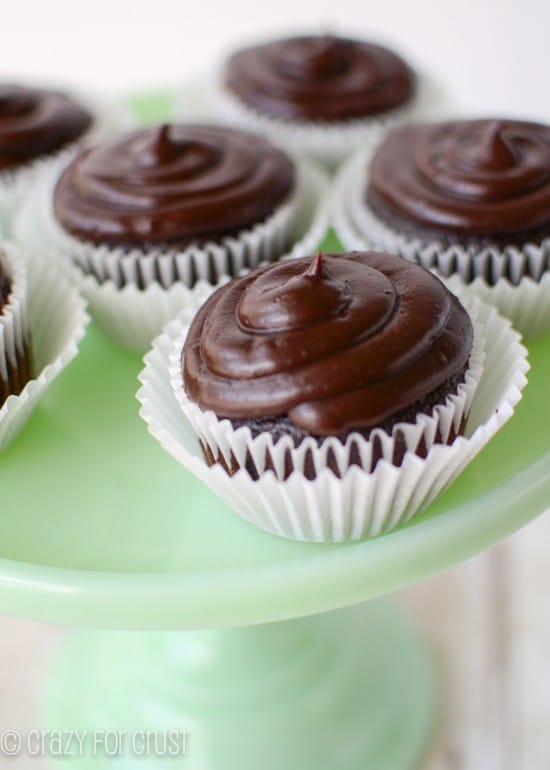 Yellow Cake with Chocolate Frosting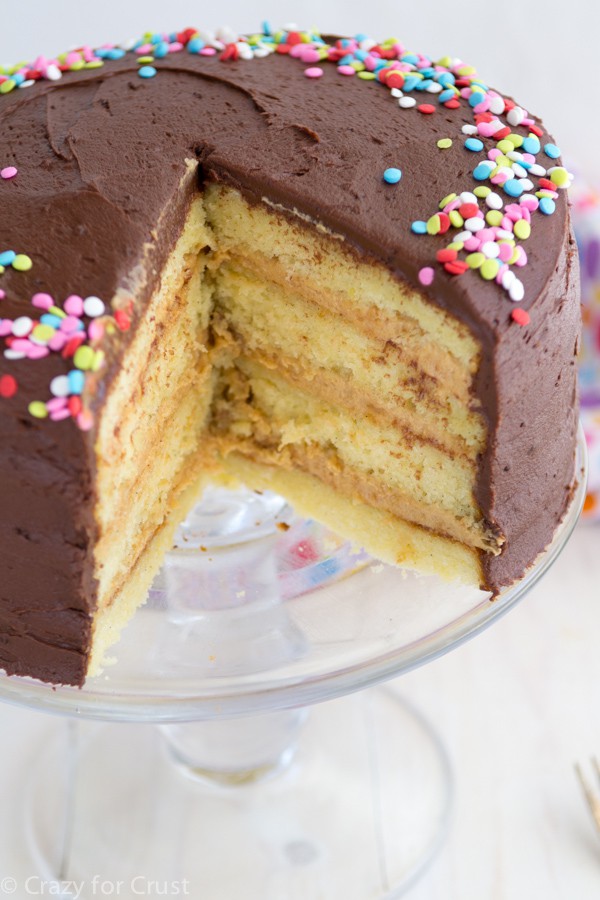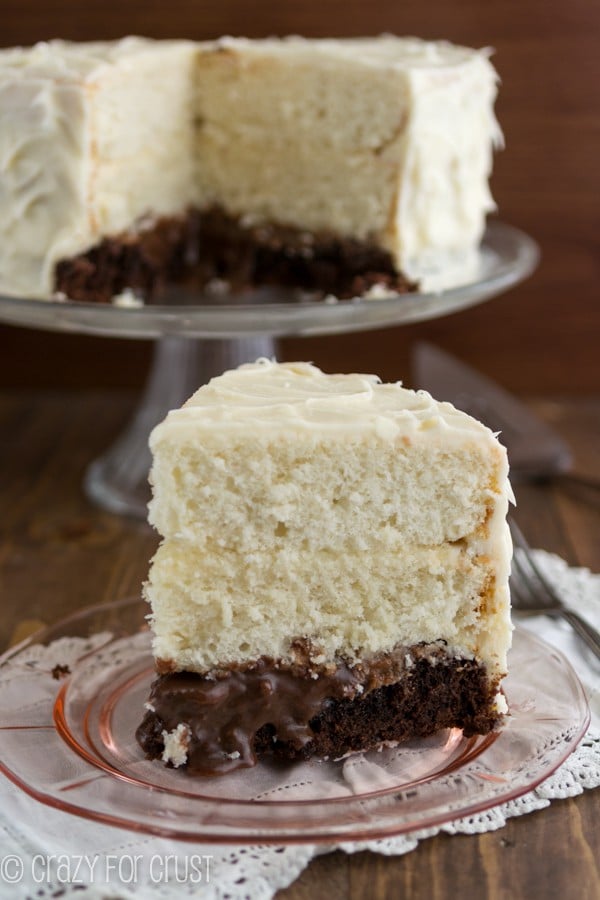 Sweets from friends:
Coconut Almond Sheet Cake by The Food Charlatan
Banana-rama Cake by Mandy's Recipe Box
by Mom Loves Baking
This post is sponsored by OvationTV. All opinions are 100% my own.
Last Updated on April 30, 2023