This post may contain affiliate links. For more information, read my disclosure policy.
I am in love with this cake.
It's a white cake. It has a brownie layer. It has chocolate sauce. And cream cheese frosting!
Take a slice and you'll see the brownie surprise cake inside…
CLICK TO PIN TO SAVE FOR LATER

I have eaten lots of cakes. I've made lots of cakes. This cake? Is one of my very favorites! And it's from one of my newest favorite cookbooks:
Surprise-Inside Cakes by Amanda Rettke of i am baker!
This book is so gorgeous. It's seriously a work of art. Amanda is a cake genius! Jordan looked through the book and all she could say was, "WOW! This woman is so talented!"
I also heard her utter, "So THAT'S how you do it!" when looking at some of the surprise-inside cakes like the balloon cake (you cut it…and there's a balloon shape inside). Not only is there a gorgeous beauty shot of every cake, but there are also step-by-step photos of every recipe. After reading the steps, you actually think you can do them!
Jordan marked several of her favorite cakes, but this Vintage Cake stood out to me. It was breathtakingly gorgeous and it's full of a brownie and chocolate surprise!
And did I mention the cream cheese frosting?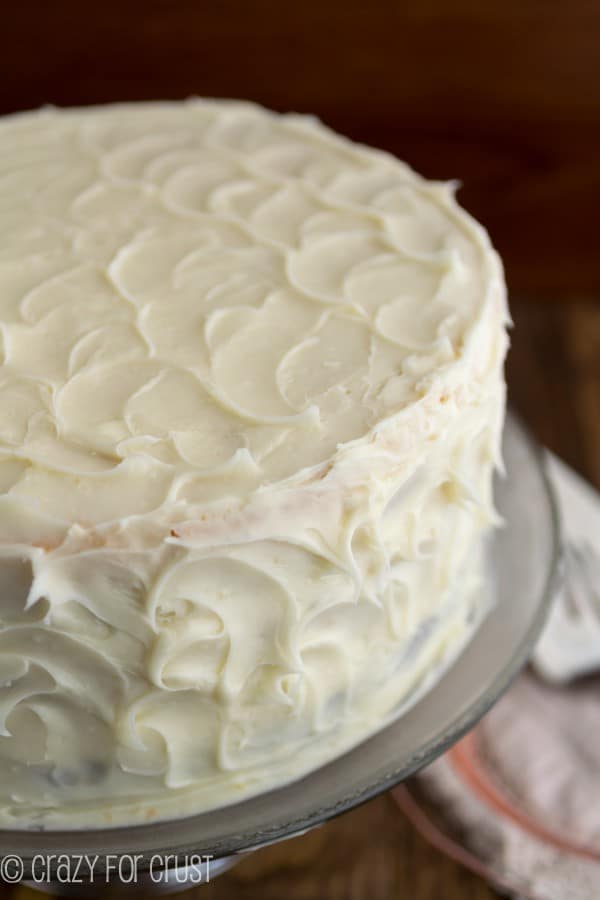 This cake has a few steps to make it, but every single step is so worth it once you've taken a bite.
The two cake layers are a white cake. I used the recipe in Amanda's book (and, seriously, it's the BEST white cake I've ever eaten) but you need to get the book for that recipe. You can use your favorite, or grab box of white cake mix. You can make your cake layers the day before you assemble the cake. Just let them cool and wrap them in plastic to sit on the counter overnight.
The rest of the action happens the day you assemble the cake. The secret to the surprise is a layer of brownie. You can use the recipe in Amanda's book, but I used a box brownie mix. The reason you need to make the brownie the day you assemble the cake is because you drench it in homemade chocolate syrup while it's still warm.
Did drool just puddle in your mouth? Because it did in mine.
Once the brownie layer is drenched and cooled, you frost and layer the cake as you normally would. Amanda's cream cheese frosting recipe is amazing and it makes just enough to frost the whole cake.
Speaking of frosting cake: do you get crumbs in your frosting and they drive you crazy? Here's the solution: a crumb coat. A crumb coat of frosting is a very thin layer you put on before your final layer, like you put on your underthings before you put on your clothes. The point of a crumb coat is to make all the crumbs from the cake stick to it so when you frost it with the final coat it looks pretty and put together. Once you add your crumb coat layer, it's important to let the cake chill so that it sets before frosting the final coat. Your cake will be crumb-free!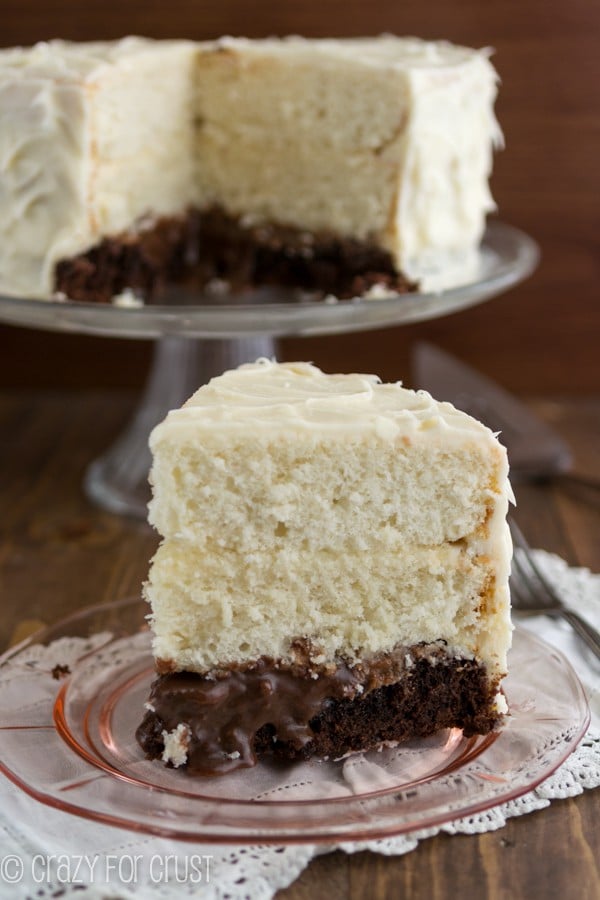 I was so mad I had to give this cake away. I made it for a potluck…but they got it sans one slice. I couldn't help myself!
There were only crumbs left when I went to pick up my cake plate. I was kind of bummed. 🙂
Now that you've had a peek at one of Amanda's recipes, I bet you want her book, right? You're in luck – I'm giving away a copy. Scroll down for the details!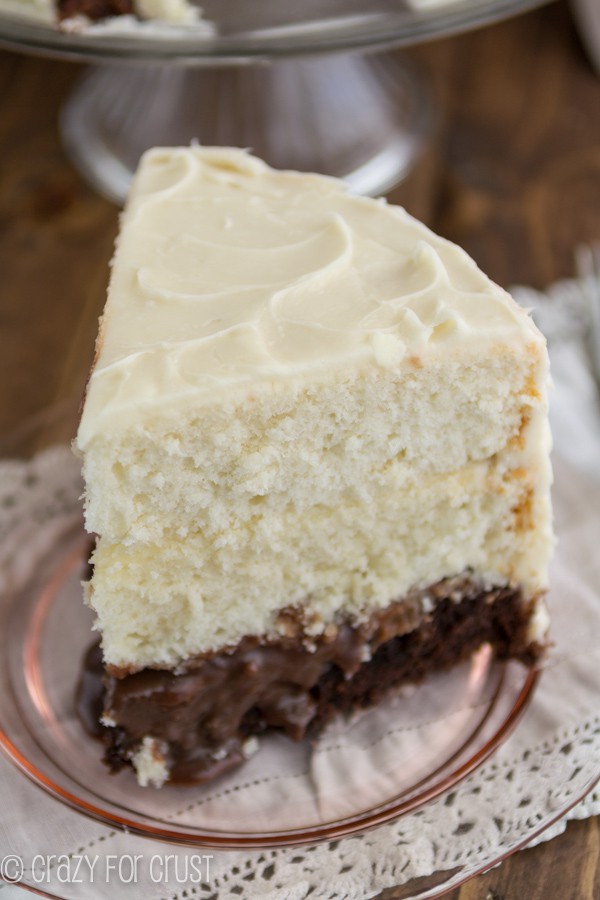 I'm drooling. Are you?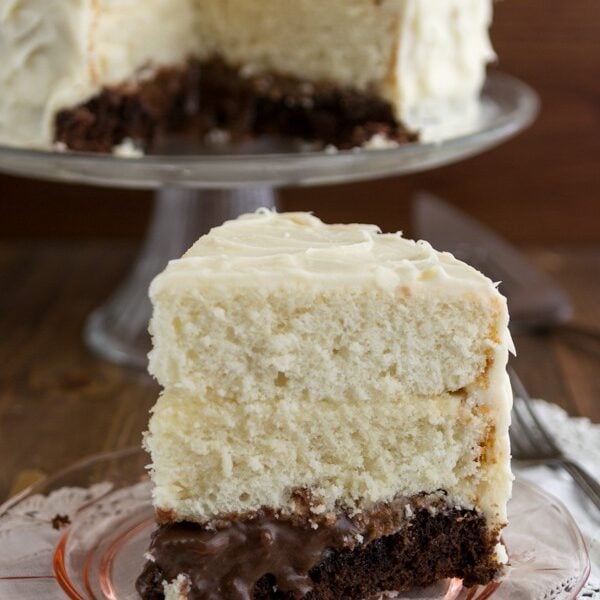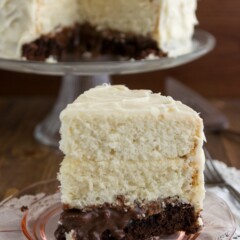 Vintage Brownie Surprise Cake
This surprise-inside cake is to die for! A white cake with cream cheese frosting is hiding a bottom layer of brownies and chocolate sauce. This is the perfect cake for your next holiday or potluck.
Ingredients
1

box white cake mix

plus ingredients to prepare cake

1

box brownie mix

9x13" pan size, plus ingredients to prepare brownies

2

ounces

semi-sweet chocolate

broken into pieces

7

ounces

sweetened condensed milk

half of a 14-ounce can

1 8-

ounce

package cream cheese

at room temperature

1/2

cup

1 stick unsalted butter, at room temperature

1

teaspoon

vanilla extract

4

cups

powdered sugar

1/4

cup

milk
Instructions
Prepare white cake mix according to package directions. Bake in two 9-inch round pans as directed. Cool completely. You can make the white cake rounds the night before you want to assemble the cake, if you wish.

On the day you want to assemble the cake, prepare brownie mix according to package directions. Line a 9-inch round cake pan with foil and spray with cooking spray. Pour brownie batter into pan, making sure it doesn't go more than 3/4 of the way up the pan. (My brownie mix was a regular 9x13" pan size - about an 18 ounce package - and I used all of it. If the brownie mix makes more for some reason, you can bake it in cupcake liners or discard any extra.) Bake for 20-30 minutes, until a toothpick comes out with just a few crumbs about 1" from the side of the pan. Let the brownie layer cool about 30-45 minutes, then gently remove it from the pan using the foil.

Place semi-sweet chocolate and sweetened condensed milk in a small bowl. Microwave in 30 second increments, stirring between each, until smooth. Let sit 5 minutes.

Remove foil from brownies and place on cake stand. Pour chocolate sauce all over the top of the brownies (some may spill over the sides, that's okay.) Let finish cooling to room temperature.

Make the frosting by beating the butter, cream cheese, and vanilla in stand mixer fitted with the paddle attachment for about 1-2 minutes, until smooth. Add the powdered sugar, 1 cup at at time, until frosting is light and creamy. Add milk, 1 tablespoon at a time, until you reach your desired spreading consistency (I used 1 tablespoon).

Once brownie layer has cooled, place one white cake layer on top of the brownie layer. Add a thin layer of frosting on top, then top with second white cake layer. Give the entire cake a very thin layer of frosting. This is your crumb coat, so that your final coat won't be full of crumbs. Chill the cake until the frosting is set, then use remaining frosting to coat the cake. Use your spatula to make a "c" pattern over the cake for the vintage look.

Store cake loosely covered in refrigerator.
Nutritional information not guaranteed to be accurate
Banana Cake with Caramel Filling
Sweets from friends:
Homemade Yellow Cake Mix by i am baker
Pecan Pie Cake by Something Swanky
Double Chocolate Layer Cake by Java Cupcake
Last Updated on June 11, 2020