This post may contain affiliate links. For more information, read my disclosure policy.
Learn how to make the best chocolate buttercream frosting! I've been making this frosting for years and am sharing all of my tips and tricks so you can make delicious fluffy chocolate frosting from scratch that turns out perfectly every time.
You'll never need another buttercream recipe again once you have this one – it's THAT GOOD!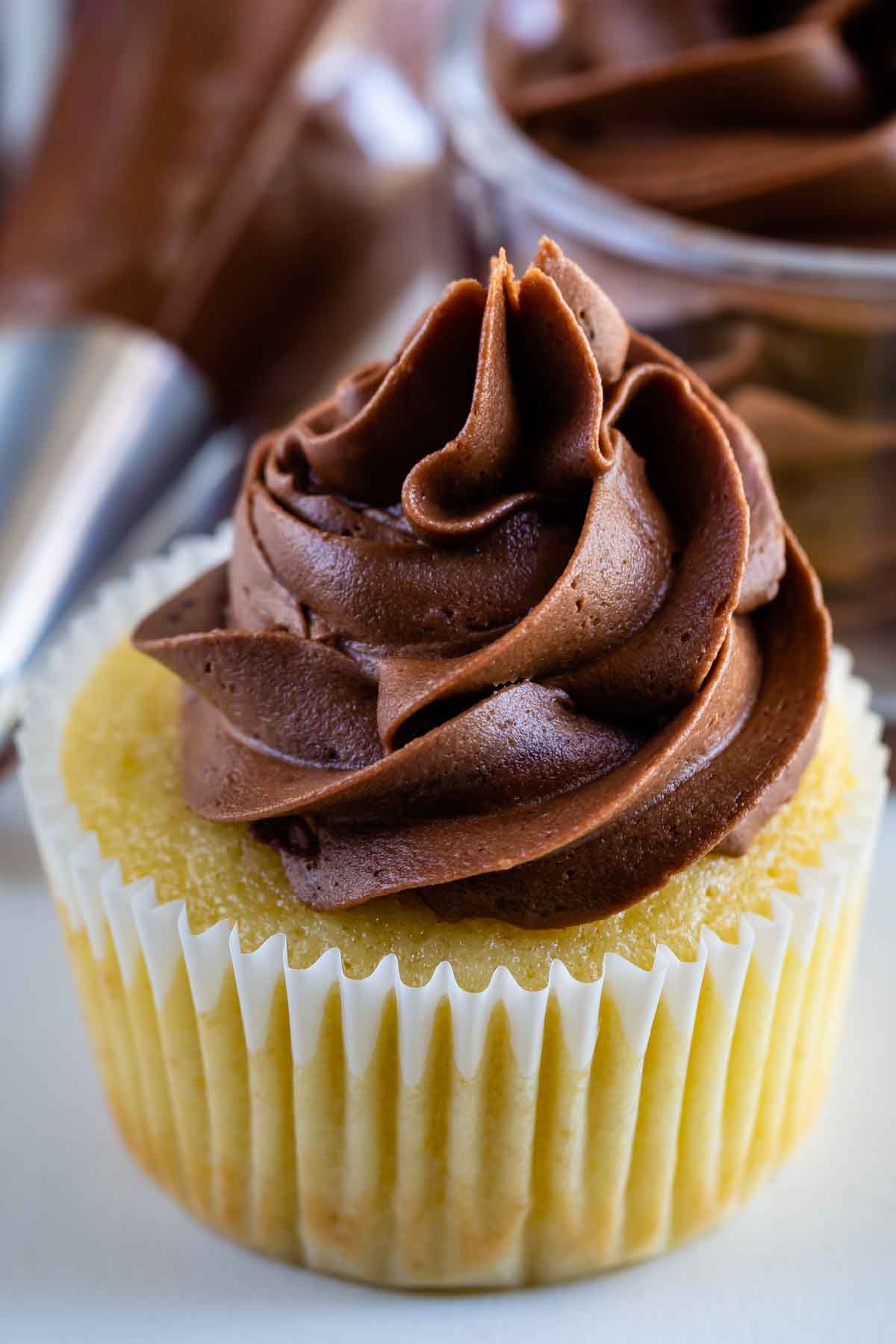 The ONLY Chocolate Buttercream Frosting Recipe You Need
You can make the most wonderful cakes and cupcakes, but if the frosting doesn't turn out right it's so frustrating! I know, I've been there and so I can't wait to share with you how to make the best chocolate frosting recipe for all of your desserts.
I love buttercream frosting because it's rich and perfect with a creamy texture for frosting and piping. This perfect chocolate buttercream icing recipe has been my go-to for years! It's a chocolatey buttercream is one the whole family will love.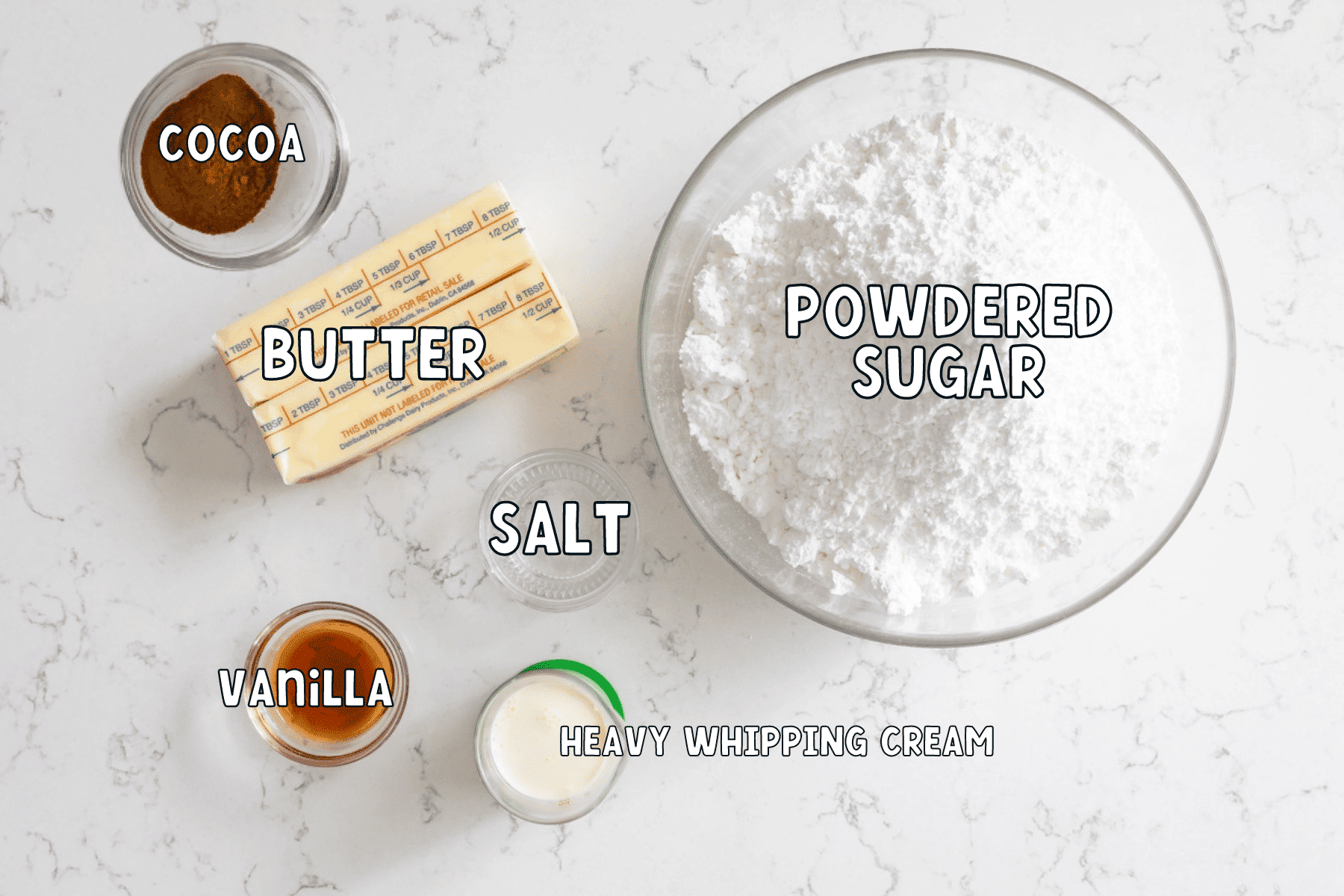 What's in Homemade Chocolate Buttercream?
Softened unsalted butter: I always soften it!
Unsweetened cocoa powder: You can use regular or dark, or even dutch process cocoa. Or for fun, use hot cocoa mix!
Powdered sugar: Also called icing sugar or confectioners' sugar.
Salt: Sounds weird but needed to counter the sweetness. An extra pinch of salt can help cut the sweetness if you add too much sugar also!
Vanilla extract: Only use PURE vanilla!
Heavy whipping cream: This is my secret to the best whipped chocolate frosting ever!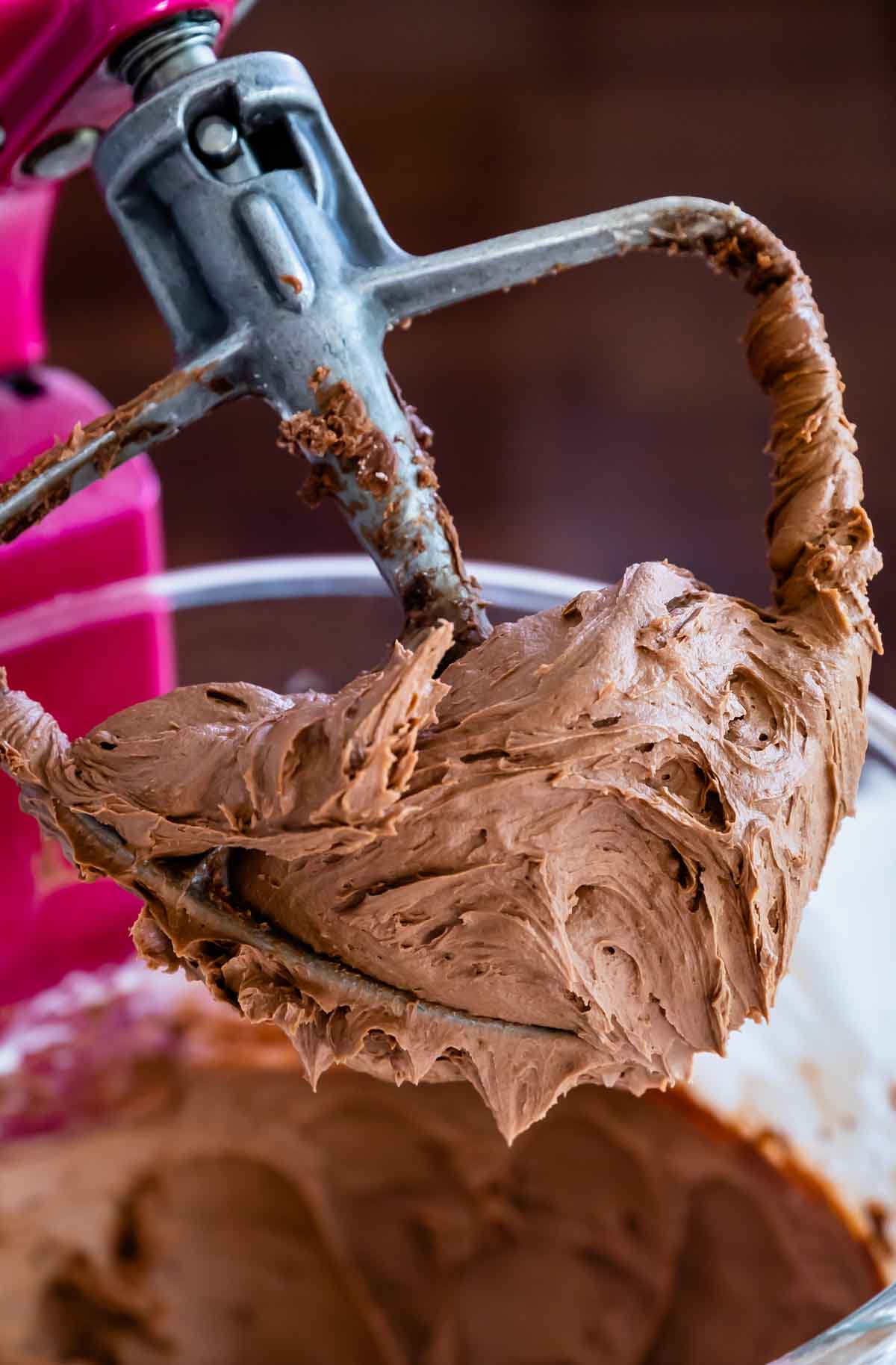 What can you substitute for heavy whipping cream in frosting?
Heavy whipping cream is my secret for a creamy and fluffy frosting. I use it in my vanilla buttercream too, but if you must substitute here's what you can use, in order of my preference:
Whipping cream
Half and half
2% milk
You can also use nondairy milk, like soy milk or almond milk
Nonfat Milk, as a last resort!
Here's the rule: the less fat the dairy has the less of it you should use. So, for example, it's not a one-to-one substitution for heavy cream and nonfat milk. You would need less of the nonfat milk. The less fat the milk has the less creamy your frosting will be!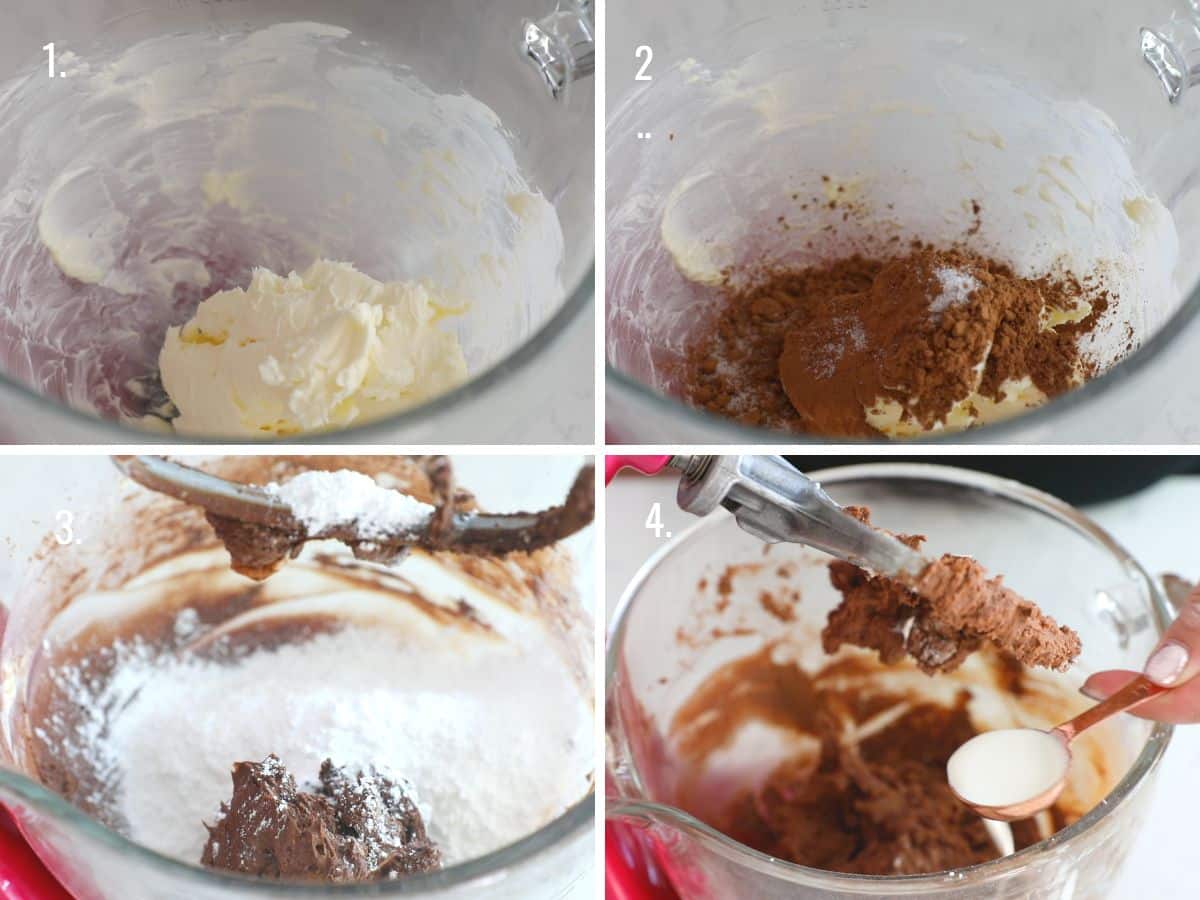 How to Make Chocolate Buttercream Frosting
Beat the butter on medium speed until smooth.
Add cocoa powder and salt and mix them together.
Add the powdered sugar, one cup at a time, mixing on low speed between each addition. Be sure to scrape down the sides of the bowls as you go.
Add the cream starting with 2 tablespoons and mix on high speed until it's smooth, fluffy and thickened to your liking.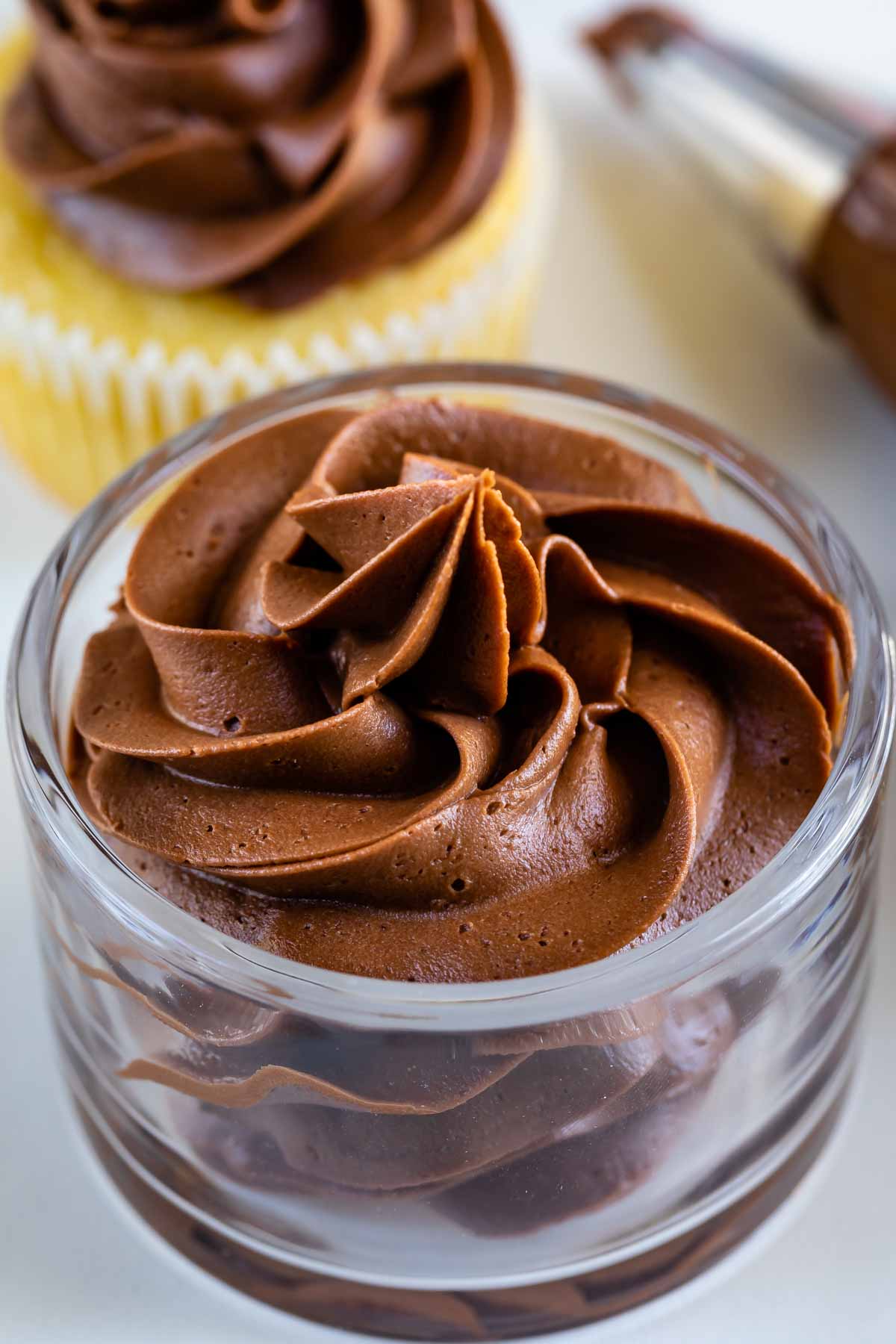 Using a Hand Mixer versus a Stand Mixer
I've made this recipe using my electric hand mixer and with a stand mixer with the paddle attachment and both work equally well, but you may notice a difference while you're making your chocolate frosting.
Stand Mixer: This is my preference, because the bowl is big and powdered sugar doesn't fly everywhere. It's also stronger and faster and will come together quicker. You will notice the frosting becoming smooth before you add the cream.
Hand Mixer: If you use a handheld mixer, your frosting will look crumbly and you might worry that it won't come together in a smooth, creamy mixture. But, once you add the heavy cream it will come together, so don't be worried if the texture doesn't look right when you're first mixing it.
How much frosting does this make?
The recipe, as written, will give you enough frosting for:
One 9×13" cake
One 9" 2-layer cake
24 cupcakes
If you plan to decorate with frosting, too, I recommend doubling the recipe.
Frequently Asked Questions
How do you thin buttercream frosting?
If it's too thick, add a small amount of cream to thin it. I recommend one teaspoon at a time.
Can I make chocolate frosting in advance?
Yes, you can! You can make it up to three days in advance and keep it in the refrigerator. Let it come to room temperature before using it and you may need to add a little more cream to thin it.
Can you freeze frosting?
It freezes great! Store it in a freezer-safe container and it will keep well for up to a month. To defrost it, leave it in the refrigerator and, once thawed, let it come to room temperature before using it.
What do I do if my buttercream frosting is too sweet?
Salt will balance the sweetness so add a small amount, mix it in, and then taste. Be careful not to add too much otherwise it will be too salty!
How do you make dark chocolate buttercream frosting?
Substitute the cocoa powder for either Hershey's special dark cocoa powder or Dutch-process cocoa powder.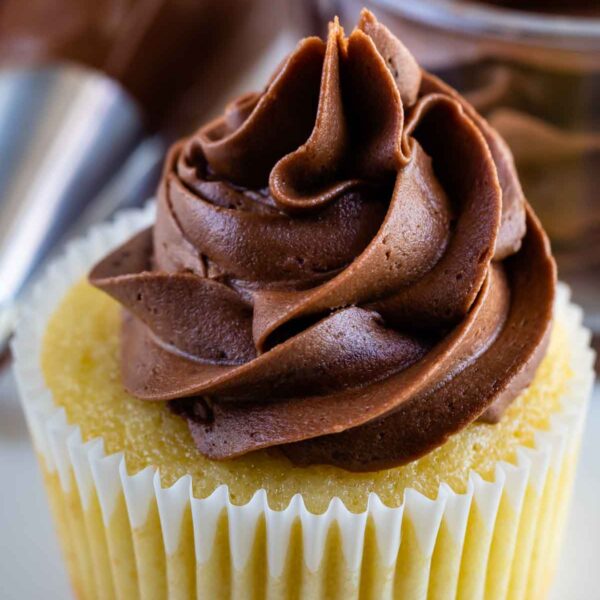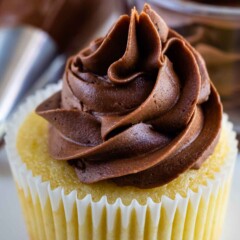 Chocolate Buttercream Frosting Recipe
BEST Chocolate Buttercream Frosting is my favorite easy all-purpose frosting. It's a whipped chocolate frosting that's homemade and goes great with yellow cake or chocolate cupcakes!
Ingredients
1

cup

(226g) unsalted butter

softened

½

cup

(40g) unsweetened cocoa powder

3 ½

cups

(396g) powdered sugar

¼

teaspoon

salt

1

teaspoon

vanilla extract

2-3

tablespoons

(30-45ml) heavy whipping cream
Instructions
Beat butter with a hand or a stand mixer until smooth, then add the cocoa and mix until smooth. Add the powdered sugar 1 cup at a time, mixing in between each addition. Scrape down the sides of the bowl.

Add the salt and vanilla, mix until smooth.

Add 2 tablespoons of heavy whipping cream and beat on medium high speed until the frosting is smooth and fluffy and the desired consistency.

Note on mixing: if you're using a hand mixer it'll stay crumbly for quite some time; add the heavy whipping cream to help it come together.

If you feel like you need a little more to get to the consistency you like, you can add up to another 1 tablespoon, adding a teaspoon at a time. This differs each time you make it depending on what mixer you're using or how hot it is (the buttercream comes together easier in summer, for example, when the kitchen is warmer).

Frost as desired; will frost one 9×13-inch cake or a 9-inch layer cake or 24 cupcakes. If you like extra frosting for decorating, make a double batch.

Store in refrigerator for up to 3 days and allow to come to room temperature before using; you may need to add some extra cream to thin it.

You can freeze the frosting too for up to a month. Just let it defrost in the refrigerator then at room temperature before using.
Recipe Notes
In place of heavy whipping cream you can use whipping cream, half and half, milk, or nonfat milk but the less fat in the milk the thinner the frosting will be, so use less.
Recipe Nutrition
Serving:
1
serving
|
Calories:
217
kcal
|
Carbohydrates:
28
g
|
Protein:
1
g
|
Fat:
13
g
|
Saturated Fat:
8
g
|
Cholesterol:
33
mg
|
Sodium:
40
mg
|
Potassium:
44
mg
|
Fiber:
1
g
|
Sugar:
26
g
|
Vitamin A:
382
IU
|
Calcium:
8
mg
|
Iron:
1
mg
Nutritional information not guaranteed to be accurate
Other Recipes You'll Love
BEST Chocolate Buttercream Frosting is my favorite easy all-purpose frosting. It's a whipped chocolate frosting that's homemade and goes great with yellow cake or chocolate cupcakes!
Last Updated on January 12, 2023