This post may contain affiliate links. For more information, read my disclosure policy.
Flourless Chocolate Cake is a sinfully rich and decadent dessert recipe! This cake is naturally gluten-free and has the best fudgy texture. Serve it with fruit and whipped cream for an impressive dessert everyone will love.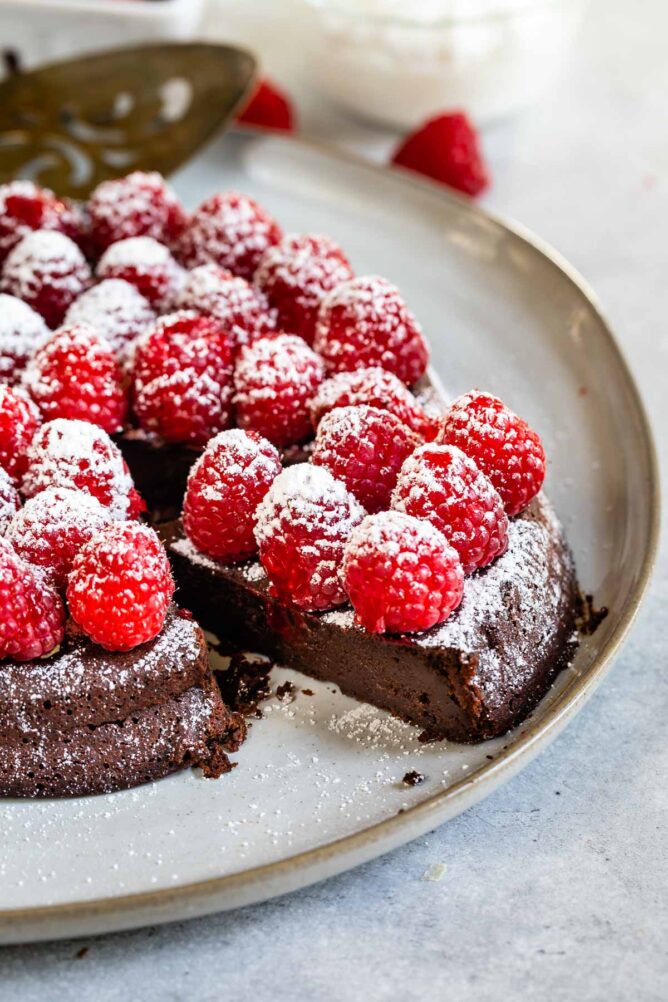 Best Flourless Chocolate Cake Recipe Ever
If you want to wow the chocolate lovers in your life, you have got to try this flourless chocolate cake recipe! It's rich, decadent, and so, so chocolaty.
I didn't learn about this type of cake until I saw Ina Garten and Nigella making them on their cooking shows. At the time (which feels like a million years ago), I thought it looked so complicated – I preferred to buy a premade one at Trader Joe's!
Well, of course, I was wrong because when I finally tried making one, I was surprised. It's actually not that hard! There are specific steps, yes, but none of them are complicated.
So, I've tested and tested and tested recipes! This one I'm sharing today is seriously the best. Rich, fudgy, decadent – everything a flourless chocolate cake should be.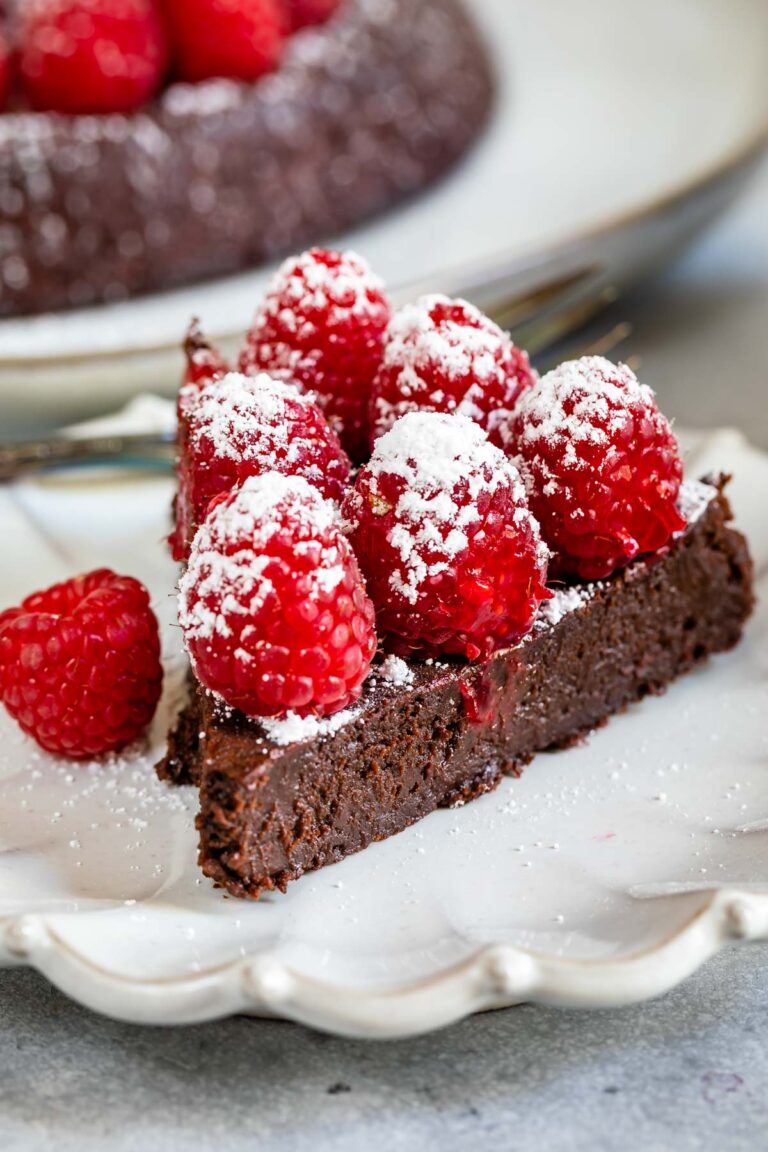 What is Flourless Chocolate Cake?
It's just what it sounds like: a cake made without flour! This type of cake is richer than a regular chocolate cake – it's a chocoholic's dream! It's also naturally gluten-free.
The key to making the best flourless chocolate cake is to use the right ingredients. So, I don't have any substitutions for you in this one, so if you swap out ingredients, the cake won't turn out.
I also recommend reading through the recipe instructions a few times to familiarize yourself with the steps before you make the cake. If you are a newer baker, there might be some new techniques you'll learn making it!
Ingredients in Flourless Chocolate Cake
Eggs: Use large eggs at room temperature (leave them out about an hour or two before baking).
Semi-Sweet Baking Chocolate: I like Ghirardelli or Baker's. This is the chocolate you find in the baking aisle.
Butter: Use sliced unsalted butter so it melts faster.
Granulated Sugar: For sweetening the cake.
Unsweetened Cocoa Powder: I normally use Hershey's or King Arthur Flour brand.
Espresso Powder: Amps up the chocolate flavor – you can use instant coffee if you can't find espresso powder.
Vanilla Extract: Always use PURE vanilla!
Best Pan for Chocolate Decadence Cake
You'll need an 8-inch cake pan for this recipe. You can use a 9-inch round but it'll be really flat.
Grease and flour your cake pan. Be sure to cover the bottom and up the sides.
Use a parchment round (or cut a piece to fit) to line the bottom of the pan and then grease and flour it.
If you don't do those steps, your cake won't release from the pan.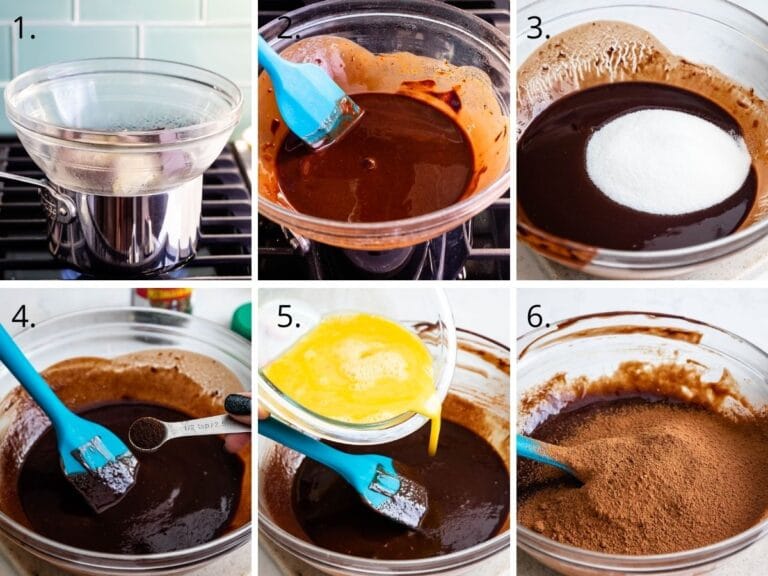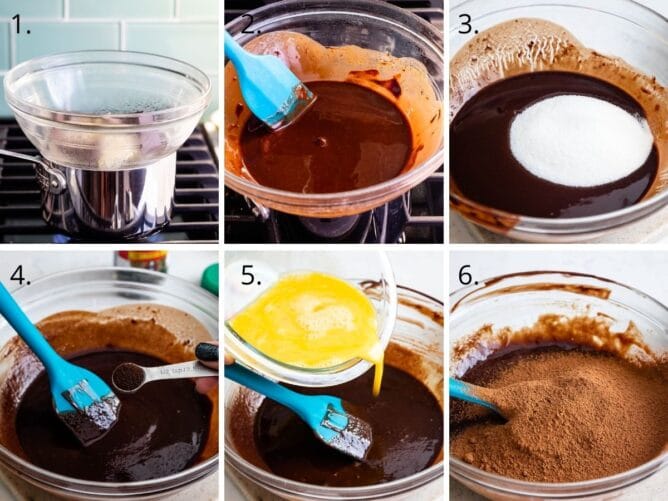 How to Make Flourless Chocolate Cake
Create a double boiler by adding about an inch of water in a saucepan and placing a heat proof bowl over the top. Don't let any water get in the bowl.
Add the butter and broken chocolate to the bowl and stir until it's melted and smooth.
Remove the bowl from the pan and stir in the sugar.
Mix in the espresso and vanilla
Add lightly beaten eggs and stir.
Sift the cocoa powder into the bowl and mix to combine. Pour the batter into the prepared pan.
Bake the cake for about 25 minutes at 375°F or until the top is set. Cool the cake in the pan for five minutes.
To remove the cake from the pan, run a butter knife around the edge to loosen it. Next, place a flat serving plate upside down on the pan and then carefully flip the plate and cake pan over to release the cake.
Lift the pan off of the cake and then peel off the parchment paper. Allow the cake to cool completely before slicing and serving.
How to make a DIY Double Boiler
If you don't have one – I don't – then you can make your own with a heat proof bowl and saucepan (see photo #1 above).
Fill a small or medium saucepan with 2-3 inches of water. Cover and bring to a boil over medium heat.
Place the bowl on top of the pot of boiling water. Be careful not to burn yourself and not to get any water into the chocolate mixture.
Reduce heat to medium low and stir almost constantly until the chocolate and butter and smooth and melted.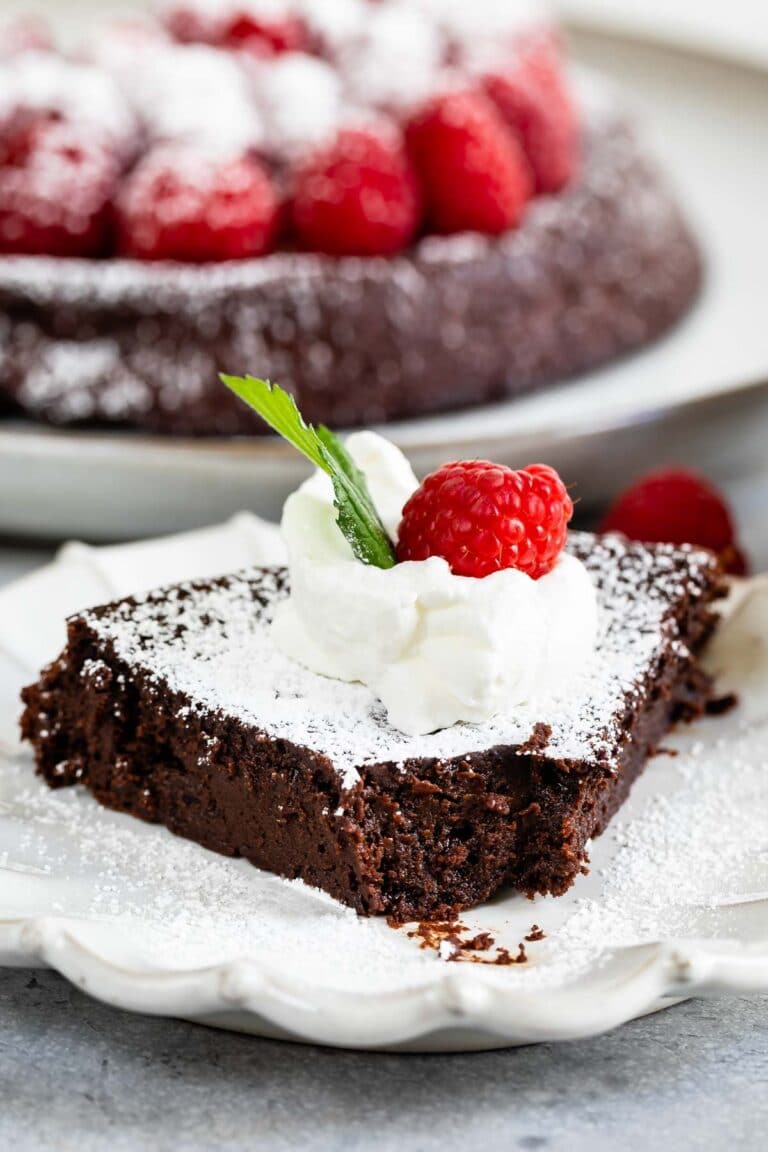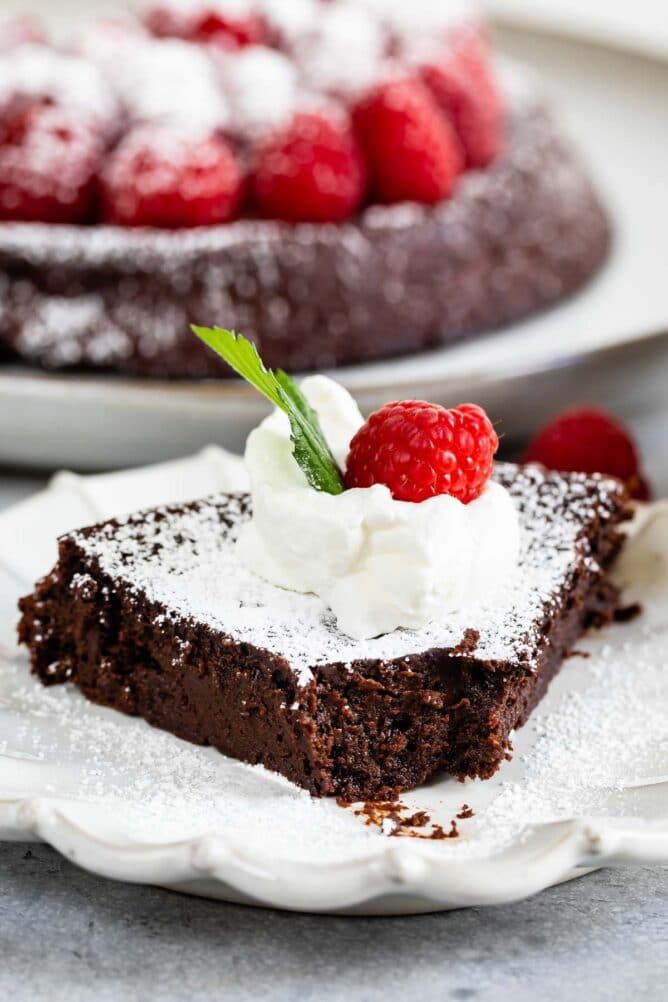 How to Serve this Cake Recipe
This flourless choc cake is so decadent a little goes a long way! So, you can slice it into 16 pieces – trust me, one small slice will cure even the worst chocolate craving.
The only thing better than a slice of this decadent chocolate cake is topping it with garnishes for a finishing touch!
I love it with fresh raspberries on top, or you can try other fruit that you like.
Dust the top with powdered sugar.
Topping it with ganache is also good! You only need a drizzle or two.
A dollop of whipped cream with a sprig of fresh mint is so pretty.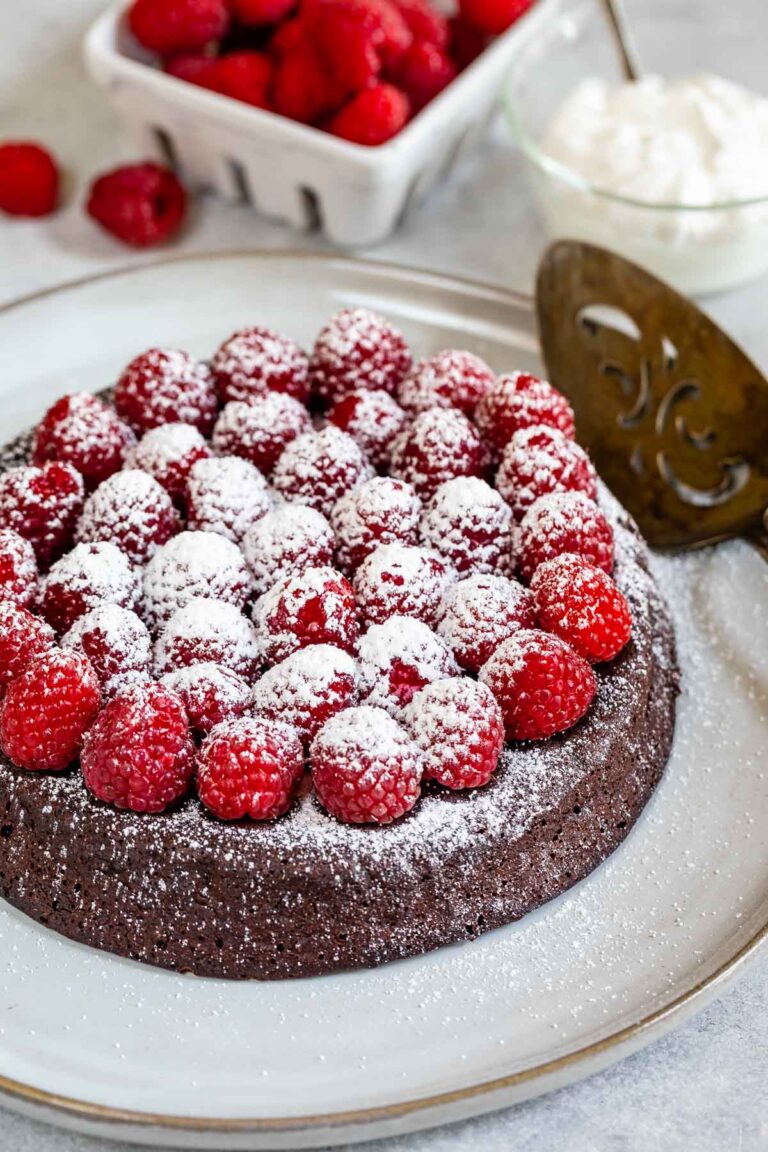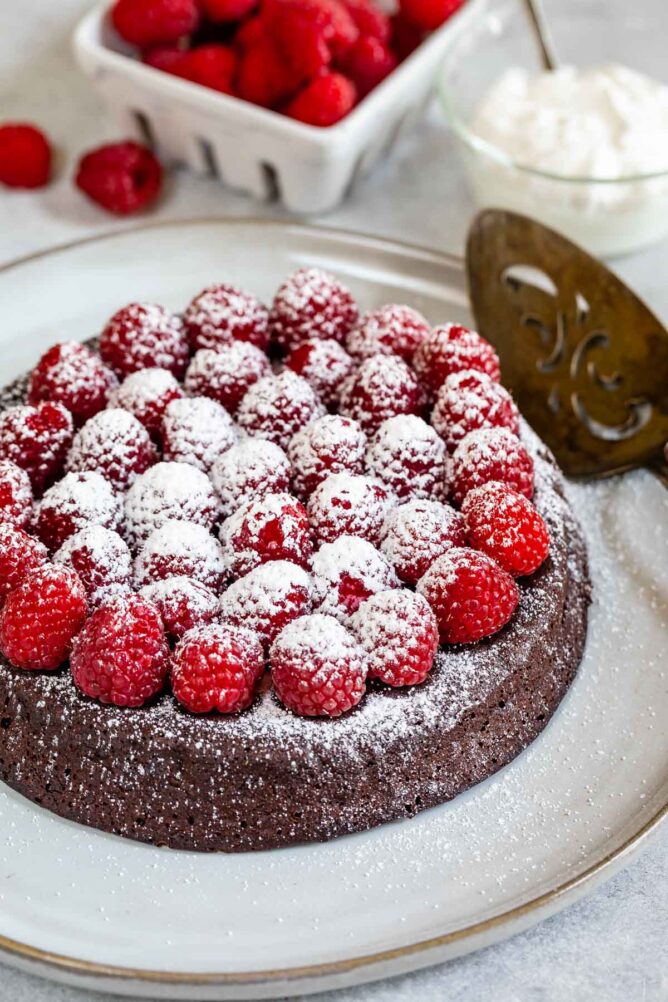 FAQ
Is flourless chocolate cake gluten-free?
As long as you use gluten-free flour to prepare the pan, it is gluten-free!
What is the point of a flourless cake?
When you leave out the flour, it becomes a rich and fudgy cake that's extra chocolaty. It is the perfect dessert for all the chocolate lovers.
How long is flourless chocolate cake good for?
Keep it covered, and it will keep at room temperature for up to four days. I don't recommend freezing this cake.
Why does my flourless chocolate cake fall?
A flourless cake can fall if the batter is mixed too vigorously. This incorporates a lot of air into the batter that escapes while the cake bakes, causing it to fall. So, use a gentle hand while mixing and mix just long enough to incorporate the ingredients. If your cake does fall a bit, don't worry! Just top it with some whipped cream when you serve it, and no one will know the difference.
What pan is best for flourless cake?
For this recipe, use an 8″ cake pan.
What chocolate is best for cake?
For a flourless chocolate cake, a combination of baking chocolate and cocoa powder works best.
More Flourless Desserts You'll Enjoy
Have you made this recipe?
Tag @crazyforcrust on Instagram or hashtag it #crazyforcrust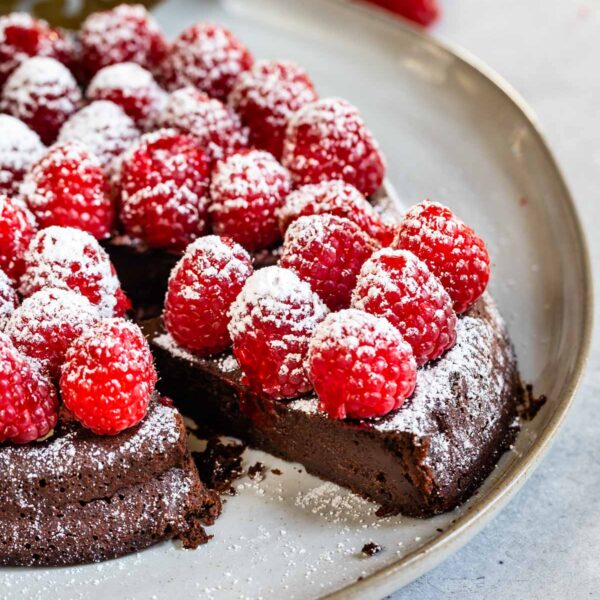 Flourless Chocolate Cake Recipe
This cake is easy to put together and is naturally gluten-free. It can be finicky so be sure and follow all the directions and use the ingredients called for. It's super rich and fudgy tasting, so a little goes a long way. Chocolate lovers will obsess over this cake.
Ingredients
3

large eggs

room temperature

4

ounces

semi-sweet baking chocolate

such as Ghiradelli or Baker's

½

cup

(113g) unsalted butter, sliced into tablespoons

⅔

cup

(133g) granulated sugar

½

cup

(40g) unsweetened cocoa powder

½

teaspoon

espresso powder

or instant coffee

1

teaspoon

vanilla extract
Instructions
Preheat oven to 375°F. Grease and flour the bottom and all the way up the sides of an 8-inch cake pan. Use a parchment round or cut parchment to fit the bottom of the cake pan and then grease and flour that.

Place eggs in a small bowl and whisk to lightly beat them. This is just to break up the yolks so it's easier to mix into the cake batter. Set aside.

We're going to melt the chocolate over a double boiler. Fill a small or medium saucepan with 2-3 inches of water. Cover and bring to a boil over medium heat.

Break up the baking chocolate and add it to a large heat-safe bowl (be sure your bowl will fit on top of the pan that's boiling on the stove). Add the butter with the chocolate and place the bowl on top of the pot of boiling water. Be careful not to burn yourself and not to get any water into the chocolate mixture.

Reduce heat to medium low and stir almost constantly until the chocolate and butter and smooth and melted.

Remove from the heat and stir in the sugar.

Stir the eggs into the chocolate mixture and stir until the eggs are completely mixed in.

Add the instant espresso and vanilla; stir.

Place the cocoa in a sifter and sift it onto the cake batter. Stir until completely mix. Pour cake batter into prepared pan.

Bake for about 25 minutes, or until the top looks solid. Mine took 25 minutes exactly at every test, but know that ovens all bake differently.

Cool 5 minutes, then run a butter knife around the edge carefully to loosen. Invert serving plate over the cake pan and carefully flip over to remove the cake from the pan (be careful not to burn yourself). Remove pan and parchment. Allow cake to cool completely.

Store covered at room temperature for up to 4 days.

Serving suggestions: dust with powdered sugar and/or cocoa, serve with raspberries or whipped cream.
Recipe Notes
Do not substitute or change ingredients. This recipe is easy but can be finicky.
When choosing a serving plate make sure to choose one that is flat. Do not use a rimmed dinner plate that dips in the center or the cake will fall in the center as it cools and adjusts to the contours of the plate.
This cake is super rich so small slices are the way to go!
I do not recommend freezing this cake.
The outside will crumble a bit when you're slicing but the center will be fudgy and rich.
Recipe adapted from Epicurious.
Recipe Nutrition
Serving:
1
serving
|
Calories:
143
kcal
|
Carbohydrates:
14
g
|
Protein:
2
g
|
Fat:
10
g
|
Saturated Fat:
6
g
|
Polyunsaturated Fat:
1
g
|
Monounsaturated Fat:
3
g
|
Trans Fat:
1
g
|
Cholesterol:
46
mg
|
Sodium:
14
mg
|
Potassium:
96
mg
|
Fiber:
1
g
|
Sugar:
11
g
|
Vitamin A:
225
IU
|
Calcium:
14
mg
|
Iron:
1
mg
Nutritional information not guaranteed to be accurate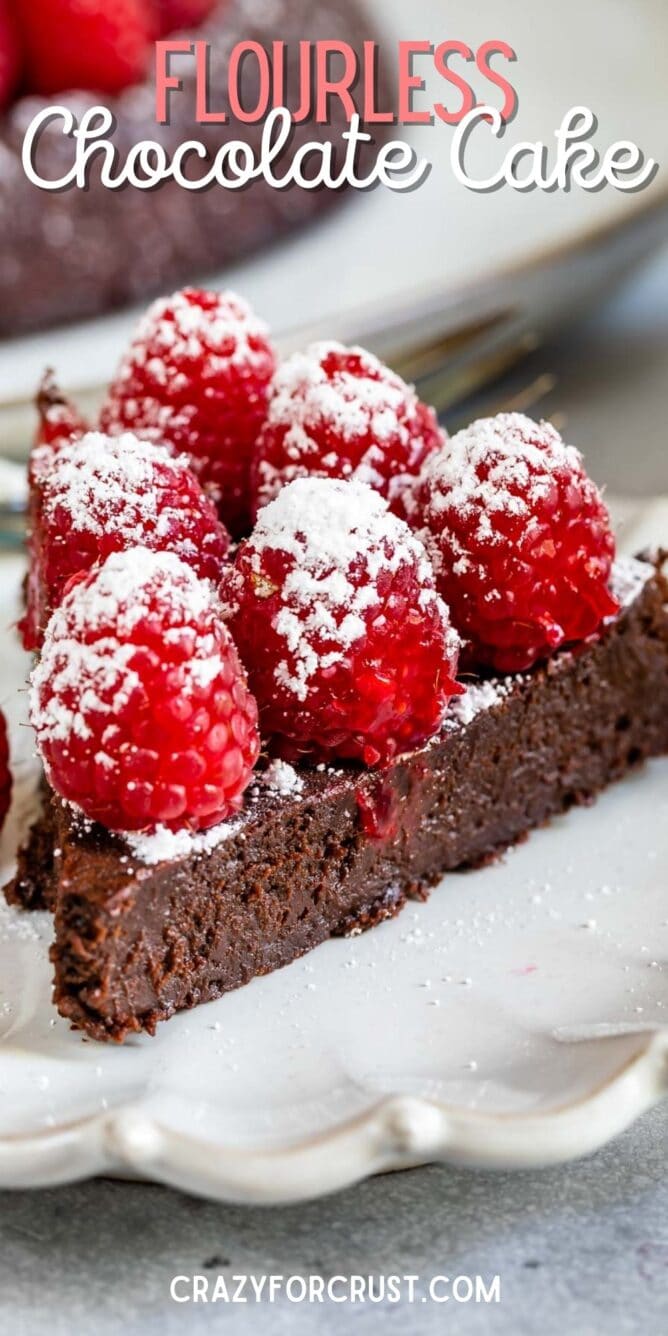 Cakes made without flour are much richer than the norm and this Flourless Chocolate Cake is no exception. It's a chocoholic's dream!