This post may contain affiliate links. For more information, read my disclosure policy.
This is the BEST easy sugar cookie recipe! These drop sugar cookies are chewy and soft and perfect with or without frosting – and they are NO CHILL cookies!
I know I always say something is the BEST or PERFECT, but these really are. I've fine tuned my "perfect" recipe so that they're not only soft, but chewy too. When I made these for a party everyone absolutely RAVED about them!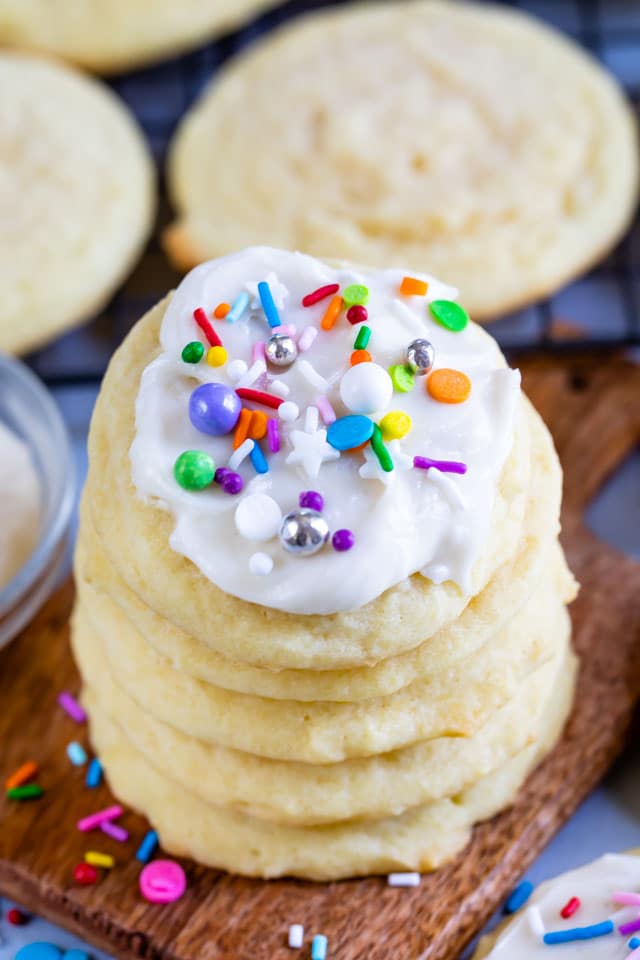 You're probably thinking…wait. Doesn't she already have a sugar cookie recipe? Or two? And yes, you'd be right. But I've fine tuned my perfect sugar cookies to make them soft and chewy and delicious with or without frosting.
This is an easy drop cookie recipe that turns out the perfect soft sugar cookie that's melt in your mouth yet chewy at the same time. The best part about these is that they're amazing with frosting, but they're also good plain. Plus, you can vary the recipe in so many ways.
(They're even good frozen. I'm not going to explain how I know, lol.)
Explaining why these are the best soft AND chewy sugar cookies requires that we talk a little bit about cookie science. I think it's important to understand why these are the best.
If you're looking for sugar cookies without baking powder, this is the recipe. These are thick, soft sugar cookies with icing (or without). They encompass all the best things about a sugar cookie recipe!
Table of Contents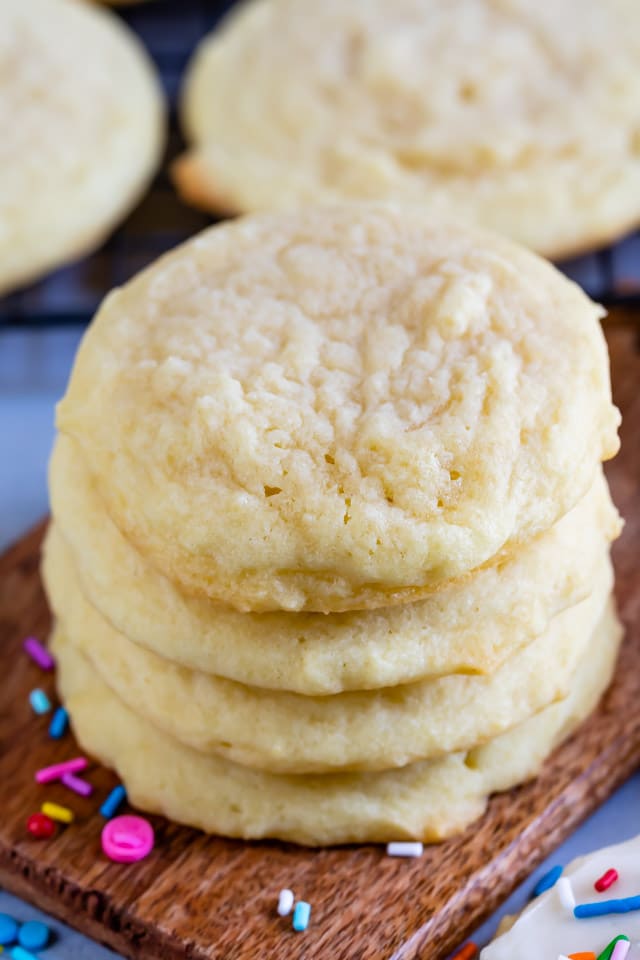 Ingredients for soft and chewy sugar cookies:
Butter – a good sugar cookie uses butter. Butter flavored shortening is okay, but to get that traditional sugar cookie flavor, you need butter. Use unsalted butter to control the amount of salt. If you're using salted butter, reduce the amount of salt in the recipe by 1/4 teaspoon.
Sugar – this recipe uses granulated sugar. My cutout sugar cookie recipe uses powdered. We'll go into that too.
Egg – eggs provide structure in baking. It's hard to replace an egg in cookies and still get the right texture.
Flour – all-purpose flour is the normal cookie flour. You want to add just the right amount so the cookie is dry enough not to flatten out, but not so dry that it crumbles.
Leavening – this recipe uses a combination of baking soda and cream of tartar (more on that in a minute).
What kind of sugar do you use in sugar cookies?
Most recipes you see calls for granulated sugar when you're making sugar cookies. (That's what this recipe uses.)
A traditional sugar cookie needs white sugar to be, well, traditional. Brown sugar is delicious in cookies, but then it wouldn't be an old fashioned sugar cookie. Normally, sugar cookies only contain one kind of sugar (granulated or powdered), instead of a combination of sugars, like in a chocolate chip cookie.
You will recall, however, that my cutout sugar cookies use powdered sugar. So, what's the difference between powdered sugar and granulated sugar in a cookie recipe? Besides flavor, granulated sugar helps with spread of the cookie. In a drop cookie, spread is okay and expected. However, in a cutout sugar cookie or snowball cookie, you don't want spread. Powdered sugar includes cornstarch, which helps with binding and reducing spread.
For a normal drop sugar cookie recipe, granulated sugar is the way to go.
Why do you use baking soda in cookies?
This soft sugar cookie recipe is made without baking powder. In fact, most cookie recipes use baking soda and not baking powder. Baking powder is for cakes, traditionally, and results in a more cake-like texture. Baking soda helps with spread and creates a soft and fluffy cookie. Want a soft sugar cookie? You need to use baking soda. But, this recipe also calls for cream of tartar.
(Learn all about baking soda vs baking powder here.)
Why do you use cream of tartar in cookies?
Cream of tartar is normally used in egg whites and meringue, but it's also a great addition to sugar cookie recipes. Cream of tartar helps with the chewiness of cookies and, when combined with baking soda, is almost like a double-acting baking powder.
I know it's kind of an obscure ingredient, but it's always good to have in your pantry. These sugar cookies without cream of tartar won't be as chewy and will be flatter than with it. Plus, when you make snickerdoodles, you want cream of tartar for that telltale tang.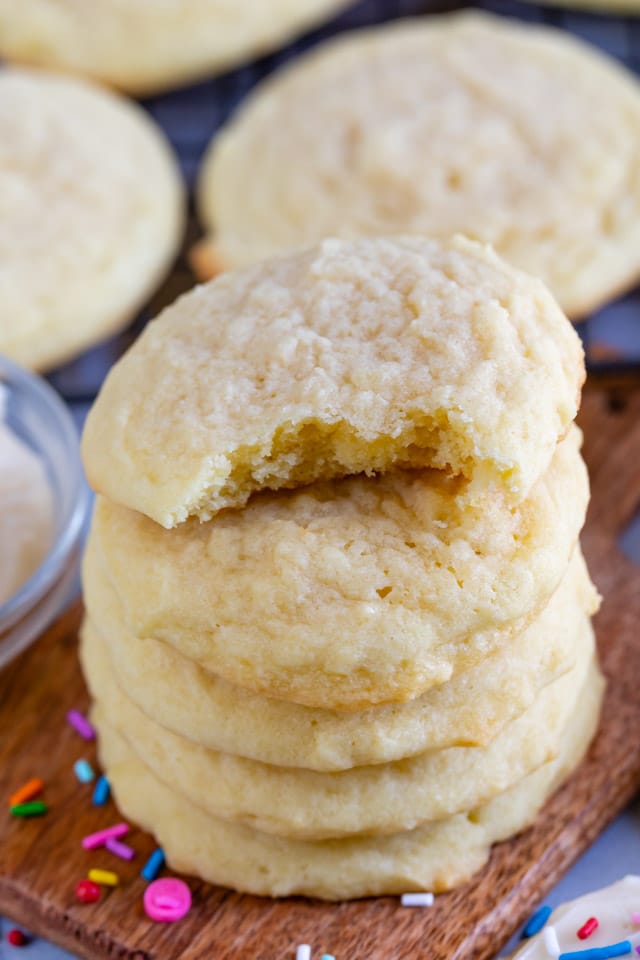 What's the secret to a soft but chewy sugar cookie?
Ah, that's the question of the day, isn't it?
I've done so much sugar cookie research on how to make my soft sugar cookies also be chewy and not cake-like and I found the secret ingredient:
Egg yolk. That's it!
(Well, not it, really. What the egg yolk does in combination with everything else.)
In baking, eggs provide structure. Egg yolks add fat, egg whites add the structure.
Two eggs in a sugar cookie is just too much egg; it makes it more cake-like than a cookie. One egg in this recipe makes a soft sugar cookie, but it's not chewy.
One egg plus an egg yolk is the perfect ratio of egg for the perfect chewy sugar cookies that are still soft and pillowy. Combined with the magic that the combination of baking soda and cream of tartar work, an extra egg yolk is the key to the chewiness of these cookies.
Do you need to chill sugar cookie dough?
For this recipe – NO! This is an easy no-chill sugar cookie, which is awesome. Less wait time between you and cookies!
Since this is a drop cookie, and the ingredient ratios are just perfect, you can just mix, drop and bake!
Sugar Cookie Frosting
You don't need frosting on these, but I love a quick and easy vanilla buttercream. I use a ratio of unsalted butter to powdered sugar and add vanilla, salt and a bit of milk for consistency. You can tint the icing any color too, and don't forget the sprinkles.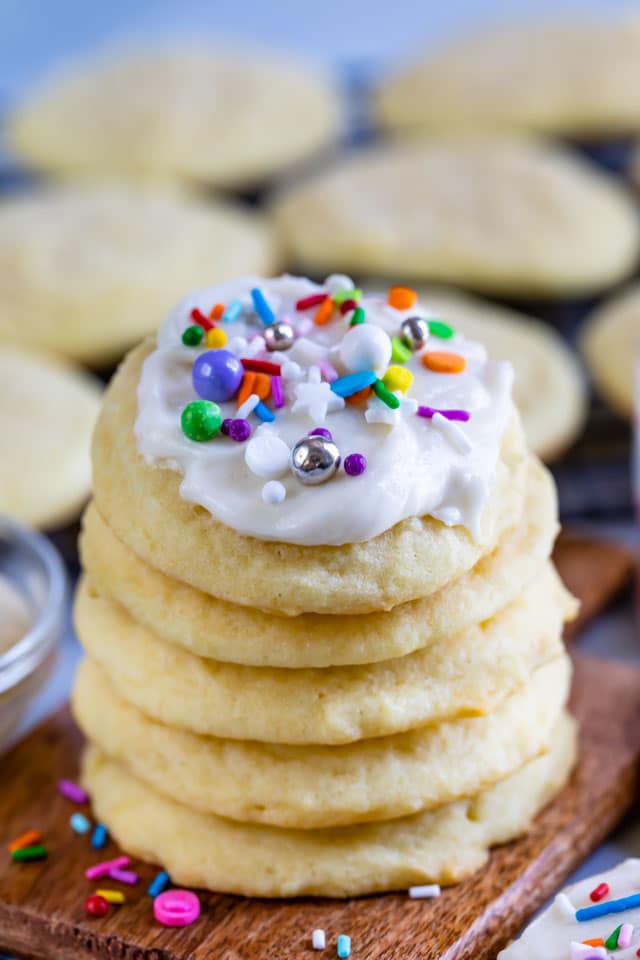 How To Store Sugar Cookie Recipe
You can store the sugar cookie dough in the refrigerator, either in the mixing bowl or scooped into balls, for up to 2 days. Be sure to cover them well with plastic wrap or place them in an airtight container. Bring to room temperature before baking.

You can also store the frosting in the refrigerator in an airtight container for up to 4 days. Just bring to room temperature before frosting the cookies. You may need to add a bit of milk to thin the frosting as needed for consistency after it warms up.
How to Make These Chewy Soft Sugar Cookie Ahead of Time
Yes, you can make the dough and frosting up to 2 days ahead or make both and freeze them for up to 2 months.
Can You Freeze These Soft Sugar Cookies?
Yes – you can freeze the baked cookies unfrosted OR frosted! Freeze plain cookies in a gallon size resealable bag with paper towels between layers. Freeze frosting in an airtight container. You can freeze frosted cookies in a single layer in an airtight container.
Soft Sugar Cookies Tips and Tricks
Use real butter, not fake.
Use granulated sugar because these are a drop sugar cookie.
Buy yourself some cream of tartar so that your cookies have some chew without the spread of just using baking soda.
Add an extra egg yolk to complete the perfection of this chewy soft sugar cookie.
You can make these dairy free sugar cookies by using Earth's Balance Vegan Butter Sticks in place of the butter.
Additions and Substitutions
This sugar cookie recipe is a blank slate; you can transform it in so many ways. I love a good sugar cookie with frosting, of course, but you don't need to use frosting on these cookies. They're fabulous plain. Or, edit the recipe to:
Make chocolate chip sugar cookies by adding 1 cup of chocolate chips to the batter and skipping the frosting.
Make M&M Sugar Cookies by adding 1 cup of M&Ms to the batter, skip the frosting.
Add 1 cup of sprinkles to the batter to make a sprinkle cookie (omit frosting).
Roll the cookies in sugar or cinnamon sugar (reminiscent of snickerdoodles) and skip the frosting.
Flavor your frosting with lemon juice or a bit of cocoa to make a new flavor!
However you make them, this easy sugar cookie recipe will be a hit with your family! Prepare for rave reviews, I promise!
Other Cookie Recipes you'll love:
Have you made this recipe?
Tag @crazyforcrust on Instagram or hashtag it #crazyforcrust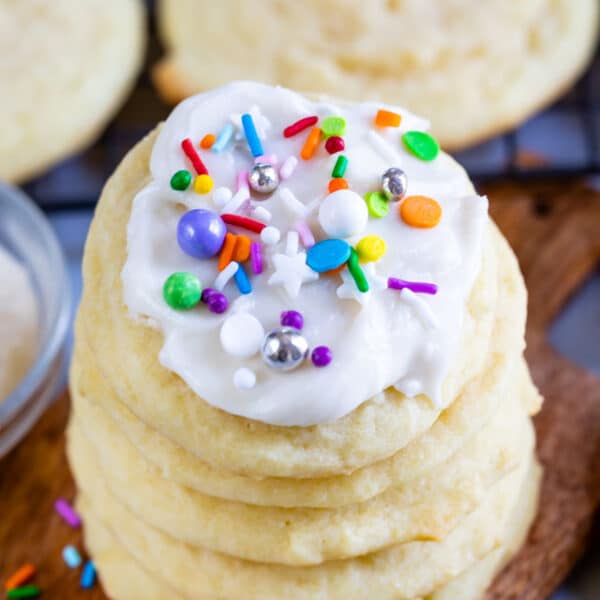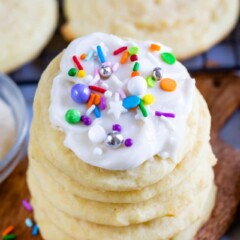 Soft & Chewy Sugar Cookies Recipe
This is the BEST soft sugar cookie recipe! These drop sugar cookies are chewy and soft and perfect with or without frosting.
Ingredients
For the Cookies
3/4

cup

unsalted butter, softened

170g

3/4

cup

granulated sugar

149g

1

large egg

1

large egg yolk

1

teaspoon

vanilla extract

5 ml

1/2

teaspoon

baking soda

1/2

teaspoon

cream of tartar

1/2

teaspoon

salt

2

cups

all-purpose flour

248g
For the frosting
4

tablespoons

unsalted butter, softened

47g

1 1/3

cups

powdered sugar

151g

1

teaspoon

vanilla extract

5ml

1/8

teaspoon

salt

1

tablespoon

milk

15 ml

Food coloring

if desired

Sprinkles

optional
Instructions
Make the Cookies:
Preheat oven to 350°F. Line two cookie sheet with silicone baking mats or parchment paper.

Cream butter and sugar in the bowl of a stand mixer fitted with the paddle attachment (or a large bowl with a hand mixer). Cream until the mixture is fluffy, about one minute.

Add the egg, egg yolk, and vanilla and mix until smooth, then mix in baking soda, cream of tartar, and salt. Add flour and mix until cookie dough forms.

Scoop 2 tablespoon sized balls 2-inches apart on cookie sheet. Bake for 11-15 minutes, or until the bottoms are just starting get golden and the top is no longer glossy. Cool at least 10 minutes on cookie sheet before removing. Cool completely before frosting.
Make the Frosting:
Mix butter in a large bowl with a hand mixer until smooth, then slowly mix in the powdered sugar a bit at a time. The mixture will be very crumbly. Add the vanilla and mix, then mix in the salt and milk. Beat until smooth and creamy.

Tint with food coloring, if desired.

Frost cooled cookies. Store loosely covered.
Alternate preparation:
Scoop balls of cookie dough and roll them in sugar or cinnamon sugar before baking. Skip frosting. OR

Add 1 cup of sprinkles to the dough before scooping. Skip frosting.
Recipe Nutrition
Serving:
1
cookie
|
Calories:
222
kcal
|
Carbohydrates:
27
g
|
Protein:
2
g
|
Fat:
12
g
|
Saturated Fat:
7
g
|
Cholesterol:
51
mg
|
Sodium:
130
mg
|
Sugar:
17
g
Nutritional information not guaranteed to be accurate
**Did you make this recipe? Don't forget to give it a star rating below!**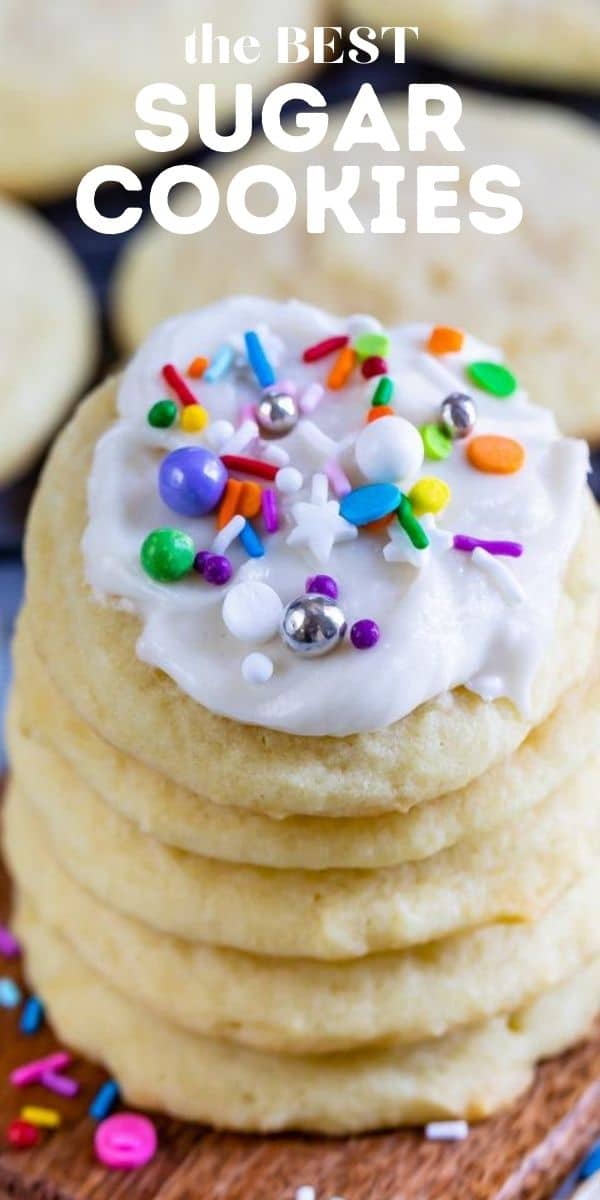 These Easy Sugar Cookies are quick and simple even though they are made completely from scratch! They're so good with or without frosting.
Last Updated on January 26, 2021