This post may contain affiliate links. For more information, read my disclosure policy.
After numerous rounds of testing I've finally found the BEST Easy Pound Cake Recipe from scratch. This is a classic sour cream pound cake that's rich and dense with a moist and tender crumb. It's going to be the ONLY pound cake you want to make from now on.
I'm going to teach you everything I know about making this classic cake recipe so you can make it too!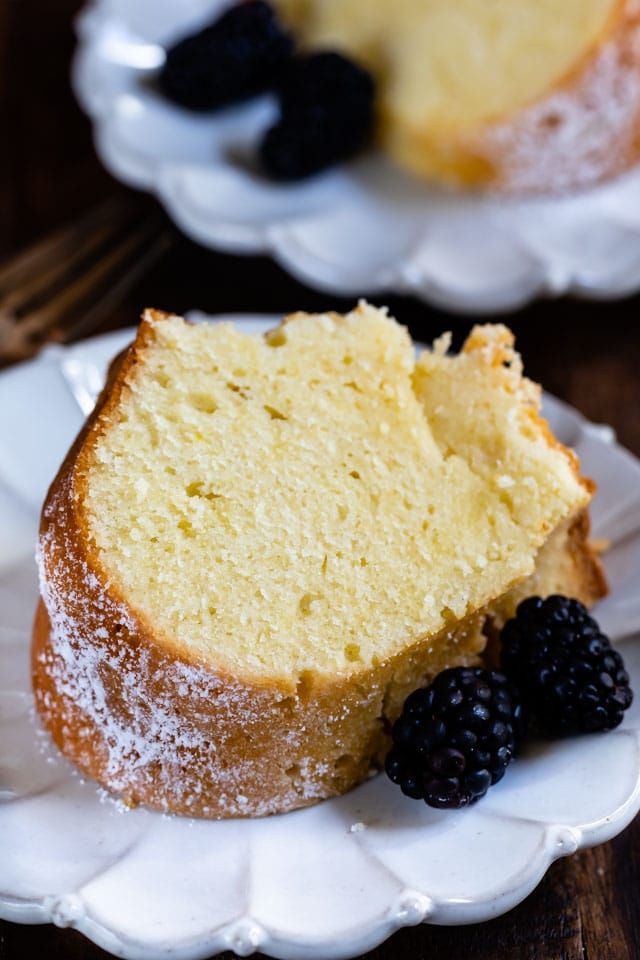 Table of Contents
How to make Pound Cake Recipe From Scratch
Classic Sour Cream Pound Cake Recipe
I love a good pound cake, don't you? Good pound cake recipes don't even need frosting, which is perfect for me because I like cake more than I like frosting.
I don't ever really remember eating pound cake growing up…maybe once in awhile someone would bring one to a potluck or we'd buy one at the store but I most certainly never made my own from scratch.
Since I started blogging I've made several flavored variations but never a classic vanilla pound cake and so I set out to find my favorite recipe and THIS is it!
If you love a dense yet moist and tender, flavorful vanilla cake, then you're going to want this recipe. It's the perfect base for ice cream, whipped cream, or berries. Read on to learn all about how I perfected the recipe and how to make it!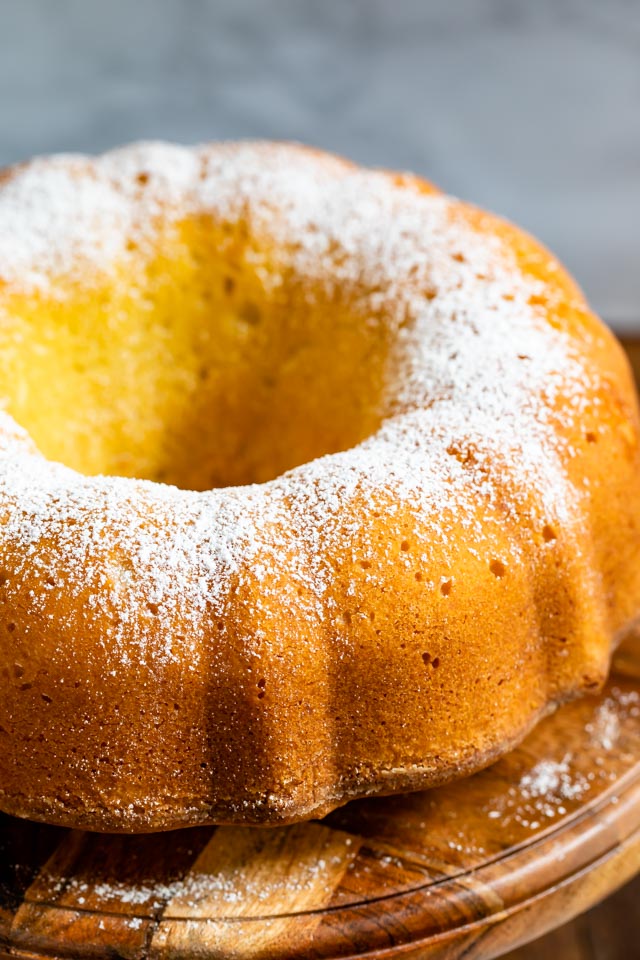 What is pound cake?
Originally, pound cakes were made from just four ingredients: a pound each of butter, sugar, eggs and flour. That's where the cake got it's name, from all the pounds of ingredients.
My recipe has those base ingredients with just a few others to make it rich and delicious without sacrificing the classic taste.
Pound Cake vs Bundt Cake
There is always confusion about pound cakes and bundt cakes and how they relate to each other. Believe me, I was often wrong at first when using the terms too.
A Pound Cake is dense and heavy; it's not a light and fluffy cake (like a traditional Yellow Cake). It's tender but thick!
A bundt cake is simple one made in a bundt pan, which is where I think the confusion stems from.
Pound cakes are often baked in bundt pans (or loaf or tube pans) often called a bundt cake, but not all bundt cakes are pound cakes.
For example, my Lemon Butter Cake is a bundt cake but it is NOT a pound cake, and you can tell by the crumb and taste.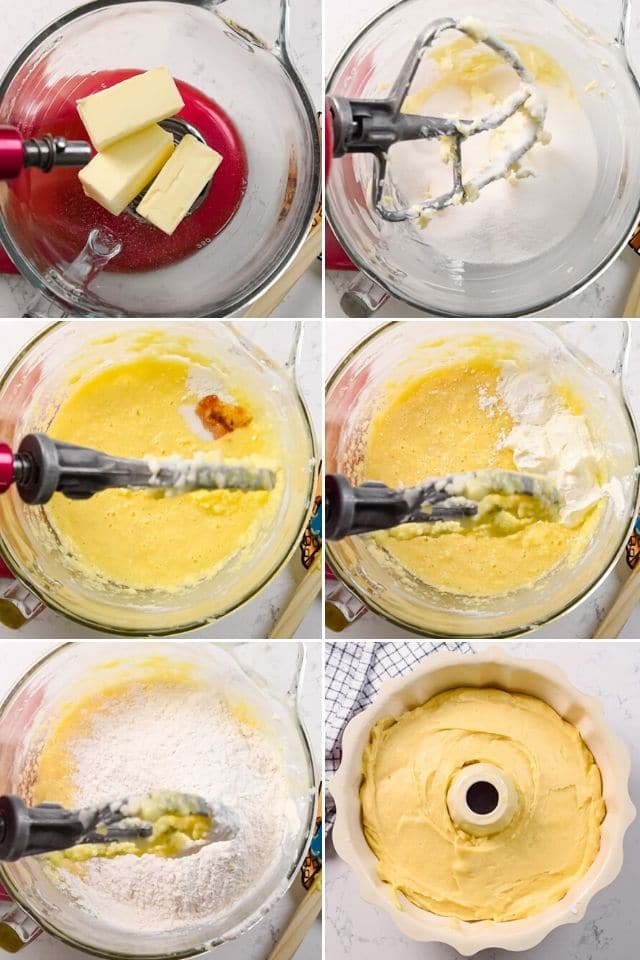 Pound Cake Ingredients
This is a Sour Cream Pound Cake with all the classic ingredients:
Butter is the backbone of this cake. Without it, it wouldn't be a pound cake! Use unsalted butter of a good quality.
Sugar is the sweet in this cake. Granulated sugar is traditional for pound cakes.
Flour is the body of the cake, and I use all-purpose flour. Be sure to measure it correctly.
Eggs are one of the most important pound cake ingredients. They provide richness and moistness and stability. It's good if they are room temperature, and make sure to mix them in one at a time.
Sour cream keeps the cake moist and adds a nice flavor. I add the baking powder because of the sour cream.
Baking Powder: While traditionally, pound cake recipes didn't call for leavening (the eggs do all the work of rising), I added a bit of baking powder because the sour cream adds weight to the cake so the eggs need a bit of help.
Cornstarch is in the recipe because several of the recipes I'd tried before called for cake flour. I always forget to buy cake flour (and if you're just going to make this cake once for a special occasion it's annoying to have to buy something special). Cake flour is a combination of cornstarch and all-purpose flour, so I added some cornstarch to emulate it.
Salt adds flavor and is actually an important ingredient, especially when using unsalted butter.
Vanilla Extract is for flavor. Want a twist? Add almond or lemon extract too!
How to make pound cake from scratch
Prepare the pan: butter and flour your bundt pan.
Creaming: Cream the butter and sugar for a few minutes. The butter and sugar will become light in color and fluffy.
Eggs: Make sure your eggs are ROOM TEMPERATURE and mix them in, one at a time.
Dry ingredients: Add baking powder, salt, vanilla, and cornstarch and mix until smooth.
Mix: Add flour and sour cream. Don't overmix the cake, as soon as the batter comes together, stop mixing.
Bake for 60-70 minutes.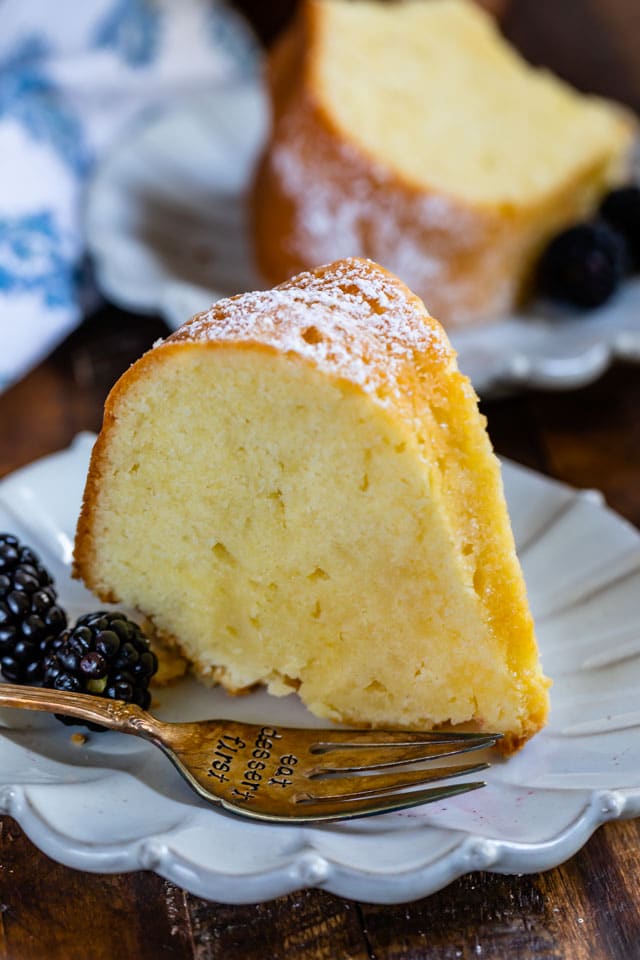 What pan do I use for pound cake?
This cake is best baked in a 9-10″ bundt pan, but you can also bake it in a tube pan (angel food cake pan). You can't bake angel food cake or cakes that are constructed for a tube pan in a bundt pan but you can bake this one in a tube pan if that's all you have.
In a pinch, you can also bake this as two 9×5-inch loaf pans, but baking time will be affected.
How long should you bake a pound cake?
Pound cakes take a long time to bake; this one will take 60-70 minutes.
You know your pound cake is done when a toothpick or long skewer comes out clean.
Let the cake cool for about 10-15 minutes and then turn the cake out onto your serving plate. It will come out easier when it's still warm!
Turn the cake out of the pan when it's still warm for easy removal!

PRO TIP
Once cooled, all it needs is a dusting of powdered sugar. Serve it plain or with berries for a delicious dessert!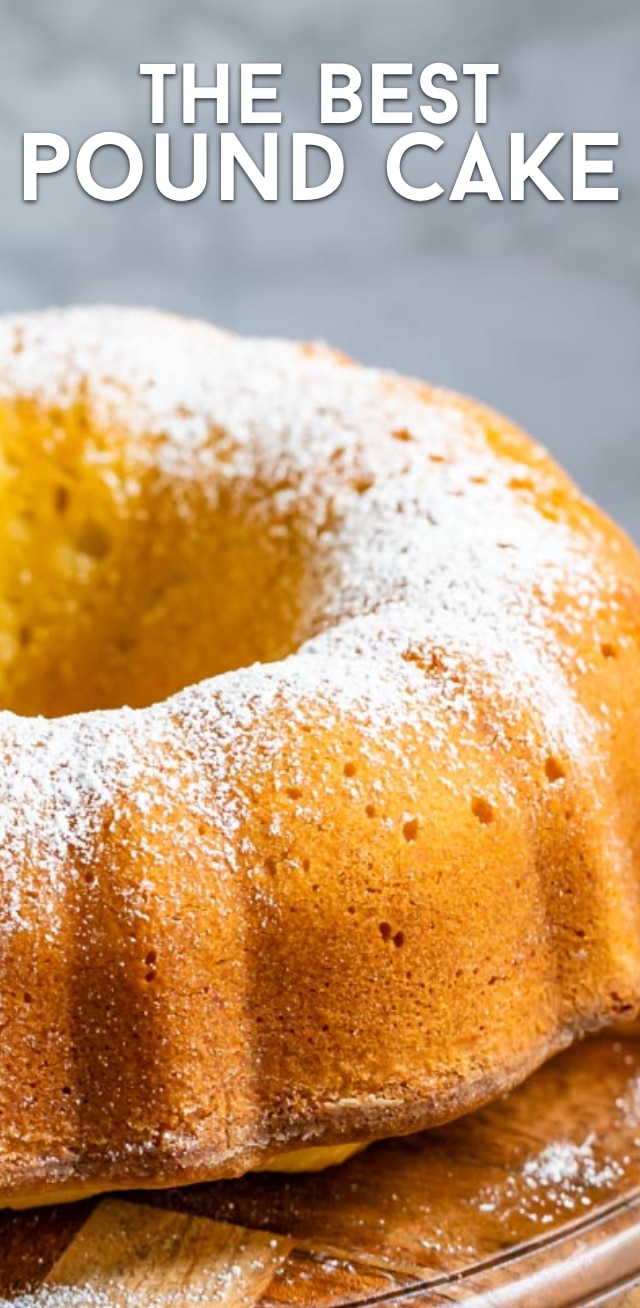 Pound Cake Tips
Do not over bake this cake! Ovens bake differently, which is why I give a range of times, but it's done when a skewer comes out clean.
Be sure to scrape your bowl while mixing, especially the bottom if you're using a stand mixer.
Be sure to use room temperature ingredients and measure your flour correctly.
Store the cake covered at room temperature for up to 3 days. Or you can freeze it for up to a month!
FAQ
How to keep pound cake moist?
Pound cake is a dense cake so the key to keeping it soft and moist is to not use too much flour (be sure to measure it correctly) and not over bake it. The sour cream in this cake keeps it nice and moist too.
How do you tell if pound cake is done baking?
I like to do the toothpick test right next to the center of the cake. For best results, use a long skewer instead. The toothpick should have just a few crumbs sticking to it.
Why did my pound cake stick in the pan? How to keep pound cake from sticking?
This is a common problem with pound cakes. That center ring and all the grooves can cause issues with removing it. Be sure to grease and flour the pan and my trick is to remove it after only 20-30 minutes or so of cooling time, while it's still a bit warm.
Can you freeze pound cake?
Yes easily. Freeze the entire thing wrapped in plastic, or freeze slices!
Pound Cake Recipes
Have you made this recipe?
Tag @crazyforcrust on Instagram or hashtag it #crazyforcrust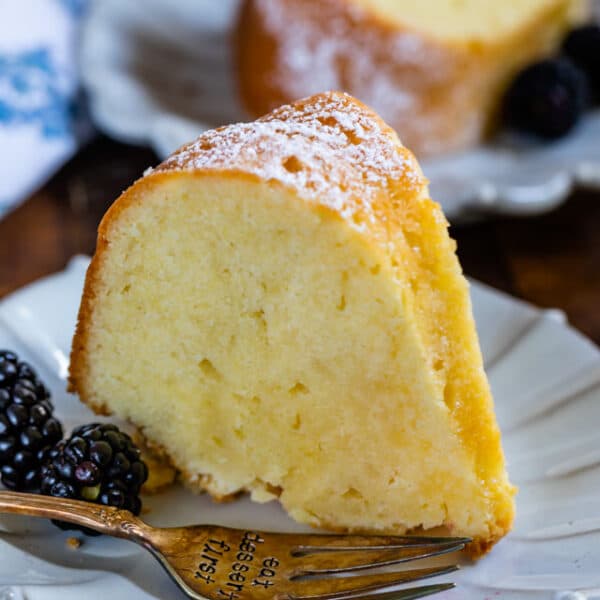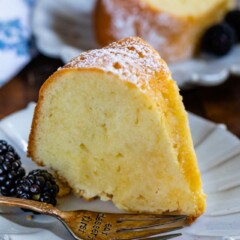 Pound Cake Recipe
This is the BEST Pound Cake Recipe! It's an easy old fashioned sour cream pound cake that's moist and tender and full of vanilla flavor. If you want to make a classic pound cake recipe, this is the one to try.
Cook Time
1
hour
10
minutes
Total Time
1
hour
35
minutes
Ingredients
1 ½

cups

(339g) unsalted butter

softened

2 ¾

cups

(550g) granulated sugar

6

large eggs

room temperature

½

teaspoon

baking powder

1

teaspoon

vanilla extract

1

teaspoon

salt

¾

cup

(184g) sour cream

room temperature

3

cups

(372g) all purpose flour

2

tablespoons

cornstarch
Instructions
Preheat oven to 350°F. Grease and flour a 10-inch fluted bundt pan (or spray well with the nonstick cooking spray that has flour in it).

Place butter and sugar in the bowl of a stand mixer fitted with the paddle attachment. Cream the mixture for a few minutes, or until it's light and fluffy and light in color.

Mix in the eggs, one at a time, beating just until the egg is mixed in before adding the next one.

Add baking powder, vanilla extract, and salt and stir, then add the sour cream, cornstarch and flour. Mix just until combined.

Pour mixture into prepared pan. Bake for about 55-65 minutes or until a toothpick comes out clean from close to the middle of the cake.

Let cool 15 minutes then turn out onto serving plate and cool completely. (The cake will come out easier when it's warm.)

Dust cooled cake with powdered sugar for serving. Store in an airtight container for up to 4 days.
Recipe Nutrition
Serving:
1
serving
|
Calories:
560
kcal
|
Carbohydrates:
72
g
|
Protein:
7
g
|
Fat:
28
g
|
Saturated Fat:
17
g
|
Cholesterol:
150
mg
|
Sodium:
241
mg
|
Potassium:
108
mg
|
Fiber:
1
g
|
Sugar:
46
g
|
Vitamin A:
917
IU
|
Vitamin C:
1
mg
|
Calcium:
47
mg
|
Iron:
2
mg
Nutritional information not guaranteed to be accurate
Other cake recipes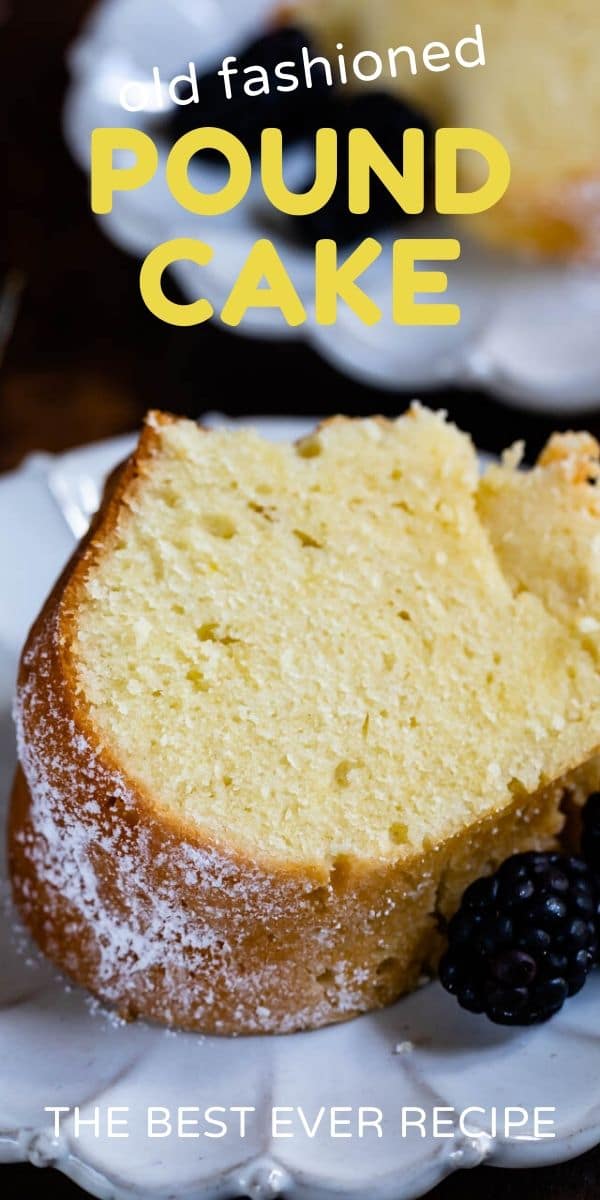 This is the BEST Pound Cake Recipe! It's an easy old fashioned sour cream pound cake that's moist and tender and full of vanilla flavor.
Last Updated on December 4, 2021