This post may contain affiliate links. For more information, read my disclosure policy.
Pumpkin Spice Cinnamon Rolls are an easy cinnamon roll recipe filled with my favorite fall flavor: pumpkin pie spice! Up your brunch game by adding a new flavor to homemade rolls!
This post has been sponsored by Fleischmann's® Yeast. Their RapidRise® Yeast makes working with yeast so easy you can make homemade cinnamon rolls, even if you've never worked with yeast before!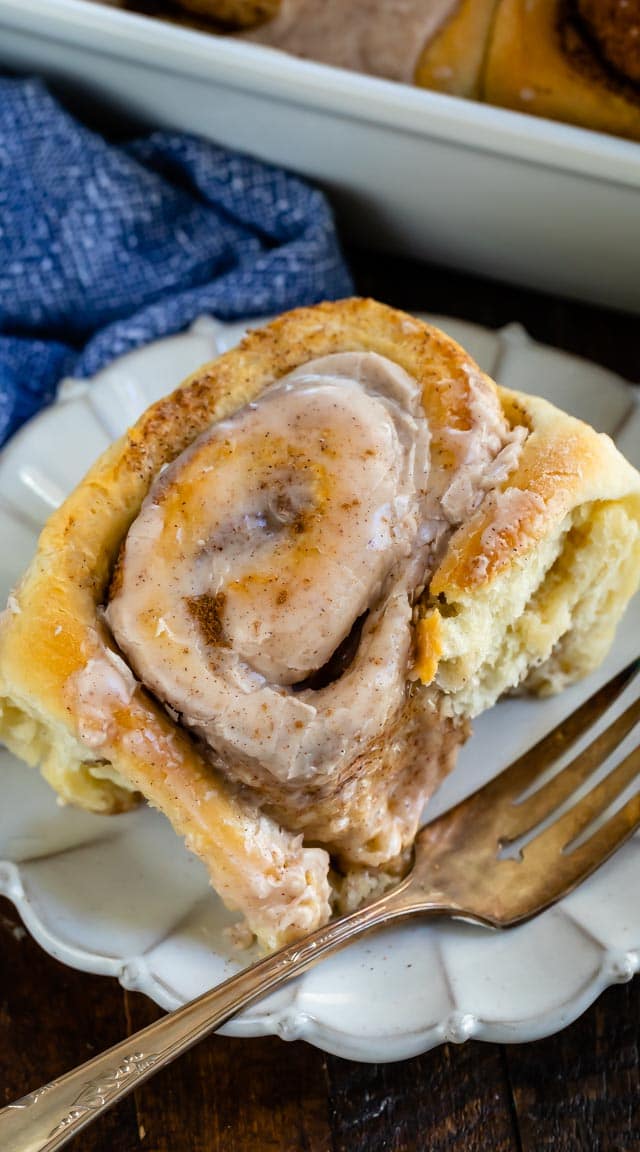 There really is nothing I like more than a hot and fluffy homemade cinnamon roll. The sweet and fluffy dough, the cinnamon filing, the frosting – it's pure heaven to me. I'm pretty sure cinnamon rolls are in my top 5 foods, along with pie and brownies.
I have so many cinnamon roll recipes on this site because they're so much fun for me to make. I love switching up the fillings (making them lemon rolls or into gingerbread flavor) because a rolled out dough is such a fun blank canvas to work with.
Have you ever made pumpkin cinnamon rolls? Those are still on my list to try because putting pumpkin puree into the dough seems like such an interesting combination. Instead of going that route when I was thinking about new flavor ideas, I decided to take the spice of the season – pumpkin pie spice – and devote a cinnamon roll to it!
Pumpkin Spice Cinnamon Rolls are made from scratch with a warm fall filling and pumpkin spice frosting!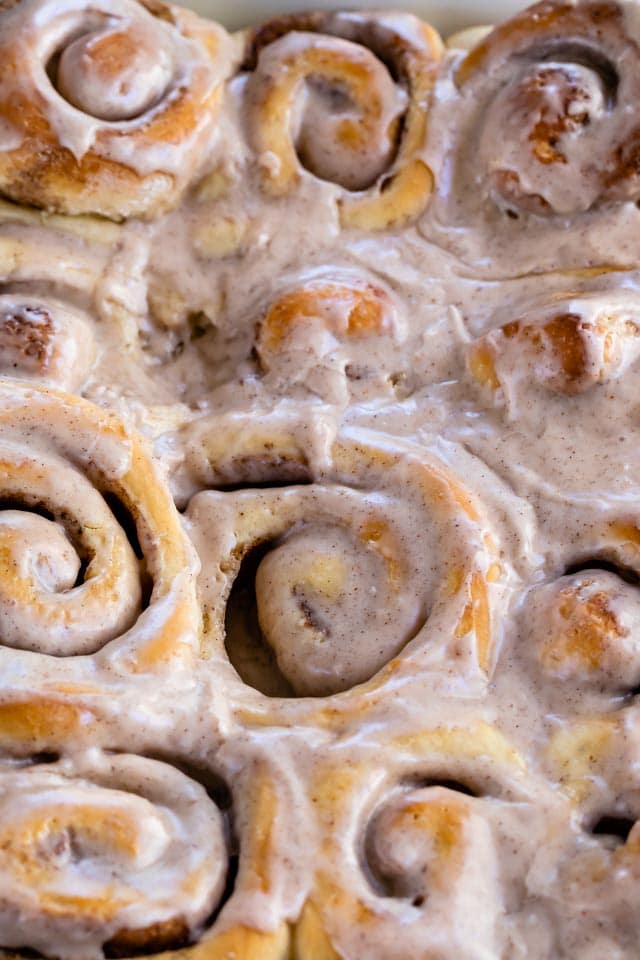 My favorite part of any cinnamon roll is the dough. The dough needs to be soft, fluffy and slightly sweet. What makes cinnamon roll dough so irresistible? One word: yeast.
I know that working with yeast is scary. I was scared of it too, once upon a time. Before I started blogging I'd never made a yeasted dough. The first time I worked with it was daunting, but it turned out to be so much easier than I thought.
If you want to learn how to make homemade cinnamon rolls, this post will teach you the way to do it. This method is totally foolproof and works every time! I'm going to show you step-by-step how to work with yeast (and there's a video too!) so you can be the star of brunch this fall!
What kind of yeast do you use for cinnamon rolls?
When you're shopping for ingredients, you'll see a few kinds of yeast at the grocery store, but you just need to remember one kind: Fleischmann's® RapidRise® Yeast.
RapidRise® Yeast is also known as instant yeast. It saves time because:
It requires only one rise
You don't need to hydrate or "proof" it in water
Fleischmann's® RapidRise® Yeast is the only yeast I use now for all my homemade dough.

PRO TIP
How to make cinnamon rolls from scratch: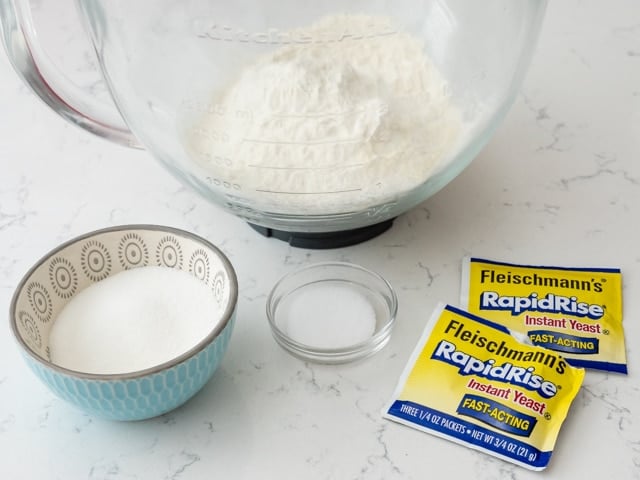 Since we're using RapidRise® yeast, we're going to mix all the dry ingredients together.
Flour (start with 2 cups)
Sugar
Salt
Yeast
Whisk that together in a large bowl, or the bowl of a stand mixer. You can use a hand mixer for part of this process, but a stand mixer is easier. If you're using an electric stand mixer, I prefer the dough hook to the paddle attachment.
(You can also use Fleischmann's® RapidRise® Yeast in a bread machine, but this recipe is NOT written for a bread machine, so you cannot make these rolls as written using a machine.)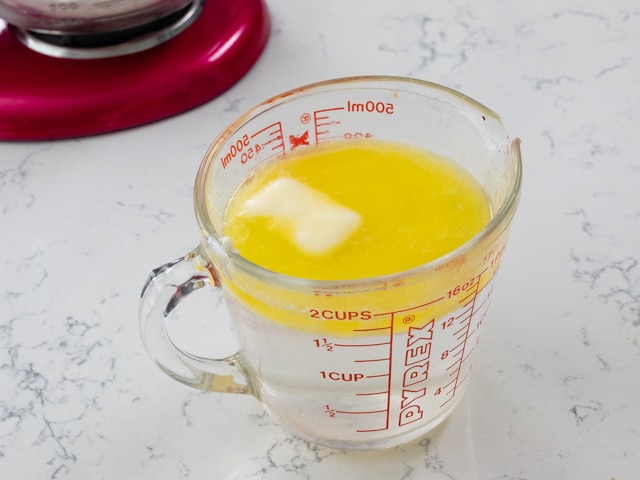 Next you need to prepare your wet ingredients:
This is the only tricky part about working with yeast: the hot water. Heat your water and butter in the microwave until it is about 120°F-130°F.
How do you know your water is the right temperature for yeast?
Either use an instant read thermometer – you can find inexpensive ones on Amazon, or
Think "hot bath water"
Now, #2 is obviously more subjective but know that I usually heat 1 1/2 cups of water for cinnamon rolls in my microwave between 1 1/2-2 minutes to reach that temperature.
Once you add the wet ingredients into the dry, you start mixing.
How much flour do you add to homemade cinnamon rolls?
You'll notice that I give a range of flour amount. Humidity and temperature can affect how much flour you're using. (Also, be sure you're measuring flour correctly.)
Once you mix in the wet ingredients, add 1 more cup of flour and keep mixing. Continue until the dough comes together in one clump, like in the photo below: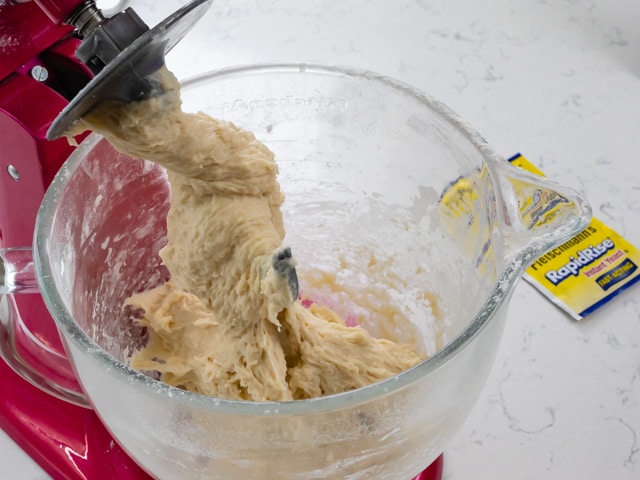 At that point the dough is still sticky but not wet, if you tap it with your finger there shouldn't be any transfer to your fingers.
The time it takes to mix the dough will depend on the mixer you're using.
Once your dough has come together, it's time to knead it.
How do you knead dough?
Kneading is the process where you push the dough with the palm of your hands. There is science behind kneading the dough, but just know that it creates that delicious homemade bread texture you love.
I actually love to knead; the process is calming and there's something so special about homemade recipes that take extra work, you know?
You're going to knead your dough until it's slightly elastic and it passes the two-finger test: the dough will spring back when you press it with two fingers.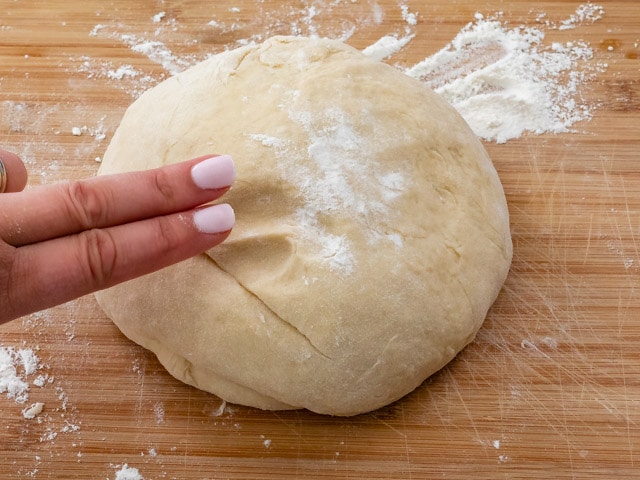 Once the dough has come together, the magic of using RapidRise® Yeast is fully apparent: you don't have to wait for a full rise. Simply let the dough rest for 10 minutes before it's time to fill the cinnamon rolls!
What is the filling for pumpkin spice cinnamon rolls?
Now we get to the fun part: the filling!
Roll out your dough to a large rectangle (about 10×15-inches).
The filling for this cinnamon roll recipe couldn't be easier:
Simply spread softened butter all over the rolled out dough.
Mix together sugar and pumpkin pie spice and sprinkle it all over the dough.
Then you roll it back up and it's time to slice it into cinnamon rolls!
Cinnamon roll slicing hack: use dental floss!

PRO TIP
Simply wrapping the floss around the cinnamon roll log and pulling it through easily sliced the rolls. It's much easier than using a serrated knife!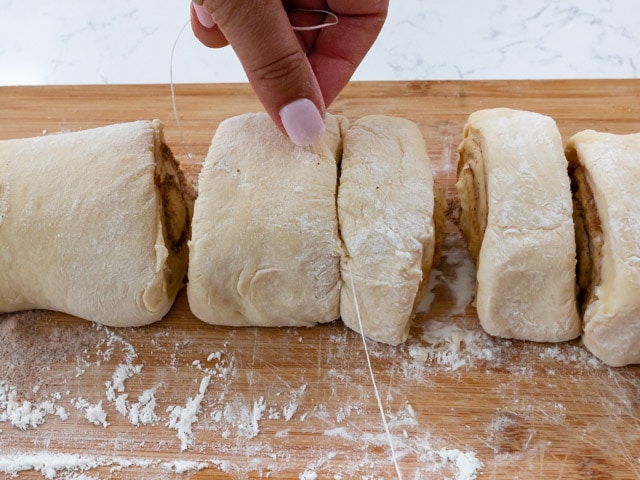 Once you have 12 cinnamon rolls, you place them in a pan and let them rise until double in size.
Your house will smell amazing while they bake, and then it's time to frost.
What frosting goes on Pumpkin Spice Cinnamon Rolls?
There are so many different kinds of frosting you can use on cinnamon rolls, but I love this easy pumpkin spice icing.
Simply beat butter with powdered sugar, vanilla, milk and pumpkin spice to make a simple glaze that spreads easily on the warm rolls.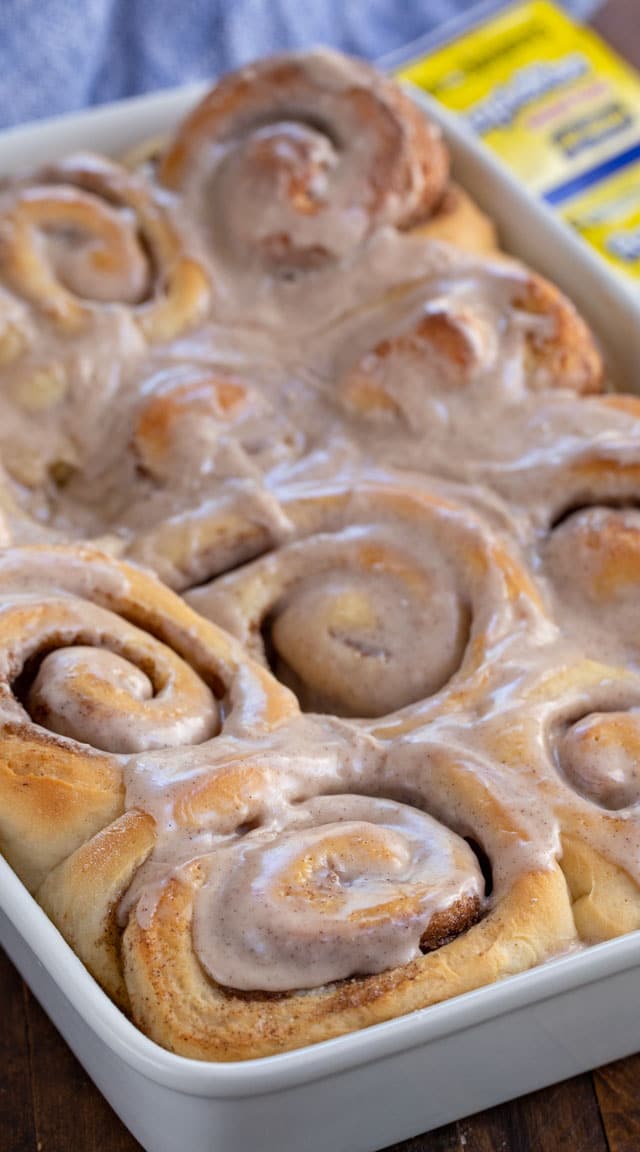 Seriously, nothing tastes better than homemade baked goods, especially when you make them with Fleischmann's Yeast. Baking from scratch with yeast is EASY – I promise!
Some questions I get asked about cinnamon rolls:
Why didn't my cinnamon rolls rise?
There are a few reasons for this:
Your yeast was old – be sure to check the expiration date.
The water wasn't the correct temperature – which is why I recommend a thermometer!
You weren't using Fleischmann's® RapidRise® Yeast – it's the foolproof yeast!
How do you know when cinnamon rolls are done?
They're done baking when they're golden brown and cooked through.
How long can you keep cinnamon roll dough in the fridge?
Usually, you can keep the dough in the refrigerator overnight. Either place the dough in the fridge after kneading (cover it tightly with plastic wrap in a bowl) or you can make the rolls, cover them with plastic and place them in the refrigerator.
The next day, just let the dough or rolls come to room temperature before finishing the recipe.
It was all we could do not to eat the entire tray of rolls for dinner. That's how much I love pumpkin spice cinnamon rolls!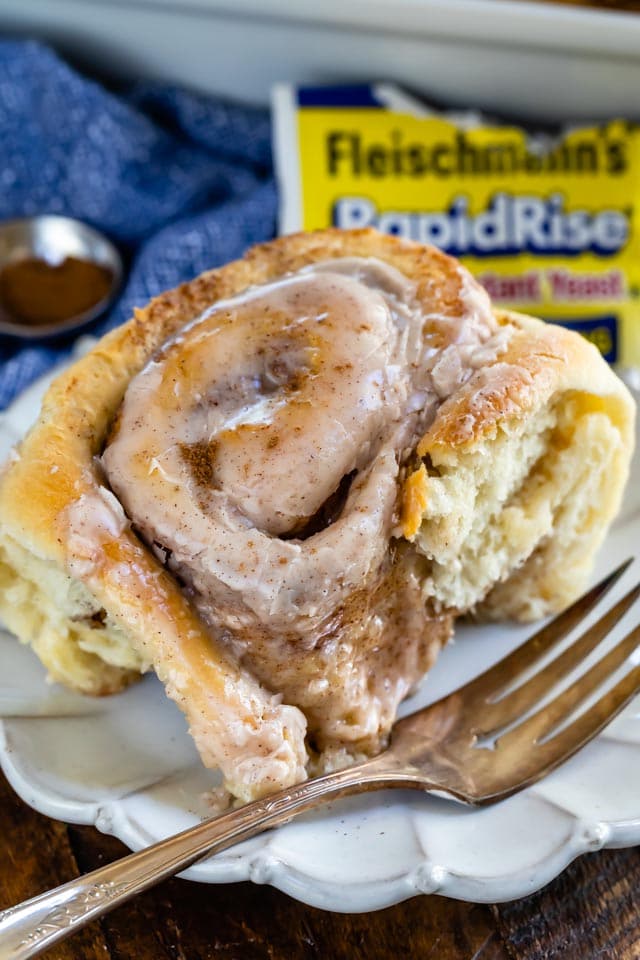 Other easy recipes made with Fleischmann's® RapidRise® Yeast:
Other recipes perfect for brunch:
This recipe is slightly adapted from Fleischmann's® Yeast website, where they have 150 years of baking experience. This is a tried and true recipe you'll be proud to share!
Have you made this recipe?
Tag @crazyforcrust on Instagram or hashtag it #crazyforcrust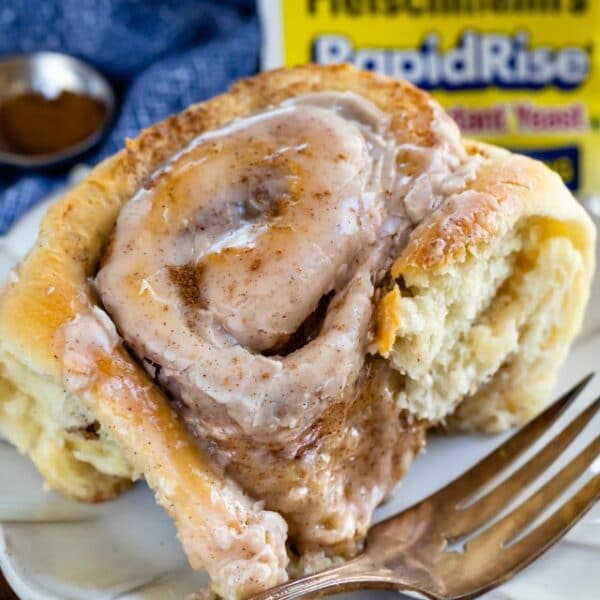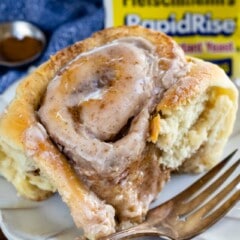 Pumpkin Spice Cinnamon Rolls
Homemade Pumpkin Spice Cinnamon Rolls are so easy to make even if you've never worked with yeast. These rolls are made from scratch and filled with pumpkin spice instead of cinnamon – and the frosting has the warm pumpkin pie spice too!
Prep Time
1
hour
40
minutes
Total Time
2
hours
10
minutes
Ingredients
For the dough:
4 1/2 to 5

cups

all-purpose flour

1/3

cup

granulated sugar

2

packets

Fleischmann's® RapidRise® Yeast

(4 1/2 teaspoons)

1

teaspoon

salt

1 1/2

cups

water

6

tablespoons

unsalted butter,

softened

1

large egg
For the frosting:
2 1/2

cups

powdered sugar

2

tablespoons

unsalted butter,

softened

2-3

tablespoons

milk

1

teaspoon

vanilla extract

1/2

teaspoon

pumpkin pie spice

Pinch

salt
Instructions
Make the dough:
Add 2 cups flour, sugar, dry yeast, and salt in the bowl of a stand mixer fitted with the dough hook. Whisk to combine.

Place water and butter in a microwave-safe measuring cup. Heat, in 30 second increments, until the water reaches 120°-130°F (think hot bath water, use an instant read thermometer for best results). This will take approximately 1 1/2 minutes, depending on your microwave. Butter won't totally melt.

Add water mixture to dry ingredients with the egg. Mix on medium speed for 2 minutes, scraping the sides of the bowl a few times.

Add 1 cup more flour, beat an additional 2 minutes at high speed, scraping bowl occasionally. Mix in just enough remaining flour so the dough forms into a ball. The dough will be slightly sticky but not wet.

Turn the dough out onto a lightly floured surface. Knead until smooth and elastic, about 6-8 minutes. You know it's done when it forms a cohesive ball and springs back when lightly pressed with 2 fingers.

Cover and let rest for 10 minutes.
Fill and Bake:
Meanwhile, make the filling by stirring together the sugar and pumpkin pie spice.

Roll dough into a 10×15-nch rectangle using a rolling pin. Spread the butter all over the dough in a thin layer. Sprinkle with filling.

Beginning at the long side of the dough, roll up tightly. Slice into 12 equal pieces.

TIP: use unflavored dental floss to slice your rolls! Cut a piece of floss and slide floss under roll. Bring sides of floss up to cross on top and slice through the dough. Works like a charm!

Place rolls in a 9×13-inch baking pan that's been sprayed with nonstick cooking spray.

Cover rolls and let double in size, about 1 hour.

Preheat oven to 350°F. Once risen, bake cinnamon rolls for about 25-30 minutes or until golden brown and the center is cooked through. Cool 20 minutes before frosting.

Make the frosting: add butter, powdered sugar, vanilla, salt and pumpkin pie spice to a large bowl. Beat with a hand mixer until crumbly. Add 2 tablespoons milk and mix until combined, adding up to 1 more tablespoon milk for desired consistency.

Frost slightly cooled rolls.

Store covered for up to 2 days.
Recipe Nutrition
Serving:
1
roll
|
Calories:
413
kcal
|
Carbohydrates:
72
g
|
Protein:
6
g
|
Fat:
11
g
|
Saturated Fat:
7
g
|
Cholesterol:
41
mg
|
Sodium:
205
mg
|
Potassium:
59
mg
|
Fiber:
1
g
|
Sugar:
36
g
|
Vitamin A:
341
IU
|
Vitamin C:
1
mg
|
Calcium:
18
mg
|
Iron:
2
mg
Nutritional information not guaranteed to be accurate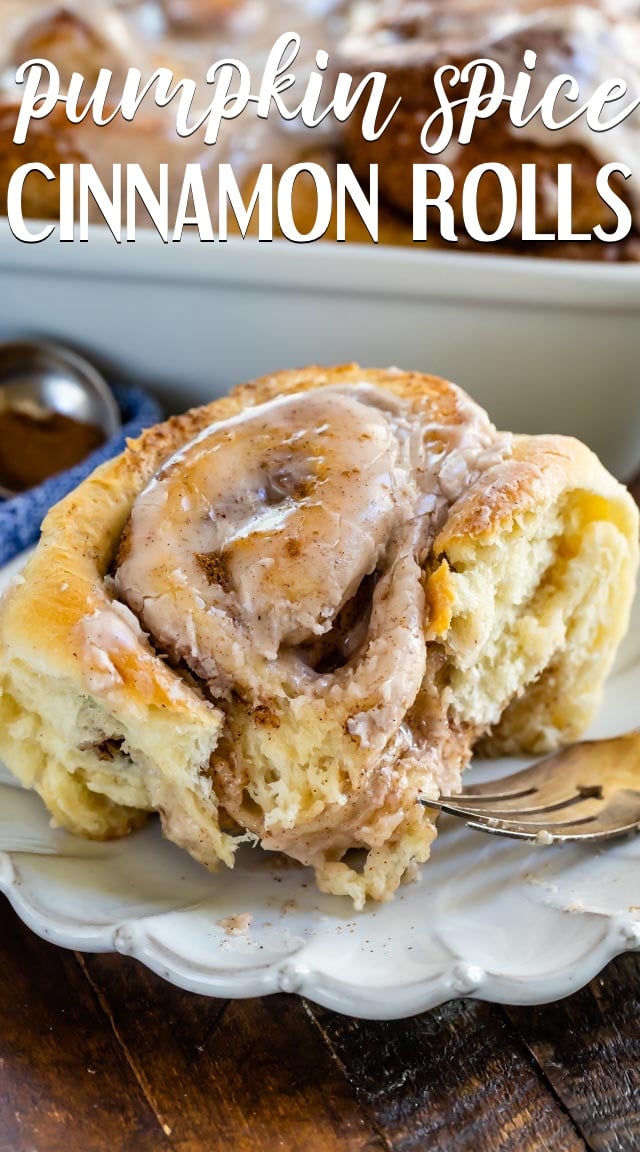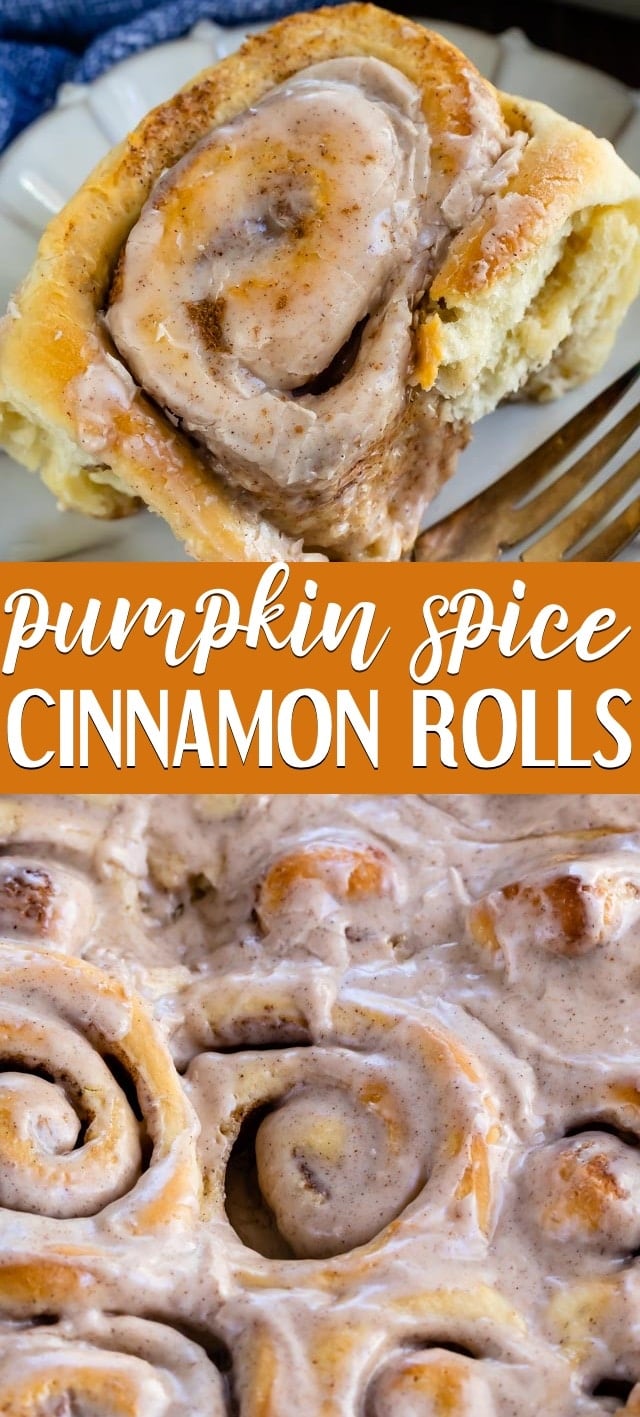 Pumpkin Spice Cinnamon Rolls are going to be the hit of brunch or your holiday breakfast. Working with yeast is easier than you think, so be sure to give it a try!
Last Updated on February 26, 2020