This post may contain affiliate links. For more information, read my disclosure policy.
My Homemade Monkey Bread Recipe is so much easier than you think! This from-scratch version of a cinnamon pull-apart is the perfect brunch recipe – we absolutely fell in love with this and we like it better than the ones made with biscuits.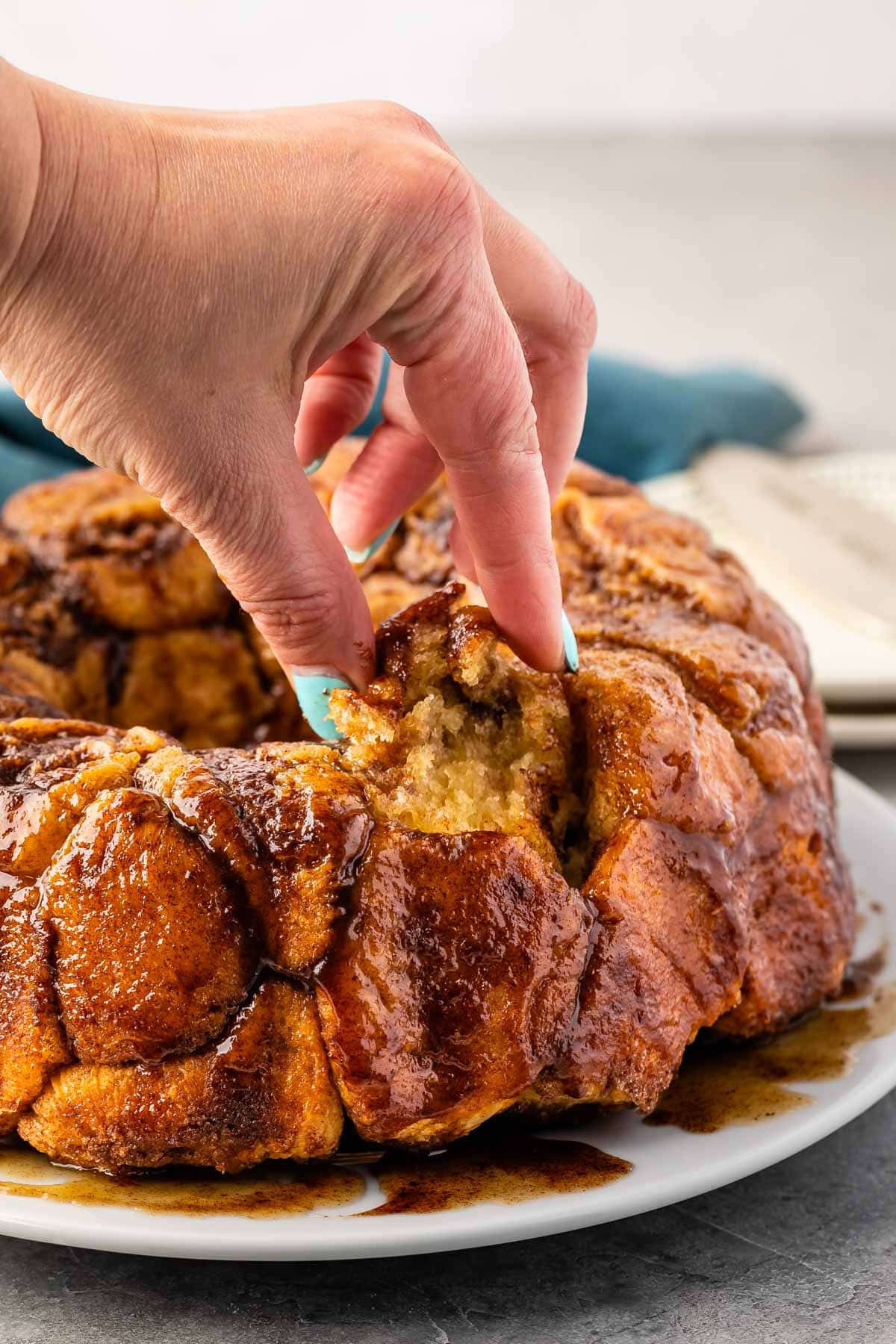 HOMEMADE Monkey Bread Recipe
I always make monkey bread for Christmas. It's a tradition and not worth the fight; one year I really wanted cinnamon rolls so I made both…because it was required.
In the past I've always made easy monkey with canned biscuits, but no more: from now on I will be making this Homemade Monkey Bread recipe! I absolutely love the flavor of the from-scratch dough. It's lighter and airier than the store-bought kind. And – it's way easier to make from scratch than I thought it would be.
What is Monkey Bread?
Monkey Bread is a delicious pastry made with either homemade yeasted dough or canned biscuits. Traditionally, it's baked in a bundt pan. The dough is coated with cinnamon sugar and the entire thing is drenched in a brown sugar butter sauce. It gets it's name because you pick at it (like a monkey picks at other monkeys).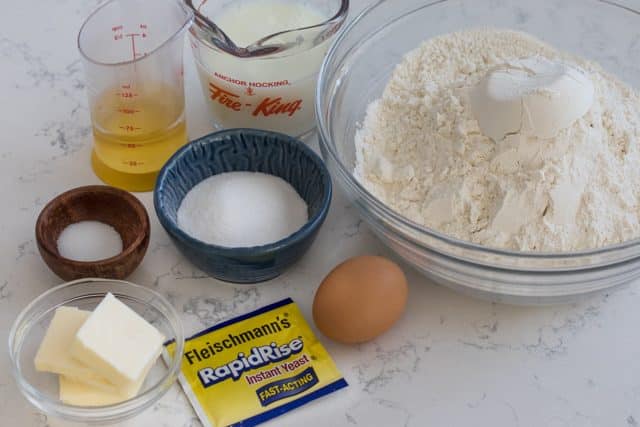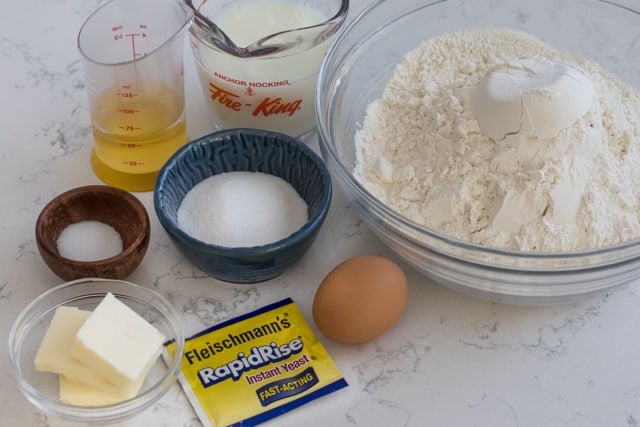 Important Ingredients
Instant Yeast – It's important to use INSTANT yeast (I always use Fleischmann's Rapid Rise). It's a fast-acting yeast that makes baking from scratch much easier and faster than if you used active dry yeast.
Flour – just regular all-purpose flour is the best for this recipe.
Sugar – granulated sugar for the dough and brown sugar for the filling
Butter – Unsalted or salted can be used
Milk – regular, nonfat or even nondairy milk is fine
Egg – adds a richness to the dough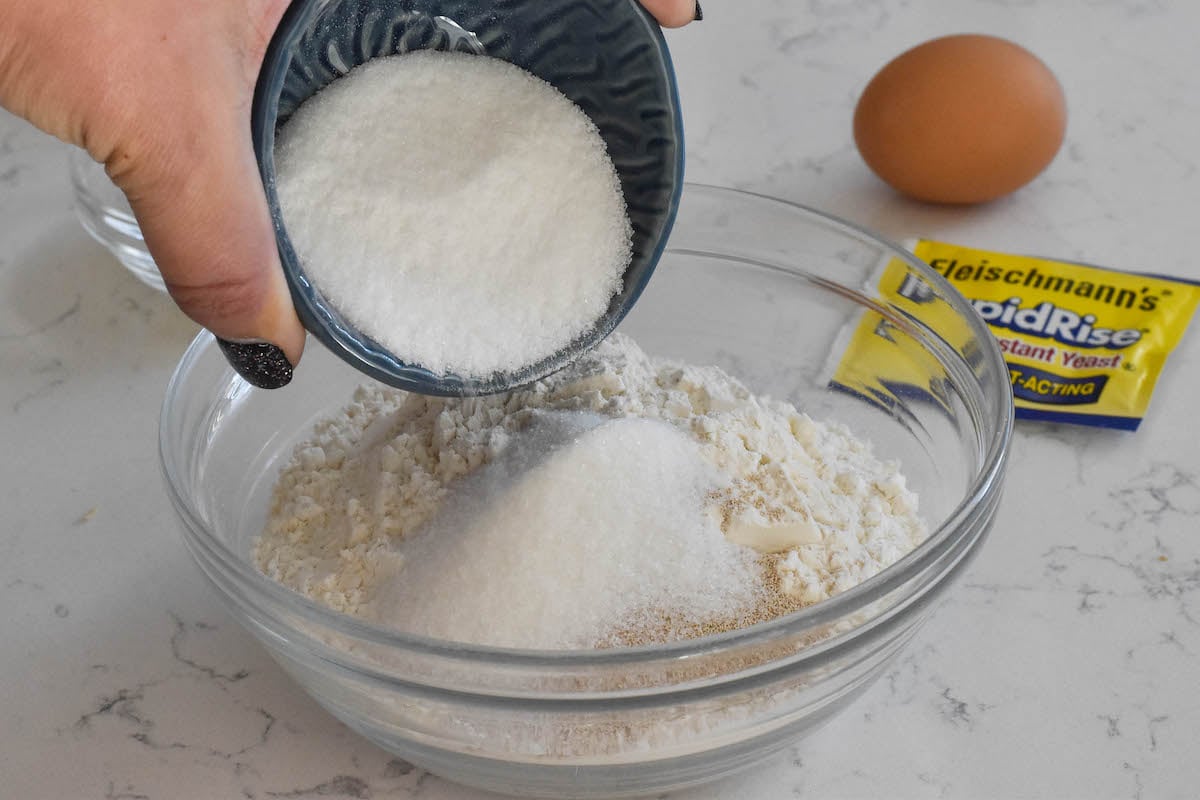 How to make monkey bread dough
You simply add your instant yeast in with your dry ingredients (flour, sugar, yeast, and salt).
Milk, water, and butter get added to a measuring cup. I added slices of butter instead of a chunk, so it would melt easier.
Once you have your wet ingredients in a microwave-safe dish, simply heat it until it's about 120-130°F. This will wake up the yeast once it's added to the dry ingredients.
Mix the dough, adding more flour until it comes together – it will be soft and loose but cohesive. It should be soft to the touch but not have much transfer to your hands when touched.
Once the dough is mixed turn it out onto a floured surface and knead it until it forms a ball that springs back at you.
Then, let it rest for just 10 minutes. No need to wait for an hour to let it double in size!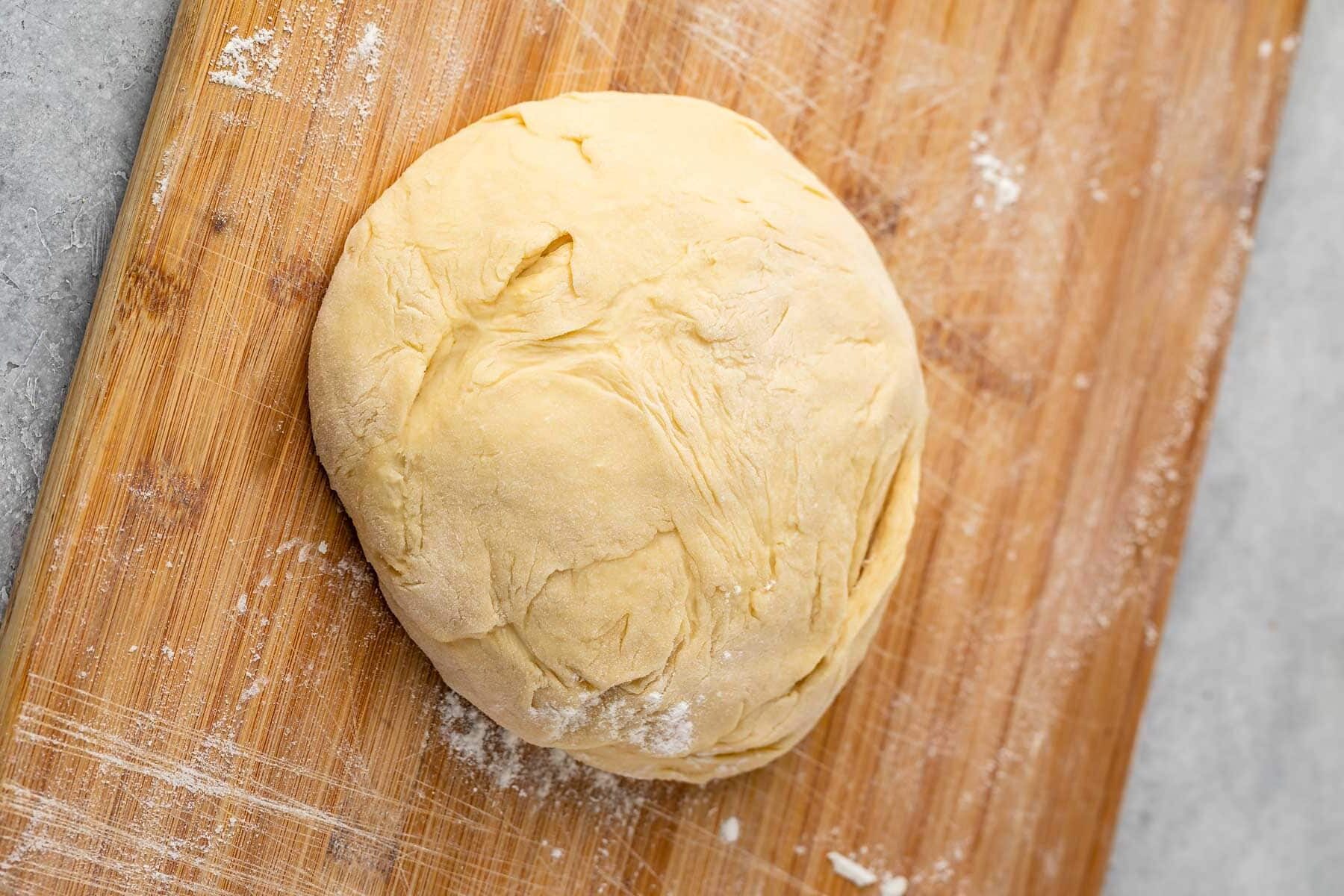 How to make Monkey Bread
Now it's time to form your monkey bread. If you simply rolled out this dough, you could make cinnamon rolls, but we're going to portion the dough into 36 small balls of dough.
Make the coating: melt the butter and place in a small bowl. Mix granulated sugar and cinnamon in another small bowl. Dip the pieces into the butter then roll in the cinnamon sugar mixture and place in your pan. You can use a bundt pan, 9×13-inch baking dish, or two loaf pans. (Directions for all are in the recipe card.) Be sure to spray your pan with nonstick cooking spray so it doesn't stick.
Melt remaining butter and stir it together with the brown sugar and remaining coating ingredients. Pour over the pieces in the pan.
You do have to let the rolls rise until doubled in size. It only takes about 45 minutes in a warm place. (Tip: preheat your oven and let the rolls sit on top of the stove. The warmth from the oven will help them rise faster.)
Once they've risen, just bake for about 20 minutes and then serve. They pull apart easily and are sweet and fluffy. We could NOT stop eating them!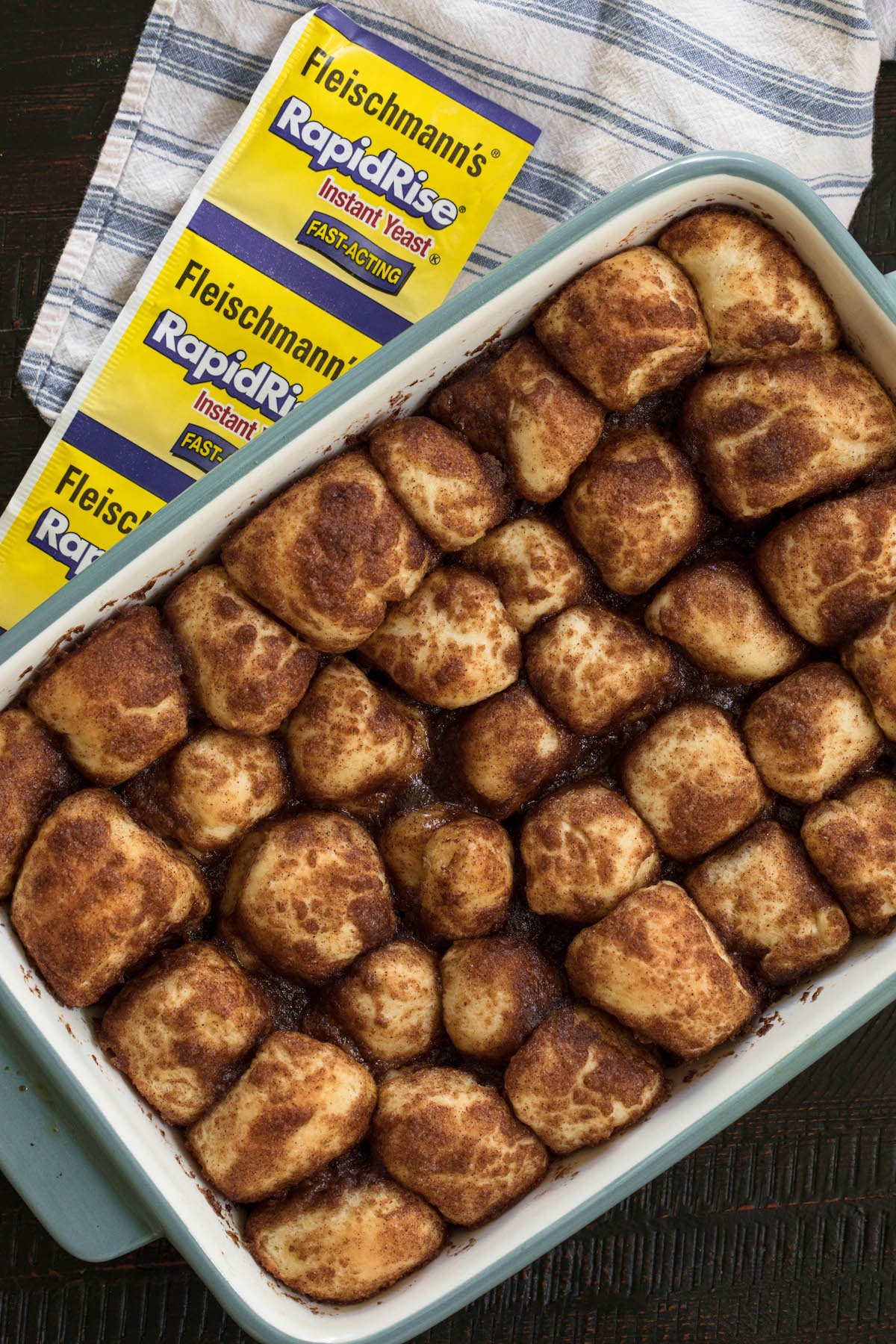 Variations
Add a cup chopped walnuts or pecans – just sprinkle them over the dough balls in the pan.
Make a cream cheese icing for the top to make an extra special morning breakfast.
Expert Tips
This homemade monkey bread recipe is written to be made with an electric mixer fitted with the dough hook. I absolutely love my dough hook; it takes time off of having to knead my dough. If you don't have an electric mixer, you can do this with a hand mixer or by-hand, it'll just take longer to come together to form a ball.
I recommend an instant read thermometer for working with yeast. It really does take the guesswork out of it, but if you don't have one just think hot bathwater when testing temperature.
I've used both a bundt pan and a 9×13-inch pan for this recipe. I've found that making monkey bread without a Bundt pan cooks faster and more evenly. I'm pretty much a pull-apart bread aficionado now after so many years of making it.
If you have leftover brown sugar sauce, pour it over the monkey bread in the pan before letting the monkey bread rise.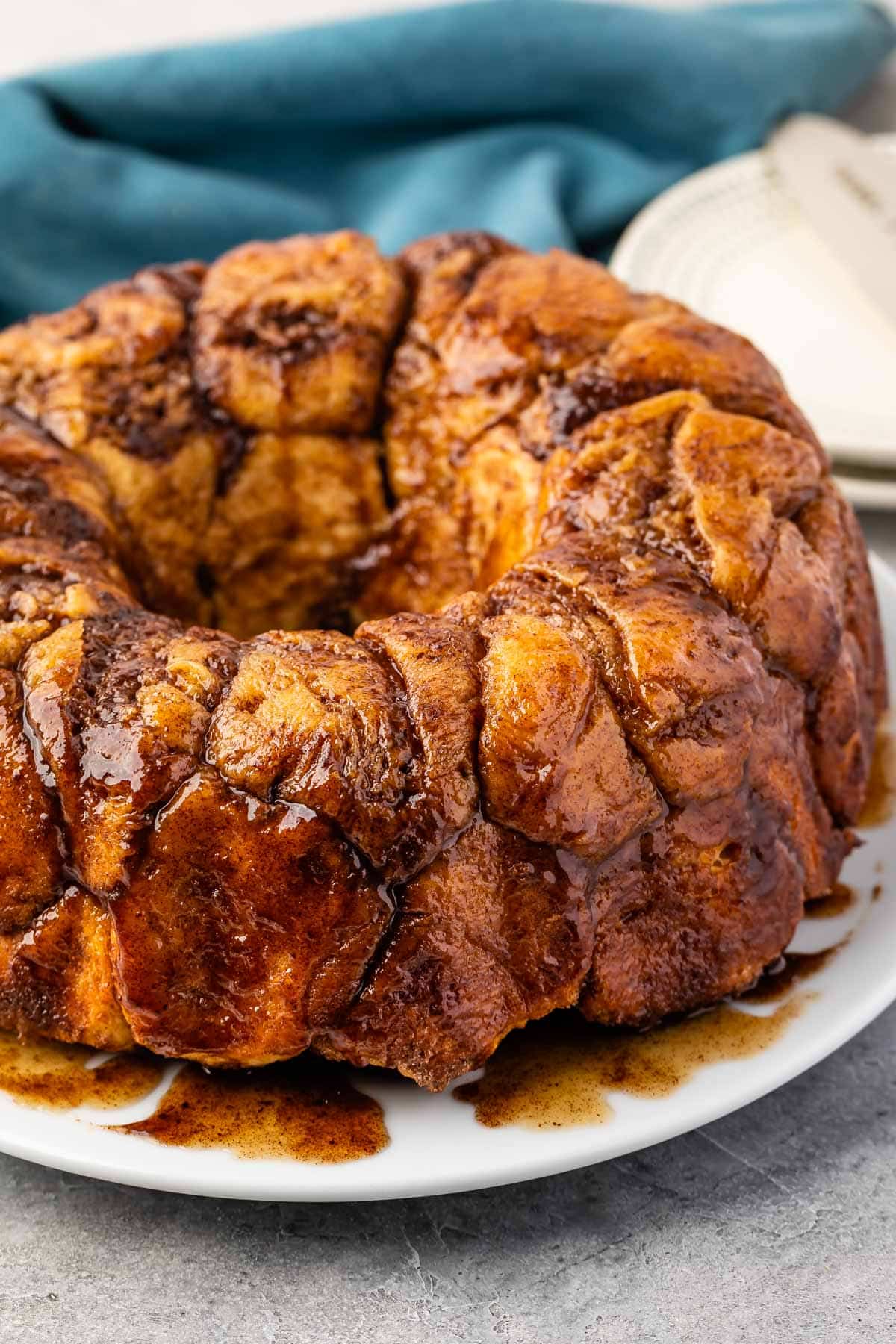 FAQs
Can I make monkey bread ahead of time?
Yes you can make this the night before. Assemble the entire thing in your baking dish and cover with plastic wrap. Place in the refrigerator overnight then take it out and place it near the oven while the oven is preheating so it can come to room temperature.
What pans can you use for monkey bread?
A tube pan or bundt pan is the most traditional but I love using a 9×13-inch cake pan for even baking. You can also use 2 loaf pans.
Do you have to refrigerate monkey bread?
Leftover monkey bread can sit on the counter for up to 2 days as long as it's in an airtight container.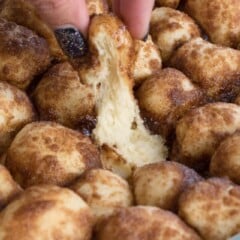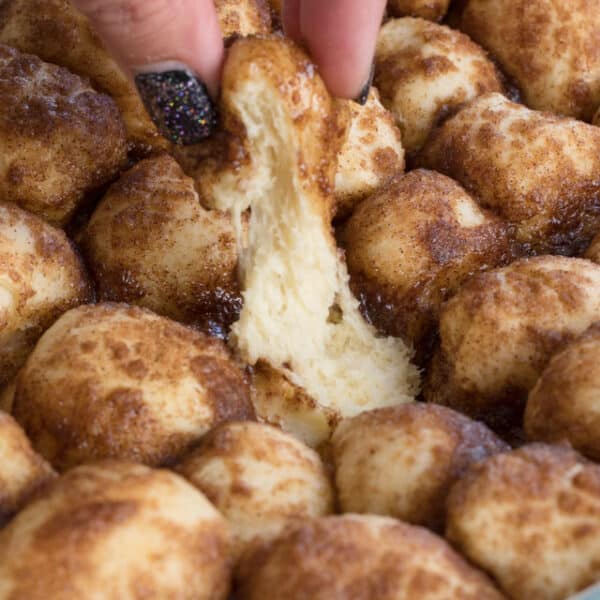 Homemade Monkey Bread Recipe
Homemade Monkey Bread is so much easier than you think! This from scratch version of a cinnamon pull-apart is the perfect brunch recipe!
Ingredients
For the Dough
3-¼ to 3-¾

cups

(403g-465g) all-purpose flour

¼

cup

(50g) granulated sugar

1

packet

Fleischmann's® RapidRise® Yeast – Instant Yeast

(2 ¼ teaspoons)

1

teaspoon

salt

¾

cup

(177ml) milk

whole, 2%, 1% or nonfat

¼

cup

(59ml) water

¼

cup

(57g) unsalted butter

sliced into tablespoons

1

large

egg
For the coating:
½

cup

(113g) unsalted butter

, melted

1

cup

(200g) granulated sugar

1

tablespoon

ground cinnamon
For the topping
½

cup

(100g) packed brown sugar

¼

cup

(57g) unalted butter

1

teaspoon

ground cinnamon
Instructions
It's best to use a stand mixer fitted with a dough hook. You can also do this by hand or with an electric mixer, but it will take longer.

Combine 2 cups flour, sugar, dry yeast and salt in a large mixer bowl and whisk until blended.

Combine milk, water and butter in a microwave-safe bowl or measuring cup. Microwave on HIGH in 15 second increments until very warm but not hot to the touch, about a minute (120° to 130°F; butter won't melt completely). Add to flour mixture with egg.

Beat 2 minutes at medium speed, scraping bowl occasionally. Add another 1 cup flour; beat 2 minutes at high speed, scraping bowl occasionally. Stir in just enough remaining flour so that the dough will form into a ball.

Knead on lightly floured surface until smooth and elastic and dough springs back when lightly pressed with 2 fingers, about 6 to 8 minutes. Cover with a towel; let rest for 10 minutes.

Make the coating: melt the butter and place in a small bowl. Mix granulated sugar and cinnamon in another small bowl.

Cut dough into 36 pieces (cut in half, cut each half in thirds and each third into thirds again, then each third in halves). Dip each piece into the melted butter and then roll in the cinnamon sugar mixture.

Spray pan with cooking spray. Place dough into pan. Combine remaining butter and sugar and drizzle over rolls. Cover with towel; let rise in warm place until doubled in size, about 45 minutes.

Make the topping: add remaining ¼ butter to the rest of the melted butter in the small bowl and heat until all melted. Add remaning cinnamon sugar mixture to the melted butter along with brown sugar and additional cinnamon. Stir to combine. Pour this mixture over the monkey bread pieces in the pan.

Allow to rise until about doubled in size; approximately 1 hour. It's helpful to place it in a warm place (i.e. on your stove top while the oven is preheating).

9×13-inch baking dish: place dough pieces into single layer. After rising, bake for about 20 minutes or until golden and cooked through.

Fluted tube pan or Bundt pan: bake for about 40-50 minutes, or until golden and cooked through.

Two 9×5-inch bread pans: bake for about 20 minutes, or until golden and cooked through.

12 monkey bread muffins: place 3 pieces in each greased muffin cup. Bake for about 20 minutes, or until golden and cooked through.
Recipe Notes
If you plan to remove from the pan for serving, cool 5 minutes in pan then invert onto serving plate while still hot or it will glue to the pan.
If using unsalted butter, add 1/4 teaspoon salt to the filling.
Recipe slightly adapted from this one.
Recipe Nutrition
Serving:
1
serving
|
Calories:
494
kcal
|
Carbohydrates:
74
g
|
Protein:
7
g
|
Fat:
19
g
|
Saturated Fat:
12
g
|
Polyunsaturated Fat:
1
g
|
Monounsaturated Fat:
5
g
|
Trans Fat:
1
g
|
Cholesterol:
72
mg
|
Sodium:
320
mg
|
Potassium:
152
mg
|
Fiber:
2
g
|
Sugar:
34
g
|
Vitamin A:
607
IU
|
Vitamin C:
0.04
mg
|
Calcium:
78
mg
|
Iron:
3
mg
Nutritional information not guaranteed to be accurate
Last Updated on September 28, 2023