This post may contain affiliate links. For more information, read my disclosure policy.
These Gingerbread Spice Cinnamon Rolls have a maple frosting and are the perfect way to get in the spirit of the holidays!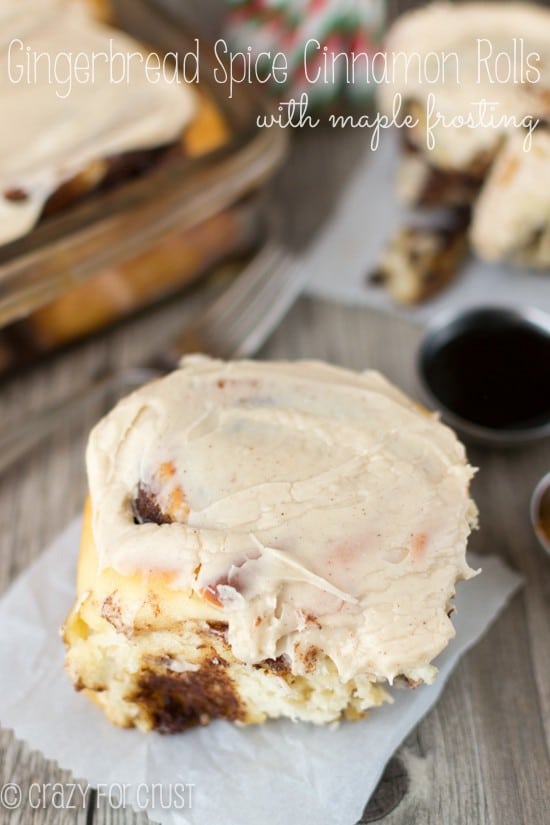 Do y'all do anything special on Thanksgiving morning? Watch the parade? Play a game of family football? Make a special breakfast?
You see, we've never had any Thanksgiving morning special traditions. It was always about the getting ready for dinner: getting the turkey ready, watching my mom and dad make knoepfle (spatsul). Since we've lived here in Northern California, we usually travel on Thanksgiving Day to whichever set of grandparents is hosting dinner.
When I asked Facebook last week, so many people said they make cinnamon rolls, watch the parade, and look at the ads for Black Friday. I never thought about cinnamon rolls on Thanksgiving. But now? Now I will.
And I think these Gingerbread Spice Cinnamon Rolls need to be the first traditional Thanksgiving breakfast we make. Because what better way to get in the holiday spirit than with gingerbread?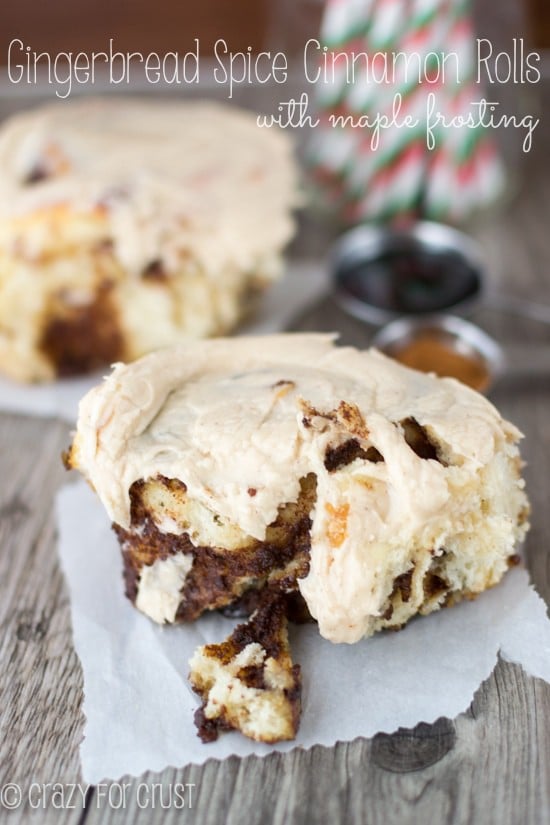 These cinnamon rolls are made using my favorite dough recipe. I've made Peanut Butter Cinnamon Rolls and Zucchini Cinnamon Rolls with this same dough. It works perfectly every time I make it. It's a rich buttery egg dough, perfect for a cinnamon roll.
My favorite part of these cinnamon rolls is the filling: it's gingerbread spice. Brown sugar, molasses, allspice, cloves, nutmeg, and ginger all mix with butter and are rolled inside the dough. The filling really does taste like a gingerbread cookie!
The hardest part about making cinnamon rolls is waiting for the dough to rise, especially in the morning. Here's a trick for you: I make my rolls the day before. This dough rises in about 2-4 hours, depending on the warmth in your house. It needs to double in size. If your kitchen is warm from baking or it's summer, it'll take less time than if your house is cold in winter. Start the dough midday sometime before you want them served. Once it's risen, roll it out and fill it. Slice your rolls and add them to your pan.
Note on roll size: you can make 9 larger rolls in a 9×9″ pan, or 12 smaller ones in a 9×13″. Your choice!
Then, usually around dinner time, the rolls are done and in the pan. I cover them with plastic wrap and place them in the refrigerator. In the morning, I take them out of the fridge and uncover them. Preheat the oven and set the pan near it, so they can start to come up to room temperature. Then you bake them – without having to get up at 3am. This is especially helpful on Christmas morning!
You can also make your maple frosting ahead of time. I love, love, LOVE maple. I think the combination of gingerbread + maple is amazing for these rolls. The frosting is super simple to make and really takes them to the next level. If you make it the day before, store it in the refrigerator. Take it out when you take out the rolls. If it's still too hard to spread when the rolls are ready, you can heat it for about 5-10 seconds in the microwave. Stir, then see if you need to heat it again. Don't heat it too much though, or it'll melt!
These rolls are perfect for any occasion!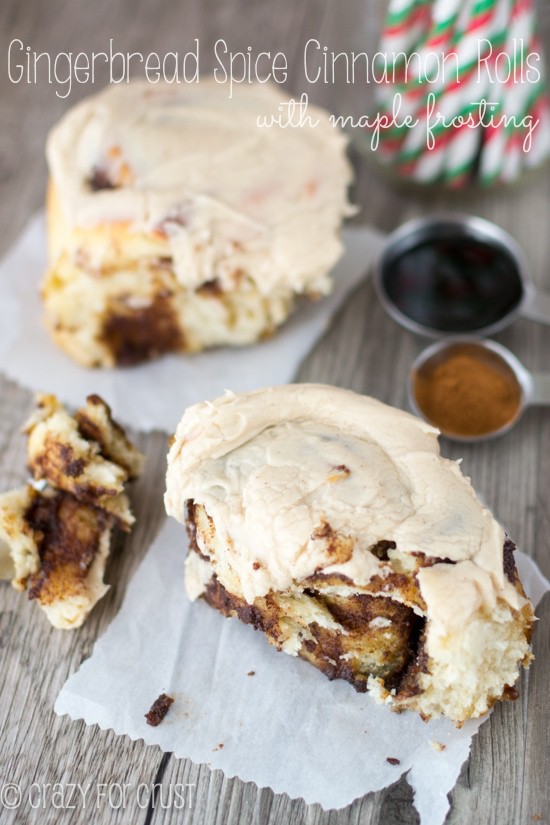 Especially for reading Black Friday ads. Now that's what Thanksgiving is all about, right? #not
Enjoy!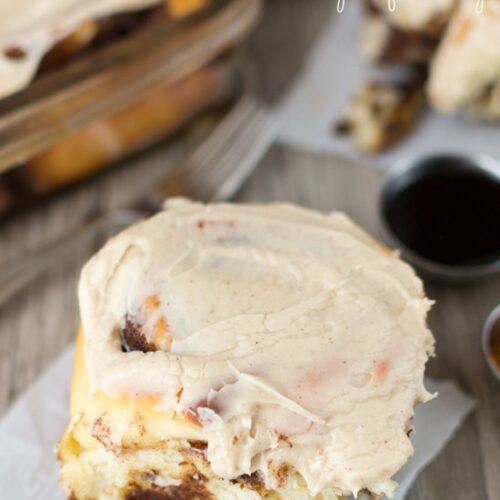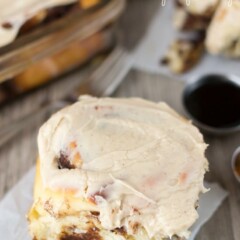 Gingerbread Spice Cinnamon Rolls
Ingredients
For the Dough:
1

package active dry yeast

about 2 1/4 teaspoons

3/4

cup

warm non-fat milk

heated to about 120 degrees, about 30-45 seconds in the microwave

1/3

cup

sugar

3

tablespoons

butter

softened

1/2

teaspoon

salt

1

egg

3

cups

all-purpose flour

plus more for dusting

Paddle attachment & dough hook for your mixer
For the Filling:
6

tablespoons

butter

softened

1

tablespoon

molasses

3/4

cup

brown sugar

2

tablespoons

cinnamon

1

teaspoon

ground cloves

1

teaspoon

allspice

1

teaspoon

nutmeg

1

teaspoon

ground ginger

2

tablespoons

flour

For the Frosting

4

ounces

cream cheese

softened

2

tablespoons

butter

softened

2

tablespoons

pure maple syrup

1

teaspoon

cinnamon

2

cups

powdered sugar

1

teaspoon

vanilla extract

1/4

teaspoon

maple extract
Instructions
Make the Dough: Place milk in a microwave safe measuring cup. Heat for 30-45 seconds in the microwave, until it's about 110 degrees. Add yeast and stir. Let it sit for a few minutes.

Place sugar, butter, salt, and egg in the bowl of a stand mixer fitted with the paddle attachment. Mix until the butter is distributed throughout the liquids, although it may be chunky. Pour in the milk/yeast mixture and stir for a few seconds.

Add flour and stir with the paddle attachment just until the mixture starts to stick to the paddle. Then replace the paddle with the dough hook. Continue mixing on low speed until the dough forms a ball in the center of the bowl.

Spray a large bowl with cooking spray and place the dough ball in it. Spray the top of the dough ball with cooking spray (lightly) and cover the bowl with plastic wrap. Let sit for 2-4 hours until it doubles in size.

Note on rising: if your house is warm, it should rise no problem. If it's cold in your house, it may take longer for the dough to rise, so plan accordingly!

Prepare your Rolls: Stir together butter, brown sugar, flour, and spices until it forms a paste.

Once the dough is risen, roll it out on a lightly floured surface into a large rectangle, about 12" by 9". Spread the filling as evenly as possible over the rectangle, making sure to reach to the sides so the outer rolls have enough filling.

Roll the dough up tightly from the long end. Slice it into 9 equal rounds. Place the rolls into a 9" pan or 9 1/2" round pie plate that has been sprayed with cooking spray.

At this point, you can let them rise for about 30 minutes-1 hour until they are swelling up in the pan and bake as directed. Or you can do what I do: cover with plastic wrap and stick in the refrigerator overnight until ready to bake.

When ready to bake, preheat oven to 350 degrees. If the rolls have been in the refrigerator, remove them and let them warm up while the oven is preheating. Remove the plastic wrap and bake for 20-25 minutes, or until they are golden brown.

Make the frosting: Mix cream cheese, butter, and maple syrup with a hand mixer until well blended. Mix in powdered sugar and cinnamon until smooth, stir in vanilla and maple extract. Frost rolls and serve warm.
Nutritional information not guaranteed to be accurate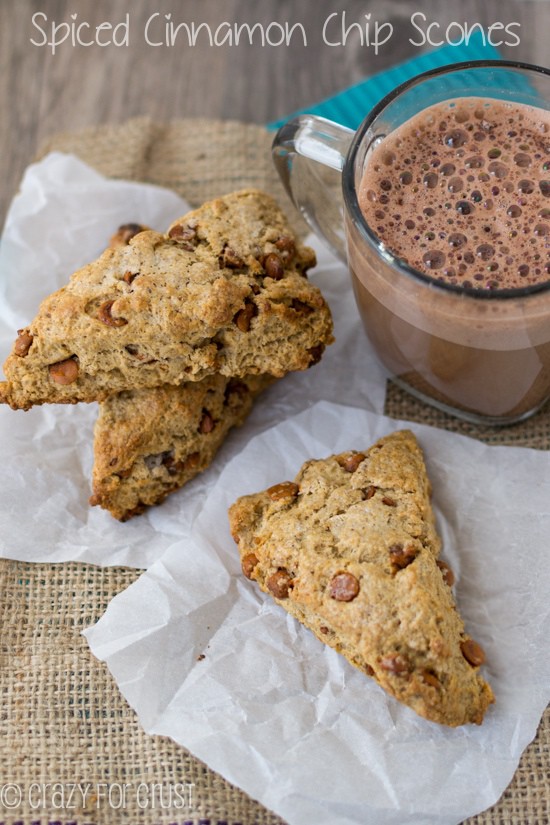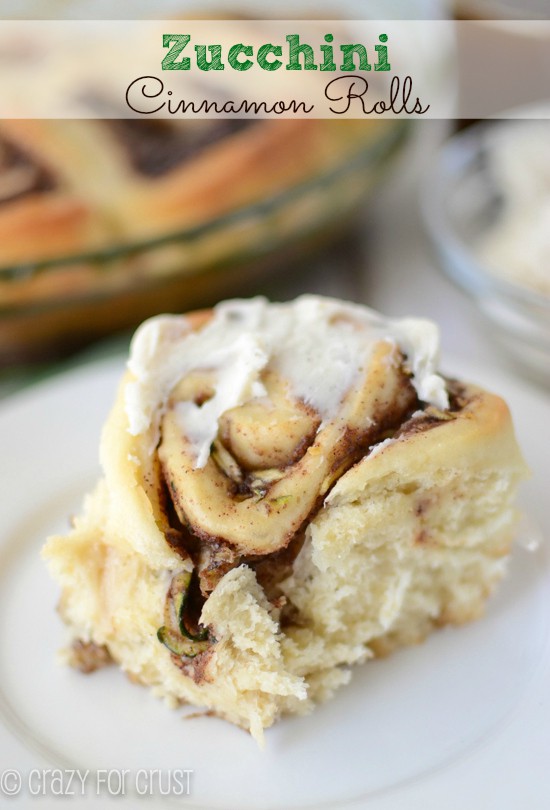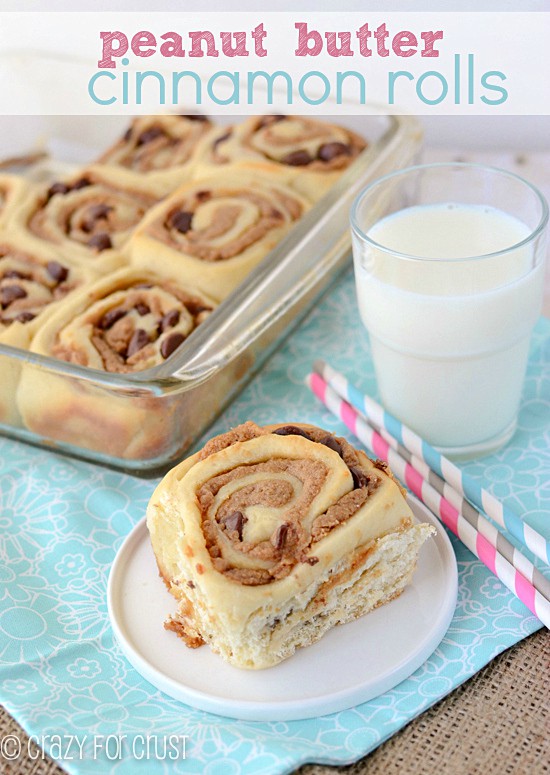 Sweets from friends:
Maple Bacon Cinnamon Roll Whoopie Pies by The Domestic Rebel
S'mores Rolls by Chef-in-Training
Pumpkin Cinnamon Rolls by Something Swanky
Last Updated on February 2, 2023