This post may contain affiliate links. For more information, read my disclosure policy.
Blueberry Sweet Rolls are like cinnamon rolls without the cinnamon – and TONS of lemon in the dough, the filling and the lemon glaze on top. These are a gorgeous sweet roll recipe that's perfect for breakfast or brunch! EVERYONE who tries them absolutely loves them.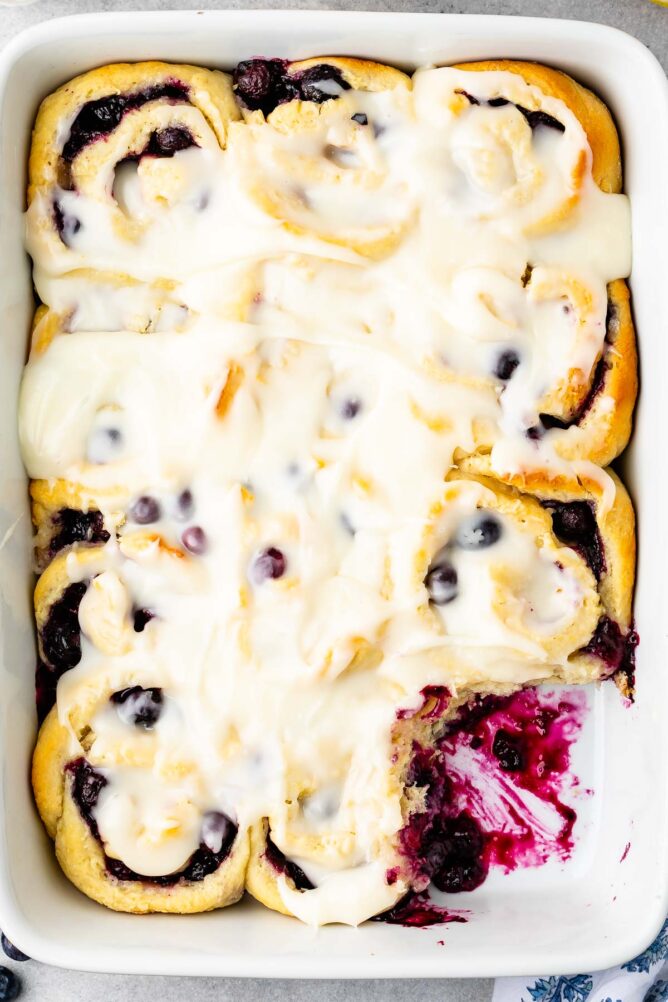 What is a Lemon Blueberry Sweet Roll?
Sweet rolls are like cinnamon rolls, but they don't have any cinnamon.
You will LOVE them because:
Homemade easy sweet yeasted dough – from scratch!
LEMON in the dough, the filling, AND glaze
Fresh or Frozen blueberries in every bite
They're fluffy, soft, sweet – the best blueberry rolls you'll ever eat!
How to make Lemon Blueberry Cinnamon Rolls Video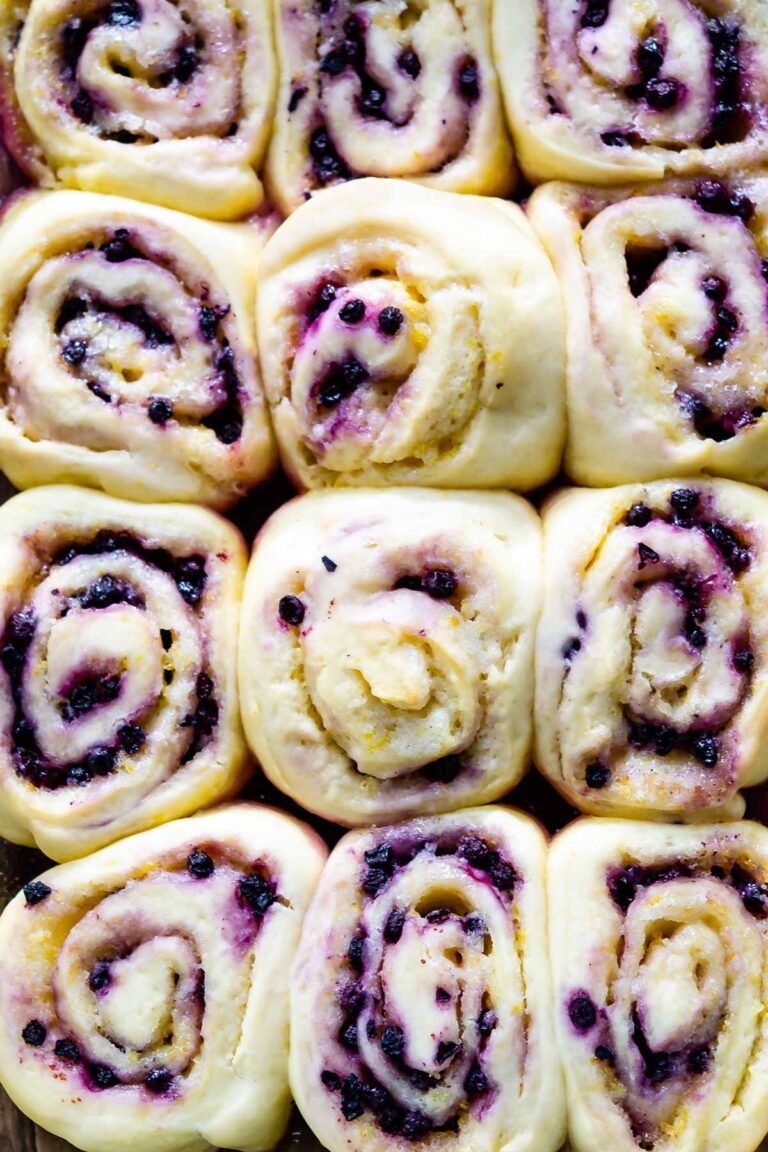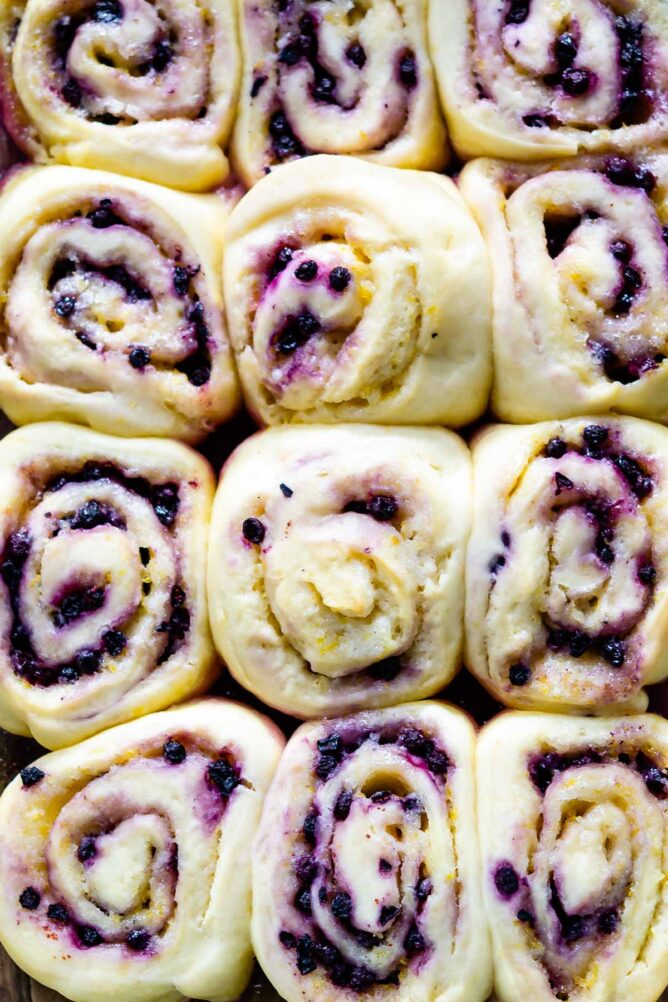 Ingredients in Blueberry Cinnamon Rolls
Yeast: These are blueberry yeast rolls, so you'll need yeast! This recipe is written for Active Dry Yeast, so make sure you use the correct one. Learn more about working with yeast.
Milk: Instead of water, we use milk to make the dough. You can use whole, skim, nonfat or nondairy.
Sugar: You'll need granulated to help the yeast activate, for in the dough, and for in the filling. You'll want powdered sugar for the glaze.
Butter: I prefer using unsalted butter but you can use either that or salted. See recipe notes for how to substitute.
Lemon: You'll want lemon zest for the dough and filling, and juice for the dough and frosting. Learn how to zest a lemon.
Flour: This recipe is written using all-purpose flour. Learn how to measure it correctly.
Egg: Adding an egg to the dough makes for a nice rich and fluffy roll. Use a large egg.
Blueberries: You can use fresh or frozen berries. Be sure frozen berries are thawed and completely drained. You can also use wild blueberries (the tiny ones) if you like.
Cream Cheese: The frosting has cream cheese. Make sure it's room temperature.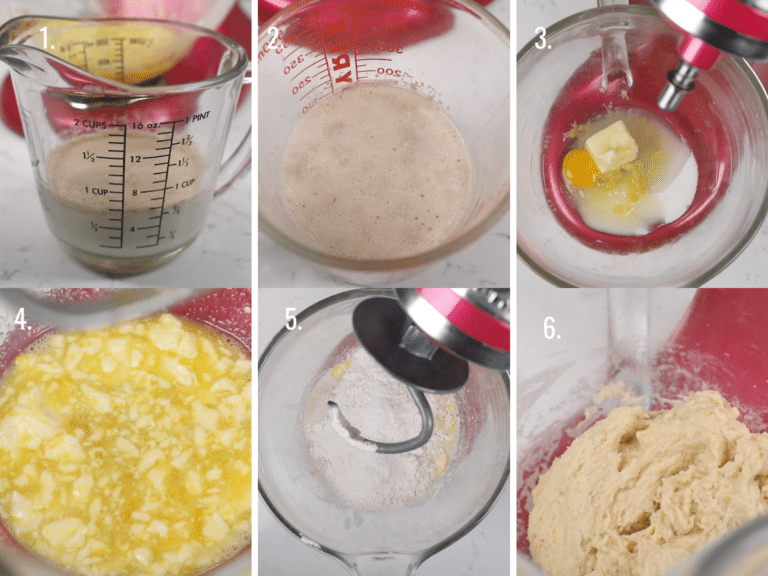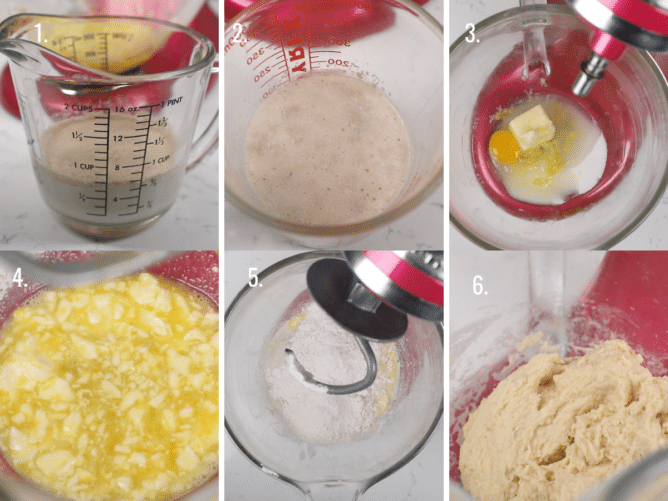 How to make Sweet Rolls Dough
First you need to activate your yeast. Heat milk to between 100-110°F and add your yeast and 1/2 teaspoon sugar. Stir and let sit.
Once it's foamy, it's active and you can add it into the mixer.
While the yeast is proofing, add the sugar, butter, egg, lemon juice and zest, and salt to a mixer.
When it's done mixing, it'll look curdled – the butter won't be totally incorporated. That's okay.
Add the yeast mixture and flour and mix using the dough hook.
The dough is done when it comes together in a ball and there is only a little transfer when you touch it.
Transfer to a bowl and let the dough sit until doubled in size.
How to proof yeasted dough quickly
It'll take 2-4 hours for your dough to rise the first time. A lot of this depends on the temperature in your house. If it's summer and warm, it'll take less time. In winter, it will take longer.
To make your dough rise faster, use the oven. Preheat the oven to 200°F and let it heat for 15 minutes. Then turn the oven off and add the dough in a heat proof bowl (covered with the plastic wrap). Do not put the bowl in the oven if it's turned on – turn it off first. Close the oven and let it sit until it's doubled in size. This can cut the rise time to about an hour.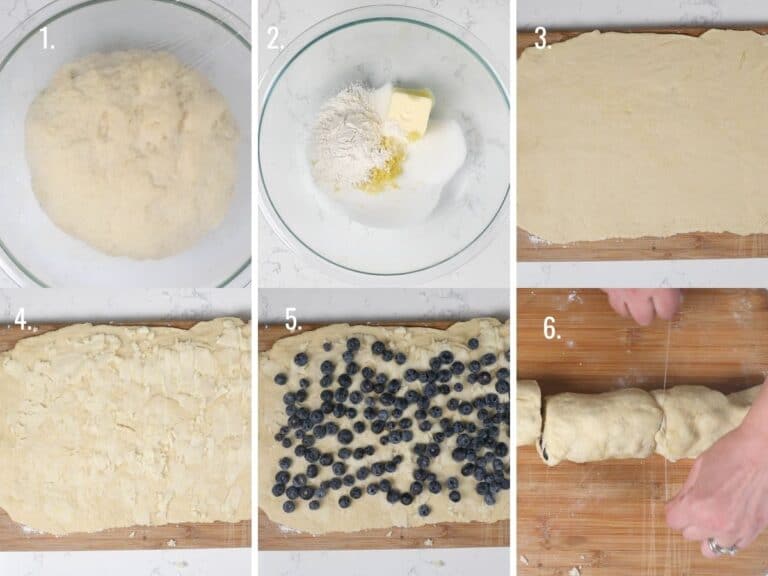 How to Fill Lemon Blueberry Cinnamon Rolls
Make sure the dough has doubled in size.
Make the filling by mixing together softened butter, sugar, lemon zest and flour. If you want, you can add 1 teaspoon cinnamon but we prefer these without it.
Roll your dough into a rectangle about 10×14-inches.
Spread the filling all over the dough.
Top with blueberries and roll it up tightly.
Slice into 12 rolls and place in prepared pan.
Let rise until doubled in size, 1-2 hours. Then bake and frost.
How to Slice Cinnamon Rolls using Dental Floss
This is my secret to cutting yeasted dough: Use unflavored dental floss! Simply cut through the dough with the floss and it'll cut them easy without collapsing them. Way easier than using a serrated knife.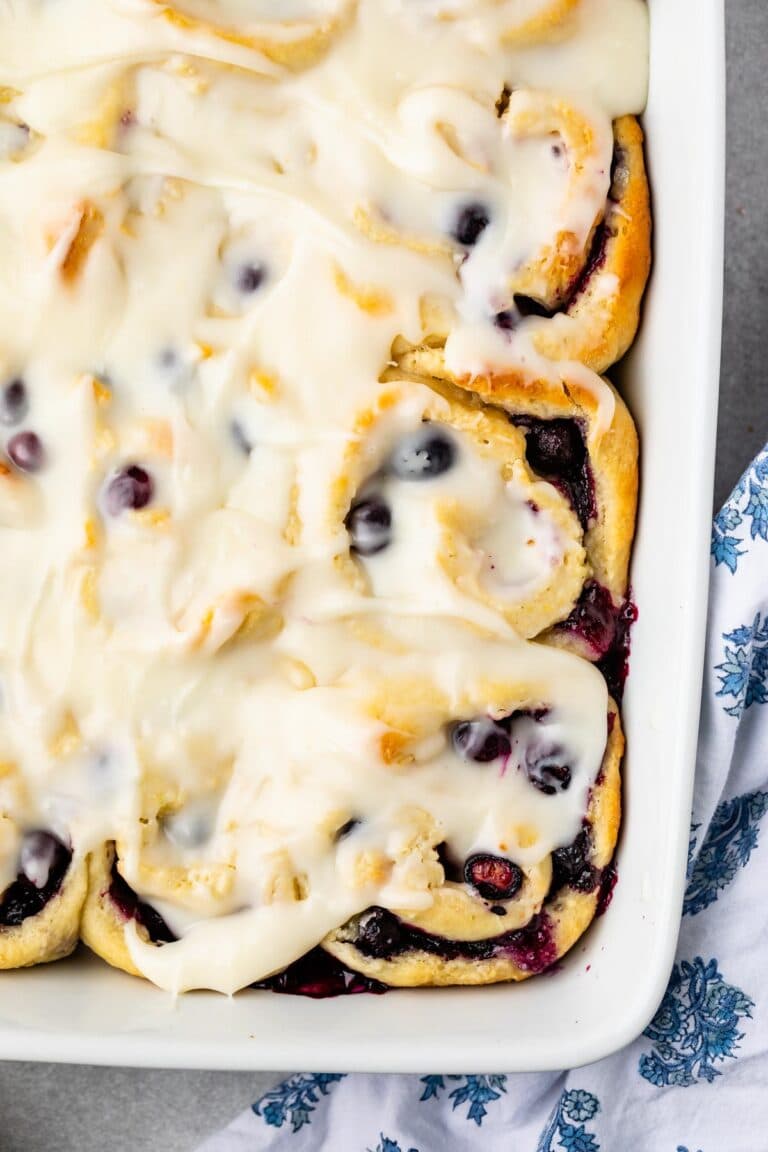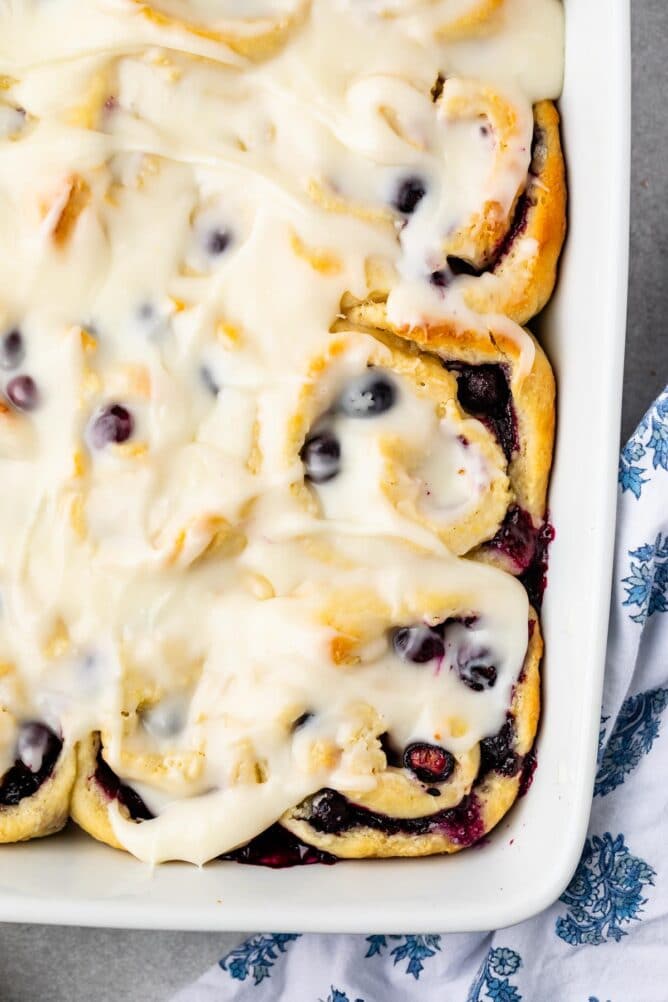 These are the fluffiest rolls I've ever made. And? When you open the oven? All you smell is lemon.
Best Lemon Glaze for Blueberry Rolls
All cinnamon rolls require icing! While Vanilla Buttercream (or Lemon Buttercream) are fantastic, lemon cream cheese frosting is even better.
How to make Lemon Cream Cheese Glaze:
I like using very soft cream cheese so I don't have to use a mixer, but use one if you need to.
Mix the melted butter and cream cheese, then add powdered sugar and enough lemon juice to get desired consistency. I like a pourable but not thin icing, about 1-2 tablespoons juice.
Frost the rolls and serve!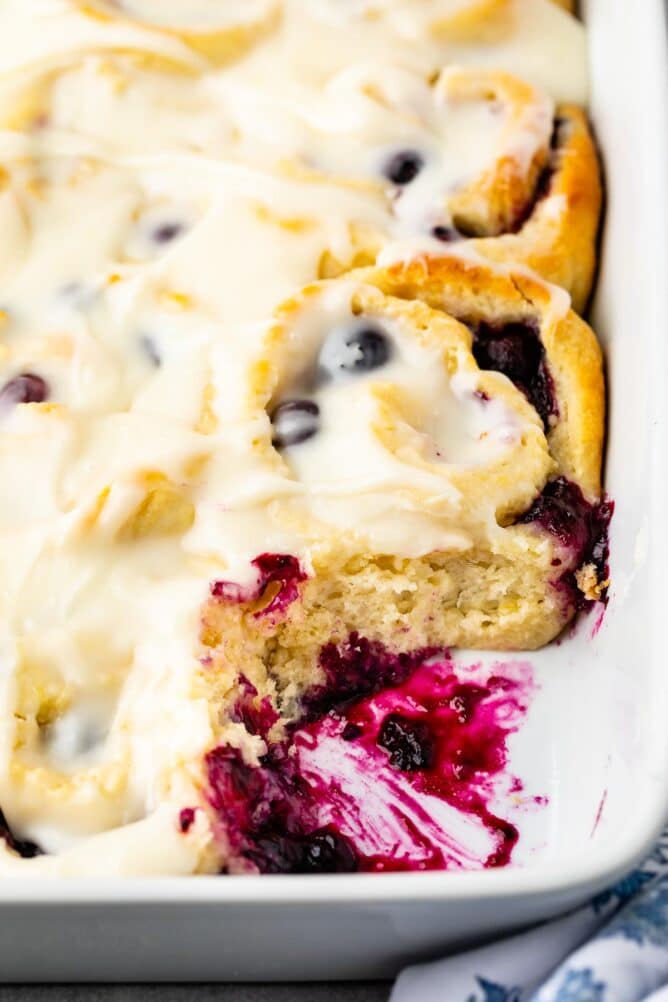 If you kept track all the way though, that means there is triple lemon in these rolls.
Tips for making Sweet Rolls with Blueberries
Use fresh or frozen or canned blueberries. Just make sure they're thawed.
Don't skip the rising steps or your dough won't be fluffy.
Use an oven thermometer to test the temperature of your milk for best results. I love my thermapen most!
Feel free to make these actual cinnamon rolls by adding 1 tablespoon cinnamon to the filling.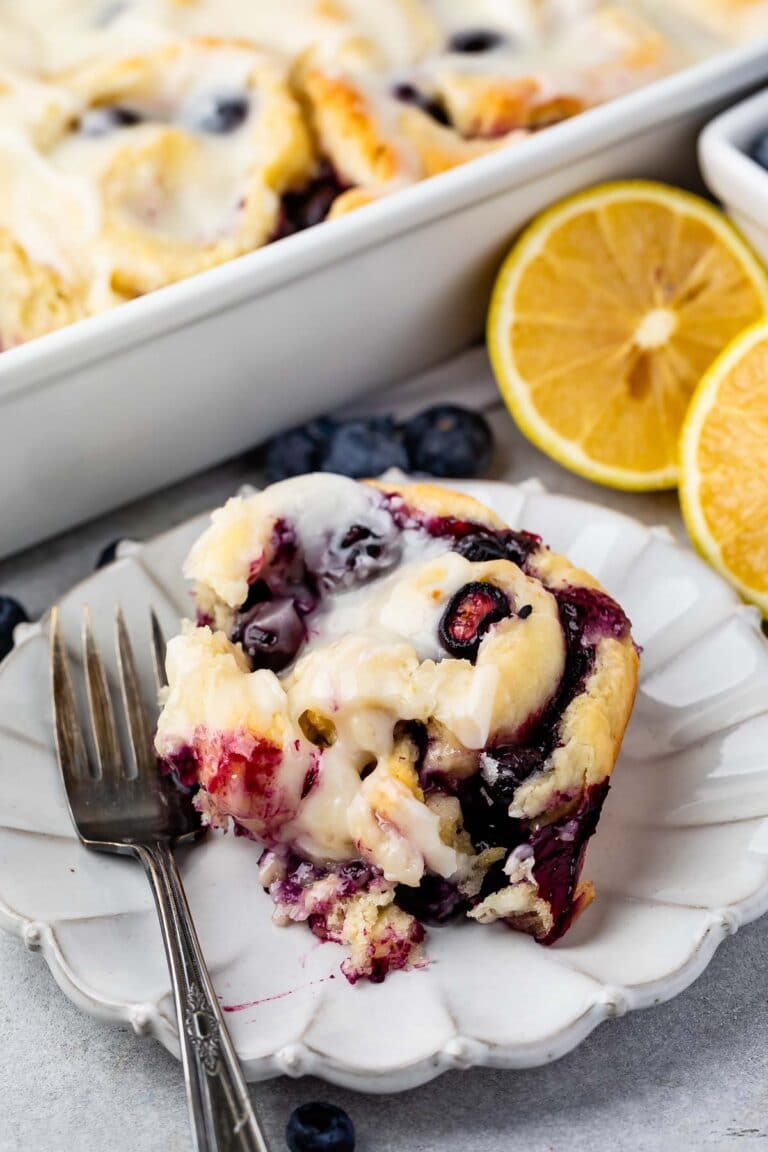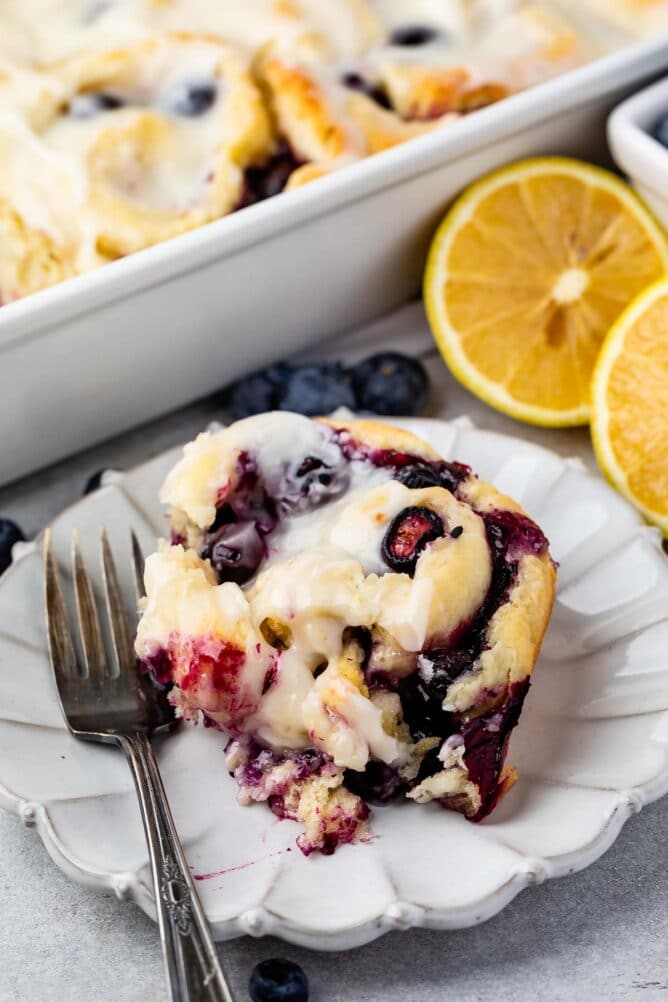 Blueberry Sweet Roll FAQ
What yeast is best for cinnamon rolls?
This recipe was written for Active Dry Yeast, so be sure to use that.
Why didn't my milk yeast mixture foam?
Your yeast might not activate if the water is not hot enough (100-110°F) or if it's too hot it will kill the yeast. Also make sure your yeast is not expired.
What is the best way to make yeast dough rise?
Leave covered, on the counter in a warm dry place. I like leaving it on the stovetop when the oven is on (the warmth will help the rolls rise faster). Or use the oven method: preheat the oven to 200°F for 15 minutes then turn it off. Add your yeasted rolls or dough (using an oven safe bowl or pan) and let it sit in the warm oven to rise.
Do I have to refrigerate these rolls?
No, unless they'll be out for more than a day.
How to store sweet rolls?
Store these tightly covered. You don't have to refrigerate unless they're out more than a day.
Can I freeze cinnamon rolls?
Freeze these before or after baking. You can also freeze the dough before it's rolled out.
Can I make sweet rolls ahead?
You can make the rolls through the filling step (place in the 9×13 pan) and then cover tightly and refrigerate overnight. Let come to room temperature and rise in a warm area while the oven is preheating the next morning.
Other Favorite Recipes
Have you made this recipe?
Tag @crazyforcrust on Instagram or hashtag it #crazyforcrust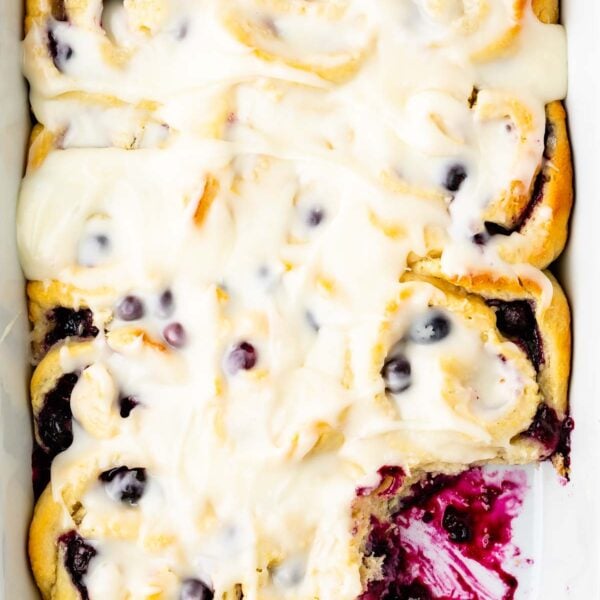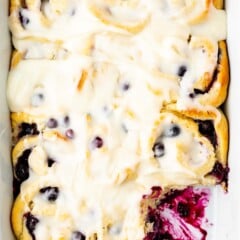 Lemon Blueberry Sweet Rolls Recipe
I used my favorite cinnamon roll recipe and turned it into a lemon sweet roll with blueberries! This is the perfect recipe to use up your lemon stash and it'll make the cold morning feel like spring!
Total Time
5

hours
10

minutes
Ingredients
For the Dough:
⅔

cup

(158ml) warm non-fat milk

think hot bath water, about 45 seconds in the microwave (100-110°F)

1

package

active dry yeast

(about 2 1/4 teaspoons)

⅓

cup

+ 1/2 teaspoon (67g + 2g) granulated sugar

, divided

3

tablespoons

(42g) unsalted butter

, softened

½

teaspoon

salt

1

large

egg

1

tablespoon

lemon zest

, from 1 medium lemon

2

tablespoons

(20ml) fresh lemon juice

, from 1 medium lemon

3 – 3 ¼

cups

(372-403g) all-purpose flour

, plus more for dusting
For the Filling:
4

tablespoons

(57g) unsalted butter

softened

½

cup

(100g) granulated sugar

2

teaspoons

lemon zest

2

tablespoons

(8g) all-purpose flour

¼

teaspoon

salt

2

cups

blueberries

fresh or frozen (if frozen, make sure they are thawed and drained), see note
For the Frosting:
2

tablespoons

(28g) butter

, melted

2

ounces

(57g) cream cheese

, very soft

2

cups

(226g) powdered sugar

¼

teaspoon

salt

1-2

tablespoons

(15-30ml) fresh lemon juice
Instructions
Make the Dough:
Place milk in a microwave safe measuring cup. Heat for 45 seconds in the microwave, until it's between 100-110°F, think hot bathwater. (The time you heat it will need to be adjusted depending on your microwave. You can use a candy or a meat thermometer to test the temperature.) Add yeast and 1/2 teaspoon sugar and stir. Let it sit for a few minutes until frothy.

Place 1/3 cup sugar, butter, salt, lemon juice, lemon zest, and egg in the bowl of a stand mixer fitted with the paddle attachment. Mix until the butter is distributed throughout the liquids, although it may be chunky. Pour in the milk/yeast mixture and stir for a few seconds.

Add 3 cups flour and stir with the paddle attachment just until the mixture starts to stick to the paddle. Then replace the paddle with the dough hook. Continue mixing on low speed until the dough forms a ball in the center of the bowl. The dough will be slightly sticky and elastic. There will be minimal transfer to your finger if you poke it. If it's still very wet, add up to 1/4 cup more flour, 1 tablespoon at a time.

Spray a large bowl with cooking spray and place the dough in it. Spray the top of the dough ball with cooking spray (lightly) and cover the bowl with plastic wrap. Let sit for 2-4 hours until it doubles in size. Note on rising: if your house is warm, it should rise no problem. If it's cold in your house, it may take longer for the dough to rise.
Prepare your rolls:
Mix together butter, sugar, lemon zest, salt and flour until it forms a paste.

Once the dough is risen, roll it out on a lightly floured surface into a large rectangle, about 10" by 14". Spread the filling as evenly as possible over the rectangle, making sure to reach to the sides so the outer rolls have enough filling. Sprinkle with blueberries.

Roll the dough up tightly from the long end. Slice it into 12 equal rounds. Place the rolls into a 9×13" pan that has been sprayed with cooking spray.

Preheat oven to 350°F. Let rolls rise until doubled in size, about 1 hour. I like to place them on the stove top while the oven is preheating so that helps them rise faster.

Remove the plastic wrap and bake for 23-28 minutes, or until they are golden brown.

Make ahead instructions: Cover the rolls with plastic wrap and refrigerate overnight. When ready to bake, preheat oven to 350°F. Remove the rolls from the refrigerator and let them warm up to room temperature while the oven is preheating. Remove the plastic wrap and bake for 23-28 minutes, or until they are golden brown. Note: the blueberries will drain to the bottom of the pan if it sits overnight. That's not a problem.
Make the frosting:
Mix the melted butter and softened cream cheese until mostly smooth. Beat in powdered sugar and 1 tablespoon lemon juice, adding more as desired for thickness. Spread over warm rolls and serve.
Recipe Notes
Milk: use nonfat, 2%, whole or nondairy
Blueberries: Fresh, frozen or canned can be used, regular or wild. Just make sure they are thawed and well drained before using.
Use fresh lemon juice for best results.
Make sure your yeast is not expired.
These are no knead rolls if you're making them using a stand mixer. If doing this by hand, mix until you can't anymore then turn out onto a floured surface and knead until the dough is smooth and elastic. This will take several minutes.
To use salted butter, omit salt in filling and frosting and reduce to 1/4 teaspoon in dough.
Recipe Nutrition
Serving:
1
roll
|
Calories:
463
kcal
|
Carbohydrates:
83
g
|
Protein:
8
g
|
Fat:
11
g
|
Saturated Fat:
7
g
|
Polyunsaturated Fat:
1
g
|
Monounsaturated Fat:
3
g
|
Trans Fat:
1
g
|
Cholesterol:
42
mg
|
Sodium:
191
mg
|
Potassium:
122
mg
|
Fiber:
2
g
|
Sugar:
31
g
|
Vitamin A:
381
IU
|
Vitamin C:
3
mg
|
Calcium:
38
mg
|
Iron:
3
mg
Nutritional information not guaranteed to be accurate
Click here to see the complete list of Lemon Recipes!
Sweets from friends:
The Best Orange Glazed Sweet Rolls by Averie Cooks
Pineapple Coconut Sweet Rolls by Pineapple & Coconut
Honey Oatmeal Sweet Rolls by Barbara Bakes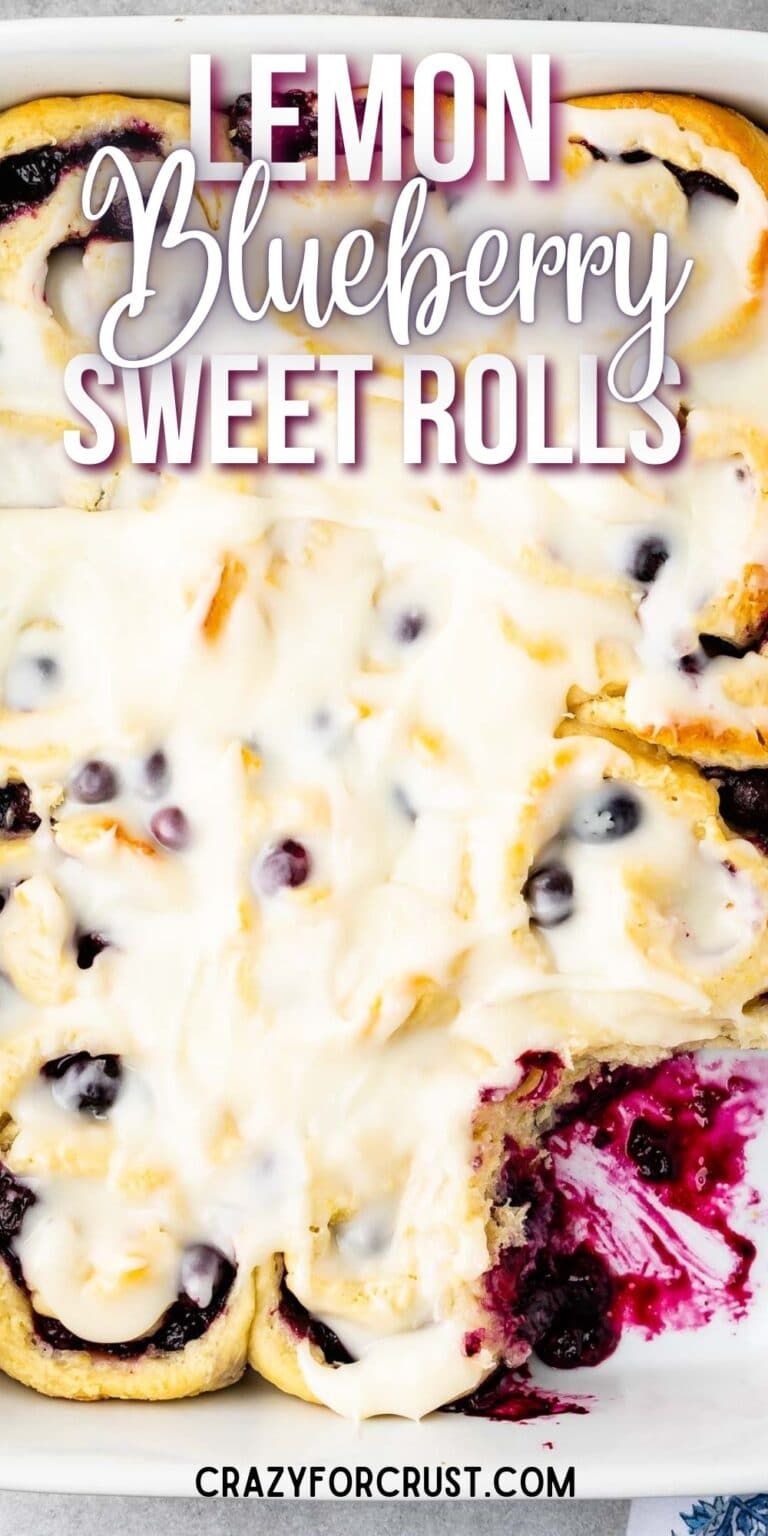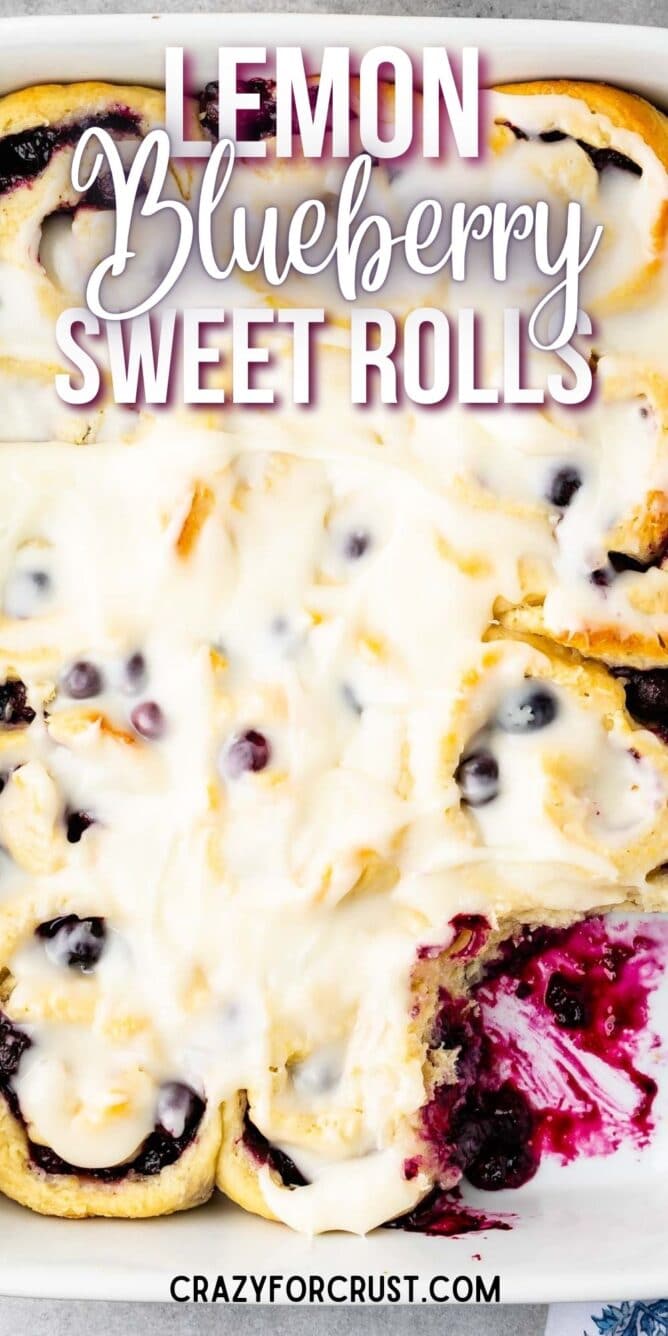 Lemon Blueberry Sweet Rolls are like a blueberry cinnamon roll with tons of lemon flavor – a blueberry roll with lemon glaze. This is the perfect breakfast or brunch recipe made from scratch with homemade yeast dough!
Last Updated on July 9, 2023