This post may contain affiliate links. For more information, read my disclosure policy.
Oreo Truffles are an easy treat that you only need three or four ingredients to make! They are great for cookie platters, gifting, or whenever you want to treat yourself.
I'm showing you various ways to make these Oreo balls so you can customize the ingredients and make your special version.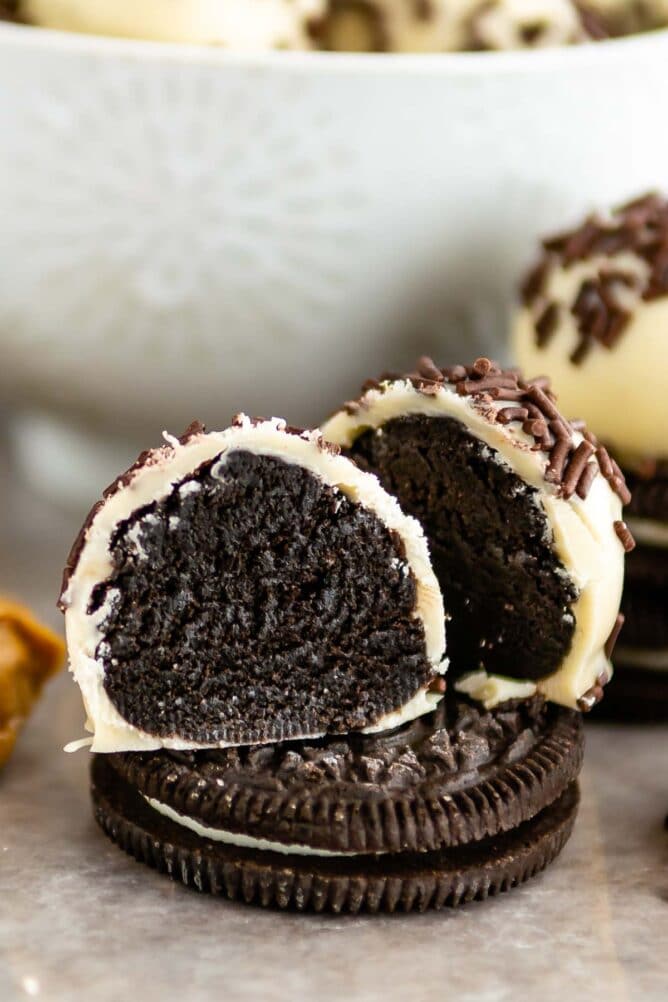 Oreo Truffles are SO EASY
If you've tried Oreo cookie truffles before, you already know how fabulous and omg-delicious they are. But if you've never tried making them yourself, you are in for a very nice surprise. They are a super easy treat that is so fun to make.
Even better is that you can easily customize the coating and decoration to make them your own. I'm showing you a variety of ways to make them so you can switch them every time! First up: this fantastic peanut butter version.
Oreo Truffles? Yes. Oreo Truffles covered in peanut butter? Yes x1000.
Table of Contents
Oreo Truffle Ingredients
For the actual truffle part, you only need two ingredients.
When making Oreo Truffles do you remove the cream? In case you're wondering, you don't have to remove the cream from the cookies to make Oreo truffles. Use the whole cookies!
Oreo cookies
Cream cheese (low-fat works, too!)
That's it – only 2 ingredients to make the base of the truffles. Then you get to choose your coating options (see down below!)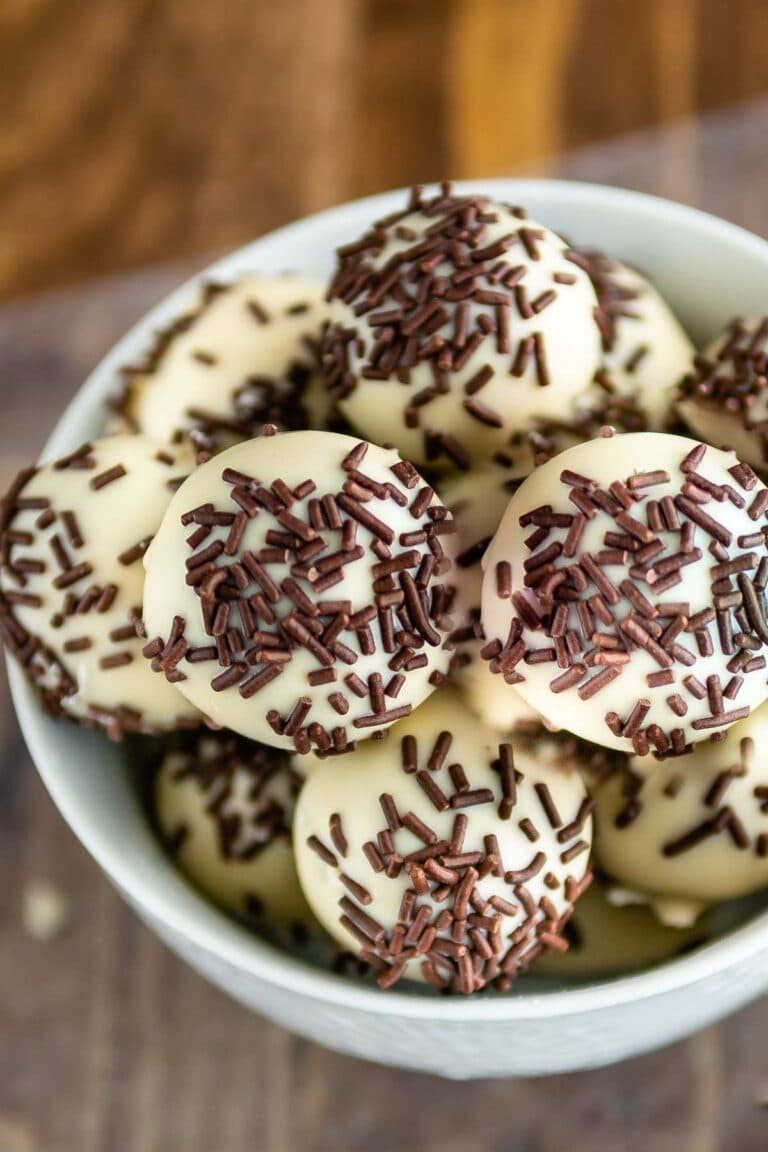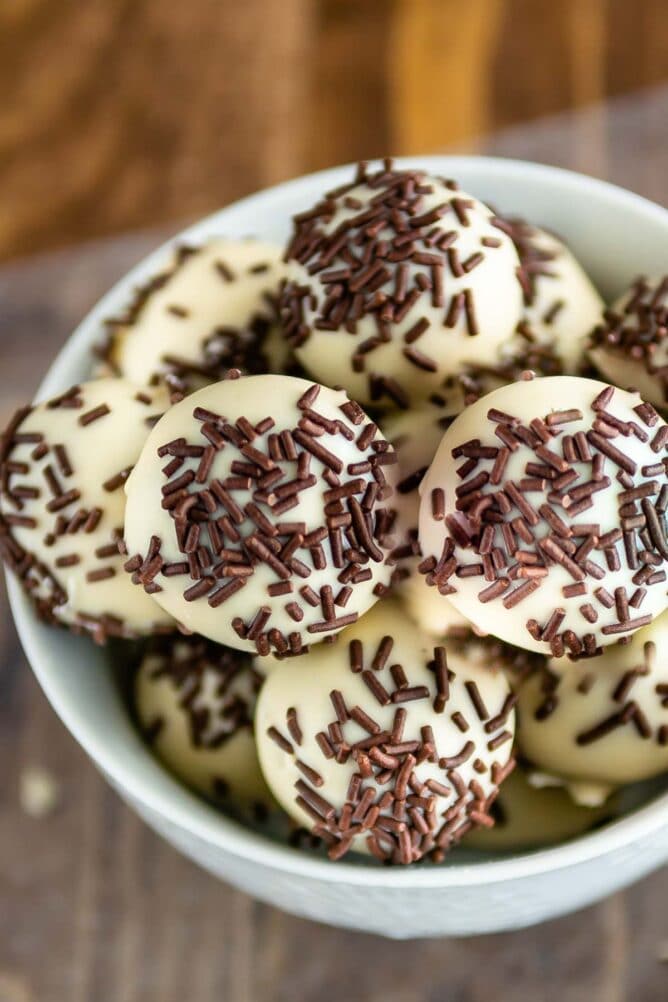 How to Make Oreo Truffles
Process the cookies: Place the cookies in a food processor. You do NOT need to remove the cream – just add the whole cookie. Chop them until the cookies break down to a fine crumb.
Add the cream cheese: add in the cream cheese and process until the cookies form a dough with the cream cheese.
How do you know when your truffles are done mixing? It usually takes about two to three minutes for the dough to come together. If yours is still crumbly, you can add another ounce of cream cheese. You should be able to pack the dough together without it falling apart. That's how you know when it's ready.
Forming the Truffles: Scoop one tablespoon of the truffle mixture to form each ball. Place them on a cookie sheet and then chill them while you prepare the coating.
How to Coat Oreo Truffle Balls
Now for the fun part – coating and decorating your Oreo truffles!
I usually use one of three different coatings:
Plain white chocolate
Plain chocolate
Peanut butter white chocolate.
Sometimes I make all three, so there's a variety.
Coating using plain white or plain chocolate:
I recommend using candy melts, almond bark or Candiquik. You can buy Almond Bark, Candiquik or Ghiradelli Candy Melts at most grocery stores in the baking aisle. Melt them following the package instructions.
Coating using peanut butter chocolate:
For the white chocolate peanut butter coating: melt the white chocolate and, once it's smooth, stir in peanut butter to create a smooth and creamy coating. (Tip: you can also do this with the regular chocolate instead of white!)
Learn how I dip candy and truffles easily.
You will want to keep the coating warm while you dip the truffles. You can work quickly or, if you have one, preheat an electric griddle to 200°F. Cover the top with a dish towel and place your bowl of coating on top to keep it warm.
Dip each truffle into the coating. Spoon the coating over the truffle to evenly coat it.
Place the truffle on a fork and gently tap it to allow the excess coating to drip off.
Place the coated truffle on a baking sheet lined with parchment paper. Repeat with the rest of the truffle.
Do a Second Coating for the Best Oreo Truffles!
A second dip is optional, but I like to do a second coating so that the truffles have a nice, even coating. If you use white chocolate, sometimes you can see the dark truffle through the coating – doing a second coating helps fix this.
Depending on how cold your kitchen is, the truffles may harden while you are finishing coating them. In this case, go ahead and dip them again. If they are still wet, place the cookie sheet in the refrigerator until the coating hardens. Then you can dip them again.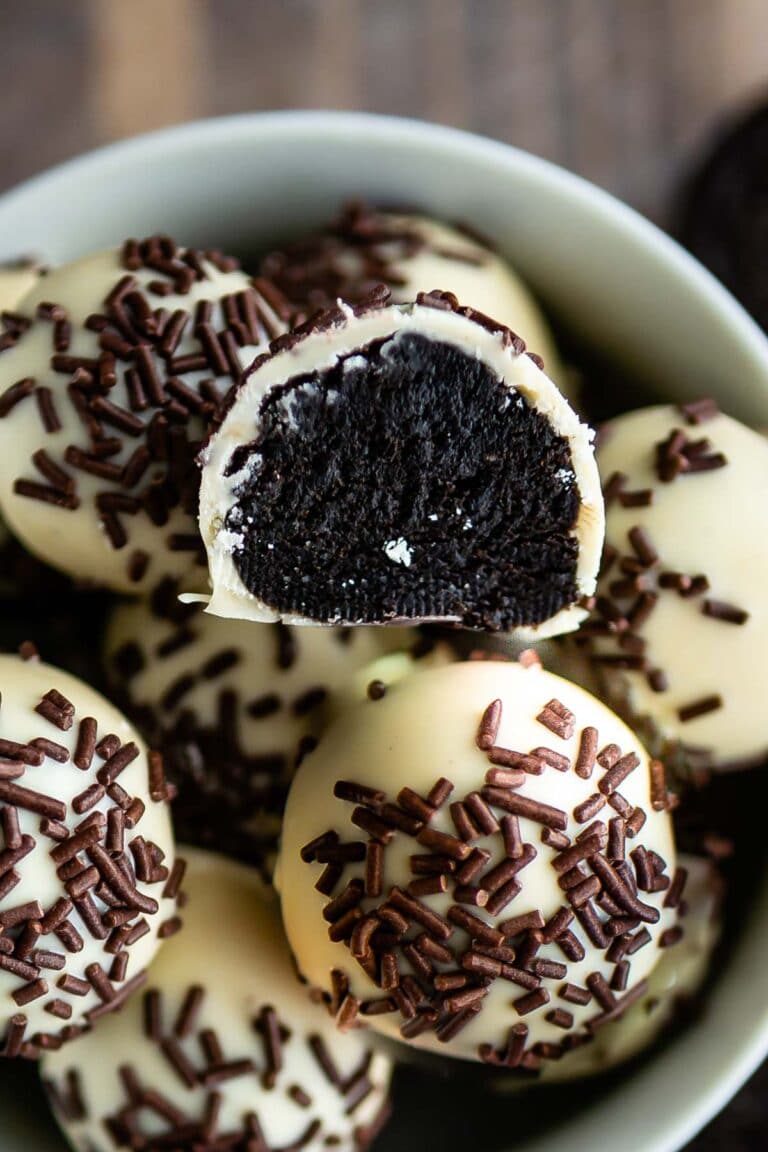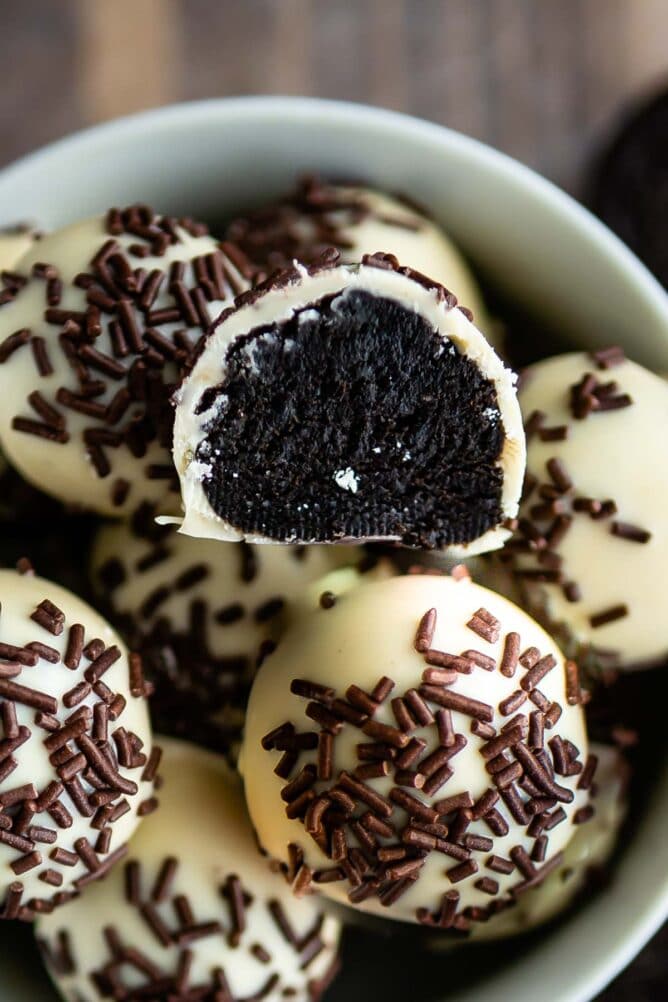 Decorating Truffles
As soon as you do the second dip, while the coating is still wet, top the truffles with the sprinkles. Or, skip the sprinkles and try some of these toppings to switch it up:
Finely chopped nuts like peanuts, almonds or walnuts
Finely crushed Oreo cookies
Drizzle the tops with melted chocolate
Finely crushed peppermints
Mix and match the flavors and textures to make your own special Oreo truffle recipe!
How long do Oreo Truffles last?
Store the truffles in the refrigerator, and they will keep for several weeks. Because they last so long, they are great during the holiday season – I usually make a big batch and keep them on hand for last-minute treats and gifting.
It's important to keep them chilled because of the cream cheese. If they sit out at room temperature for too long, they will soften, and the inside might start to crumble. So, keep them chilled for best results.
I've never met an Oreo truffle I didn't like, and the white chocolate peanut butter ones are to die for! No matter how you choose to coat and decorate them, you will want to give these treats a try. They are so addicting and so good I bet you can't just eat one.
Other Oreo Favorites
Have you made this recipe?
Tag @crazyforcrust on Instagram or hashtag it #crazyforcrust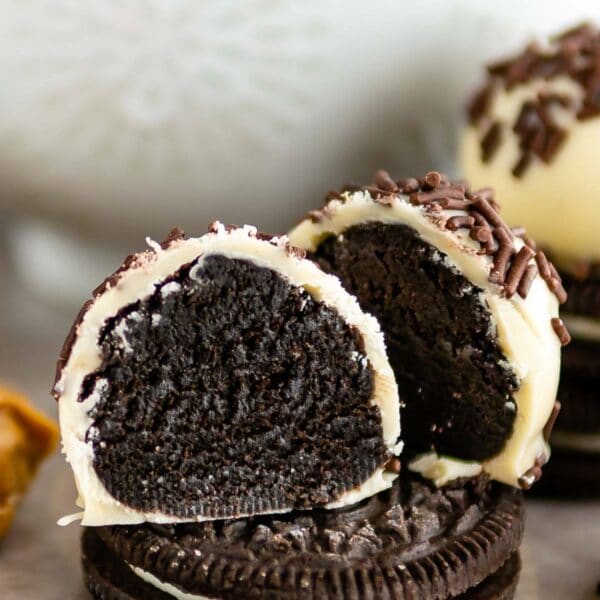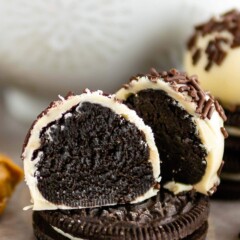 BEST Oreo Truffles Recipe
Oreo Truffles are the perfect easy no bake recipe with just 3 ingredients! You can coat these in chocolate, white chocolate, or peanut butter chocolate! This is the perfect candy recipe for the holidays.
Dipping & Chilling Time
1
hour
Total Time
1
hour
15
minutes
Ingredients
1

14 ounce package

Oreo Cookies

(about 36 cookies)

8

ounces

cream cheese

16

ounces

candy melts

see note

2

tablespoons

creamy peanut butter

optional, see note

Sprinkles or additional crushed cookies

for garnish
Instructions
Place Oreos and cream cheese in the bowl of a food processor. Run the processor until the mixture comes together. This took mine about 1-2 minutes. You do not need to take the cream out of the cookies!

Scoop 1 tablespoon sized balls, roll them between your palms, and place them on a wax paper lined cookie sheet. Chill while you prepare your candy.

For regular chocolate covered truffles: Melt chocolate according to package directions. I like to heat mine in 30-60 second increments, stirring between each, until it's melted and smooth.

For peanut butter coated truffles: Melt chocolate according to package directions. Halfway through melting, add the peanut butter to the bowl. Stir often, until smooth. (I heated mine for about 1 1/2 minutes on HIGH, stirring every 30 seconds and adding the peanut butter after 45 seconds.)

Tip: heat an electric griddle to 200°F and line it with a kitchen towel. Place your bowl of melted candy on the griddle so it stays melted during dipping.

Dip each truffle in the candy and tap off the excess. I use a spoon to coat the candy, then I place the truffle on a fork and tap off the dripping candy. Use a toothpick to carefully transfer the truffle from the fork back to the cookie sheet. Repeat with all the truffles.

Second dipping: only needed if you don't like the way the dark truffle looks through the white chocolate. If it's cool in your house and the truffles have hardened by the time you dip them all, re-dip immediately. If they're still wet, chill until hardened, then do the second dipping. We're double dipping because the dark truffle shows through the light coating. The second dip is optional.

Decorate with sprinkles while still wet. Chill until set.
Recipe Notes
Candy Melts: use melts that you find in the baking aisle (not chocolate chips) for best results. Usually you can find Candiquik, Almond Bark, and/or Ghiradelli Candy Melts in the regular grocery store.
Recipe Nutrition
Serving:
1
truffle
|
Calories:
55
kcal
|
Carbohydrates:
4
g
|
Protein:
1
g
|
Fat:
4
g
|
Saturated Fat:
3
g
|
Cholesterol:
7
mg
|
Sodium:
30
mg
|
Potassium:
14
mg
|
Fiber:
1
g
|
Sugar:
4
g
|
Vitamin A:
85
IU
|
Calcium:
7
mg
|
Iron:
1
mg
Nutritional information not guaranteed to be accurate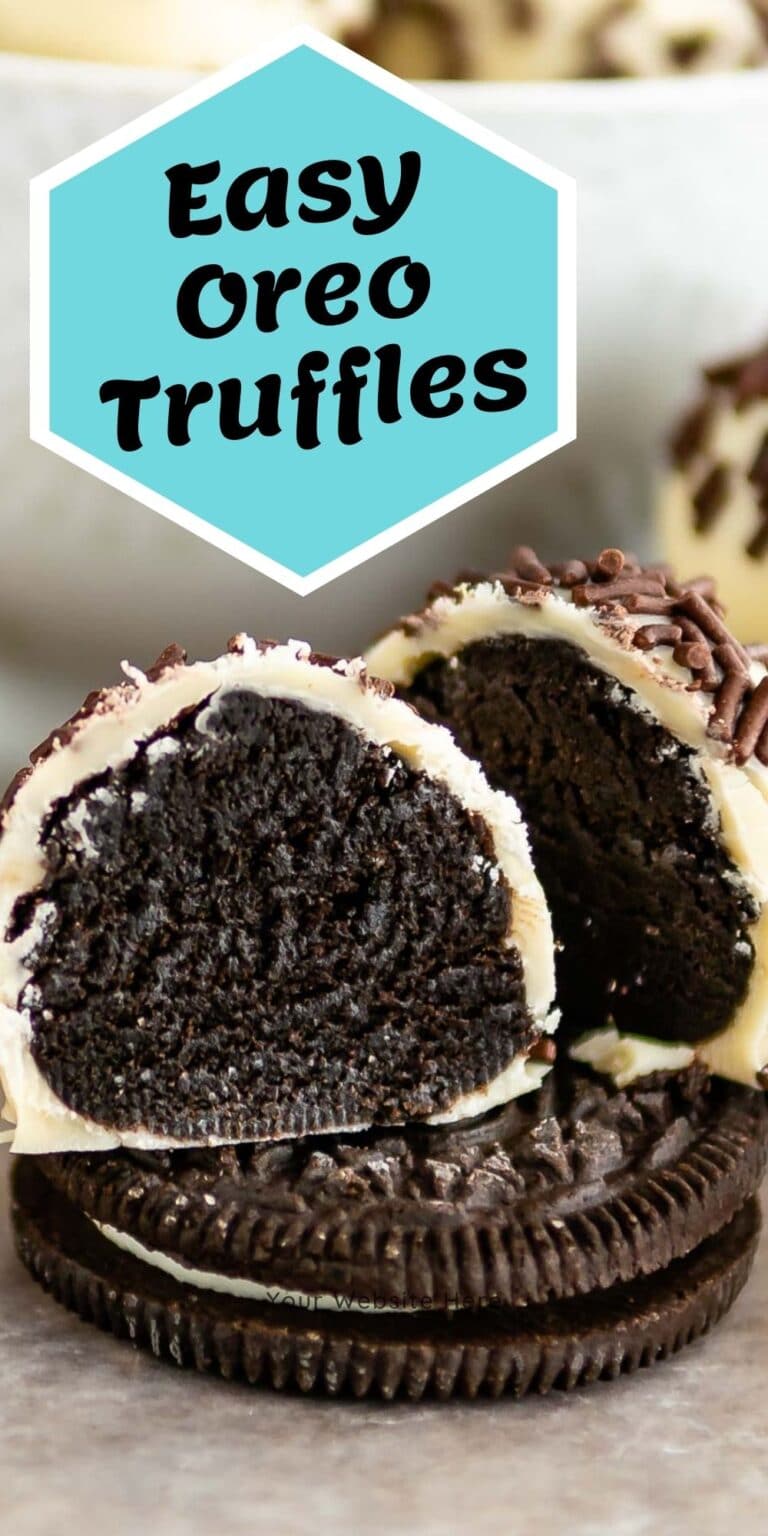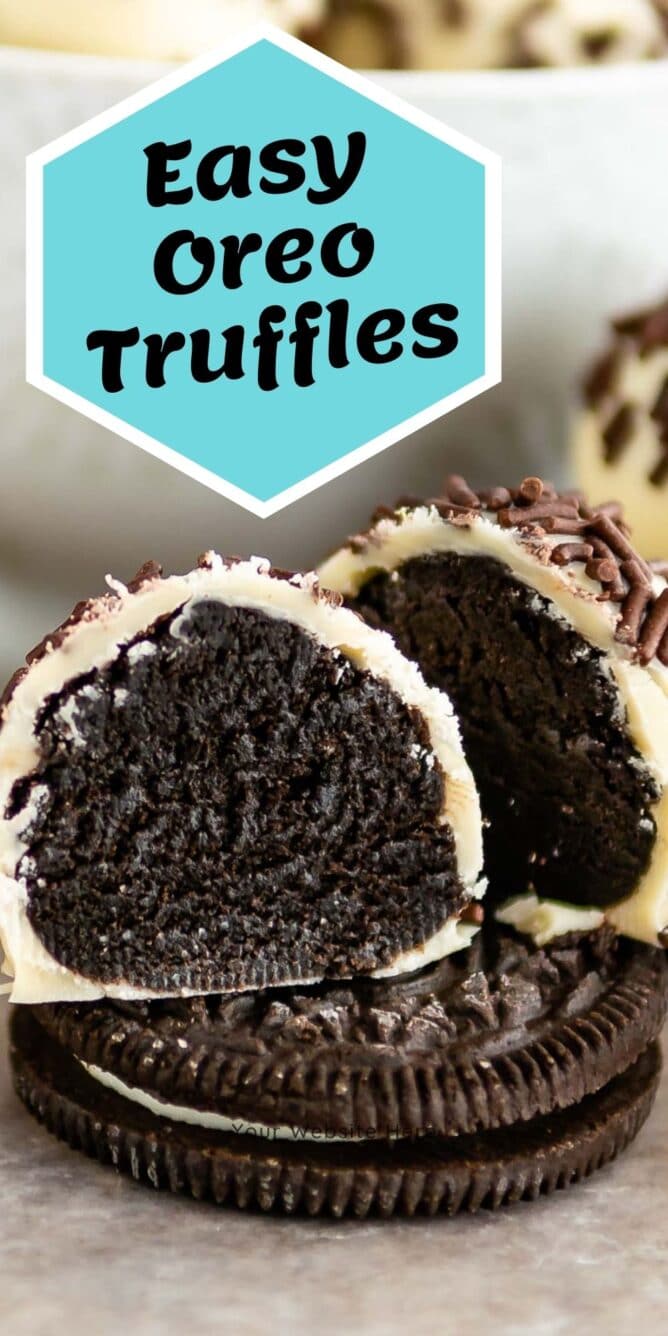 Oreo Truffles are the perfect easy no bake recipe with just 3 ingredients! You can coat these in chocolate, white chocolate, or peanut butter chocolate! This is the perfect candy recipe for the holidays.
Last Updated on November 10, 2020