This post may contain affiliate links. For more information, read my disclosure policy.
Holy cow. Easy 3-ingredient Nutella Truffles. Because sometimes you just need chocolate, am I right?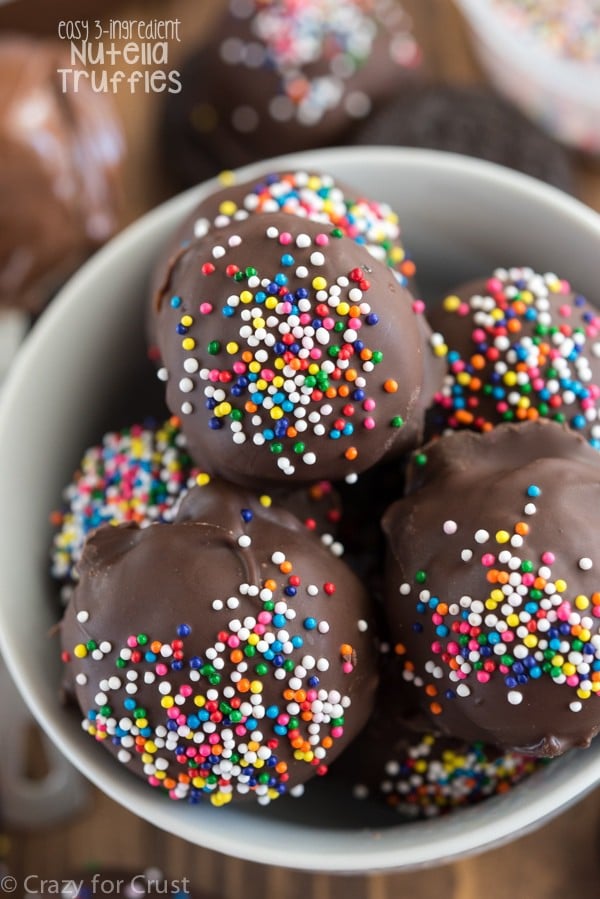 Jordan's in the 5th grade this year, and 5th graders get to join the band. I was kind of shocked that music still existed in the public school system, but she was all excited when she brought home the flyer. I was excited too, remembering back to my clarinet playing days.
The kids had just a few instruments to choose from and Jordan picked the violin. Lord help us all.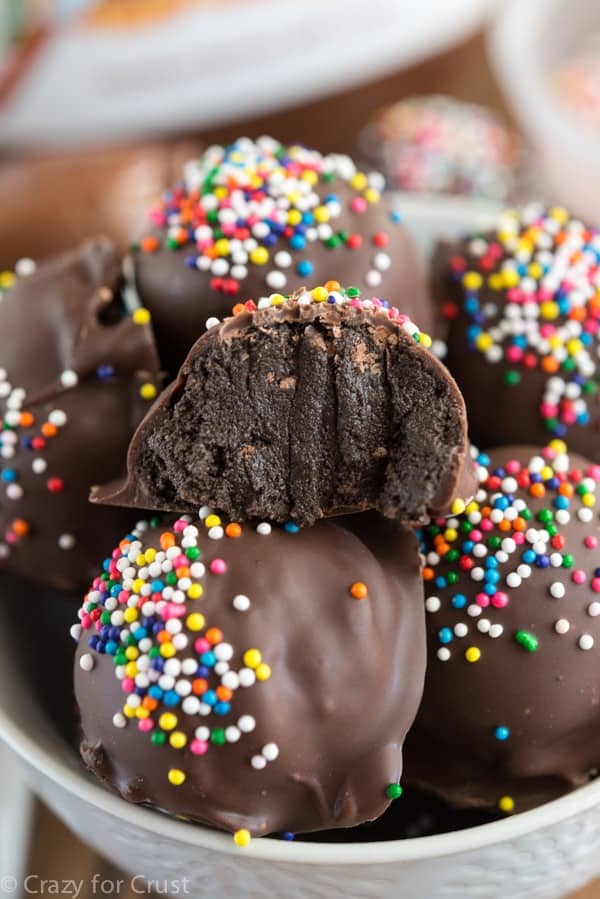 I'm sort of kidding, I love how the violin sounds…when the Dixie Chicks play. So I'm sure a 10 year old who totally pays attention to everything teachers say will play and sound just fine. Right?
It really doesn't matter how it sounds though, it's supposed to be fun. I expect her to enjoy herself right up until Tuesday night after the first session…when they remind her to practice for 20 minutes every day.
20 minutes of violin practice vs 20 minutes of watching daily routines on YouTube. Hmmm….I'm really not sure which one will win.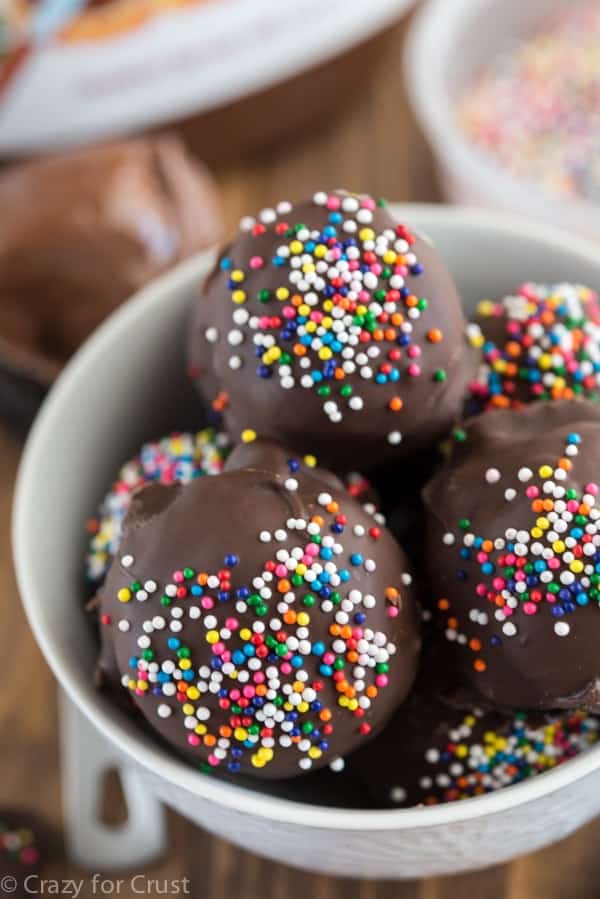 Something that will win and is way easier than playing violin? These Nutella Truffles. Oh my gosh, y'all. You can make them when you don't even have a kitchen. #truth
(Seriously, I'm wondering what conversations the construction guys are having at lunch. "What is that chick doing? Why is she running a food processor in her office? Why is she standing on a chair taking pictures of food? Is she jonesing for chocolate that much?")
Yes, yes I am jonesing for chocolate that much that I need to make truffles no matter what. Especially when those truffles are made of just 3 ingredients: Nutella, Oreos, and chocolate.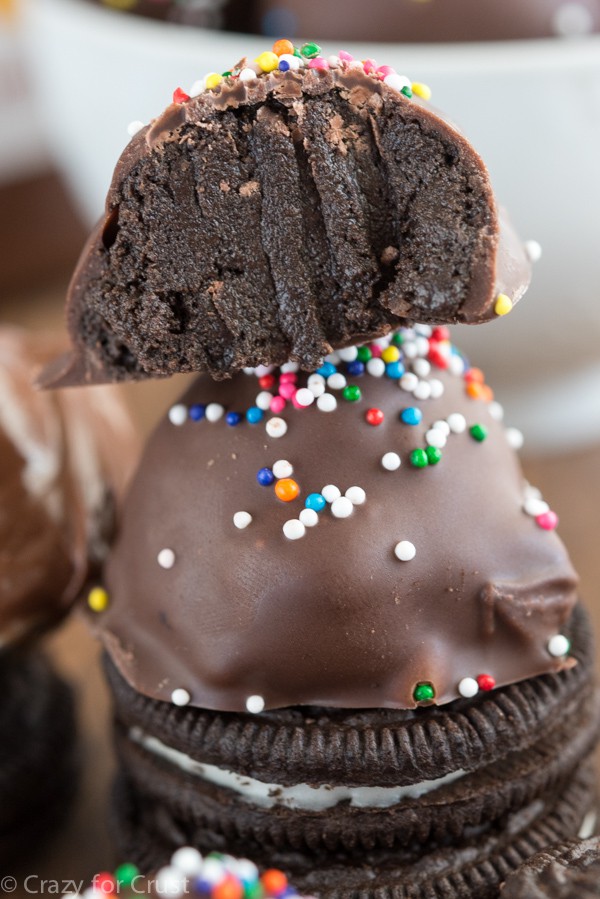 I'm sure by now you've all seen that 3-ingredient Nutella Brownie video that's going around on Facebook. I've actually seen that recipe making the rounds on blogs for awhile. I've never tried it but it looks really good and last week I was craving it. The problem is I don't have an oven and I'm afraid to bake in my toaster oven. What's a girl to do?
Hint: Make a No-Bake version of a 3-ingredient Nutella recipe!!
I decided to combine my love of Nutella with my love of Oreo truffles (you know, the Oreo + cream cheese recipe.) But instead of cream cheese, I used Nutella. And if you don't like chocolate hazelnut spread, you can use any chocolate spread out there. Hershey's, Reese's, and some peanut butter companies all make versions. You could even use Golden Oreos!
All you need for this recipe are Oreos, Nutella or other chocolate spread, melting chocolate (for dipping), and a food processor. That's it!
A few notes about this recipe:
Let the cookies and Nutella process for awhile,

at least a minute

depending on your food processor. It'll start to form a ball, that's how you know it's done.
The batter was quite soft when it was done processing. I scooped out 1 tablespoon balls of truffle dough and

chilled them for an hour until they were firm enough to dip

. If you find that your mixture is too soft to scoop, chill it for 15 minutes, then scoop it, then chill it again.
I prefer to use

melting chocolate

for dipping truffles because it melts easier than chocolate chips (no seizing) and dries better. You can buy melting chocolate, like Candiquik or almond bark, in the baking aisle. I melted 8 ounces but used about 6 ounces. It's better to melt more than you think you'll need! See my how to dip truffles without crying post for tips!
These truffles taste better than the beginning violin sounds. In case you were wondering!
Enjoy! I sure did. 🙂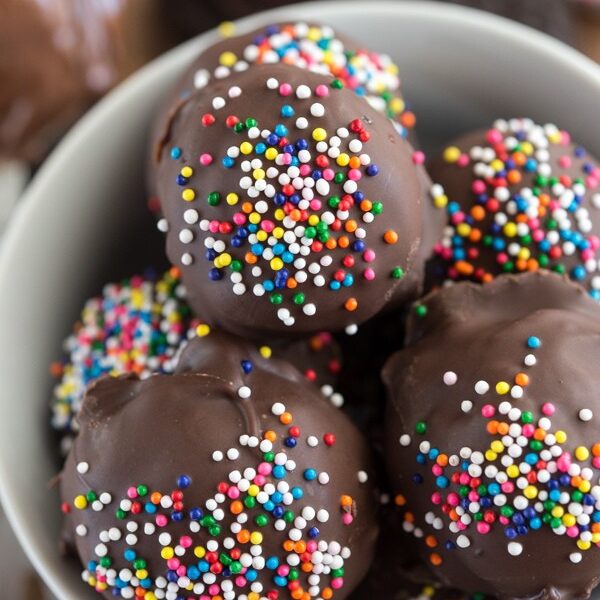 3 ingredient Nutella Truffles
These EASY Nutella Truffles have only 3 ingredients. They're fast to assemble using a food processor and they're rich, fudgy, and oh-so-chocolatey! Perfect for an indulgent treat or gift!
Ingredients
20

Oreo cookies

5

tablespoons

Nutella

or other chocolate spread

6-8

ounces

melting chocolate

such as Candiquik or almond bark

Sprinkles

optional
Instructions
Place Oreos and Nutella in a food processor. Process until a smooth mixture remains and a ball starts to form while the processor is running. This will take at least a minute, depending on your food processor.

If truffle mixture is too soft to roll, chill for 15 minutes. Otherwise, scoop 1 tablespoon balls of truffle dough onto a wax paper lined cookie sheet. Chill at least one hour. (I do not recommend chilling the mixture that long until after you've scooped the truffles. It becomes hard and hard to scoop, so if you need to chill the dough first, just do it about 15 minutes, then scoop, then chill again.)

Melt chocolate according to package directions. I like to use melting chocolate like Candiquik and almond bark because it's easier to melt and won't seize like chocolate chips often does. You can find this chocolate in the regular baking aisle. My chocolate melted in about 1-1/2 minutes on high power, and I stirred it every 30 seconds.

Dip each truffle in the chocolate, tap off excess, and place back on cookie sheet. Sprinkle with sprinkles, if desired. Chill to set. Store in refrigerator for up to 5 days.
Nutritional information not guaranteed to be accurate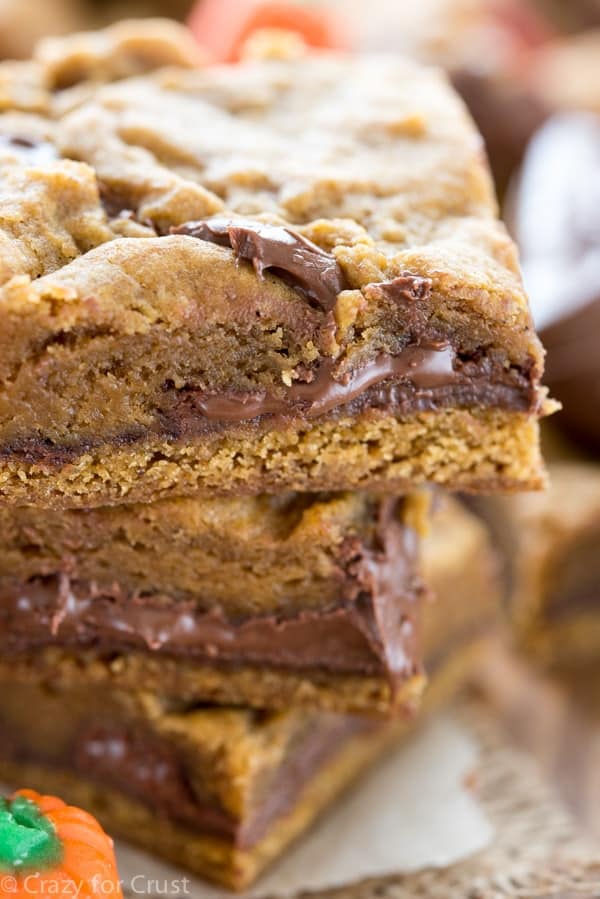 Peanut Butter Covered Oreo Truffles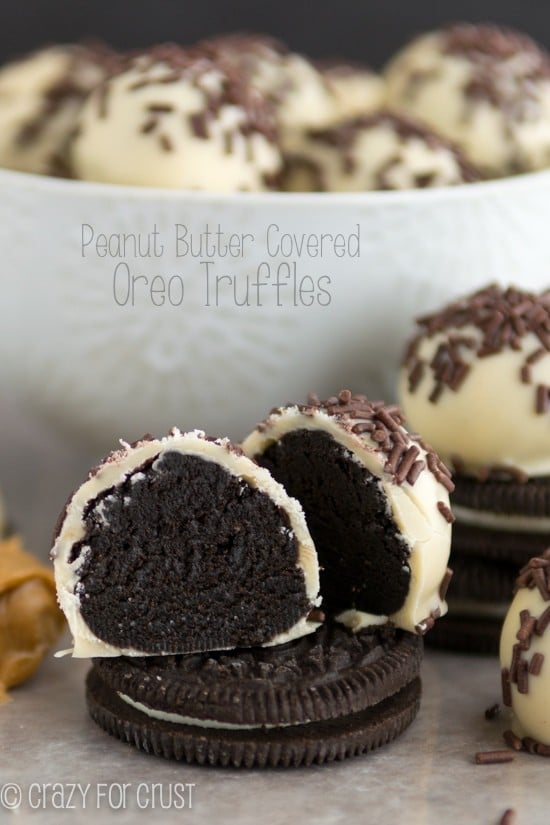 Oreo Truffle Chocolate Chip Cookie Bars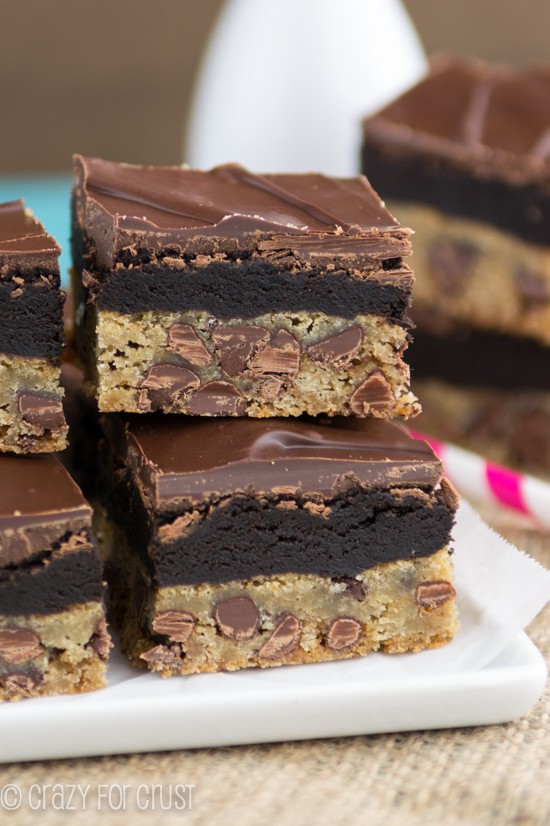 Sweets from friends:
Nutella Stuffed Brown Butter Blondies by The Food Charlatan
Nutella & Sea Salt Sugar Cookies by Cookin' Canuck
Nutella Pretzel Brownies by Chef in Training
Last Updated on August 21, 2018