Reese's Fudge
Reese's Fudge combines two amazing things: chocolate fudge and Reese's Peanut Butter Cups. It's a chocolate fudge…with a Reese's crust!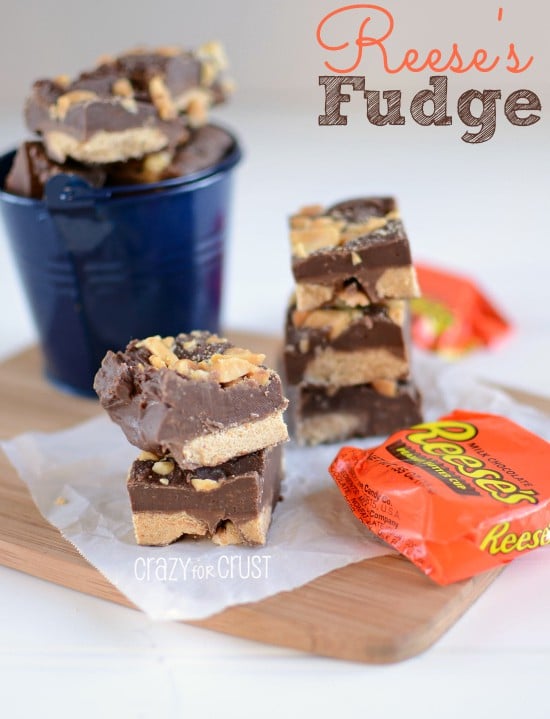 Today is a special day. It's not just "eat my weight in Reese's" day, nope. Today is Ashton's Housewarming party! You know Ashton, right? My BFF from Something Swanky? Of course you know her. She's awesome.
Way back a few years ago, I kept getting comments from this chick named Ashton. She invited me to her linky party, and kept leaving sweet notes on all my sugar. Most days, she was the only comment! After awhile I realized I was supposed to return the favor and visit her (yeah, I'm slow sometimes) and we began our blogging friendship.
For a long time we've called ourselves the dessert twins: so many times I've posted something and she's written to say "OMG! I just made that!"
And then there was Online BlogCon. That experience turned us from blogging friends into real-life ones. You get to know someone pretty well when you're on FB chat with them all day and you're drunk on exhaustion and too much sugar from all the work you're doing.
Ashton's moved a few times since I've known her, so why is today a big deal? Because she's finally moving into a house, with a lawn, where there's space and her daughter can play outside. And you know what? Her blogging allowed her to do it.
So yeah, she's inspirational. And my friend. And super awesome because she makes magic bars and poke cakes and gives me a virtual hug every time I need one.
She loves Reese's Peanut Butter Cups (who doesn't?) and so I decided to take fudge to her virtual housewarming. I don't know about you, but after a stressful move and waiting for the service people and OMG TURN ON THE INTERNET drama, I need chocolate and peanut butter. I figured she could use some too. 🙂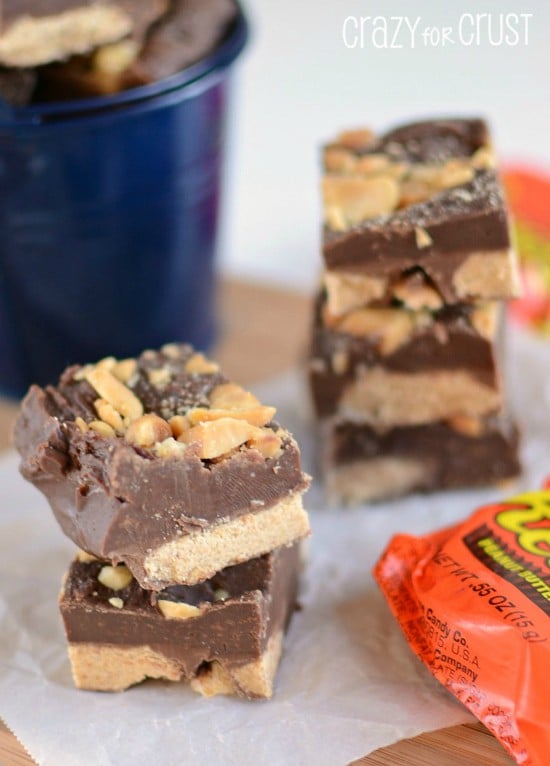 This fudge is super simple to whip up. And it sort of has a crust…a Reese's Peanut Butter Cup crust. You start out this fudge by lining the bottom of a pan with unwrapped peanut butter cups. The fudge itself is a simple fudge recipe using sweetened condensed milk and chocolate chips. You layer this over the peanut butter cups and top it off with peanuts.
It's like eating a Reese's…only better. Because it has more candy on it.
It's peanut butter and chocolate explosion to the extreme. And you know…
Chocolate + Peanut Butter = The Perfect Medicine for Stressful Moving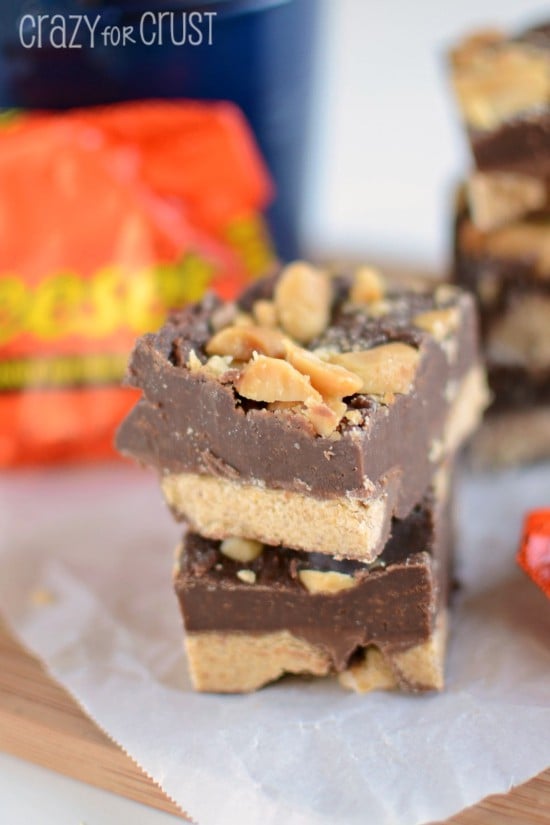 Congratulations on your new house Ashton! I heart you, so much. Excuse me while I go eat all your virtual fudge…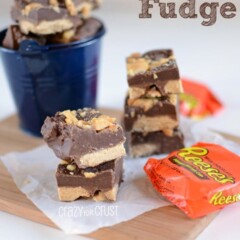 Reese's Fudge
Reese's Fudge: The easiest and best fudge recipe ever! Simple ingredients come together in minutes to form a delicious peanut butter and chocolate fudge!
Ingredients:


16 individual Reese's Peanut Butter Cups (regular size), unwrapped


3 cups chocolate chips


1 can (14 ounces) sweetened condensed milk (I use fat-free)


1 teaspoon vanilla extract


1 cup chopped peanuts


Directions:


Line a 9x9" pan with foil and spray with cooking spray. Place the peanut butter cups in an even layer on the bottom of the pan.


Place chocolate chips and sweetened condensed milk in a medium saucepan over low heat. Stir until chips and milk are melted together. Keep in over low and don't walk away!


Once everything is melted together, remove from heat and stir in vanilla extract. Spread evenly over peanut butter cups in prepared pan. Immediately sprinkle with chopped peanuts, pressing lightly to adhere them.


Cool until firm. I like to cool the fudge on the counter until it's close to room temperature, then cover with plastic and place in the refrigerator to harden completely. Cut into squares and serve.


Notes:
To make this fudge to gift in single serve cups, get 8-10 small plastic containers with lids (depending on size). Place 1 regular sized peanut butter cup in the bottom of each container. Make the fudge as directed from step 2, but scoop 1/3-1/4 cupfuls of the hot fudge into each single serve container. Press down with the back of a spoon and let cool to set, cover with the lids and chill until ready to gift.
All images and text ©
. Please do not use my images without prior permission. If you want to republish this recipe, please re-write the recipe in your own words, or link back to this post for the recipe.
You can also make this fudge as a holiday gift in single serve packages!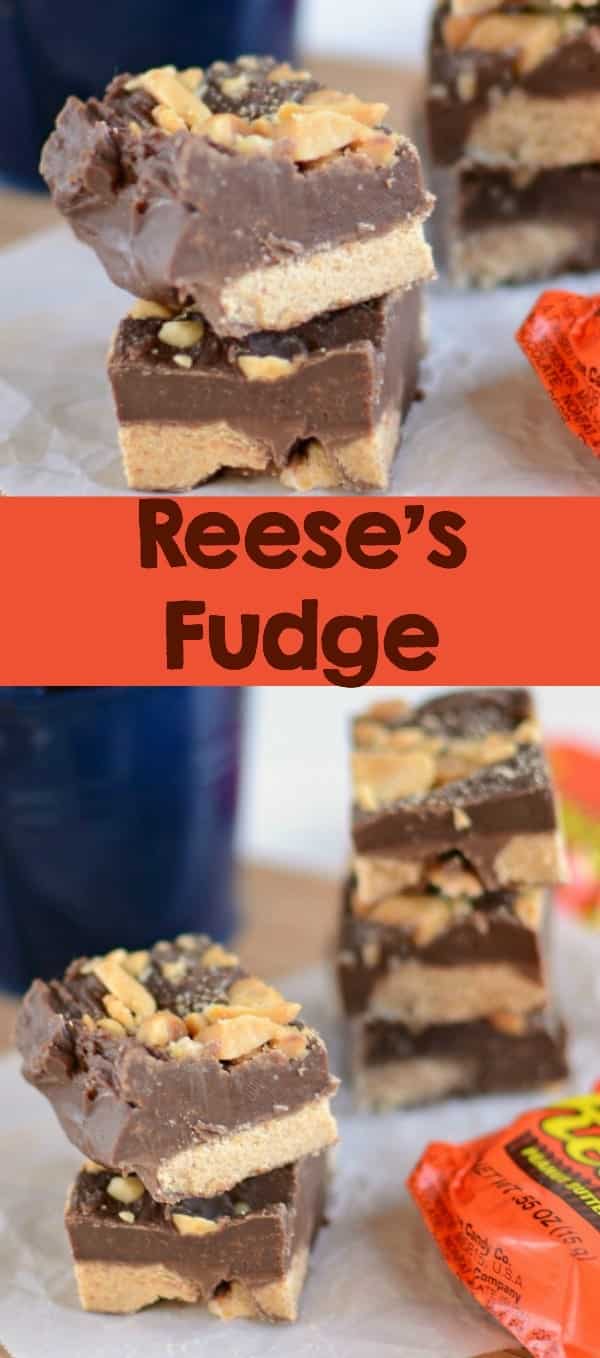 Other fudge you might like: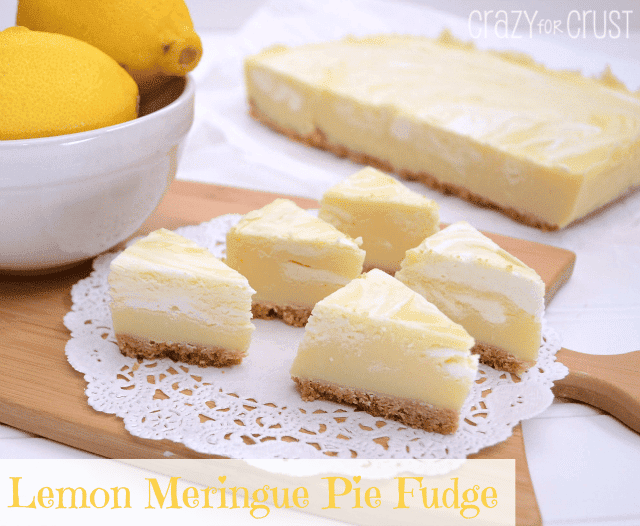 Check out everyone else who brought treats today:
Julianne at Beyond Frosting – Pound cake with Champagne Glaze
Kate at Food Babbles – Raspberry Lemon Coffee Cake
Anna at Crunchy Creamy Sweet – Glazed Vanilla Donut Muffins
Loretta at A Finn in the Kitchen – Caramelized Almond Nougat Mousse Ice-cream
Joanne at Fifteen Spatulas – Cinnamon Crumb Coffee Cake
Ashley at Kitchen Meets Girl – Blueberry Muffins
Amber at Bluebonnets and Brownies – Lemon Drop Cookies
Joan at Chocolate Chocolate and more – Broccoli and Cheddar Cheese Quiche
Roxana at Roxana's Home Baking – Banana Sheet Cake
Julie at White Lights on Wednesday – Mocha Cupcake Milkshake
Hayley at The Domestic Rebel – Banana Split Poke Cake
Tanya at Lemons for Lulu – Lemon Muffins
Natasha at The Cake Merchant – Nutella Layer Cake
Jocelyn at BruCrew Life – Butterscotch Banana Muffins